A backyard pond is a beautiful feature on any property. Instead of a sterile, uniform lawn, a pond brings an element of life and nature into your backyard. This works whether it's a small fish pond or a larger natural pond that happens to be on your property. However, ponds require maintenance, just like any other part of your yard.
In the case of a pond, you have to worry about stagnant water. Mosquitos lay eggs in ponds, and those eggs hatch into nymphs. The nymphs float just beneath the surface, and breathe through little snorkel tubes. The smoother the water, the easier it is for the nymphs to breathe. For this reason, mosquitos preferentially lay eggs in standing water.
A submersible pump is a powerful tool for mosquito reduction. With a large enough pump, you can agitate the water and discourage mosquitos from breeding. But pumps can also be used as part of a larger system. Connect a hose to a waterfall or fountain, and you don't just have a pond. You have a work of art.
Pumps are also essential if you want to keep fish. A waterfall or fountain oxygenates the water, allowing the fish to thrive. Fish, in turn, aren't just a cosmetic feature. Many species eat mosquitos and further reduce the population. By combining all of these features, you simultaneously beautify your pond and cut down on mosquitos. That's a huge improvement over a boring, stagnant pool of water.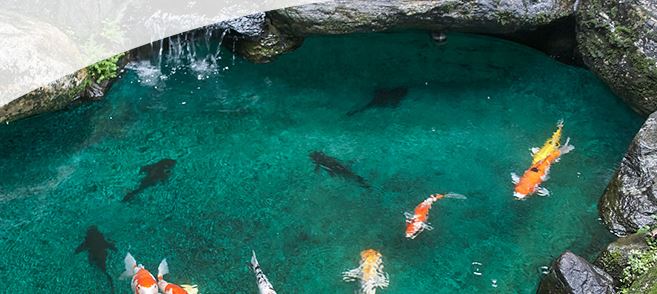 Choosing the Best (and Quietest) Submersible Fountain, Pond and Waterfall Pump
We're about to review the best (and quietest) submersible fountain, pond, and waterfall pumps we could find. All of these pumps are designed for continuous operation, and all of them are easy to use. We also tried to choose a variety of different capacities to suit different sized ponds.
To find out which one is the right choice, you'll have to consider several factors. Besides the raw capacity, how well-engineered is the pump? Is it easy to use, or do you need a lot of technical know-how? Just as importantly, does it have the right connection type for whatever you're hooking it up to. If you have an existing fountain or waterfall, your new pump needs to be compatible. We'll go over all of these factors and more. After that, we'll sum everything up and deliver our verdict. Let's begin!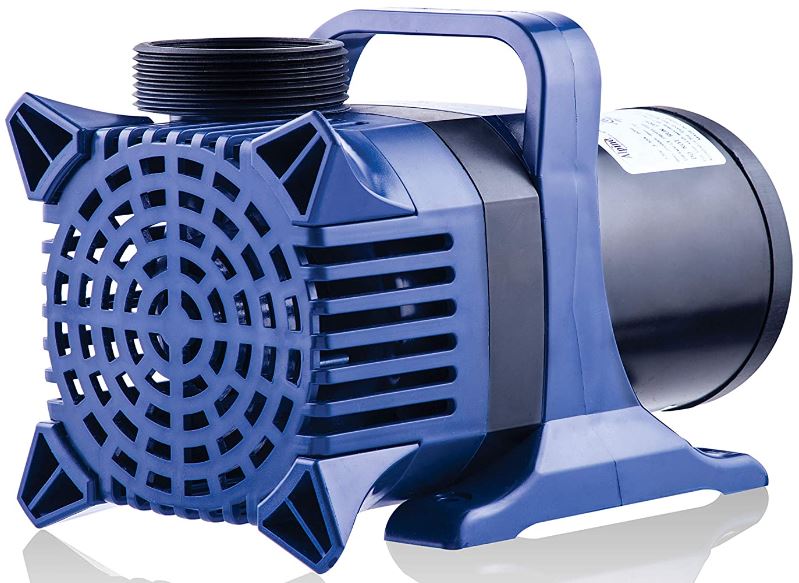 Alpine Corporation 4000 GPH Cyclone Pump
The Alpine Corporation 4000 GPH Cyclone Pump has a two-tone blue and black housing. The motor housing is a horizontal cylinder, constructed from black ABS plastic. This housing sits inside a blue handle and frame, with a set of feet on each side. The feet themselves have little holes in the corners so they can be screwed down.
The pump is easy to carry, and weighs only 12.1 pounds. It's six inches wide and seven inches tall, with a length of 10 inches, including the large blue filter basket. On top, just in front of the filter basket, is a 2-inch threaded outlet.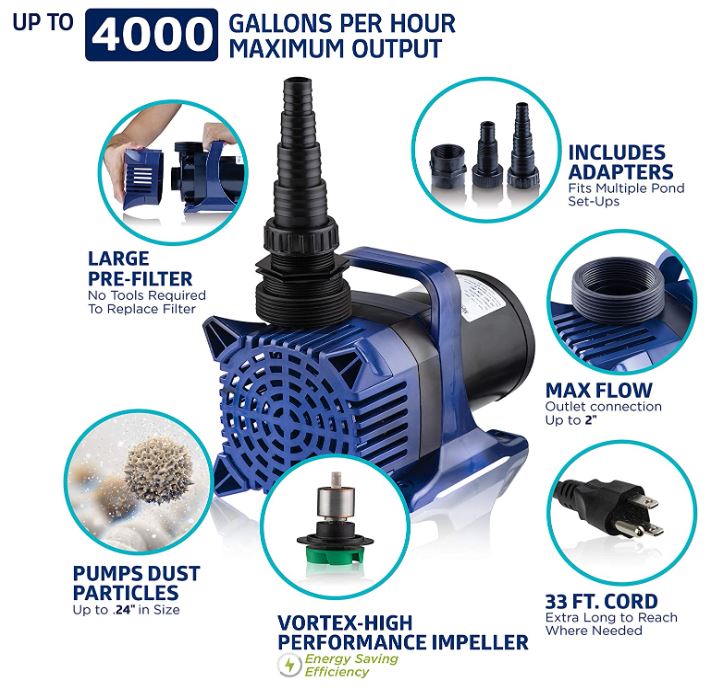 Along with the pump, you get a set of adapters. The first of these is a 1 ¾-inch threaded reducer. You can attach a hose to this, or screw on one of the other adapters. There's a stepped-down nipple adapter with ¾-inch, 1-inch, 1 ¼-inch, and 1 ½-inch sections. There's also a similar, stepped-down barb fitting, with 1-inch and 1 ¼-inch sections.
Ease of Operation
This pump has a 33-foot power cord. Just plug it in and it will start running. It's meant for continuous use, so you don't have to worry about overworking it. The Alpine Corporation backs it with a robust three-year manufacturer's warranty. If anything fails prematurely, you'll get a refund or a free replacement.
The pre-filter is just a large blue basket with slots in it. It should rarely need cleaning, but it might get clogged up with leaves or other debris. In that case, it's very easy to clean. It's designed to be removed without any tools. You just pop it off, clear out the inlet, and pop it back on. Use it in reasonably clean water, and it's literally maintenance-free.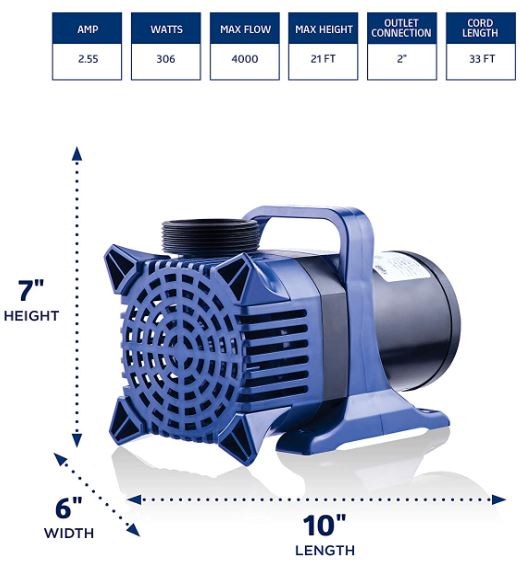 If you're looking for a more temporary pump, check out the Acquaer Battery Powered Submersible Water Pump. It's nowhere near as powerful, but it's great for shorter jobs. For example, you can drain out your basement with it if your sump pump has failed.
Pumping Capabilities
The Alpine Corporation pump is capable of moving 4,000 gallons per hour (GPH). That works out to 66.67 gallons per minute (GPM). To put that in perspective, a standard shower head is rated for 2.5 gallons per minute. In other words, you're moving a lot of water. Alpine Corporation says it's suitable for ponds up to 33 feet across, and we believe them! Obviously, a lot would depend upon the depth.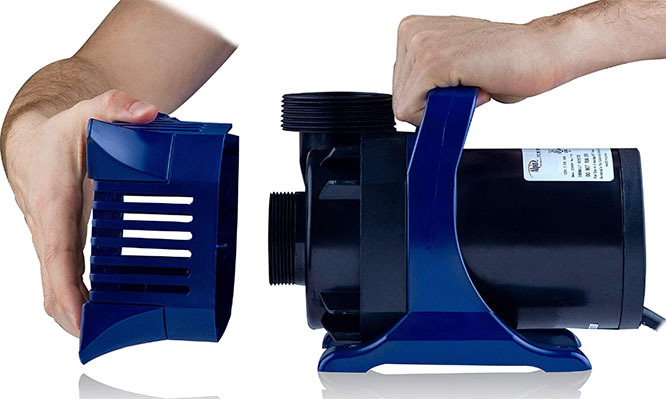 Speaking of depth, this pump is rated for a 21-foot pumping height. Even if you have a taller waterfall, you'll be able to make things work. Keep in mind that the pumping capacity falls off the higher you're pumping it. At 21 feet, you'll only be getting a slow trickle, not a firehose-like stream. That said, pumping height begins at the surface of the water, not the level of the pump. Even if the pump were at the bottom of a deep lake, it would pump water 21 feet above the surface.
One other feature we should note is the motor's capacity for abuse. Most pumps will fail if debris gets into the cylinder. This one will move particles as large as a quarter inch in diameter. Since nothing that big would fit through the filter basket, you don't have to worry about minor debris.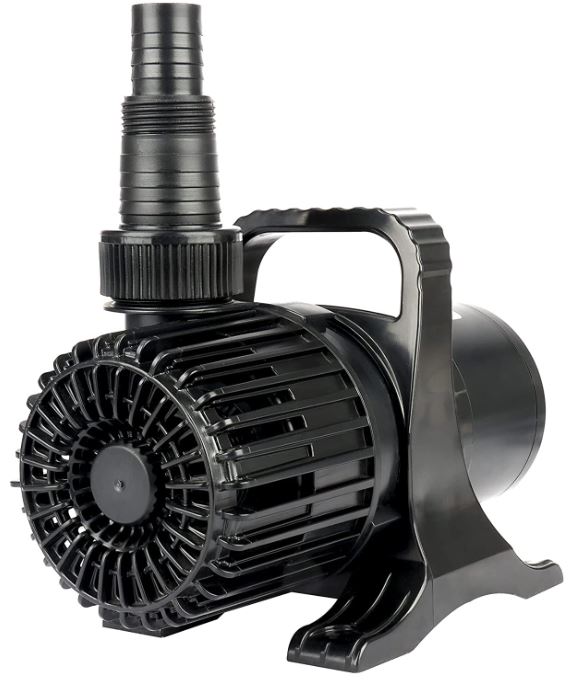 WaterRebirth High Flow Submersible Water Pump
The WaterRebirth High Flow Submersible Water Pump has an all-black housing, constructed from a durable plastic. The motor itself is cylindrical, and sits parallel with the ground. Besides that, the design is very similar to the last pump. There's a handle over the top and a set of feet, with holes in each corner for mounting.
As we'll discuss in a minute, you can order this pump in several different capacities. Depending on the capacity, the size and weight will vary, but the general design is the same. We reviewed the 3,200 GPH version, which weighs 6.8 pounds. It measures 7.08 inches long, 5.12 inches wide, and 6.3 inches tall. Other variants are proportionally larger or smaller depending on how much water they can move.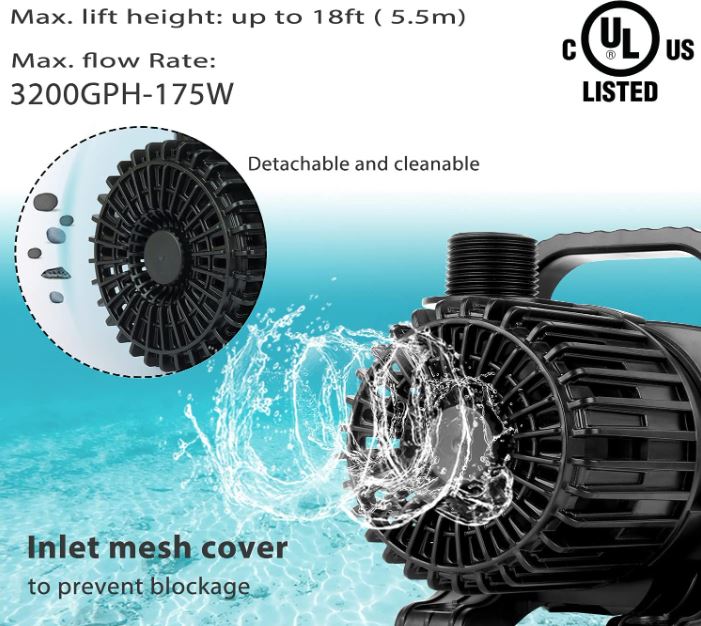 The outflow socket is at the top, in front of the filter basket. The socket itself is a standard 1 ¼-inch NPT. However, there's a 1-inch threaded reducer, along with 1-inch and 1 ¼-inch barbed adapters. Once again, though, different capacity pumps will have different features. For example, the most powerful variant has a huge 3-inch threaded socket, with many adapters.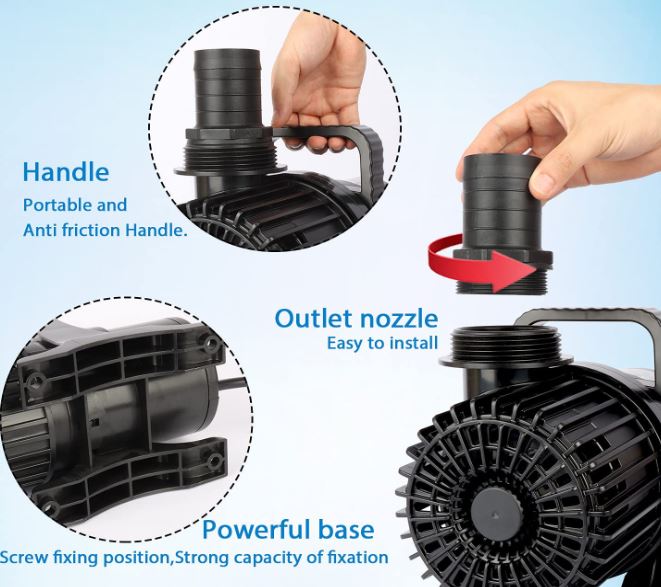 Ease of Operation
Using the WaterRebirth pump is as simple as putting it in the water and plugging it in. It has a 20-foot power cord, and no other controls. Like the last pump we looked at, it's designed for continuous use. It's backed by a 12-month manufacturer's warranty. If anything goes wrong, you'll be covered.
One unique feature of this pump is the adjustable outflow socket. We said before that it's on the top, but that's just the default position. You can also adjust it to point horizontally to either side, or to sit at a 45-degree angle.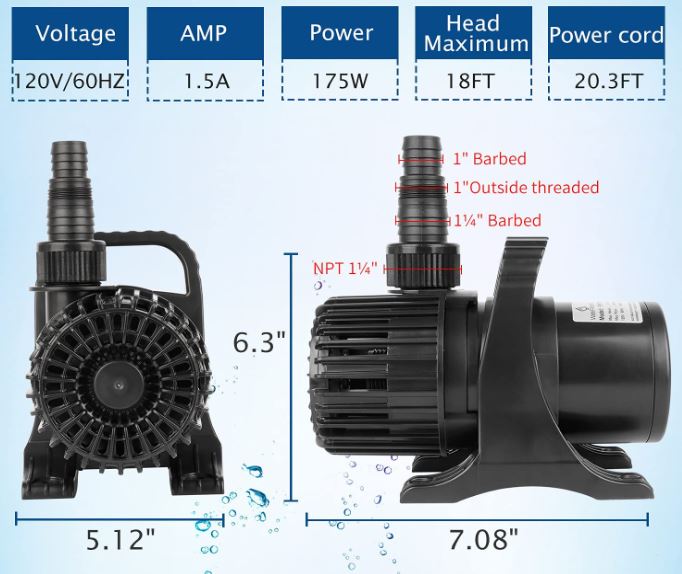 This gives you five positions in total, and it makes installation simpler. Let's say you've got a waterfall with a horizontal inlet. With a vertical outflow socket, you'd have to run a hose up, curve it back down, then bend it sideways. It's needlessly complicated. With this pump, you'd just flip the outflow socket to point at the inlet, and run a short hose. Easy peasy!
Pumping Capabilities
You can order the WaterRebirth pump in 12 different capacities. The lowest is 1,700 GPH, or 28.33 GPM. The highest is an incredible 14,000 GPH, or 233 GPM. Pumping height is similarly variable. The weakest pump has a rated height of 14 feet, while the strongest will reach heights of 35.5 feet. The 3,200 GPH pump we reviewed is rated for 18 feet.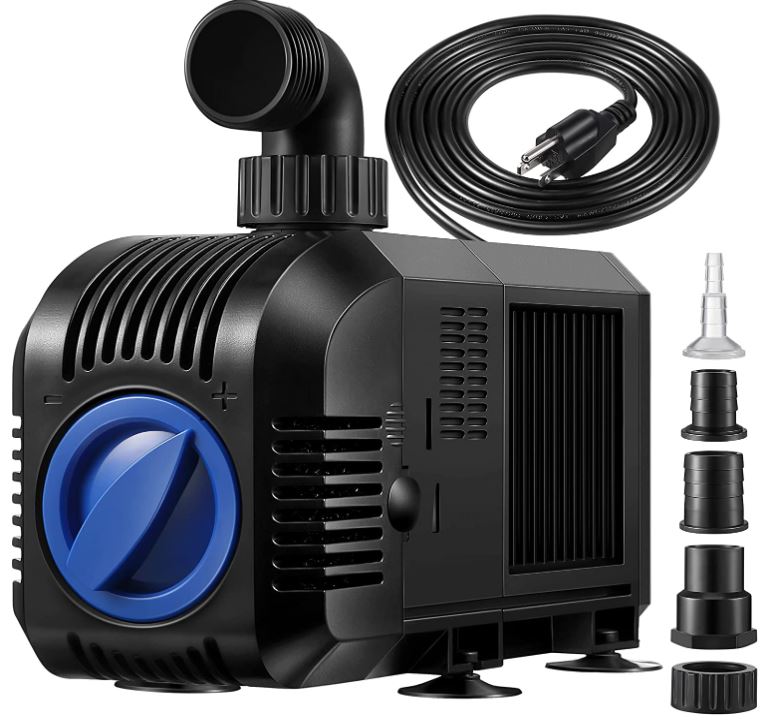 Dreyoo Submersible Water Pump
The Dreyoo Submersible Water Pump is designed for small to mid-sized applications. It has a black plastic housing that's roughly rectangular, with a curved inlet grille at the top front. In the front center is a blue control dial, which we'll discuss more momentarily. The overall size is 10.12 inches long, 7.09 inches tall, and 6.54 inches wide, and it weighs 5.52 pounds.
On top of the housing, you'll notice a ¾" NPT outflow socket, which can connect to a standard garden hose. Along with this, you get a right angle adapter, which can be used to direct the flow to the side. There's also a set of three nipple adapters in 1.18, 0.78, and 0.59 inches. These can attach either directly to the socket or to the right angle adapter.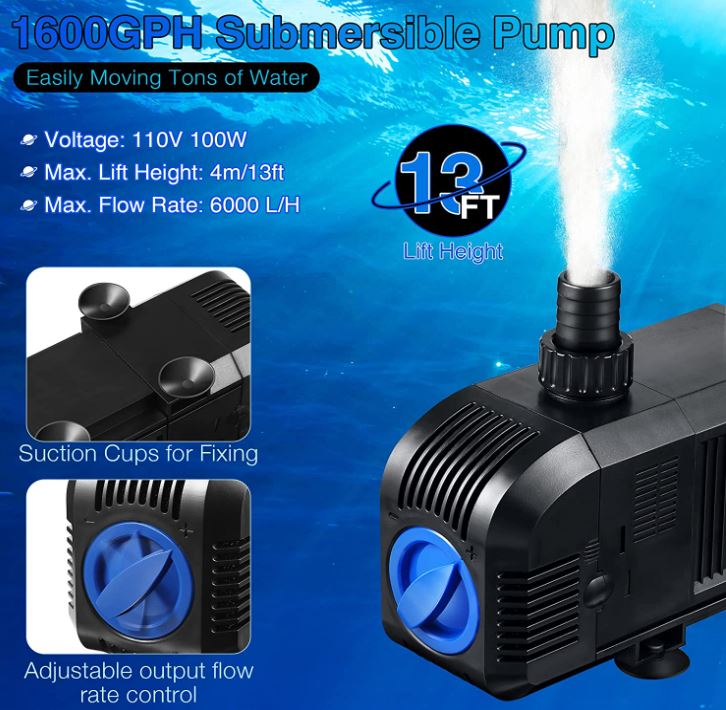 A set of suction cups on the base makes it easy to position in artificial ponds. Meanwhile, there's an outer mesh bag that helps block out larger debris. This makes the suction cups useless, but it's great for natural ponds with organic debris.
Ease of Operation
The Dreyoo pump has a 7.45-foot cord. Like the other pumps, you just plug it in and it turns on. Because of the cord length, it's not suitable for deep water or larger ponds. But for shallow or small-scale applications, it works pretty well.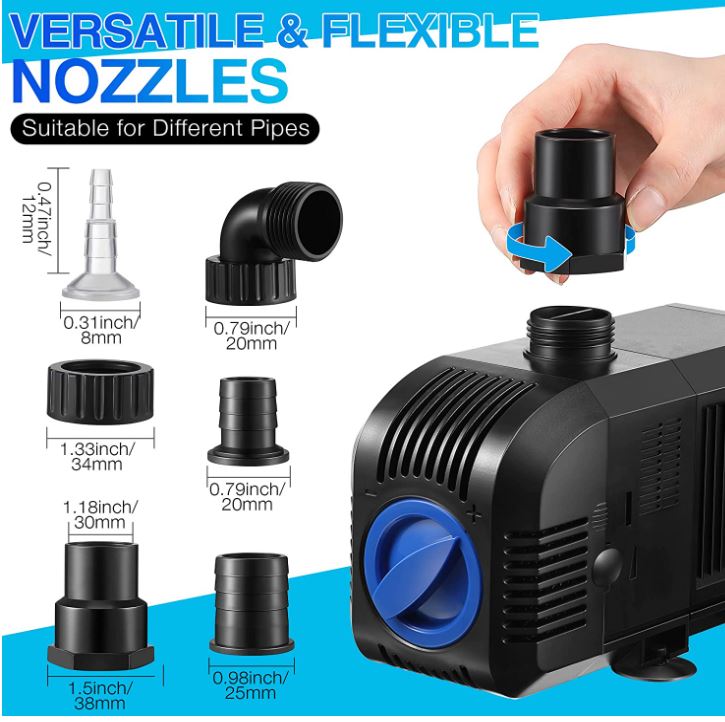 In addition to that, the dial on the front allows you to adjust the flow rate. Turn it left to slow down the flow, or right to increase it. This is great for small fountains, or waterfalls, where you may want a gentler flow.
Inside of the intake grille is a simple foam filter. It keeps dirt and grit from getting into the pump mechanism and causing damage. If the filter gets clogged, just pop off the grille and rinse the filter under water. Rinse it so the water flows in the reverse direction it would in the pump. This will force debris back out and the filter will be clean in a couple minutes. Put it back in the pump, and you're ready to go.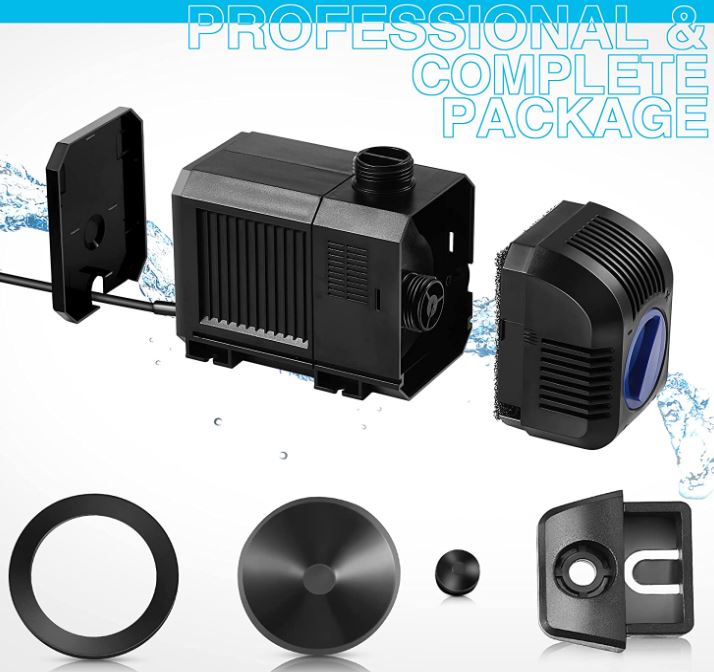 Pumping Capabilities
At its maximum power, this pump has a capacity of 1,600 GPH, or 26.67 GPM. The maximum pump height is 13 feet. Keep in mind that if you reduce the flow rate, the pump height will also go down. You may have to play with the dial a bit to get the exact performance you need.
Final Verdict
All three of these pumps are great for certain applications. But which one is right for you? Let's summarize what we've discussed.
We began by looking at the Alpine Corporation 4000 GPH Cyclone Pump. This pump has a high capacity, suitable for ponds up to 33 feet across. We loved the filter basket design, since it cuts down on maintenance. Unless your pond has a ton of debris, you may even forget you have a pump installed.
Next, we reviewed the WaterRebirth High Flow Submersible Water Pump. This is actually an entire line of pumps that come in many different capacities. Some are on the small side, while the largest has 14,000 GPH of pumping power. It's designed for clean water, although a filter basket provides some clog protection. But the main feature is the adjustable outflow socket, which can be moved to five positions.
Finally, we examined the Dreyoo Submersible Water Pump. This is a lighter-duty pump, designed for koi ponds and small decorative fountains. It has an adjustable pumping strength, so you can change the flow rate as needed. It also comes with a nifty filter bag to keep larger debris clear of the intake.