Android phones come in all kinds of flavors. From barebones gas station phones to advanced gadgets, they run the whole gamut. That said, some brands have built a big reputation for quality. Samsung is a good example. Their line of Galaxy smartphones are known for big, beautiful screens, high-resolution cameras, and plenty of processing power.
These phones get a lot of attention for their recreational features. And if you want a great gaming phone, you certainly can't go wrong with a Galaxy. People also love them for watching movies on the big, wide screen. But they also have practical applications. If you're using a phone for business, you want one that's powerful and reliable.
But whether you're using your phone for business or personal persons, privacy is important. You don't want strangers reading your texts and seeing your social media posts. And if you're going over important business documents, you need to be doubly careful. A good screen protector can help solve the problem. Of course, a good screen protector is about much more than that. It should also provide a measure of scratch- and shatter-resistance. In other words, it should keep your screen from getting damaged.
This can be difficult if you own an unusual phone. And while the Samsung S21 is very common, the S21 Ultra is a bit less so. That said, there are still plenty of screen protectors to choose from. Take your time to give them a good look and see what they have to offer. That way, you can find the best one for your needs.
Choosing the Best S21 Ultra Privacy Screen & Camera Lens Protector
Today, we'll be looking at three of the best S21 Ultra privacy screen and camera lens protectors. All three of these provide a good degree of physical protection. The last two also provide privacy protection, so you can only see your screen from head-on. You also get protection for your camera.
Of course, there are plenty of other factors to consider. We'll have to think about how easy they are to install, and the kind of material they're made of. We'll need to look at any extra features, such as oleophobic coatings. After we've gotten a more complete picture of what we're dealing with, we'll deliver our verdict.
Before we begin, we should point out that iPhone users don't have to miss out on the fun. Not long ago, we reviewed the best iPhone 13 Pro Max privacy screen protectors. Check out that list for some excellent options. If you're an Android user, keep on reading!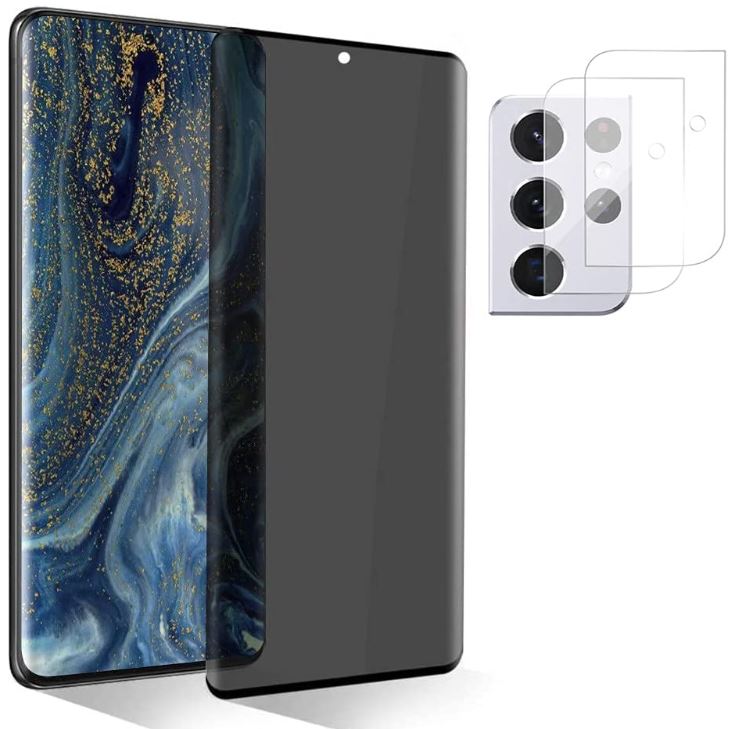 LETANG Galaxy S21 Ultra Tempered Glass Privacy Screen Protector
The LETANG Galaxy S21 Ultra Tempered Glass Privacy Screen Protector is exactly what it sounds like. It's a piece of tempered glass that fits over the front of your screen. A lot of protectors struggle with the S21 Ultra's curved edges, but that's not a problem here. It conforms beautifully to the screen's form factor, covering all of its surfaces.
A second, oval piece of glass covers your three camera lenses. However, it doesn't cover the flash or the sensors. This is both a good thing and a bad thing. On the one hand, it's tough to create a glass cover that doesn't interfere with the sensors. The lens-only design negates this issue. On the other hand, your sensors aren't protected. This is less of a concern for the sensors then the lenses, since the sensors are recessed to begin with.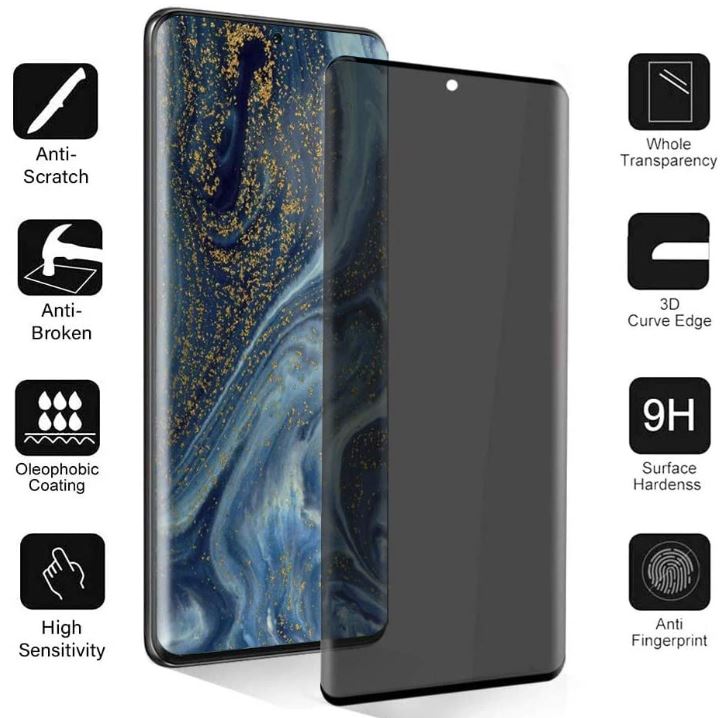 The thin design of the material provides excellent touch performance. Provided you turn up touch sensitivity, you'll barely even notice it's there. There's also a little cutout for the selfie camera, so the glass won't interfere with your photos.
The LETANG protector is easy to install. Peel away the backing, align one end with your screen, and slowly press down from that side. When you're done, there won't be any bubbles. Not only that, but it's easy to peel the glass off if it doesn't suit your needs. It also comes in a 2-pack. If you and your partner have the same phone, you can use the same screen protector.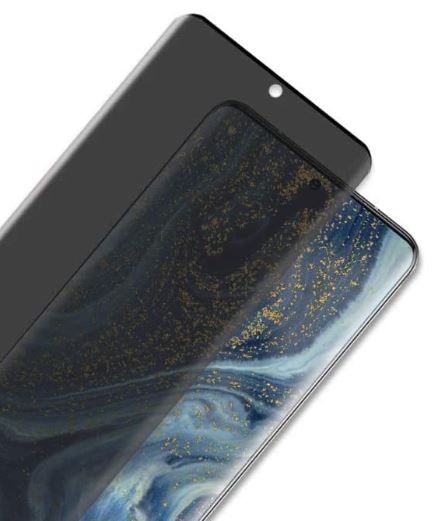 Key Features
This screen protector has a hardness rating of 9H, the highest possible level. This means it can withstand scratching from a #9 pencil. A #9 pencil is very hard, and will scratch most glass, so you're looking at plenty of scratch-resistance. This is especially valuable over your lenses, where the slightest ding could wreck your photographs.
The camera lens protector has a light transmittance rating of 99.99%. This means it will have no tangible effect on your photographs. Your colors will be vivid and true to life. Both protectors have an oleophobic coating that resists fingerprints. It's virtually smudge-proof, and it's easy to clean when it gets dirty.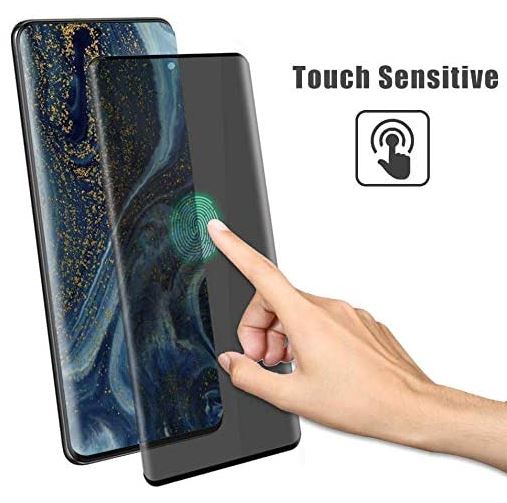 In addition, the LETANG protector has a circular hole over your screen's fingerprint sensor. This allows you to continue to use the fingerprint unlock, even with the screen protector in place. That said, the design isn't perfect. The hole is a bit small, and doesn't leave the entire sensor area open. If you have larger fingers, you'll run into trouble.
One feature you won't get is blue light filtering. Blue light filtering removes much of the blue from your light, which takes strain off of your eyes. This is most common on larger screens and gaming systems, and less common on smartphone protectors. For example, we recently reviewed blue light filtering screen protectors for the Nintendo Switch.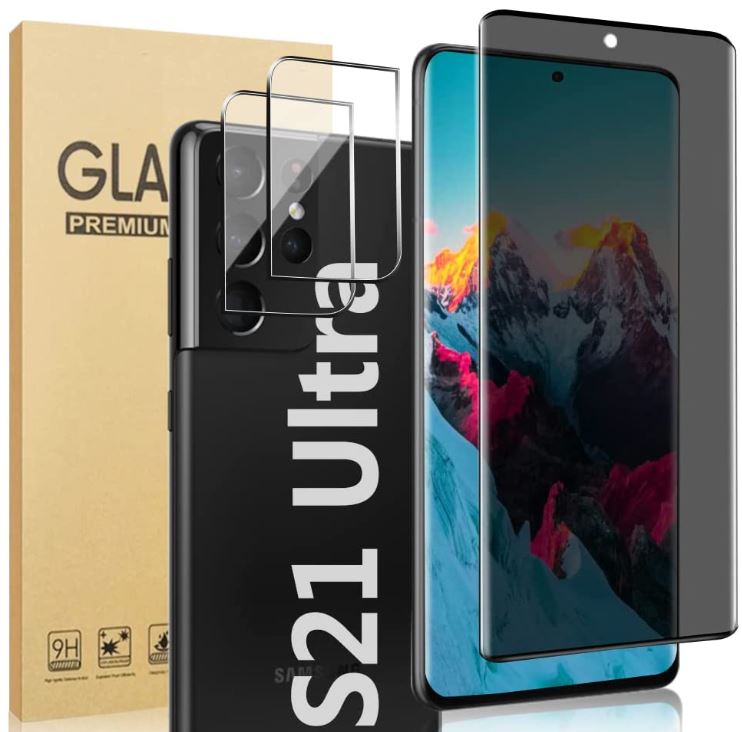 NeschToy Galaxy S21 Ultra Tempered Glass Privacy Screen Protector
The NeschToy Galaxy S21 Ultra Tempered Glass Privacy Screen Protector is also made of tempered glass. Similar to the LETANG protector, it's contoured to the curved edges on the Samsung Galaxy S21 Ultra. In this regard, it's superficially similar to the LETANG cover. However, there are two important differences.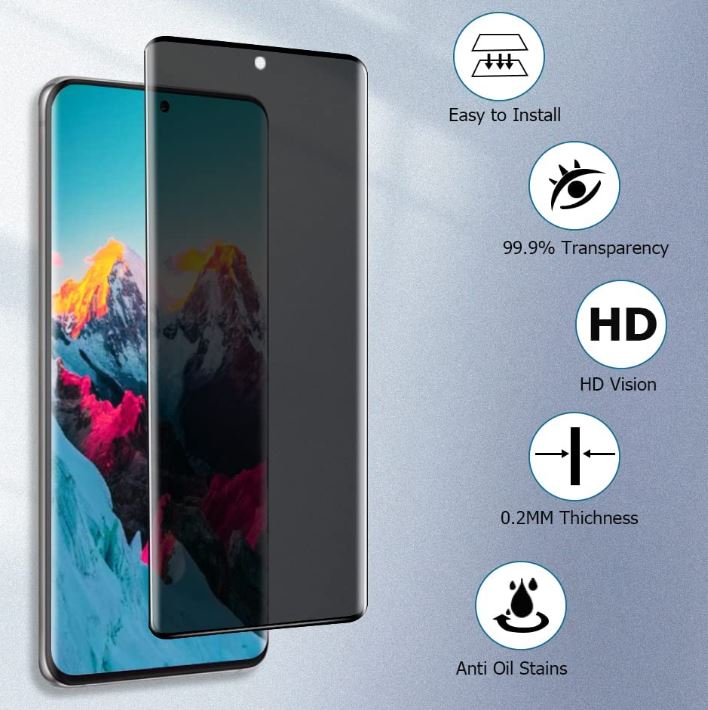 First off, the NeschToy protector offers privacy protection as well as visual protection. Across a 35-degree field of view, centered at 90 degrees, you can see the screen clearly. Look at a wider angle, and all you'll see is black. That way, someone sitting next to you can't peep your screen, even inadvertently.
The second major difference is the design of the camera cover. It covers both the sensors and the lenses, and has elegant contours. The top right and bottom left corners are a sharp 90-degree angle. The top left and bottom right corners are smooth curves. This matches the form factor of the camera housing, and blends seamlessly with your phone's design.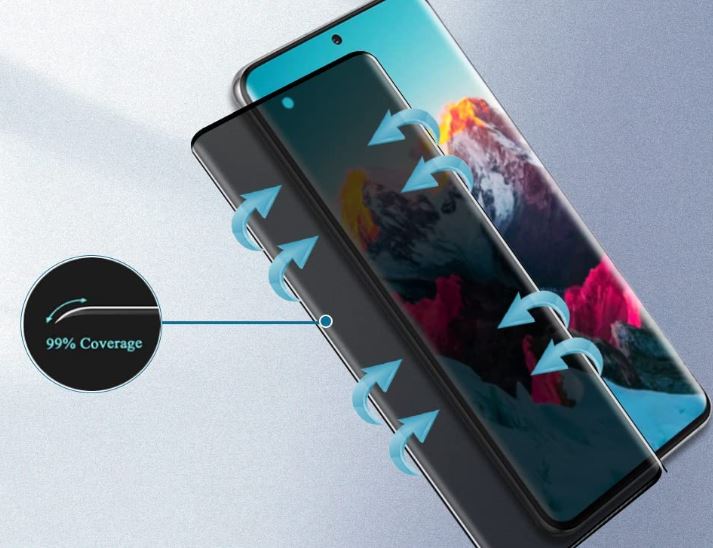 The glass is easy to apply to your screen. It fits perfectly and won't leave any bubbles or gaps. The kit even includes an alcohol wipe to prep your screen for installation.
Key Features
Like the last protector, this one has a hardness rating of 9H. You'll have more than enough scratch resistance for most scenarios. Furthermore, the glass has an anti-oil, dustproof coating. It won't collect fingerprints, and it's very easy to keep clean.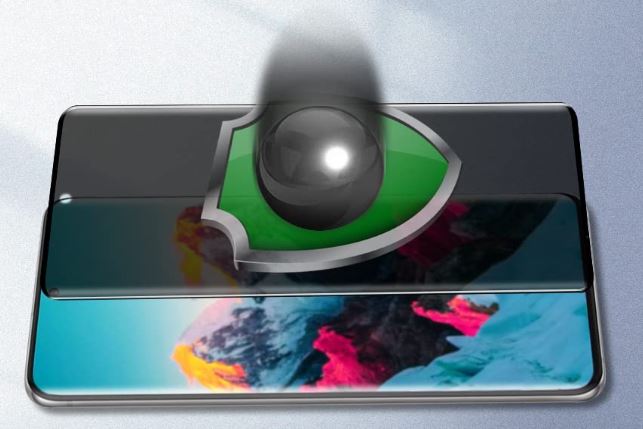 As an added benefit, the material is thin enough to provide plenty of sensitivity. If you didn't know there was glass on your screen, you wouldn't notice the difference in performance. Just make to turn up your phone's touch sensitivity to get the best results.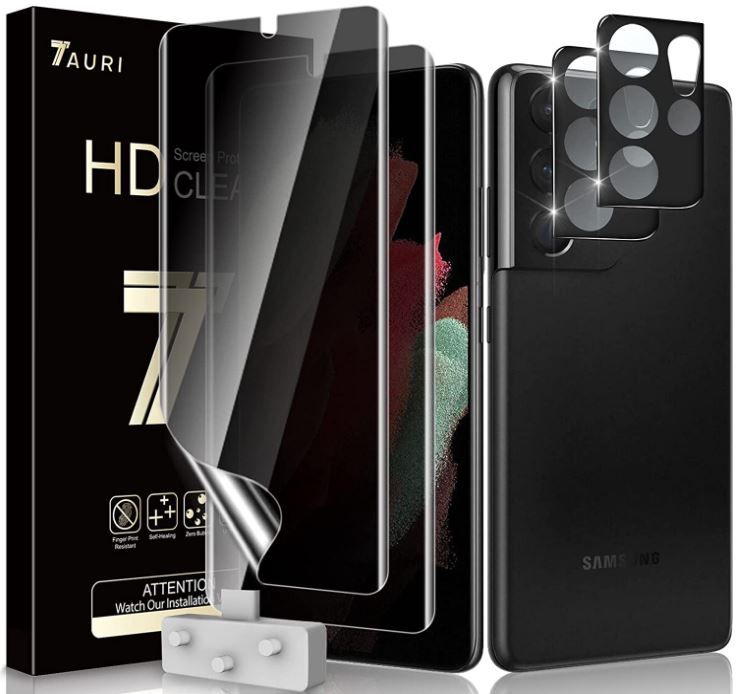 Tauri Galaxy S21 Ultra Tempered Glass Privacy Screen Protector
Tauri is a brand we've looked at in the past. A while back, we reviewed their privacy screen protector for the Samsung S22 Ultra. It was reasonably durable and performed pretty well. So when we looked for a good S21 Ultra protector, it was logical to go back to the well.
The Tauri Galaxy S21 Ultra Tempered Glass Privacy Screen looks a lot like the LETANG protector. In fact, it has an identical form factor. That's not a bad thing. It covers your entire screen, and won't leave the edges exposed. The oval-shaped lens cover, meanwhile, won't mess with your camera flash. It even allows 99.99% of light to penetrate. The only difference in terms of physical build is that there's no fingerprint sensor hole.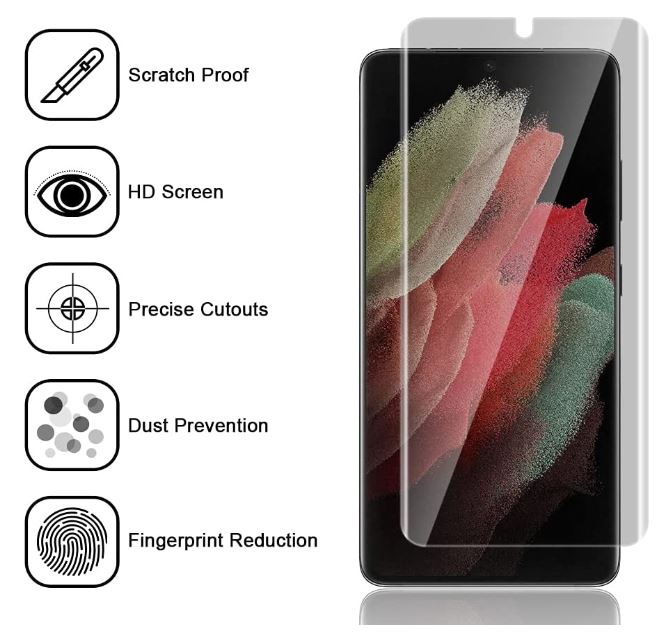 That said, there's another difference that's worth pointing out: privacy protection. Tauri doesn't state the exact viewing angle of this cover. And without lab equipment, it's impossible to determine for yourself. Our best guess is somewhere in the neighborhood of 30 degrees. Regardless of the exact number, you get perfect visibility when looking at your phone head-on. From the sides, you'll see nothing.
Key Features
As with our last two protectors, the Tauri protector is rated 9H for hardness. It also has an oil-resistant coating to prevent fingerprint buildup. However, there are two other features we should mention.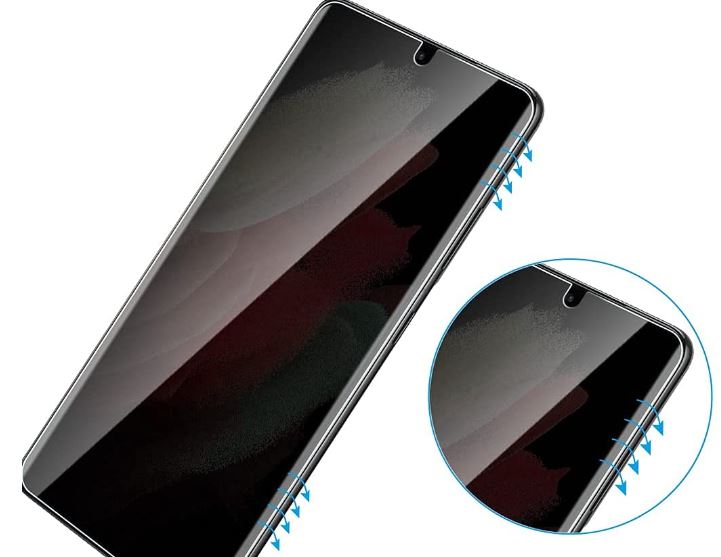 To begin with, this screen protector boasts anti-blue light technology. It reduces light at the blue end of the spectrum, which reduces eye strain. Blue light protection also helps prevent your phone from keeping you awake at night.
Secondly, it has 100% touchscreen sensitivity – you can even use your fingerprint reader. You just have to turn up touch sensitivity and re-enter your fingerprints.
Final Verdict
As you can see, these are all reasonably good screen protectors. But which one is going to be the best choice for you? Let's quickly recap what we've learned, starting with the LETANG Galaxy S21 Ultra Tempered Glass Privacy Screen Protector. This is a rugged screen protector that can withstand almost any kind of scratching. There's privacy protection, which is great if that's something you need. On the upside, the fingerprint reader hole is a neat touch, and the camera cover is very well-designed.
The NeschToy Galaxy S21 Ultra Tempered Glass Privacy Screen Protector is also pretty durable. The 9H hardness rating is certainly nothing to sneeze at. The 35-degree viewing angle provides a good balance of privacy and visibility. And the camera cover has a slick profile that looks great on your phone.
The Tauri Galaxy S21 Ultra Tempered Glass Privacy Screen Protector has its own unique benefits. It allows you to use your fingerprint reader, and it has blue light filtering technology. And it's just as hard as the others, so you don't have to worry about your screen scratching.