Whether in your backyard workshop or a large retail space, good lighting is essential. If you're trying to work, lighting makes everything easy. You don't have to squint at small objects or struggle to read fine print.
And if you're trying to provide a pleasant atmosphere for the public, it's a no brainer. People prefer well-lighted spaces, and it provides a more cheerful mood. As a result, it's important to think about good lighting, both for your home and your business.
That said, there are many different types of lighting. You can have spot lighting or broader space lighting. You can go for a bright white or a soft white, depending on you preferences. And a quick internet search will reveal literally thousands of options. With so many lights and light fixtures, how do you find the set that's right for your needs?
It helps if you limit your options. To narrow things down, we're going to be looking at the best high bay LED lights. High bay lights are lights for buildings with tall ceilings. If you're trying to light up a workshop, warehouse, or similar space, these will be right up your aisle.
Of course, we're going to have to take a much closer look at all three of our options. We'll have to look at the physical build, and how they're constructed. We'll have to talk about the power supply, and how they're wired in. We'll need to talk about their weather-resistance capabilities. And, of course, we'll have to look into the quality of the light; its brightness, warmth, and other features. After all that, we'll be able to render a fair verdict. Let's begin!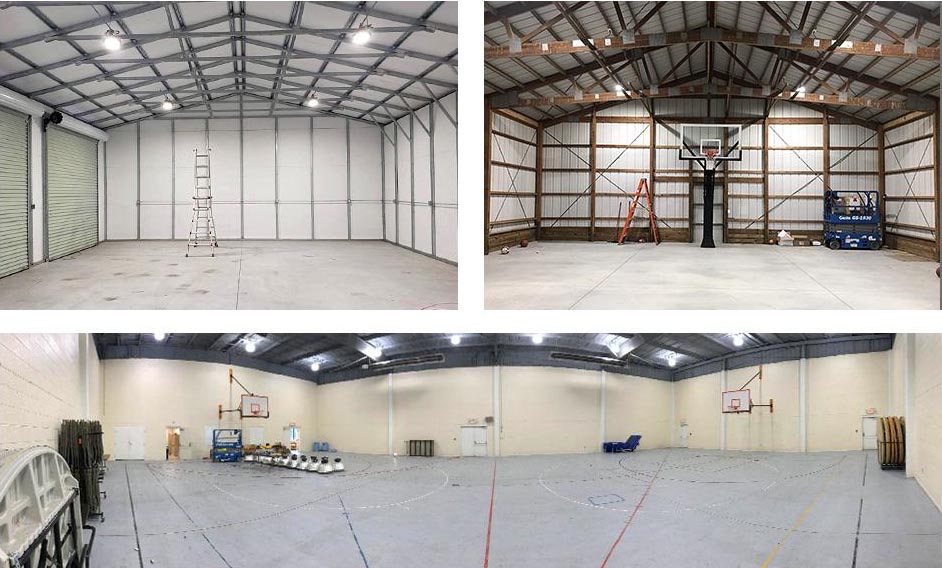 What Is a High Bay Light?
Before we get into our reviews, let's talk about what a high bay light actually is. What is it that separates this kind of light from other kinds of lights? Broadly speaking, a "bay light" is a light for a room with a high ceiling. Anything higher than a 10-foot residential cathedral ceiling is going to require bay lighting.
In turn, bay lighting falls into two categories: low bay and high bay lights. Low bay lights are designed for ceilings with a height of 20 feet or less. By contrast, high bay lights are designed for ceilings with a height of 20 to 40 feet.
Think of large warehouses, movie theatres, and even some warehouse-style retail establishments. Another common application is for industrial spaces, with their ultra-high ceilings. From this distance, ordinary lights will start to appear a bit weak. You just can't get bright illumination from a low bay light that's 30 feet in the air. To increase brightness, high bay lights use special, high-intensity reflectors and powerful lenses. These allow for a much higher light output, which is essential for larger spaces.
Needless to say, a high bay light is not a great choice inside of most homes. For residential use, you're going to want a more modest light fixture designed for smaller spaces. But if you want a unique look, check out some vintage Edison LED bulbs. These will give your room a Victorian aesthetic without wasting electricity.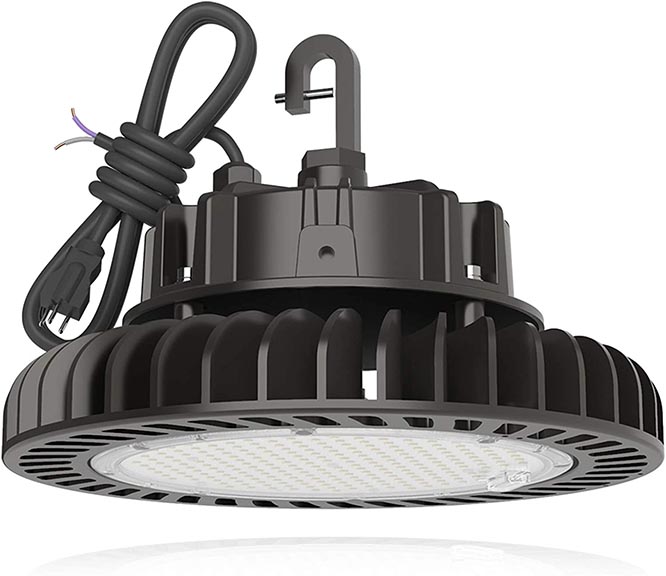 HYPERLITE LED High Bay Light
The HYPERLITE LED High Bay Light has a circular black housing with an upper and lower portion. The lower portion, the part surrounding the LED element, is constructed from aluminum. This provides plenty of heat transfer to the surrounding air. The upper housing, on the other hand, is made from plastic to keep the weight down. Each light has a diameter of 13 inches, and a total height of 8 inches.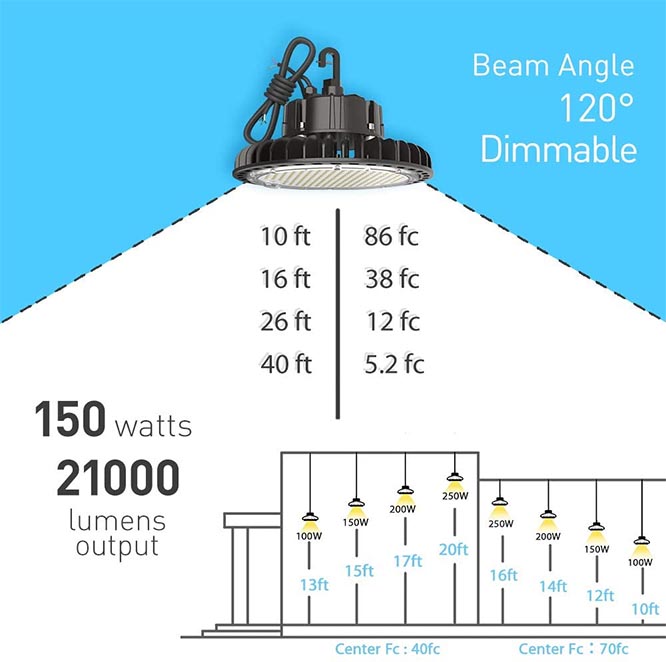 This light uses a hook mount, along with a safety retention cable. The hook is made from the same plastic as the housing, and has a metal locking pin. This pin keeps the hook from popping off from the ring or other hardware it's attached to. Power is provided by a 5-foot AC power cable, which plugs into any wall outlet.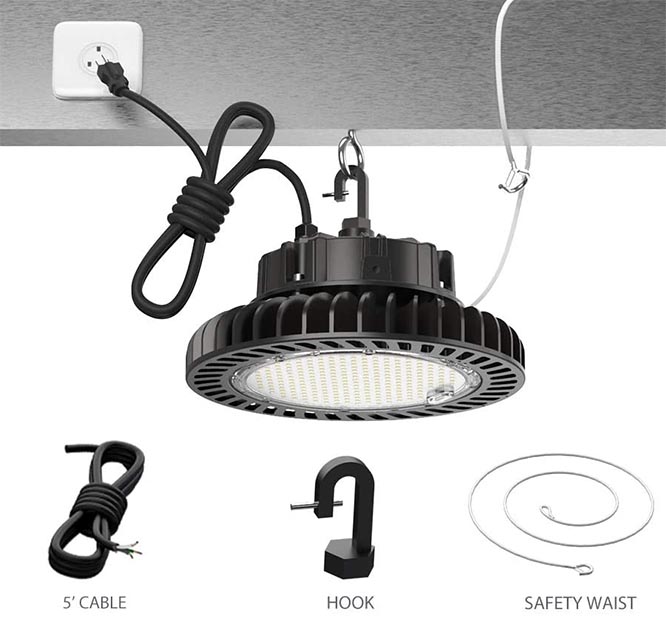 The HYPERLITE high bay light can be ordered in four different wattages: 100, 150, 200, or 250-watt. The 100-watt version provides 14,000 lumens, with 7,000 lumens for each additional 50 watts. That works out to an energy efficiency of 140 lumens per watt, which isn't half bad.
The light and housing are IP65-rated for weather-resistance. This means they can withstand any level of dust, as well as hard, consistent rain. HYPERLITE backs this up by a 5-year manufacturer's warranty. Not only that, but you can plug the light into a dimmer circuit; it supports 1-10-volt dimming.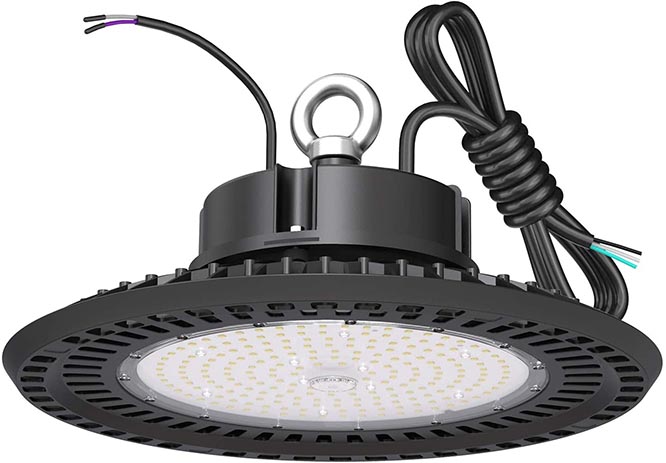 BFT 240W UFO LED High Bay Light
The BFT 240W UFO LED High Bay Light is a lot like the HYPERLITE in general design. It's slightly rounder and flatter, though, with a diameter of 15.7 inches and a height of 7.3. But the most noticeable difference is that the entire housing is constructed from aluminum. This doesn't just provide for top-tier cooling, but it also makes the light extremely durable.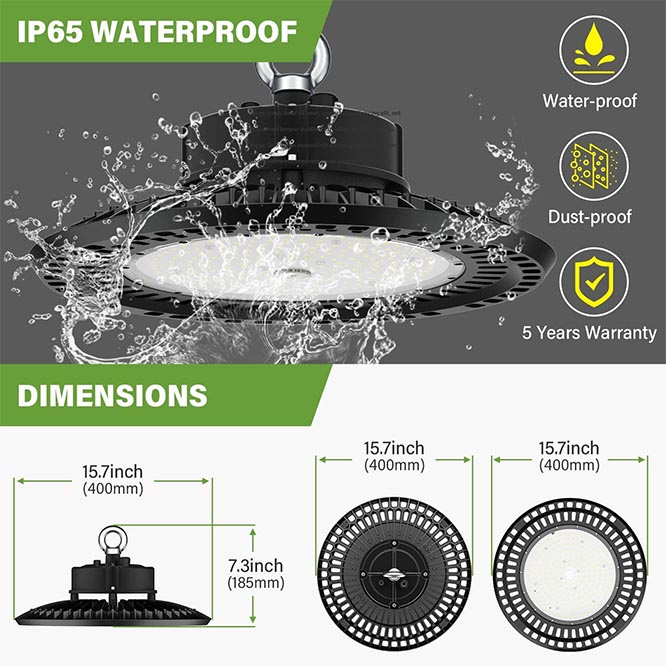 The BFT light mounts with a beefy metal eye, which can attach to a ceiling-mounted hook. For power, it sports a 6-foot power cable with bare wire tips, designed for hardwiring. It also comes with a 12-inch two-wire dimmer wire, although there's no dimmer switch included. Alternatively, you can dim from 0 to 10 volts using an ordinary dimmer circuit. Like the HYPERLITE, this one also has a safety retention cable.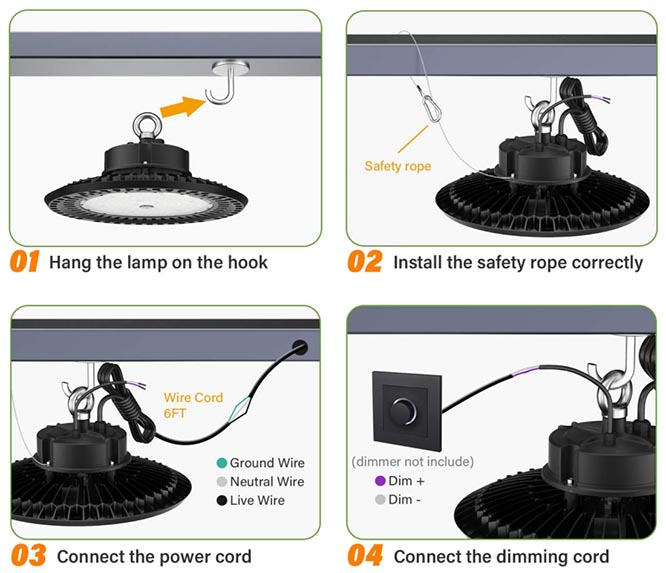 This light draws 240 watts, with a brightness of 36,000 lumens. Not only is it the most powerful on our list, but it's also the most efficient, at 150 lumens per watt. It's also pretty tough, with an IP65 weather-resistance rating and a robust five-year warranty.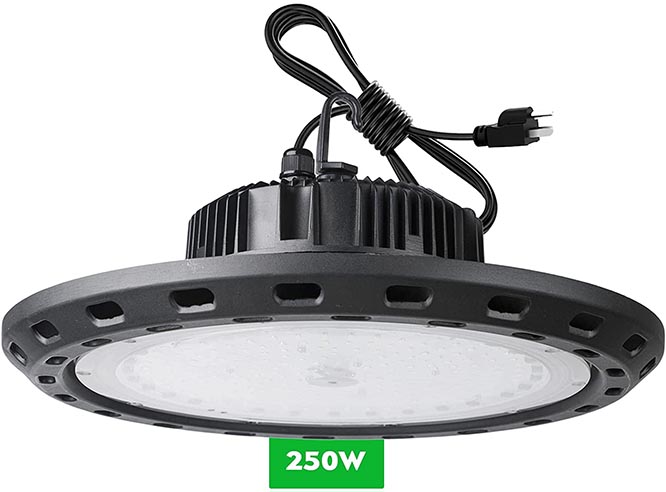 bulbeats 250W LED High Bay Light
The bulbeats 250W LED High Bay Light is available in a single, two, or four-pack. The multi-packs are steeply discounted, which makes them a great choice for larger areas. The housing is circular and black, with a metal lower portion and a plastic upper. This provides a balance of heat dissipation and light weight. The hanging ring is also plastic, although you have a metal safety cable for a backup. Power is provided by a 5-foot, 3-prong power cable.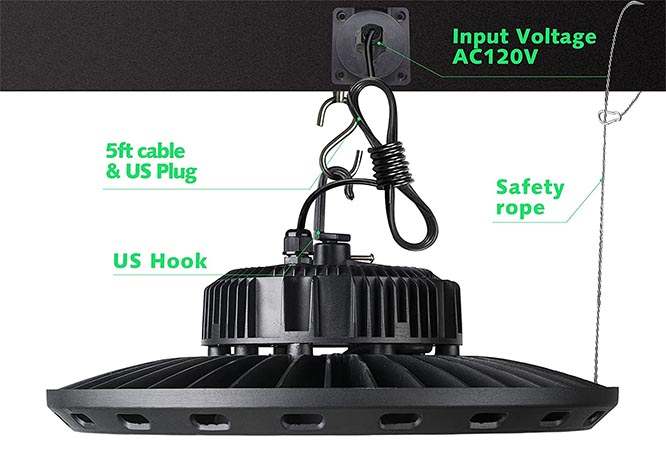 The 250-watt light element provides 35,000 lumens, which is very bright. That works out to a 140 lumen per watt efficiency, the same as the HYPERLITE. The bulbeats light is not dimmable, but it does come with a five-year manufacturer's warranty. If you run into any issues, you know you'll be protected.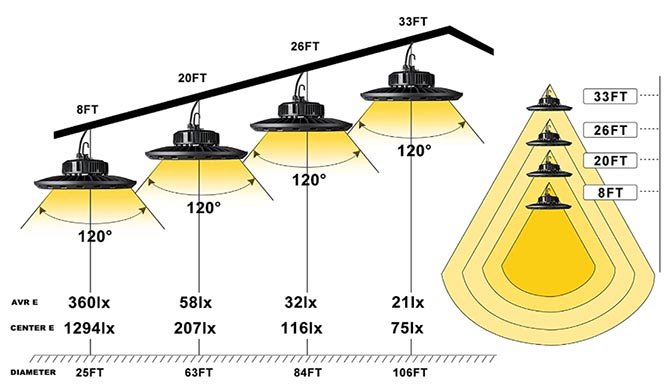 Choosing the Best High Bay Light
So, what makes the best high bay lights stand out from the competition? To begin with, let's state the obvious. A lot depends on the type of space, and on how much brightness you need. Are you trying to provide dim lighting for a movie theatre? Or do you need bright lighting for your warehouse workers to read paperwork? Is safety a major concern? A lot will be dictated by these types of questions.
That said, there are a few things you should be looking for in any high bay light. You need a light with efficiency, and you need to understand color temperature. You need to look at the shape of the beam, as well as the angle. You also need to think about how the light is going to be mounted or attached in your ceiling. Let's take a closer look at all of those considerations.
Brightness & Color Temperature
Brightness is a major factor when you're choosing a high bay light. If the light is too dim or too bright, it's not going to achieve your goals. This is more complicated than simply getting a lumen rating. You also have to think about how far the light is from the floor.
Most lights will have a chart that shows you how many lumens per square foot you get at any given height. Consulting the chart – or doing the math yourself – will get you a good idea of how much brightness to expect.
Color temperature is probably second only to brightness in importance. White light is measured on a scale of degrees Kelvin, which refers to the tone. Paradoxically, a lower temperature indicates a "warmer" light. Lights in the 2,700-degree range have a reddish cast. 3,500K indicates a more neutral white, while 5,000K and up will have a blue tinge to it. Warmer colors are generally more relaxing. That said, a high-temperature "cool" light is the best for visibility. For this reason, all of today's lights have a 5,000K color temperature.
Beam Angle & Shape
Knowing the beam angle is critical for understanding how much area a given light can cover. The wider the angle, the more coverage you'll have, but the more the beam will be spread out. The narrower the angle, the less coverage, but the more focused the beam will be. The basic formula for determining the beam width is: Beam Angle x 0.018 x bulb height
All of the lights we've chosen have a 120-degree beam angle, so the calculation becomes simpler. 120 x 0.018 is 2.16. Multiply 2.16 by your bulb height, and that's how wide the coverage area is. At 20 feet, for example, the coverage area will be 43.2 feet across. At 40 feet, it will be 86.4 feet, and so on. Along the same lines, think about the light's shape. A rectangular light will cast a rectangular beam, while a round light will cast a round one.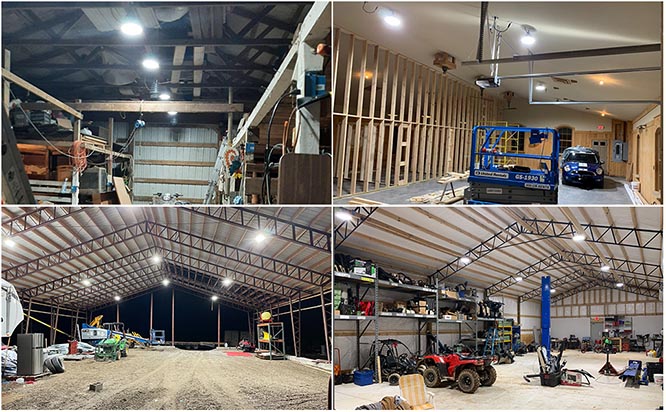 Mounting & Compatibility
Think about how you want your high bay light to mount. Today's LED lights can all hang on basic hardware, or be retrofitted into many existing fixtures. If you don't want to do a ton of remodeling, retrofitting is often the better option. It's often well worth investing in a retrofitting kit, rather than starting from scratch. You should also consider whether you want your lights to be hardwired, or whether they can use an AC outlet.
Regardless, these kinds of lights are typically only used in finished construction. If you're looking for temporary jobsite lighting, there are better options. For example, consider a magnetic LED work light. They're nice and bright, and you can get light where you need it. When the job is done, they're also easy to remove.
Energy Savings
On a large scale, energy use is always going to be a concern. You don't want to waste money on lighting any space, whether it's a barn or a huge warehouse. Thankfully, modern LED lights provide energy-efficient illumination for almost any environment. Try to find a fixture with more than 125 lumens per watt, and you'll be making a wise investment.
Final Verdict
So, where does this leave us? There's a lot of similarity between today's three offerings. All three are circular, and all three have a beam angle of 120 degrees. And with a color temperature of 5,000K, they all provide a pleasant warm white light. That said, there are a few major differences to account for.
The HYPERLITE LED High Bay Light comes with the most options. With between 100 and 250 watts, you can get dim lighting, bright lighting, or anything in-between. These bulbs are also dimmable, and the metal retention pin keeps the hook mount secure. The AC power supply could be a pro or a con, depending on your preferences.
The BFT 240W UFO LED High Bay Light, on the other hand, is the most rugged of the bunch. With its all-metal design, it's very tough, and the metal mounting ring is nice and secure. You'll have to hardwire it, but it's very efficient, with 150 lumens per watt of brightness.
The bulbeats 250W LED High Bay Light is well-made and efficient. That said, it doesn't beat out the other two lights on any major metric. Then again, it still provides an attractive, bright light, suitable for many applications.