With the Switch game system, Nintendo has continued their tradition of unique, innovative designs. They had a lot of expectations to live up to. Nintendo's previous console, the Wii, was one of the top-selling game consoles of all time.
Its motion-based controls paved the way for a generation of copycats, and expanded gaming into new, exciting markets. It's no surprise that people were eager to see how Nintendo would build on that success.
With the Switch, Nintendo is once again changing how we think about consoles and interfaces. Traditionally, there have been two kinds of game systems: consoles and handheld systems. Consoles have always been the most powerful.
Until recently, there's been no replacement for the capabilities of a bigger machine. You could get power from a wall outlet, not just a battery. You could also take advantage of larger cartridges or discs. Handheld systems were relatively limited.
But modern technology allows for smaller systems that perform close to the level of a full-sized console. Nintendo capitalized on that, and built a system that can be used with a TV or on the go. With its high-powered battery, it can last for hours without plugging in.
And with its built-in 720p display, it provides great color and clarity, even on the go. But that display is vulnerable to scratching, so it's wise to invest in a screen protector. While you're at it, it makes sense to buy one that protects against blue light. This can help reduce eye fatigue, and even protect against long-term eye damage.
Choosing the Best Blue Light Screen Protector Filter for Nintendo Switch
We're about to review the four best blue light protection filters for the Nintendo Switch. All of these screen protectors are designed to filter out blue light, as well as keep your screen safe. At the same time, they're not carbon copies of each-other, and they have different features and capabilities.
But which one is the right choice for you? To answer that question, we're going to have to take a much closer look at each one of them. We'll have to talk about the materials they're made from, and how durable they are. We'll also have to talk about the picture quality you can expect, as well as the filtering capabilities. After we've gone over all of those things, we'll be ready to deliver a final verdict. Let's get started!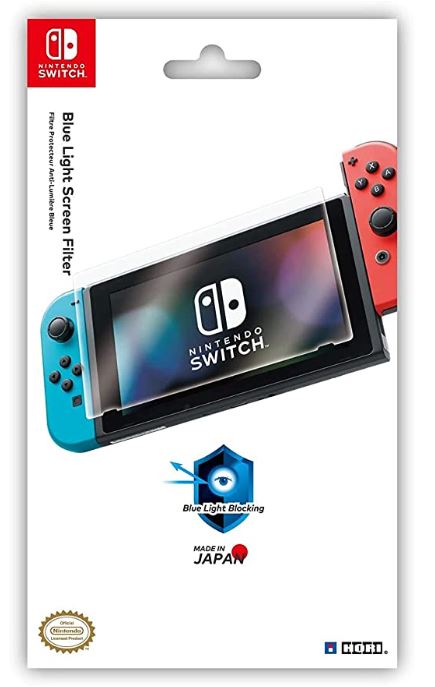 Hori Nintendo Switch Blue Light Screen Filter
Hori is a company that makes a number of aftermarket accessories for gaming systems. Among their other offerings, we recently reviewed their Nintendo Switch gaming earbuds. We appreciated their performance, so we were eager to check out their screen protector.
The Hori Nintendo Switch Blue Light Screen filter is a simple plastic protector. It's made from a high-quality PET film, which is type of plastic that's known for its clarity and toughness. In fact, it's so transparent that it can easily be confused for tempered glass. The material comes with a peel-away backing, and it flexes easily during installation.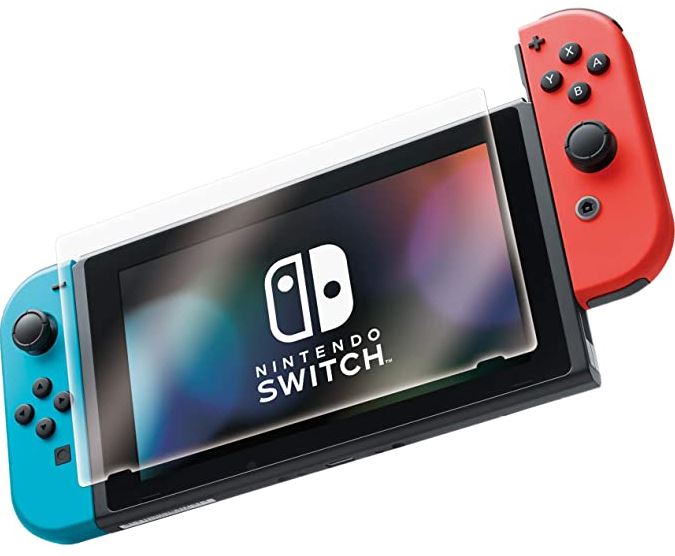 This screen protector comes in a couple of different versions. To begin with, it comes with and without blue light protection. If for some reason you don't want a blue light filter, you can still just use it as a screen protector. You can also order it for the Switch Lite, and even for the Switch OLED. Assuming you want the blue light filtration, you're getting very good performance. In total, this means a 30% reduction in total blue light.
One thing we like about the Hori protector is that it's officially licensed by Nintendo. This isn't just some random brand making a screen protector. That said, the static charge of the plastic material tends to attract dust. On the upside, the kit includes a small cleaning cloth, so it's easy enough to dust off.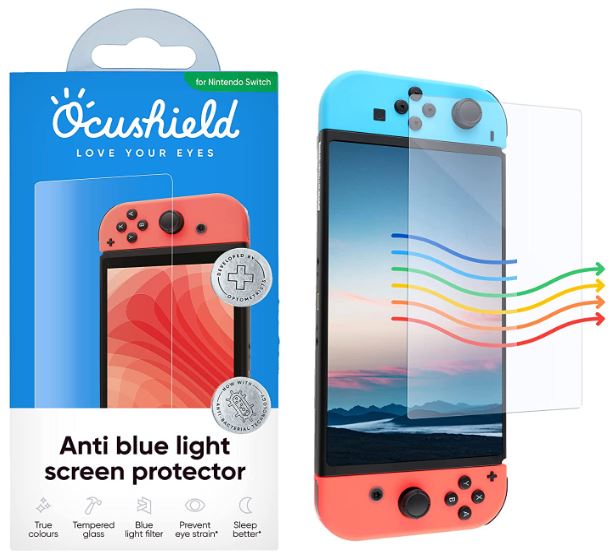 Ocushield Anti Blue Light Tempered Glass Screen Protector
The Ocushield Anti Blue Light Tempered Glass Screen Protector is exactly what the name implies. This is a rigid tempered glass protector that's designed to cover the Nintendo Switch screen. Along with the ordinary Twitch, it's also available for the Switch Lite. Unless you have the Switch OLED, you'll be able to get the right one.
This screen provides a couple of strong features. For one thing, it's exceptionally clear. Colors are rich and vibrant, and there's no blur or distortion. For another thing, it's very good at blue light filtering. You don't have to worry nearly as much about eye fatigue as you do with most other screens.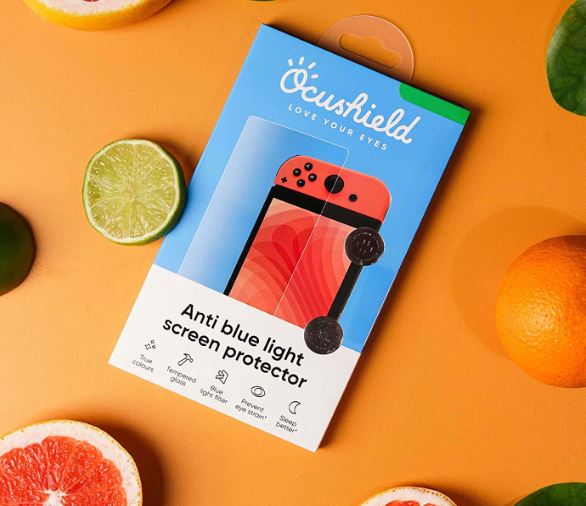 Because this is glass, not plastic, it doesn't collect a lot of dust. On the other hand, it does have a tendency to collect fingerprints. Depending on your usage, you may find yourself cleaning it more often than you'd like. Then again, Ocushield provides a 100-day money back guarantee. If you decide it's not to your liking, you can just send it back for a refund, no questions asked.
Your screen isn't the only thing on your Switch that needs protection. Other parts can also get damaged, including, notoriously, the kickstand. Thankfully, there are plenty of solutions. If you're having kickstand trouble, check out our list of the best Nintendo Switch kickstand replacements.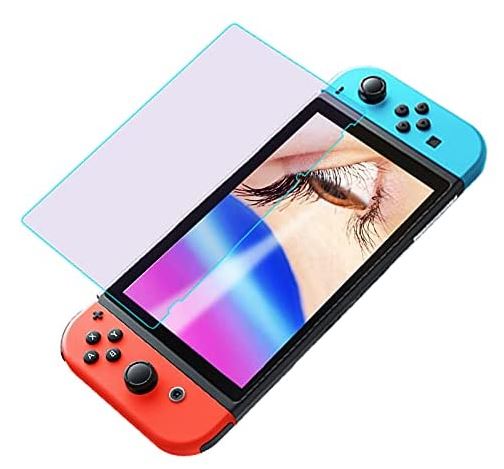 PERFECTSIGHT Anti Blue Light Tempered Glass Screen Protector
The PERFECTSIGHT Anti Blue Light Tempered Glass Screen Protector is also made of glass. This screen protector comes sized for any type of Switch, including the Switch Lite and Switch OLED. Just make sure to choose the correct size before you click on the "buy" button.
Along with coming in all sizes, the PERFECTSIGHT protector comes in different varieties. To begin with, there's the HD clear version. This is ordinary clear glass, with no special features. Next, there's the matte clear version, which has both blue light filtering and anti-glare protection. Finally, there's the purple version. This falls somewhere in-between the other two, with blue light filtering, but no anti-glare protection.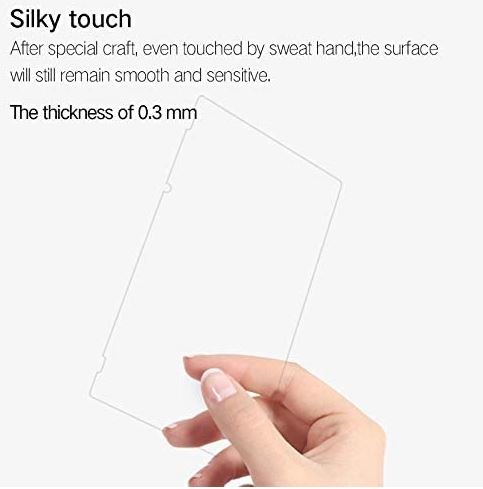 The glass itself is only 0.33mm thick. Because it's so thin, it's capable of excellent touch response. If you're tired of mis-clicking things on your touchscreen, you'll be very happy. Not only that, but the surface is treated with an oil-resistant coating. This makes it very resistant to fingerprints, more so than most screen protectors.
Along with the screen protector itself, the kit includes an alcohol wipe and a pair of dust wipes. These are used to prepare your screen for the initial install. You'll also get a microfiber cloth for everyday dusting.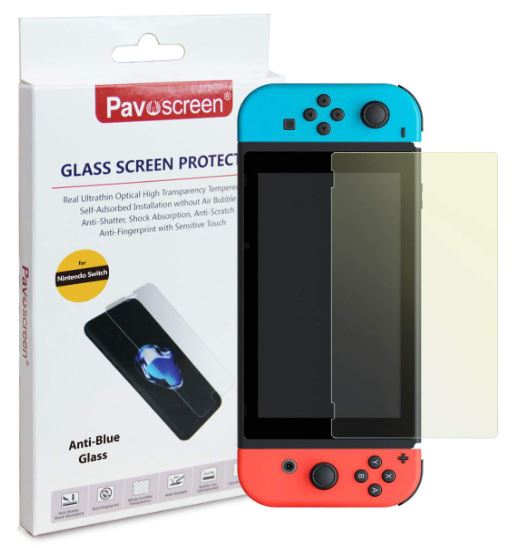 Pavoscreen Anti Blue Light Screen Protector
The Pavoscreen Anti Blue Light Screen Protector is yet another tempered glass protector. The material is actually a high grade of tempered glass known as 9H. This material is more shatter-resistant than lower grades, and can take a serious beating. This makes it a great choice for anyone whose phone is subject to a lot of abuse.
At the same time, the glass is clear and provides bright, true colors. The blue light filtration is effective, and significantly reduces eye fatigue. Meanwhile, it's only 0.3mm thick, so you get touch performance on par with the PERFECTSIGHT screen protector.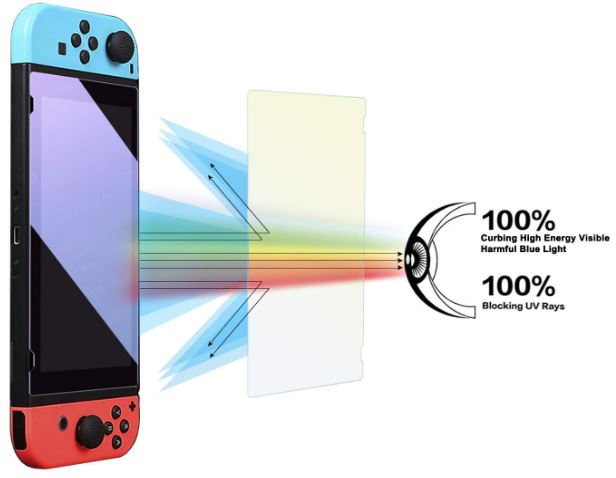 The package also includes all the other accessories you need to get started. There's a cleaning paper, squeegee, and sticker for preparing the screen for application. There's a microfiber cloth for cleaning later on down the line. And all of this is backed by a 12-month manufacturer's warranty.
While you're keeping your screen safe, why not protect your entire Switch console? A good carrying case goes a long way towards keeping your system from getting scratched or dinged. To find the right one, take a look at our list of the best protective carrying cases for Nintendo Switch OLED.
Why Use Blue Light Protection?
So, why would you need blue light protection in the first place? There are a couple of good reasons. To begin with, it's important to understand that screens put out a ton of blue light. Ordinary daylight is far more balanced across the visible spectrum. And believe it or not, this is going to have some effects on your body.
First off, blue light is the first frequency to shine through in the early sunrise. Because of this, our brains have evolved to interpret blue light as a signal to start waking up. This is no problem in the morning. But when you sit up late on your phone or game console, the screen actually keeps your brain awake. If you want to relax, it helps to filter out a lot of that blue light.
For another thing, excessive blue light puts strain on your eyes. It can cause headaches such as migraines, especially in people who are sensitive to it. It's even possible that it may cause long-term damage and contribute to macular degeneration. For all these reasons, it helps to take some protective measures.
Final Verdict
So, which of these screen protectors is the best for you? It all comes down to what you're looking for. The Hori Nintendo Switch Blue Light Screen Filter is the best choice if you want a flexible plastic protector. The PET material is every bit as clear as glass, so you aren't sacrificing any picture quality. It can also be ordered to fit any version of the Switch.
The Ocushield Anti Blue Light Tempered Glass Screen Protector is an ultra-clear glass protector. It's reasonably durable, and it offers top-of-the-line blue light protection. And with the 100-day satisfaction guarantee, you can always send it back if it doesn't met your expectations.
Next, we examined the PERFECTSIGHT Anti Blue Light Tempered Glass Screen Protector. This screen protector comes in different variants, including one with added anti-glare protection. It also has very good touch response, and an oil-resistant coating that doesn't collect a lot of fingerprints.
The Pavoscreen Anti Blue Light Screen Protector is the toughest of the bunch. The durable 9H glass can stand up to the most demanding environments. Meanwhile, you still get blue light protection, although it's only available for the regular Switch. But if durability is what you need, this is your best choice.
Meet Derek, "TechGuru," a 34-year-old technology enthusiast with a deep passion for tech innovations. With extensive experience, he specializes in gaming hardware and software, and has expertise in gadgets, custom PCs, and audio.
Besides writing about tech and reviewing new products, Derek enjoys traveling, hiking, and photography. Committed to keeping up with the latest industry trends, he aims to guide readers in making informed tech decisions.