The Nintendo Switch OLED just came out on October 8th, and people can't stop talking about it. So, what is it about this new Switch that makes it different from the original or the Switch Lite. The most significant upgrade is the screen itself. The original Switch uses a 6.2-inch LCD display, which is pretty good looking. But the Switch OLED uses a 7-inch OLED display, which blows the original out of the water. The brightness is more powerful, which is a blessing in full sunlight. The colors are richer and more vibrant, like you'd see on a high-quality full-sized TV. If you spend most of your time in handheld mode, that's all you'll need to hear.
But even in docked mode, the Switch OLED has a couple of benefits. First off, it has 64GB of internal memory, double the storage space of the original Switch. This allows you to save more games on your console before you have to delete some or use SD cards. Not only that, but the dock now has a proper LAN port, so you can use Ethernet instead of WiFi.
As you can see, there are a number of good reasons people are upgrading to the Switch OLED. But like any game system, this one also has some drawbacks. Primarily, if you already own a Switch, your accessories might not fit. The Switch OLED is slightly wider than the original, and won't fit in a smaller hard case or storage case. As a result, many people are rushing out to buy new supplies along with their new console.
Today, we're going to review the three best Nintendo Switch OLED carrying cases around. We'll begin by looking at the Orzly Carry Case. This case is compact and durable for easy transport, and has space for 8 Micro SDs. Second on our list is the Zadii Hard Carrying Case. This is a larger, molded case that also fits your dock, multiple accessories, and 21 Micro SD cards. Last but not least, we'll check out the iVoler Carrying Case. This is yet another large case, but with more versatile storage, and 18 SD cards worth of space. Which one is the best? To find out, we're going to have to take a look at all of their features. Only then will we be able to deliver a fair verdict. Let's get started!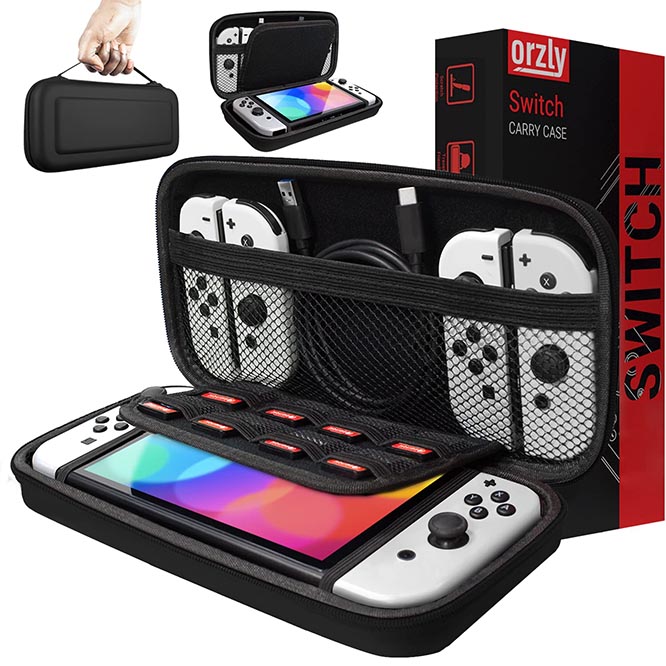 Orzly Carry Case
Orzly is a case manufacturer we've looked at in the past. Not long ago, we reviewed their Orzly Switch Lite case, and it was well put-together. So it made sense to look at the Orzly Carry Case for the Switch OLED.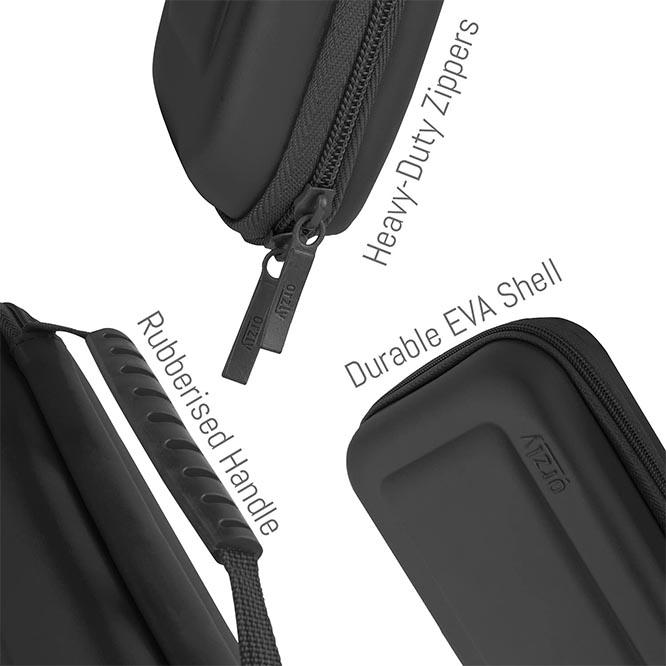 This case has a smooth, solid outer shell that's constructed from EVA nylon. This is a very rugged material, and can stand up to a lot of abuse. You'd need to intentionally smash it with a sledgehammer in order to do any real damage. Not only that, but you're not limited to ordering it in plain, boring black. It's available in eight additional colors, including pink, red, green, midnight blue, neon yellow, orange, purple, and slate grey. This gives you the flexibility to choose a case that meshes with your sense of style.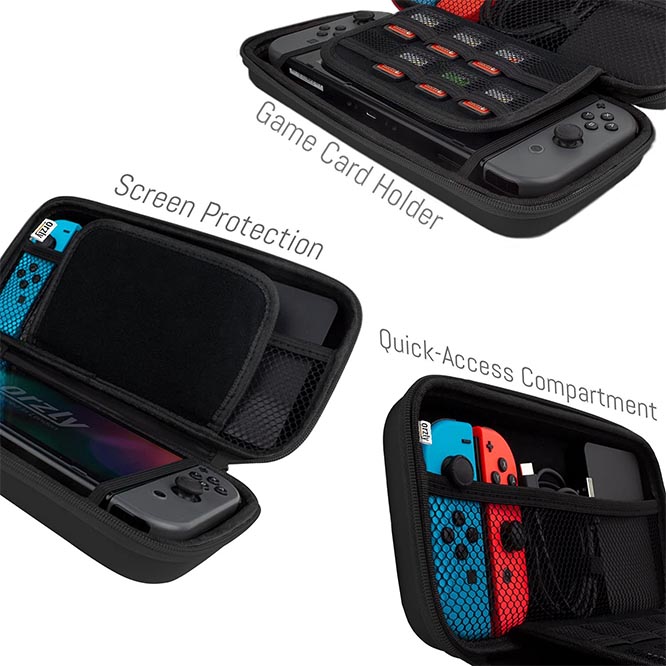 The Orzly Carry Case closes and opens with a zipper, and has a simple rubber carrying handle. This makes it easy to transport, as well as easy to access. On the inside, there's a generous layer of padding, with a soft fabric that won't scratch your gear. The material seems to be of good quality, and safe for your Switch as well as your games. There's even a folding flap in the middle, with a soft pad that covers your screen. So even if you're carrying something with a sharp edge, it won't scratch your OLED.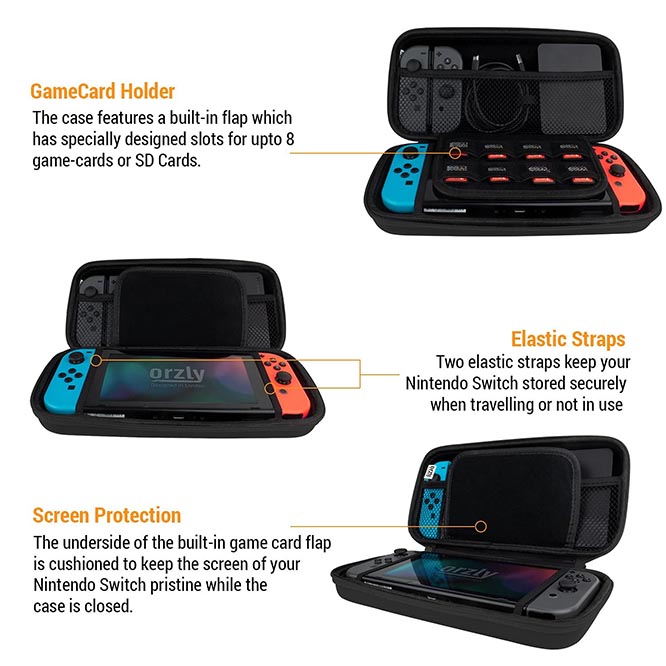 Storage Capacity
So, what can you actually put inside the Orzly Carry Case? To begin with, you can transport the Switch OLED itself. The case is shaped and sized for one Switch console to fit in one side, with the Joy-Cons attached. There are a pair of elastic straps to retain the console, which keeps everything nice and simple. Taking your Switch in and out takes only seconds.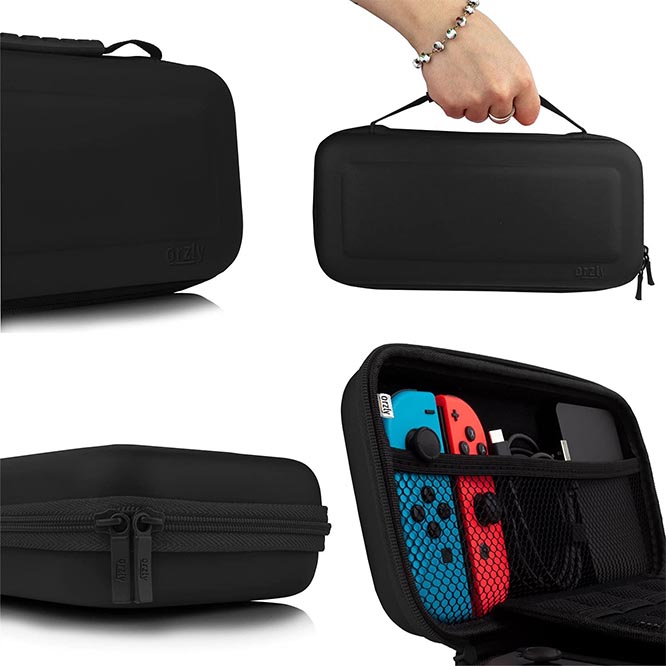 In the middle of the case, like a page in a book, there's the padded flap we already mentioned. When this flap is folded over the front of the Switch, you'll notice a bunch of nylon mesh pockets. There are eight of these in all, perfectly sized for Micro SD cards. As a result, you can carry eight Micro SDs with you along with your console. This makes it easy to bring a number of Switch games on the go.
In the other half of the case, there's one large nylon mesh pocket, with an elastic band at the top. This pocket has enough capacity to carry a number of accessories. For example, you can carry up to three additional Joy-Cons. Alternatively, you can carry one or two Joy-Cons and a charger or other accessory. It's probably not a good idea to put a Pro Controller in this pocket, due to the slim profile of the case. This is both a good thing and a bad thing. On the one hand, your options are more limited than they would be with a larger case. On the other hand, the Orzly case is exceptionally portable.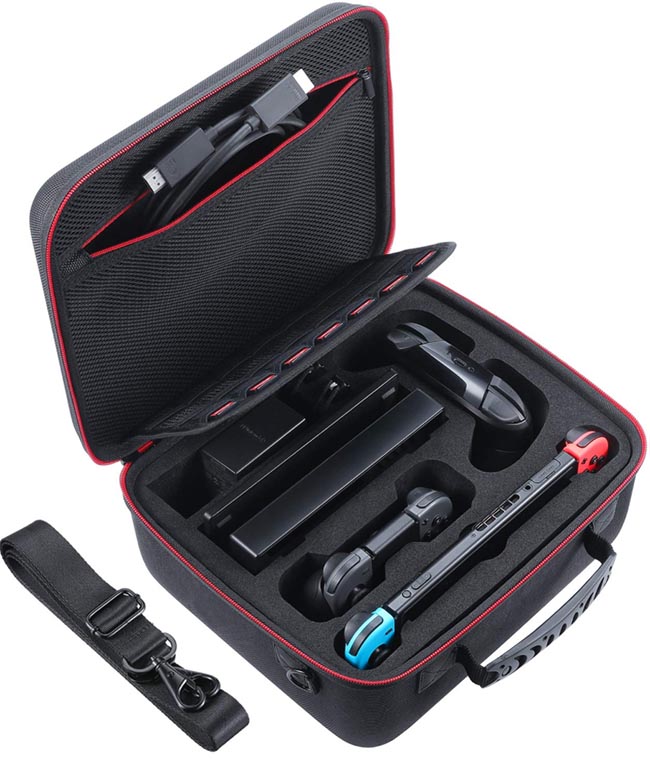 Zadii Hard Carrying Case
Zadii is another manufacturer we've reviewed before. We liked their Nintendo Switch accessory bundle, and now it's time to check out the Zadii Hard Carrying Case. This is another nylon case, although it's considerably larger and it's only available in black. The outer shell is also semi-soft rather than hard, but this isn't much of a concern. The inside is almost entirely filled with a thick, pre-cut foam block with slots for all your supplies. You could drop this case down a flight of stairs, and your Switch would probably come out unscathed. The foam is very precisely cut, so nothing will flop around during transport.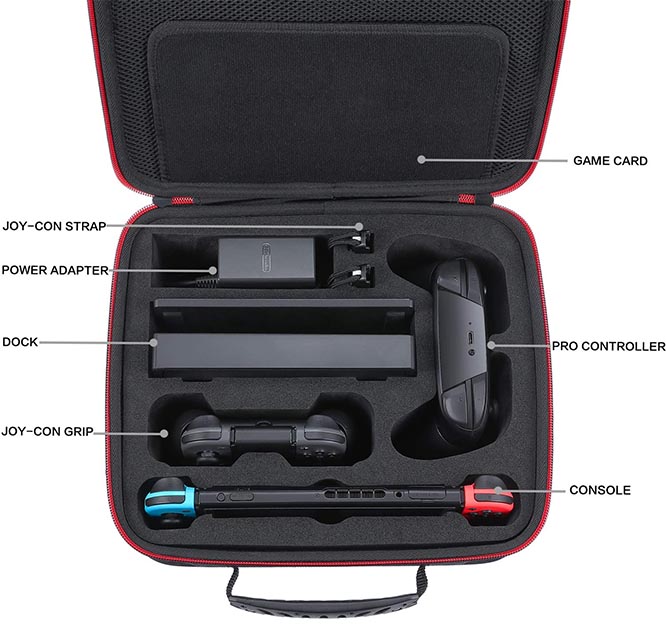 As with the Orzly case, the Zadii case has a flap at the lid hinge which sticks out over the inside. This flap is also soft and padded on the bottom, so it won't scratch your console. The lid closes with a bright red zipper, which is easy to open and provides a nice accent color. In addition, there are two different ways of carrying it. To begin with, you could use the built-in rubber handle, which is comfortable enough. However, the kit also includes a nylon shoulder strap which can be clipped into D-rings on the sides.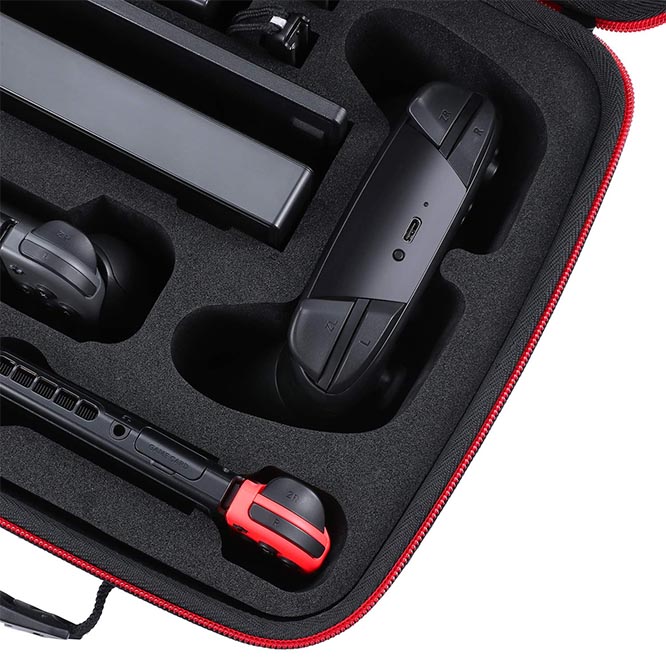 Storage Capacity
Without a doubt, the most attractive aspect of the Zadii case is how much it can carry. To begin with, it will hold your Switch OLED with both Joy-Cons attached. But that's just what goes in the front slot. Behind that, there are separate slots for two Pro Controllers, an extra Joy-Con, your dock, and your power adapter. If that's not enough, there's a zipper pocket in the inside of the lid with room for several cords and cables. In addition to all that, there's also storage space inside the center flap. There are a whopping 21 small nylon mesh pockets for Micro SD cards.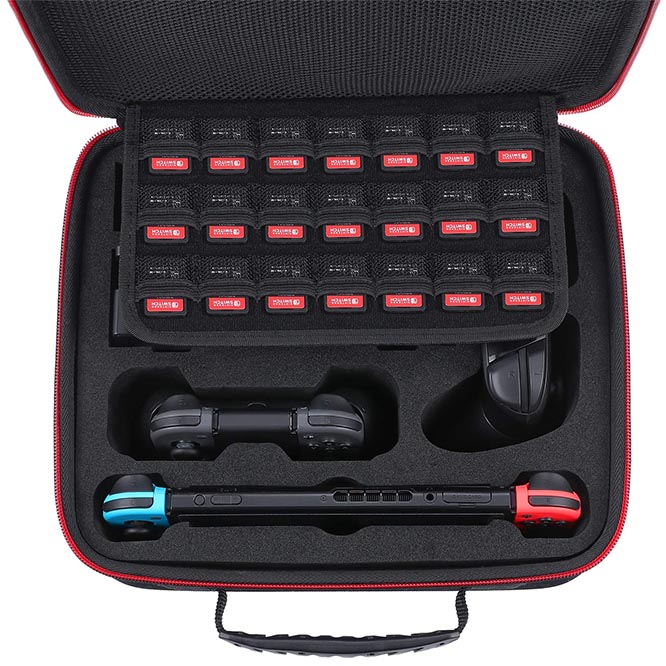 As you can see, this case has a ton of space inside. But keep in mind that it's the size of a large briefcase. If you're going on a plane, it's small enough to be a carry on. But it's not small enough to fit inside your other luggage.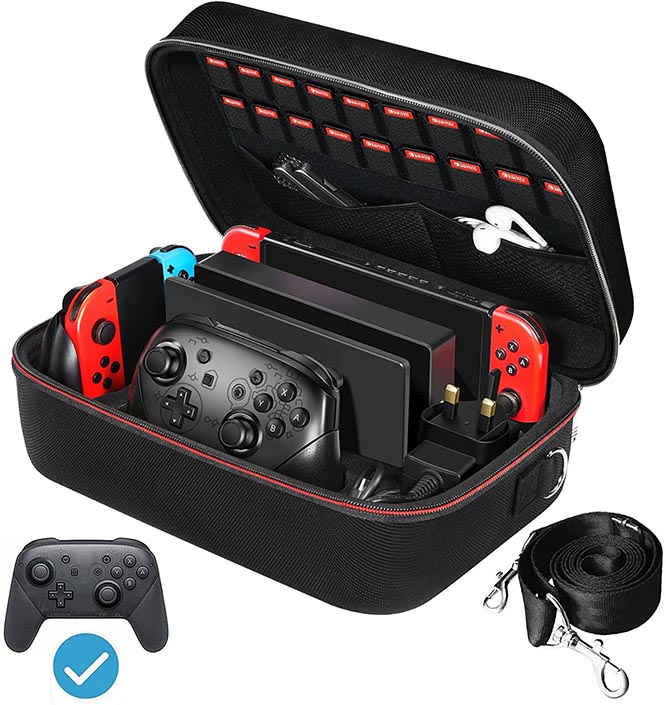 iVoler Carrying Case
Once again, we're returning to a familiar brand. We've reviewed iVoler's Nintendo Switch OLED screen protector just the other day. Now, let's take a look at their carrying case.
The iVoler Carrying Case has a hard EVA nylon shell that's designed for absorbing shock. Along the way, it will also protect from scratches, scrapes, and other everyday abuse. It's only available in black, although it has a bright red zipper that adds some life to it. The inner liner is reasonably soft, and gently cradles your console and accessories. However, unlike the last two cases, this one doesn't have a middle flap for extra padding.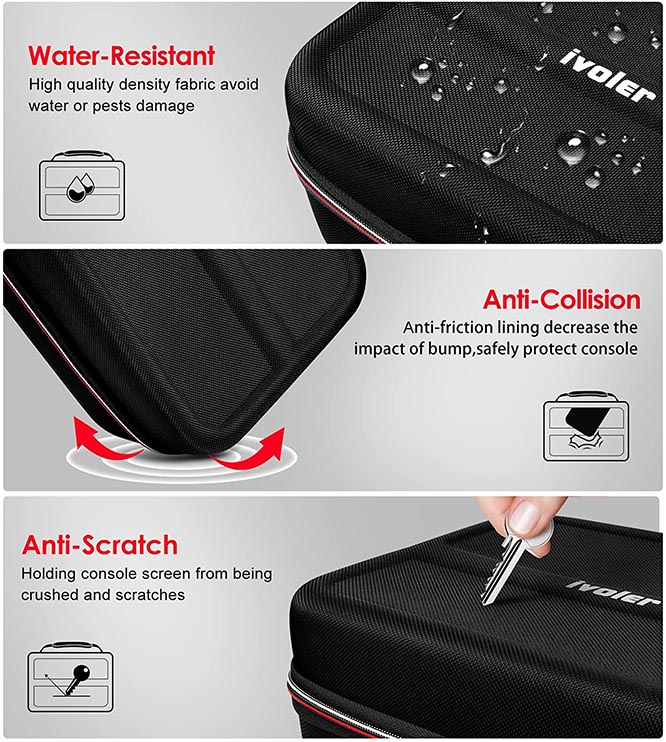 Like the Zadii case, you can carry this one with a rubber handle or a larger nylon shoulder strap. However, the D-rings for the strap are steel instead of plastic, so they're a little bit more reliable.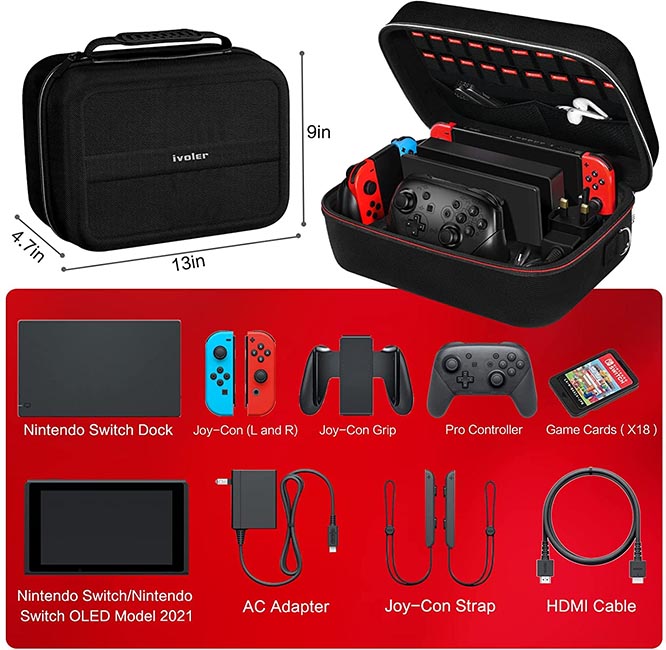 Storage Capacity
Most of your gear fits into a foam block that rests in the bottom of the case. The iVoler Carrying Case holds your console, an extra set of Joy-Cons, a Pro Controller, a dock, and power adapter. In the lower half of the lid, there are two mesh pockets for cables. In the upper half, there are 18 elastic pockets for holding Micro SD cards. Save for the ability to carry a second Pro Controller, you can carry as much as the Zadii case. The downside of the iVoler case's design is that the foam itself doesn't go all the way up. If you carry the case on its side, your gear is liable to shift around.
Final Verdict
As you can see, each of these carrying cases has its own unique benefits and drawbacks. We began with the Orzly Carry Case, which is certainly the most compact of the bunch. This makes it easy to transport, or even to throw in a backpack or luggage. It's also well-protected, with a hard outer shell that can take a serious beating. On the downside, it doesn't hold many extras. This is a natural consequence of it being so small.
The Zadii Hard Carrying Case is the most spacious of the three. With room for your console, dock, four controllers, and 21 SD cards, it's as big as you could reasonably expect. In addition, it's very well-padded, with everything stowed inside a thick foam block. The only real drawback is that it's larger than the other cases.
The iVoler Carrying Case is nice and rugged, with plenty of capacity. It's easy to load and unload, and the shoulder strap attachments are very sturdy. You certainly don't have to worry about your strap popping off. However, we did have concerns about the inner foam block, due to it not fully surrounding your console.