Nintendo has always gone hard with their gaming peripherals and accessories. While some were very favorably received, like the worm lights for Gameboy and Gameboy Color, others did not pick up much traction, such as the Gameboy Printer. The Switch also has its gamut of accessories, such as driving wheels, multiplayer controllers, console carriers and game cases.
If you're a true Switch gamer then you probably have a couple of these accessories around. Most people probably have a carrying case for their console or at least somewhere to stash games. For the most part, these accessories are not necessary and just enhance the gaming experience.
Today we're going to discuss several different Nintendo Switch accessory bundles and see what they have to offer. We'll examine offerings from a wide range of manufacturers; Orzly, Deruitu and Zadii. We'll talk about the features, pros and cons of each. In the end, we'll give our verdict on which one we think is the best to consider.
What Kinds of Accessories Are We Talking About?
When it comes to Nintendo Switch, there are two main types of accessories; those for storage and carrying purposes and peripherals for gaming. When it comes to the Switch consoles, the most common kinds accessories are things like console and game carrying cases. For the peripherals, these include things like driving wheels for racing games and single Joy-Con attachments for when you're playing multiplayer with a single set of Joy-Cons.
Accessory packs may also include extra pieces for the Switch, such as joystick covers and glass screen protectors. Also, many bundles include unique accessories like tennis rackets, charging stations and grip cases. Simply put, there's no shortage of cool gadgets for the Nintendo Switch. In our opinion, here are some of the most useful kinds of accessories to look out for.
Carrying Case
The Switch is designed to be carried around but by itself the console is quite vulnerable. It's kind of notorious for being fragile so you don't want to transport it without a sturdy carrying case. Cases can be just for the console or also for the console, game cartridges and TV docking station.
Game Cases
Personally, we like having game cases with artwork but some people don't. Game cases let you store all your games in a much smaller carrying case than keeping them in their individual, original cases. Some cases are meant to hold the console, some games and even a few pairs of controllers all at the same time.
Controller Peripherals
The Switch Joy-Cons can be used individually by two people but they're known for being small and finicky when in two-player mode. These kinds of peripherals attach to a single Joy-Con and make it feel like you're playing with a full-sized controller. Another popular controller option is a Joy-Con driving wheel for Mario Kart and other racing games.
Screen Protectors
If you play the Switch in handheld mode a lot then you know the benefit of a good screen protector. Even if you never play in handheld mode and only play in docked mode, a screen protector can prevent those annoying scratches near the top corner that the docking station can cause.
Screen Stand
The Switch has a built-in screen stand in the back, but it is pretty flimsy and hard to get to stick. The kickstand is also fairly skinny so it doesn't work well unless the surface is perfectly flat.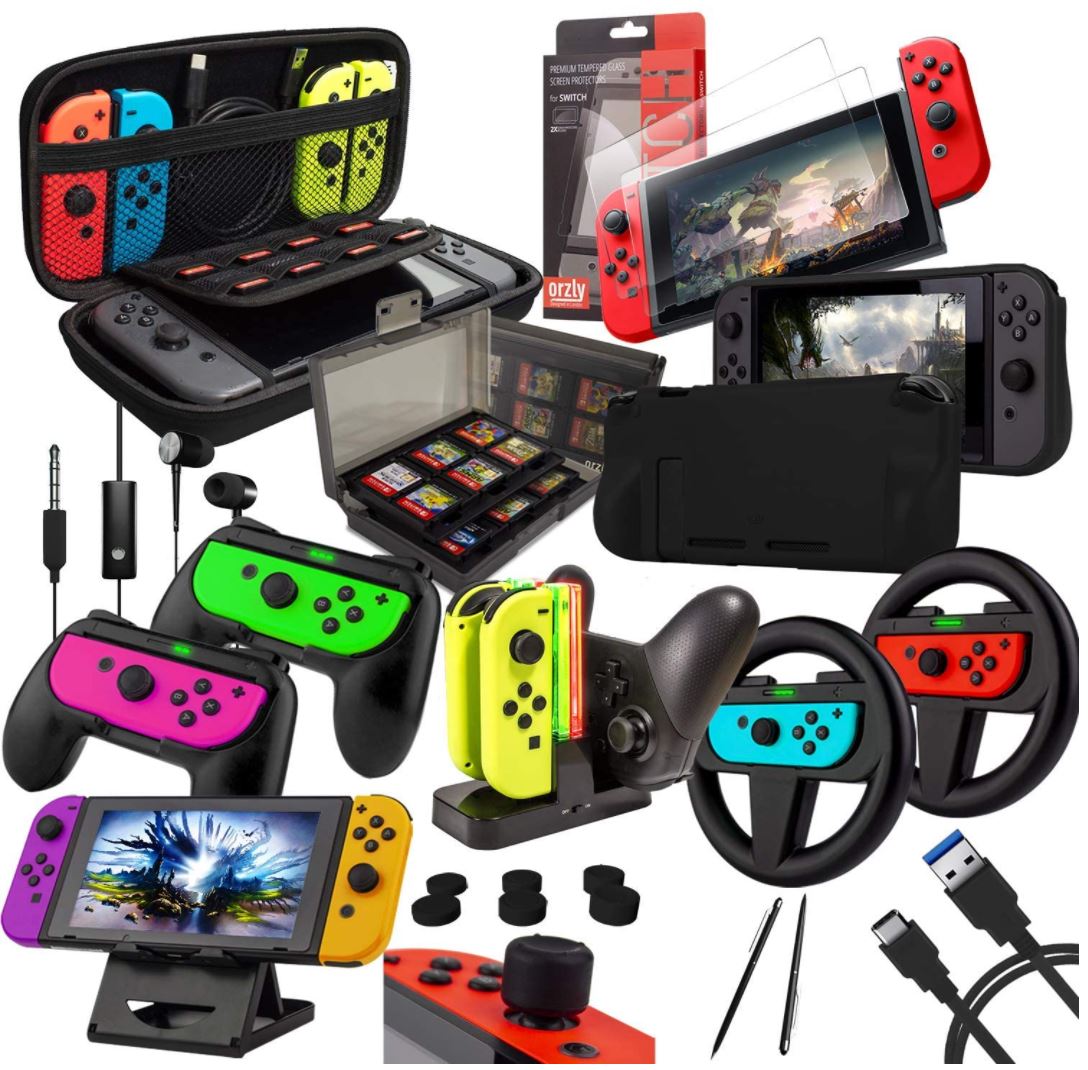 Orzly Geek Pack
Up first on our list is the Orzly Geek Pack. This bundle contains a ton of Switch Accessories including a carrying case for both games and the consoles, driving wheels, controller attachments for Joy-Con multiplayer and even a separate game case. The Orzy Geek Pack also comes with a laminate screen protector that prevents abrasions and scratches. It basically contains every accessory you could ever need and a few that you may not have known that you needed.
The Orzy also comes with a controller charging dock. The dock can charge up to two sets of Joy-Cons at once as well as a single Pro controller. It functions with a standard USB cable and standard charging block for regular outlets. Additionally, the Geek Pack comes with an extra USB Type-C cable for powering the switch as well as a set of two styluses for touch screen operation.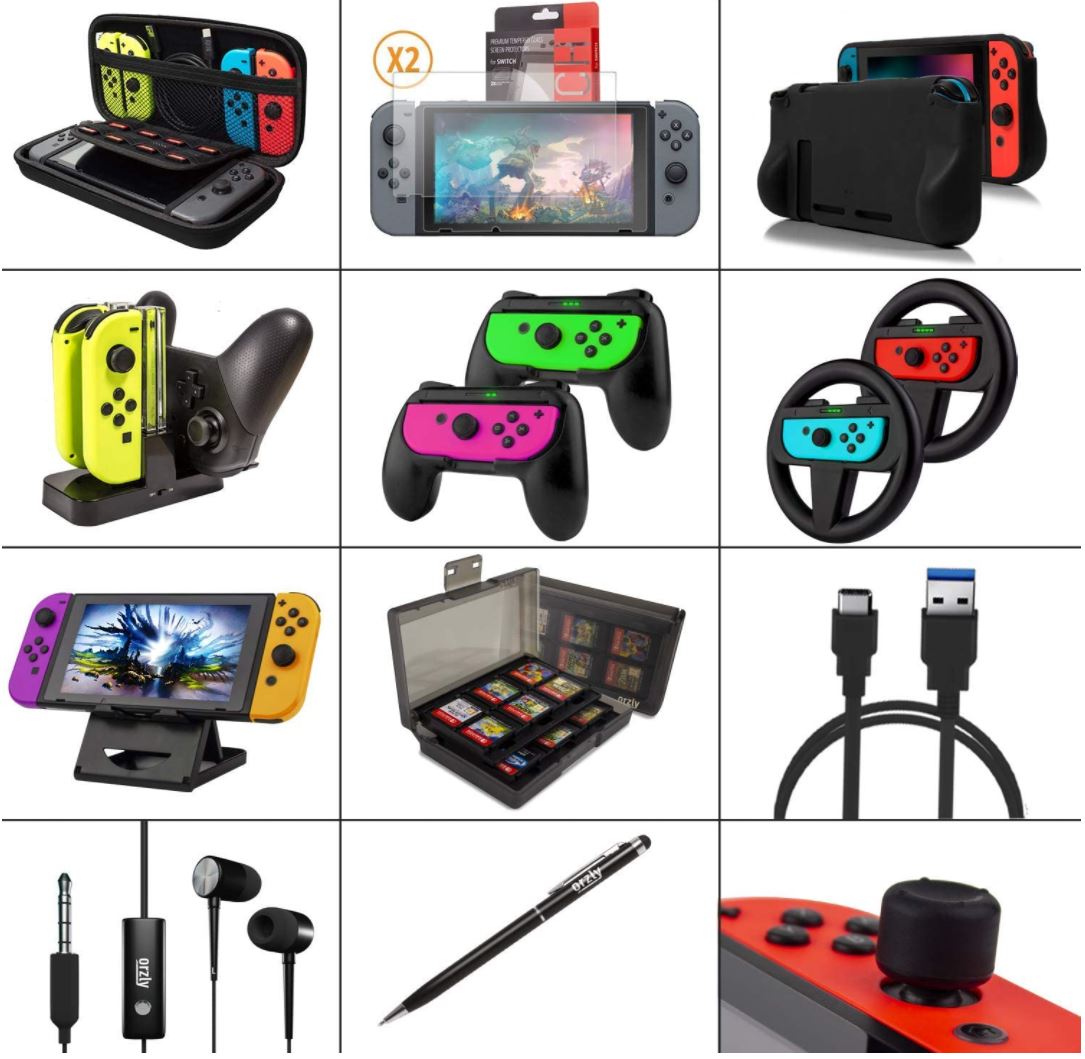 Overall, you get a great mix of genuinely useful items. The included carrying case is super convenient for those long road trips or even for your morning commute. We like how the bundle includes some caps for the joysticks as the Switch controllers are known for not being very comfortable for extended periods. The soft pads for the joysticks greatly reduce thumb fatigue after playing for hours.
In addition to all of these great accessories, you also get a stand for the console when it's in portable mode. The stand isn't anything special but it works well enough. The plastic it's made out of does seem somewhat flimsy though. In addition, many users complain that it's easy to break accidentally if you push on it too hard.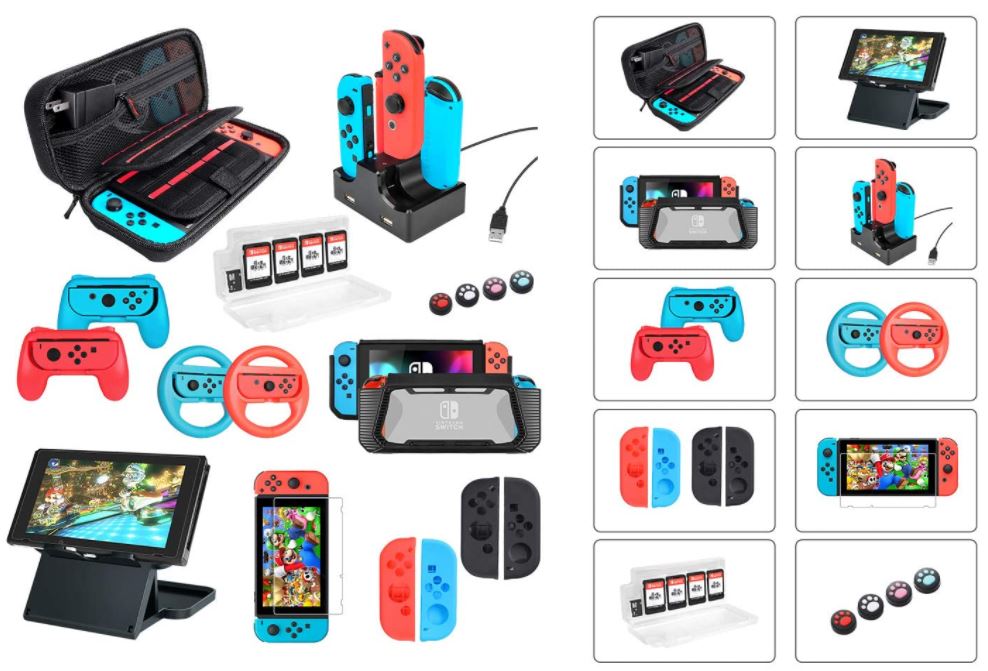 Deruitu Switch Accessories Bundle
Up next on our list is the Deruitu Switch Accessories Bundle. This pack comes with 18 useful accessories for the Nintendo Switch. It includes a carrying case for the console and games, a glass screen protector, a set of two driving wheels, two Joy-Con attachments and a set of rubber Joy-Con controller grips. There's also a Joy-Con charging stand and a foldable stand for the screen when your Switch is undocked.
One very unique accessory this pack comes with is the faceplate carrying rig. This rig attaches to the console when in undocked mode and covers the back to give you solid rubber grips. It also provides a plastic faceplate that flips down and protects the screen while it's not being used.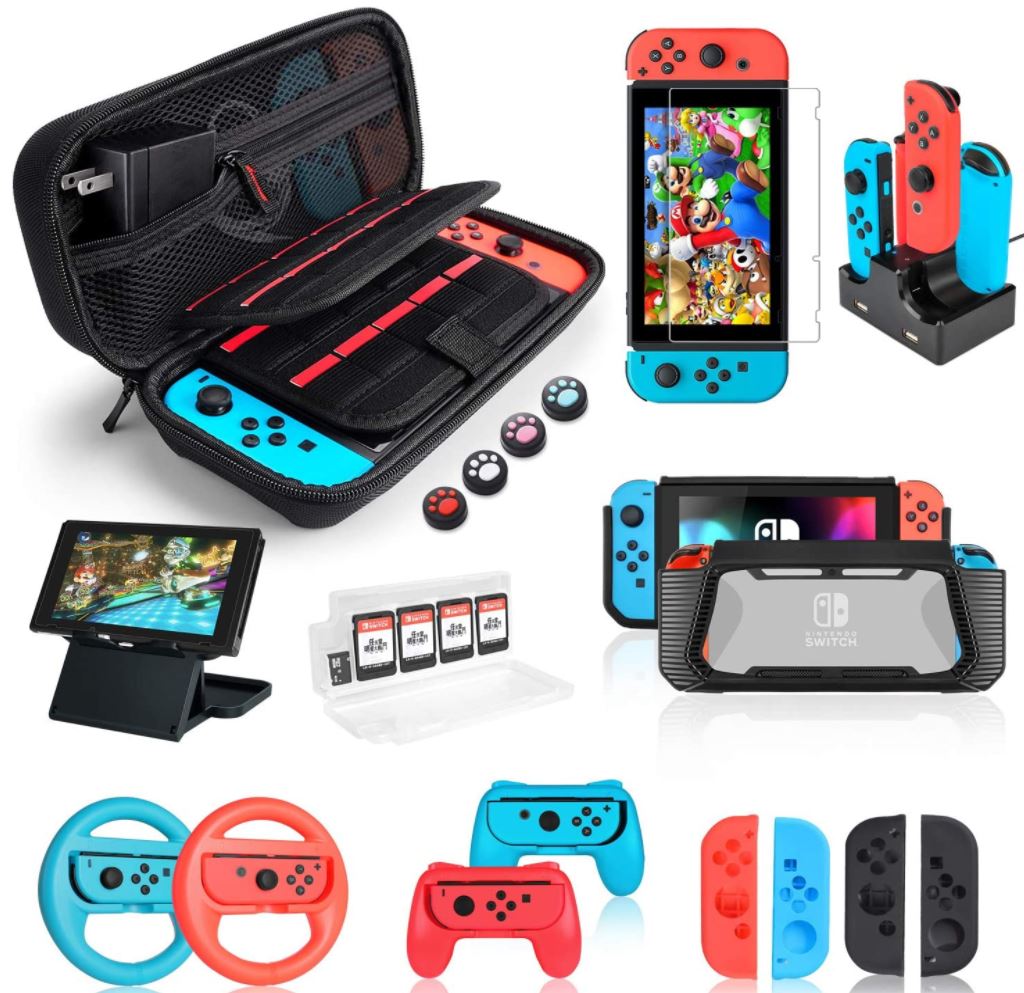 The charging dock that comes with this bundle is also nice. It can charge up to two sets of Joy-Cons simultaneously. Unfortunately, it doesn't have a charging dock for the Pro controller but it's capable of fast charging. In fact, there's LED indicators that tell you when the battery is full. The carrying case for the console has pickets on the top for controllers and a removable flap that holds up to 10 seperate game cartridges.
One last accessory you get are thumb covers for the joysticks. These are great for long gaming sessions and are made from soft rubber so your fingers don't get tired. In our opinion the best accessory in this kit is the carrying case. It's very durable and made from a rigid nylon material. In fact, it's large enough that you can carry the console and several controllers at once without having to force the zipper shut. There are also two flaps, each of which can hold 10 games so you can have a small game collection with you when you're on the go.
Overall, there are a lot of useful things you get with the Deruitu bundle. Overall, the materials seem sturdy, the range of accessories you get is amazing and there are some unique picks that might be hard to find elsewhere.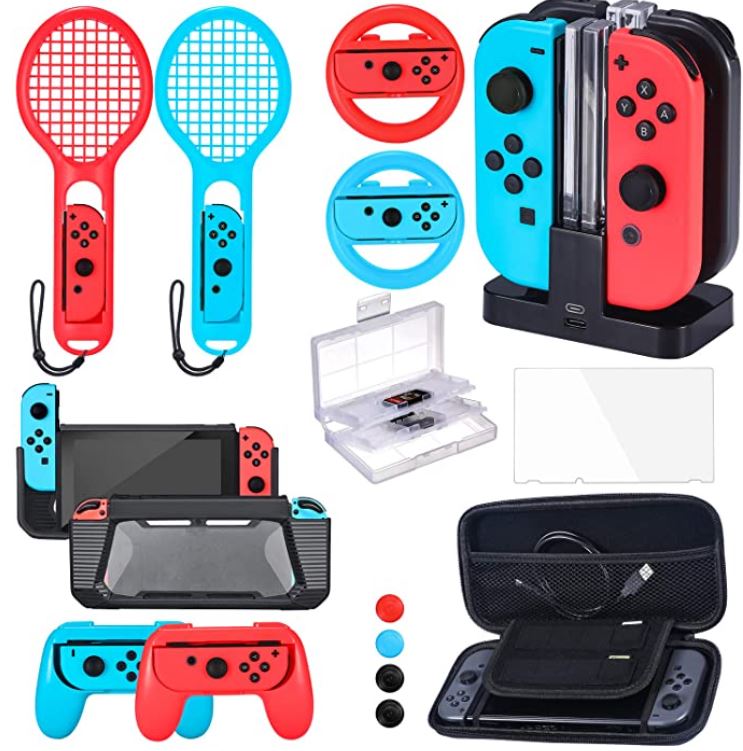 Zadii Accessories Bundle
Last but not least on our roundup is the Zadii Accessories Bundle. This bundle is a bit smaller than the other two and doesn't come with too many accessories. However, it does have a few unique items that the other ones don't have. The most obvious one is the tennis rackets that are designed for Mario Aces Tennis. The Joy-Con fits into the handle on each so you can use the motion controls like a real tennis racket.
The Zadii bundle also comes with a carrying case for console and games, driving wheels for Joy-Cons. There's also a protective case for while in portable mode, Joy-Con attachments for multiplayer and a clear carrying case for game cartridges. You also get access to a series of thumb pads for the joysticks as well as a charging dock for Joy Con controllers.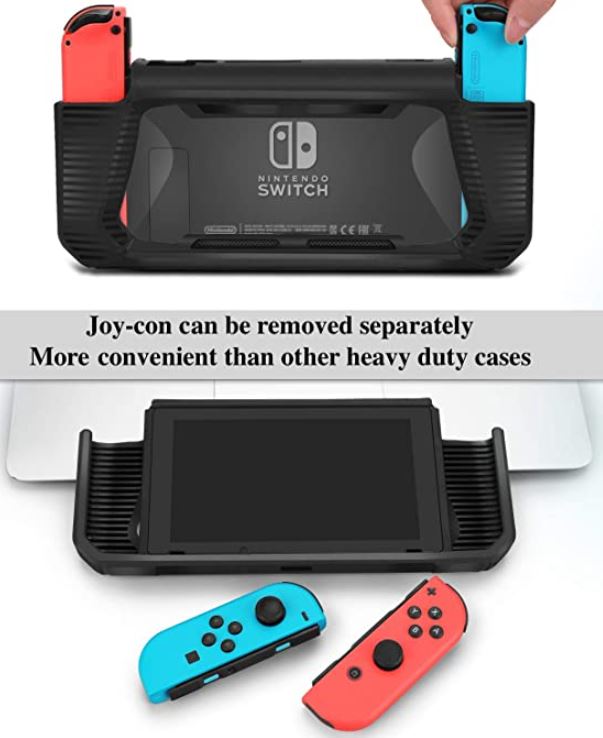 The charging dock can charge up to 2 sets of Joy Cons at once. With it, they can achieve a full charge in just a few hours. Unfortunately, unlike the Orzly bundle that we covered earlier, the charger in the Zadii bundle doesn't allow for charging the Pro controller. The charging dock has an LED indicator that lights up red when the battery is charging and green when fully charged. The clear carrying case is an interesting touch but not very functionally different from a black carrying case.
We do really like the shock-absorption case. It goes around the console in handheld mode and doubles as a protective case and a grip when playing. The grip case also has a plastic screen that flips down over the top to protect the screen from scratches and abrasions. The driving wheels and Joy-Con attachments are also designed from a durable ABS plastic that's lightweight and easy to clean.
Final Words
So, which Switch accessory bundle is the best? In this situation, what's the "best" often depends on what exactly you're looking for. If you already have some Switch accessories, then you might not need an accessory kit with a ton of extra things.
The Orzly Geek Pack has the most accessories out of the three on this list. In fact, it's kind of overwhelming with how many things it has. To be honest, it's unlikely that you'll use everything, especially considering that a few things, such as the driving wheel, are designed for specific games that not everyone might play. But the quality of the products is good and you get a lot of things to play around with.
The Deruitu Switch Accessories Bundle has fewer accessories than the Orzly, but it does offer a few unique items. The Joy-Con sleeves are great when you're playing with them unattached. Additionally, they also keep the controllers from building up dirt and grime, a common problem with the Switch. The Deruitu bundle also comes with a nice glass screen protector that looks great and is tough as nails.
Our last option is the Zadii Accessories Bundle. This bundle has the fewest accessories out of the three but it also includes tennis rackets for Mario Aces. It also seems to have the best charger out of the three accessory bundles. On top of this, it has the best quality case for handheld mode.
Overall, we believe the Deruitu is the best bundle to own. It has just enough accessories so that they all feel useful and not too many that some will feel useless. It comes with the best console carrying case that also doubles as a game carrying case. The rubber Joy-Con sleeves are also an excellent addition that the other two kits don't have.
The Switch has a ton of accessories to play around with and there are likely more to come. For now though, if you need a comprehensive set of accessories for your Switch, any one of these three bundles would be a decent choice. All of them provide a good mixture of quality accessories that will likely find a lot of use.