The Nintendo Switch might just be the most innovative game console ever released. This might be a controversial statement, to say the least. After all, the Wii brought us motion-sensitive controls. To be fair, that led to over a hundred million Wii sales, a feat the Switch has yet to match. But motion-sensitive controlling was a flash in the pan. Remember when Microsoft made the Kinect controller mandatory for the Xbox One? It was a disaster, and the Xbox One has never caught up to the PlayStation 4 in lifetime sales.
On the other hand, the Nintendo Switch has innovated mobile gaming. Microsoft has focused on software solutions for portability. For instance, their "play anywhere" feature and cloud saving will make Xbox Series X games playable on PC. You'll even be able to save your game on one platform and continue playing on another.
Nintendo has created a hardware solution to this same problem. With the Switch, you can either play on your TV in full 1080p, or play anywhere in handheld mode. We've gotten intimately familiar with the Switch, reviewing Joy-Con controller charging stations, external cooling fans, and other accessories. With all this experience, we've learned about what you should be looking for, and what you should avoid.
Today, we'll be reviewing three different Nintendo Switch Joy-Con Wheels. Each of these wheels is designed to convert your Joy-Con controller into a racing wheel. This makes it more fun and immersive to play Mario Kart or other racing games. We'll start with the Orzly Steering Wheel Controller, a simple, compact wheel that's mostly made for kids. Next, we'll move on to the Momen Racing Wheel Grip. This is a complete kit, which also includes Xbox-style Joy-Con controller grips. Finally, we'll review the GH Steering Wheel for Nintendo Switch. This is a beefier wheel that's designed for more precise four-button operation. Which one is the best of the bunch? Let's take a closer look, and see what we discover!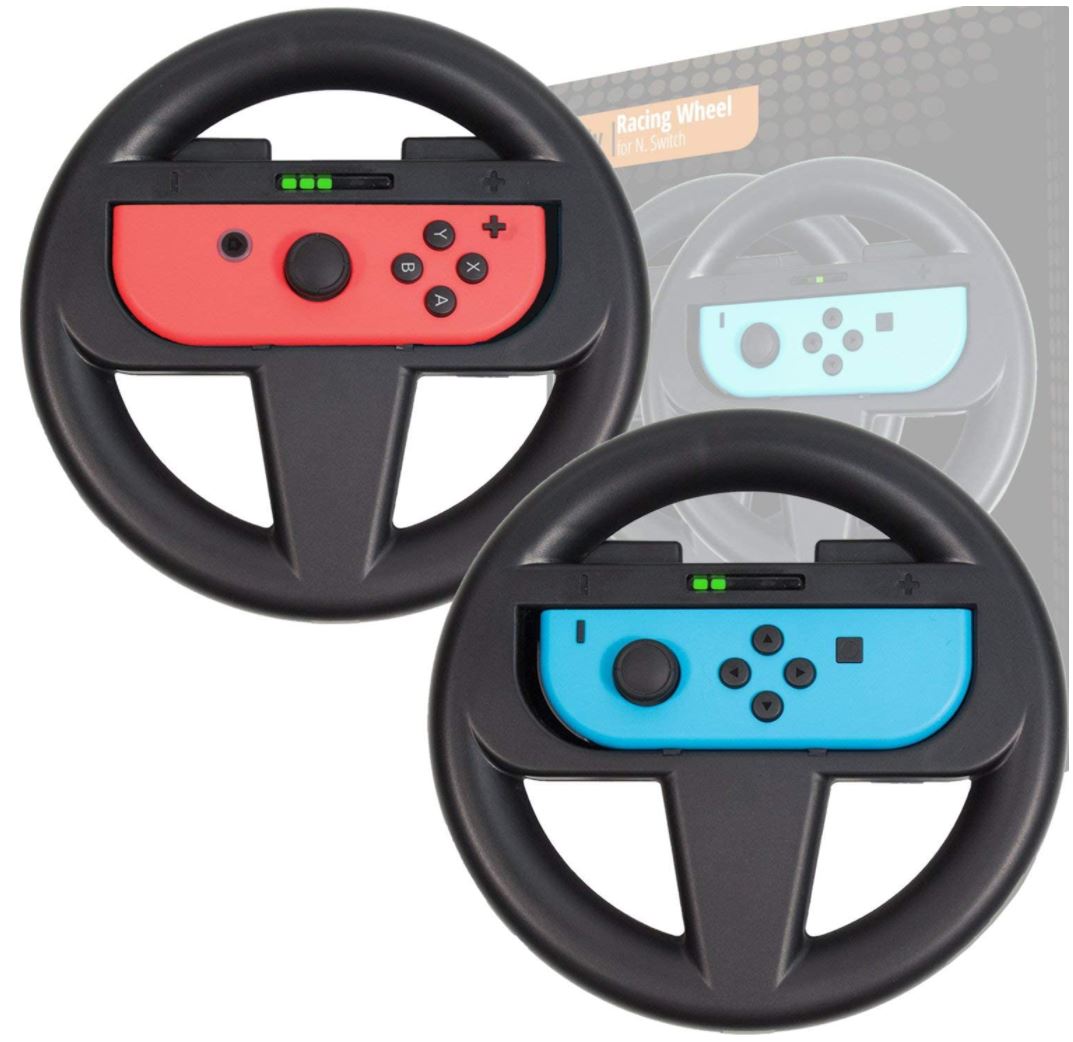 Orzly Steering Wheel Controller
The Orzly Steering Wheel Controller comes in a 2-pack. Depending on which color option, you can get either a blue and red set or matching neon yellow wheels. Either way, each wheel is designed to hold half of a Joy-Con controller. The sets are matching, with a left and right Joy-Con housing respectively. This makes the Orzly Steering Wheel Controller a great choice for playing with friends. Right out of the box, you and one other person are able to sit down and enjoy your game.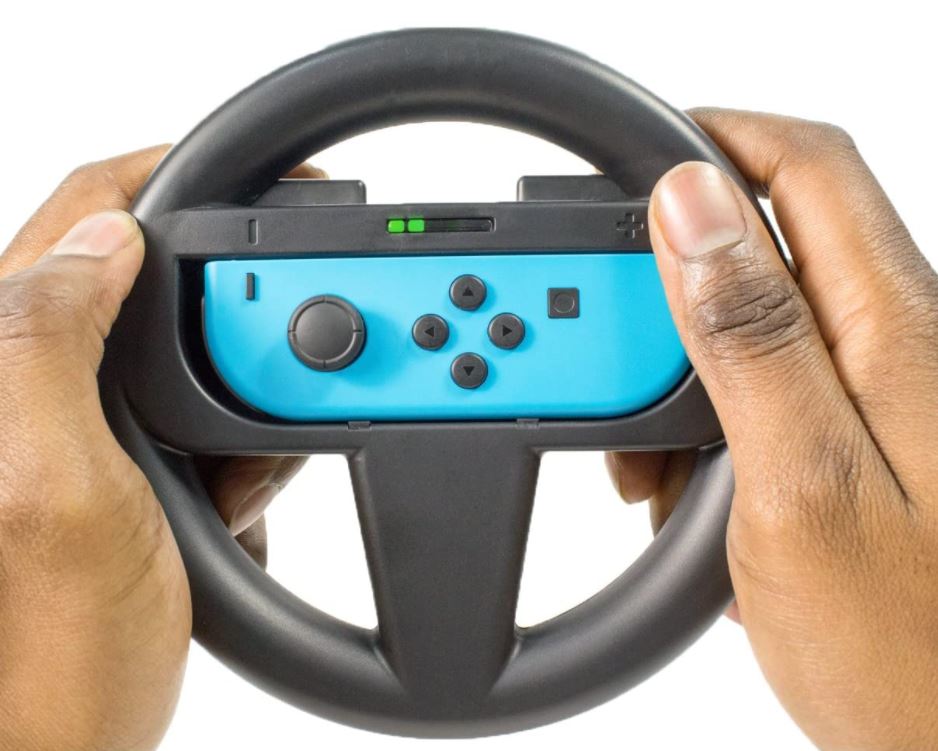 The grips are dual-injected, which is designed primarily for comfort. You'll also feel a fat pair of SR/SL bumpers, which are beefy enough for easy operation. Your controllers themselves will be safe and protected during operation. The housing is well padded, so you don't have to worry about your Joy-Cons getting scratched.
Feel and Performance
If you're familiar with Nintendo's official Switch racing wheel, you'll notice that the Orzly wheel is a bit smaller. It's not a huge difference, but it's most certainly noticeable. Whether or not this is a good thing will depend on the size of your hands. If you're a grown man with average or larger hands, you might find that the wheel grip is a bit small. But if your hands are smaller than that, you'll be comfortable enough. In fact, this wheel was built specifically for children, so it's ideal for people with smaller hands. All in all, it should be a good fit for most Mario Kart players.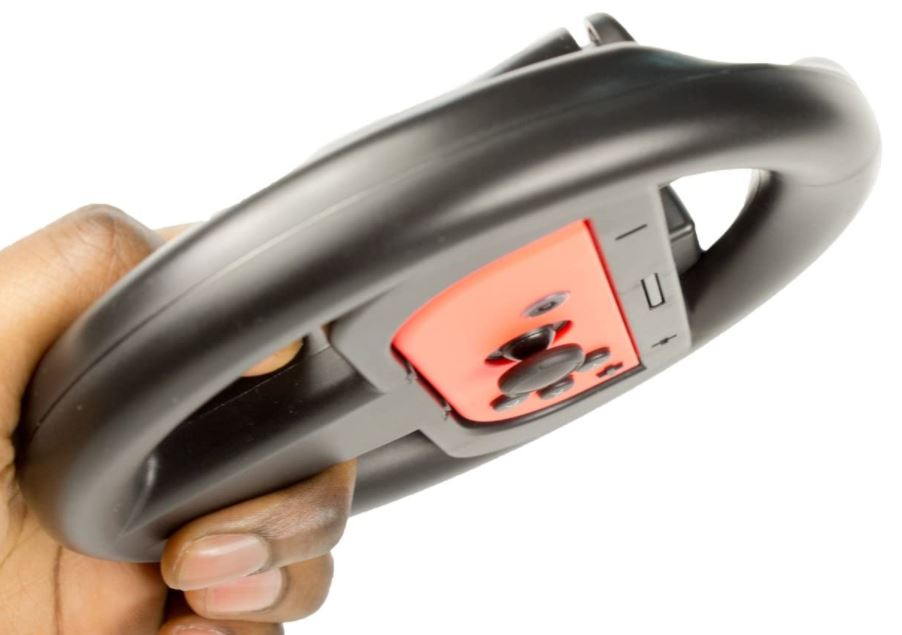 When the Joy-Con controller is inserted, it has a wee bit of side to side play. This might seem annoying at first. However, it makes it easy to line up the controller inside the housing for a specific grip. It's not much, but the ability to adjust your thumb or the fat of your palm is surprisingly helpful. This is especially true for long gaming sessions, where you'll need to adjust your hands periodically.
Inserting and removing Joy-Con controllers is relatively easy. A child can do it without much practice, so the Orzly Steering Wheel is great for kids. The SL and SR buttons are a bit bigger than the buttons on the official wheel. This makes them a bit uglier, since they distort the wheel's profile. On the other hand, they're easy to find with your fingers. You'll just have to press them firmly in order to ensure they register properly.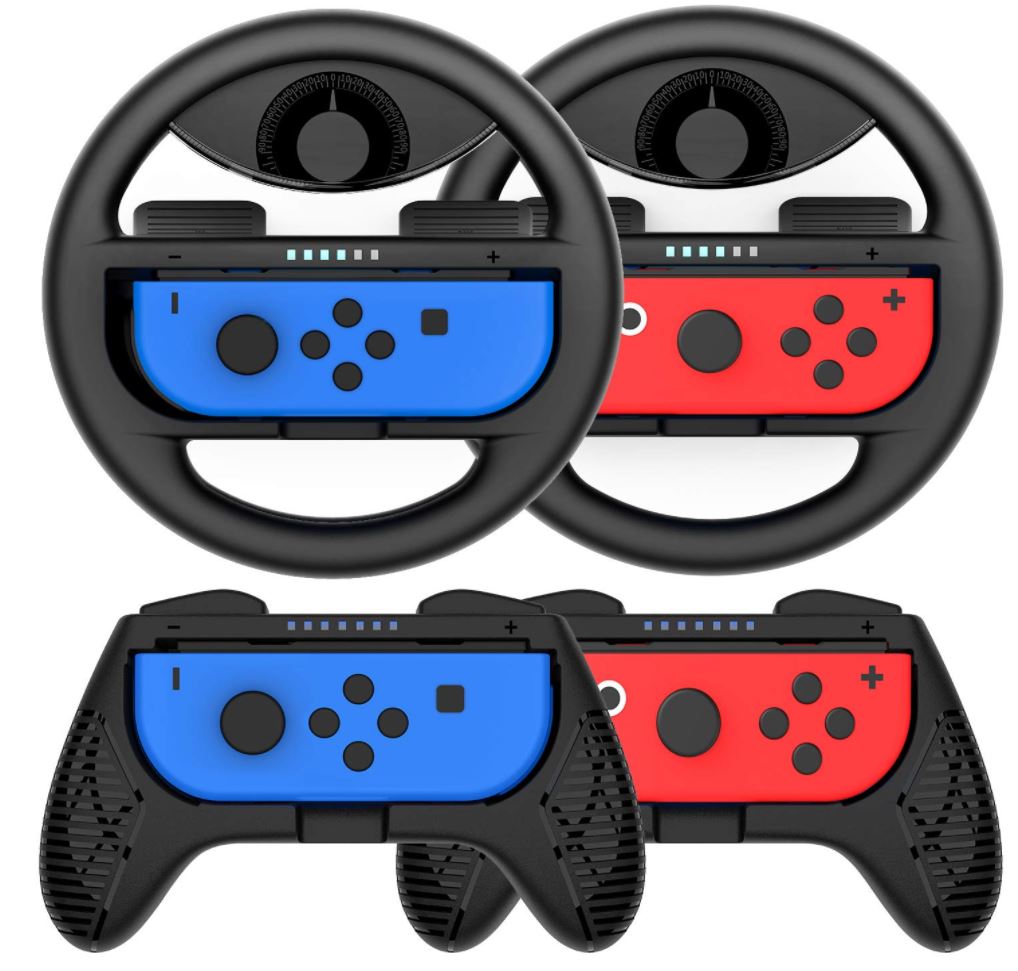 Momen Racing Wheel Grip
While the Orzly wheel is a simple 2-piece wheel kit, the Momen Racing Wheel Grip is somewhat more comprehensive. It's a 4-piece kit, which includes a pair of wheels along with a pair of Xbox-style controller grips. Admittedly, the design isn't as fun or playful. The only color option is black, so you're looking at a grip with a bit more staid appearance.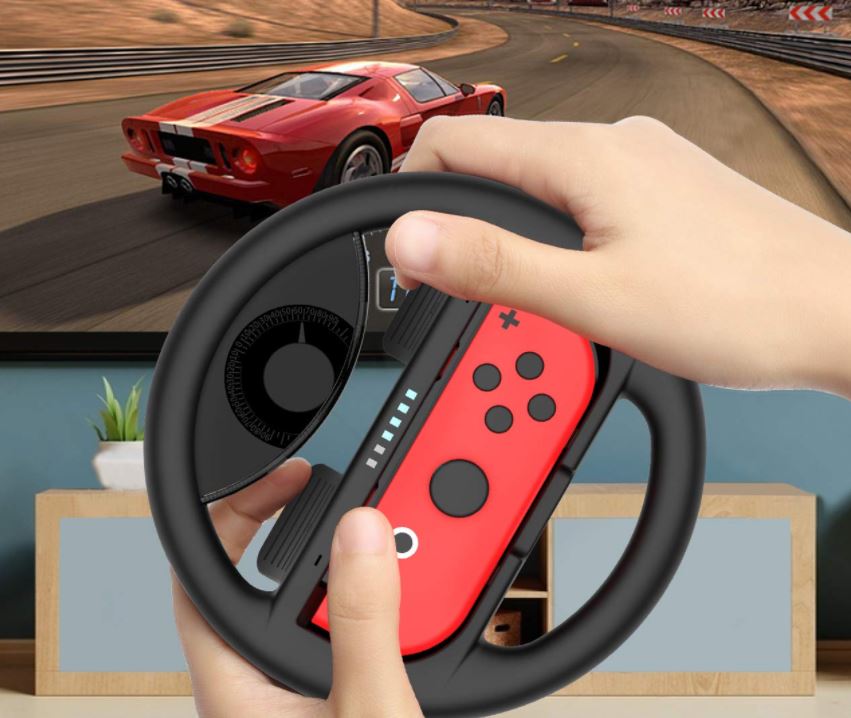 That said, you get a surprising amount of versatility at a low cost. To begin with, let's talk about the two wheel grips. These are the main attraction for our purposes, and they look similar to the Orzly wheels. Also similarly, they're designed 2-button use, so they each hold half a controller. The left and right Joy-Cons each have their own separate grip, marked with a "+" or "-" respectively. Size-wise, you're looking at a similar grip to what you'll see on the Orzly wheel. They're ideal for children, although smaller adults also won't have any trouble.
The compact, lightweight design of the wheels also carries over to the controller grips. These are wide and sloped, drawing obvious inspiration from the Xbox One controller. While they're not ideal for racing games, they're great for other games that require a horizontal Joy-Con grip. They also have wide ribbing on both palm grips. This makes them easy to hold onto, even if you have large, sweaty hands during a long gaming session.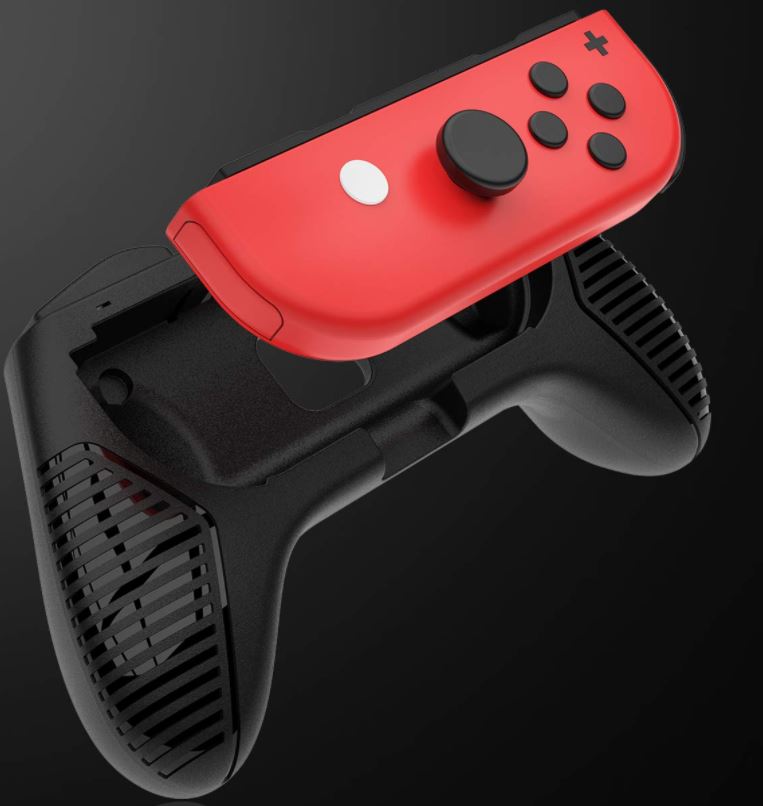 Feel and Performance
The Momen Racing Wheel Grips offer very sensitive, responsive SL and SR buttons. This is mostly due to the design, where the triggers are housed under wide flippers. This makes them easy to tap with your thumbs while holding your wheel at the 10 and 2 o'clock positions. Of course, this kind of easy operation doesn't come without its costs. The flippers take up a fair bit of space in the middle of the wheel, limiting your grip options. That said, if all you wait is a 10 and 2 grip with 2-button operation, you've got it. There's nothing complicated about it, and everything just works. For many people, that's a significant plus.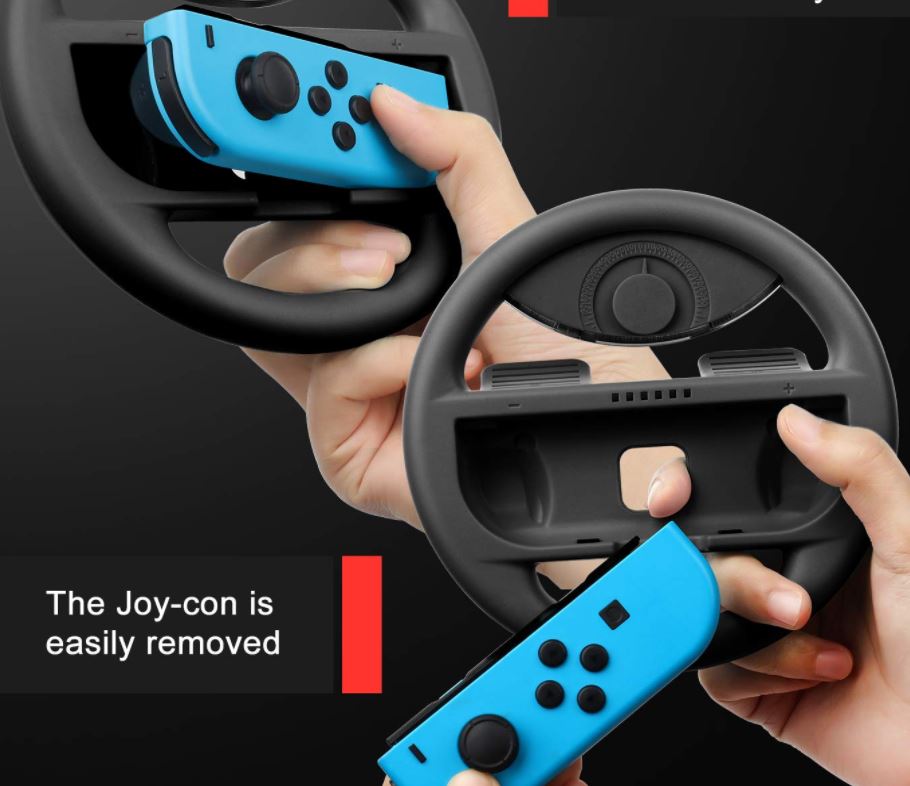 The Xbox-style grips are comparably well-designed, with beefy bumpers that are easy to actuate with a tap. This makes them very responsive. They're also easy to insert your Joy-Con controllers into. With a simple cutaway just beneath the Joy-Cons, removing or inserting them takes mere seconds. The fit in the steering wheel is a bit tighter. However, the wheel is also designed to have your hands clear of the Joy-Con. A tighter design is essential to make sure that the Joy-Con doesn't accidentally pop out mid-race.
The only major downside of the Momen Racing Wheel Grip is the quality of construction. To be frank, the plastic is cheap, and it can't handle much abuse. If you're gentle with your gear, this won't be an issue. But if your controllers tend to get dropped, thrown, or sat on, you might want a more durable option. These grips will fail if you subject them to enough stress.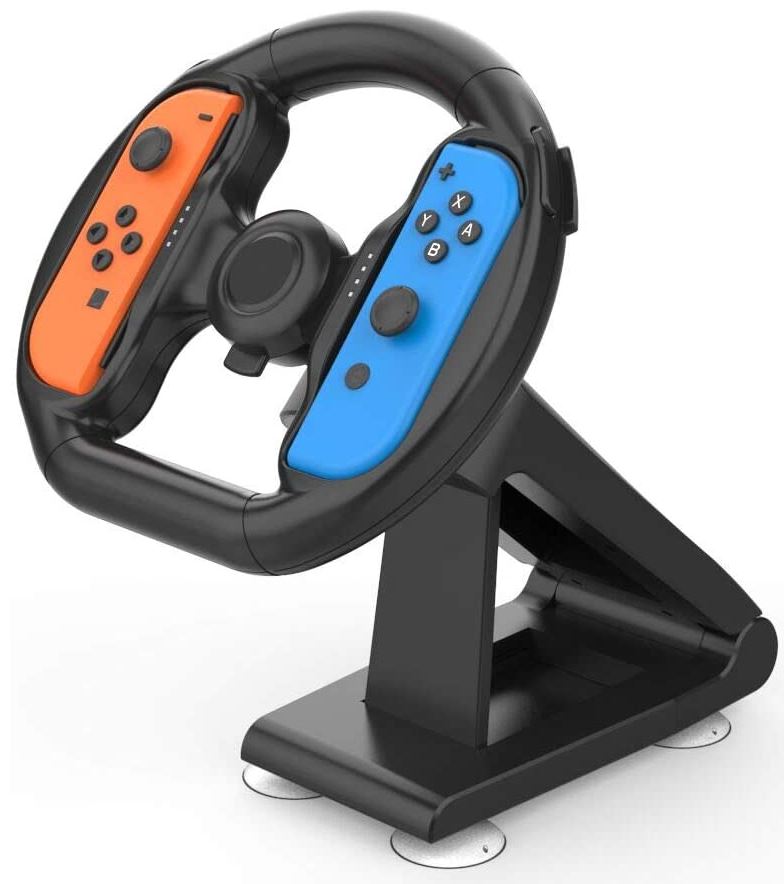 GH Steering Wheel for Nintendo Switch
The last two steering wheels we looked at were compact wheels for kids. They were also designed for 2-button racing games that require half a Joy-Con controller. But many newer Switch games allow you to race in 4-button mode. This eliminates some of the inaccuracies that come from playing a Mario Kart race with only two buttons.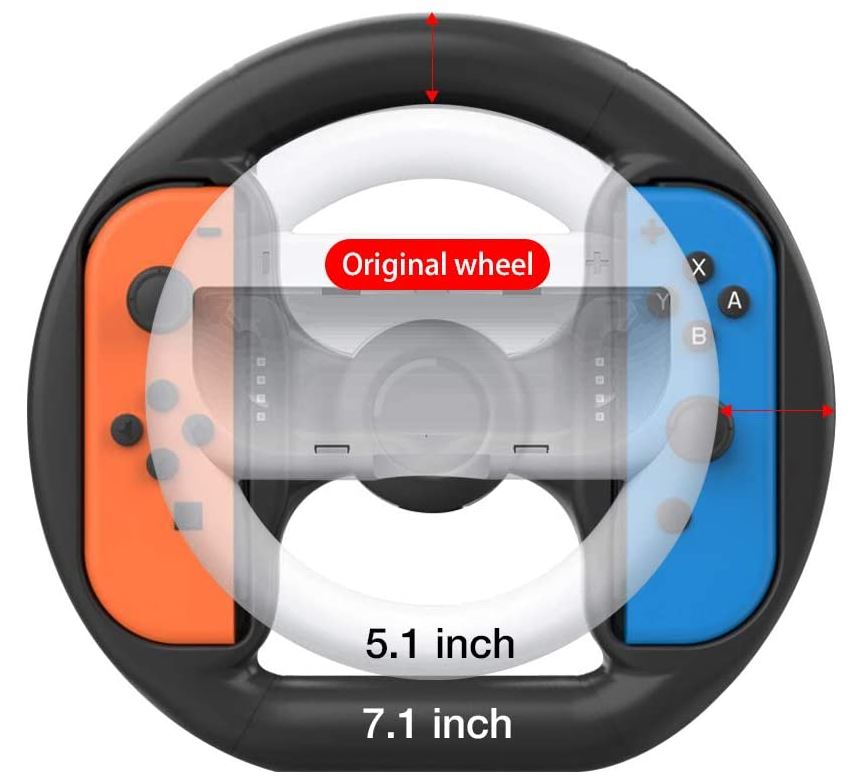 Of course, housing both halves of a Joy-Con controller requires a consummately larger design. The GH Steering Wheel for Nintendo Switch delivers, with slots for both your left and right Joy-Cons. We should also note that there are smaller versions available in red, black, or blue for 2-button operation. These weren't the kind we reviewed, though. We looked at the big, beefy, black, 4-button version of the GH Steering Wheel.
This is a two-part unit, consisting of a steering wheel and bracket. The steering wheel itself is nice and wide, a full 10 inches in diameter. This provides plenty of space for even the largest hands. It also ensures that both the left and the right Joy-Cons can be comfortably inserted right next to your thumbs. When using the steering wheel by itself, you can hold it in your lap or even while standing. The bracket sports four suction cups that can be easily mounted to a desk or table. This is great if you prefer a more rigid driving platform.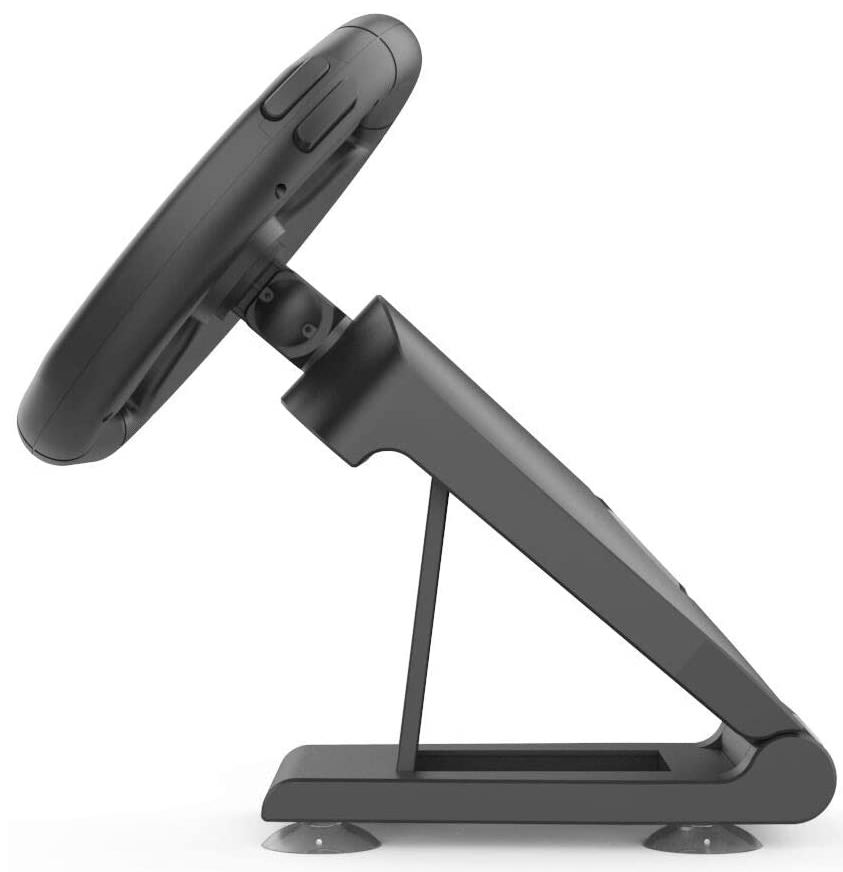 Feel and Performance
The thing we appreciated most about the GH Steering Wheel for Nintendo Switch was the big, beefy hand feel. You get a nice fat grip that's made for adults, not kids. This makes for a more immersive experience. It also makes for easier, more convenient control. So if you want to bring out your inner kid and indulge in some serious competition, you're ready to go. To be fair, we're not talking about Thrustmaster-levels of beefiness here. But considering the low price, you're getting quite the steering wheel.
The mounting slots hold your Joy-Cons securely, so you don't have to worry about them falling out by accident. Unfortunately, the slots are actually too tight. This means that the only way to free up your Joy-Cons is to tug on the thumb sticks. This is a disappointing oversight, since it means you'll inevitably damage your Joy-Cons over time. Hopefully GH will add a release tab or similar feature in future versions.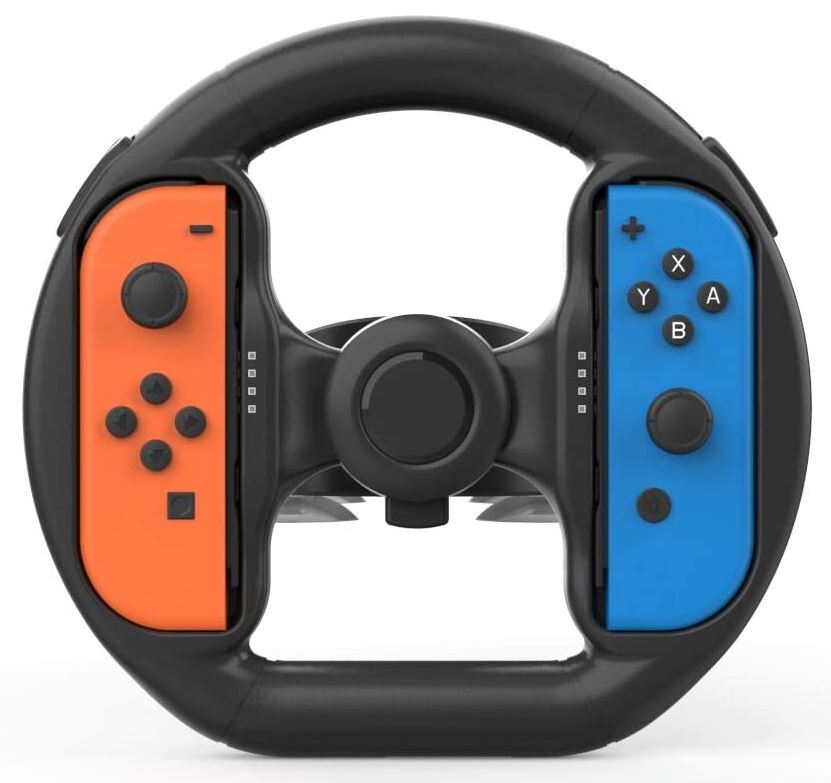 On the other hand, the trigger placement is excellent. A pair of tabs at the 10 and 2 o'clock positions allow for a comfortable grip. And with your hands positioned with your index fingers on the triggers, your thumbs are right on the Joy-Cons. The result is a steering wheel with excellent ergonomics, especially if your hands are on the large side.
Final Verdict
No matter which way you cut it, these are three well-designed Nintendo Switch Joy-Con wheels. But each of them has its own benefits and drawbacks. The best choice for one person might be terrible for someone else. Let's go over each of them in order.
First, we looked at the Orzly Steering Wheel Controller. This is a simple 2-pack of compact, kid-sized controllers. They're well-padded and designed for 2-button operation, but the size is small for larger individuals.
Second, we reviewed the Momen Racing Wheel Grip. This 4-pack of grips provides an excellent value. Not only do you get a pair of small, 2-button steering wheels, you also get a pair of Xbox-style grips. They're not the most durable grips on the market, but they're well worth the low cost.
The GH Steering Wheel for Nintendo Switch is the best choice for 4-button operation. This makes for easier, error-free operation on the latest rating games. They hold onto your Joy-Cons tighter than we'd like. But if you want a big, table-mounted steering wheel at a low price, you're looking at an excellent choice.
Was this helpful? Please consider sharing: