Lamicall PL02
Pros
Large enough for almost any tablet.
Can support your tablet at multiple angles.
Soft, stretchy fabric and protective memory foam.
Built-in phone storage pockets on the sides.
Cons
Not collapsible for travel.
Can easily tip over when you adjust your position.
Tablets have changed the way many people interact with technology and the web. Before tablets, there were smartphones and computers. But the closest that anything came to filling the gap was a slim laptop. And while a slim laptop can be easy to carry around, it's not as portable or as versatile as a tablet. Like a smartphone, you can hold a tablet in one hand while you're working on it. And like a laptop, you have a larger screen to use. Tablets have become the solution of choice for digital artists, as well as people who just want to enjoy YouTube. You get a lot more power than a smartphone, for far cheaper than a full-sized computer.
But tablets come with their own set of issues. If you're using a laptop, for example, your screen holds itself up in whatever position you like. With a desktop computer, you've got a separate monitor, maybe even with its own stand. And with a smartphone, you can prop it up just about anywhere. But with a tablet, you don't always want to lay it flat on a desk or table. You may also want to watch something on the screen and keep your hands free for something else. And if you want to use your tablet in bed, you might have trouble propping it up with pillows. Regardless, you might find that you need a stand for your tablet.
We're about to review the Lamicall PL02 Tablet Pillow Holder. This is a triangular pillow that sits on top of your lap, whether you're in bed or on the couch. You prop your tablet up on it, and it holds the screen at a comfortable angle. It has a washable cover, grooves for supporting the bottom of your tablet, and convenient side storage pockets. But what else does it bring to the table? To find out, we'll need to look closer at the fabric, the padding, and the overall design. We'll also have to look at any extra features it has to offer. Once we've given it a thorough evaluation, we'll be able to render a fair verdict. Let's begin!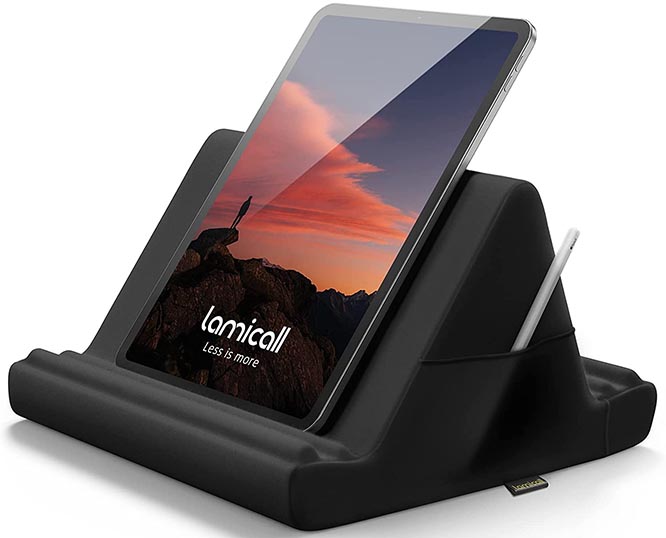 Why Use a Tablet Pillow Holder?
Before we talk about the Lamicall PL02 in particular, let's discuss pillow holders in general. What in the world is a pillow holder, anyway? It's a tablet stand designed for use in bed or on the couch. But instead of a tray-style holder, it's made of padding and fabric, and sits right in your lap. This makes it more comfortable to use, as well as more versatile. Theoretically, you can use this type of stand anywhere, not just in bed.
One main benefit of a tablet pillow holder – or any tablet stand – is that it frees up your hands. Holding a tablet in your hands can be just fine if you're playing a game, for example. Although even then, you might be better off using a controller grip, like the GameSir F7 Claw. But if you're watching videos or listening to music, you might be using your hands for something else. For example, you might be knitting a scarf while bingeing your favorite streaming series. In that case, a good tablet stand is practically a necessity.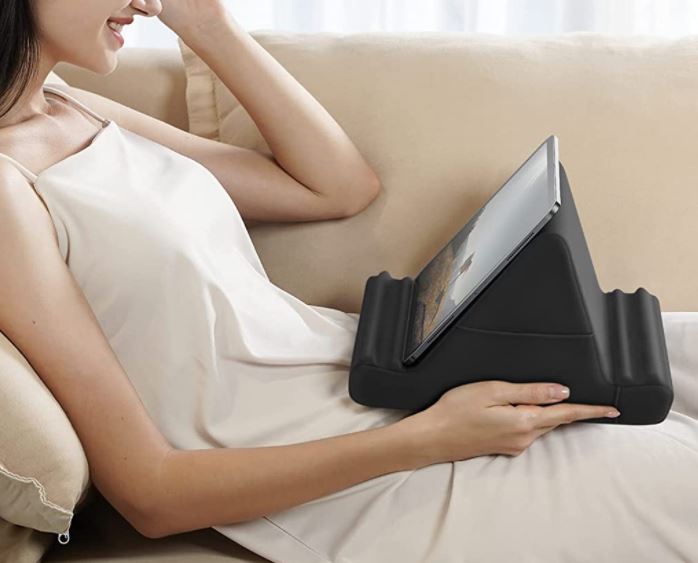 Another significant benefit is that it puts your screen at a more ergonomic position. This can be hugely helpful in preventing you from developing a repetitive stress injury (RSI). An RSI is an injury caused by repeatedly performing the same motions, and can be exacerbated by bad posture. Examples of RSI include carpal tunnel syndrome, typically suffered by office workers and writers. Factory workers can develop RSI in their backs, shoulders, and arms from repeating the same motions. And tennis players can suffer an RSI (tennis elbow) from the shock of repeated impacts.
To help prevent RSI, you want to make your work environment as ergonomic and comfortable as possible. In the office, this might mean using a laptop riser. At home, a tablet pillow holder can be part of the solution. The point is to maintain good posture, so you're not straining your back or arms. That said, a tablet pillow holder alone isn't going to prevent RSI. You also need to take other common sense measures to protect yourself. For example, you should take breaks throughout the day to move around. And if you start to experience any chronic pain, don't rely on the internet for help. See your doctor and tell them what's going on.
The last benefit of a tablet pillow stand is that it's easy to move around the house. This makes it different from other stands, which often clamp or even bolt into place. With a pillow stand, you just pick it up and move it wherever you need it.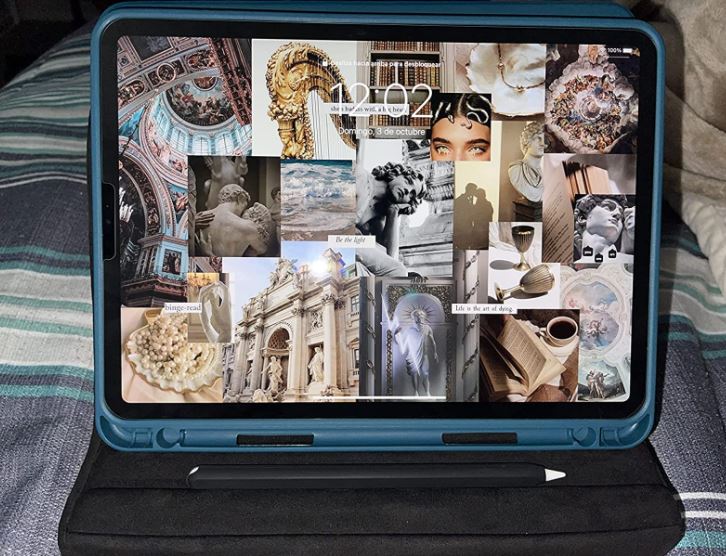 Overall Design
The Lamicall PL02 Tablet Pillow Holder has a unique shape that makes it highly versatile. The base is rectangular, measuring 10.3 inches wide and 11 inches deep. On top of the base, there's a triangular, tent-shaped top portion that's angled to one side. The result is a lobsided triangle, with a steep side that's 5.4 inches high, and a shallow side of 6.5 inches. The total height of the holder is 6.5 inches.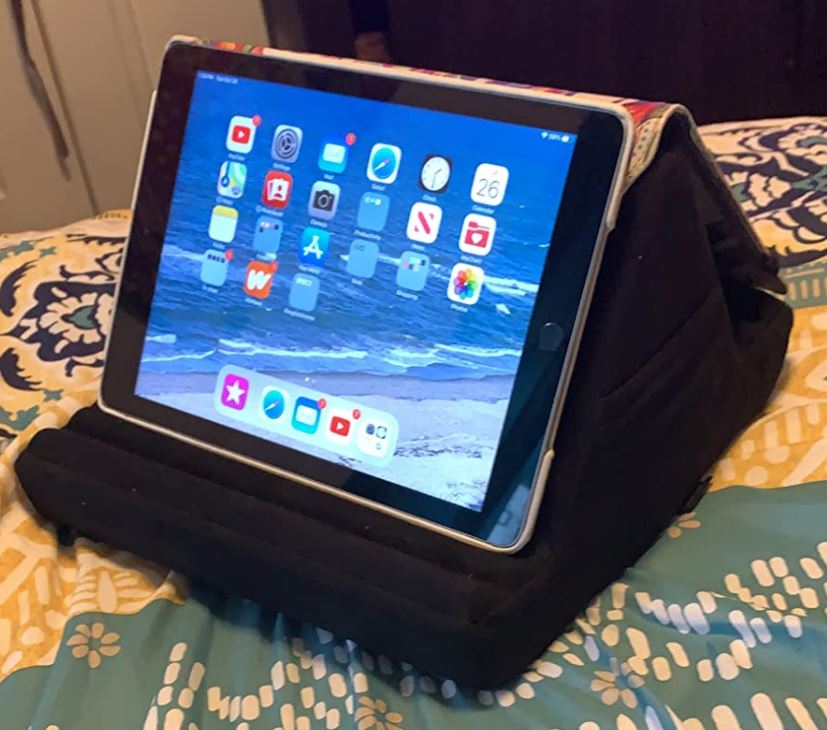 The triangular portion itself is actually somewhat smaller than the rectangular base. This leaves a pair of ledges on the front and back sides, where your tablet can rest and lean on the triangle. These ledges have a depth of 2.3 inches, enough to accommodate thicker machines than simply tablets. That said, they're grooved, with ridges that are made to hold a tablet in place. In all, you can have your tablet at a shallow or steep angle, with a portrait or landscape viewing format. This gives you the flexibility to get the right viewing angle under pretty much any circumstances.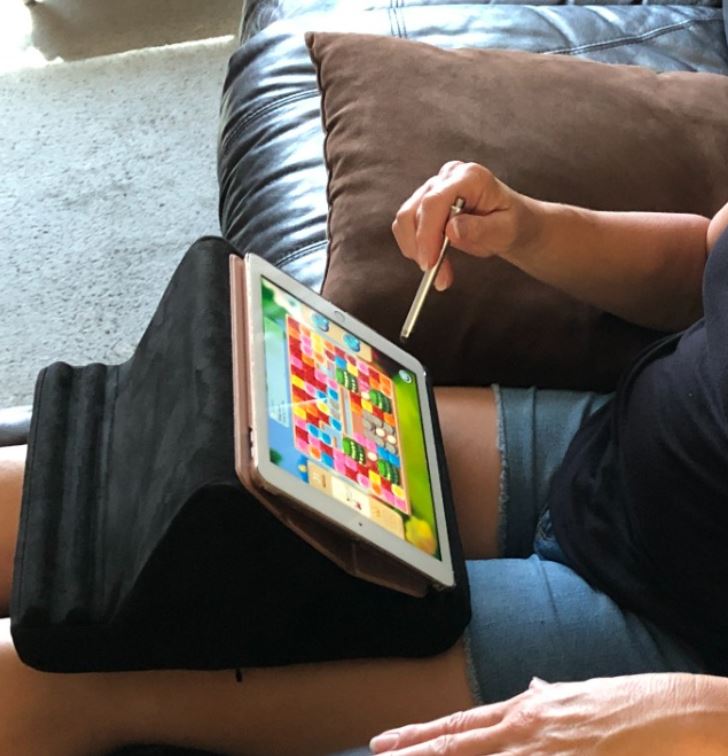 The inside of the Lamicall tablet holster consists of a shaped piece of high-density memory foam. The nice thing about this material is that it always springs back into place. You can squish it together, fall asleep on it, twist it, or stretch it, and it goes back to its original shape. It's also soft enough to protect your tablet, while firm enough to hold a reasonable amount of weight. That said, it won't compress enough for easy travel. By all means take it with you, but remember that it will take up a decent bit of space in your luggage.
The outer shell is made of a soft, velvety fabric that feels luxurious to the touch. It won't scratch your laptop, and it won't get linty as it ages. Not only that, but the material is flexible. It seems to have some elastic in it, since it's easy to stretch in any direction. You can also order the PL02 in several colors to meet different tastes. It's available in black, grey, green, purple-red, and blue. No matter what your tastes or bedding, you'll be able to get a tablet stand that matches.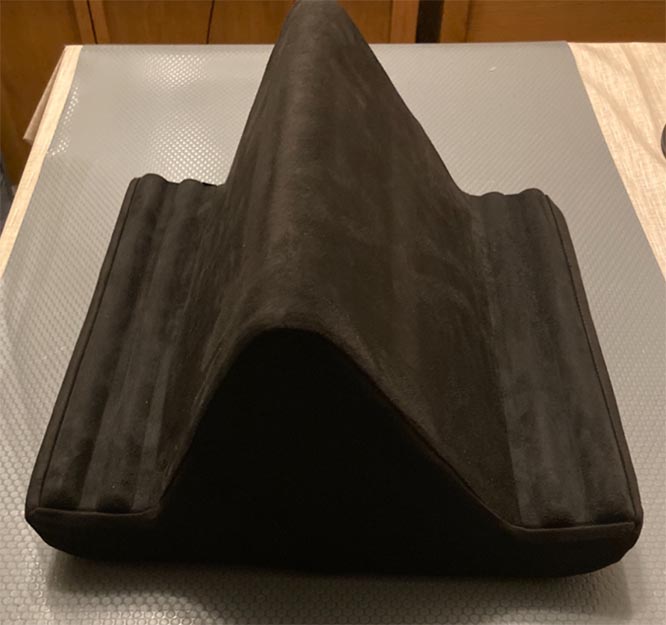 The only major downside of the design is that you need somewhere to set the PL02. You can set it on a desk, but not up overhead. And when it's in your lap, you have to be careful about moving your legs, or it might fall off. If you want an even more flexible tablet holder, consider a gooseneck holder stand. They can hold a variety of positions, but only when they're clamped to a desk, table, or other stable surface.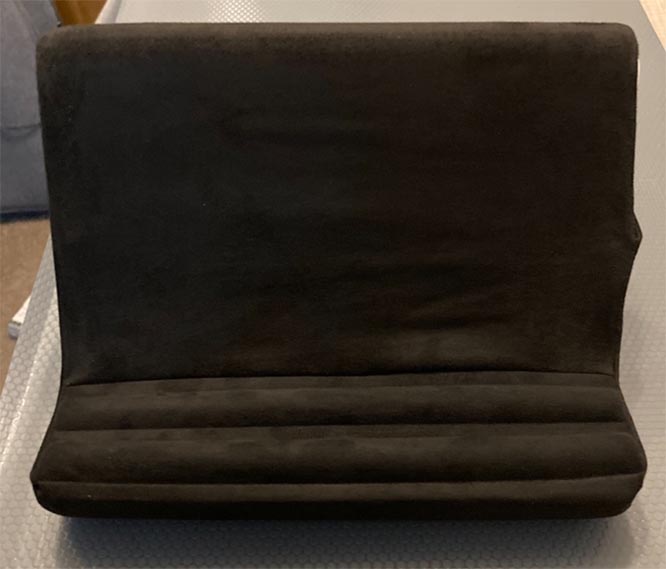 Compatibility and Extras
Any tablet stand is only going to be helpful if it's actually the right size for your tablet. Lamicall advertises that the PL02 works for any tablet between 4.7 and 13 inches. This is more or less accurate. It will hold all models of iPad, as well as the iPad Mini and iPad Air. It will also hold Android tablets like the Surface Pro or Galaxy Tab, as well as e-readers like the Kindle. However, it's also versatile enough for smartphones. It's a bit much for most of them, but there's nothing saying it won't work. On the larger side, the PL02 is even sturdy enough to support a Nintendo Switch, with the Joy-Cons detached. Seeing as you'll need them to play your game, this shouldn't be an issue.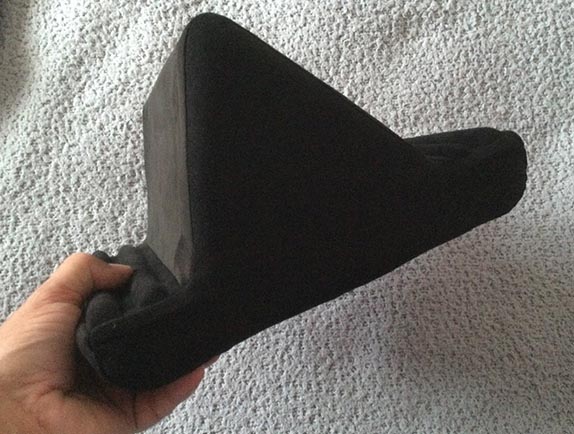 The neat thing about the triangular design is that it serves two purposes. As we already mentioned, it allows you to support your tablet at two different angles. However, it also allows you to share the stand with another person. Say you and your friend want to play a multiplayer Switch game in the same room? Now you can sit facing each-other, and avoid the temptation to screen peek.
On the vertical sides of the tablet holder, there are a pair of stretchy storage pouches. These are a great place for a smartphone, stylus, pen, or any other small supplies. The pockets aren't huge, but they're a nice added touch.
There's also a detachable pillowcase included in the kit. This is not the same as the velvety fabric outer shell. It's actually a separate, tightly-fitted vinyl cover that fits the PL02 like a glove. While it's vinyl, it's not waterproof – there are holes in it for breathability. However, it's great at protecting the fabric from food, or just as a cover when the stand is not in use.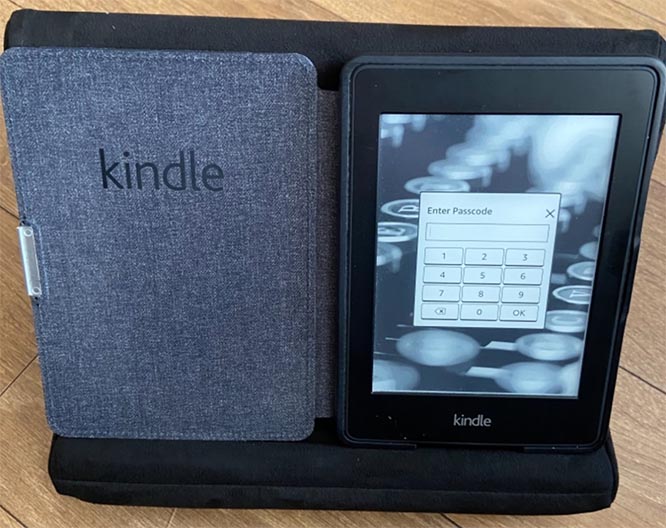 Final Verdict
So, is the Lamicall PL02 Tablet Pillow Holder worth buying? As long as you want to use your tablet in bed, absolutely! It's well-constructed, with a soft fabric shell and high-quality memory foam padding. The design allows for multiple tablet angles, or for viewing two tablets at once. The side pockets and the pillowcase are only icing on the cake, but they're another nice touch. All things considered, there's a lot to like about the PL02, and our only complaints were minor.