It's no surprise that smartphones and tablets have become a staple in most of our daily lives. We rely on them for just about everything from looking up new recipes, to finding new TV shows, movies and books. When they first hit the market, these miniature computers did just about everything we could dream of, and they continue to get better.
Still, sometimes life gets so busy and can be such a handful (literally) that we can't always keep these devices in the palms of our hands. Imagine you're using your smart device to follow a recipe and you're busy mixing ingredients on a messy countertop. What are you going to do with your smartphone or tablet? Or maybe you're a student who needs to use both a laptop and a tablet to study for an exam, but need to keep the tablet upright and in plain view. And for the movie or Netflix lover, sometimes it can be a little tedious to hold a tablet or phone for hours at a time.
Note: At no extra cost to you, we may earn a commission for purchases using our links. Learn more.
Luckily, there are a variety of nifty, durable options that can be used to eliminate the downsides of being tethered to a smart device, while also simultaneously helping you get the most out of them. Stands and cases can be incredibly useful for keeping phones and tablets safe and protected, but what about a device that focuses on enhancing functionality?
Nowadays, there are a wide variety of incredibly versatile mounting options for our multimedia devices. In some ways, they are essential for anyone looking to really maximize their productivity with their phone or tablet. They keep smart devices clearly visible and allow you to position them any way you please but, like most gadgets, can have some downsides. With so many on the market, it helps to do a little research before selecting an accessory like a smartphone or tablet mount.
In this review we'll be comparing three stand mounts with similar designs. We'll be checking out the design, versatility as well as any special features contained in each one to give you a comprehensive idea of which of these stands can really get the job done.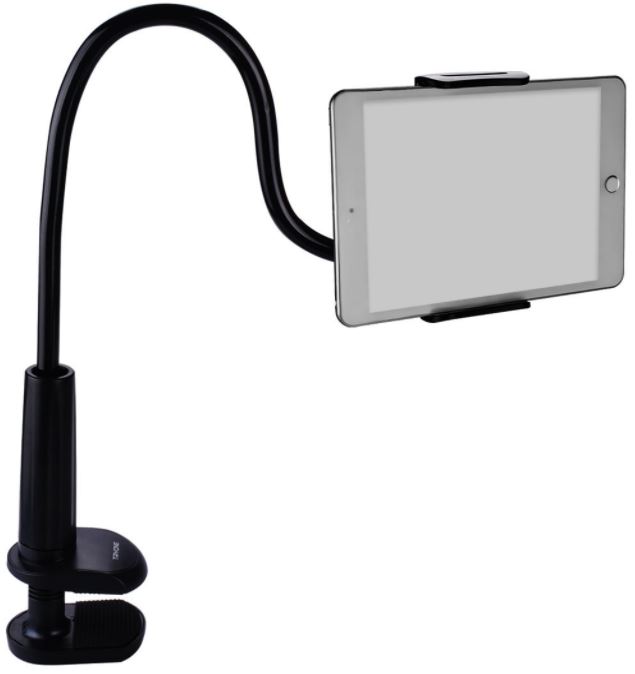 Tryone Gooseneck Tablet Stand
At first glance we felt that the design of the Tryone Gooseneck Tablet Stand was pretty sturdy overall with some minor weaknesses. It has an adjustable arm made of very-high quality Aluminim-Magnesium Alloy.
Despite the material being strong, it's still very flexible which made finding the perfect position for tablets or phones fairly easy. We were able to bend it into practically any shape we wanted, which made us think it could be used in kitchens, offices as well as bedrooms without an issue.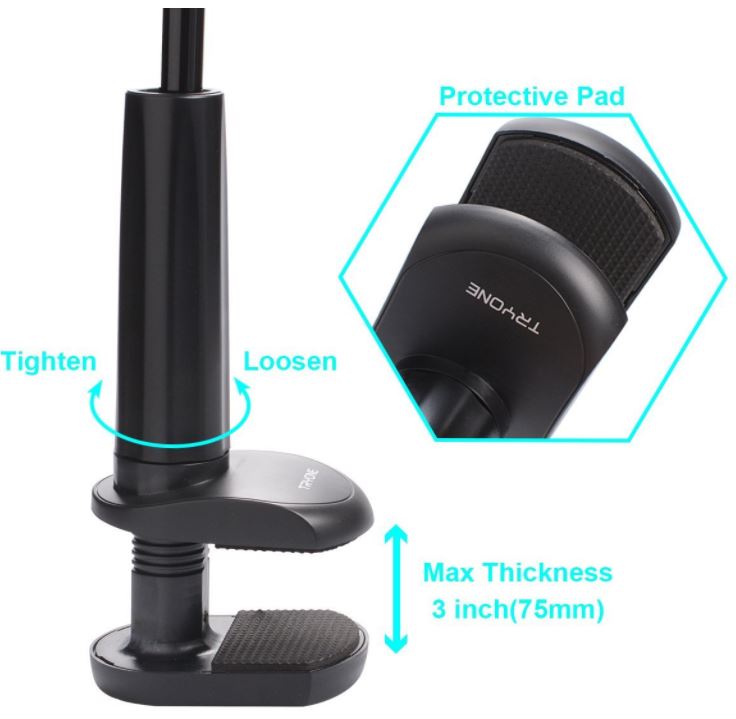 The actual mount itself is made of plastic with a softer composite material on the side that faces your chosen smart device. It'll easily hold phones or tablets measuring between 4 to 7.9 inches, but anything over that won't fit. Still, we felt that this was a pretty good range, and would certainly be suitable for most phones as well as a variety of tablets.
Our biggest concern was the plastic base. It did have rubber stoppers on the clamp to protect surfaces from being scratched, as well as add extra stability. However, it did feel a little loose and felt like it could possibly break if we overtightened it.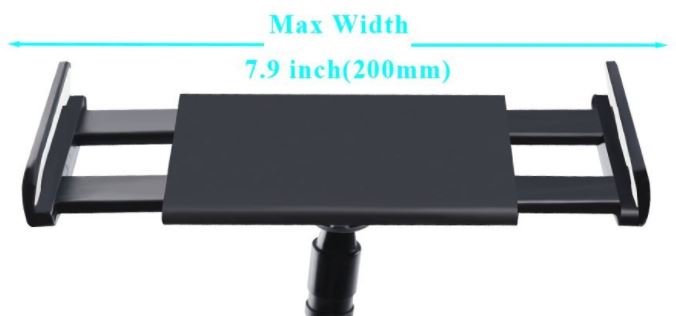 Features
The Tryone Gooseneck Tablet Stand doesn't have any particularly exciting features, but did have a few additions that made using it convenient and easy. We were most impressed by the full adjustability of both the mount, as well as the bendable arm.
The stand had a pretty seamless integration of both sturdiness, as well as flexibility and, above all else, made us realize how incredibly useful it could be in a variety of settings. We also really liked the fact that it allows for access to all important ports and functions on whichever device you choose to mount.
There's clear access to both headphone and charging ports, as well as the power buttons on a variety of devices. Other than that, it is a relatively simple stand, but that doesn't take away from its ability to do what it's designed for.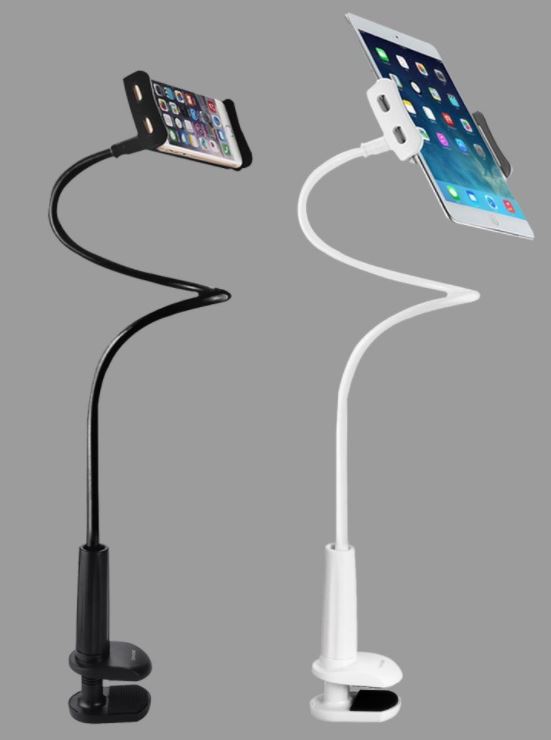 Versatility
Generally, the Tryone Gooseneck Tablet Stand opens you up to a variety of different uses. It fits easily on kitchen cabinets, bed frames as well as the edges of office desks. Essentially, as long as there is a sturdy edge somewhere in your home, you'll be able to set up your phone or tablet fairly easily with it.
The clamp also extends to a full 3 inches, meaning that you won't have to struggle to find a surface small enough to accommodate it. When fully extended the entire stand measures at 30 inches from base to mount so you can mount it a few feet away if you need some extra work space.
We also found the easy access to the functions on most devices to be a huge plus when it came to the stand's wide variety of applications. The access holes allow you to leave your device in the mount for long periods of time without having to remove it for charging or to listen to your chosen media, making the mount perfect for long study sessions, watching movies or even long bouts of personal gaming.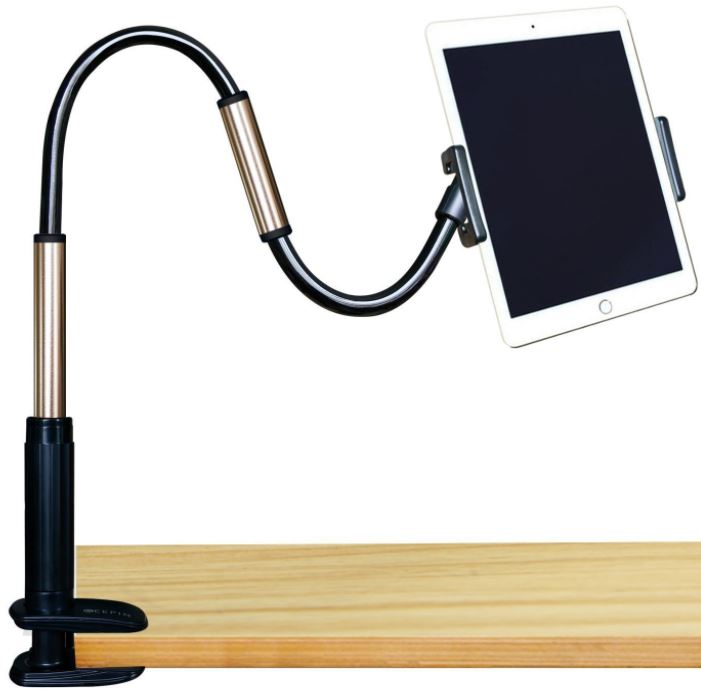 Geepin Clamp Mount Tablet Stand
The Geepin Clamp Mount Tablet Stand isn't just any ordinary stand. Right away we noticed how heavy-duty, robust and well-made it was. From the materials to the intuitive set up, we were very impressed. The aluminum alloy pole can be adjusted through a full 360 degrees of articulation. We noticed that it even had two metal grips built-in that made adjusting it even easier.
The mount itself is detachable via a ball-and-socket style connector that allowed for both 360 degree plane rotation, as well as 270 degree angle adjustment. At first the ball-and-socket design had us a little worried, but after tugging on it and mounting a fairly heavy tablet, we were confident that it was strong enough to keep devices in place.

The mount is made of plastic, and didn't seem to have much cushioning which had us a little worried about scratching the edges of our phones and tablets. As long you don't over-tighten it, this didn't seem like a huge drawback. The clamp is also made of plastic, and is expandable to surfaces about three inches.
Our only concern was the color scheme. Black and gold, while eye-catching, seemed like it was a little bit limiting, especially in certain rooms that may be brighter or decorated with lighter accents. It was a small thing we noticed, but is worth mentioning.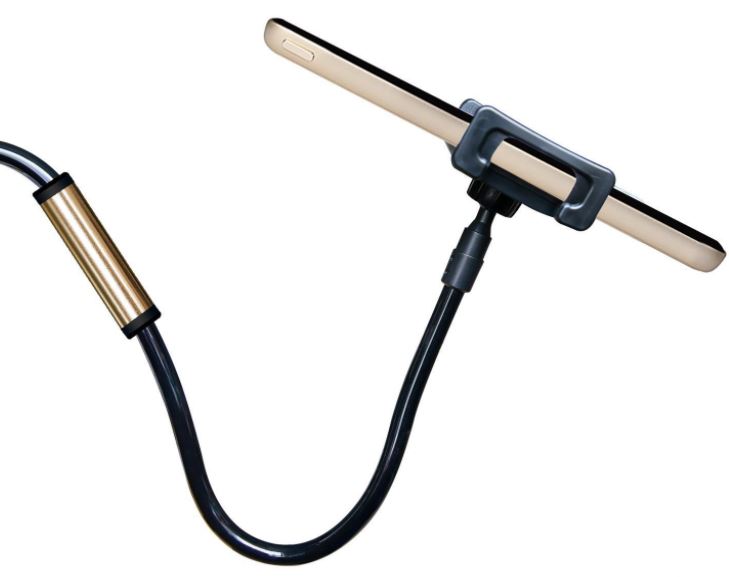 Features
While the Geepin Clam Mount does feel extremely well-made, it is lacking a bit when it comes to features. The mount itself was especially disappointing, mostly because it didn't feel like the most secure way of keeping devices in place. Other similar devices have mounts that hold tablets and phones vertically, while the Geepin mount has a horizontal design.
It does make for easy access to a smartphone's features, but it had us worried about devices getting dislodged or falling out of the mount. You could always tighten it for a more snug fit, but you'll run the risk of damaging or scratching your device due to the lack of rubber cushions.
Seeing as how it wouldn't have been very difficult to create a vertical mount with access to charging and headphone ports, we felt this was a pretty big drawback. That being said, the clamp was incredibly strong, came with some thick cushions to avoid damaging surfaces in the home and didn't give us the impression that it could break when we tightened it.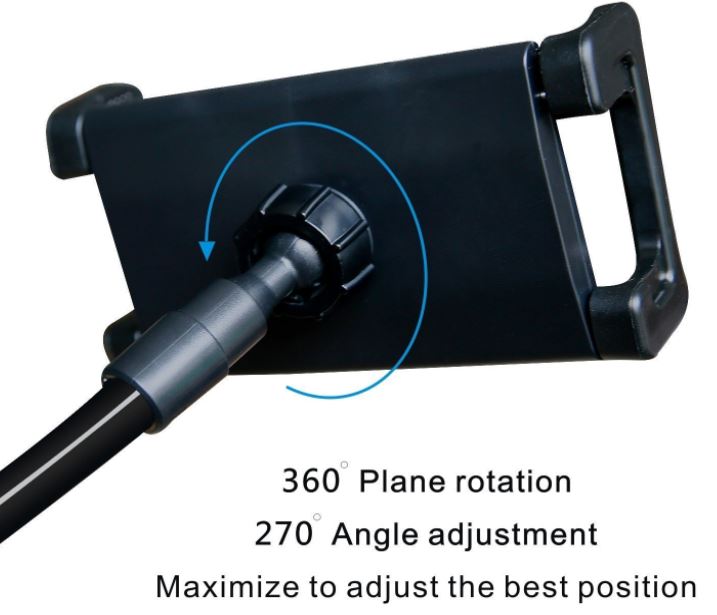 Versatility
The Geepin Clamp Mount is incredibly versatile, mainly as a result of its fully adjustable mount. Despite the fact that the mount grabs onto smart devices horizontally, you can still rotate it 360 degrees, as well as tilt it up to 270 degrees. This added a level of customization to the device that we thought was essential for settings like kitchens or bedrooms.
Rather than craning your neck to see what's on your screen, you can simply tilt it to your liking using the ball-and-socket attachment. The mount itself may have some flaws, but this design feature certainly got the Geepin Clamp Mount some major bonus points.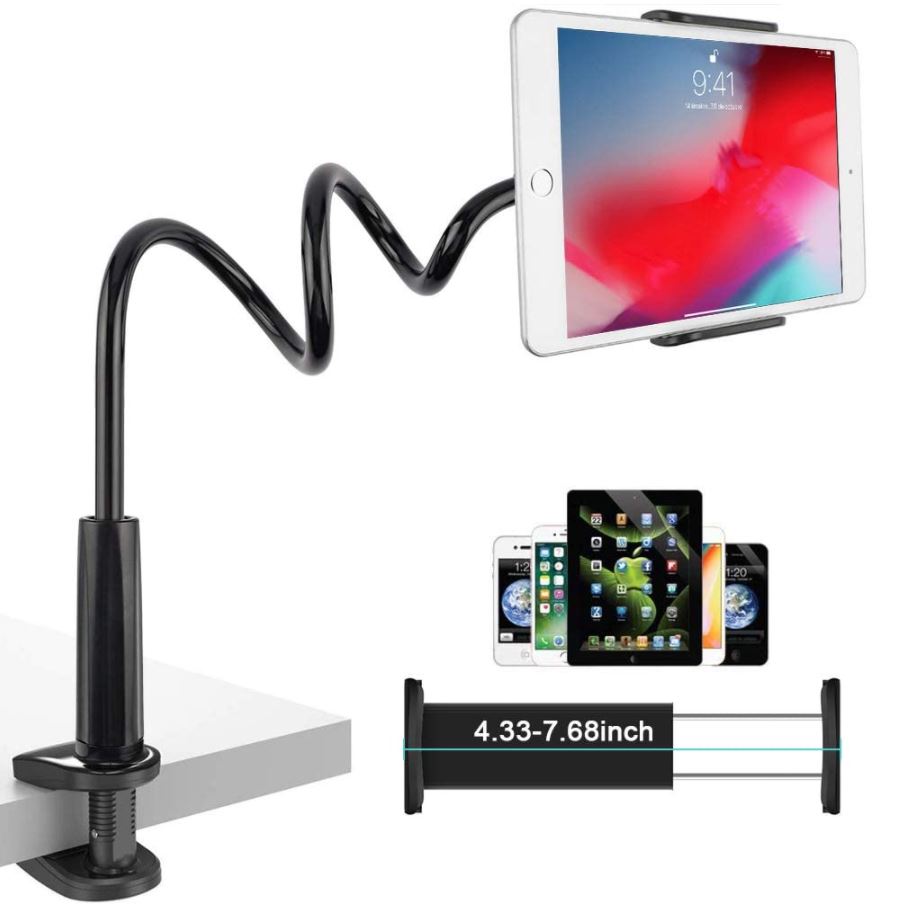 StillCool Gooseneck Tablet/Smartphone Stand
The StillCool Gooseneck Tablet/Smartphone Stand had an extremely simple, yet very well-built design. The entire unit comes in either white or black, which makes it easy to match to just about any room. When fully extended, the entire unit measures about 31 inches. The mount is attached to the adjustable pole via a ball-and-socket style joint, and can be rotated 360 degrees and can be adjusted to widths ranging from 4.33-7.68 inches.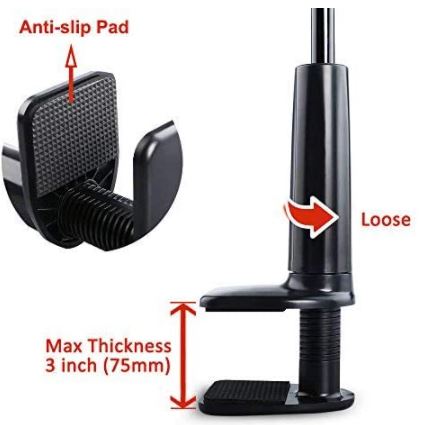 While it is incredibly sturdy, it is easy to adjust as well as set up on a variety of surfaces. While the mount and clamp are both plastic and should not be over-tightened, they seemed strong enough to hold average-sized smartphones and tablets. The clamp also came fitted with rubber cushions for a snug fit as well as insurance against damaging countertops or other surfaces.
Overall, the design of the StillCool stand was certainly minimalist, but it made the entire stand feel efficient without sacrificing quality.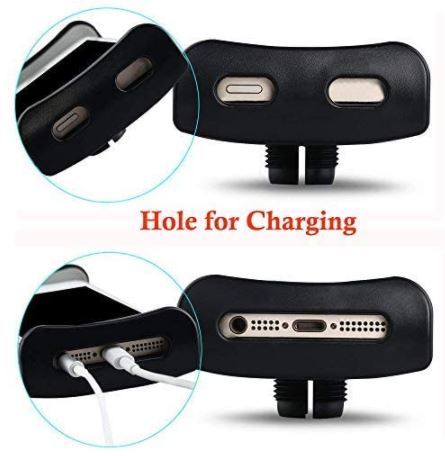 Features
The most impressive feature of the StillCool is, by far, the mount itself. With a ball and socket joint attaching it to the adjustable pole, access to the charging and headphone ports, as well as the power button, we felt that this stand would fill almost any need.
The ability to position it to your liking for extended periods of time without having to worry about charging your phone or tablet, makes the stand perfect for use while following recipes, reading hands-free, or watching movies in bed. The whole point of a device like this is convenience, so that fact that you won't have to do much after you mount your smart device was a huge bonus for us. Aside from the impressive mount, the clamp is adjustable up to 3 inches, much like the others on our list.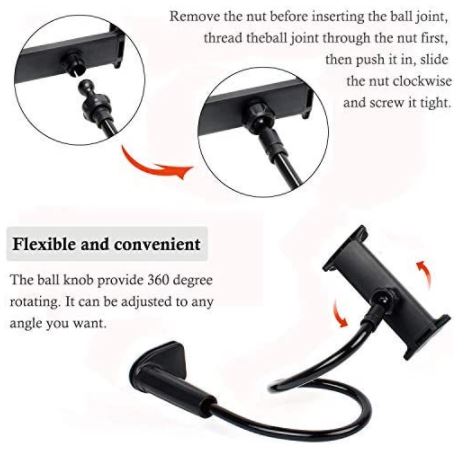 Versatility
The StillCool gooseneck mount is one of the more versatile smart device holders we've seen on the market. The extremely well-equipped mount made us think that it could be used just about anywhere with little to no hassle. It is capable of holding a variety of different devices without restricting access to their ports. Also, even with its minimalist design, it felt sturdy enough that we weren't concerned with it dropping our devices or falling off of the surfaces where we installed it.
It was also incredibly long, which made setting it up in a number of different locations and adjusting it to our liking a piece of cake. Like many of its competitors there is a limit to the size of tablets it can hold; however, in general it was still able to hold just about any phone, as well as a great number of tablets without any issues.
The Winner
In this case, less is more. We found that the StillCool Tablet/Smartphone Stand was the highest quality stand of the three we tested, and was also the best choice for a number of different environments. The biggest selling point was the mount itself. In a way it was the perfect combination of the other two; it had the customization and easy positioning of the Geepin, as well as the access to important device features contained in the Tryone Gooseneck Tablet Stand.
This made it a pretty easy first choice. While the other two stands were both well-made, this one seemed like it had the most applications and was the most convenient to use. We also loved its simple, yet effective design as well as the fact that StillCool offered two color options.
All three of these stands are high-quality and will get the job done, but if you're looking for the best of the best, the StillCool mount might be the one for you.
Note: At no extra cost to you, we may earn a commission for purchases using our links. Learn more.