JoyRoom 72w Car Charger
Pros
Provides front and back seat charging options.
Up to 72W of total charging capacity.
Sturdy aluminum-reinforced housing.
Low-profile design.
Cons
No wireless charging.
Not fast enough to play and charge on laptops.
Not that long ago, our charging needs were relatively minimal. Maybe you wanted to charge one cell phone during a long car trip. So, you'd use the charging cable supplied by your manufacturer. But things have changed a lot in recent years.
To begin with, phones and tablets have become ubiquitous and essential. If you're taking a family road trip, chances are good that everybody wants to charge at least one device. For another thing, phone and tablet chargers have become more standardized. Instead of every manufacturer using their own connection, there are just a few types of USB. So with the same charger, you can charge multiple different phones.
A lot of cars account for this by having built-in USB ports. But there's no guarantee that your car's ports are the right kind. For example, you might need USB Type-C power instead of USB Type-A. At the same time, there's a wide variety of chargers out there.
They have different types of USB ports and different port configurations. The best chargers will have a variety of ports at high wattages, so you can charge many different devices. This can be harder to find than it sounds, especially for the automotive market. But if you take the time to research your options, you'll find that there are some pretty good ones out there.
JoyRoom 72w Super Fast USB-C Car Charger
Today, we'll be reviewing the JoyRoom 72w Super Fast USB-C Car Charger. As you may have guessed from the name, this device supplies up to 72 watts of power. However, it also has a split design. There are ports on the main plug, but there's also a wired dongle that extends to the back seat. That way, rear seat passengers can still charge their phones or tablets.
But to deliver a fair verdict, we'll have to look a lot closer. We'll have to look at the wattages of the individual ports. We'll have to talk about the quality of the physical design. And of course, we'll need to consider the various safety features. Let's see what we discover!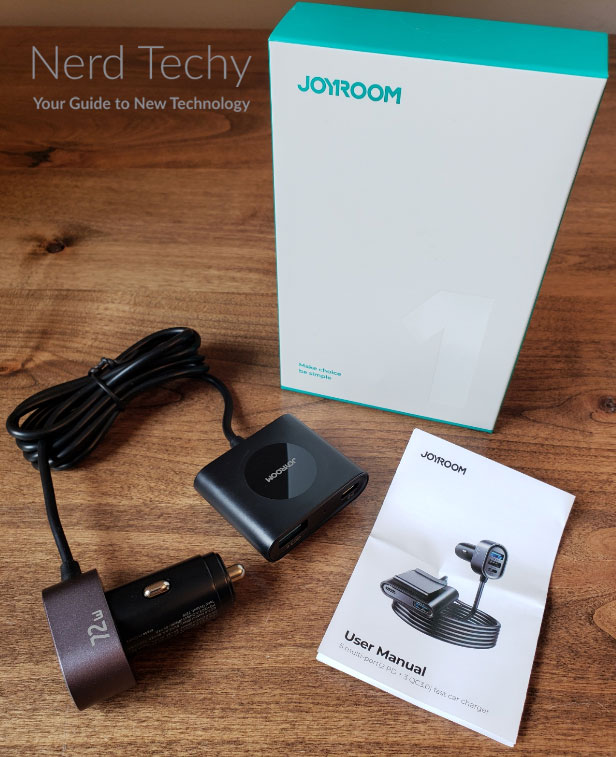 Overall Design
The JoyRoom 72W Super Fast USB-C Car Charger has a sleek, attractive design. The ABS plastic housing is all curves, with an appealing oval profile. It has a matte finish that doesn't collect fingerprints, and it's reinforced with a tough aluminum frame. A round plug sticks out of the bottom side, with conductive contacts on the sides and tip. On the side of the main oval part of the housing, the letters "72w" are embossed in the finish.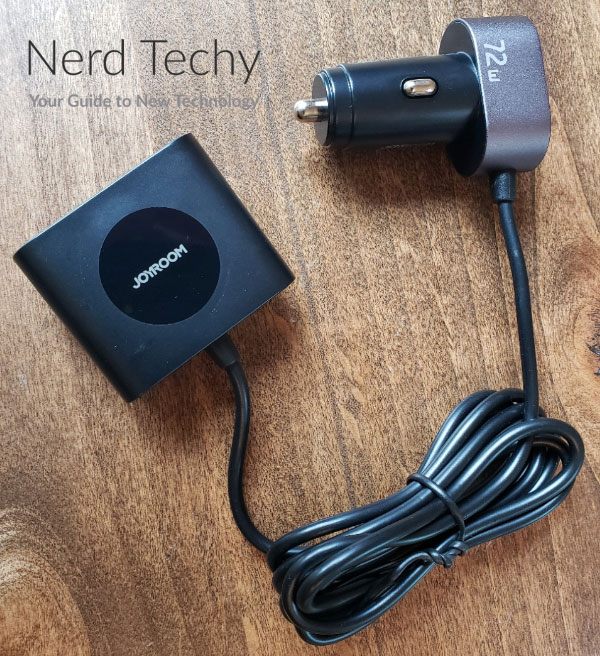 The top of the oval housing is slightly recessed, with a darker finish than the rest of the shell. Here, you'll find the three USB ports for the front seat. The top two ports are USB Type-A ports, although one is blue and the other is black. There's actually no difference between them in terms of performance, and it would be nice if both were blue. The lighter tab is easier to see, so you can orient your plug properly.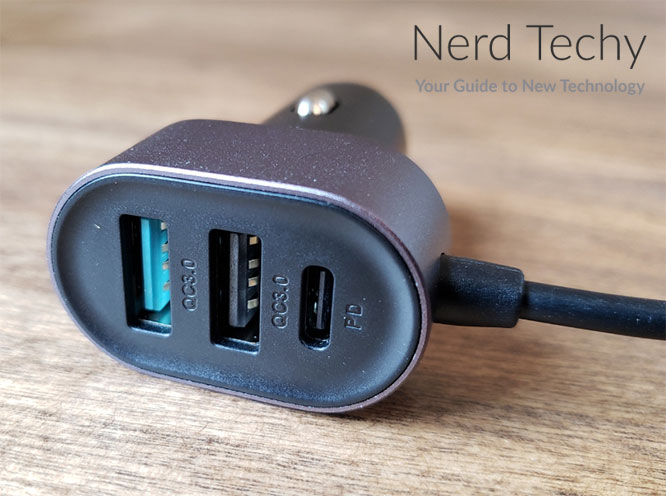 Beneath the USB Type-A ports is a single USB Type-C port. The top ports are both labeled "QC 3.0", and the bottom port is labeled "PD." The labeling is just a slightly darker black, not a light color, so it doesn't mar the appearance.
The plug portion connects to a dongle via a five-foot cord. The cord is attached at the base of the oval, and has a fat hard plastic collar. This ensures that it doesn't get damaged from excess flexing, and it should be very long-lasting. The cord is equally well-reinforced at the other end, with a similar hard collar. In-between, it has a smooth finish, and it's not terribly prone to tangling.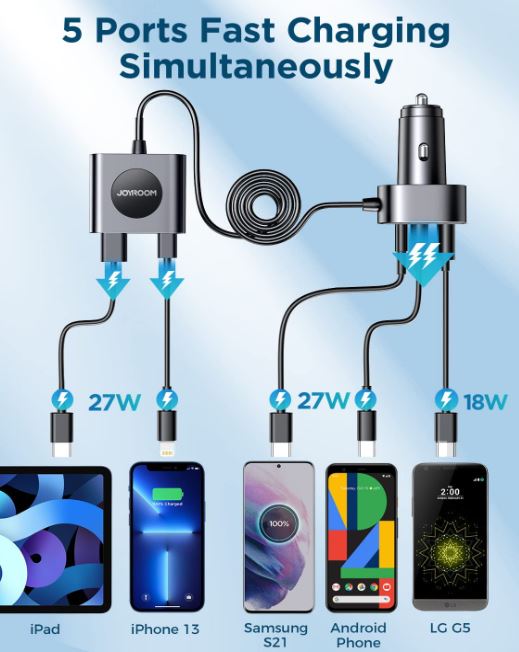 Rear Seat Dongle
The rear seat dongle is constructed from a similar material to the front seat plug portion. It has the same finish, and it even has an oval shaped design. However, the oval is wide and tapered. As viewed from the front, it has a square profile, with the word "JoyRoom" printed in silver. The cord attaches at the top, and the USB ports are located on the bottom.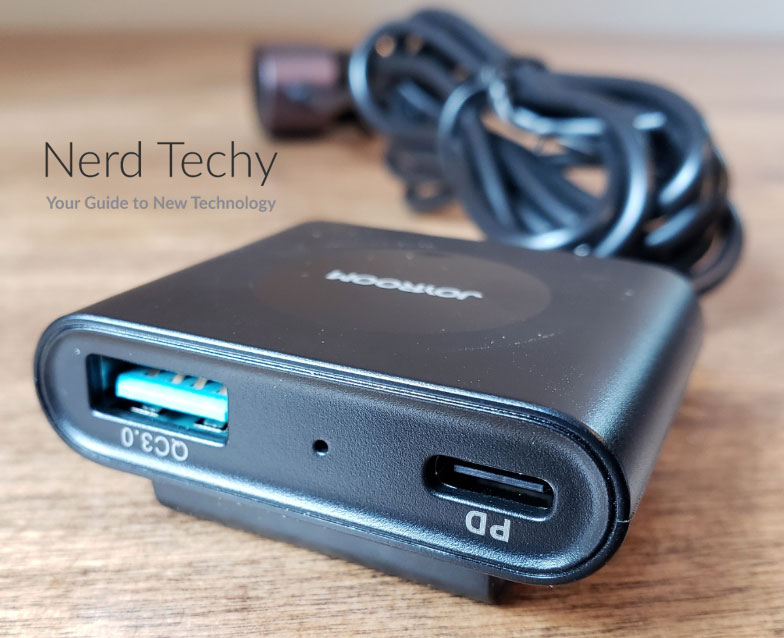 At the left, there's a USB Type-C port, with the letters "PD" printed above in white. At the right, there's a USB Type-A port which is labeled "QC 3.0." It also has a blue tab, for more straightforward insertion. In-between the ports is a green indicator light that lets you know the front portion is plugged in.
On the back of the dongle, you'll notice a clip. This clip is wide and flat, and angled upwards at the end for easy attachment. It's made to clip onto the top of your rear seat pockets, to keep things neat and organized. Of course, there's no reason it needs to be mounted in place. If you want to let it hang or set it on top of your center console, you can.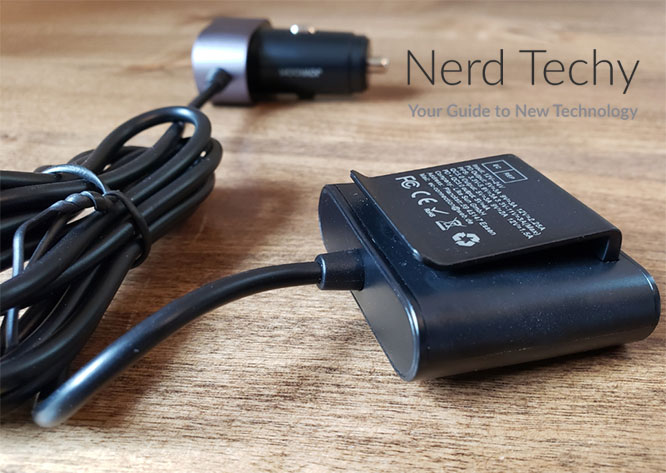 Charging Capability
So far, we've been talking about the physical design. But what is the JoyRoom charger actually capable of? To begin with, it works with 12- to 24-volt vehicle outlets. This covers everything from small compact cars to full-sized SUVs and even RVs. No matter what kind of vehicle you're driving, you're going to be covered.
Each USB Type-C port provides up to 27 watts of power. Meanwhile, the three USB Type-A ports can each provide up to 18 watts of power. That's not the fastest charging performance on the market, but it will get you a reasonably brisk charge.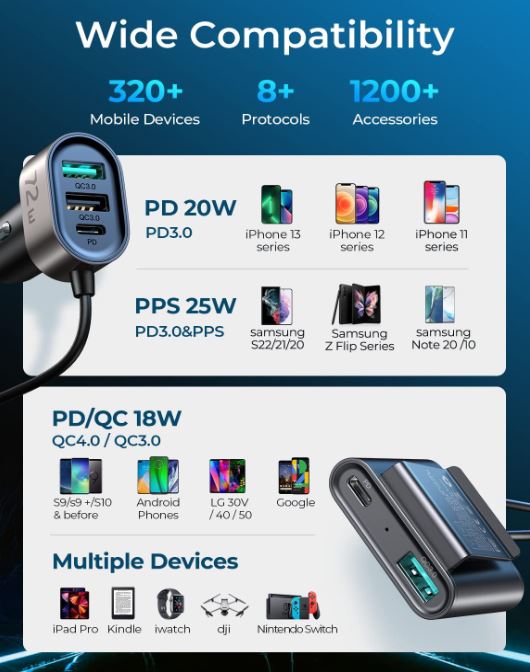 The total power output is 72 watts at maximum, which is shared across all of your devices. If you do the math, if all five ports were running at full power, they'd draw a total of 102 watts. So you'll get better performance when you're charging only a few devices. But no matter how you cut it, you're getting a fairly effective charger that's reasonably versatile.
One thing you won't get from this charger is any kind of wireless power. If that's what you need, take a look at the Acefast 15W Wireless Qi Fast Charger. It's not terribly fast compared to a wired charge, but for a wireless charger, it's very good. It's a padded bracket that mounts to your dashboard air vent. As a result, you can use your phone's navigation app and other functions while it's charging.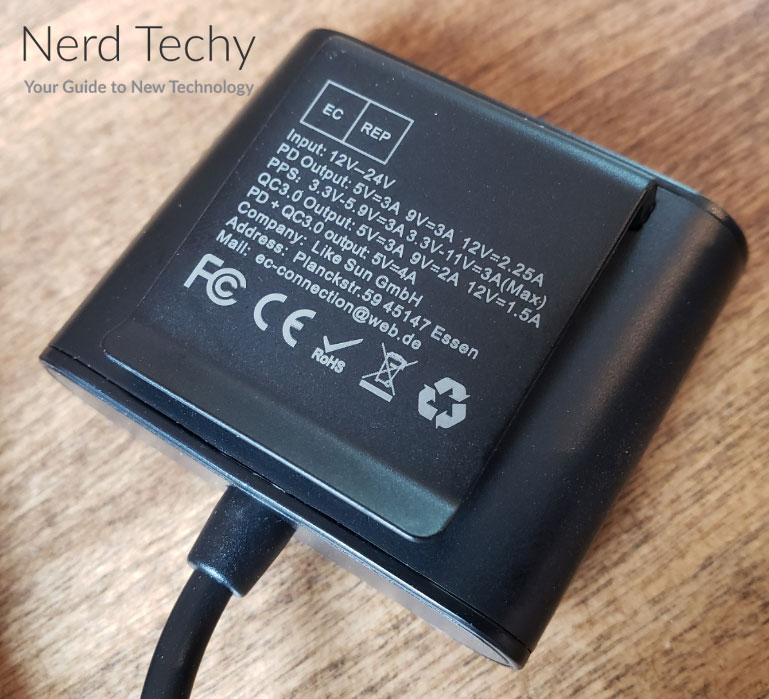 Compatibility
So, we know the JoyRoom charger can put out a reasonable amount of juice. But what does this mean in practice? A lot depends on your smartphone, and on what kind of charge it accepts. Take the iPhone, for example. Current iPhones, for example, are capable of 18-watt charging. When you plug them into the Type-A QC 3.0 ports, they'll charge at maximum speed. An iPhone 13 will charge to 75% in just over half an hour, and fully charge in about 90 minutes.
However, some QC-charged devices can accept up to 36 watts of power. So if you're charging certain tablets and Android phones, you won't get the maximum possible speed.
Type-C PD charging is similarly robust, as long as you're only charging a smartphone. Most Type-C phones, even PD-capable ones, don't charge faster than 27 watts. Samsung phones and other similar models will charge very quickly, and can be freely used while charging.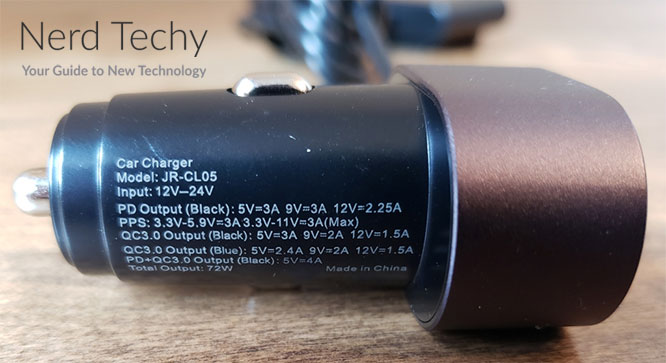 Even for most tablets, you're going to be just fine. One thing we wouldn't use this charger for is any kind of laptop. Type-C laptops normally require well over 30 watts in order to be used while they're charging. Some larger models can require more than 90 watts. These laptops can still be charged when they're turned off. But it's going to take longer than it would with the manufacturer's charger.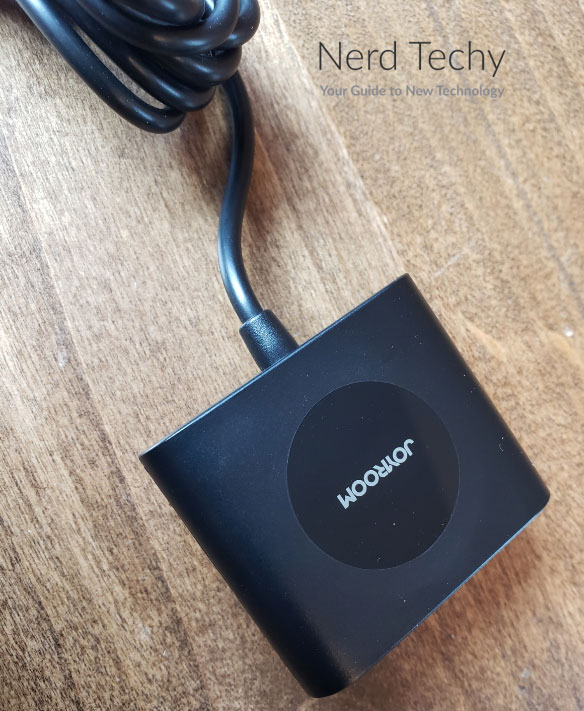 Extra Features
When you're purchasing any kind of electrical equipment, it's important to think about the safety features. The last thing you want is for your phone charger to malfunction and spark a fire in your car. To this end, the JoyRoom charger has a built-in temperature sensor. If it starts getting too hot, the circuit will be cut off so the electronics can cool down.
In addition to that, there are safety protections for your connected devices. Short-circuit protection will shut things down if there's serious damage to the wire. Meanwhile, overcharge protection keeps your devices from getting too much juice. You don't have to worry that your batteries will get fatigued from being left plugged in.
JoyCon provides a 2-year manufacturer's warranty that protects you from premature failure. Provided the failure was caused by a manufacturer's defect, you'll be full covered.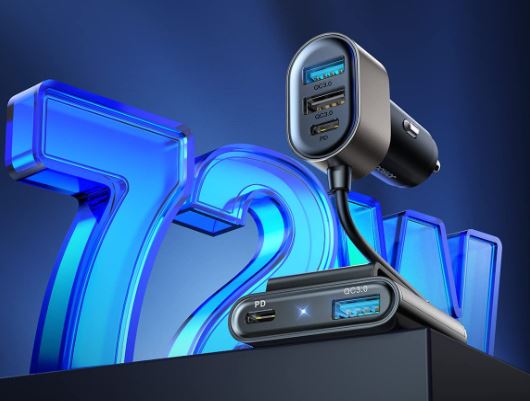 Final Verdict
The JoyRoom 72w Super Fast USB-C Car Charger is a unique and innovative device. Instead of only providing power to the driver and front seat passenger, everyone in the car gets a USB port.
The charging power is reasonably fast. With 27 watts on the Type-C ports and 18 on the Type-A ports, you can fast charge almost any phone. And with plenty of safety features, you can rest assured that your devices are safe. All in all, this is a very well-engineered charging device.
Meet Derek, "TechGuru," a 34-year-old technology enthusiast with a deep passion for tech innovations. With extensive experience, he specializes in gaming hardware and software, and has expertise in gadgets, custom PCs, and audio.
Besides writing about tech and reviewing new products, Derek enjoys traveling, hiking, and photography. Committed to keeping up with the latest industry trends, he aims to guide readers in making informed tech decisions.