If you're wiring a complex network, one or more switches is going to be necessary. Switches are commonly confused with routers, but they're actually different machines. A router is designed mainly to coordinate traffic between your network and the wider internet. A switch, on the other hand, is designed only to coordinate traffic inside of your network.
Let's say you have two different servers, and they're transferring data back and forth. This data will transfer through a switch, not a router. If a server needs to access the web, it will connect to the router via a switch. In other words, a faster switch won't improve your internet speeds. It will, however, increase data transfer speeds inside the network.
There are small switches available for home use, but they tend to have niche applications. Far more common are larger, rack-mounted switches that are engineered for commercial use. These switches have far more capability than anything you'd use in your home. They have more data throughput, more power throughput, and more advanced features.
But you don't want to buy just any commercial-grade switch. You want to find one that has the right set of features to match up with your needs. Otherwise, you'll be right back where you started – in need of a new switch.
EnGenius Cloud ECS2512FP
Today, we're going to review the EnGenius Cloud ECS2512FP Multi-Gigabit 2.5 Gb Switch. This is a rack-mountable switch with eight Ethernet ports and four fiber-optic ports. It supports an impressive 120Gbps of total data throughput, along with 240 watts of power throughput.
But there's a lot more than that to making a high-quality network switch. For one thing, you need reliable controls and in-depth management features. You need a secure system that's resistant to intruders. You also want a system that's easy enough for you and your people to use. So, does this switch provide for all of those needs? Let's take a closer look, and see how well it performs!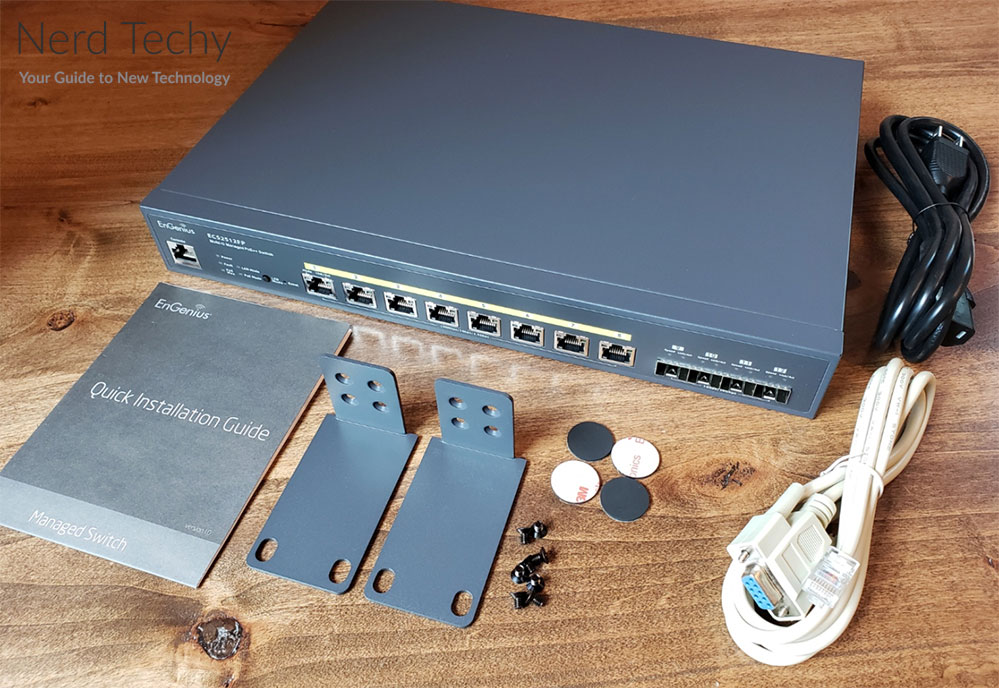 Overall Design
The EnGenius Cloud ECS2512FP Multi-Gigabit 2.5 Gb Switch has a black aluminum housing. The right side panel is almost entirely vented, with two fans located in the left to provide air flow. The power supply is on the back side, and a standard three-prong AC cord is included in the package.
The overall size of the switch is 12.99 inches wide, 9.05 inches deep, and 1.73 inches thick. It weighs 5.7 pounds, and is rack-mountable. That said, the 13-inch size is on the small side. Most commercial applications use 19-inch racks. So unless you have smaller racks, you'll need to use an adapter. This shouldn't be too difficult, though.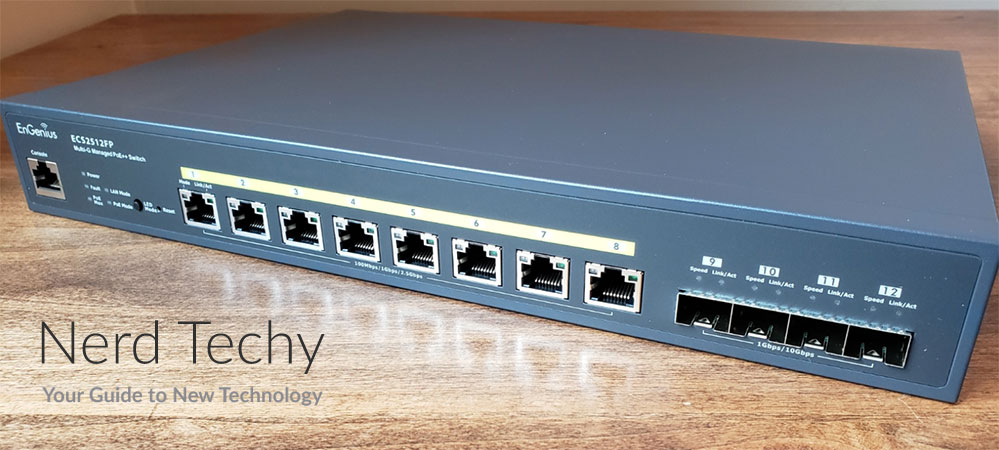 All of the ports and controls are located on the front of the housing for easy access. To begin with, there's an Ethernet uplink port at the left side. Next to this, there's a set of five indicator lights that let you know the switch's status. There's also a reset button, and a button to turn the LED lights on or off.
In the center of the front panel, there's a row of eight ethernet ports. There's a yellow stripe across the top, with little black numbers over each port, labeled 1-8. Each port also has a pair of small LEDs to keep you posted on the status.
At the right, there are four additional ports. These are fiber-optic ports, labeled 9-12. They're faster than Ethernet, and they're also capable of transferring data over longer distances. They cannot, on the other hand, provide any kind of power delivery.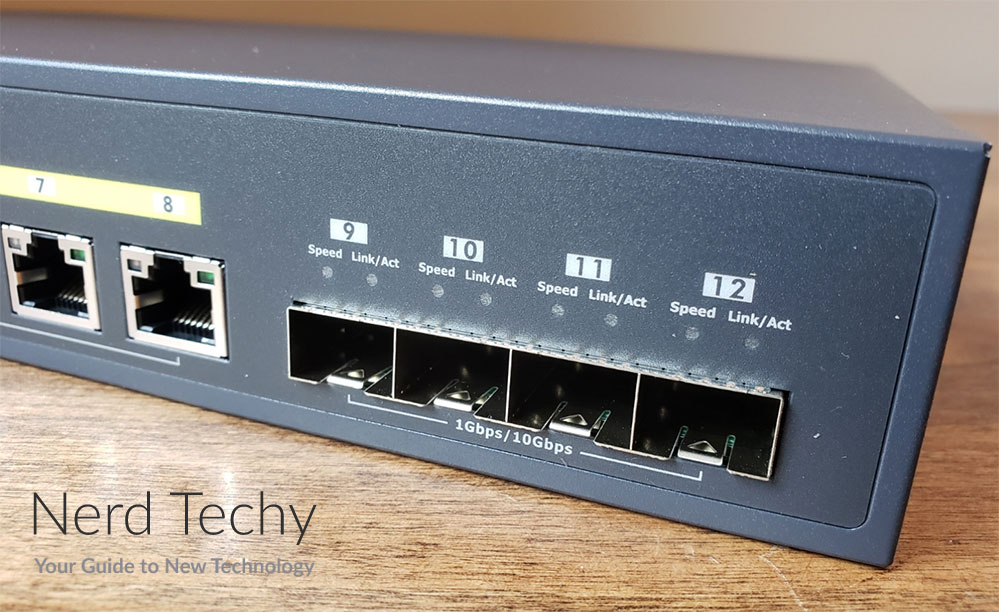 Data Delivery
So, what is the ECS2512FP capable of? Let's start with the Ethernet ports. Each port is capable of transferring data at 10, 100, 1,000, or 2,500Mbps. That's more than twice Gigabit speed, and you'll need robust Ethernet cables to handle that speed.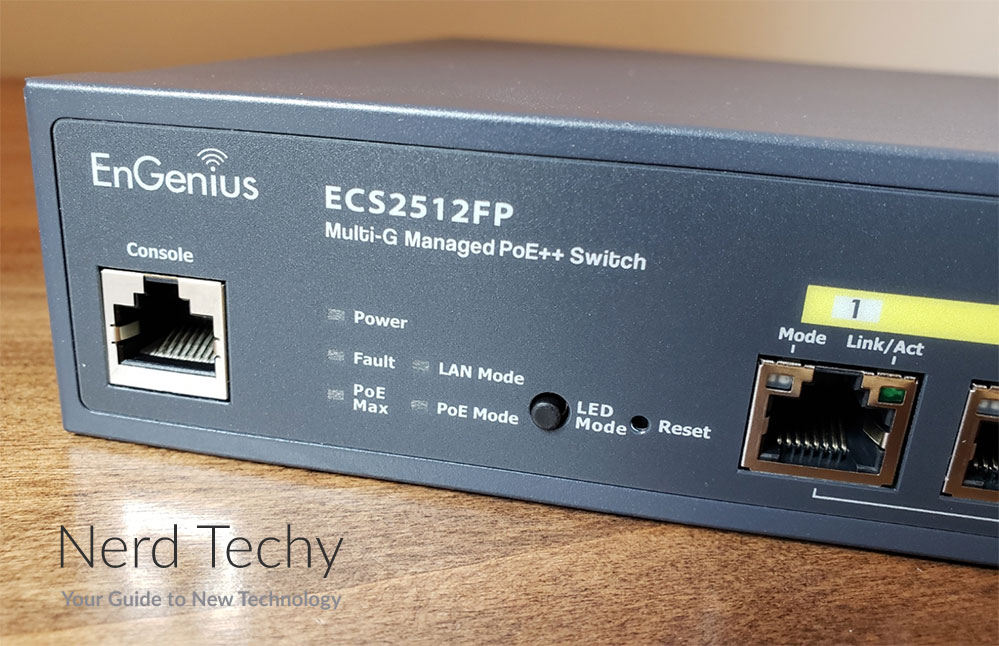 The fiber ports are even faster. Each one can handle up to 10Gbps of data transfer. If you're trying to move data on a commercial scale, this is the way to do it.
In total, the switch has a capacity of 120Gbps. This is enough to use all of your ports simultaneously at maximum capacity. You don't have to worry about losing speed on one port because another is running at full speed.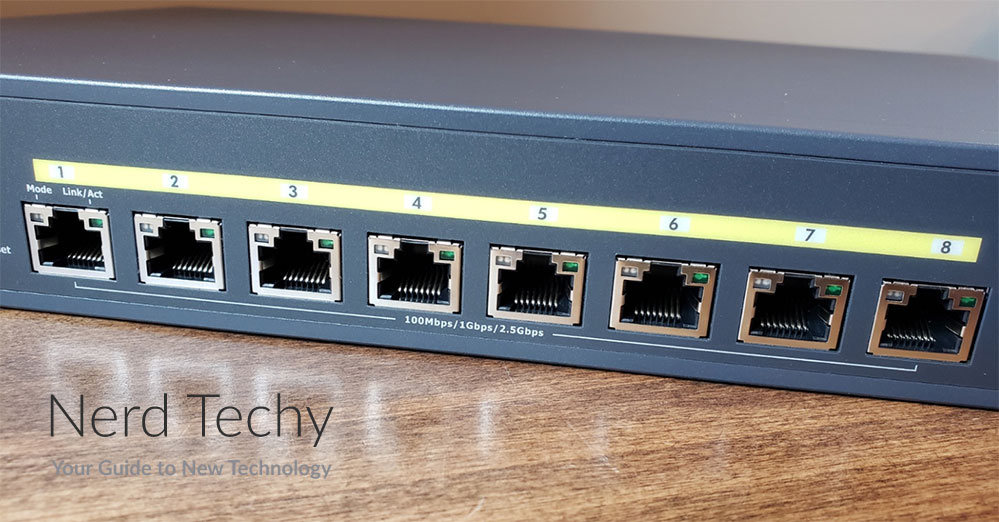 This is pretty impressive. But what if you need more Ethernet ports? In that case, the Zyxel XGS1210-12 is an excellent choice. It has 10 Ethernet ports and 2 fiber ports, and offers comparable transfer rates and data throughput. There's no PoE delivery on this one, but it's still cloud-managed, just like the EnGenius.
Power Delivery
The EnGenius ECS2512FP doesn't just deliver data. It's also capable of delivering power via Power over Ethernet (PoE). PoE is exactly what it sounds like; it delivers power via Ethernet cables. That way, downstream devices won't need to use a separate power supply.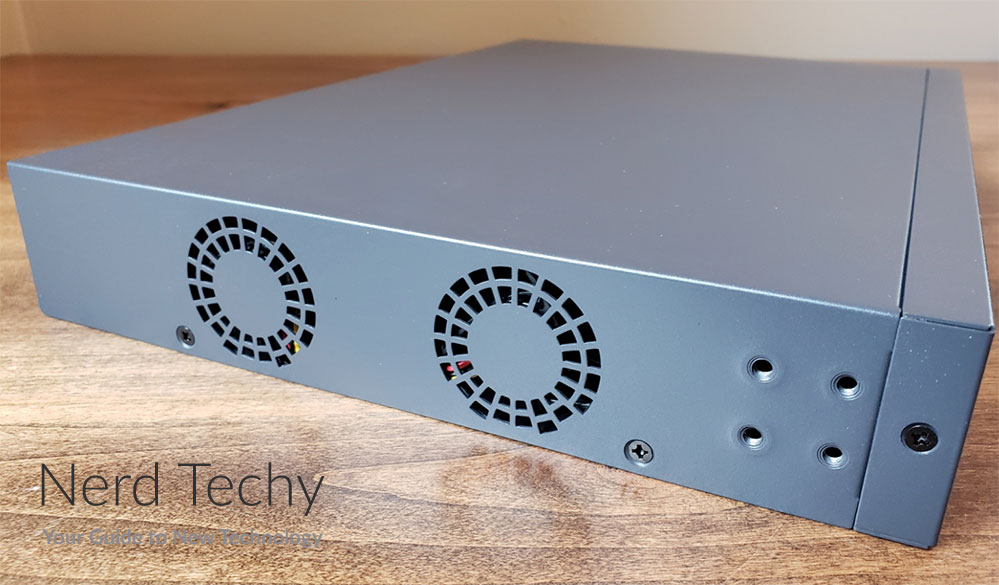 Keep in mind that the switch itself doesn't supply this power. In some cases, the power may be supplied by a PoE router. In other cases, you might use a PoE injector to add power. This is a powered connector that sits in between two Ethernet cables, and sends power through them.
This switch is compatible with all modern PoE standards. This includes 802.3af, 802.3at, and 802.3bt. In most situations, you'll simply be able to plug everything in and start using your PoE-powered devices.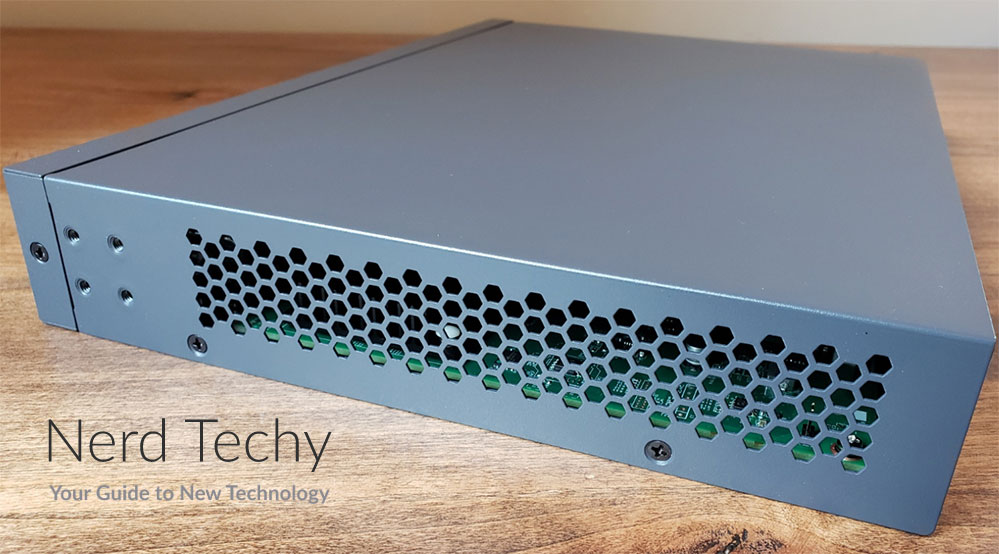 The total power budget is 240 watts. This is the amount of power that the circuitry can handle. Split eight ways, that works out to 30 watts per Ethernet port. That's an impressive amount of power, and it's more than you should ever really need.
That said, this kind of capability is going to cost you. If you don't need the fiber connections and insane PoE capability, you can save money with a different switch. In that case, consider the EnGenius ECS1008P. It's an older version and it's harder to get ahold of. However, because it doesn't has less capability, it's significantly more affordable.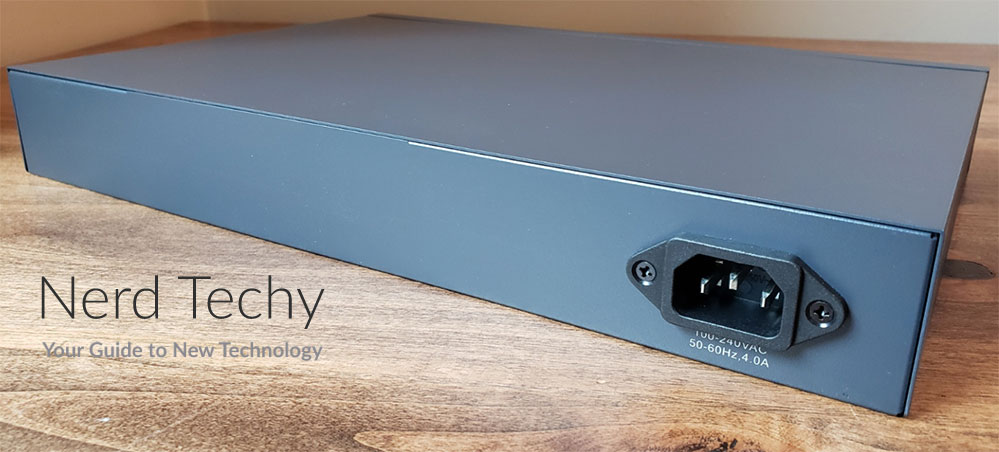 Cloud Management and Controls
Some switches are what we call "dumb." There are few management features, and you can't really optimize their performance. The ECS2512FP, on the other hand, is a smart switch. You get all kinds of advanced controls that let you manage your own network. This is an essential feature if you want your local network to be as efficient as possible.
To aid with this, EnGenius provides free cloud-based management on all of their switches. You and your team can manage your network remotely or on-site, whatever is needed. If you have multiple locations, for example, you won't need IT staff at each site. Once the switch has been registered with your account, you can manage all sites from a central location.
So, what does this mean for you? To begin with, you get what's called a "topology view." This is a fancy way of saying that the cloud software will automatically map out your network. You'll be able to bring up a visual display of all your devices and how they're connected.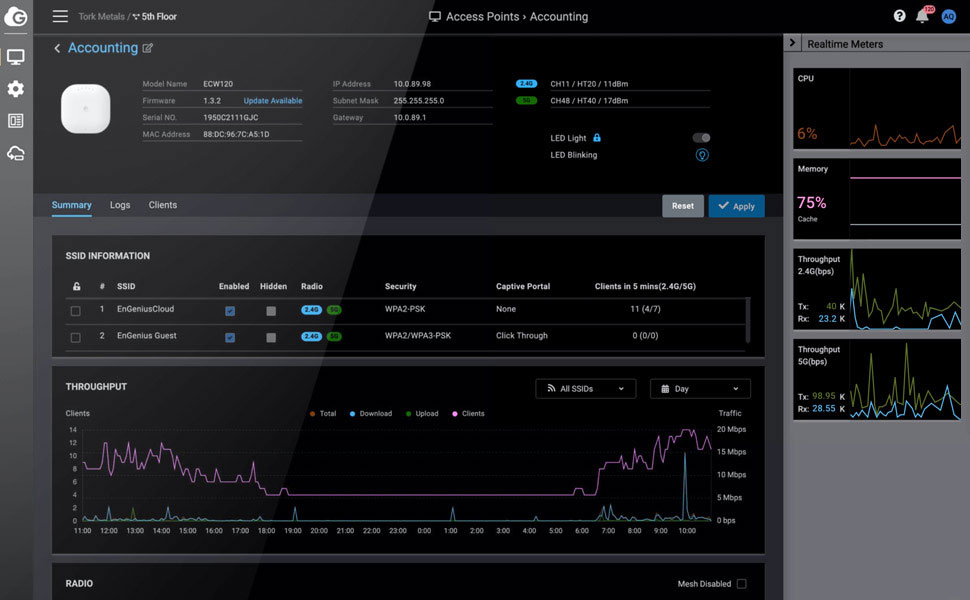 Assuming everything is working properly, you won't need to use the topology view. But if you're having trouble, a visual display can help you quickly identify issues. You can see if devices are connected incorrectly, wired to the wrong ports, and so on. You can even do this remotely, and have someone else on-site to make the necessary changes.
The cloud management doesn't just monitor devices that are physically plugged in. If your network includes any kind of wireless access points, it also monitors those. It tracks devices in real time as they move from one access point to another, to help boost efficiency. Again, this is mostly for troubleshooting purposes. If your wireless devices are constantly getting dropped, monitoring can help you identify where it's happening.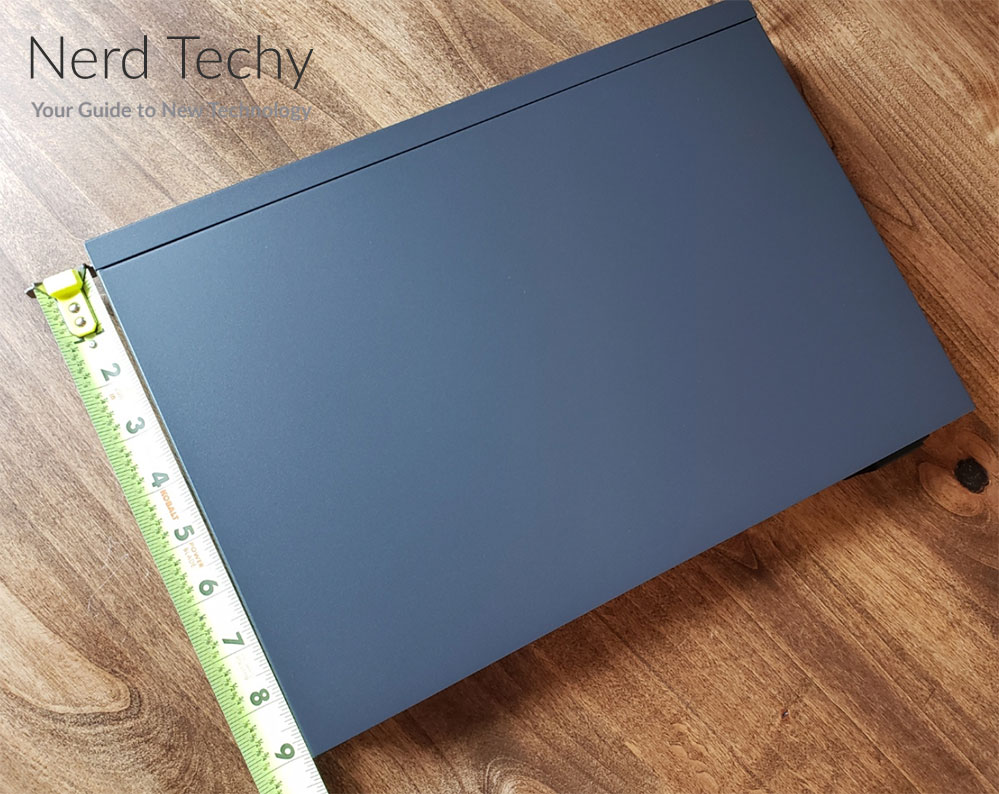 Security Features
All the speed and management features in the world don't matter if the switch is vulnerable to hackers. This is particularly true for commercial switches, which are more likely to be subject to attacks. So, how secure is the EnGenius ECS2512FP, and how exactly does it help to keep your data safe?
To begin with, the switch has a built-in Layer 7 DPI engine. For the uninitiated, Layer 7 DPI is a type of firewall technology that collects traffic information. In most cases, when you're running your own firewall, you have to install your own traffic box. This is a separate piece of hardware that costs extra money and takes up extra space. By having the engine built into the switch itself, you don't have to install any extra hardware.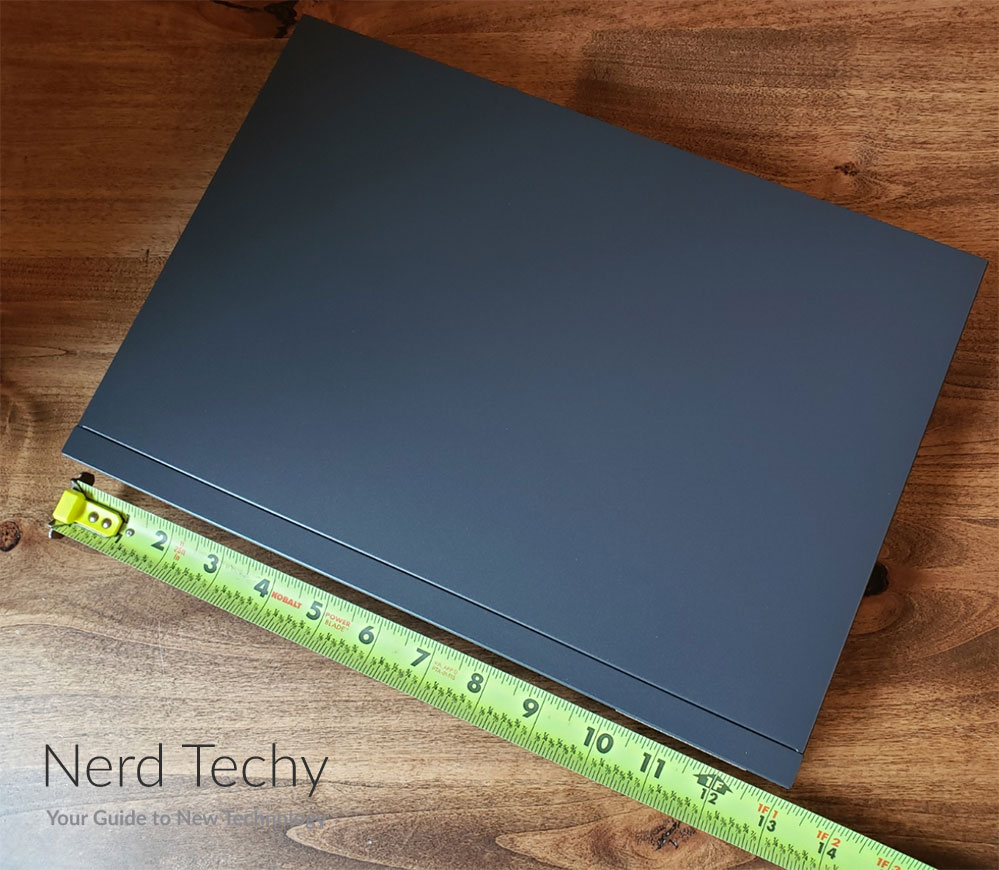 In addition to that, the EnGenius Cloud software utilizes two-factor authentication. This helps to prevent unauthorized people from accessing the software and monitoring your traffic. Furthermore, all data is encrypted as it travels from point to point. As a result, it's much harder for an intruder to execute a man-in-the-middle attack. Even if they somehow intercept some data, they won't be able to decipher it.
Furthermore, EnGenius has one of the best service level agreements (SLA) on the market. They guarantee 99.99% uptime, so you can always access your control panel. Not only that, but they support up to 100,000 devices per account. Even if you have a fairly large company, you'll be able to monitor everything in your network.
If you like all of these features but don't want to pay the high cost of the ECS2512FP, there are options. Take the EnGenius ECS1112FP, for example. It has the same cloud management suite, and it's much more affordable. On the downside, the highest speed the ports can handle is 1Gbps.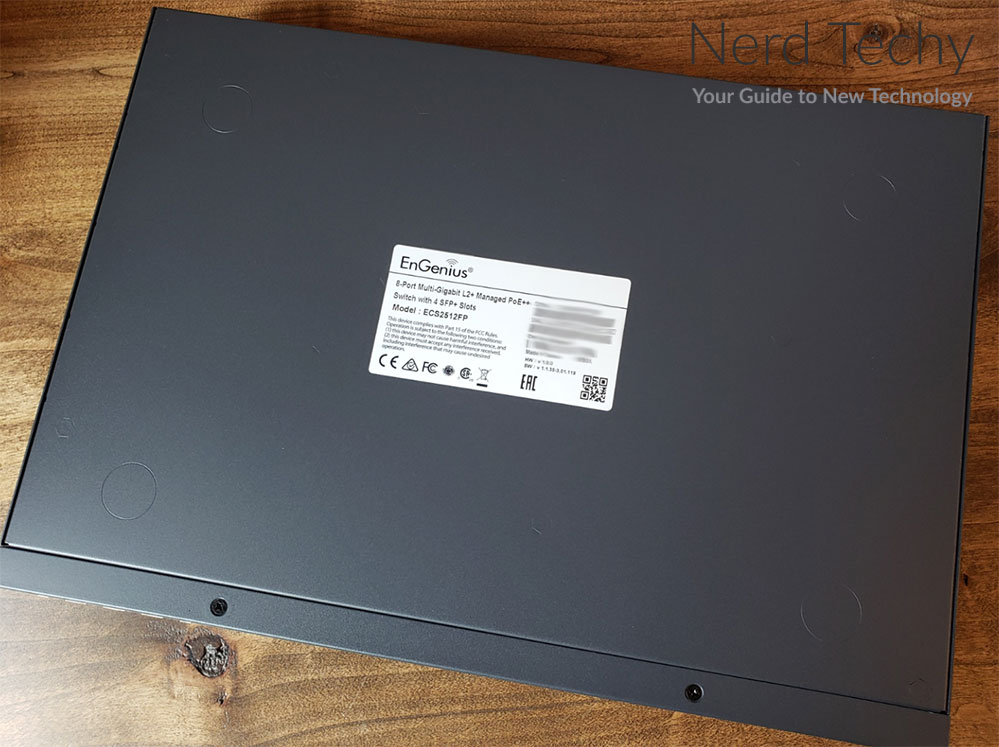 Final Verdict
The EnGenius Cloud ECS2512FP Multi-Gigabit 2.5 Gb Switch isn't for everybody. It's expensive, and it has a ton of features you'll never need to use at home. But if you need a powerful, commercial-grade switch, it's one of the best around. With advanced security and management features and 120Gbps of throughput, it's incredibly capable.
Meet Derek, "TechGuru," a 34-year-old technology enthusiast with a deep passion for tech innovations. With extensive experience, he specializes in gaming hardware and software, and has expertise in gadgets, custom PCs, and audio.
Besides writing about tech and reviewing new products, Derek enjoys traveling, hiking, and photography. Committed to keeping up with the latest industry trends, he aims to guide readers in making informed tech decisions.