Dragon Touch S1 Pro
Pros
Crisp 4K display with fine detail.
Very lightweight and portable design.
Compatible with almost any device.
Wide color gamut with vivid colors.
Comes with a protective case.
Cons
Sometimes requires an external power source.
Case could be a bit more stable.
Whether you're a graphic designer, a gamer, or an office worker, everybody needs a good quality monitor. With a sub-par monitor, colors are less vibrant, you get motion blur, and the picture isn't very crisp. You deserve better. Of course, exactly what features you want will depend on your application.
For example, gamers often prefer higher refresh rates, even at the expense of lower resolution. Graphic designers need a wide color gamut, so they can get the truest representation of their work. And everybody needs a high contrast ratio, even if you're just watching movies on Netflix.
Further complicating things is the fact that monitors tend to be bulky. Even a modern LCD display is too big to take with you on the road. This can be frustrating if you want something light and portable. It can also be problematic if you want a second display for your laptop.
Your laptop is portable, but your second monitor often isn't. In these situations, it makes sense to look for a portable monitor. A portable monitor is a specialized display that's meant to be carried around in your laptop bag. It can go with you anywhere you want to go, even on vacation. You'll have the flexibility to work or play wherever you like.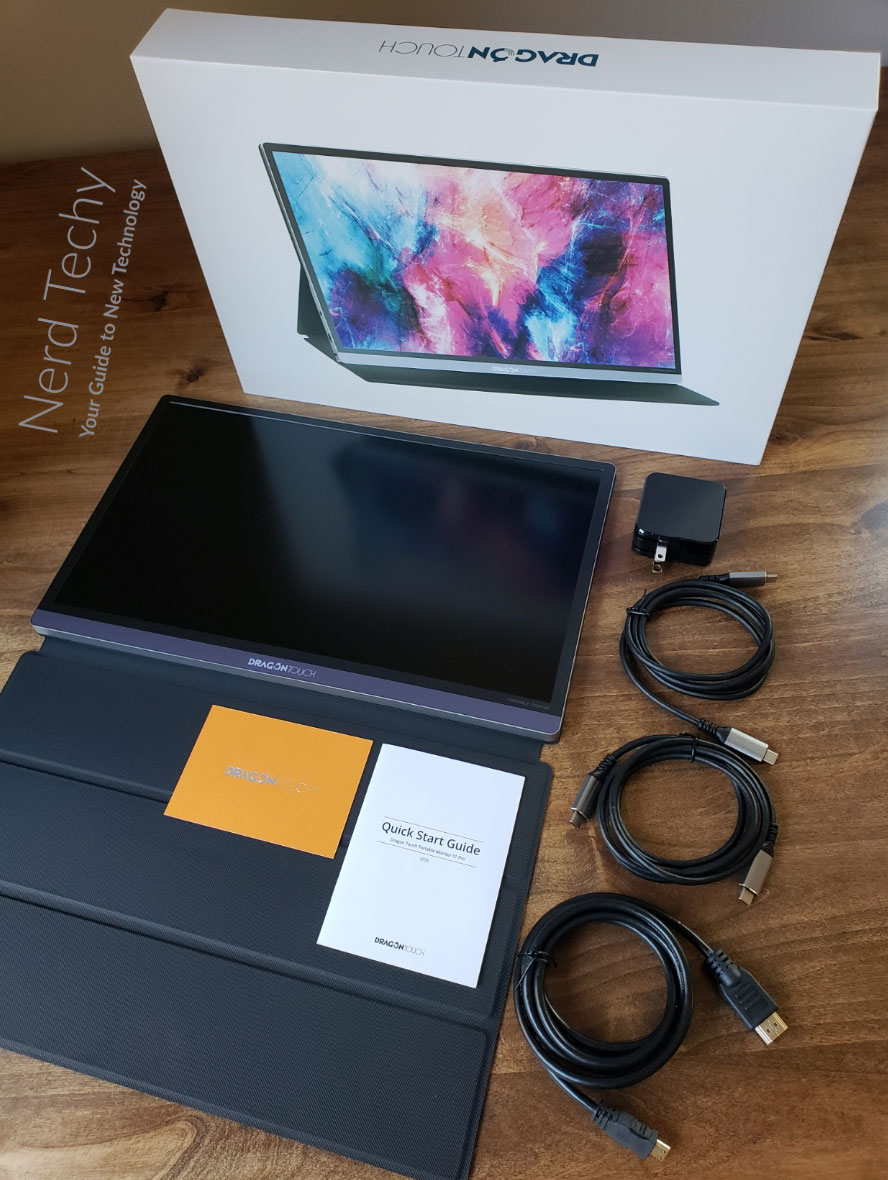 Dragon Touch S1 Pro
We're about to review the Dragon Touch S1 Pro Portable Monitor. This is an ultra-slim monitor that comes with a hybrid carrying case and stand. It has a crisp 4K resolution that's right up there with the most advanced displays on the market. And it works with just about any video source, from PCs to smartphones to game consoles.
But there are a number of other factors that go into making a well-designed monitor. We'll have to look at the overall form factor, and how it's designed. We'll need to talk about how it's powered, and how you hook it up. Additionally, we'll also have to go over the color gamut, contrast ratio, and other video quality metrics. After that, we'll have a fuller picture of what we're dealing with. Let's get started!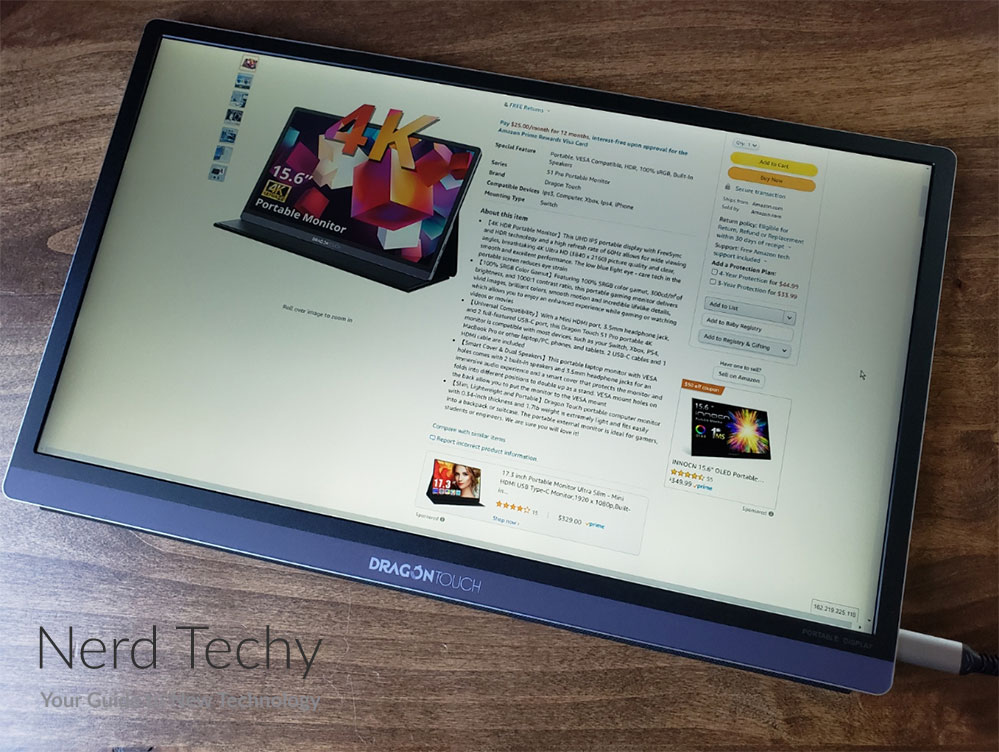 Overall Design
The Dragon Touch S1 Pro Portable Monitor has a smooth grey housing. It has a flat design, with mostly smooth edges that flatten out near the bottom. These flat areas are where you'll find the various ports and controls. On the right, there are two USB Type-C ports, with a Mini HDMI port just above them. On the left, there's a power/menu button, along with a navigation roller.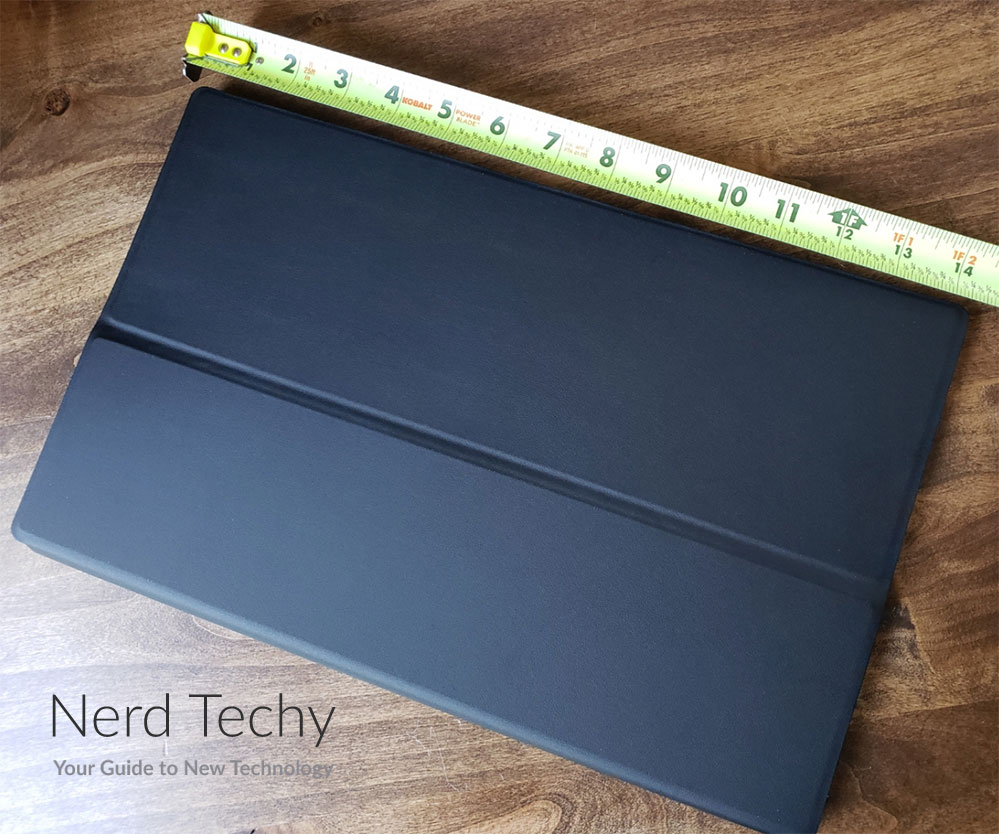 You'll also fid a 3.5mm aux port on the left side. This can be used to insert wired headphones if you're using the S1 as your primary display. Alternatively, you can take advantage of the two built-in speakers. They're relatively low-wattage, so you won't get much volume. But that's about what you'd expect from speakers this tiny.
The screen itself takes up almost the entirety of the front of the monitor. There's a black bezel around the edges, but it's fairly narrow – just wide enough to ensure good visibility. At the bottom, there's a broader grey stripe beneath the bezel. It has the words "Dragon Touch" printed on it, in stylized lettering.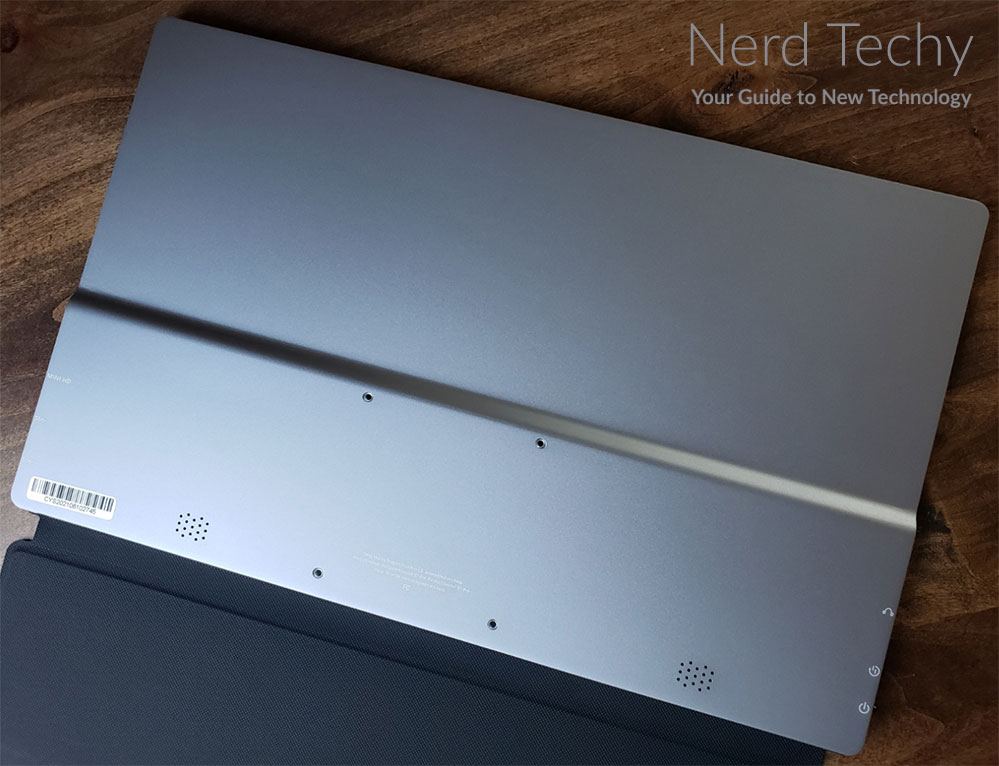 The back of the housing sports a set of VESA-compatible screw holes. How often you'd ever want to mount a portable monitor is open to question. But if you want to mount it on a stand, you can. And you can still take it down off the stand and take it with you without any problems.
Along with the monitor itself, you'll get a few essential accessories. To begin with, you get a pair of USB Type-C to Type-C cables. You also get an HDMI to Mini HDMI cable, along with a simple AC to USB Type-C power adapter.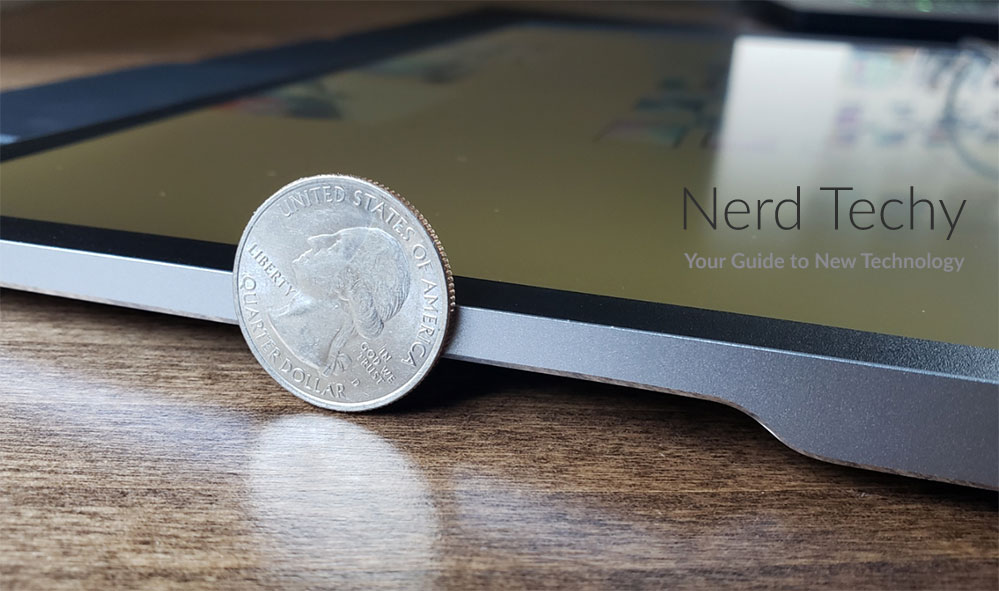 Size and Portability
The S1 Pro has a 15.6-inch display, which is big enough to be easy on the eyes. Even so, it's small enough to carry around in a typical laptop bag. The total thickness is only 0.34-inch, which makes it slim enough to slip into a large luggage side pocket. And at only 1.7-pound, you'll barely even notice the extra weight.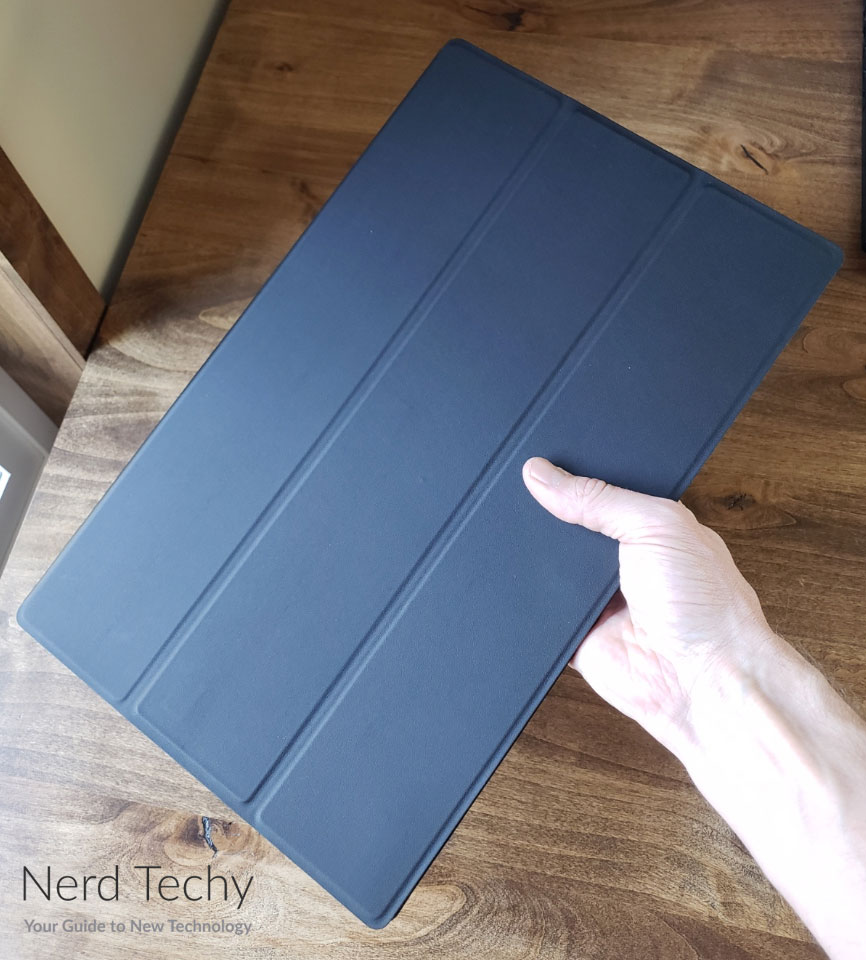 The monitor comes with a hybrid case and stand. It's a stiff vinyl with a soft surface that won't scratch your screen or the back of the housing. When you're carrying it around, the case simply folds around the body. When you set up the monitor, you open the cover and use the folds to form it into a wedge. This supports your screen and keeps it at the appropriate angle, with no need for a separate stand. It works decently, but sometimes it's a little finicky to stand stable.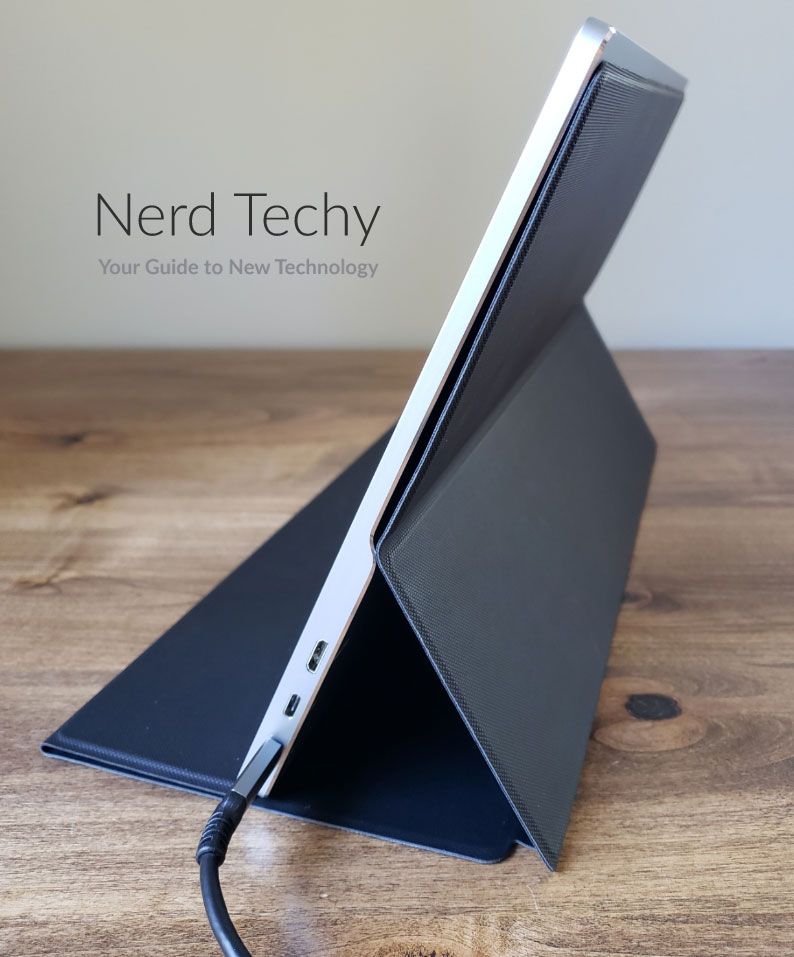 Of course, there are plenty of other portable designs to choose from. The Dragon Touch KidzPad Y88X 10 is a good example of a unique design. This isn't just a display. It's a full-on tablet, built specifically for kids, with a beefy, durable frame. It also comes with several kid-friendly apps pre-installed on the drive.
Connectivity and Compatibility
There are a couple of ways of connecting the S1 Pro to your display device. The most straightforward method is to use a USB Type-C connection. This will only work if your device supports USB Type-C video output. Otherwise, you'll have to use the HDMI to Mini HDMI connection.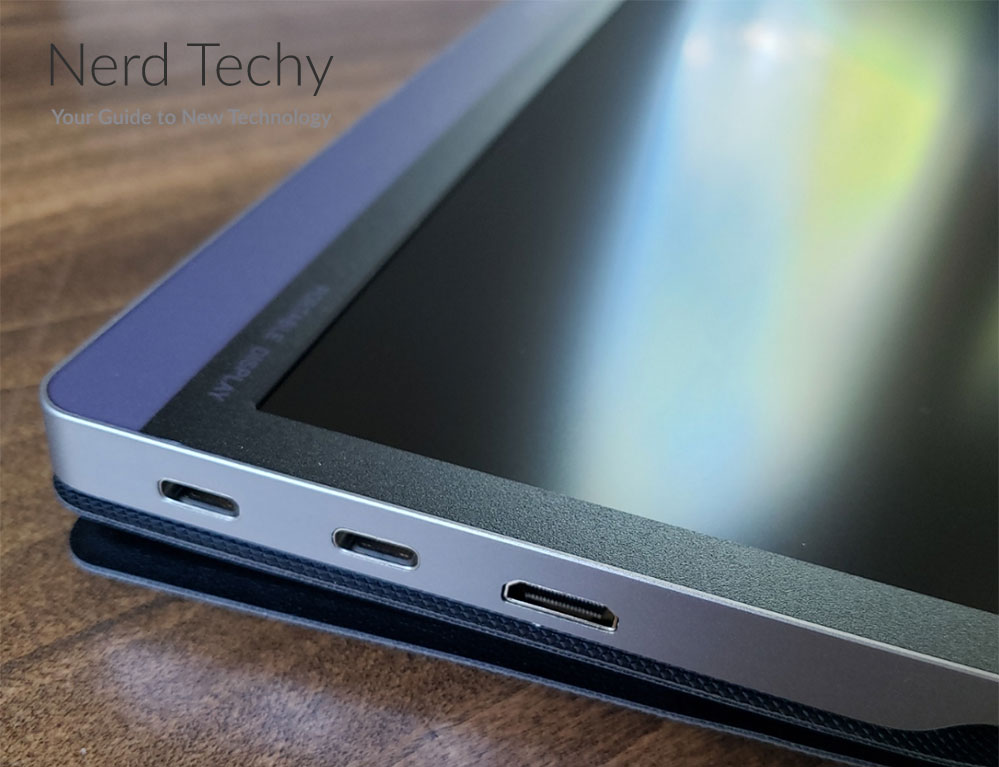 Of course, the display also requires possible, which can complicate things. To begin with, your device's Type-C port might provide video but not power. In that case, you'll have to use a second USB Type-C cable to plug into the AC power adapter. That's why there are two Type-C ports. The same goes for using the Mini HDMI connection. Since Mini HDMI doesn't supply power, you'll need Type-C power.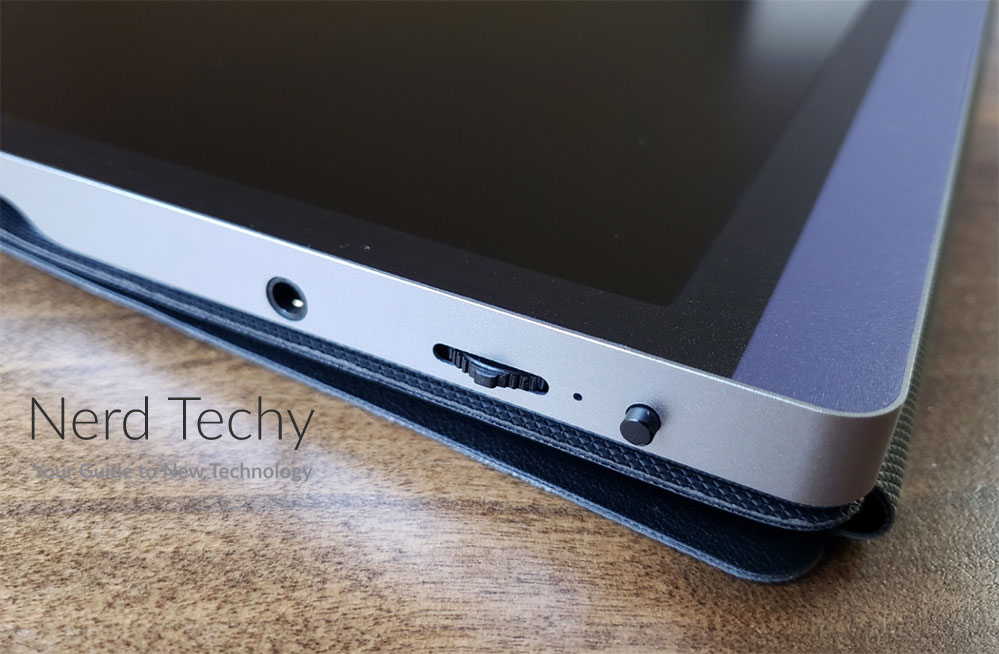 There's one more scenario where you'll have to plug into the power supply. A laptop USB Type-C port provides limited wattage, far less than the AC power block. If you adjust your brightness or speaker volume above 70%, your computer won't supply enough juice. The power adapter allows you to use the maximum brightness and volume.
Dragon Touch doesn't only make monitors. They're known for all kinds of high-quality displays. Not long ago, we reviewed the Dragon Touch 10-inch digital picture frame. It's not useful for video, gaming, or using as a PC display. But it's a great way to share photos with your relatives.
Resolution and Refresh Rate
The Dragon Touch S1 Pro has a display resolution of 3,840 x 2,160 pixels. That's 4K Ultra HD, and it's the highest resolution you'll see at this size. In point of fact, 4K is unnecessary on a screen this small. The pixels are so tiny that you couldn't tell the difference between 4K and 2K. That said, you can watch 4K videos without getting any artifacts from 2K or 1080p downscaling.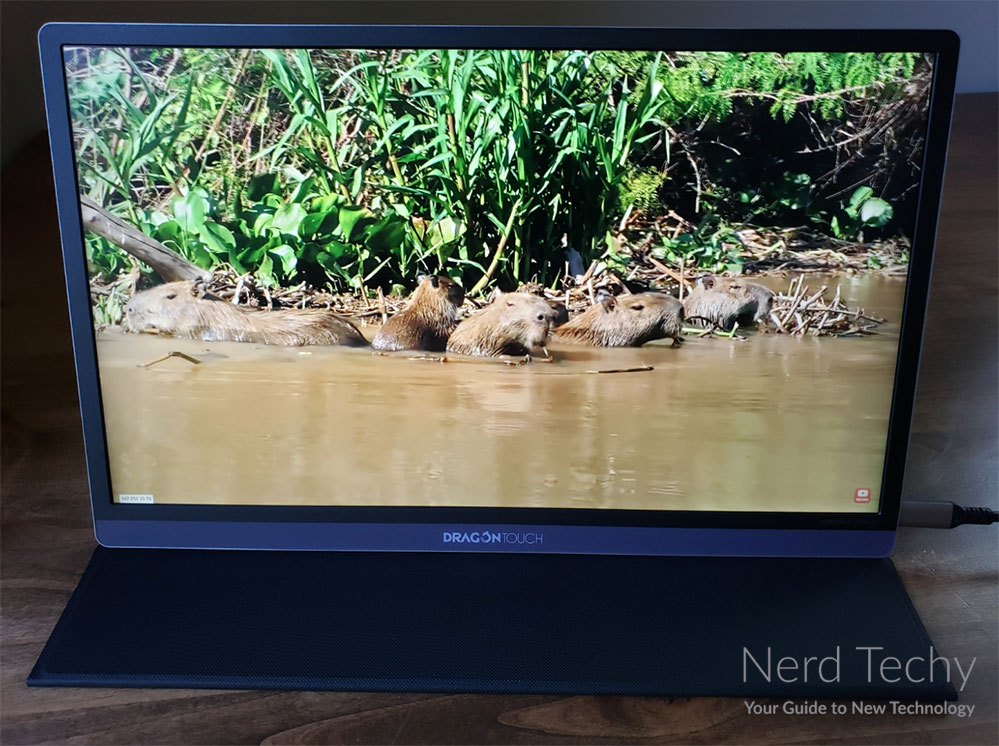 The refresh rate, or frame rate, is 60Hz. This is more than fast enough for videos, editing, and everyday office work. The only time it might feel a tad slow is if you're a gamer. A few years back, 60Hz would have been considered very fast, the ideal choice for gaming. But modern screens sometimes work at 120Hz or even faster. Even so, you're talking about a pretty brisk framerate for such a slim display.
If you don't need a 4K screen, there are cheaper options. Take a look at our review of the original Dragon Touch S1. It has a similar compact, portable design and it's a bit more affordable. However, it has a resolution of "only" 1080p.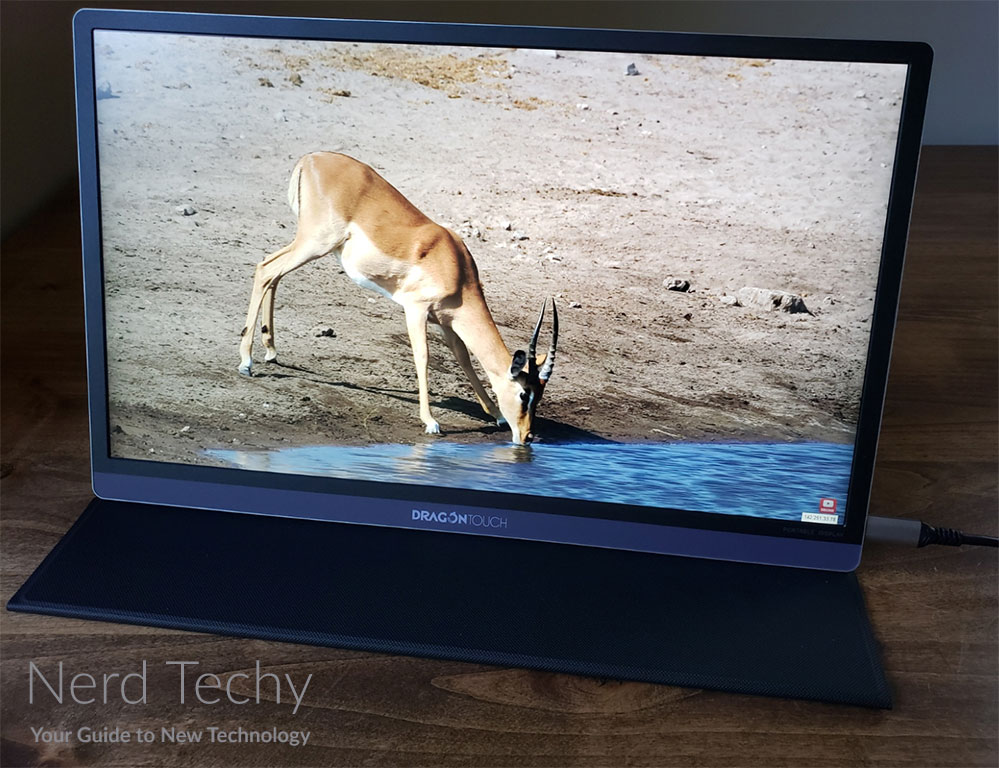 Brightness and Color Quality
When most people think of monitor quality, they think about resolution and refresh rate. But there are a number of other factors that go into determining picture quality. To use an extreme example, you could theoretically make a 4K, 60Hz monitor that runs in black and white. Obviously, nobody would ever do that, but you get the idea.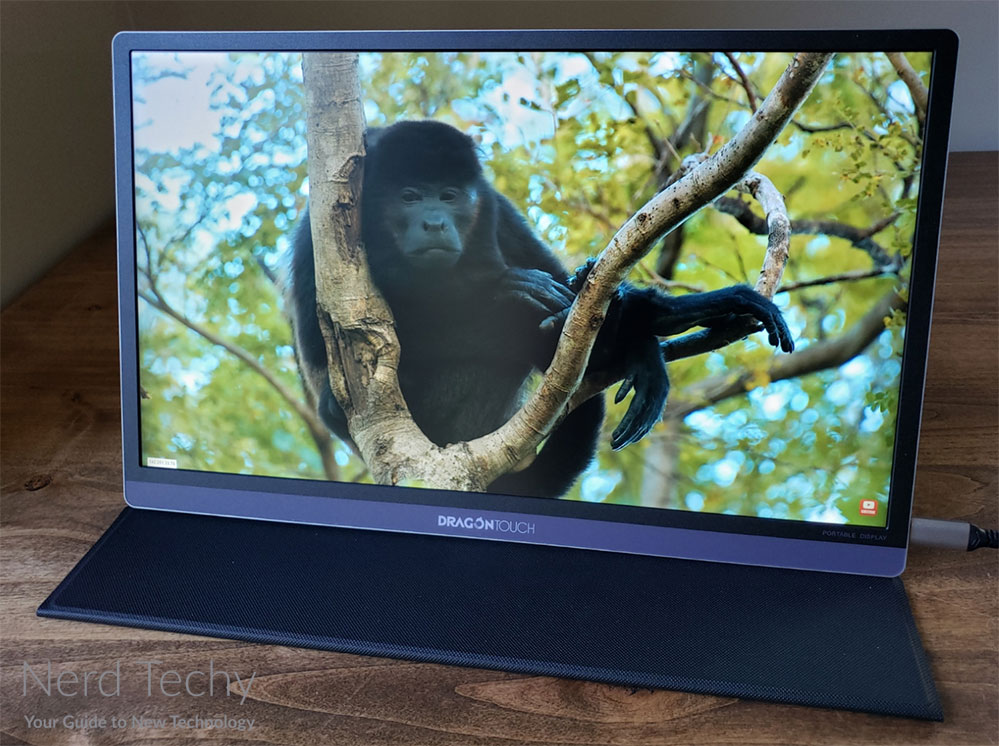 One thing to think about is brightness. If your monitor is too dim, you'll have trouble seeing in a brightly-lit environment. The S1 Pro has a maximum brightness of 300 nits. By comparison, the iPhone 13 has a brightness of over 800 nits. But the iPhone 13 is meant to work outside, under the glare of full sunlight. 300 nits is far more than enough for even the brightest fluorescent-lit environment.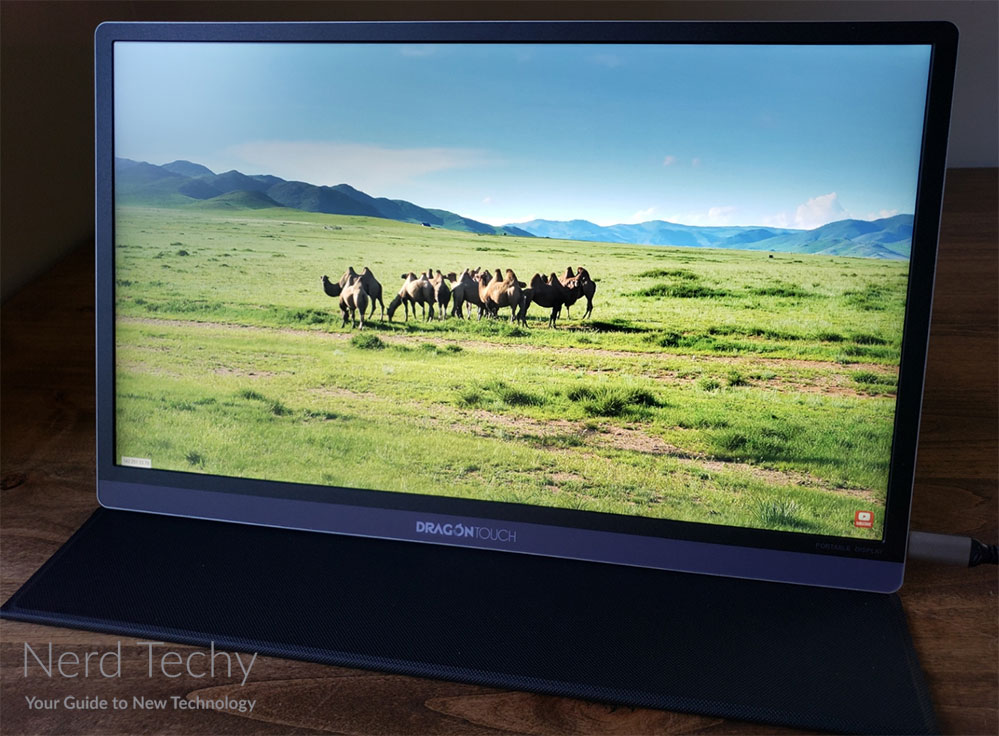 Another important thing to think about is the contrast ratio. This is the difference between the lightest and darkest tones on the screen. A low contrast ratio won't be noticeable in bright images. But in darker images, it can make shades of grey and black impossible to distinguish. This monitor has a contrast ratio of 1,000:1, which is very good. There are some monitors out there with absurdly high contrast ratio, but that's not normally necessary. 1,000:1 is more than enough for gaming, graphic design, and almost any other application.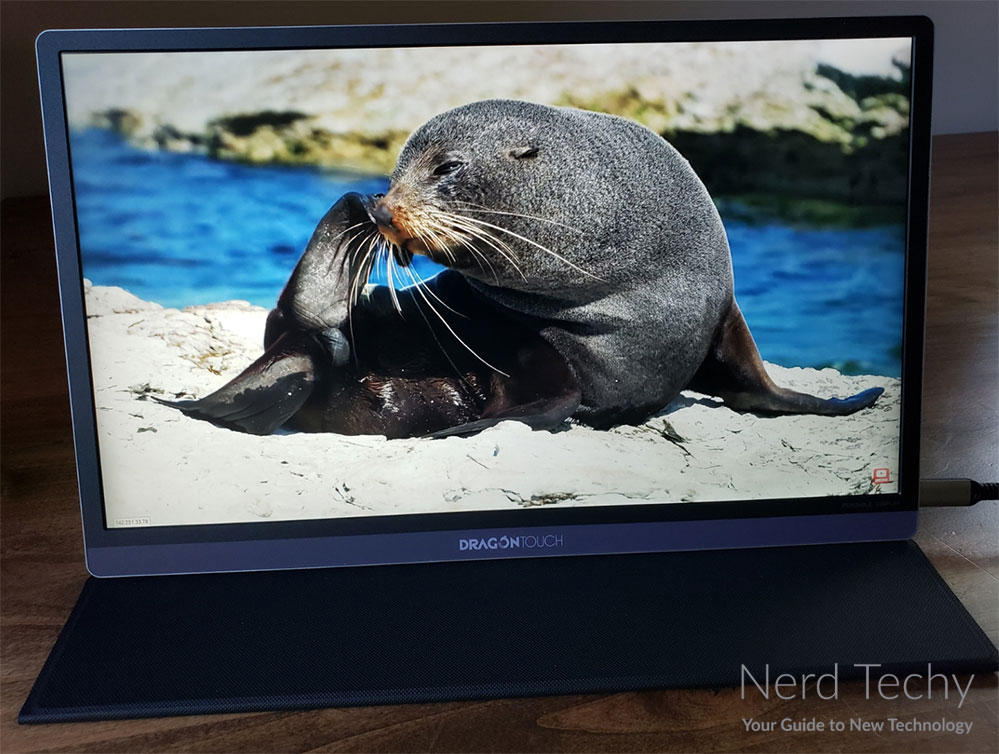 The other thing you need to consider is the color gamut. Simply put, this is the range of colors that the monitor is capable of displaying. The S1 Pro's color gamut extends to 100% of the sRGB color space. That's very high, and it's suitable for almost any purpose. That said, for certain graphic design applications, you'd want a wider color gamut. Specifically, if you're creating an image that's supposed to be printed on physical media.
As an added bonus, this portable display has low blue light output. It won't cause as much eye fatigue as a typical monitor. It also won't make it hard for you to fall asleep after using it.
Final Verdict
The Dragon Touch S1 Pro Portable Monitor is a very well-designed compact display. It's lightweight and slim, so it's easy to carry anywhere. You can connect it to any device that supports USB Type-C or HDMI video output. The resolution and refresh rate are both very good, for almost any application. Meanwhile, you get bright, vivid colors, and a low blue light output that limits eye fatigue.