If you're setting up a home network, the process is simple and straightforward. You need a modem, a router, and maybe a range extender or two if you're feeling ambitious. But for a serious business network, a simple router isn't going to cut it. If you want more than a handful of devices, you need a switch.
But how do you know which switch is best? You want the highest transfer speeds, the tightest security, and the easiest setup. Make the wrong choice, and you could end up regretting it later on. One way to find a good switch is to go with a trusted manufacturer. Zyxel is one of the best. They make a variety of networking equipment, including powerline network adapters.
Now, we're about to review the Zyxel XGS1210-12 Web-Managed Multi-Gigabit Switch. This is a 10-port switch that's designed for the latest high-speed devices. It's designed to be easy to set up and easy to use, so almost anyone can build it into their network. But that's not the same as saying it's right for everyone's network. To find out if it's the right fit for your needs, we'll need to take a closer look. We'll dig deep into the XGS1210-12's performance, setup options, and design. At that point, we'll have the information we need to render our final verdict.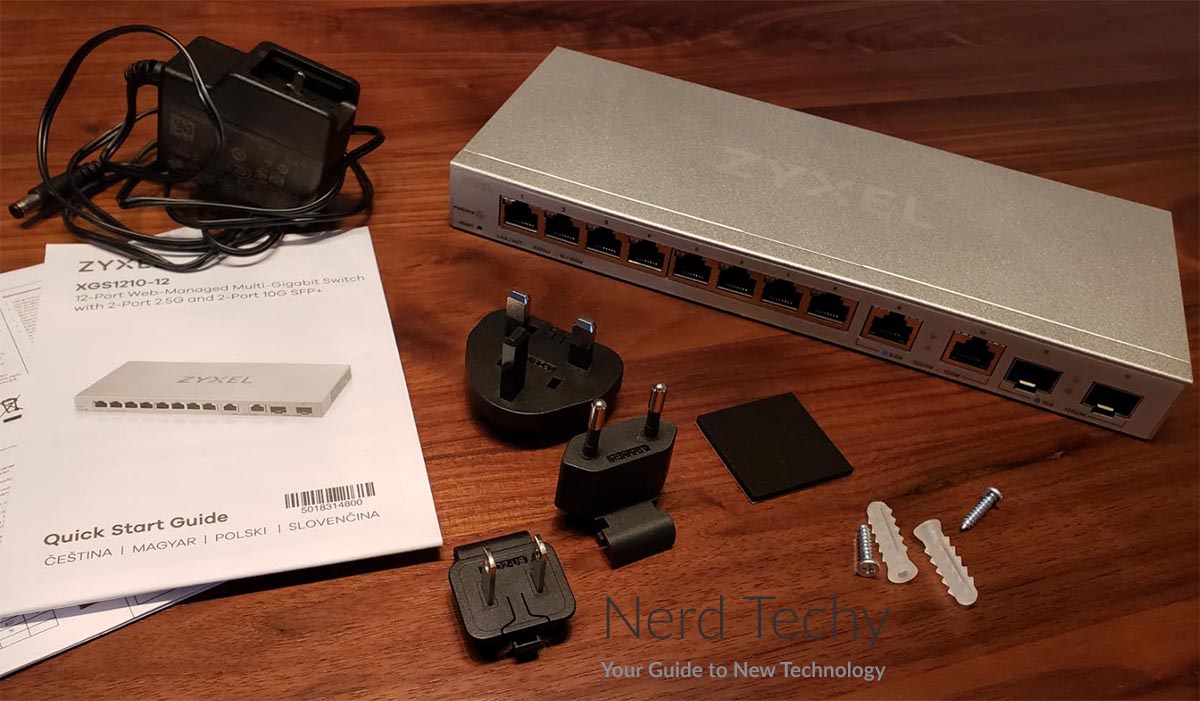 What Makes a Switch Different From a Router?
So, why would you need to use a switch instead of a router? The short answer is that they're fundamentally different tools. Yes, both of them help move traffic around between different devices. But if you don't understand the differences, you're not going to be able to build a functional network.
Let's start with routers, since they're a device that pretty much everybody is familiar with. A router serves as the point of contact between your local area network (LAN) and the rest of the web. Your router assigns a unique IP address to each device, and those addresses get stored in a routing table. Whenever your router receives data, it's marked with an IP address. The router then looks that address up in the routing table to see which device gets the data. A router can be used on its own without any issues for most smaller networks.
However, on larger networks, routers will start to slow down. This is because routers aren't just managing traffic between your devices and the internet. It's also managing traffic between different devices on your network. So if you've got a bunch of network drives and printers, your router speed can slow to a crawl. The solution to this is to use a switch to take some of the burden off your router.
A switch is similar to a router in that you can connect multiple devices. However, a switch won't connect you to the internet all by itself, because it doesn't supply IP addresses. Instead you connect your devices to your router through the switch. Whenever data is transferred between devices on the same switch, the switch handles everything. It does this by using a MAC address table, similar to a router's IP routing table. MAC addresses are unique to each device, and are assigned by the manufacturer. By handling this local traffic, the switch allows your router to focus on handling traffic to and from the web.
One other thing to remember about switches is that they only support Ethernet connections. Wireless traffic gets handled by a wireless router, or by a wireless access point.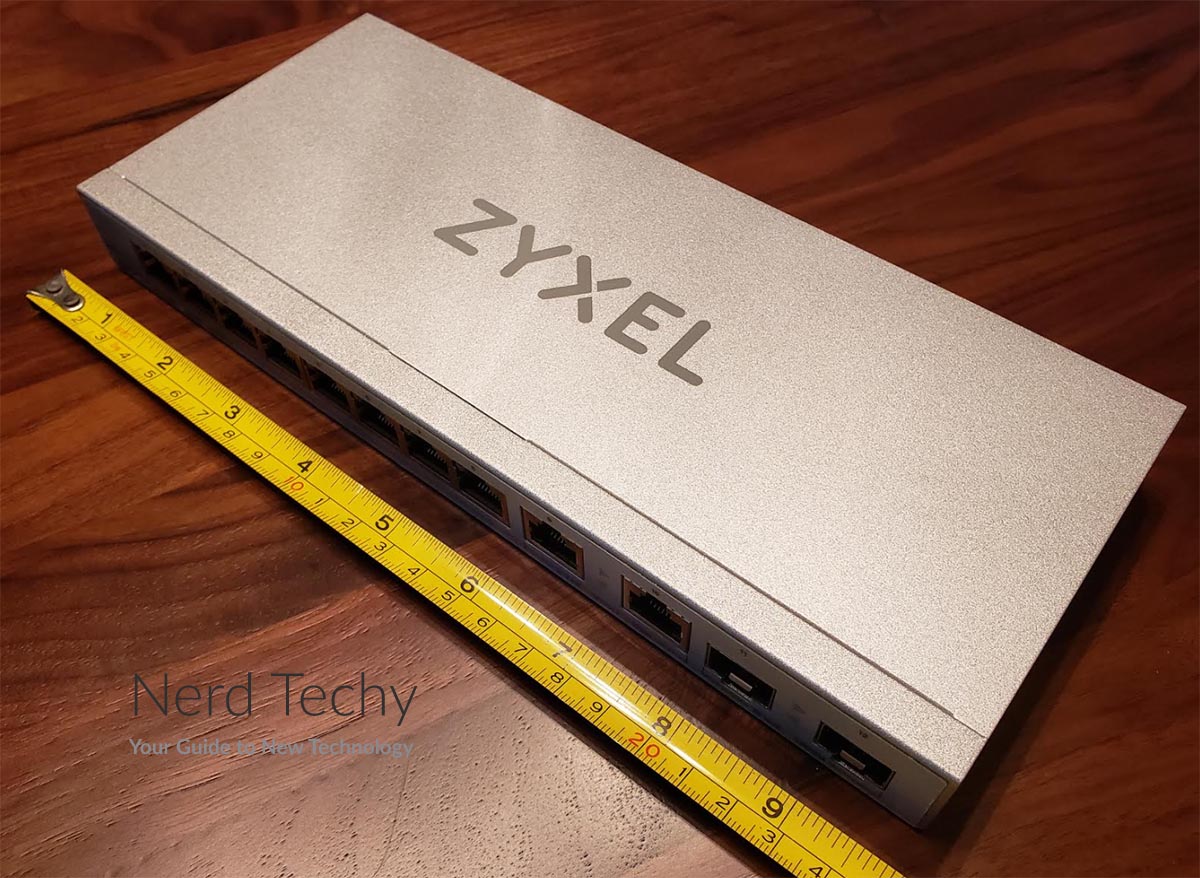 Overall Design
The Zyxel XGS110-12 is a miniature switch, sized for a desk or a shelf rather than for a standard server rack. It measures 12.25 inches in width, 9 inches in depth, and 2.5 inches thick. It's also lightweight, tipping the scales at a mere 2.79 pounds. This makes it easy to manage, and a non-issue to position wherever you like. That said, you'll have to be careful about obstructing the vents on the side. They're generously-sized, but at the end of the day, there's not a ton of room for air flow. This switch gets hot under heavy use, and it gets even hotter if the vents are somehow being obstructed. The fanless design only exacerbates this. It's quiet, to be sure, but a fan would have added much-needed air flow.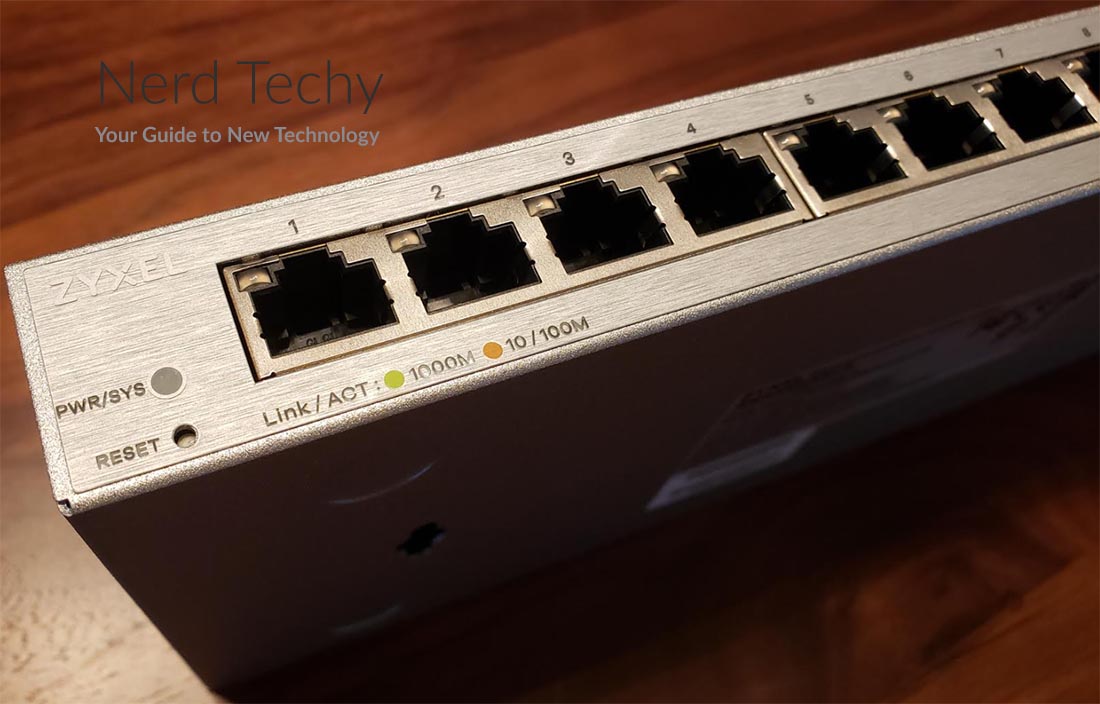 The housing is constructed from rugged anodized aluminum, and it's capable of withstanding some abuse. Now, it's not a tank, and you can't drive over it with one, either. But it's pretty rugged for the amount of bumps and dings it's liable to receive. The surface is silver-grey, with a powder coating. The word "Zyxel" is printed on the top in large, white letters. The sides consist of a set of vertical vent slats, with rubber skids on the bottom to keep the switch from sliding.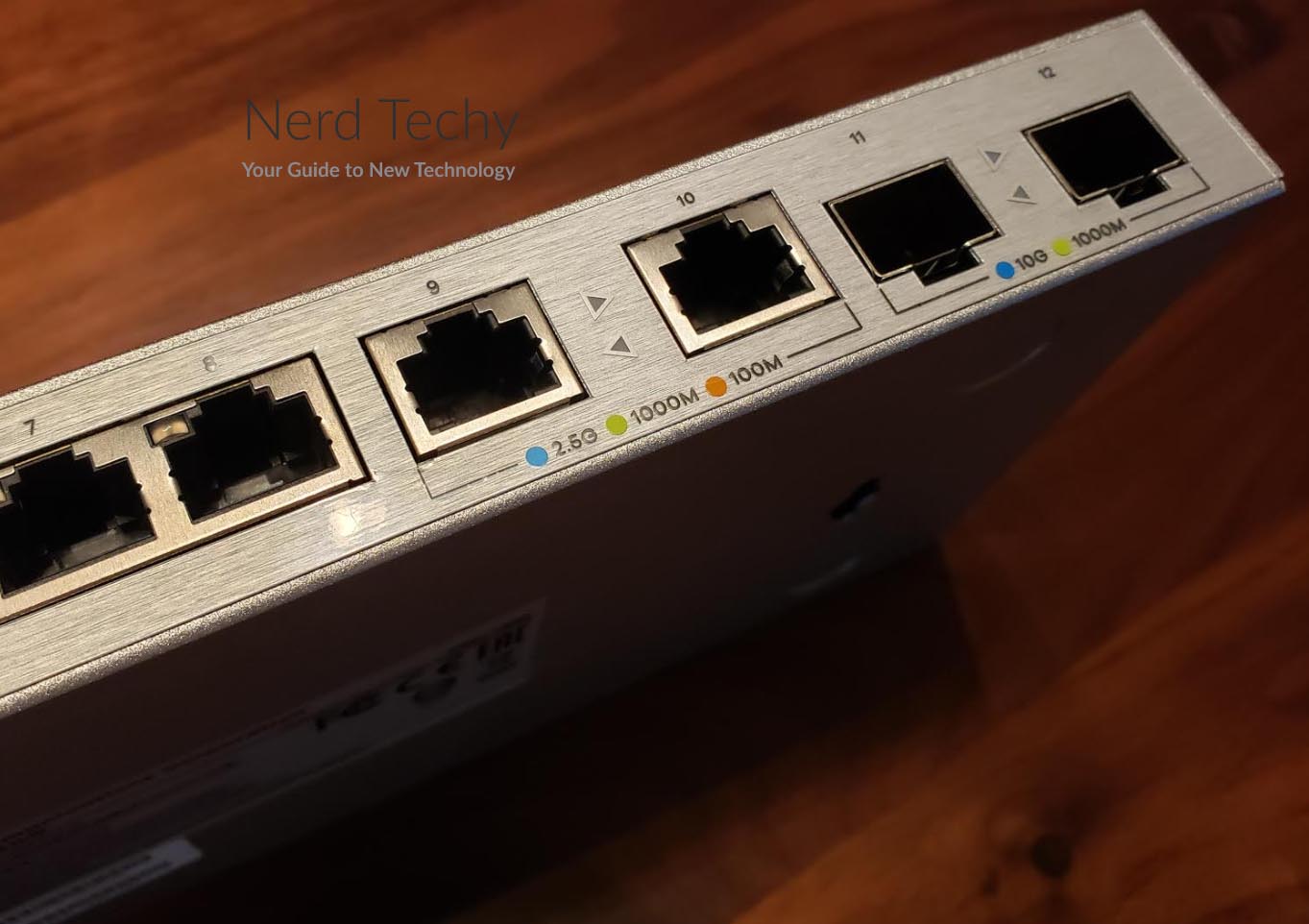 On the back of the case, you'll find the DC power input. It's a standard barrel-style jack, and an AC adapter is included with the package. On the front, you'll see all the ports for plugging in your devices. There are 10 Ethernet ports for connected devices, plus two more for your router. This is sufficient for most purposes. That said, Zyxel manufactures many different sizes of Ethernet switch, mostly with an eye towards small businesses.
Data Throughput
The meat and potatoes of the XGS1210-12 is its main row of eight Gigabit Ethernet ports. Gigabit stands for 1Gbps, which is the standard speed for modern Ethernet. It's just fine for most connected devices, such as laptops, desktops, and printers. You won't have any trouble with installing the vast majority of devices. That said, there are some times you want a faster-than-Gigabit signal. For example, online gamers depend on getting near-zero latency in order to maximize their performance. In that case, you'll want even faster speeds.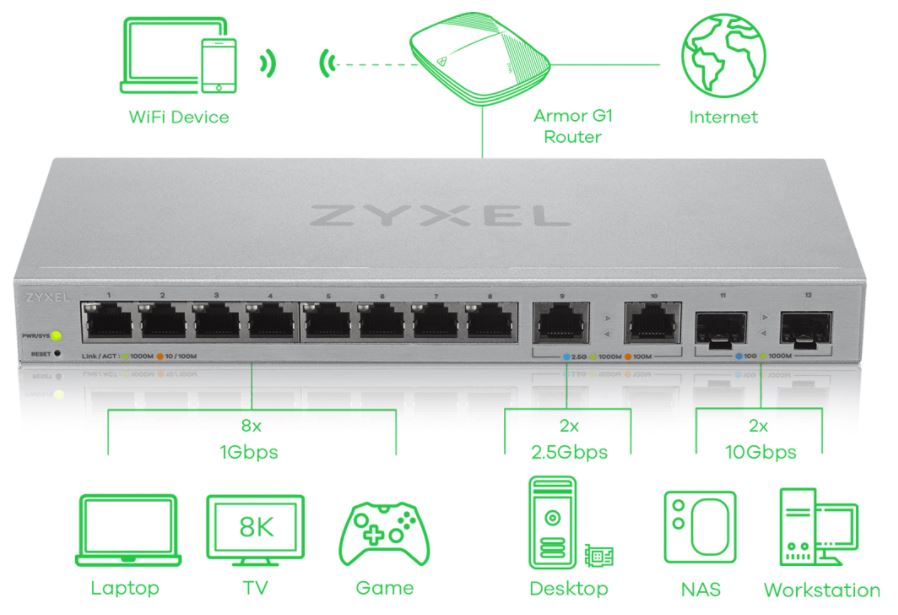 That's where the XGS1210-12's pair of 2.5Gbps ports come into play. They let you reach higher speeds for console streaming. More importantly, they reduce latency even more than ordinary Gigabit internet. Keep in mind that these ports will only improve your performance if your router works at faster-than-Gigabit speeds. If you have an ordinary, Gigabit router, you won't get any benefit from the faster ports on your switch. The router will form a bottleneck. That said, if you've got an advanced gaming router, you'll get a nice boost of extra speed for your console.
To accommodate faster routers, you get a pair of 10Gbps uplink ports. You'll need Cat6 Ethernet cables for these, which means you'll only be able to make a short run. The idea is that you can get very high rates of transfer from a modem. Similarly, you can get very high speeds for network-attached storage. Once again, these ports will only have an advantage if your other devices support them. If your router doesn't support 10Gbps throughput, you won't get 10Gbps speeds. The same goes for network drives.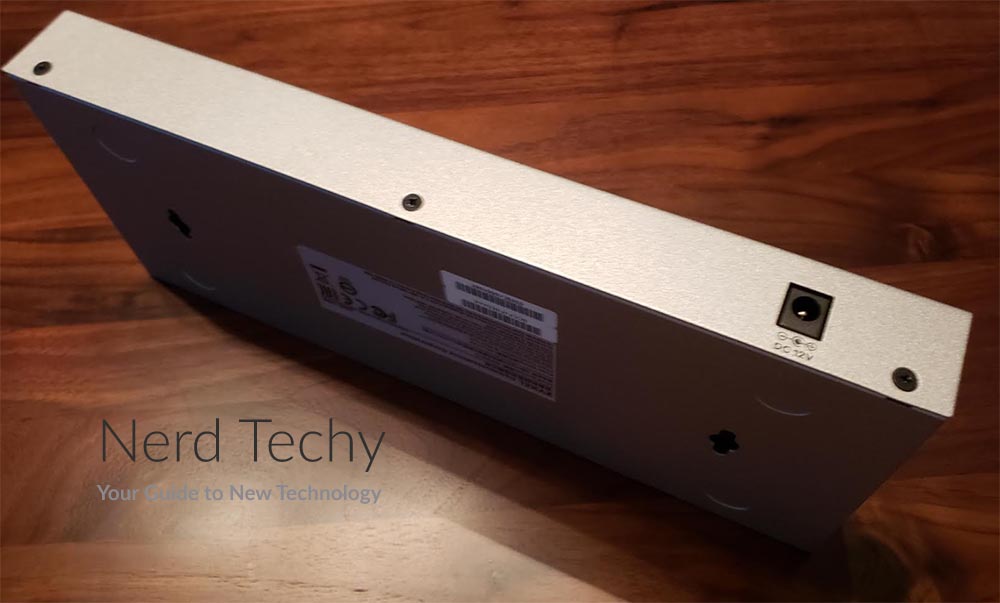 Security and Extra Features
The XGS1210-12 is configured by a simple web-based wizard that takes just a few minutes to use. Keep in mind that you'll need to do this before you can actually use the switch. Without being set up, it's just a dumb box that doesn't do anything. Once it's been configured, you'll be able to take advantage of several customization options. You'll also be able to back up your configurations, and get regular firmware updates.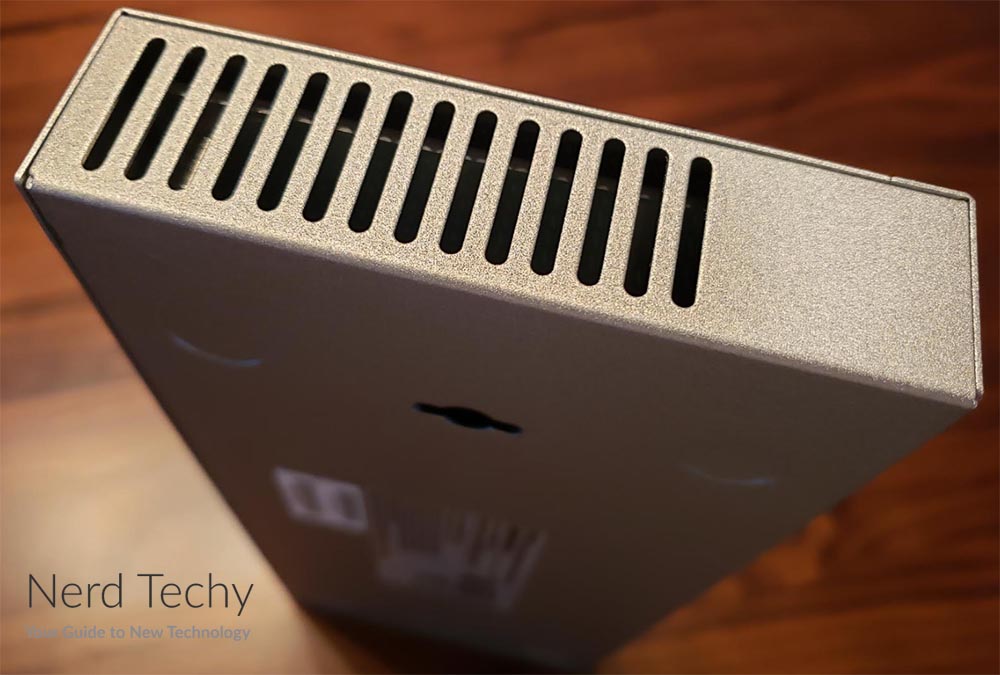 There are a couple of features in particular that are worth pointing out. The first is support for Internet Group Management Protocol (IGMP) snooping. IGMP snooping means that the switch "spies" on data sent between your devices and the router. No, this isn't a security risk. It's just looking to see which connections require IP multitask transmissions. If a device doesn't need them, they can be eliminated, and allocated to devices that do. This is a great feature for high-bandwidth devices that need a ton of data.
The XGS1210-12 also supports VLAN segregation. A VLAN is a virtual LAN, basically a mini network inside your larger network. So, why would you want to do this? The reason is that you might want some devices to be quarantined from others. For instance, suppose you're doing work for a government agency. For security purposes, they might want their data to be accessible only to certain people. A VLAN could help you achieve this.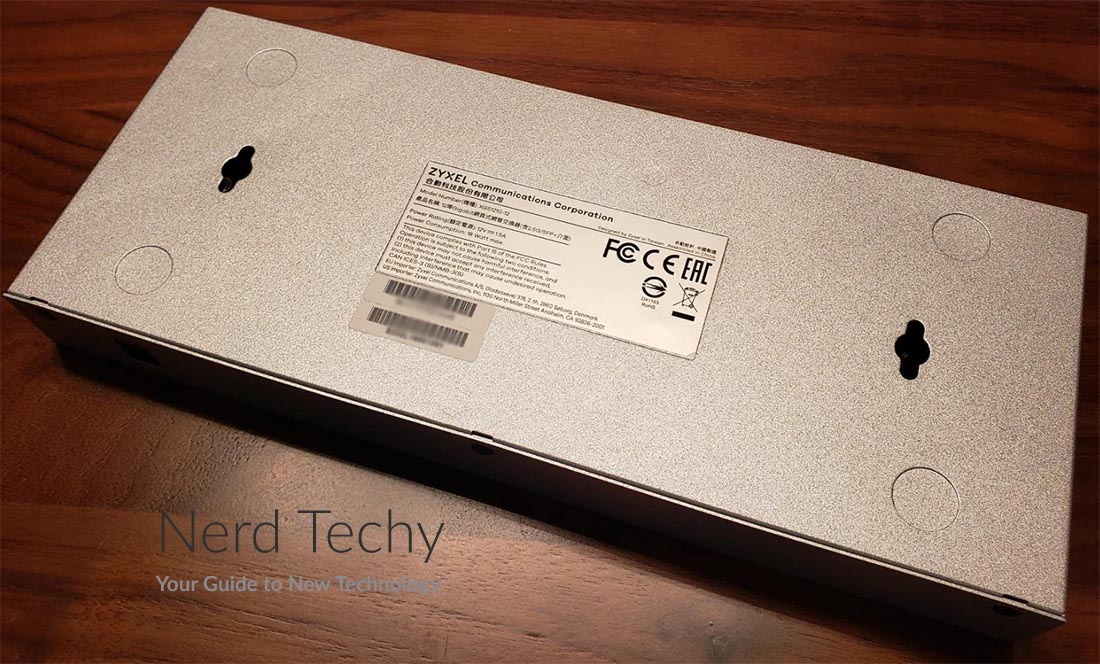 The only serious shortcoming of the XGS1210-12 is that there's no power over Ethernet (PoE) function. PoE allows you to deliver power to low-voltage downstream devices, such as security cameras. It's commonly found on small connected devices that don't require a ton of power. If you need PoE, there are plenty of options. For example, the EnGenius Cloud ECS1112FP has similar ports and data throughput to the XGS1210-12. It also has PoE capability, although it's a little pricey.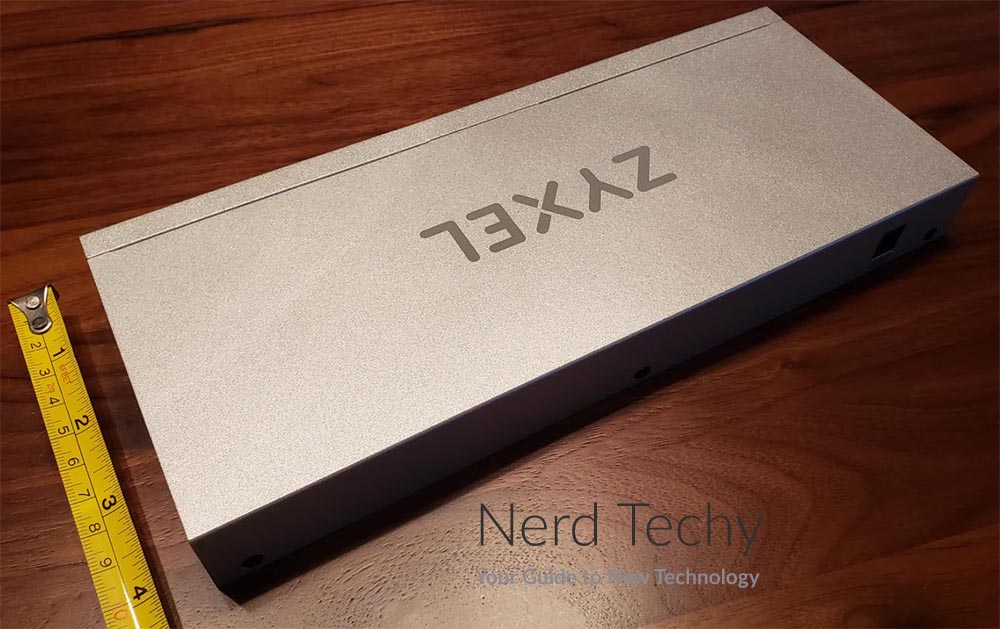 Final Verdict
The Zyxel XGS1210-12 Web-Managed Multi-Gigabit Switch is an excellent choice for most homes and small offices. To be fair, if you run a larger business, you may want something a bit beefier. You may also want PoE capacity for some applications. But for up to 10 devices, the XGS1210-12 has a whole lot to offer. To begin with, you're looking at a great design. It's tough, it's durable, and it's not going to fail because of shoddy manufacturing. It can be positioned just about anywhere, so placement is a breeze.
Performance is just what you'd expect from a quality modern switch. The eight main ports run at standard Gigabit speeds, so there are no issues there. But the two additional 2.5Gbps ports are what really makes it shine. They're ideal for gaming, or for any applications where maximum bandwidth and minimum latency are essential. Furthermore, you get an easy setup wizard that takes a few minutes to use. You also get all the management capability you could possibly ask for. All in all, the XGS1210-12 is one of the better Ethernet switches out there.