Whether you're building your own custom PC, or you need to replace a faulty or outdated optical drive, the time has never been better to upgrade to a Blu-Ray burner/rewriter drive. In terms of value and speed, these internal drives are now being built with an impressive amount. Since a dual layer Blu-Ray disc can hold up to 50 gigabytes, you're able to backup massive files, large amounts of data, and/or full feature-length video in a matter of minutes.
We've been receiving a few inquiries from our readers who would like to find the best internal Blu-Ray drive for their money in 2016-2017. We've tested and tried several different ones from some of the top manufactures around and have narrowed down a few that are worth investing in. Below you'll find the specific internal Blu-Ray drives that we love the most.
Keep in mind that this do-it-yourself upgrade is just about as easy as they come with very little to no experience required. If you can use a screwdriver and unplug a cable, there's not much more to it. And also, if internal drives aren't you're thing, checkout the best external Blu-Ray burners.
LG WH16NS40 16x Super Multi Blu-ray Disc Rewriter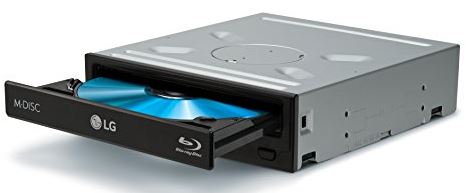 Well known as the number one best seller on Amazon.com, the LG WH16NS40 Super Multi Blu-ray Disc Rewriter utilizes a SATA 1.1a interface to deliver fast 16x speeds for burning discs.
It will read and write on both single, dual, and even quad layer discs so it will support the maximum storage capacity possible.
Backwards compatible with older discs like standard CD-R or DVD-R.
Maintains a sustained rate for burning Blu-Ray discs at 575.44 Mb/s (16x) max, DVDs at 22.16 Mb/s (16x) max, and CDs at 7,200 Kb/s (48x) max. This means less wait time for your data to be written.
Sold in a variety of assortments meaning that you can buy an OEM bare drive, or with additional software, the necessary cables, and more.
Compatible with most operating systems including Windows XP, Vista, 7, 8, and 10. Even works with Mac OSX and Linux.
Very quiet operation even when operating at the highest speeds.
Pioneer 16x Internal Blu-Ray Writer (BDR-209DBK)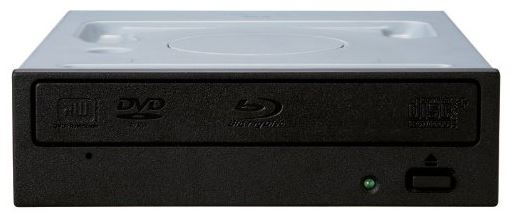 As another excellent choice, the Pioneer Internal Blu-Ray Writer (BDR-209DBK) provides fast 16x writing speeds to single layer Blu-Ray discs with the ability to write at 14x on a dual layer disc reaching 50 gigabytes.
Fully 3D capable for playing and burning your favorite 3D Blu-Ray movies and films. However, you will need 3D playback equipment and software to watch them (obviously).
Although it's most commonly sold as a bare bones drive, it's also sold optionally with Nero 12 essentials, blank discs, the necessary SATA cables, and four phillips screws.
Excellent, solid build quality with a good feel to it. However, it measures 7.1 inches in length which will not fit some cases. Check the available length in your case for best results.
Although it's built for the latest disc technology, older standard CDs and DVDs can be burned or read without issue.
Fully compatible and immediately recognized with most operating systems. Works just fine with Mac and Linux and also any version of Windows from XP on up including Windows 8 and 10.
ASUS BW-12B1ST 12X Blu-ray Internal Burner Drive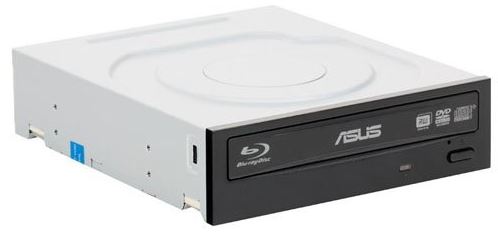 Although it's not necessarily the absolute fastest one on the market, the ASUS BW-12B1ST 12X Blu-ray Internal Burner Drive delivers some of the best burning quality and most reliability.
Equipped with OTS (Optical Tuning Strategy), there's a huge reduction in the number of failed discs. Often times, entry-level burners will fail to properly write and you'll end up going through more expensive blank discs that you'd like to.
Automatically designed to save power and reduce energy consumption when it's not in use or completing a task in the background. It's nice to see a "green" feature incorporated into a standard internal drive design.
Each disc can be created easily with the automatic drag and burn feature. Simply drag and drop and you're on your way to creating your own discs. No expensive or bloated software required.
Equipped with E-Hammer technology that automatically gives each burned disc an added layer of encryption. Extra security is truly never a bad thing.
Sold as a bare drive or with added accessories like cables, a pack of Blu-Ray discs, and a software suite.
Final Thoughts
Whether you need a bare internal Blu-Ray burner drive or one that's sold with the necessary SATA/power cables, extra discs, and/or software, each of the above will give you the sufficient speeds you need to create your own discs. Whether you're a skilled computer technician or just an ordinary everyday computer user, this upgrade is a simple task no matter how you look at it. Often times you'll just need to slip off the side of your computer case, unscrew a few screws, slide your new drive in, and connect the SATA and power cable. Never perform this or any upgrade while the PC is on, and make sure the power supply is unplugged from the wall outlet. This will help keep both you and your new investment safe from any hazardous electricity.