Whether you're looking to watch movies in Ultra HD or you're trying to backup important data, Blu-ray has become the new standard. A modern Blu-ray drive has backwards compatibility for DVDs and CDs, which entirely replaces the need for older optical drives. Even as screen resolutions soar past 1080p, 128GB Blu-ray discs can keep your PC prepared for the next generation of high-definition media. In other words, there's never been a better time to adopt Blu-ray.
But choosing an internal Blu-ray drive is like choosing any other computer component. You'll need to find the drive that suits your needs specifically. That could mean special features for watching movies, for writing data to discs, or even something as simple as how the drive fits into your case. Below you can learn about what matters when it comes to picking an internal drive, and find out about the three best Blu-ray drives on the market.
How to Choose a Blu-ray Drive
Since its American release in 2006, the quality of Blu-ray technology has grown considerably. Early Blu-ray players were expensive, more prone to write-errors, and had few valuable extra features. Today it's possible to find high-quality Blu-ray drives overflowing with extra features, at costs that are relatively inexpensive. Unfortunately you can also find plenty of older drives still polluting the market.
The difference between an excellent Blu-ray player and an awful player isn't whether or not you can put in a disc and watch a movie. Most drives can provide you at least that much. The real difference is whether your drive will do something obnoxious, like decide to loudly spin-up in the middle of your movie, or frequently fail when burning a disc. Small details like these are what add up to a bad experience.
Required Blu-ray Software and Cables
You'll also want to pay attention to whether or not the drive includes software that can play media. Believing it would help copyright protections, the architects of Blu-ray technology separated Blu-ray drives from the software they need to play movies. During the era of Windows 8, Microsoft's OS stopped providing the software a computer needs to play movies from a disc back during the era of Windows 8.
In other words, you'll need software to play movies off of your Blu-ray player. Sometimes that software comes with the player, and sometimes it doesn't. The same can be said for the SATA cable necessary to attach the drive itself.
What You Don't Worry About
When you find yourself comparing two Blu-ray drives, you'll be barraged by a wall of numbers and technical jargon. You'll see things like "this drive can write 575.44 Mb/s", and you'll start to wonder about comparing the numbers between drives. Most of these figures do are just different ways of representing stats that are standardized among modern drives. In other words, there's no need to learn any fancy technical jargon.
The only numbers you need to pay attention to are cache size and drive speed. You want to know your internal Blu-ray drive will read Blu-ray discs at the modern standard of 16X, and it has a 4MB cache to protect you against disc writing errors. The market is full of players with slower speeds and a smaller cache, which will translate into slower reads and failed attempts to burn discs. All of the drives on the list below have these features, so you can rest easy.
Another thing you probably won't have to worry about are performance requirements. Several Blu-ray drives will specify performance requirements your PC needs for their drive. The good news is that internal drives are rarely performance-bound by the components of your PC. If you have a GPU and CPU made any time in the past decade, then you won't have to worry about your computer struggling to support a Blu-ray drive.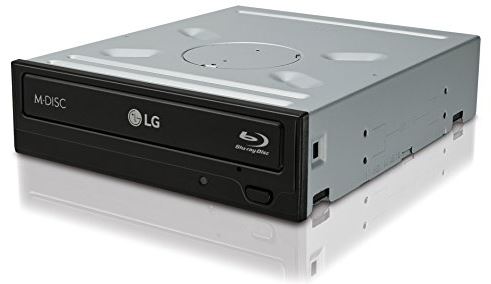 LG WH16NS40 Internal Super Blu-ray Disc Rewriter
The LG WH16NHS40 is an eminent example of the affordable quality you can expect from current generations of internal Blu-ray drives. You can find the fastest read and write speeds, standard use of BDXL 128GB format, and a number of extra features that were luxuries only a few years ago. If your priorities are a drive that won't let you down and doesn't cost more than it needs to, then this is the drive for you.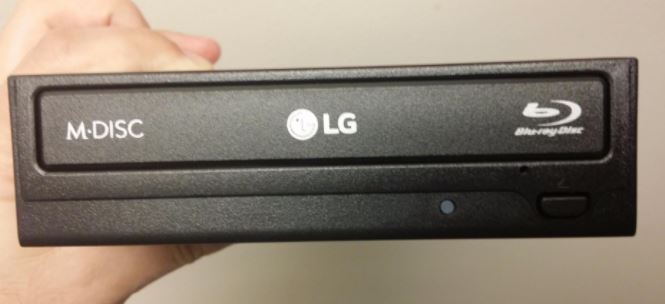 Special Features
If you're a 3D fanatic with a glasses and screen capable of 3D content, then you'll appreciate the LG WH16NS40 includes support for reading and writing 3D Blu-ray files. And just about any movie enthusiast can enjoy the Silent Play feature, which reduces noise when you're playing media by keeping a steady disc speed matched to optimal media performance. Features like Silent Play may seem small, but they're all that stand between you and the annoyance of listening to your discs whirring in the background.
Apart from providing staples of the Blu-ray experience, one of the strongest features of this drive is M-disc technology. Using a secret trade technique, M-discs are specifically built for data storage and archival. M-discs that has been stored correctly are supposed to last close to a millennia. Where tape gets stretched out, hard drives parts fail, and magnetic fields destroy other discs, M-discs will continue to survive.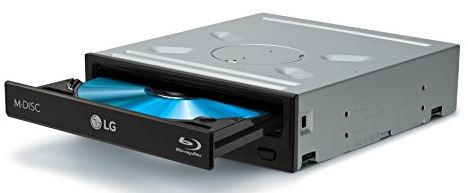 Drawbacks to Consider
For anyone only now learning about M-disc, you should to know that M-discs are a physically different type of disc than Blu-ray. The discs contain quantities of data closer to 25GB, and tend to be a tad more expensive than a Blu-ray disc. M-Disc technology is suited to protecting your most treasured data, but not necessarily everything you want to backup.
Additionally, a SATA cable and Blu-ray software are not included with this drive. This should be a minor issue as long as it doesn't come as a surprise. If you're replacing an older optical drive, you can most likely use the SATA cable you already have. And it's simple to find free programs to help you play Blu-ray movies online.

ASUS BW-16D1HT Internal Blu-Ray Writer
In many ways, the ASUS BW-16D1HT looks like any other Blu-ray drive. From its 4MB cache and 16X speed, to its simple black appearance, the ASUS BW-16D1HT resembles many different quality Blu-ray drives. But behind that apparent simplicity is something special. With this drive, ASUS has emphasized features specifically designed to help people who want to archive and back-up their data. If you plan on doing a bunch of disc-burning, look no further.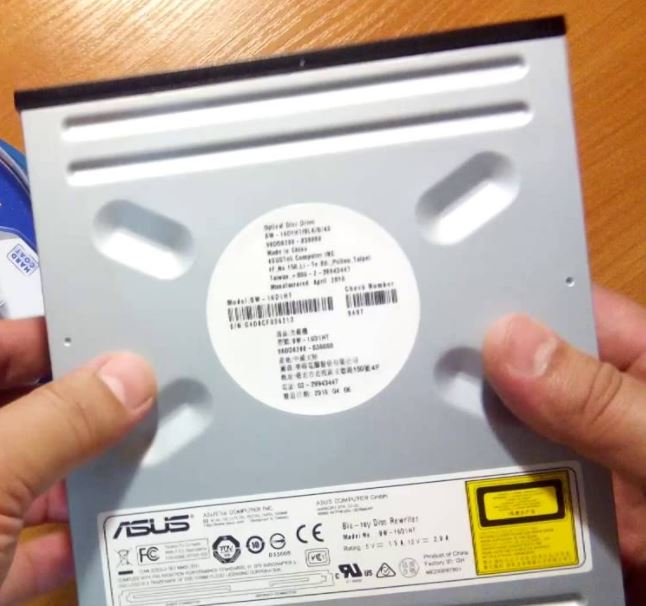 Special Features
The ASUS BW-16D1HT uses what's called optimal turning strategy (OTS) technology, which is a technical strategy for burning discs that helps ensure your burning is less likely to fail and quicker to complete. ASUS has also streamlined the process of burning discs, which has been made as simple as dragging files onto a thumbnail. And to their credit, that's really as complicated as creating discs needs to be.
Like you would expect for a drive emphasizing data backup, this drive includes M-disc support to help protect your files for years to come. You'll also find ASUS has standardized AES 256-bit encryption and password control for all the data you burn to disc. And if you're burning disc after disc, you'll appreciate they've clocked 25GB worth of data backup in as little as 8 minutes.
Another feature that's hard to miss is E-green, which restricts power consumption when the drive isn't in use. Most internal Blu-ray players run around 30 watts, which gradually adds to your electric bill, and heaps extra strain on your computer's power supply. What makes E-green great is you don't even notice it's there. At the cost of zero lost performance, your system will chew through less electricity.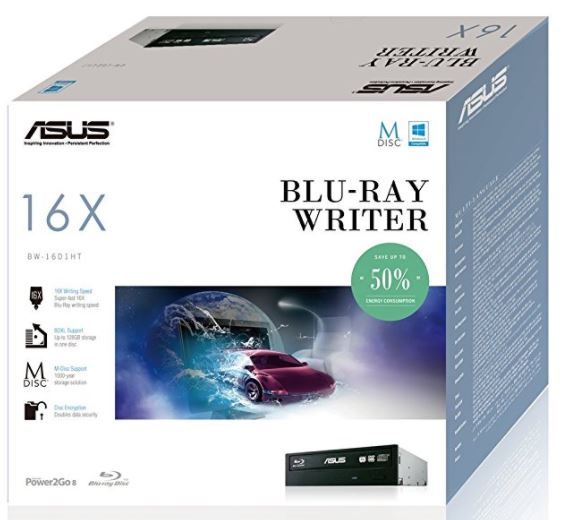 Drawbacks to Consider
Like with the LG WH16NS40, this ASUS drive doesn't include a SATA cable or software to view Blu-ray movies. As mentioned above, these problems are easy to overcome with anticipation, but it's important to expect them. The last thing you want is to excitedly open your new Blu-ray drive only to discover you it didn't come with a SATA cord, or to pop in a movie and wonder why it won't play.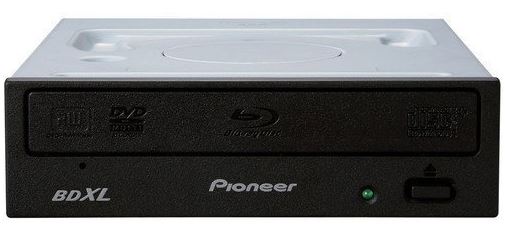 Pioneer BDR-209 Internal Blu-Ray Writer
Like the other members of this list, the Pioneer BDR-209 is a 16X drive with a 4MB cache. One thing that sets this drive apart is how it's especially designed to elegantly fit into confined spaces for smaller computer cases. More importantly to some, this drive includes prominent name-brand CyberLink Media software for playing Blu-ray media, as well as the SATA cable you'll need to connect your drive. In other words, everything you need to get started is right in the box.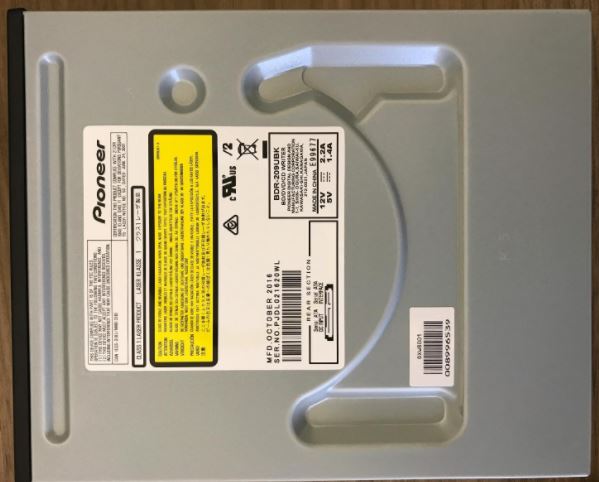 Special Features
Over the past few years, smaller computer cases have become increasingly popular. If you're someone who's running their system out of a particularly small case, you'll want to ensure the drive you pick will physically fit into your system. The Pioneer BDR-209 is a half-height drive, which means it's approximately half the height of a normal 3.25" tall drive.
Half-height drives can fit anywhere a full-size drive can, but they're particularly well-suited for slipping into smaller PCs. If nothing else, larger components make it harder to work inside your case, can restrict airflow, and tend to be slightly more difficult to install.
For movie-lovers, Pioneer includes no shortages of extra features. There's a feature called QuickPlay, which makes sure a disc is ready to be played as soon as you stick it in. There's Auto Quiet, to keep your drive from making much noise while you're enjoying a movie or some music. And there's a feature called PowerRead, which is there to run movies and songs skip over glitches when a disc is covered in fingerprints and scratches.
Finally it's worth noting the Pioneer BDR-209 comes standard with an included SATA cable, and with CyberLink Media Suite 10. CyberLink is software that can help you play Blu-ray movies, and it comes with neat features of its own like being able to upscale older content to look better on HD displays.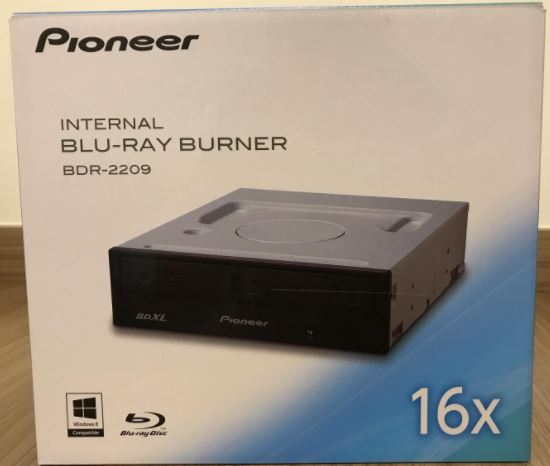 Drawbacks to Consider
If you're interested in data archival, this drive lacks M-disc support. If you have a computer case that's specifically configured for the placement of full-size optical drives, a half-size drive could aesthetically have an awkward appearance in your case. Although that describes very few computer cases, and only an aesthetic issue, it is something to think about if you don't need a physically smaller drive.
Choosing Between Three Great Options
All three of these drives are the best in their class, and any of them can serve your PC well. But depending on what you're looking for from an internal Blu-ray drive, some will suit your needs more than others.
If burning Blu-ray discs or archiving data is a priority for you, then you'll be best served with the ASUS BW-16D1HT. Any of these drives could be used for burning and storing Blu-ray discs, but the ASUS drive has mastered ease of use in a way that makes burning disc after disc a totally fluid experience. The data encryption and OTS technology help keep your data safe, and protect you from botched attempts at writing a disc.
If you're looking for an entry-level internal Blu-ray drive that won't let you down, then the LG WH16NS40 has you covered. This drive comes with special features that don't seem to be reflected in the price. Even if you're not looking for anything special, you'll end up with bonuses like M-disc and 3D support in case you want to explore those options in the future.
And if the physical size of your drive is at all a concern, you'll want to grab the Pioneer BDR-209. The Pioneer drive will also be the ideal choice for people who aren't comfortable doing extra searching for cables and software. Coming standard with CyberLink Media Suite 10 and a SATA cable is great added value, making this drive the most ready-to-go of the three on this list. Anyone who finds the prospect of installing a new drive daunting will appreciate everything you need comes right in the box.
Meet Derek, "TechGuru," a 34-year-old technology enthusiast with a deep passion for tech innovations. With extensive experience, he specializes in gaming hardware and software, and has expertise in gadgets, custom PCs, and audio.
Besides writing about tech and reviewing new products, Derek enjoys traveling, hiking, and photography. Committed to keeping up with the latest industry trends, he aims to guide readers in making informed tech decisions.