These days, a lot of our devices rely on internet connections. In a lot of cases, those needs can be easily met by a WiFi network. If you're like most people, for example, your phone is constantly connected to WiFi when you're at home. But there are some scenarios where you might want to use an Ethernet connection.
For example, you might have security cameras. In that case, a WiFi connection can be a weak link, and leave you more vulnerable to hackers. You may also want to run internet service to an access point in an outbuilding like a guest house. In that case, a wired connection will be more reliable and less prone to interference.
If you want to make a long Ethernet cable run, you'll generally need to link two or more cables. And if this cable is going through an outdoor area, you can't use just any old connector. You need a waterproof connector that can stand up to the elements. Otherwise, your connection will get shorted out, and your equipment may end up getting damaged.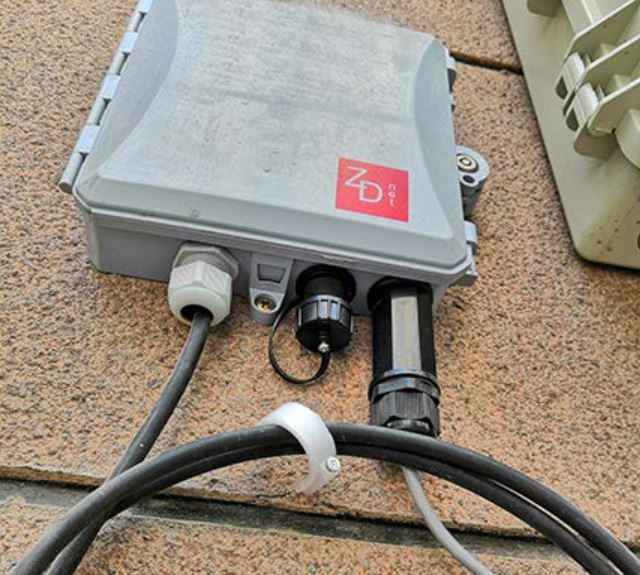 Best Waterproof RJ45 Ethernet Connector
We're about to review three of the best waterproof RJ45 Ethernet connectors on today's market. These are designed to provide a seamless connection across a long distance, and to do it through the outdoors.
To find out which one is the best, we'll have to look at all the aspects of their design. We'll have to talk about how they're assembled, and how you install your cables. We'll need to look at the weather-resistance performance, and what they can stand up to. And of course, we'll have to discuss the type of connection speed they're able to offer. After that, we'll be able to deliver a fair verdict. Let's begin!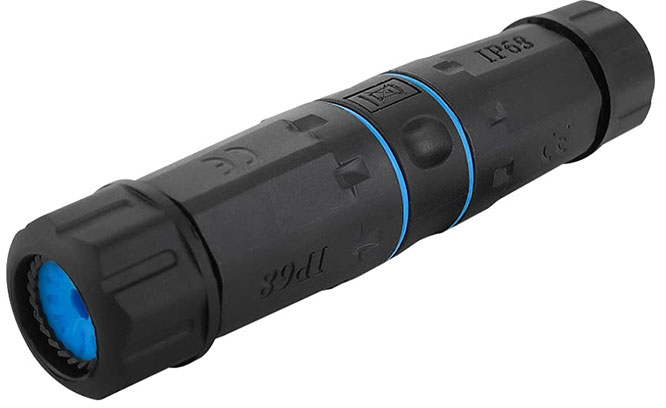 Iwillink Shielded Waterproof RJ45 Coupler
The Iwillink Shielded Waterproof RJ45 Coupler is a cylindrical female-to-female Ethernet connector with a black plastic housing. The overall size is 4.72 inches in length, and the diameter is a compact 1.1 inch. It's also lightweight, at only 3.53 ounces. As a result, it won't drag down on your cable if it's not directly zip tied down. You can also order it in either a two- or a five-pack. So if you're performing a large installation, you'll have all the connectors you need.
The connector itself is a small cylindrical adapter, only 1.19-inch long. Each end has a male threading on the outside, along with a rubber gasket. There's a tapered collar for both sides, which screws down onto the gasket. This collar also has a male threading on the end, and there's a flexible rubber seal with a slit in it. Your cable runs through the end cap, and sits in the slit. When you tighten down the end cap, it creates a secure seal all the way around. Similarly, when you screw down the collar, it squeezes the gasket, and thoroughly seals the housing.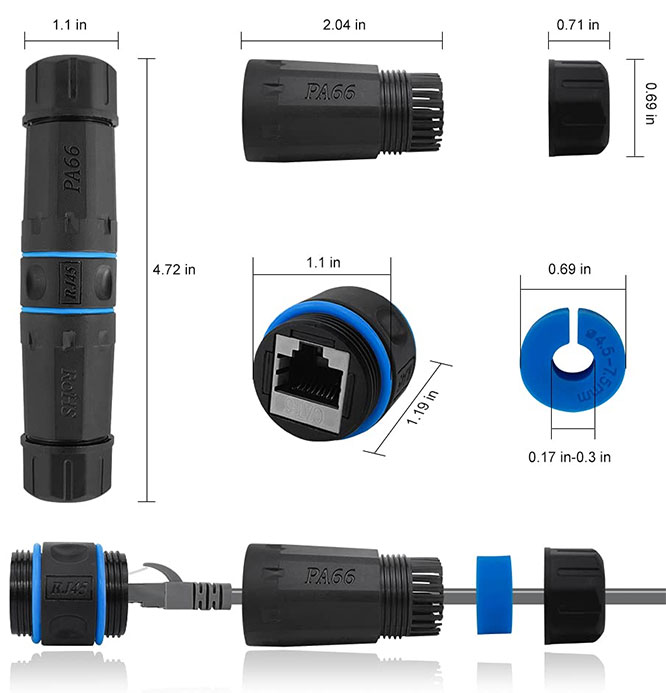 As you can imagine, installation takes just a few minutes. Just disconnect all the parts, run your cables through, plug the tips in, and screw it all back together. That's all there is to it.
Data Transfer and Performance
So, the Iwillink connector is easy to use. But how well does it actually perform? To begin with, you're looking at reliable data transfer performance. It provides up to 1Gbps speeds with Cat6 cables, and is capable of comparable speeds on Cat5. This doesn't give you access to the super-fast speeds you'll get from some connectors. But in practice, a Gigabit connection will almost always be sufficient.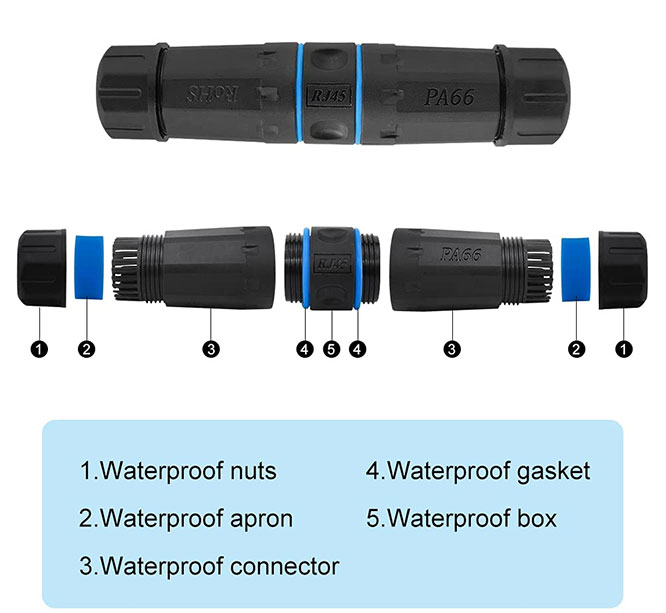 These connectors boast a weather-resistance rating of IP68. The "6" means you're getting the highest possible level of dust-resistance. When properly installed, your connector will be entirely dust-proof, even in the worst environments.
The "8," meanwhile, indicates a very high level of water-resistance. A lot of times we see this, we're not able to say exactly how much, because it's a custom rating. But in this case, Iwillink actually tells us what their testing entails. This connector can be immersed at a depth of 1.2 meters for as long as an hour. That's not the same as being rated for underwater use. But if you're using it in an area that's prone to flooding, you should be all right.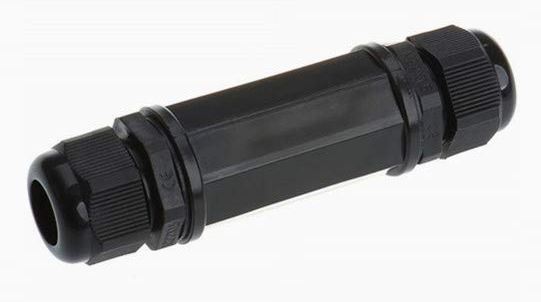 Anmbest Shielded RJ45 Waterproof Connector
The Anmbest Shielded RJ45 Waterproof Connector has a largely similar construction to the Iwillink. It has a segmented construction, with a central Ethernet adapter, collars, and end caps. The connections between the collars, end caps, and main unit are all sealed by little gaskets. In addition, you get a complete five-pack, so you're getting enough connectors for a larger job.
The housing is made from a black plastic, with a soft feel to the finish. It's easy to assemble in just a few minutes, and there's an indented ring near the ends. This makes it easy to mount in the hole at the bottom of an electrical panel.

Inside the housing, the Ethernet ports themselves are made of metal, not plastic. As a result, they're far more durable than your average Ethernet ports. If you want all of your components to be able to take a beating, you're looking at a solid choice.
Data Transfer and Performance
The Anmbest connector supports Cat5 and Cat6 Ethernet cables, and speeds as high as 10Gbps. You probably won't need those speeds if it's just a regular home network. But if you're using this connector for a larger network, you'll be able to take advantage of higher speeds.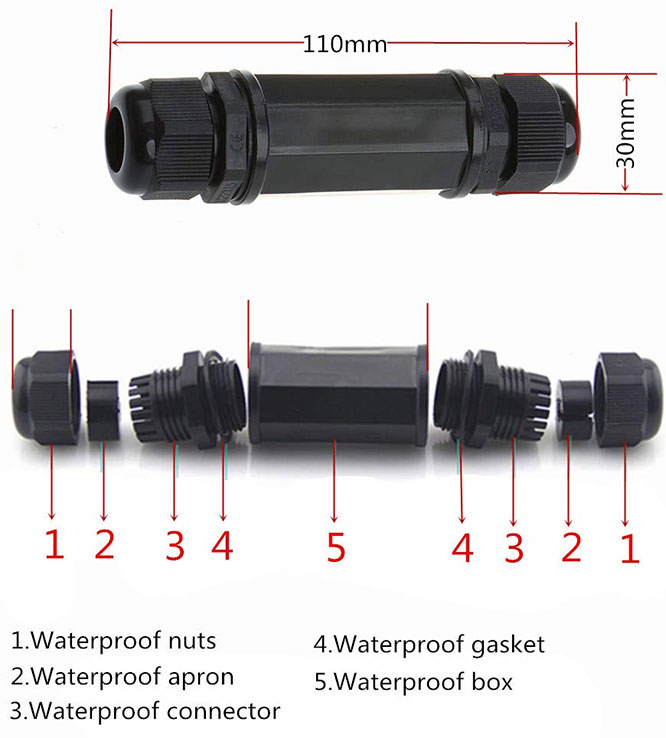 The weather-resistance rating of the connector is IP67. As we already discussed, the "6" means you're getting excellent dust-resistance. The "7" isn't quite as good as the Iwillink connector, but it's still submersion-proof. The gaskets will remain sealed under 1 meter of water, for a duration of 30 minutes.
Furthermore, the case is constructed from PA66 nylon. This material is very durable, and it's engineered to withstand very cold temperatures. It won't crack in the winter, even in temperatures as low as 40 degrees below zero.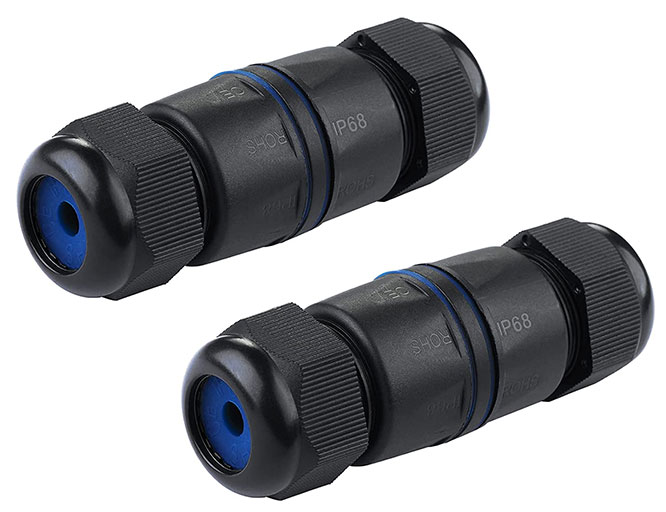 Tedgetal Waterproof RJ45 Connector
The Tedgetal Waterproof RJ45 Connector is a barrel-shaped connector with fat end caps. The total length is 3.25 inches and 1.18 inches in diameter, and it's constructed from black plastic. It comes in a 2-pack, so it's suitable for smaller installations, or you can order more for larger jobs.
Installation is highly similar to the other connectors we've looked at. There's a center connector unit, with a pair of extended cylindrical collars, along with the end caps. The inner gaskets and seals seem well-engineered, and they form a tight seal around your cable.

Data Transfer and Performance
The housing is constructed from a PA66 nylon, which is as durable as can be. Like the Anmbest connector, the Tedgetal connector will remain intact down to 40 degrees below zero. However, it's built to a higher IP68 weather-resistance standard. We can't say exactly how submersion-proof it is, but it's a custom test that exceeds IP67 requirements.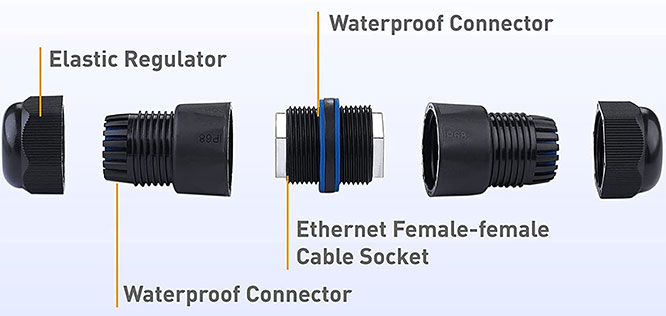 The data connection is also quite robust. This connector supports Cat6 connections at up to 1Gbps, and Cat5 connections up to 10Gbps. It will also continue to transmit a reliable signal at temperatures as low as negative four. At those temperatures, many electronics will stop working.
Can I Use an Ethernet Connector?
Ethernet cables are designed to work over short to medium distances in a home or data center. They provide excellent performance out to a distance of 100 meters, or about 328 feet. This is longer than most people will need for most applications, so most people don't think about signal range. It's a wired connection, after all. Does range really matter?
As a matter of fact, it does. Beyond 100 meters, your Ethernet performance will drop precipitously. Ordinary 1Gbps Cat5 cable, for example, will only support 100Mbps transfer speeds at this range. The further you go, the faster your speeds will drop.
The implications for Ethernet connectors are obvious. Unless you're using a connector with an outside power source, you don't want to go further than 100 meters. Let's say you have a pair of 75-meter cables. If you linked them together, they'd go beyond the limit, and your performance would suffer. If you have a pair of 50-meter cables, on the other hand, you'll be good to go.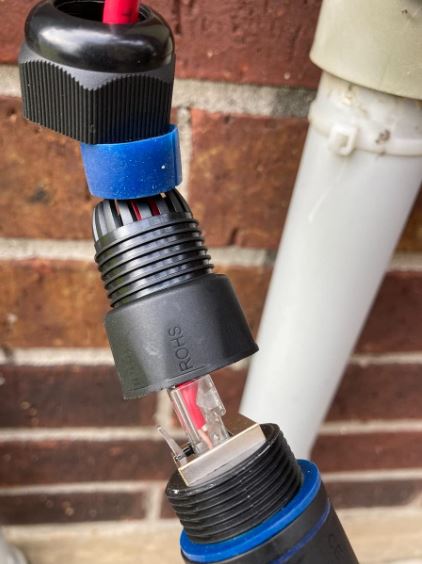 Why Do Ethernet Signals Lose Strength Over Distance?
Ethernet signals are sent in the form of electrical signals down a copper twisted pair cable. Because they're electrical signals, they're subject to the same limits as any electrical current. First and foremost, this means they're facing resistance. The longer the cable, the higher the resistance. At a certain point, the current is simply too weak to deliver a reliable signal.
That said, resistance isn't your only problem. Nearby electrical cables may be carrying a lot more voltage, and creating an electromagnetic field. This creates interference, which is manageable to a point with enough shielding. But eventually, enough interference will cause your signal quality to suffer.
If you do need to go a longer distance, a powered connector will get the job done. Take a look at our review of the StarTech VDSL2. It's a powerful extender that allows you to go far further than without one. That said, it's not weatherproof, so you'll have to keep it somewhere indoors.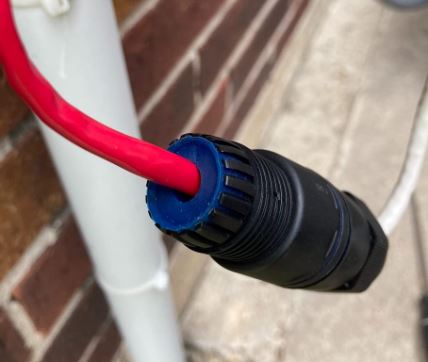 Final Verdict – Which is Best?
So, which of these waterproof RJ45 Ethernet couplers is the best choice for you? Let's go over what we've learned about each of them.
We started out by reviewing the Iwillink Shielded Waterproof RJ45 Coupler. This is a reliable 1Gbps coupler that's easy to install. Where it stands out most, though, is weather-resistance. The IP68 rating is top of the line, and unlike most manufacturers, Iwillink actually tells us what that means.
The Anmbest Shielded RJ45 Waterproof Connector has its own unique benefits. To begin with, the ridge near the end cap makes it easy to install in electrical boxes. For another thing, the housing can stand temperatures as low as -40. If your connector needs to work in extreme cold, this is a great choice.
The Tedgetal Waterproof RJ45 Connector provides a good balance of cold- and water-resistance. Like the others, it's easy to assemble. It also supports 10Gbps speeds on Cat5 cables, although the Cat6 support is limited to Gigabit.
Meet Derek, "TechGuru," a 34-year-old technology enthusiast with a deep passion for tech innovations. With extensive experience, he specializes in gaming hardware and software, and has expertise in gadgets, custom PCs, and audio.
Besides writing about tech and reviewing new products, Derek enjoys traveling, hiking, and photography. Committed to keeping up with the latest industry trends, he aims to guide readers in making informed tech decisions.