Kwumsy K2
Keyboard Performance
8.5/10
Touchscreen Performance
9.0/10
Pros
Combination keyboard and touchscreen display.
Compatible with most computers and many smartphones.
Durable aluminum frame.
Can double as a USB hub.
Screen quality is superb.
Cons
Not compatible with iPhones or iPads.
ABS keycaps.
Relatively expensive.
If you're a gamer, your keyboard is one of your most important pieces of equipment. Along with your mouse, it's how you input your commands. If your keys stick or hesitate to respond, your in-game performance is going to suffer dramatically.
Mechanical keyboards are prized by gamers for their responsiveness. They also provide better tactile feedback, so you can actually feel when you mis-key something. At the same time, tenkeyless boards are a popular choice because they're more compact. Why use a full-sized keyboard when you literally never use the numeric keypad?
Second displays are another thing gamers love. They allow you to see multiple pieces of information. For example, you can have your game on one screen and your in-game chat on another. If you've got a touchscreen, so much the better.
Some games, like mobile games, are designed with touchscreens in mind, and play better on them. Of course, your touchscreen still needs to meet the same standards you'd expect from a regular display. You want one with crisp resolution and bright colors. And for gaming in particular, you want a fast refresh rate.
Kwumsy K2
The Kwumsy K2 Mechanical Keyboard is a truly innovative device. It's a combination of a mechanical keyboard and a high-definition touchscreen. The keyboard has a tenkeyless design, which allows for a relatively compact form factor. The display, meanwhile, offers near-zero latency for better responsiveness while gaming.
But to truly understand this device, we'll need to look a lot closer. We'll have to talk about the overall build, and how much abuse it can handle. We'll need to talk about what kinds of systems you can connect it to, and how it connects. We'll also need to dig into the nitty-gritty details of both the display and the keyboard. After that, we'll be able to deliver an accurate verdict. Let's begin!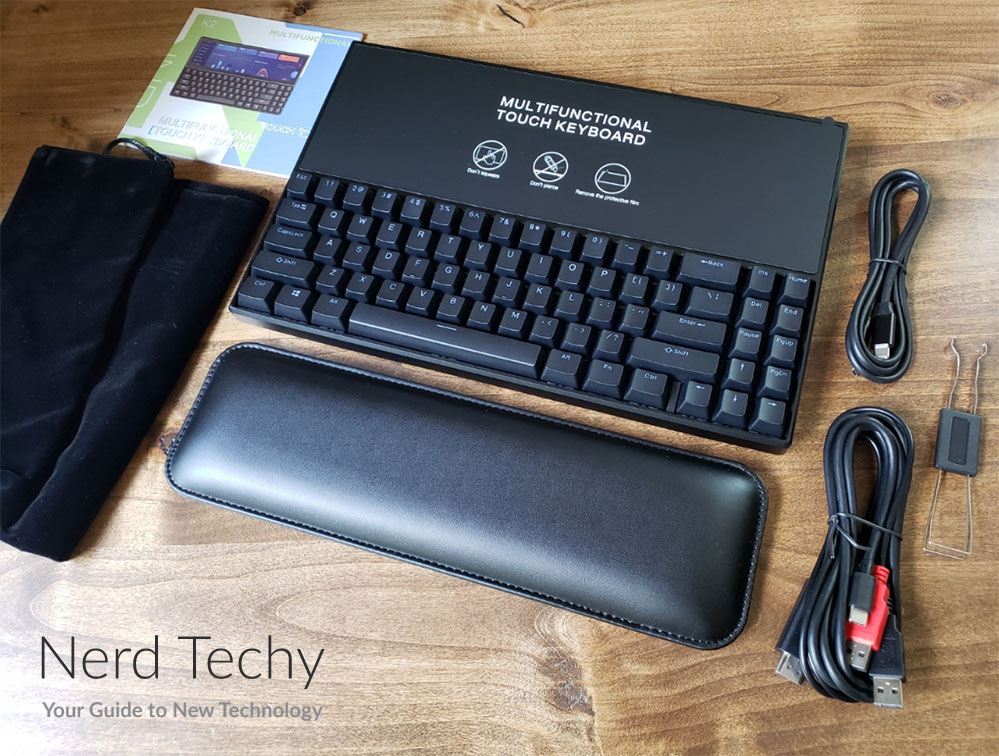 Keyboard Basics
The Kwumsy K2 Mechanical Keyboard with 12.6" Touchscreen has a broad, flat design. The keyboard occupies the bottom portion and the display occupies the top. Both sit inside a black aluminum alloy frame that's reasonably tough and durable. At 13.17 inches wide and 8.49 inches high, it's compact enough to carry in a laptop bag. And while it's no featherweight, it tips the scales at just under three pounds. So it's not adding any excessive weight to your baggage.
Like many keyboards, the K2 has a pair of little kickstands on the back. These can be flipped down to elevate the back of the keyboard, so it sits at a slight angle. There are also thin rubber skids on the bottom, which prevent slipping and scratching.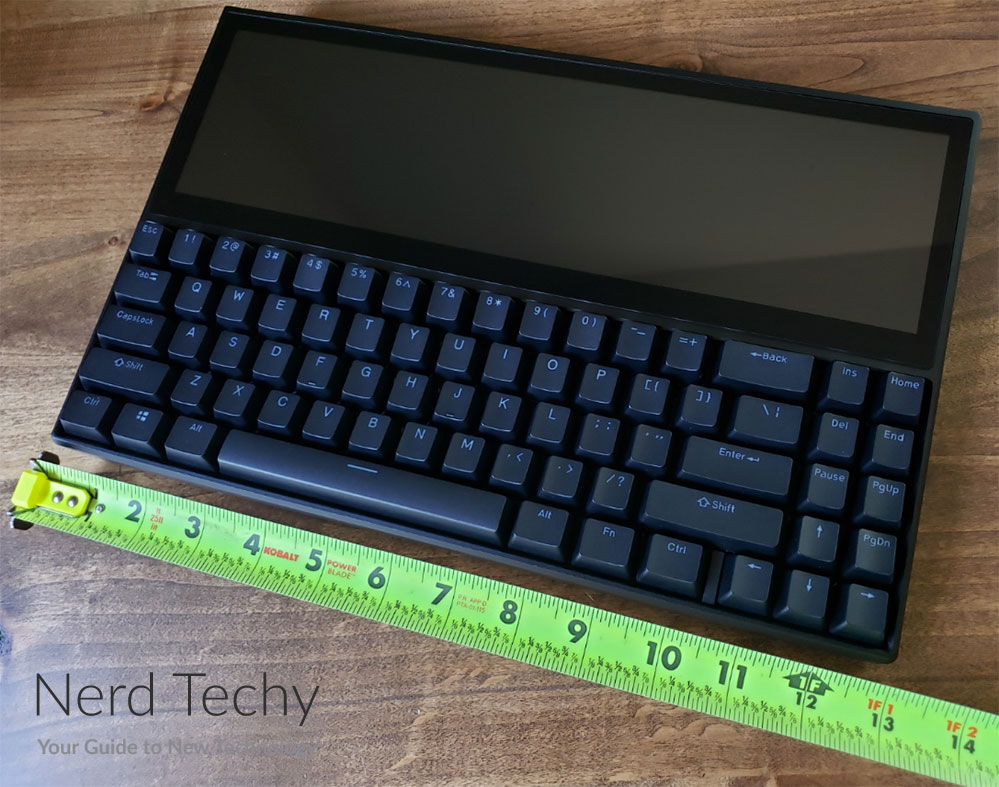 On the back of the frame, to the right, there's a set of three buttons. The largest is the power button, while the other two are menu navigation buttons. These control the touchscreen portion of the device. Next to these buttons, there's a USB Type-C port, followed by a pair of USB Type-A ports for connectivity.
The keyboard portion itself has a 71-key tenkeyless design. There's no numeric pad, nor are there any function keys (F1-F12). However, pretty much everything else is retained, including the Ins, Home, Del, and End keys. This means you still get access to all the keys you need for shortcuts in a wide variety of games.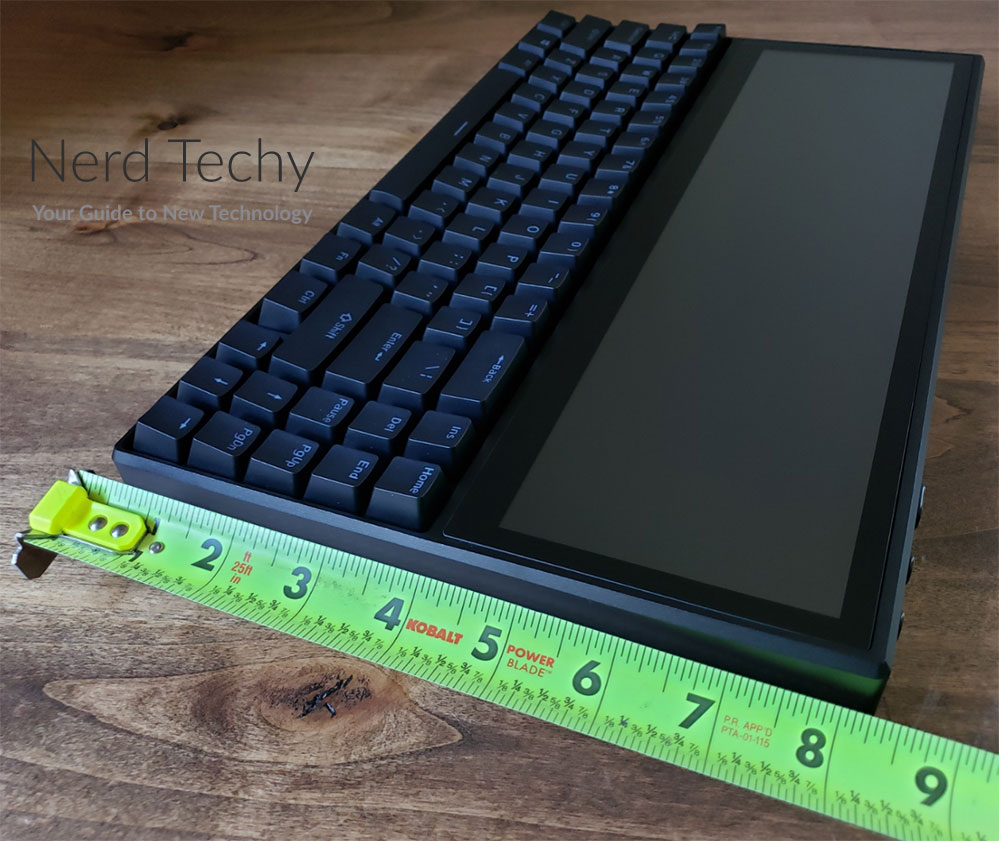 If you prefer a wider layout, there are many of options out there. 1800 layout and 96% boards are excellent examples. They're designed to retain almost all of the keys from a full-sized board, at a major reduction in size. Then again, none of them have anything close to a beautiful built-in monitor.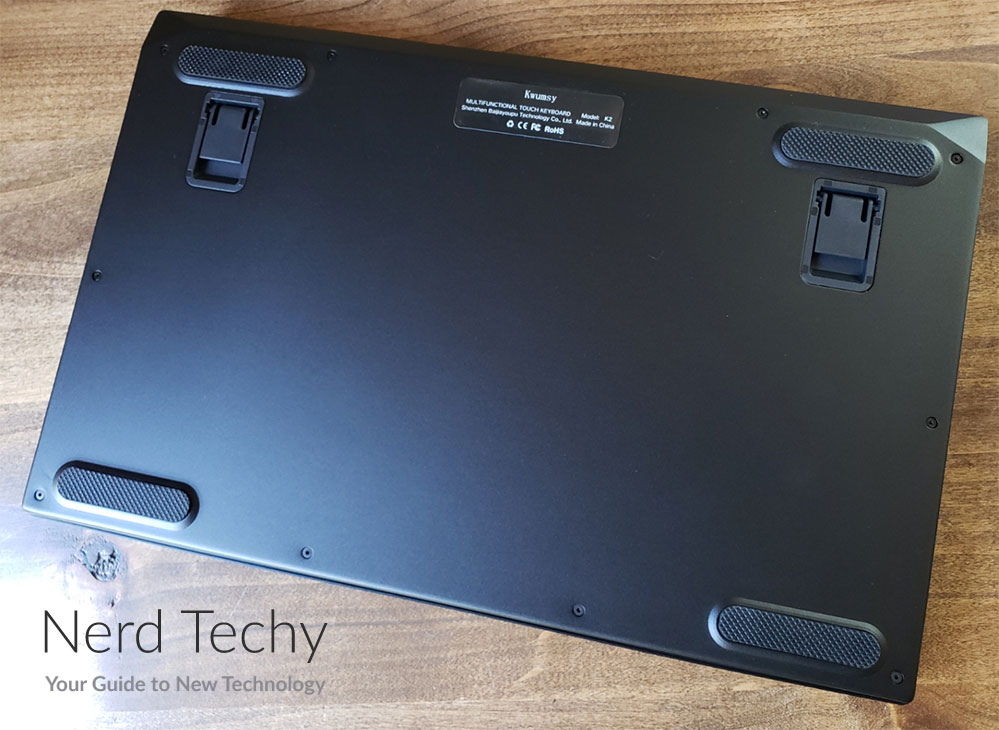 Touchscreen Basics
The touchscreen display has a resolution of 1,920 x 515 pixels. That's the same number of horizontal pixels as 1080p, but slightly less than half the number of vertical pixels. So you're looking at a smidge less than half a screen. It measures 12.6 inches on the diagonal, which sounds small at first. But keep in mind, this is half a screen, so that 12.6 inches covers a lot more real estate.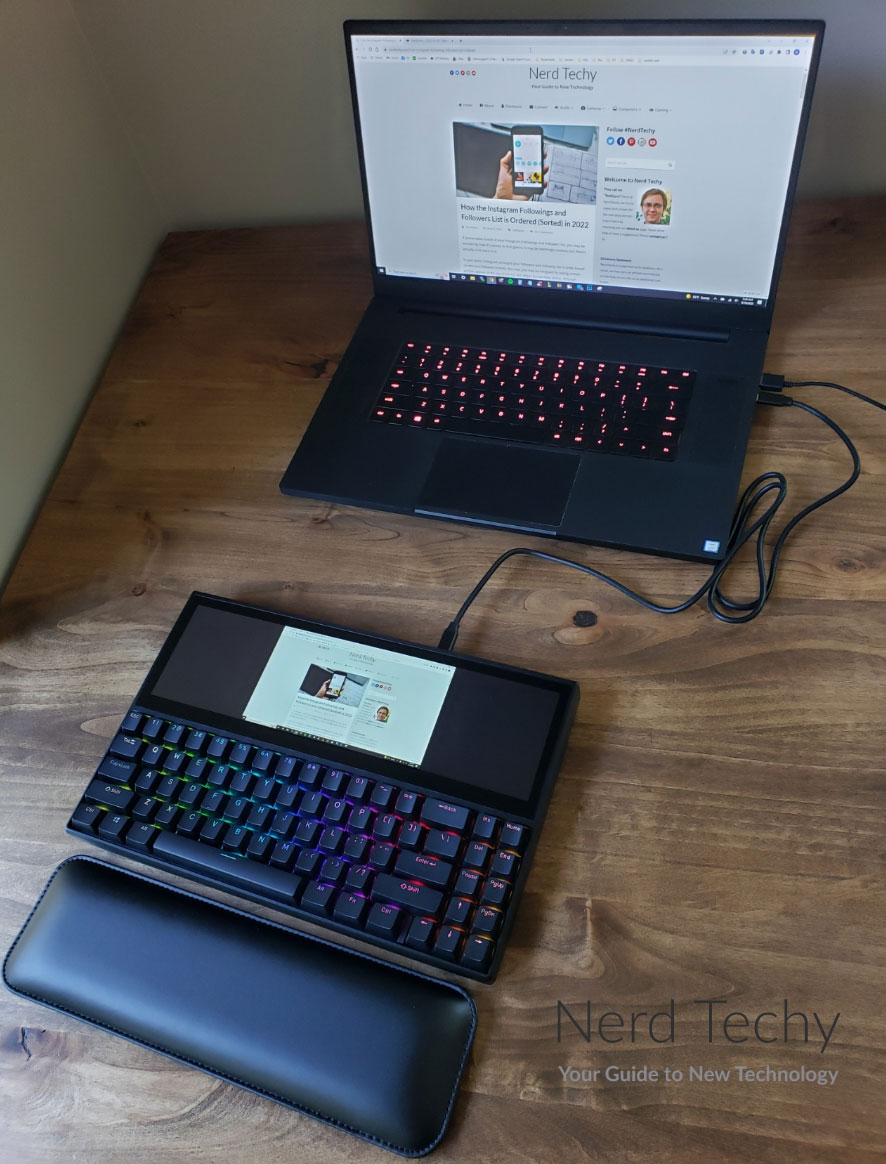 The frame rate of 60 frames per second is respectable, if not mind-blowing. You're not getting the insane refresh rate of some cutting edge gaming monitors. But you're getting more than the vanilla 30 FPS you'd get from an office monitor. Especially considering this is a secondary display, you're looking at solid performance.
The color quality is bright and vibrant, and you get plenty of brightness. You also get a 1,200:1 contrast ratio. This is the ratio of the brightest to darkest tones on the screen, and 1,200:1 is pretty good. It means you'll be able to make out more details in darker images and videos. This is a great feature if you like horror and survival games with a lot of dark settings.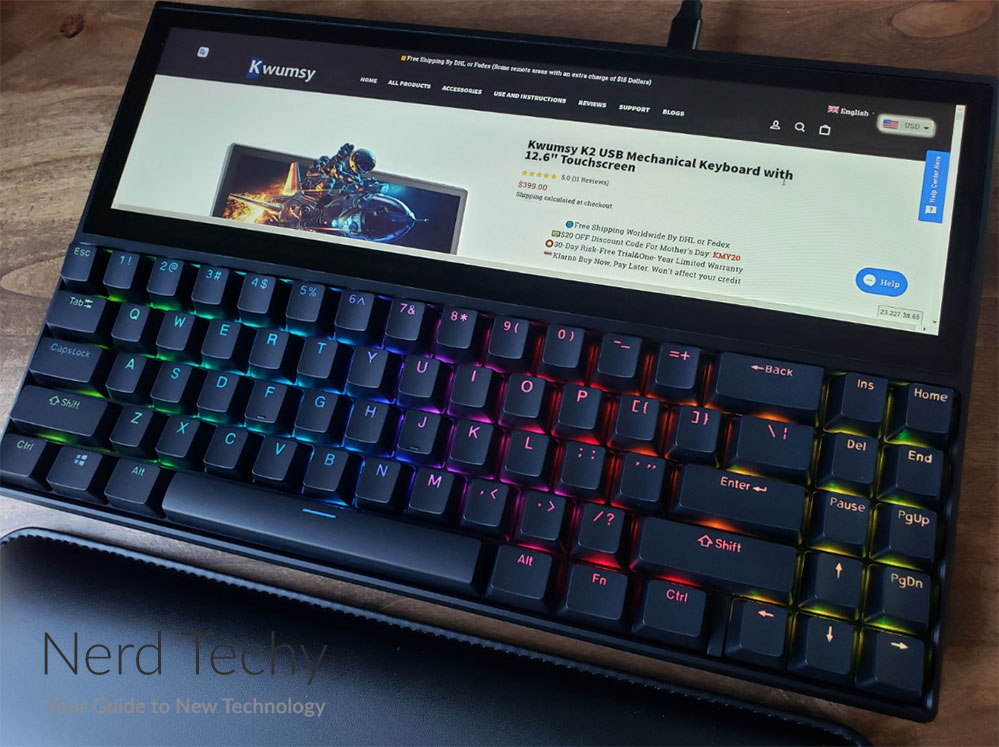 Speaking of settings, you can just a number of the K2's parameters directly through the menu. You can turn the brightness up or down, adjust the color settings and sharpness, or more than 30 other settings.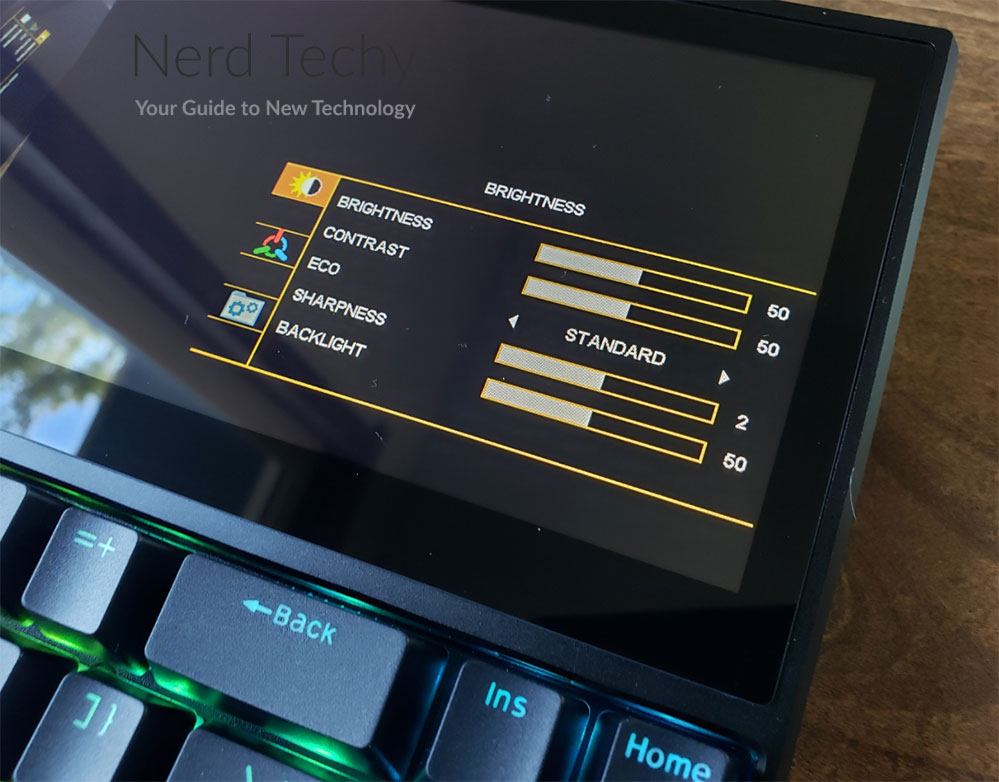 If you want a larger secondary display, take a look at the best portable triple monitor. This is from the same product line as Kwumsy's K2, and the image quality is similar in many respects. But instead of a keyboard combination, it's a frame that sits over your laptop monitor. Two screens extend to both sides, tripling your real estate.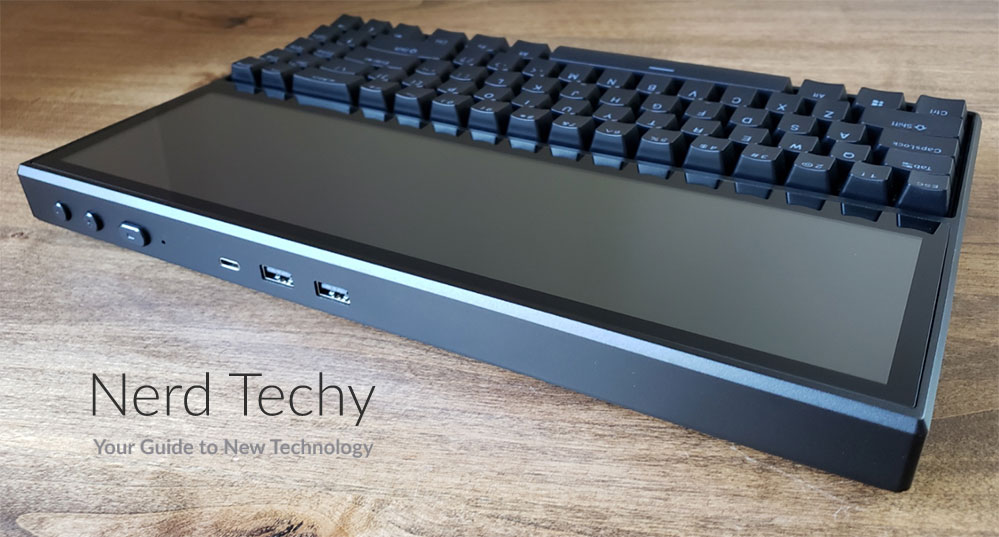 Connectivity
There are two ways to connect the Kwumsy K2 to your computer or smartphone. The first is to use a full-functional USB Type-C drive. To this end, there's an appropriate Type-C to Type-C cable included in the package. The second is to use an HDMI to USB Type-C cable, if your computer doesn't have a Type-C video output. The kit includes the necessary cable. It also comes with a pair of USB Type-A to Type-A cables.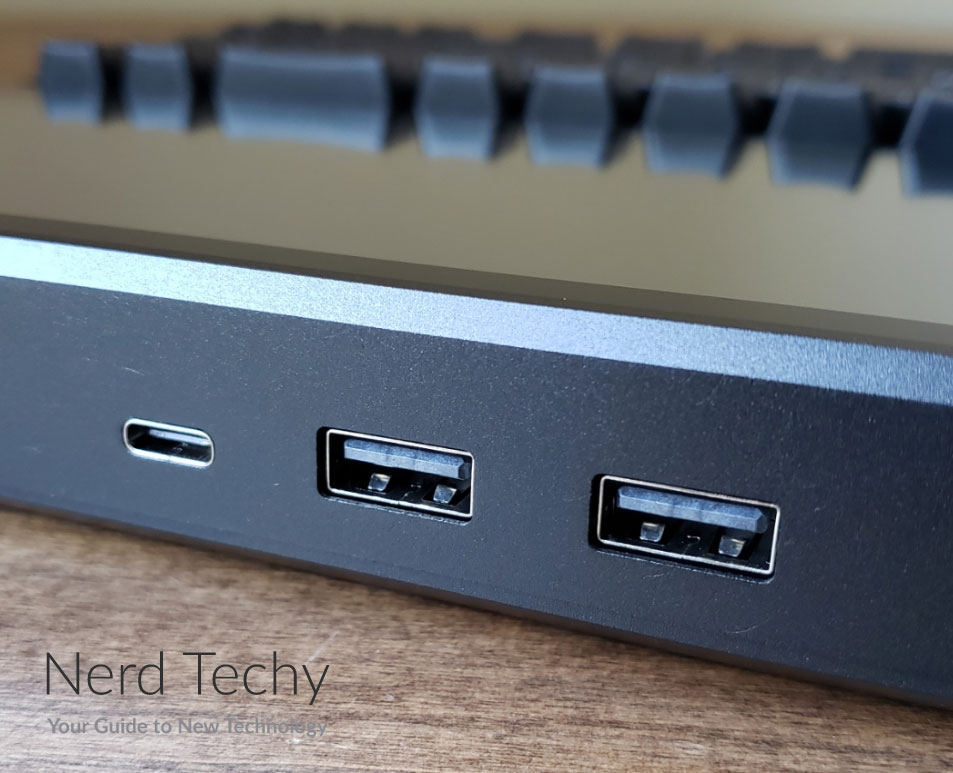 Provided your device has one of the two necessary ports, the keyboard and display are plug and play. However, there might be situations where a Type-C video port doesn't provide any power supply. Not only that, but you need a source of power when you're using an HDMI input. In either of those cases, you can connect one of the ordinary USB cables from the keyboard to your laptop.
If you don't have a USB port free, or if you're connecting to a phone or tablet, you can still use the K2. Just plug it into a USB wall charger, or even into a portable power bank. Any port that provides at least 5V/1A power will be sufficient.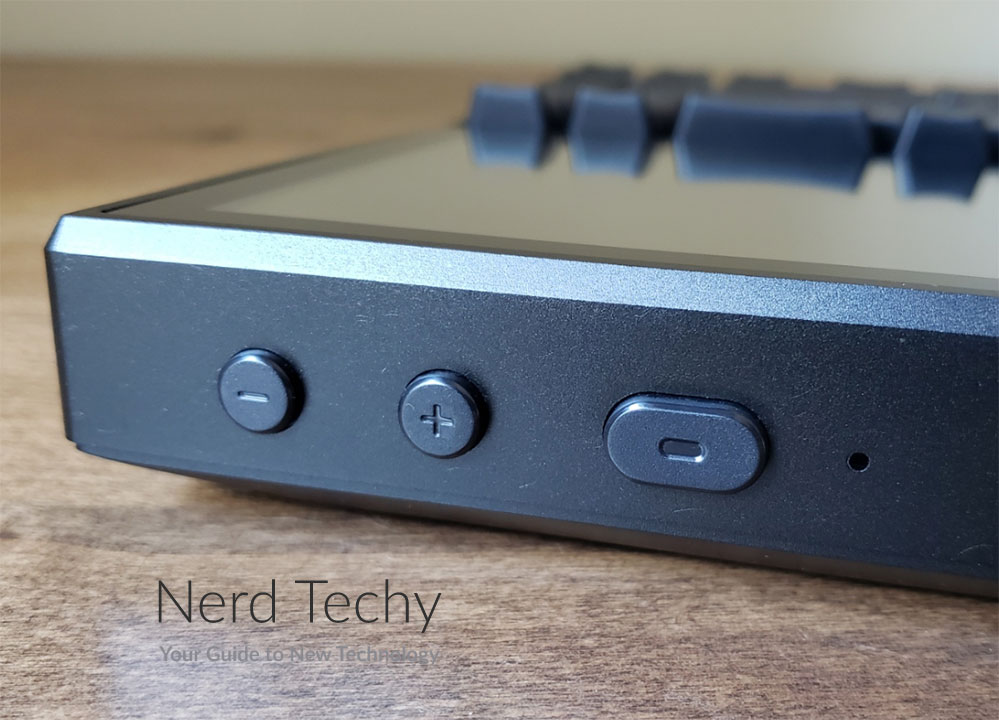 Compatibility
This keyboard/monitor combo is compatible with almost any computer. It works with Windows and MacOS, as well as Android. This means it's also compatible with many Android tablets and smartphones, as long as they use USB Type-C ports. It's not, however, compatible with the iPad or iPhone, which run iOS, not MacOS.
How the monitor works will depend on your operating system. You'll need to play around with your display settings to get it set up the way you want. It can be used as an extension of your existing display, or as a true second display.
In addition, touchscreen functionality will depend on your OS. On MacOS, you have to drag your mouse pointer onto the keyboard screen for it to work. In Windows, it will work without the need to move your mouse first. However, you'll have to go into your control panel, and navigate to the Hardware and Sound sub-menu. Click "Tablet PC Settings," and there will be a calibration button. Click it, and tap on the touchscreen to calibrate. At that point, you're ready to enjoy zero-latency touch performance.
As you can see, the Kwumsy K2 is pretty capable. But it's not compatible with any game consoles. If that's what you need, take a look at our list of the best mouse and keyboard for Steam Deck. These are great portable choices, although none sports a built-in display.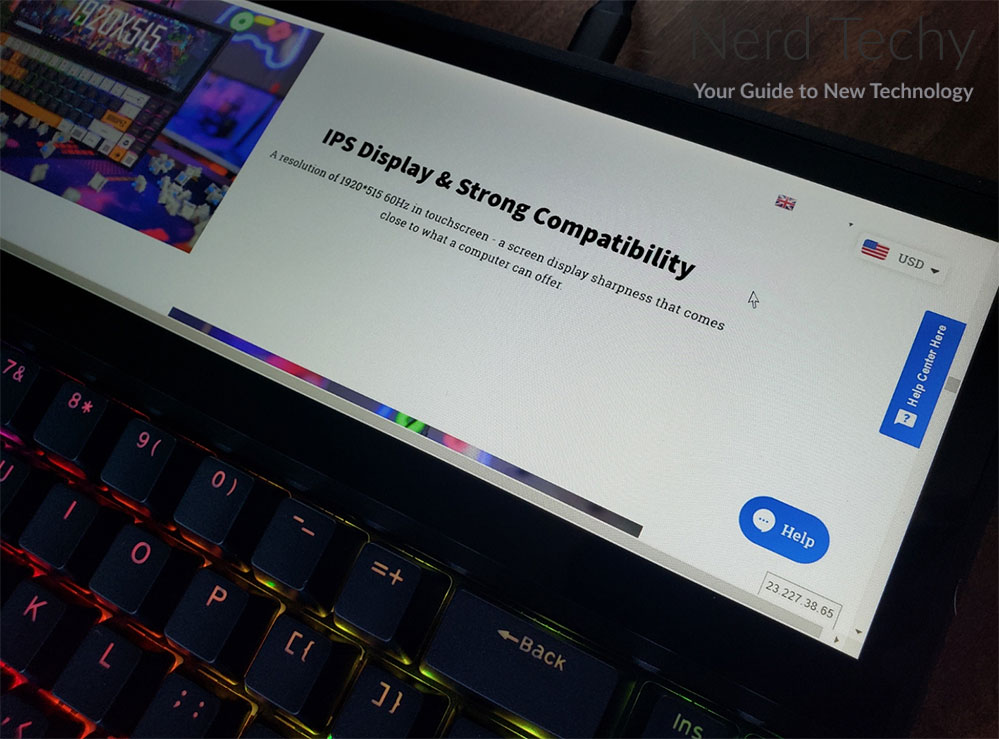 Keycaps and Switches
The keyboard switches are K2 Gateron Blue. They're very clicky, and the resistance is a bit on the heavy side. That combination gets you excellent tactile feedback, along with medium travel. They're a great all-around choice for gamers, and they're also hot-swappable. You don't need to do any soldering if you want to switch to a different set.
The pudding keycaps are black with transparent lettering. This allows the RGB backlighting to shine through. The light is adjustable between 15 different color patterns, which gives you an ideal aesthetic for gaming. On the downside, the material is ABS plastic, which tends to get "polished" over time and lose its texture. On the upside, it's a standard design, and the keys are easy to replace if you want to upgrade.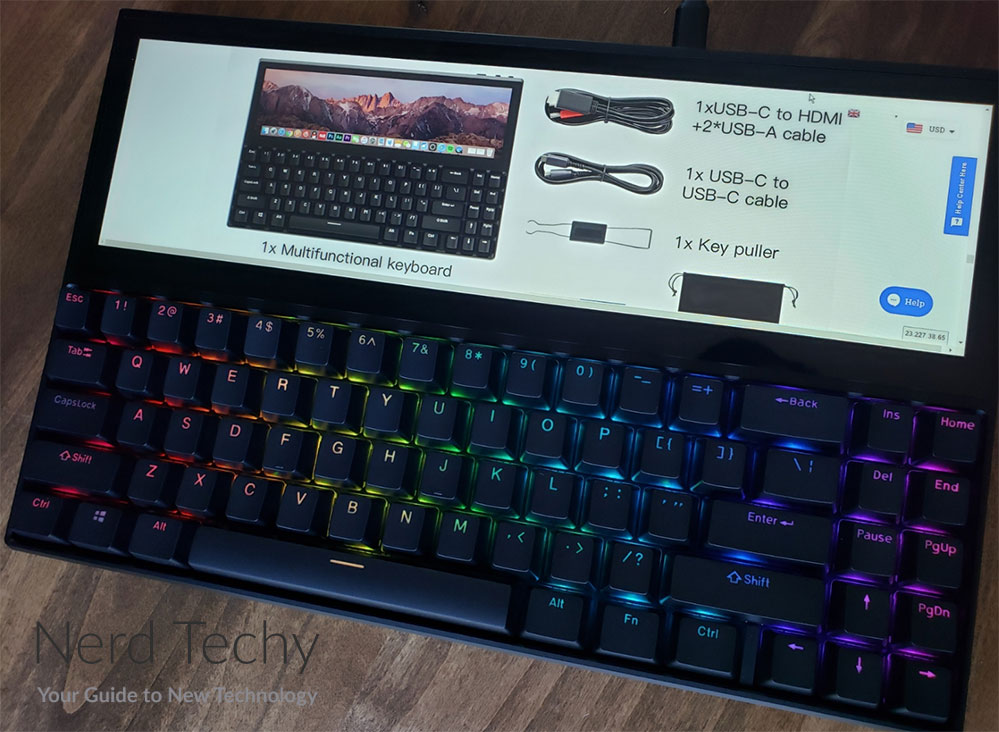 Extra Features
Along with the K2 itself, you can order an optional keyboard stand. This is a silver-colored aluminum stand that can be set at several angles. Even if you want your keyboard at a steep 45 degrees, you can make that happen. This has the advantage of elevating the display, which can make for more comfortable viewing.
Even the base keyboard includes a soft, padded wrist rest, along with a keycap puller. There's even a drawstring storage bag. The bag isn't much, but it does protect against scratching when you're on the go. All of this is protected by the same 12-month warranty as the keyboard itself.
If you're using a USB Type-C to Type-C connection, the K2 can be used as a USB hub. In that mode, you can connect an external hard drive, thumb drive, or other data source. The cable can provide USB 3.0 data transfer in addition to the normal video signal.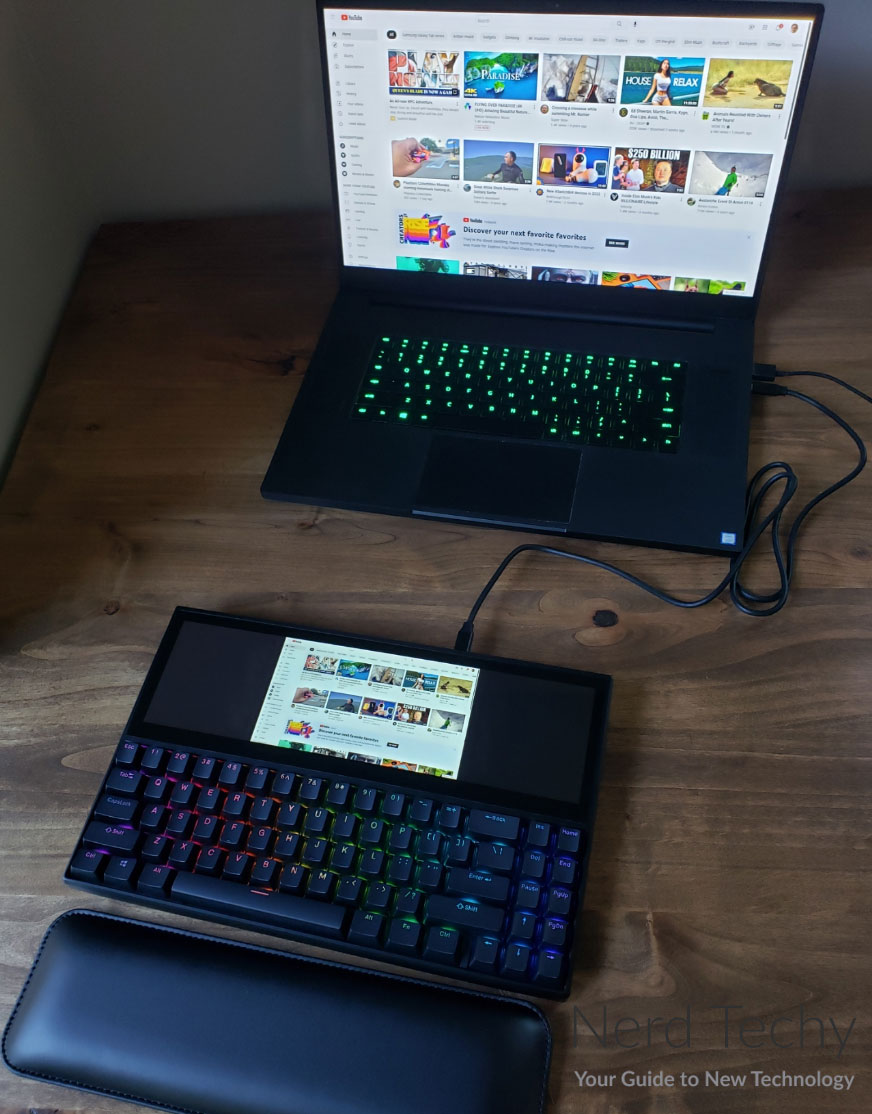 Final Verdict
The Kwumsy K2 Mechanical Keyboard with 12.6" Touchscreen is a one-of-a-kind device. It's great for gamers who want a compact, portable keyboard and second monitor. It's particularly useful for mobile gamers, who will see a significant increase in screen size. And with high-quality switches and a zero-latency screen, it offers excellent performance.