Whether you're looking for the ultimate branding or a personalized award, an engraving is a great choice. Custom tee shirts, hats, and mugs are cheaper and easier to produce. But an engraving has a highly personal feel to it. Like anything that takes time and effort to create, it says something about how the giver feels about the recipient.
It's also more durable and long-lasting than other types of branding. A tee shirt will last a decade at most. But an engraving on stone or a metal plaque can last for decades or even more. Not only that, but you can also use an engraver to create beautiful custom woodcuts.
That said, you don't want to buy just any laser engraving machine. Depending on your needs, for example, you might want a very large engraver. Or, you might prefer one that has a smaller footprint. Different engravers are compatible with different computers, and have different control options.
They run at different speeds, and are capable of producing more or less detailed images. They're also compatible with different laser modules. In other words, you need to take the time to shop around. By making sure you get the right laser engraver in the first place, you can save yourself some serious headaches.
ORTUR Laser Master 2 S2
With that in mind, we're about to review the ORTUR Laser Master 2 S2. This is a beefy laser engraver with a large engraving area. It's easy to set up and assemble, and it's compatible with many platforms. It can be ordered with one of three laser modules, and controlling it is simple and straightforward.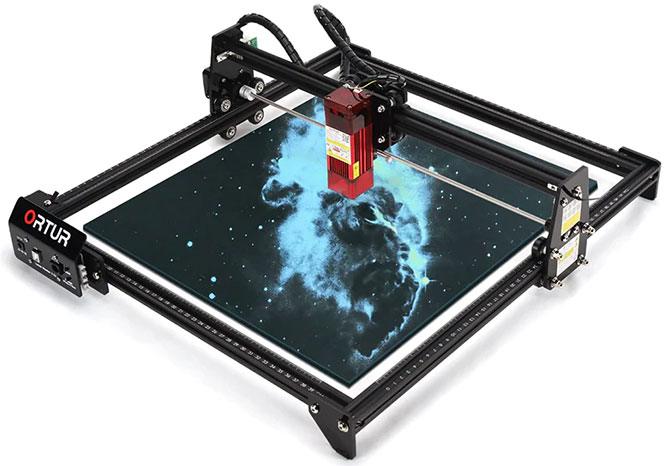 That said, there are a number of important features we'll have to look at. For one thing, it's important to consider how the engraver is built, and how the assembly process goes. We'll need to look at how it connects to your computer, as well as the compatible file formats and software. We'll have to talk about the performance of the engraving laser itself, and what it's capable of. After we've gone over all these things, we'll have a more complete picture. Let's get started!
Base & Basics
The ORTUR Laser Master 2 S2 has a black rectangular frame, with little metal feet at the corner. The whole thing is made from rugged aluminum, and it seems fairly durable. There are white markings along all four rails, indicating the distance from each corner. You'll see markings for both centimeters and millimeters, which allows for very precise placement of your media.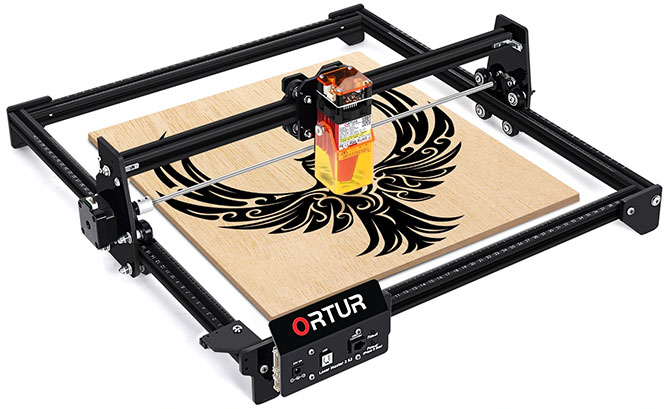 The total size of the frame is 19.8 inches wide and 21.25 inches deep. No matter how you cut it, that's quite the footprint, and it takes up a fair bit of space. The only inputs are located at the front left, on a flat panel with an angled flange at the top. There's a barrel-shaped DC power input to the left, with a single USB Type-C port to its right. Next, you'll se a single RJ42 input. At the end, there are tiny black power and reset buttons.
There are a handful of useful safety features built into the design. To begin with, there's an auto-shutoff feature. If your computer crashes or the motor fails and the laser remains in place, it could spark a fire. The auto-shutoff feature will prevent this from happening.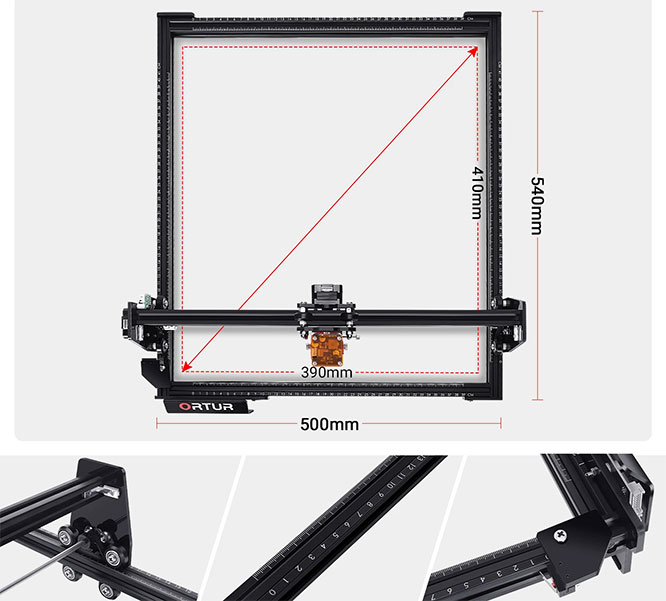 In addition, there's an anti-tilt function. A built-in gyroscope will detect if the machine is tilted more than a few degrees to the side. It will also detect if the machine is moved while it's in operation. When that happens, the laser will automatically shut off. That way, it's harder to burn yourself or cause serious damage to your working surface.
If all else fails, the machine has a flame detector, which will sound an alarm if a fire breaks out. You can also hit the physical stop button in the event of an emergency.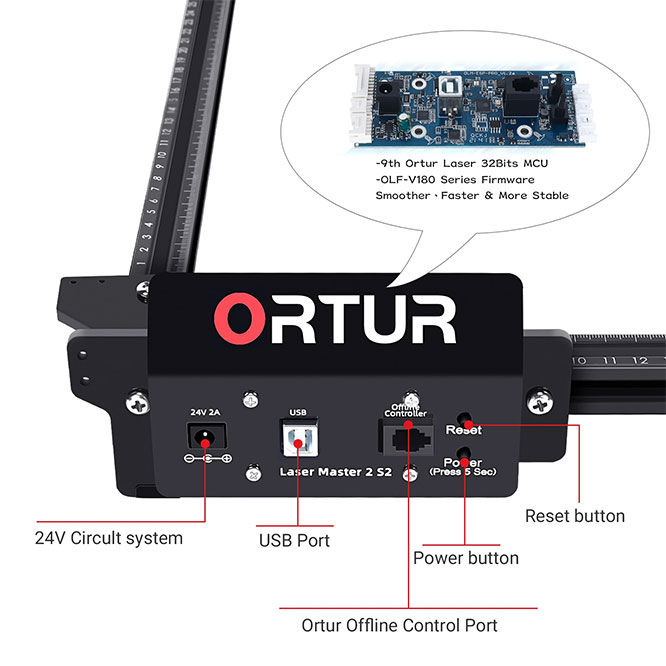 Gimbal & Engraver
The laser engraving unit itself is a red, semi-transparent module that's about an inch square and four inches tall. It mounts to a vertical plate, and points downwards at the space underneath the engraver. The plate, in turn, is mounted on a gimbal, which sits across the two sides of the frame. The mounting plate is motorized, and can travel freely along the gimbal. As a result, the laser is able to travel from side to side.
The gimbal attaches to the frame via a set of motorized wheeled struts. The struts, in turn, travel freely along the sides of the frame. This provides a way for the laser to move from front to back. This motorized gimbal design is pretty standard, and there are many similar engravers.
If you're looking for something a little bit smaller, consider the Aufero Laser 1. It has a similar design, although the gimbal moves from side to side, not front to back. It's much more compact, but the 190mm x 190mm engraving area is also correspondingly smaller.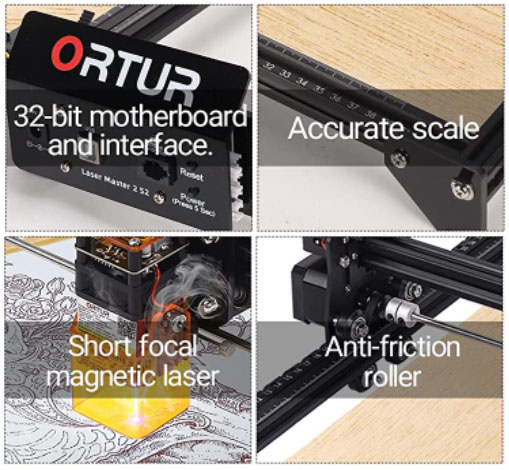 Connectivity
The Laser Master 2 S2 connects to your computer with a USB Type-B to Type-A a cable. This cable is included in the kit, so you're all ready to go from day one. The engraver is compatible with Windows and MacOS. You can use it with any computer, as long as you have the appropriate engraving software.
ORTUR recommends two pieces of software that work best with this particular engraver. The first is LaserGRBL, which is the most popular option. The nice thing about this software is that it works with most image files and editing software. If you prefer to work in PhotoShop, you can. Then just use LaserGRBL to convert the file into an engraving.
Unfortunately, LaserGRBL only works in Windows. If you're a Mac or Linux user, you'll need to use some kind of paid software. LightBurn is what ORTUR recommends, but others will work just fine. Ultimately, all you need is a JPG, BMP, or other similar file that you want to engrave.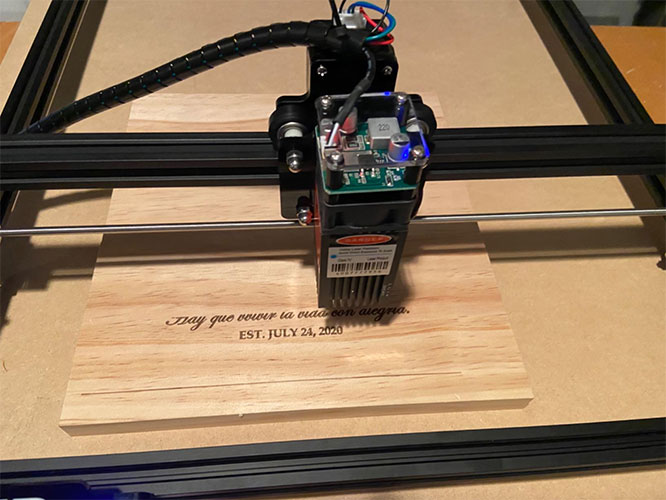 Setup
When you first open the package, the Laser Master 2 S2 will be in several pieces. The frame comes disassembled, and the gimbal is pre-assembled as a separate unit. To begin with, you'll need to bolt both of the side rails to the front of the frame. Then, you can slide the gimbal onto those rails, and attach the back end of the frame.
Now it's time to connect the drive belts. The drive belts run along the top of the frame, and need to be passed under the wheels on the gimbal. There are also belts on the bottom of the frame, which need to be similarly adjusted. When the belts are properly placed, the motors will be able to drive the gimbal back and forth. Connect the wiring harness as shown in the instructions, and you'll be finished.
The kit includes a wrench, a hex key, and zip ties for assembly. You won't need any other tools, although it can be helpful if you have a nicer wrench. You also get a set of safety goggles, which you should always wear when the laser is in operation. There's a brush for removing any fine particles, as well as multiple testing plates. There's even a set of four little metal tags for your pets.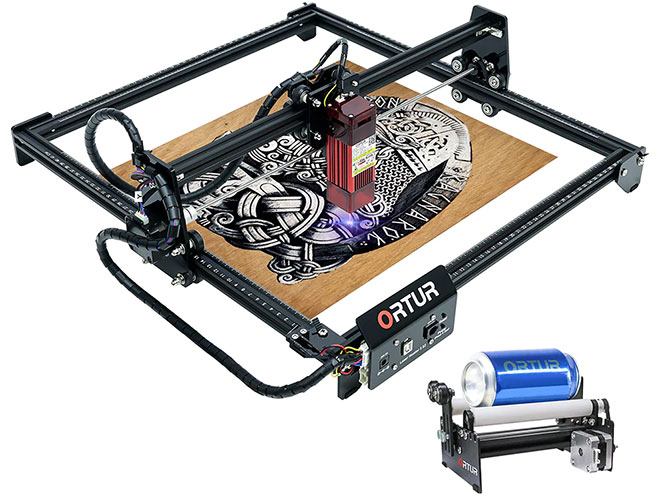 If you want to engrave round objects, ORTUR also manufactures a rolling machine. The YRR2.0 Y-axis rotary roller is great for engraving mugs and other similar objects. It plugs into the RJ42 back on the input panel, and works with the Laser Master 2 S2 right out of the box.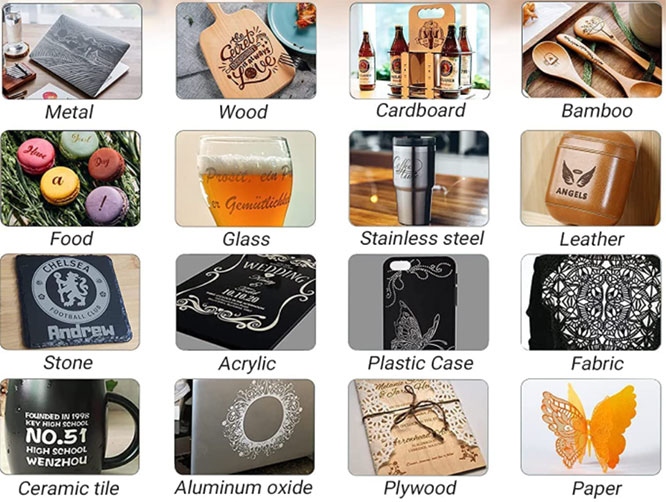 Engraver Performance
The engraving area on the inside of the frame measures 390mm wide and 410mm tall. That's 15.35" x 16.14". This is enough space for complex woodcuts, and for even very large plaques with a lot of print.
The laser is capable of engraving at a rate of 5,000mm per minute. That's a hair more than 16 feet of engraving! Of course, that's just the mechanical limit of how fast the laser can move around. The darker and deeper you're working, the slower it will be moving. But at least you're getting a lot of speed when the situation calls for it.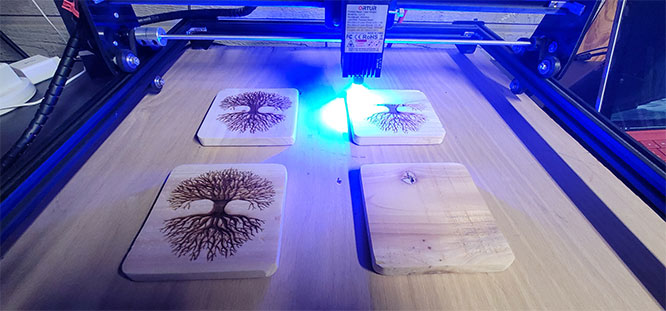 Despite being so fast, the Laser Master 2 S2 is also very precise. It has a 32-bit motherboard, which provides much finer control than older 8-bit controllers. Even if you're engraving a high-resolution image, you'll get pretty good results.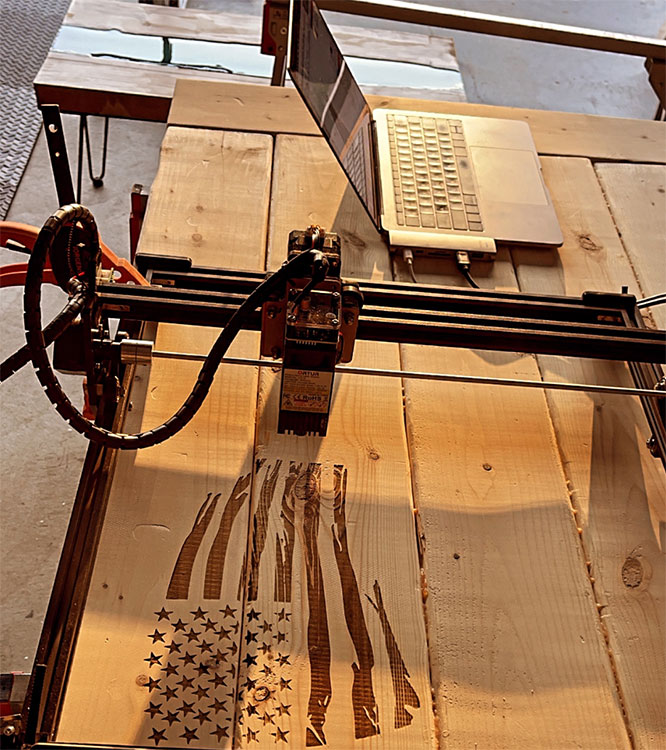 If you're primarily working on lighter, speedier applications, check out the Aufero Laser 2. It has a similar resolution, but with a working speed of 10,000mm per minute. Then again the working area is just a smidge smaller, at 390mm x 390mm.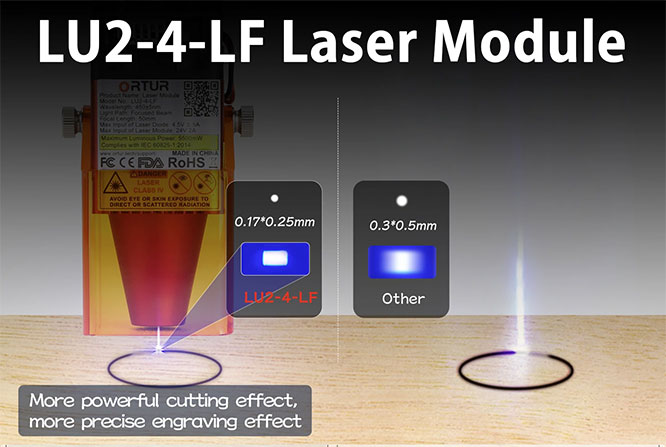 Laser Modules
The laser module itself can be changed out if you like, or ordered in different versions. The default version is the LU2-4-SF module. This is a powerful laser that can be adjusted between 4,500 and 5,500mW. It's designed primarily for metal and stone work, and can work very quickly even on the hardest materials. On the other hand, the large laser beam has a wider focus, and isn't as precise.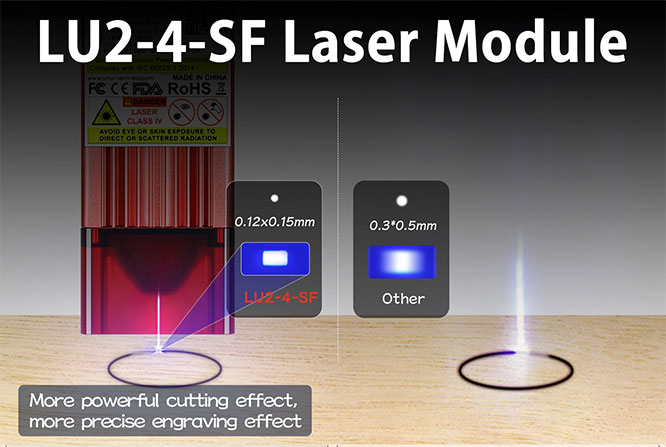 The LU2-4-LF has an identical power rating, but with a much longer focal distance. This means it's better suited for cutting than it is for engraving. It's great for precision-cutting machine metal, for example. But for most other applications, it's not an ideal choice.
The LU2-2 is much lower-powered, at only 1,000 to 1,600mW. This might not seem desirable, but it can actually be a good thing. This laser is designed for wood burning, and can even be used to briskly etch fabric. Even better, it has an extremely sharp focus of 0.07mm x 0.06mm. This allows you to engrave even very high-resolution images.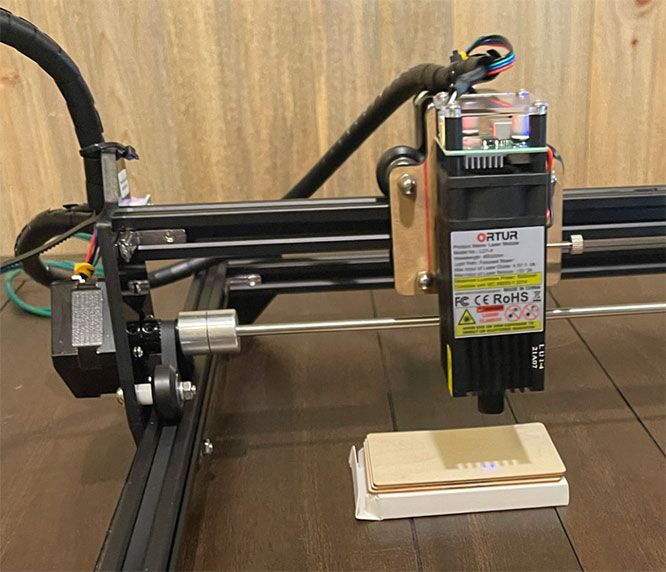 Final Verdict
The ORTUR Laser Master 2 S2 is a very well-engineered laser engraver. It's big and beefy, with a large footprint to match. But it can also engrave very large objects. It works with any computer, and with almost any engraving software. It's easy to assemble, and you can even use different laser modules and other accessories. All in all, there's a lot to be happy about!