Summer is fast approaching. This means getting outside for backyard barbecues, fireworks, and afternoons on the beach. After over a year in lockdown, many of us are looking forward to the summer more than ever before. But as the saying goes, the grass is always greener on the other side of the street. Yes, it's a lot more pleasant go get outside in the summer. You won't be knee-deep in snow, or subjected to freezing winds. Instead, you'll have to manage the heat instead.
We humans are a creative bunch, and we've come up with any number of ways to keep cool. We wear looser clothing, and less of it. We use patio umbrellas and stay in the shade. But nothing works quite as well as a cool breeze to ward off the summer heat. In the past, we've reviewed large patio misting fans. These are great for cooling a larger area, but they're not terribly portable. However, you can use a smaller, handheld fan to achieve the same effect on a personal level. And because these fans are so small, you can carry them around with you anywhere.
We're about to review three of the best portable, rechargeable handheld misting fans available. We'll begin by looking at the HandFan Portable Handheld Misting Fan. This fan is adjustable and collapsible, with a clip-on base for easy, temporary mounting. Next, we'll check out the OPOLAR Handheld Personal Water Misting Fan. This is a powerful fan with a long-lasting battery for all-day use. Finally, we'll examine the O2COOL Deluxe Misting Fan. This is a simple, bottle-style fan with one setting but a large water tank. Which one is best? Let's look closer at each one, and see how they stack up! After that, we'll be able to render our verdict.
How Does Misting Keep You Cool?
So, why is it that a handheld mister is more effective than a simple fan? The short answer is obvious. It just plain feels nice! When we're hot, it feels good to get soaked with a hose, go swimming, or wash with cool water. This works for two reasons. First, the water itself is typically cooler than our body temperature. But water only absorbs so much heat from your skin directly. The main benefit of misting is that it works on the principle of evaporative cooling, just like a swamp cooler.
Evaporative cooling refers to a principle of humidity and evaporation. Basically, the very process of evaporation cools the air. Think about sitting next to a pond, or a river, or even a city fountain. The air doesn't just feel cooler. It is cooler, because the exposed water is evaporating and causing the temperature to drop. Evaporation also cools whatever surface the water is evaporating from. That's why you stay cool when you sweat! It's also why humid days feel so much hotter than dry days. On a humid day, your sweat doesn't evaporate efficiently, so it doesn't cool you off as much. The same principle applies when you use a mister to blow water around. The mist either evaporates and immediately cools the air, or collects on your skin and then evaporates. Either way, it cools you off.
That said, it's important to remember that evaporative cooling works better in drier air. Just like your sweat, a water mist won't evaporate quickly in high humidity. In very hot weather, it's also important to keep your water cool. If it's 105 degrees out, you don't want to be misting with 105-degree water. The cooler the water, the better it's going to work. Some people even use ice water in their misters!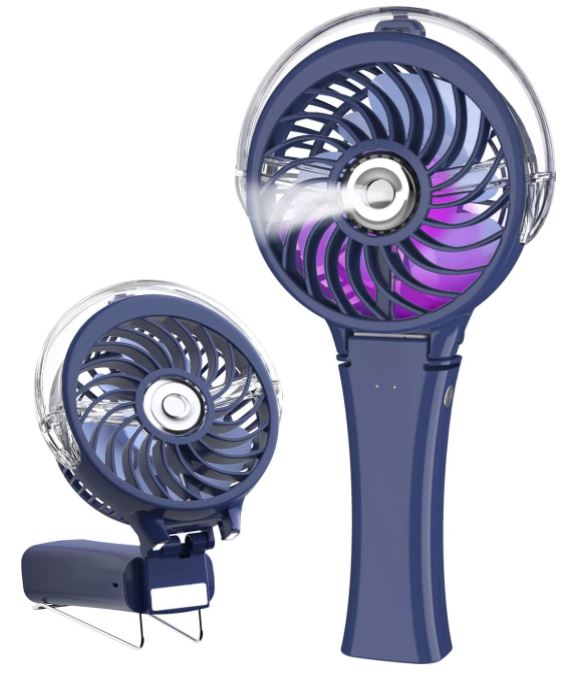 HandFan Portable Handheld Misting Fan
The HandFan Portable Handheld Misting Fan is a compact fan with a slim, foldable handle. The fan housing is round, rather than square, so there's no wasted space around the sides. It's constructed from ABS plastic, with an easy-to-clean gloss finish. It also comes in three colors: black, white, and royal blue. The handle itself is small, about the size of a Wii controller. It's a good fit for most hands, but it's neither big nor beefy. This helps keep the weight to a low 6.6 ounces, less than a modern smartphone. When the handle is collapsed, the whole thing can be carried in a purse or a backpack.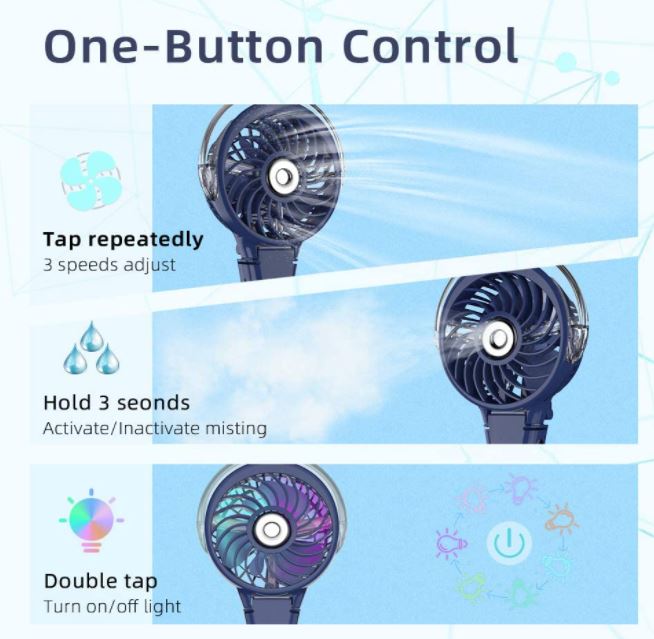 The folding design is probably the most innovative aspect of this fan. Yes, it makes it nice and portable. But it also allows you to position the fan in various ways. You can keep the handle fully extended, and hold it in your hand. You can leave it at 90 degrees, and set the fan on a table. This is great when you're eating dinner outside, or relaxing by the poolside. You can also fold the handle all the way shut for storage. In this configuration, you can take advantage of the metal clip on the back of the handle. This can be used to mount it on a bicycle handlebar, treadmill frame, or car visor. As a result, you'll be able to use your fan just about anywhere.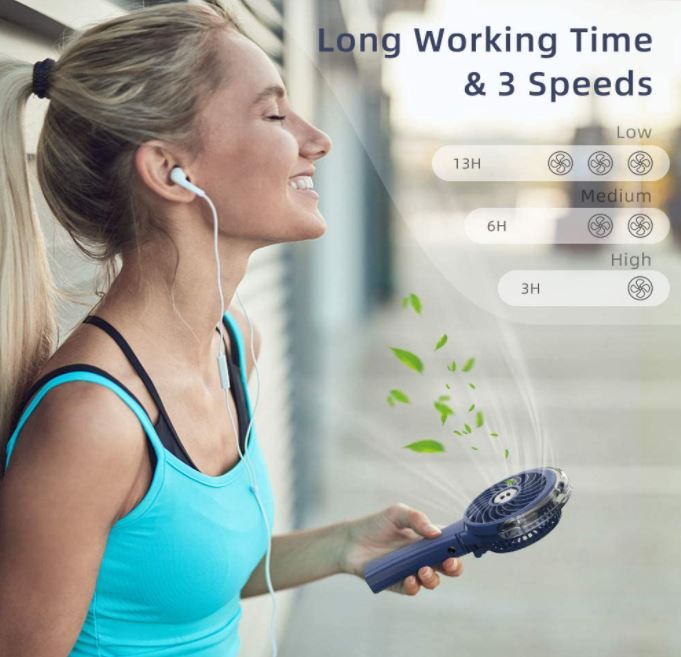 The water for the mister is stored in a clear tank on top of the fan housing. This tank is a bit small, but it's arched to maximize the volume as much as possible. Besides which, you wouldn't really want a huge tank. This one is small enough to be easily portable, and still has enough water for hours of intermittent use.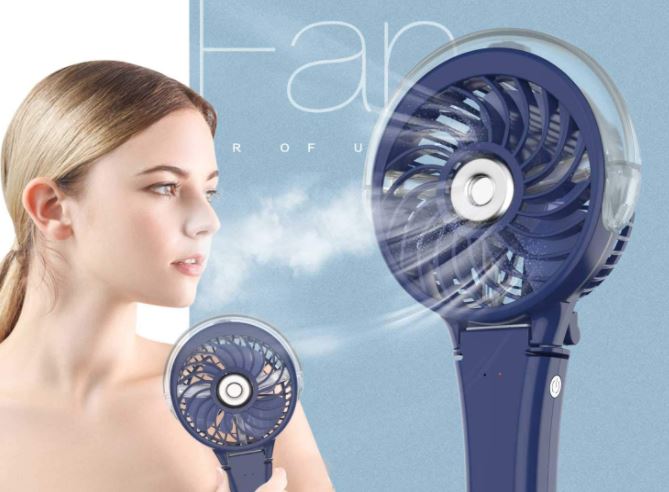 The single button on the handle can be used to adjust all the settings. First, you can tap the button to turn the fan on and cycle through the three speed settings. Pressing and holding the button will turn the mister on and off. A double-tap, meanwhile, will activate the LED lighting. This last feature is technically useless, but we'd be lying if we said it didn't look cool after dark.
The battery charges via USB, and can last from around two to six hours depending on your settings. To help you save power and water, the sprayer will only run for 10 minutes at a time. After that, it will need to be reactivated.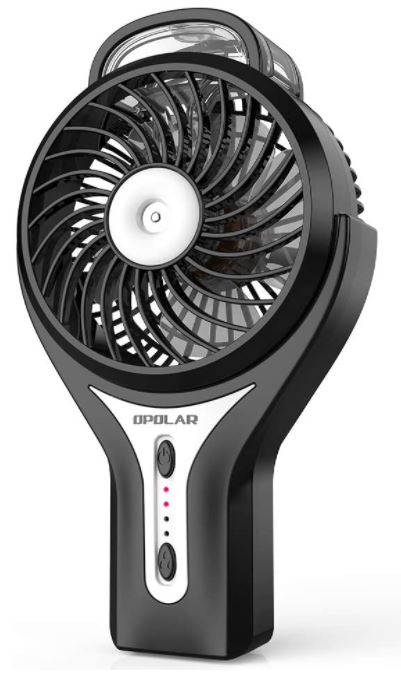 OPOLAR Handheld Personal Water Misting Fan
OPOLAR is a company that specializes in making small fans. While they typically focus on laptop cooling fans, they also make a portable handheld mister. This is the most compact of our three offerings, with a stub-style handle. On the one hand, this keeps the weight to a mere 6.7 ounces. On the other hand, the HandFan's collapsible handle is a far more elegant solution to the size problem. With the OPOLAR Fan, people with large hands may have trouble getting enough of a grip. Another drawback of the short, fixed handle is that this fan is only useful for handheld use. There's no way to attach it to anything, and it's too top-heavy to stand up on its own.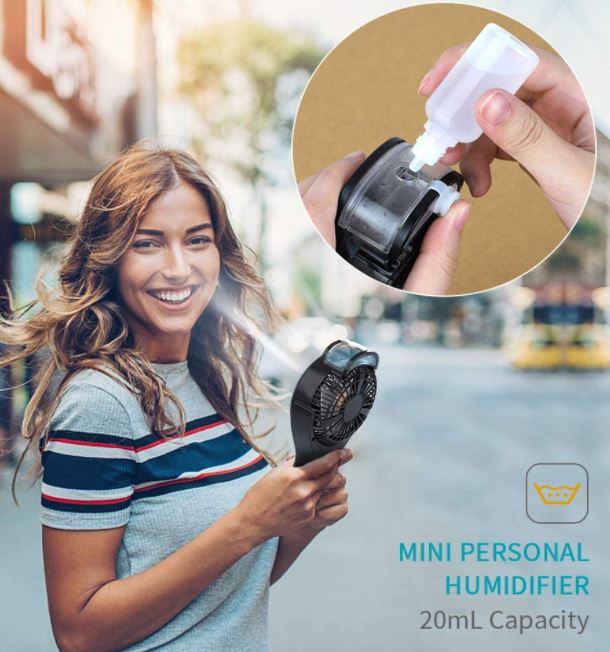 The housing is plastic, and comes in black, white, or a "blue" color that's definitely closer to green. Like with the HandFan, it's rounded rather than square, so there's no wasted space. However, the water tank is noticeably smaller. It's clear and unobtrusive, located on top of the fan. But it only holds enough water for about 15 to 20 minutes of use. It's easy enough to refill from a faucet or even a water bottle, but a slightly larger tank would have been nice. As HandFan proved with their design, you can easily double the tank capacity without increasing the form factor too much.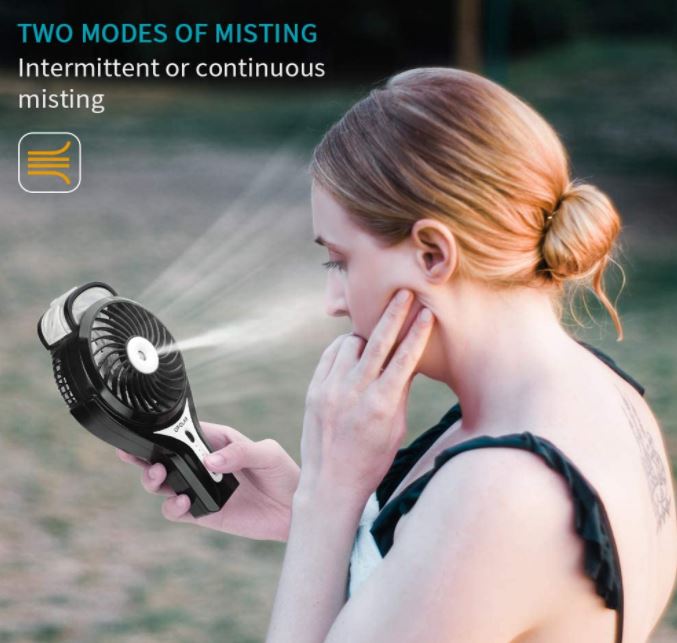 The battery is built into the handle, and has a capacity of 2,200mAh. It recharges via USB, and only takes about 90 minutes to fully charge. Depending on your fan setting, it will run between four and six hours before needing to be topped off. It can also be used when plugged in, so you never have to stop. Of course, this requires you to be near a power outlet, or to carry a power bank as a backup supply. Even so, it's nice to have the option.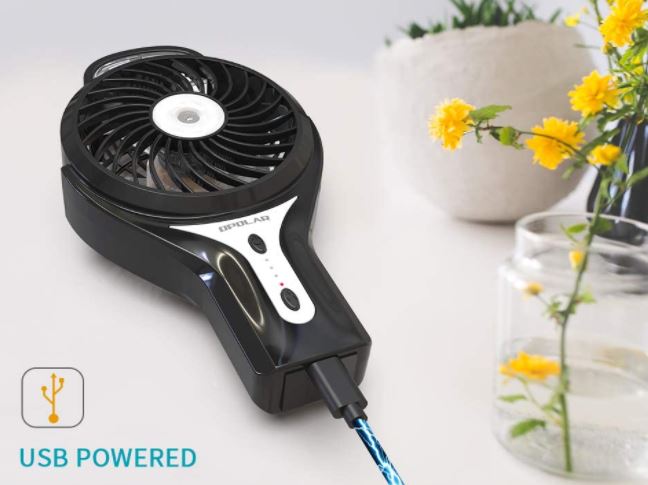 The fan is controlled with two buttons, both of which are located in the handle. The top button is a power button, which also controls the fan speed. Tapping it will cycle through the speeds, which will be displayed on three LEDs below the button. At top speed, this fan is very powerful, enough to blow your hair back if you hold it close to your face. Even at the lowest setting, it quietly provides a pleasant breeze. The bottom button, beneath the row of LED lights, changes the mist setting. Like the power button, it cycles through modes when you tap it. You can set the misting either to continuous or intermittent, depending on how hot it is. Alternatively, you can turn misting off for a bit and save your water for later.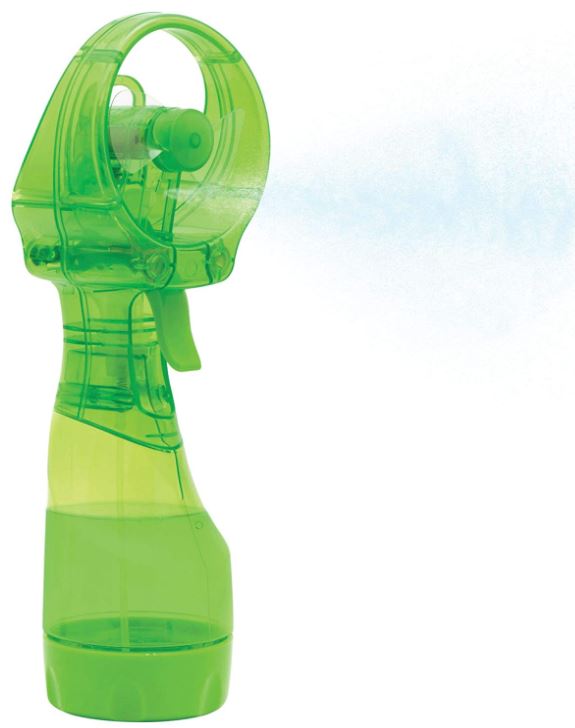 O2COOL Deluxe Misting Fan
The O2Cool Deluxe Misting Fan is the kind of thing you probably think of when you hear the term "misting fan." It consists of a small water bottle, with the fan positioned on top. We say "small," but that's a relative term. It holds 9 ounces of water, which is more than either of our previous two fans. And at six ounces empty, it's reasonably lightweight.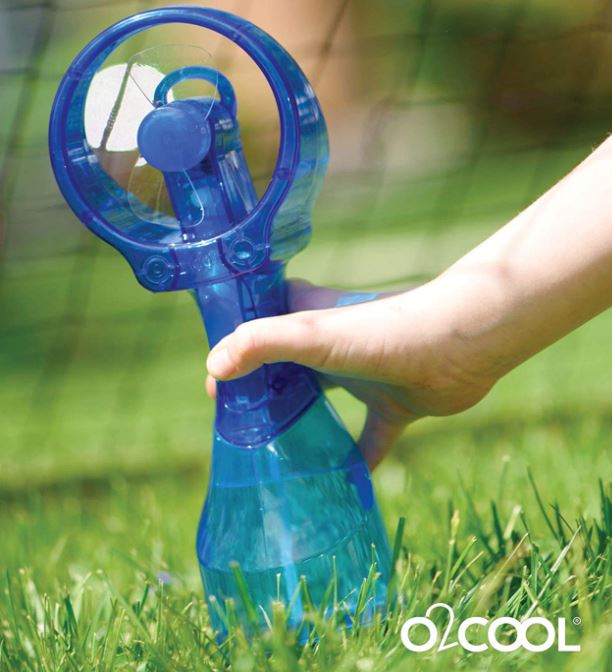 The bottle and fan unit together are 10.5 inches high, and 3.75 inches in diameter at the widest point. The housing is all the same color, and is constructed from opaque plastic. The one exception is the battery housing on the bottom, which uses a solid color instead. It comes in blue, light blue, grey, green, purple, and red, so it will match a variety of tastes.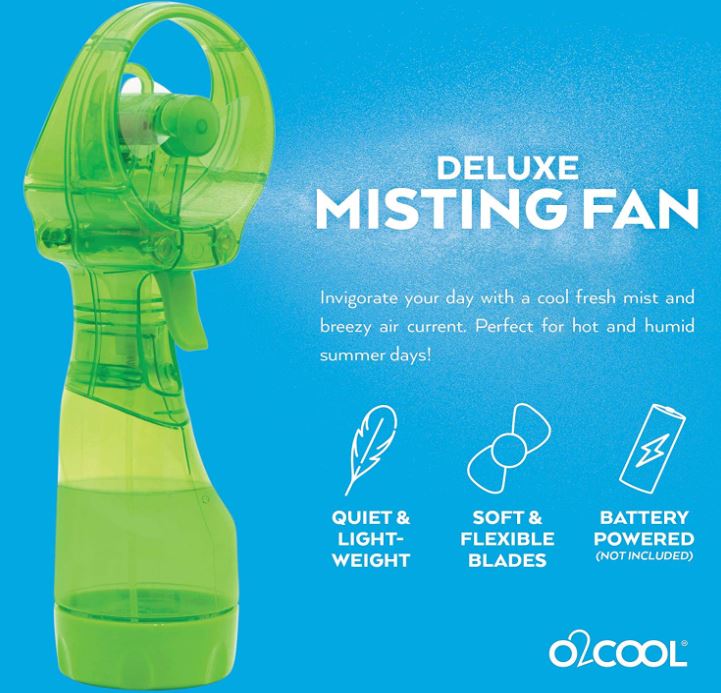 The balance is reasonably good when there's even a small amount of water in the tank. It's inherently bottom-heavy, so you don't have much to worry about. That said, when the water level is low, you'll be relying on the weight of the batteries to keep it from tipping. This works, but it's more vulnerable to getting tipped by a light bump. Another thing we should point out is that the batteries themselves are ordinary AAs, not a rechargeable pack. This can be bad, since you have to pay for replacements and dispose of the old ones. On the other hand, it can be good if you need to go for awhile without access to power.
The fan motor is reasonably powerful, but only has a single speed setting. The mist is also always on, although this is not normally a problem given the large tank. You pull the trigger, the blades spin, and the mist blows. Don't worry about the fact that the blades are exposed. They're soft and rubbery, and won't injure your fingers.
Final Verdict
Each of these portable handheld misting fans has its own benefits and drawbacks. We kicked off our review by looking at the HandFan Portable Handheld Misting Fan. This collapsible fan is exceptionally portable. It's also unique in that it has a mounting clip, so you aren't limited to using it in a couple of positions. The tank strikes a good balance between size and portability. There are plenty of fan settings, and the LED lights are just plain cool. All in all, this is the most versatile fan of the bunch.
The OPOLAR Handheld Personal Water Misting Fan is the most powerful of the bunch. At its top setting, it provides a strong breeze that will keep you cool even on very hot days. On the downside, the general design is more of a mixed bag. The short, fixed handle isn't very practical, and the water tank is unnecessarily small. Still, if you value fan strength above all else, it's tough to top.
The O2COOL Deluxe Misting Fan has the largest tank capacity, and a bottom-heavy design. It's not quite as versatile as the HandFan, but it gets the job done. The AA batteries can be a selling point or a deal breaker depending on your needs. But for a simple mister with plenty of capacity, it's a great choice.