For gamers, having the right keyboard is essential. A keyboard that's awkward or unresponsive makes it harder to control your game. The better your keyboard, the less time you'll spend staring at a "Game Over" screen.
Under ideal circumstances, you'll want to use a full-sized mechanical keyboard. A mechanical keyboard gives you more responsive keys that are significantly more durable. And a full-sized keyboard ensures that you'll have all the potential controls and hotkeys. You don't have to worry about holding down a function key to access some of your commands.
But full-sized keyboards can be unwieldy. For one thing, you might not have enough space on your desk for a full-sized board. For another thing, you might spend a lot of time on the road. Full-sized keyboards can be big and heavy, especially when they're rugged gaming keyboards. This makes them less desirable for travel purposes.
Some people opt to use tenkeyless keyboards, which eliminate the number pad and many other keys. That's fine for business travelers, but it's not ideal for gamers. A lot of games, particularly classic games, use the number pad as much as the rest of the keyboard. If you don't have a number pad, you'll have a hard time playing them.
A compact 1800 layout keyboard is a good compromise. These keyboards eliminate most of the dead space on the keyboard, along with a handful of keys. Normally, these are some of the keys above the arrow keys. This gives you almost all of the keys you'd get with a full-sized board, but with a significantly smaller profile.
Today, we're going to review five of the three best compact 1800 layout keyboards available in 2022. We'll look at their physical design, and the materials used to construct them. We'll discuss the quality of the keycaps, as well as what switches are used. In addition, we'll also talk about connectivity, backlighting, and all the other relevant features. After that, we'll be able to make a fair comparison between them all. Let's begin!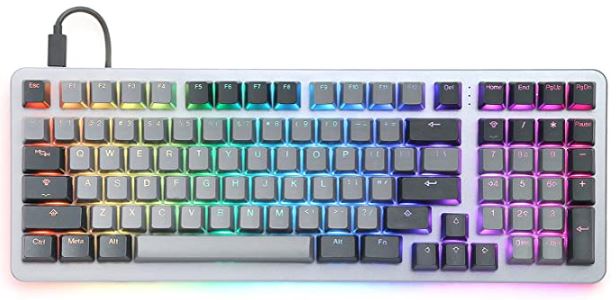 Best Overall: Drop Shift Mechanical Gaming Keyboard
The Drop Shift Mechanical Gaming Keyboard has an aluminum frame with an attractive silver finish. This makes it fairly durable compared to a similar plastic keyboard. The total size is 15.2 inches wide, 5.5 inches tall, and 1.7 inches thick. At a little over 2 pounds, it's not the heaviest keyboard on our list. But it still feels reasonably hefty when you hold it in your hand. A set of chunky rubber feet keep it from sliding around, as well as preventing scratches.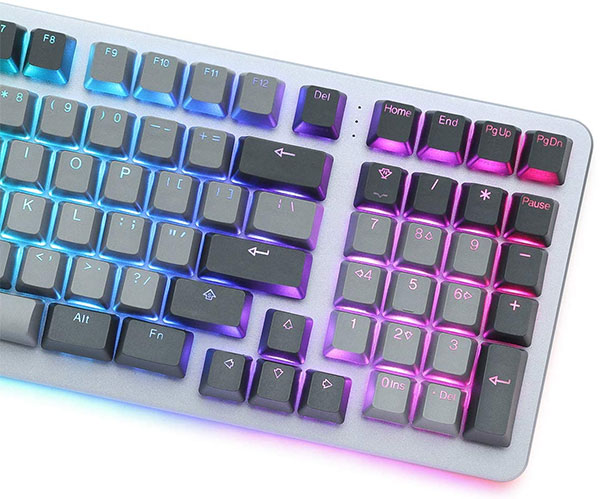 The 99-key design is well thought-out, and you only lose the Print Screen, Scroll Lock, and Pause buttons. There's also no right "Ctrl" key, but the right one is rarely used to begin with. The keys are hot-swappable, which means they require no soldering to replace. If you decide you don't like the switches, you can pull them out and plug new ones right in. This can also come in handy if one switch fails, since you only have to replace the switch.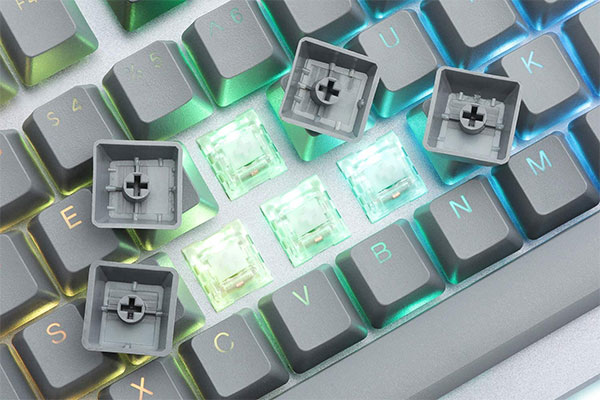 The keycaps are grey on the alphanumeric keys, and black on most of the others. They're manufactured from PBT plastic, which is a significant improvement from traditional ABS keycaps. PBT caps have a slightly softer feel, and they don't collect finger grease as easily. They're also more durable, and won't wear down and get shiny when they get old. Customizable RGB backlighting shines through from behind. This can give you the perfect aesthetic to match the rest of your electronics.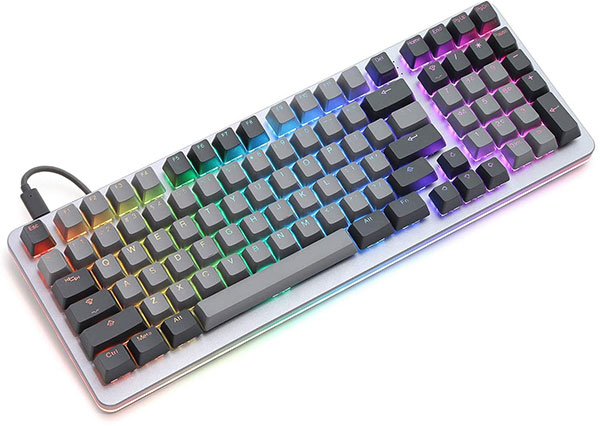 This keyboard is available with several different types of switch. The version we reviewed came with the Kaihua Speed Silver switch. This has the same form factor as Cherry MX switches, and they have a linear construction. There's a total of 3.5mm of travel, with 1.1 to 1.4mm of pre-travel, and the click is not very loud. Resistance is minimal, and you get a durability rating of 70-million clicks.

That said, there are several versions available. These include Cherry MX Blue and Brown, Kaihua Box White, and Halo Clear and True. You can also order a "stripped" version of the board, with no switches or keycaps. This isn't much use to most people. But if you're a hobbyist building a custom board, it's a great starting point, with a well-designed layout.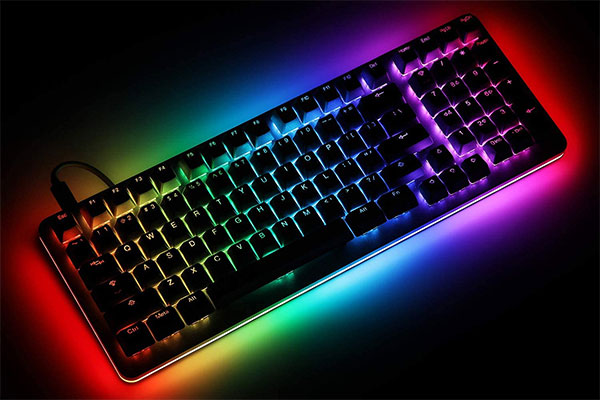 The Drop Shift keyboard connects to your computer via a removable 56-inch USB to USB Type-C cable. We appreciated the removable cable, since you can easily replace it if it gets damaged. Along with the cable and board, the kit also comes with a switch puller and a keycap puller.
Pros
Beautiful, high-end design with a burly aluminum frame.
Feels high-quality, chunky and durable.
Keycaps made from PBT plastic rather than ABS.
Available with several types of switches.
Cons
Relatively expensive.
Some users complain about the stabilizers.

Best Runner-Up: Keychron K4
The Keychron K4's housing is constructed from durable black aluminum. It's the lightest of all of today's options, at only 1.62 pounds in weight. It's also fairly compact, at 14.8 inches wide, 5 inches tall, and 1.5 inches thick. On the bottom, you'll find a pair of little feet which can be flipped into two positions, for two typing angles.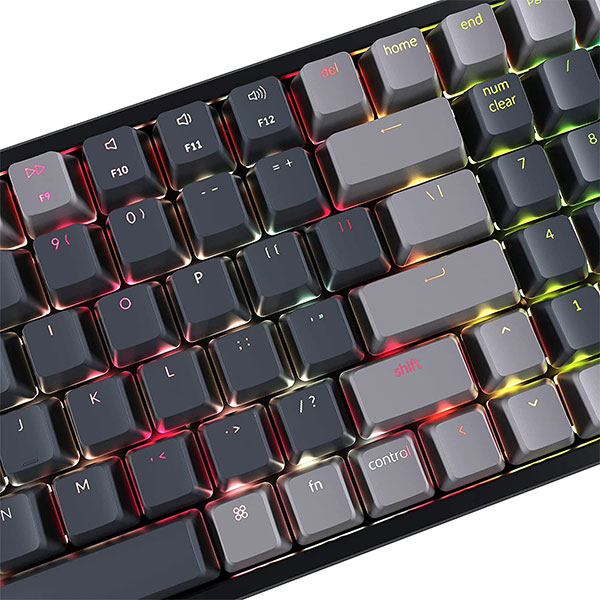 The K4 has a 100-key layout, and preserves most of your standard keyboard keys. The only keys you lose are Print Screen, Scroll Lock, Pause, and Insert, which are rarely used in gaming. The OS keys are marked with a Mac symbol, not for Windows. But like all of these five keyboards, it can be used with either type of system, without any trouble.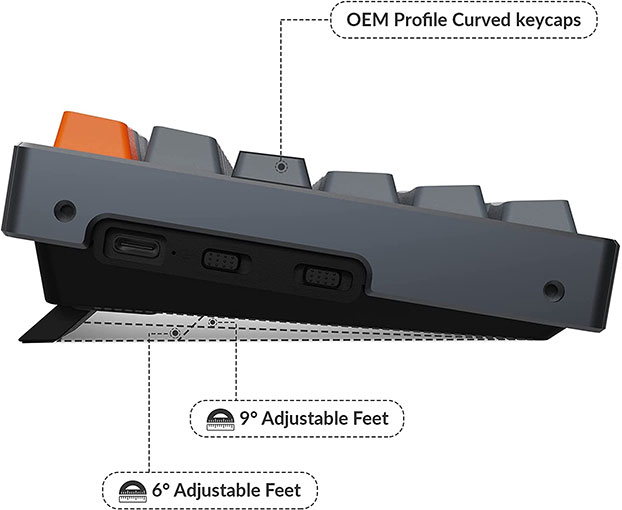 There are six different versions of this keyboard. All of them sport grey and black keys, with a bright orange Escape key for easy visibility. All of them also come with customizable RGB backlighting. As for switches, you can choose between red, blue, and brown options. We particularly loved the Gateron G Pro Brown keys. Like most brown switches, they produce a loud, satisfying click, with medium resistance. Besides excellent tactile responsiveness, you also get a 50-million keystroke durability rating. All three types of switches can be ordered either soldered or hot-swappable. The soldered switches are a little bit more secure. But the hot-swappable ones are much easier to replace.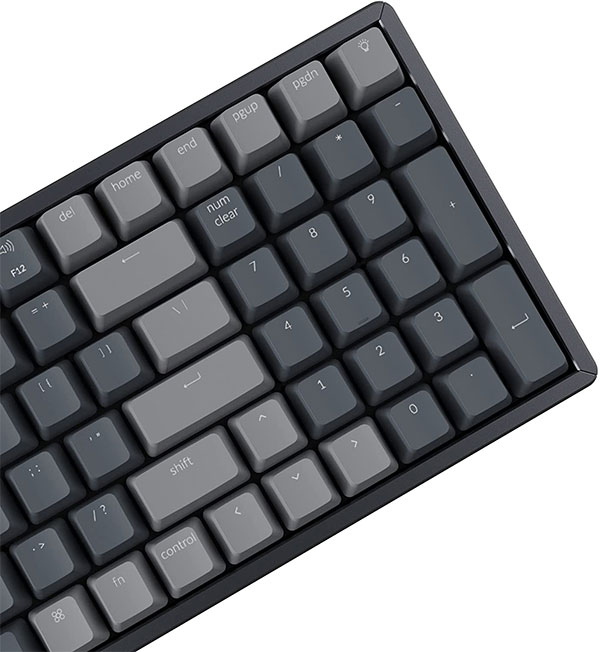 The K4 can connect via USB Type-C or Bluetooth. Using USB, you can connect to one device, and you'll have a constant source of power. Using Bluetooth, you can connect to up to three devices simultaneously. Then, you can use a keyboard shortcut to swap seamlessly between those devices. The 4,000mAh battery has enough power to run for up to 10 days with the backlight turned off. That's more than enough for most people's needs, and USB Type-C charging is easy.
Pros
Incredibly lightweight, aluminum-framed design.
Available in 6 different versions with a variety of switches.
Supports a wired or wireless connection.
Built-in battery has enough capacity to last over a week (if used wirelessly).
Adjustable feet for finding the proper angle.
Cons
Underwhelming RGB features.
Some users report issues with Bluetooth connection.
Somewhat cheap feeling compared to other options.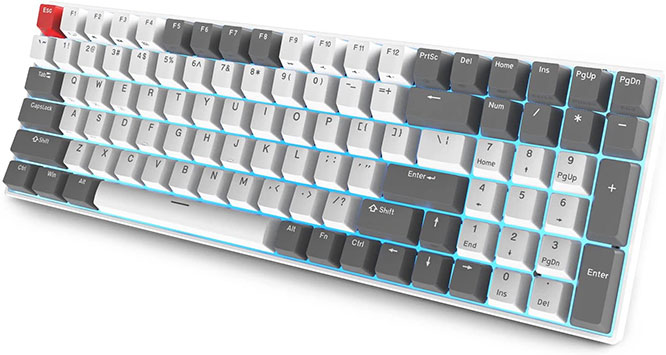 Best Budget Option: ROYAL KLUDGE RK100
The ROYAL KLUDGE RK100 has a white aluminum frame that's relatively compact. It measures 15.5 inches wide, 6.5 inches tall, and 2.3 inches thick. With a weight of 2.49 pounds, it's right in the middle of the pack today in terms of weight. It also has PBT keycaps, so you don't have to worry about finger grease or excessive wear.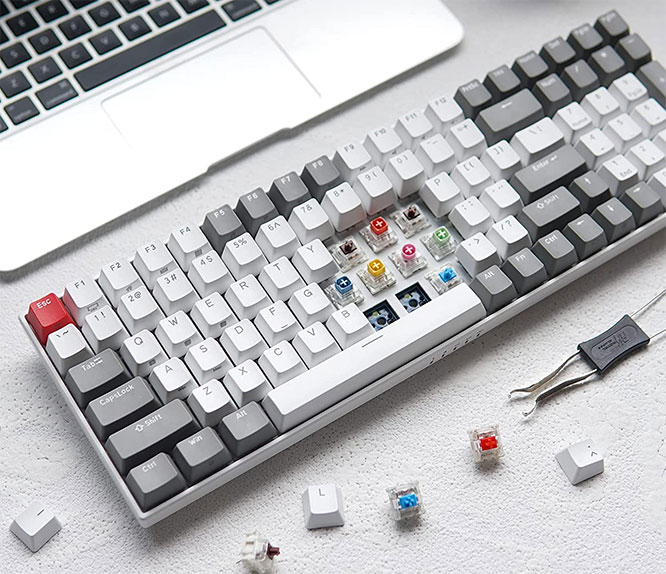 The layout has a 100-key design with most of the standard keys, including a Print Screen key. You'll appreciate that if you're trying to take screenshots and your game's launcher doesn't support them. The keys are available in two different color schemes, depending on your preference. The "Classic" has a more traditional look, with grey and white keys and an orange escape key. The "Carbon" is far more colorful, with blocks of cream, grey, and orange keys. Both color schemes come with customizable RGB backlighting.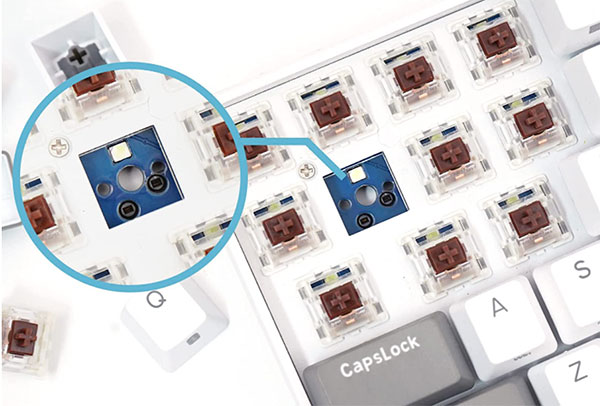 You can order the RK100 with brown, red, and blue keys. All versions are hot-swappable, so you can always change your switches later if you so desire. We specifically reviewed the blue keys, which are the heaviest of the bunch. They provide a ton of tactile feedback, with a very loud clicking sound. If you want the people in voice chat to hear your keyboard, you'll appreciate this one.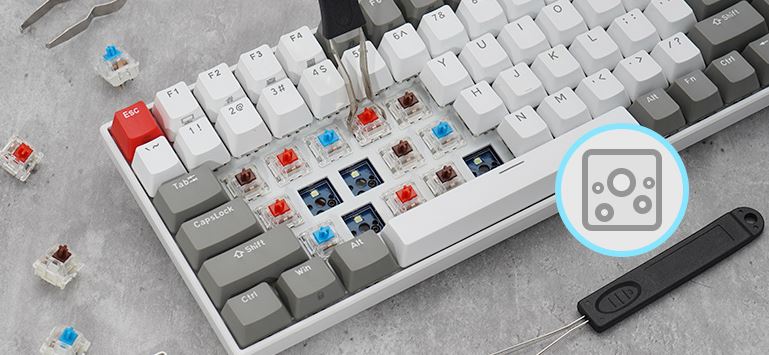 Like the Keychron K4, this keyboard can connect to up to three devices via Bluetooth 5.1. Alternatively, you can use the 2.4GHz wireless dongle. This only allows a single connection, but it's even lower-latency than Bluetooth 5.1. When you're using either wireless mode, the 3,750mAh battery will last for several days. You'll get shorter battery life if you're leaving your RGB backlights on.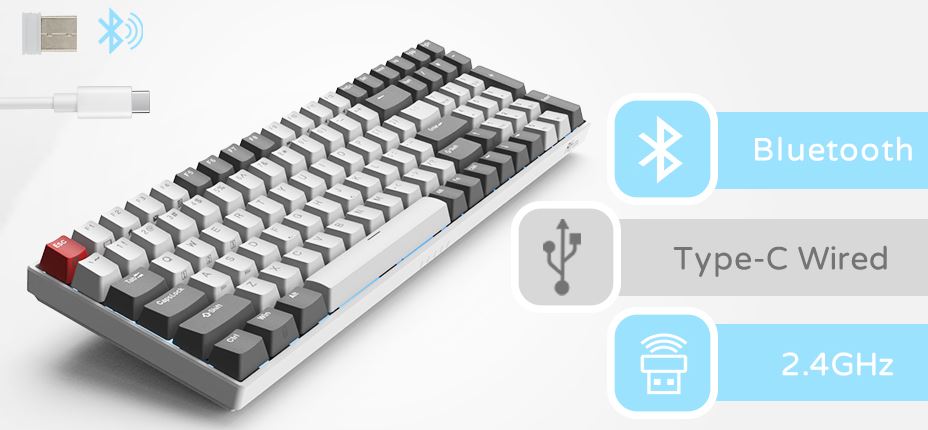 A third alternative is to connect directly via USB Type-C. This gives you unlimited playing time, whether or not your backlights are active. It also lets you plug in other devices, via the pair of USB Type-A pass-through ports in the side.
Pros
Equipped with two built-in USB pass-through ports.
Connects via 2.4GHz wireless, Bluetooth or USB-wired.
Keycaps made from PBT plastic rather than ABS.
Available with brown, red or blue switches.
Cons
Some switches cannot be swapped out.
Not recommended for modding.
Software can be problematic to use.
A bit cheap feeling when compared to other, more-expensive options.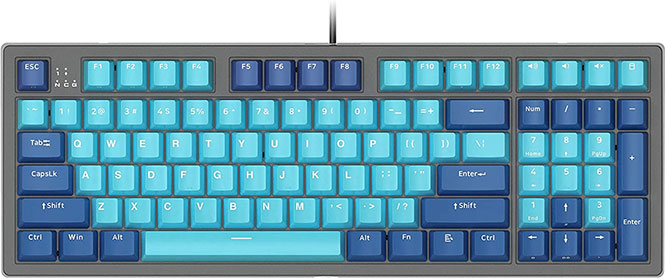 Best Alternative: AJAZZ B16 Gentiana
The AJAZZ B16 Gentiana is another mid-weight keyboard, tipping the scales at 2.42 pounds. It's also medium-sized, at 15.08 inches wide, 5.35 inches tall, and 1.57 inches thick. The frame is made from a grey and white plastic, which was somewhat disappointing. Still, it seems reasonably durable, and we didn't have concerns about its construction quality.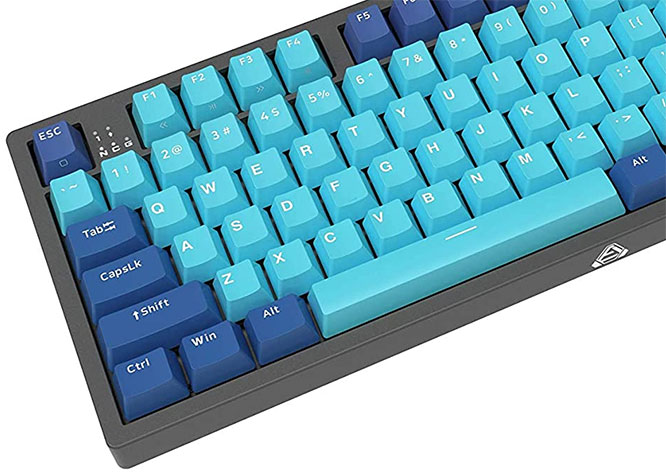 The PBT keycaps come in two possible layouts. You can order it with two-tone blue and cyan keys, or with grey and yellow keys. You can also order it with Cherry MX Blue, Red, or Brown switches, for any type of playing style. They're not hot-swappable, so take your time and choose carefully. The backlight is only white, not RGB, but it does have 21 lighting modes.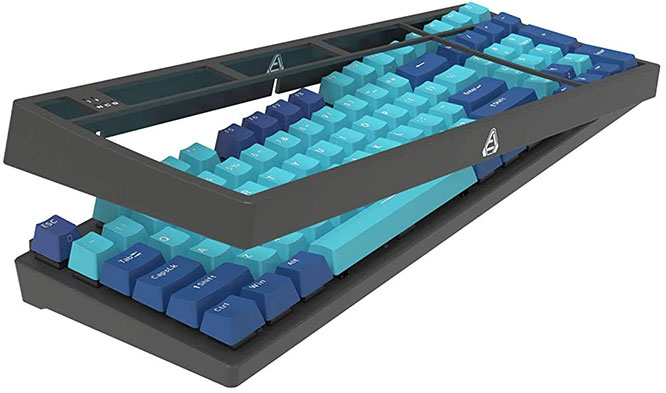 The thing that stood out most about this keyboard was its unique layout. There's an additional button next to the right Ctrl key that's used to replicate a right mouse click. This can be incredibly useful for games that require you to pop back and forth between keyboard and mouse. On the other hand, there's no Insert or Delete key. The Insert key is rarely used for anything these days. But the Delete key is used in all kinds of programs, so you may have to do a fair bit of remapping.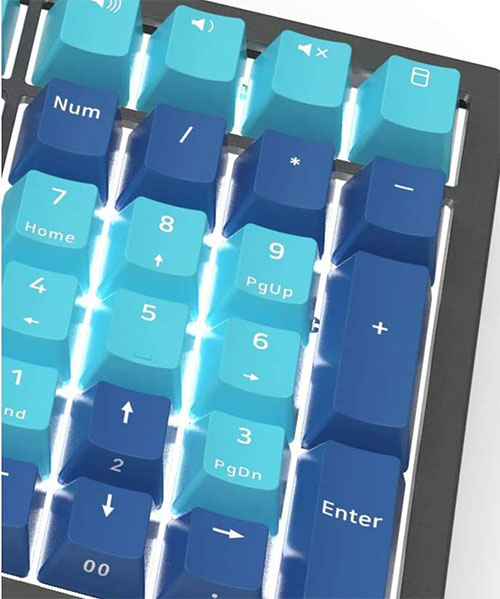 The B16 Gentiana comes with an optional magnetic suction panel. This panel goes over the front of the keyboard and is skeletonized to go over the keys. It's purely a cosmetic feature, which simply makes the keys look higher or lower. It also causes the backlight to shine through differently.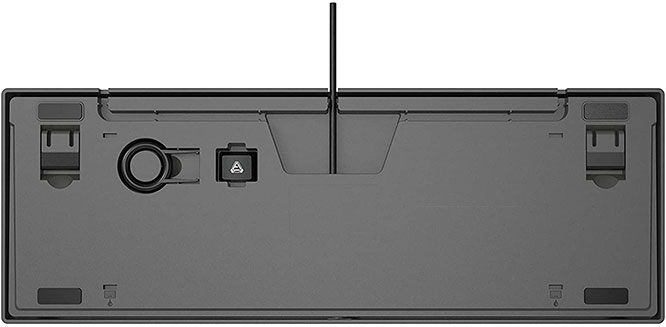 This keyboard connects to your computer with a 63-inch built-in USB cable. That's reasonably long, enough to get where you're going in most configurations. There are also a key puller and an extra keycap, which click into sockets in the bottom of the keyboard.
Pros
Very unique layout.
Keycaps made from PBT plastic rather than ABS.
Available in a wide range of bright colors.
Comes with an optional magnetic suction panel.
Cons
Frame is made from cheap-feeling plastic.
Switches are not hot-swappable.
Backlight is white-only; no RGB features.
No delete key.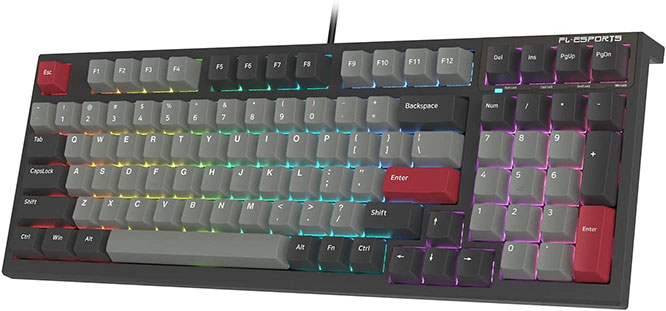 Best 2nd Alternative: FL ESPORTS FL980
The FL ESPORTS FL980 also has a plastic frame, but it's also the heaviest of the bunch, at 3.43 pounds. The frame itself is black in color, with black and grey PBT keycaps and a few red keys. An alternate variant comes with black and white keys, and coral highlights. The bottom side has a set of feet, with little rubber tips and two possible adjustment angles.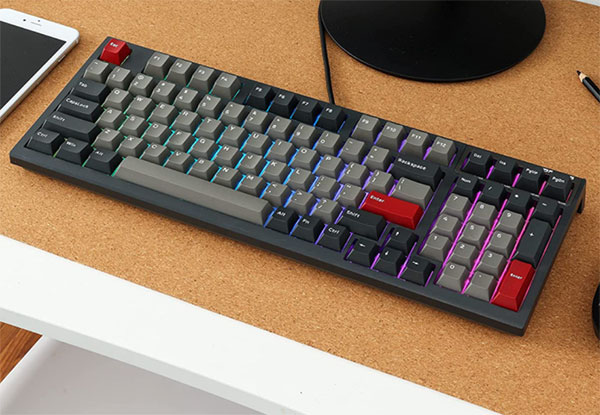 This is a 98-key board, with few buttons removed. The keycaps are doubleshot-injected for maximum durability. And the customizable RGB backlighting is very attractive. The Delete, Page Up, Page Down, and Insert keys are all easily accessible above the number pad. Only a few standard keys are not present. The Windows/Mac key is fully functional on both operating systems.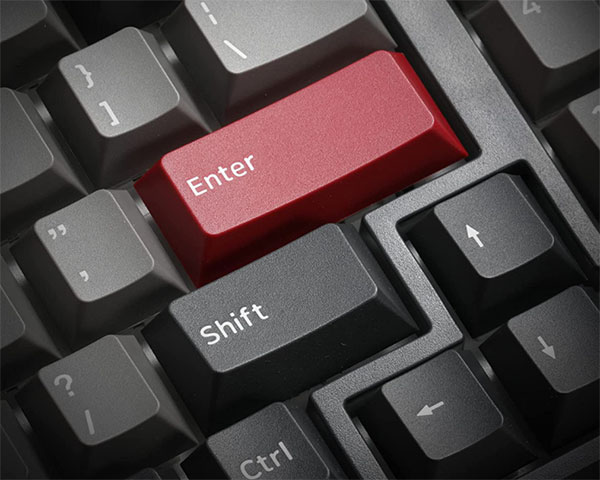 The FL980 switches are not hot-swappable, and come in one variety: Kailh Box White. The Box White switch is designed for medium weight and maximum click. It's certainly one of the most tactile switches on the market. But loud switches can sometimes cause keyboards to rattle. To compensate for this, there's a silicone pad embedded in the surface, beneath the switches. This pad absorbs rattles, echo, and other irritating sounds.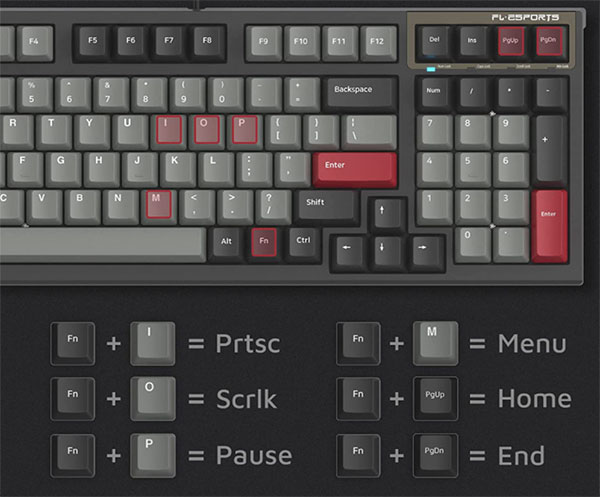 The kit includes both USB Type-A to Type-C and Type-C to Type-C cables. This allows you to connect to USB Type-C laptops that lack a traditional Type-A port.
Pros
99& hot-swappable.
Silicone pad embedded beneath the switches to reduce rattling.
Keycaps made from PBT plastic rather than ABS.
10+ lighting presets built-in.
Very tactile, retro-like feeling.
Cons
Software doesn't work that well.
Switches are not hot-swappable.
No instructions included.
Which 1800-Layout Keyboard is Best?
All five of these compact 1800-layout keyboards have something to offer. But which one is the right choice for you? Let's quickly recap each one of them.
The Drop Shift Mechanical Gaming Keyboard has a durable design and a quality set of keycaps. It stands out most for its layout, which preserves more keys than most. Not only that, but the stripped version is an excellent choice for hobbyists.
The Keychron K4's most attractive feature is the ability to connect to three devices. You can switch from your game to your phone to fire off a text, without taking your hands off your keyboard. The layout is also easy to use, with hardly any keys missing.
The ROYAL KLUDGE RK100 can also connect to up to three devices simultaneously. When used in wired mode, it offers two pass-through ports, so you can connect other accessories via the keyboard. The presence of a Print Screen key is valuable for older games, which don't have native screen capture capability.
Moving on, the AJAZZ B16 Gentiana is a great choice but gamers, and only for gamers. The right mouse button shortcut key can be incredibly useful for many types of games. But the lack of a Delete key makes it unsuitable for most other applications.
Last but certainly not least, the FL ESPORTS FL980 is the biggest keyboard of the bunch, and the closest to a traditional keyboard. It's great for someone who wants full keyboard functionality in a slightly smaller design. We also liked the Kailh Box White switches, which gave incredible tactile response.