In today's smartphone-dominated age, it's easy to forget about the humble land line. But land lines still have a number of applications. For one thing, they serve as a backup system. If your smartphone battery is dead or the local cell tower is down, you can still make a phone call. And for businesses, land lines remain essential. Your customers need to have some way to reach you. Maybe you even run a call center with tens or hundreds of people making and answering calls.
That said, land lines ultimately rely on a good cable connection. If the cables have degraded or are improperly connected, your phone isn't going to work. When you're installing, diagnosing, or repairing your phone system, you need a way to test the connection. That's where a phone line tester can come in handy.
We're about to review four of the best analog telephone line testers that we could get our hands on. There's a lot to dig into, so here's a quick overview of all four of them:
Of course, that's just a broad overview. If you want to really understand how well these phone line testers work, we'll have to look a lot closer. Let's dig in, and see what we come up with!
Southwire P700 Phone Outlet Tester

Key features:
Detects good signal, reversed signal, and AC voltage.
Small fob is easy to carry.
Tests both Line 1 and Line 2.
The Southwire P700 Phone Outlet Tester is an oval fob that's constructed mostly from matte brown plastic. It measures 3 inches long, and has a smooth profile that's comfortable to hold in your hand. The front of the shell is black and semi-transparent, which allows an indicator light to shine through. At the very front is an RJ11 phone plug that can fit into a jack and test it.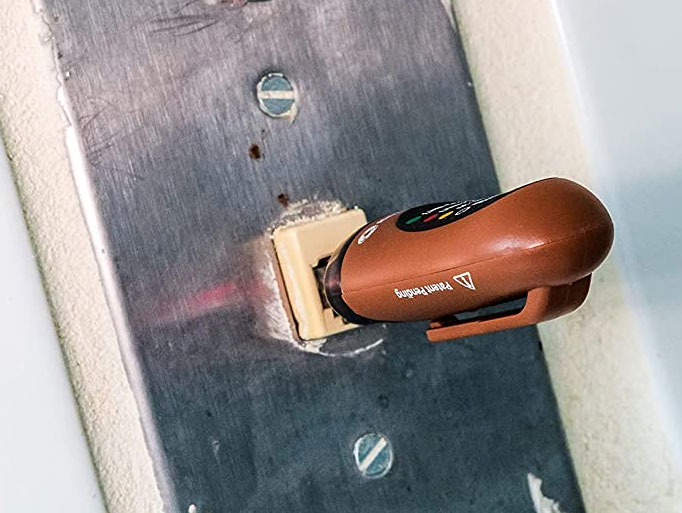 When the plug is inserted, a light will illuminate to indicate the phone line's status. If the connection is good, the light will be green. A red light indicates that the phone jack's polarity is reversed. A yellow light means that the AC voltage is incorrect. If there's no connection at all, the light simply won't illuminate. There's a black panel on the top of the housing with the colors and meanings listed. That way, you don't have to remember what the different colors mean.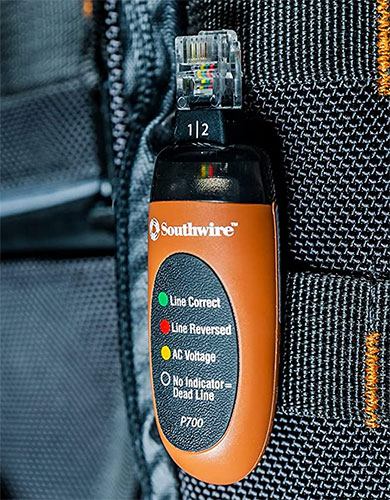 One thing we liked about this tester is that it works on phone jacks with dual phone lines. It will test both line 1 and line 2 at the same time. On the downside, it's pretty basic. If you get an error, you won't be able to see which line is causing the problem.
Southwire is an established manufacturer of cable management equipment. A while back, we reviewed their data crimp tool, which is used for crimping Ethernet cable tips. It performed very well and provided great value. So when we were looking for phone line testers, Southwire seemed like a good place to start.
Triplett Byte Brothers Basic Telephone Test Set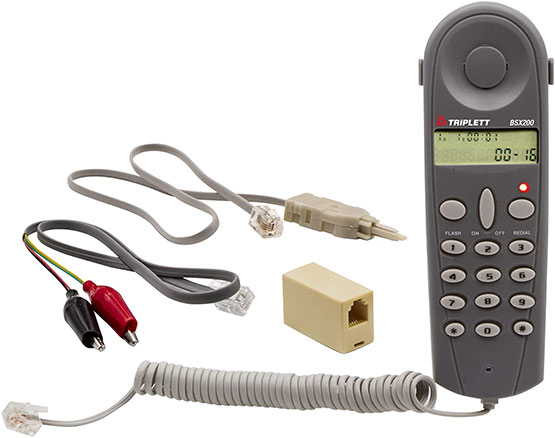 Key features:
Detects dial tone, dial out, caller ID, last number, and other functions.
Includes an alligator clip connector and a Type 66 probe tip.
Also functions as a phone handset.
The Triplett Byte Brothers Basic Telephone Test Set has a grey housing that looks like a phone handset. It's roughly rectangular, with a curved top and bottom. The bottom half consists of a keypad with grey number keys with a power button and flash and redial keys. Above is an LCD display that shows the current phone status.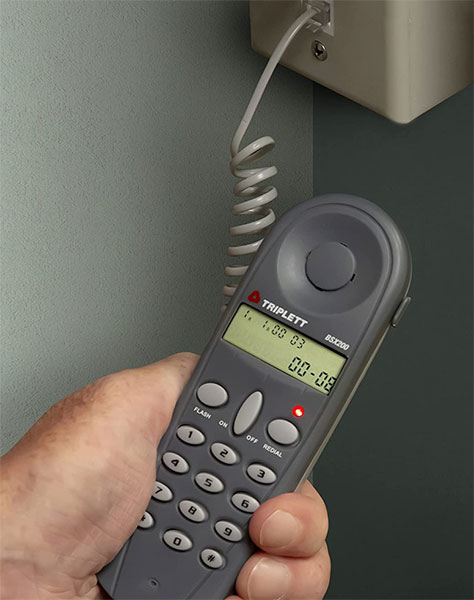 At the bottom of the tester is a spiral-coiled phone cord with an RJ11 plug on the end. Plug it into your phone jack and you'll see whether or not the jack is functioning. The kit also includes a little extension attachment with phone jacks on both sides. You can connect the tester to it, then attach the alligator clip connector or Type 66 probe tip. These attachments allow you to test bare wires, not just a jack. If you're trying to find out whether the jack or the cable is the problem, this is an essential feature.
One of the cool things about the Triplett tester is that you can use it as a phone. You can redial the last number, place a call, or receive a call. You can even use the Flash button to switch between two different conversations. Meanwhile, the LCD display is very easy to read. If you're experiencing any malfunctions, the problem will be displayed and you can take action. And with support for both FSK and DTMF, caller ID will work on any carrier.
TelPal Landline Test Phone Line Set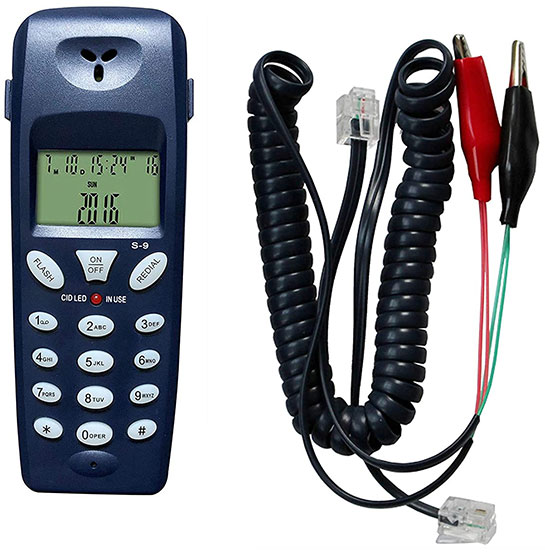 Key features:
Detects dial tone, dial out, caller ID, last number, and other functions.
Includes an alligator clip and RJ11 connector.
Doubles as a phone handset.
The TelPal Landline Test Phone Line Set is another handset-style tester. The housing is made of navy blue plastic, with a smooth, easy-to-clean finish. At the bottom is a numeric keypad with soft, translucent keys, including "#" and "*" buttons. There's also a power button at the top center, with a flash button to the left and a redial button to the right. The overall length is six inches, with a small black and white LCD display near the top.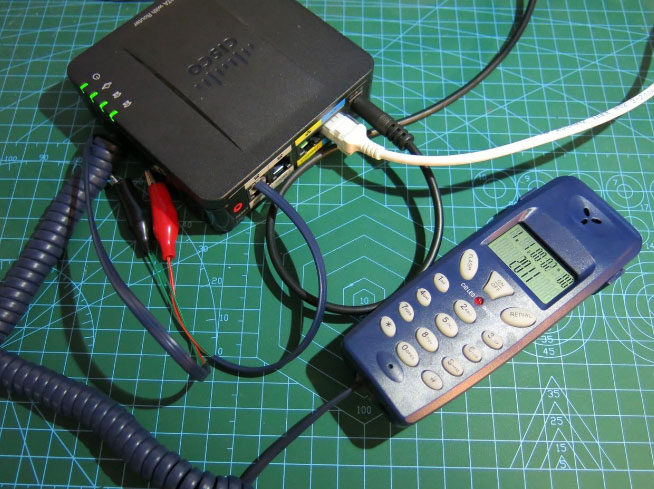 There's an RJ11 phone port on the bottom, which accepts any standard phone cable. The kit includes a pair of cables that you can use for testing. The first is a short RJ11 to RJ11 cable, with a standard spiral coil design. The second is a set of alligator tips on a straight cable, used for testing bare wires. All you have to do is plug it in or clamp on the clips and see if any errors show up.
As with the Triplett tester, this one also functions as a full-featured handset. The flash and redial functions both work properly, and there's an "in use" indicator light on the keypad. When making or receiving a call, the caller ID will display the name of the other party. It supports both FSK and DTMF technology, so this will work on any phone carrier. When it's plugged in but not in use, you'll instead see the current time and date.
Fluke Networks TS19 Telephone Test Set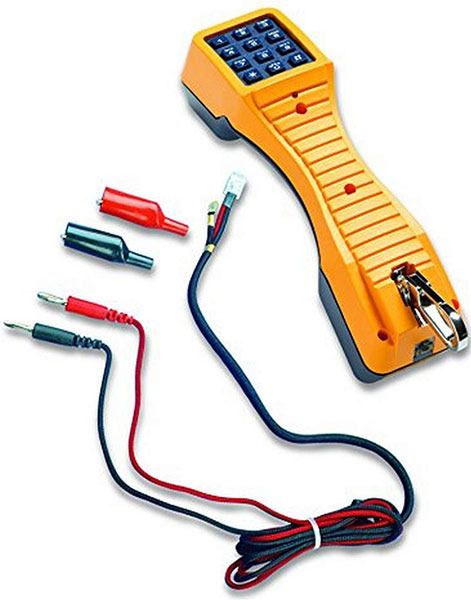 Key features:
Detects dial tone, dial out, caller ID, last number, and other functions.
Includes 2 sets of terminal connectors.
Tough, drop-resistant design.
The Fluke TS19 Telephone Test Set has a long, curved body that's constructed from orange plastic. It's 14 inches long with a blocky front and back end, with a tapered grip in the middle.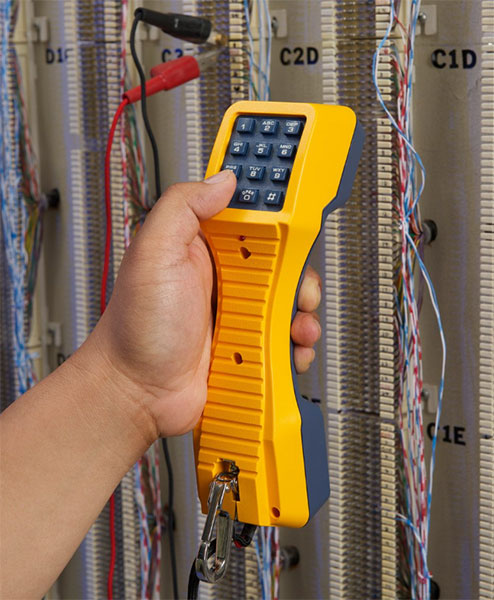 The handle has grooves in it to provide a secure grip, and there's a stainless steel belt clip on the bottom. At the front is a 12-key keypad that allows you to punch in numbers. On the flip side are an earpiece and mouthpiece for testing your connection. It's also worth mentioning that the housing is drop-resistant, so it can stand up to the rigors of jobsite use.
At the bottom, adjacent to the belt clip, is an RJ11 phone port. The package includes a removable testing cable with a set of probes on the end. There's also a set of alligator clips that can attach to the probes. This makes it easy to test bare wires and switchboard connections.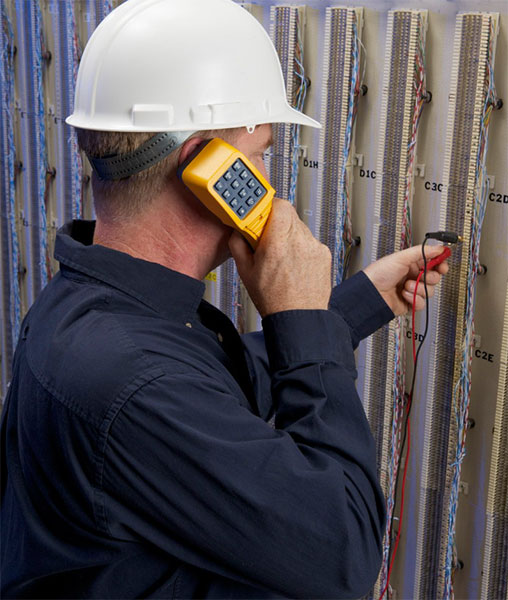 Connect the tester, and you'll be able to check polarity and verify that there's a dial tone. You can redial the last number with the push of a button. You also get DTMF operation for broad compatibility.
Fluke Networks is a well-known company that manufactures a variety of testing equipment. Not long ago, we reviewed their toner and probe kit. It's a tone generator that's made for testing network cables, and it works very well. So when we saw that they also make a phone tester, we decided to check it out.
Choosing the Best Cable Tester
Before we wrap up, let's talk about cable testers in general. What should you be looking for when you shop? Here are some things to keep in mind when you're making your selection.
Cable type and connectivity
Different cables require different types of testers. If you're not careful, it's easy to get mixed up and buy an Ethernet tester instead. These will work if you need to check a network connection, which is important for VoIP phones. However, they're completely useless for testing analog phone lines.
Along the same lines, look at what type of connectors the kit has. Do you need to plug into a phone jack and test it? Or do you want probes or alligator clips for checking bare cables? Some testers come with multiple connection options, which makes them more versatile.
Ease of use
A cable tester should be simple and straightforward. You want to identify any problems quickly and continue with your project. The last thing you want to do is spend half an hour figuring out how to operate your tester.
Portability
If you're going to use your tester on various jobsites, it should be easy to move around from place to place. A belt clip is always a nice touch, since it keeps your hands free while you're working.
Budget
We're not saying you should buy a phone tester just because it's cheap. But if you're stuck between two options, why not save a few bucks by buying the more affordable one?
Final Verdict
No matter how you cut it, these are all great phone line testers. Which one is right for you will entirely depend on what you're trying to do. Let's sum up what we've learned about each one.
We began by looking at the Southwire P700. This is the most basic tester of the bunch, but that's okay. All you have to do is plug it into your phone jack and it will provide an instant reading. It's no good for checking bare wires or other more advanced uses. But if all you need is an easy way to check a phone jack, you're looking at a solid choice.
Next, we checked out the Triplett. This is a more robust tester that can be used to check bare wires as well as phone jacks. It's modular, with an extension attachment for connecting your alligator clips or probe. Best of all, it can be used as a handset to make and receive calls. This allows you to physically hear the audio quality and verify that the phone line is working.
After that, we reviewed the TelPal. This tester also functions as a phone handset and can be used for making and receiving calls. However, the design is a bit different, with a socket on the bottom instead of a pigtail cable. We liked this, since a fixed pigtail is a potential source of failure. Other than that, the features are pretty much the same, including FSK and DTMF caller ID.
Finally, we evaluated the Fluke TS19. This phone tester doesn't have a display, but it does have a tough, drop-resistant frame. It doesn't come with a standard phone cable, but it does come with a set of probes and alligator clips. This makes it easy to use on bare wires. And if you do want to use it for a phone jack, all you need is a short RJ11 patch cable.