As the world continues to expand, connectivity becomes increasingly important. Whether you live in the city or in a remote area, chances are that you're surrounded by wires.
From phone lines to network cables, we live in a society that thrives on the relaying of data using these mechanisms.
But what happens when things go wrong with these systems? How do homeowners and professionals isolate the problem so that they can fix it? That's where tone generators and probes come to the rescue.
In the world of cabling, tone generators and probes are installation and troubleshooting tools that can help identify things like a pair or conductor within a bundle.
Tone generators and probes can be used on any twisted pair wiring, single conductors, coax cable, or de-energized AC wiring.
There are a lot of options out there when it comes to the best tone generators and probes. It's hard to figure out which ones can deliver the most accurate results with the least amount of effort.
To help with your search, we've put together this list of the best tone generators and probe wire tracer kits currently on the market. You'll see options at different price points and with their own set of strengths.
How We Chose the Best Tone Generators and Probe Wire Tracers
Our team has directed their years of expertise to compile this list on the following criteria. Each of the tone generators and probe wire tracers embody most or these considerations.
Quality of Materials: Cheap components and materials hamper the effectiveness of devices such as these. The tools featured in this roundup are made of quality materials that will not interfere with the functionality of its intended purpose.
Strength, Durability and Upkeep: Whether while on the job or simply rolling around in a toolbox, devices like these take a beating. We chose products we were confident could stand up to the wear and tear of both use and transport.
Accuracy and Tools: A probe doesn't do much good if it isn't accurate. We've only included products on this list that tested for high accuracy and provided additional features to enhance that in a range of different situations.
Best Overall: Fluke IntelliTone Pro 200 Toner and Probe Kit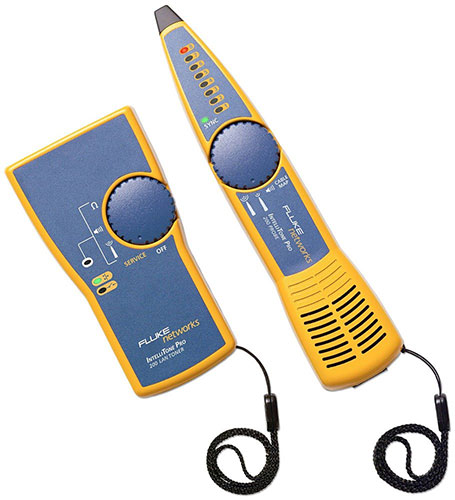 Key Features:
IntelliTone digital toning.
SmartTone analog toning.
LED signal strength indicators.
Built-in pair tester.
Our team was impressed when they took the Fluke IntelliTone Pro 200 through its paces. First up is the quality of its construction. These tools can take a lot of damage getting tossed into toolboxes or a drawer. The high quality materials of this model definitely improve the durability and longevity of the tool. The high visibility yellow is also a pleasant touch.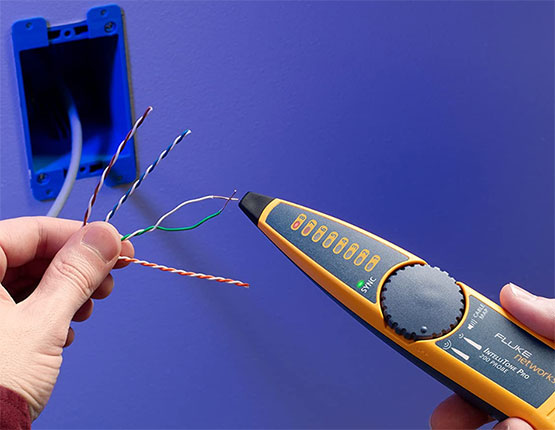 Now let's get into the nuts and bolts. We found that the IntelliTone Pro 200 does a great job at all of the basics. It provides great vision for locating cables more effectively at patch panels, switches, termination blocks and even hidden within bundles. It did this far better than other tools we tried, even finding cables that others couldn't.
A defining feature is that it is the first network cable toner and probe that offers both digital and analog signalling all in one unit. This translates to hundreds of dollars in savings. When we tested both formats, we found it performed above industry standard on both fronts.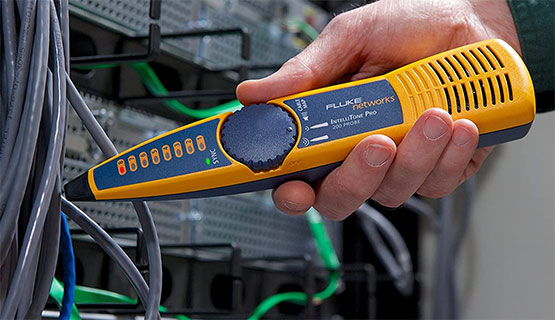 The probe has a built-in pair tester to help identify open, crossed and shorted pairs. The included LED signal strength indicator does a great job at helping you identify one cable out of a bundle of them.
Overall, the Fluke IntelliTone Pro 200 is the best overall because of its incredible combination of value, quality and accuracy.
What We Liked:
Provides both digital and analog signaling in a single unit.
Durable, high-quality materials.
Built-in pair tester.
Best at tracing Ethernet wires.
What We Didn't Like:
Instructions are not as clear as they could be.
Best Runner-Up: Fluke Pro3000 Tone Generator and Probe Kit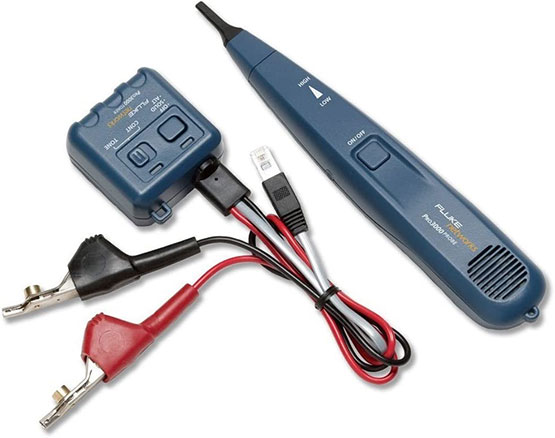 Key Features:
Tone and trace wires on non-active networks.
16 kilometer tone range.
5 distinct cadences available.
3.5 millimeter headphone jack.
Push button switches.
We had to stick with Fluke for our best runner-up. They're one of the most trusted manufacturers in the industry and implement many of the features in their top-flight products into the rest of their lower priced tools. While it does not have as much of the extra convenience features of the Intellitone, it does its job extraordinarily well.
The Pro3000 series provides clear and precise tracing across communication cabling. Its filtered probe implements a unique design that excels at combatting signal interference cause by things like power cables and lightning.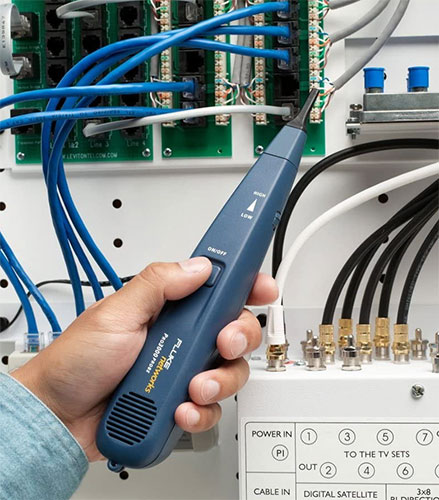 If you're working in high noise environments, this Fluke model comes with an extremely loud speaker that makes tracing cables through things like wood and drywall enclosures much easier. A tone with a 10 kilometer range, there's very little this unit can't do. Another pleasant feature is that the Pro3000 tone generator allows for direct connection to terminated RJ-type jacks with the male RJ-11 plug. The RJ-11 connectors are a great option for use with telephone jacks.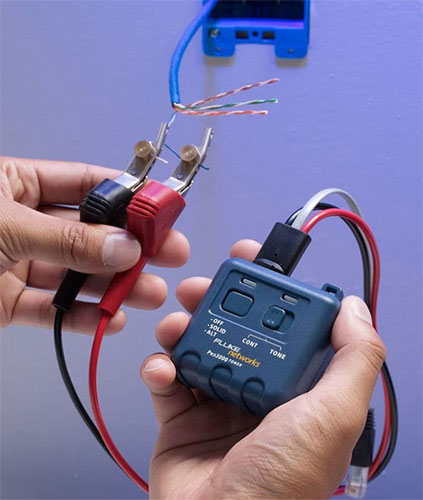 In real world use, the Pro3000 has a lot of fans. It's highly recommended by many long-time professionals in the industry as well prosumers and general DIYers.
What We Liked:
Extremely loud tone generator with a range up to 10 kilometers.
Loud speakers.
Allows for direct connection to terminated RJ-type jacks.
Extremely fast.
Competitively priced.
What We Didn't Like:
Few instructions and documentation.
Best Alternative: Klein Tools VDV500-820 Cable Tracer with Probe and Tone Kit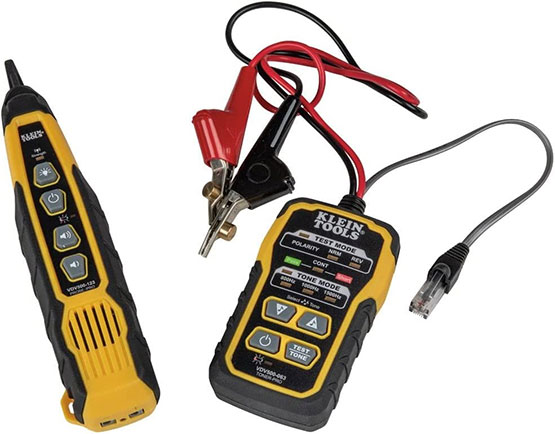 Key Features:
Professional grade analog tone generator.
Tracing probe for open-ended, non-energized wiring.
Clearly labeled LED indicators.
3.5mm headphone jack.
Probes come with replaceable conductive tips.
Klein Tools have been manufacturing professional-grade tone generators and tracing probes for several years. They gather some of the most consistent positive feedback from professionals in the field. We like that the VDV500-820 comes with 5 distinct tone cadences that can transmit 1,000 feet and beyond.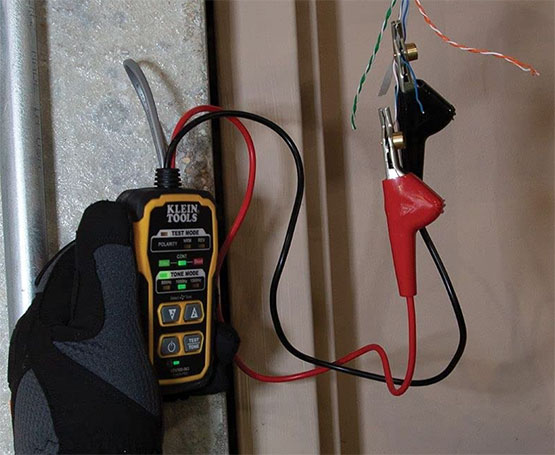 Sturdy ABN clips can attach to wires with little problem and the RJ11 plug connects to telephone and RJ45 data jacks to tone wire pair. The Toner-Pro uses brightly lit LED's that are clearly labeled to display results of continuity and polarity tests. The 3.5mm headphone jack is a great convenience especially if you need to run tests in noisy environments.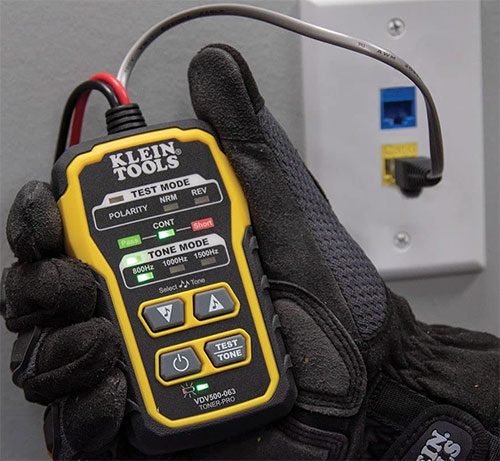 Although you have to buy them separately, the VDV500-820 comes with a high-quality probe that allows for the conductive tip to be replaced. This gives users the ability to simply replace an old or corroded tip without having to replace the entire probe. This Klein Tools tracer and probe combo score high on ease of use and purchasers attest to the value it provides at such a reasonable price point. For all these reasons, the Klein Tools Cable Tracer with Probe and Tone Kit is our choice for the best alternative.
What We Liked:
Durable angled bed of nails (ABN) clips provide solid adhesion to wires.
Clearly lit and labeled LED displays.
Comes with a 3.5mm headphone jack for loud settings.
Prove tip is replaceable.
What We Didn't Like:
Speakers are softer than some of the other products on this list.
Best 2nd Alternative: Tempo 701K-G Tone Generator and Probe Kit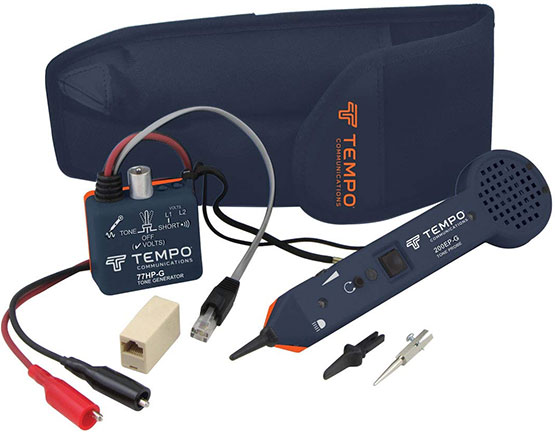 Key Features:
Probe has adjustable gain control.
LED flashlight.
Probe has signal strength indicators.
Single button operation.
Tone generator includes RJ11 plug and RJ45 adapter.
Enhanced voltage protection.
For versatility, the Tempo Communications 701K-G ranks among the best. This combo allows you to quickly diagnose problems in a range of mediums including low voltage telephones, voice, security and electrical cables.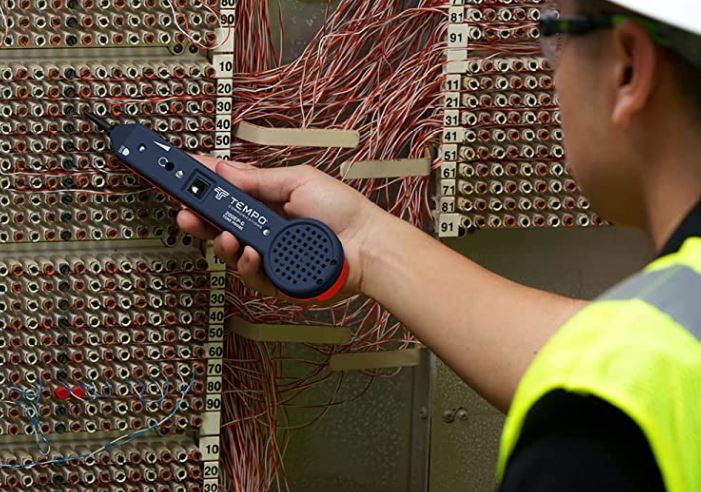 Besides handling the basics with ease, this kit comes with additional features that make the job easier. The amplifier probe includes adjustable gain control, a built-in flashlight and LED visual indicators. For those that are looking for simple in-the-field operation, the probe also features one button operation and a headphone jack in case things get loud. Upkeep is simple with replaceable tips.
For the tone generator, it features a variety of warble tones and allows for polarity continuity testing. Three color LEDs give you a clear visual reference of test results and the unit comes with two-line modular test leads, an RJ11 plug and RJ45 adapter. Regarding safety, it has enhanced voltage protection that is good up to 150 VDC.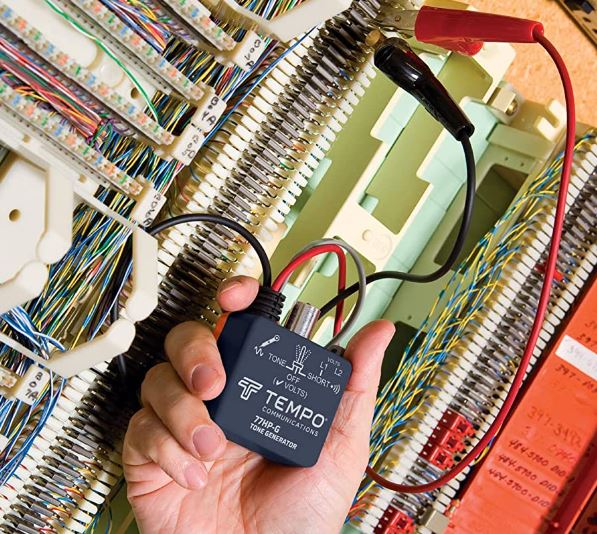 Our team was impressed by the enterprise-grade accuracy of the probe and were satisfied with the strength of the tone generator. When instruments are being used often, it's best to have as few moving parts as possible. The Tempo 701K-G offers a simple, rock solid approach to tone generation. Keep in mind that some users mention having a hard time telling some tones apart. Our tests did uncover that two tones from the generator were very similar. It's a tradeoff that is tolerable given this accessible price point.
What We Liked:
Single button probe operation.
Probe tips are replaceable.
Built in LED flashlight is great for dark environments.
Enhanced safety features.
What We Didn't Like:
Some tones can be mistaken for one another.
Best Budget: Extech TG20 Wire Tracer and Tone Generator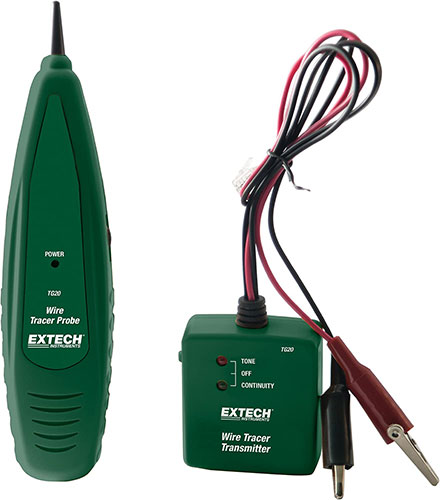 Key Features:
Adjustable sensitivity control.
Powered by a 9V battery.
Comes with alligator clips.
Our pick for the best budget tracer and tone generator kits is the Extech TG20. This combination covers all of the basics, identifying wire pairs, checking continuity and testing telephone line polarity. A prominent feature is adjustable sensitivity controls which proved to be effective at improving wire identification and eliminating false detections.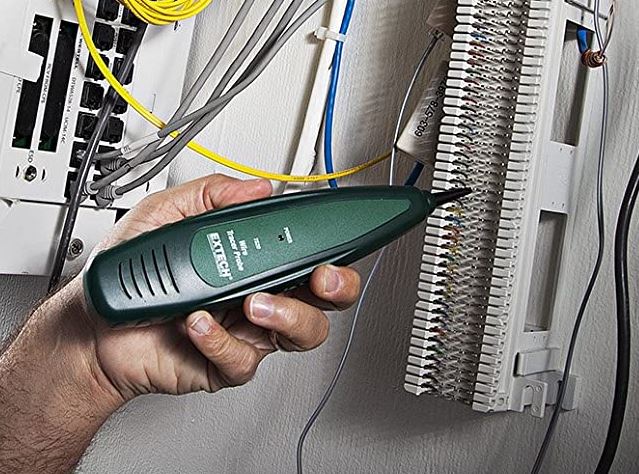 The Extech TG20 kit comes complete with a Transmitter with RJ11 connector, a pair of alligator clips, a Wire Tracer Probe and needed batteries. As far as rock solid, accurate performance at a budget price point, this TG20 is bound to impress and provide years of use.
What We Liked:
Comes with batteries.
Adjustable sensitivity controls help with reducing false detections.
Great at testing phone lines.
Tone generator is on par with many top models.
What We Didn't Like:
Lags slightly for CAT 5 and CAT 6 cables.
How to Choose The Best Tone Generator and Probe Kit For You
As you can see from this roundup, there are a wide range of options when it comes to tone generators and probe kits. Here are some things to consider when deciding on the best option for you:
Determine Your Level of Use: If you're a homeowner or a person who will only use a tool like this on rare occasions, it would not make sense to invest in something like the IntelliTone. However, it may be ideal to go with that higher tiered option if you are a professional or will use it frequently.
Consider the Complexity of Your Cabling Situation: Although you might be tempted to go with a lower priced option, if your cabling situation is on the complex side, you may be better off investing some more money to get a kit that has additional features that can rise to the occasion.
Environment: Think about where you will be using your kit. Will it be in a noisy environment? Are a lot of the cables you need to access hidden behind thick sheetrock or paneling? The more congested and loud your surroundings are, the more likely a higher end option is going to serve you better.
Hopefully, this roundup can shed some light and provide some guidance in helping you find the best tone generator and probe wire tracer kit for your specific situation.