For years now, we've been covering BLUETTI and nearly each and every one of their new releases. As a popular manufacturer of high-end portable power products, they're always at the cutting edge of technological development.
Recently, they found a way to give back to their customers. This time, in the form of free power stations, solar panels, outdoor gear and discounted coupons.
Additionally, they're introducing "BLUETTI Bucks" as a currency that can be redeemed for a wide variety of "Lifestyle" products.
Share Your Story
BLUETTI wants to know how their products have been making a difference in their customers' lives. For this reason, they're opening up the "Share Your Story" campaign. With it, BLUETTI asks its users to record and upload short videos that are focused on real-life experiences with their BLUETTI products.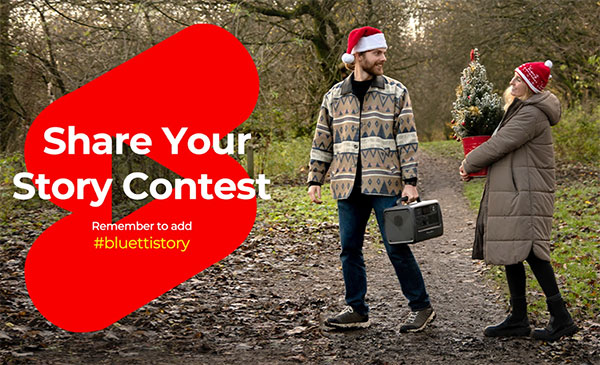 First, users must upload a short video on YouTube and add a #BLUETTI tag into the title. Once it's uploaded, the video must be submitted to the official BLUETTI website. After that, winners will be announced via email where several lucky contestants will be rewarded with a wide variety of rewards.
As long as the short videos are directly related to BLUETTI power backup, users are able to apply. Regardless of if you're using one of their products on a camping trip, expedition or just around the house, you're eligible.
Just keep in mind that the video must be uploaded to YouTube with #BLUETTI in the title and then submitted via their website. With it, there's a multitude of prizes to be had. If you're interested, be sure to head over to the Share Your Story page. Here, there's everything you need to know with all of the details, prizes and terms listed.
BLUETTI Bucks for Lifestyle Products
In the past few weeks, BLUETTI added a specific Lifestyle section to their website. This was done as a way to show their support and appreciation for their clients.
Once you sign up, you can earn "BLUETTI bucks" which are accrued by purchasing their products through either their official website and even third-party sites as well. Although they expire within 12 months from the day you earn them, they can be used to offset the price on future orders by redeeming them as gift cards or discount coupons.
Some participants may not like to redeem them in this manner. As an alternative, BLUETTI bucks can be directly used to purchase a wide range of Lifestyle products.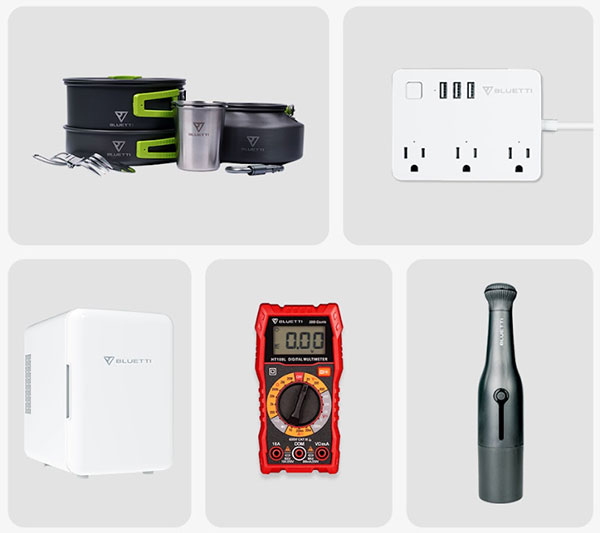 Outdoor Gear Redeemable with BLUETTI Bucks
Mini Fridge (4999 BLUETTI bucks) – This 4-liter mini fridge has enough capacity for six 12-ounce soda cans and features a removable shelf for separating contents. Chargeable via a standard AC outlet or 12V car adapter, it's a small but capable fridge that's useful for off-grid endeavors.
Tableware Set (4999 BLUETTI bucks) – Made from a strong but lightweight aluminum alloy, this is a complete set designed specifically for camping. Included is a frying pan, cooking pot, spoon, knife, fork, lock and two cups.
Handheld Vacuum (5499 BLUETTI bucks) – An extremely portable, bottle-shaped hand vacuum with powerful suction. Excellent for cleaning debris in your camper van, tent or RV, it can reach tight places with ease.
Camping Lantern (1999 BLUETTI bucks) – Ideal for outdoor use, it's fully rechargeable, waterproof and hangable with a built-in carabiner. Equipped with three brightness settings, users can swap between warm light, daylight or SOS flashing modes.
Phone Tripod (2499 BLUETTI bucks) – Made from high-quality aluminum alloy, this one-piece design phone tripod is highly adjustable. With the ability to rotate freely, it allows either horizontal or vertical orientation and can be used with iOS or Android devices. It even comes with a Bluetooth remote.
Power Strip (1999 BLUETTI bucks) – With three fully grounded outlets and three USB charging ports, it's a great choice to use with any power source. Equipped with multiple safety features, it's ideal for charging multiple devices simultaneously.
Multimeter (1999 BLUETTI bucks) – Providing safe and accurate readings, a quality multimeter is essential for anyone utilizing an off-grid power system or even for standard home use.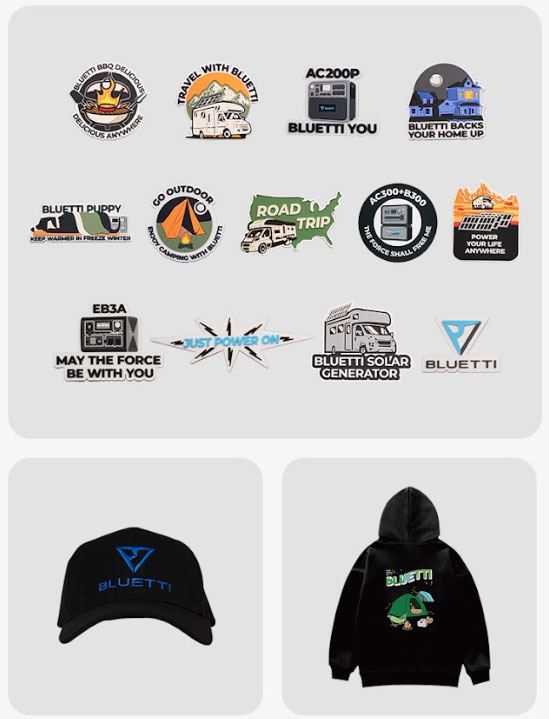 BLUETTI Brand Apparel and Other Gadgets
If any of the outdoor gear listed above isn't desirable, as an alternative, you can redeem BLUETTI bucks for apparel items and other gadgets. For example, a BLUETTI hoodie sweatshirt is 3999 bucks and a t-shirt is 1499. If clothing isn't your forte, there are stickers, key chains and other knick-knacks for 699 BLUETTI bucks.
About BLUETTI
If you've been a reader at NerdTechy for a while, you're probably already aware of BLUETTI's reputable products. For over 10 years, they've been designing and manufacturing some of the best portable power products. They've always made a good attempt at sustainability through green energy storage that doesn't rely on combustion.
In fact, BLUETTI has made a name for themselves in over 70 countries around the world. As a trusted brand by millions of customers, it's nice to see them offering bonuses in the form of redeemable BLUETTI bucks. For more information, be sure to visit their official website at https://BLUETTIpower.com.