Whether your lawn is large or small, watering is an inevitable part of life. If you have any kind of garden, watering is downright essential. The most environmentally-conscious of us might be happy to let their lawns go brown during the summer. But no matter how much you want to save water, you've got to water those vegetables. That said, for lawns and gardens alike, it's not just important to provide water. It's important to provide the right amount of water. As anyone who's ever overwatered their garden can confirm, too much of a good thing is indeed a bad thing.
A smart outdoor faucet timer is the ideal solution to this problem. First off, you get a timer that ensures your lawn or garden gets watered on a consistent schedule. Second, you get a software interface for changing your schedule on the fly. If it's been very dry out, you can increase your watering, and vice-versa. We've reviewed some similar products in the past, including WiFi irrigation sprinkler controllers. With summer just around the corner, it felt like the right time to talk about smart outdoor faucet timers.
Today, we'll be reviewing the three best options on today's market. We'll start with the LinkTap G2. This is an upgraded version of the original LinkTap, which was itself one of the most popular faucet timers. Next, we'll look at the Rainpoint Smart Watering Timer. This faucet timer can be paired with soil moisture sensors to further fine-tune your watering schedule. Finally, we'll examine the Netro Pixie. This is a solar-powered faucet timer that doesn't require batteries or a power outlet. Let's take a closer look at the features, benefits, and drawbacks of each timer. After that, we'll know enough to render our verdict.
What to Look For in a Smart Outdoor Faucet Timer
We've already explained what a smart outdoor faucet timer is, but what makes one better than another? Here are a few of the differences you should consider when choosing your timer. We should point out that international users will also need to think about size and threading. All of our selections are North American standard ¾-inch thread, which works in the US, Canada, and Mexico. If you're from outside North America, you'll either need to use an adapter, or choose a different timer.
WiFi or Radio?
One of the main differences between faucet timers is how they connect. Yes, all of them will eventually need to connect to the internet via WiFi or Ethernet. But most smart timers don't function as standalone units. Normally, you'll have a base station that connects to the internet. This base station will then act as a point of contact for one or more timers. Some base stations will use WiFi, while others will use a radio connection. WiFi has a shorter range. However, it's also more familiar to more homeowners. On the other hand, a radio connection can work over a longer range. Radio connections also consume less power than WiFi, which extends your battery life.
App Controls
The "smart" part of your smart timer will either be a smartphone app or a web interface. In fact, you'll probably spend more time in the app than you will fiddling with the physical timer. Look for features you're actually going to use! For instance, many smart timers support Alexa voice commands, but this doesn't help you if you don't use Alexa. Look primarily for features like fully customizable scheduling. We're well past the days of mechanical, pin-operated timers. If you want to run your hose for five minutes twenty times a day, you should be able to.
Reliable Power
Finally, it's important to think about how your faucet timer is powered. Replaceable batteries are the most common choice, simply because they're usually most convenient. However, some timers use a solar power system instead. This has the benefit of supplying effectively limitless power, and it's far more environmentally friendly. That said, solar-powered systems take time to recharge. If your timer is triggering multiple times per day, the battery may still run out. On a similar note, take any manufacturer battery life estimates with a grain of salt. More than anything else, your performance will depend on how much you're using your timer.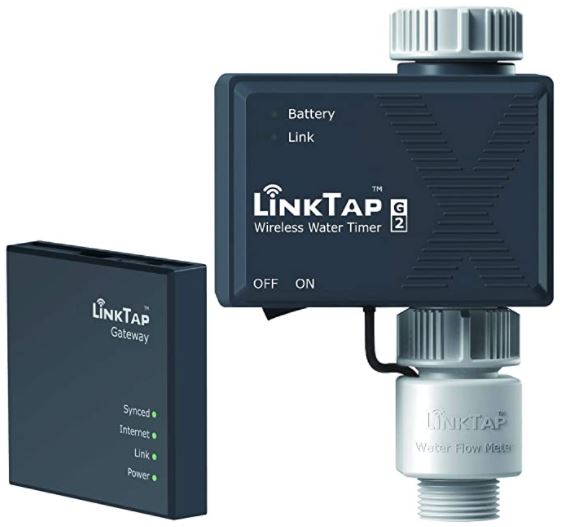 LinkTap G2
As we mentioned at the outset, the LinkTap G2 is an upgraded version of the original LinkTap. If you were a fan of the original, you'll already be familiar with the design. This is a two-part system, consisting of the timer itself along with a hub unit. The hub is compact and rectangular, with a blue-grey housing. It looks like a small internet switch, with ports for data and power on one end and lights on the front. A single G2 hub – LinkTap calls it a "gateway" – can control up to 15 timers. This makes it suitable for use on large properties as well as individual lawns.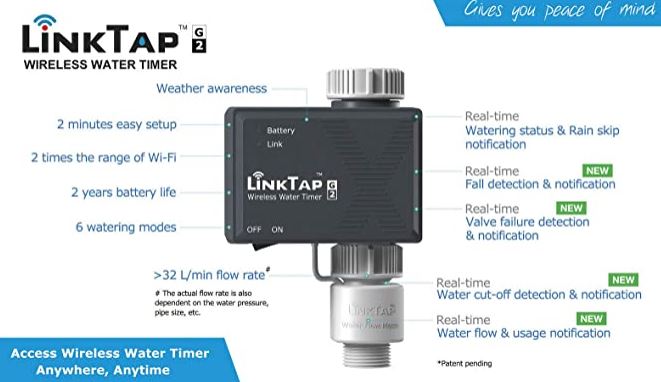 The G2 switch has a similar blue-grey appearance to the hub, with grey hose connectors at the top and bottom. On the front, a pair of lights indicate the status of the battery and the wireless connection. It takes four AA batteries, and is rated to run for 2 years on a single set. As we said, take this with a grain of salt. Your mileage may vary based on use, but the battery life is quite good regardless. In terms of timer function, you can set up to 100 on/off cycles per day. These cycles can be of any length, ranging from one minute up to 23 hours, 59 minutes. For all intents and purposes, you can create any schedule you desire.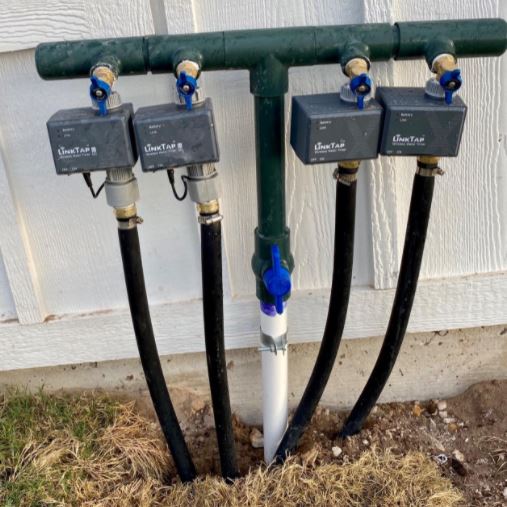 The G2 timer housing is weatherproof. While there's no official IP rating, it can stand up to rain and dust without any serious issues. It's also covered by a two-year manufacturer's warranty. If anything does go wrong, you'll receive a refund or a free replacement.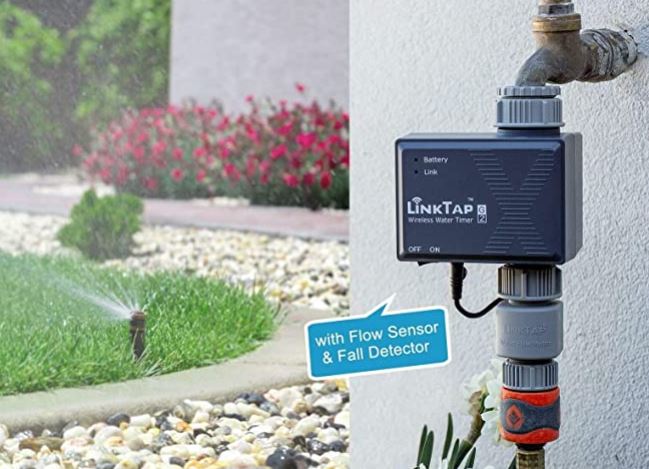 Connectivity and Performance
The G2's hub unit connects to the web via Ethernet. On the one hand, this ensures a fast, stable connection. On the other hand, it can make placement a pain, since you'll have to install it near your router. That said, the timers themselves communicate with the hub via the proprietary Zigbee radio protocol. This signal has a range of up to 200 meters (660 feet) in line of sight. Even with obstructions, you can easily connect across hundreds of feet of distance.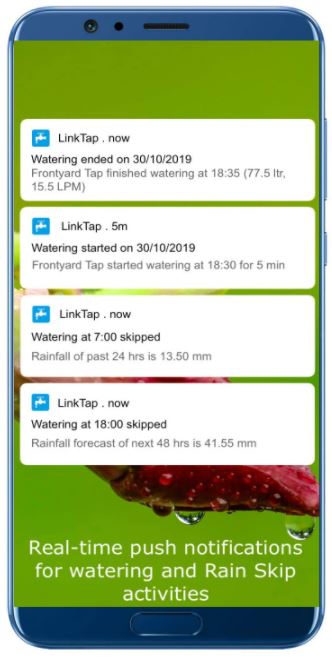 To use the LinkTap G2, you'll first need to install the app on your smartphone. Next, you'll have to scan the QR code on the timer, and follow the setup prompts. Once that's done, you can pair a timer with multiple smartphones. This is useful for families and property managers alike. If more people have access, you're not stuck managing everything yourself.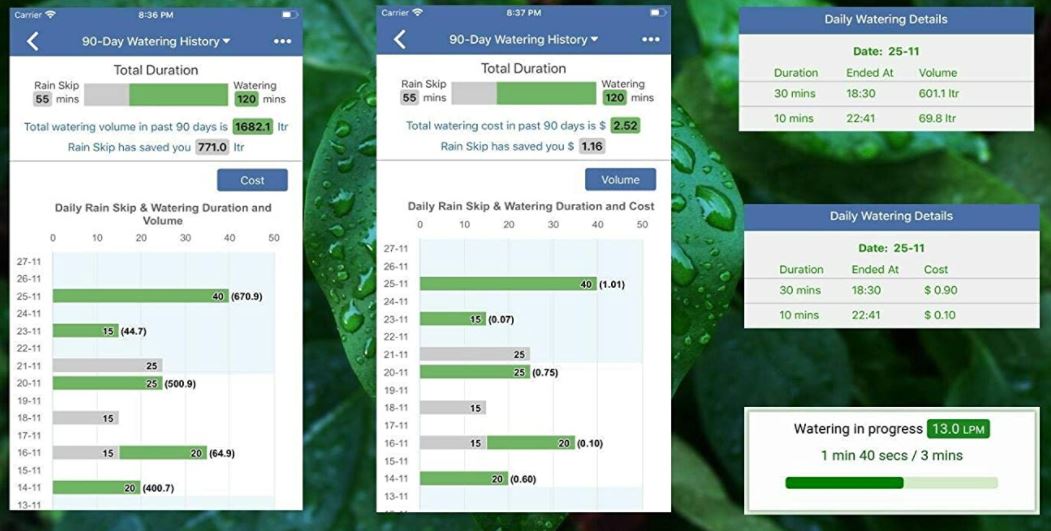 Within the app, you can set your timer, and also set your Rain Skip settings. The Rain Skip system integrates your timer with real-world weather data and adjusts to compensate. You can set a rainfall threshold, as well as a threshold for forecasted rain. If the rain exceeds this limit, normal watering will be skipped for that day. In addition, the G2 tracks your current flow rate, as well as your average use in a rolling 90-day period. This is a new feature that wasn't available with the original LinkTap. Alternatively, you can perform all of these functions hands-free with Alexa or Google Assistant.
Also new with the G2 are a number of fault detection features. If the original LinkTap failed, in most cases, you wouldn't receive an alert. This is problematic for property managers and even homeowners who travel frequently. The G2, on the other hand, has built-in sensors to detect water shut-off and valve failures. It even has a fall sensor to detect if it falls off the faucet altogether. In any of these scenarios, you'll receive a push alert on your smartphone.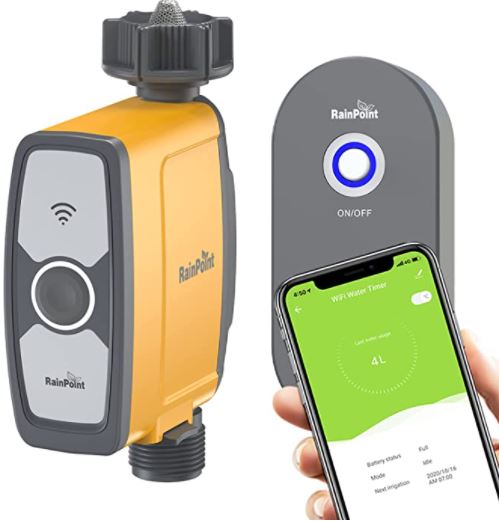 Rainpoint Smart Watering Timer
Not long ago, we reviewed – and approved of – Rainpoint's hose flow meters. The Rainpoint Smart Watering Timer is another well-engineered offering.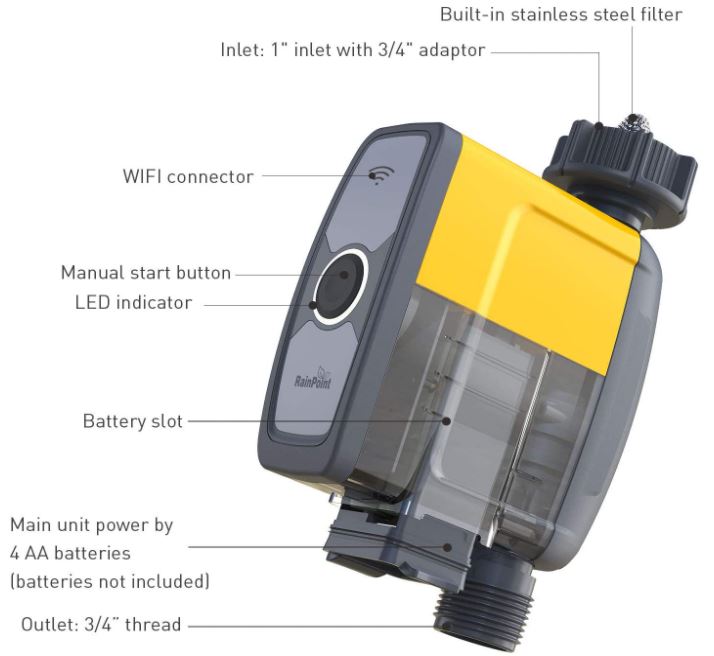 The hub unit is a bit large, and hangs from your power outlet. Thankfully, it has a power pass-through port, so blocking your bottom outlet is not a concern. The timer itself is orange and rectangular, with a UV-resistant housing and grey faceplate. While the kit comes with one hub and one timer, a single hub can support up to four timers in total.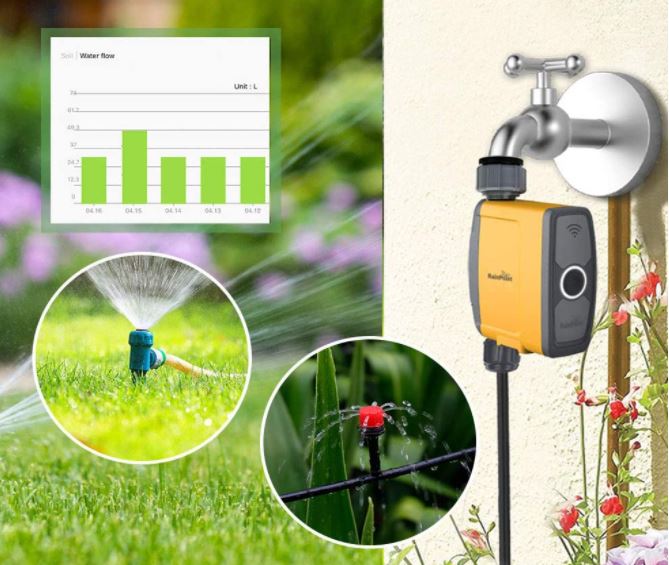 The Rainpoint timer offers relatively limited start and stop times. You can only run three cycles per day, a bizarre limitations for an electric timer. Then again, it offers both irrigation and mist modes, so it's viable for use in a greenhouse. It's powered by four AA batteries, and lasts about as long as the LinkTap.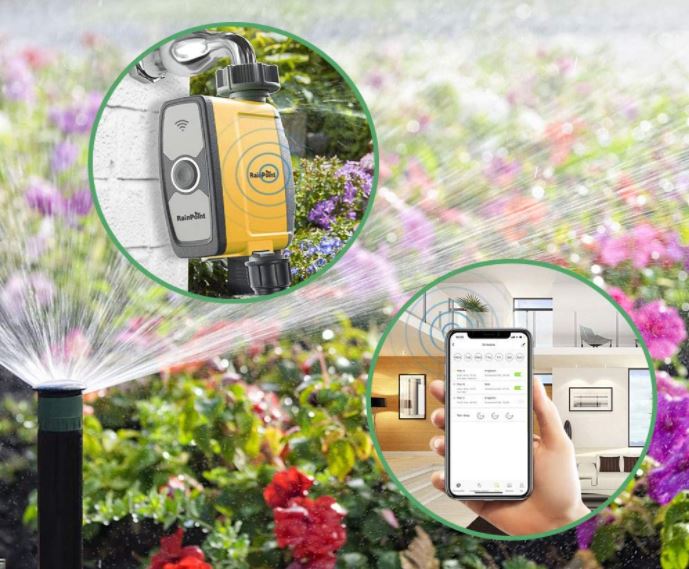 Connectivity and Performance
Both the Rainpoint hub and timers connect via the 2.4GHz WiFi band. This band has a range of about 160 feet, although it can be less if there's clutter in the way. As a result, you don't have enough range for very large properties. Control is app-based, as with the LinkTap, and you can also use Alexa or Google Assistant.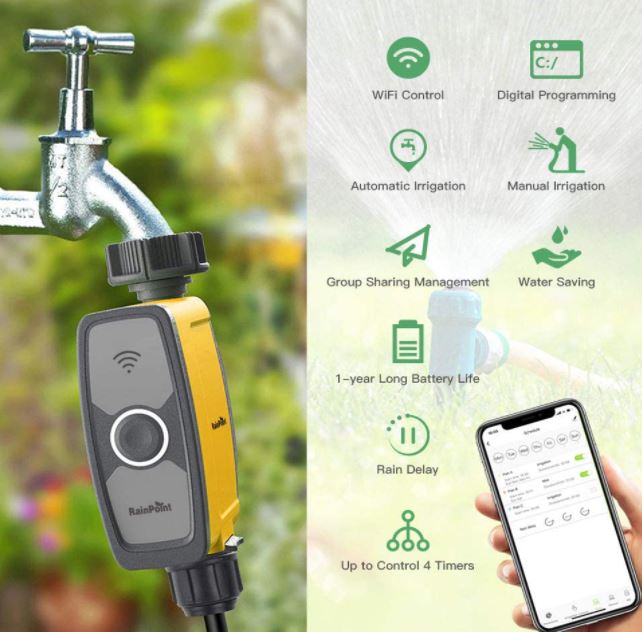 Like the LinkTap G2, the Rainpoint timer will use local weather forecasting to adjust your watering schedule. You can turn this off if needed, which is another great feature for greenhouse use. In addition, the app will also track your water usage, including your average usage over time. These are fairly vanilla features. But the Rainpoint timer can also be used with WiFi soil sensors. These are sold separately, so you'll have to pay a bit more if you want to use them. That said, soil sensors provide the best possible control over your watering system. Who needs weather monitoring when you can monitor the soil itself?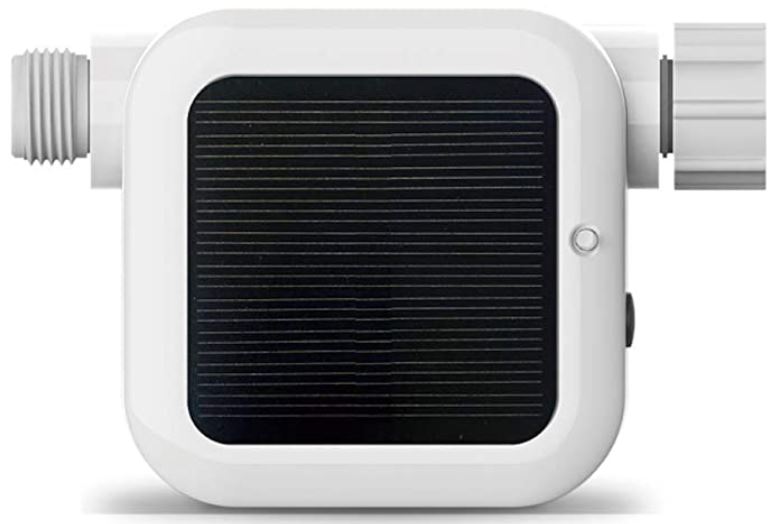 Netro Pixie
The Netro Pixie is the most unique of our three choices. Instead of a hub and a timer, it's an all-in-one unit, which saves space and installation time. It also limits the scope of your system, since you can't control multiple timers from a single hub. You'd need to control them each individually. The white outer housing has a weather-resistance rating of IP65, which is more than good enough. More impressively, the upper threading and filter basket are metal, so they're liable to last for a while.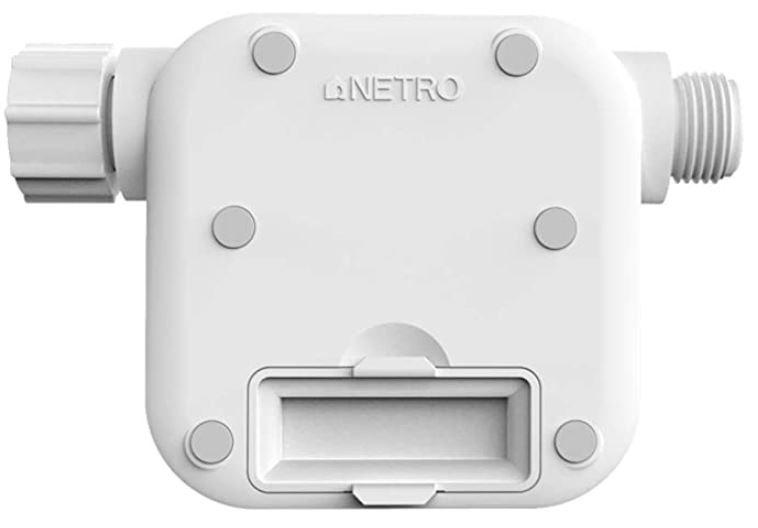 You can set as many watering cycles as you want, with custom lengths, on a daily or weekly basis. This alone is a worthwhile feature, but the Netro Pixie is also solar-powered. The front of the housing is actually an embedded solar panel, which powers the 1,400mAh battery. The battery can also be removed and charged with the included cable. So if for some reason the solar panel isn't giving you enough juice, you're not out of luck.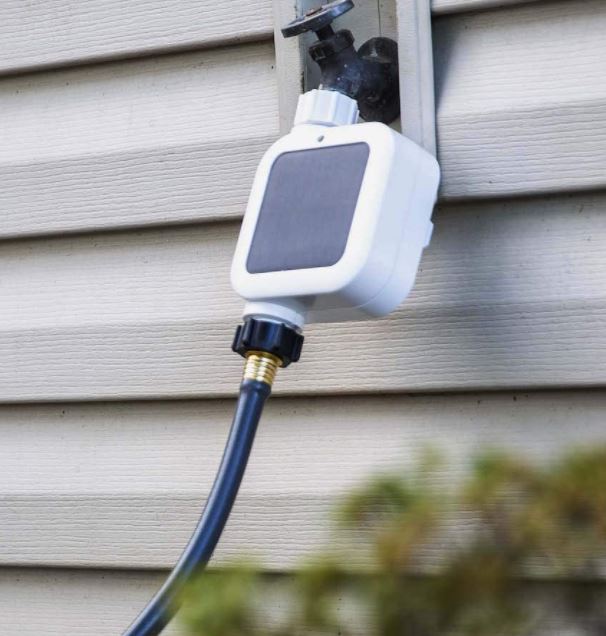 Connectivity and Performance
The Pixie connects via 2.4GHz WiFi, with the same 160-foot range as the Rainpoint timer. It's also app-controlled, with additional support for browser control on PC and Mac. It even supports Alexa, Google Assistant, and IFTTT controls.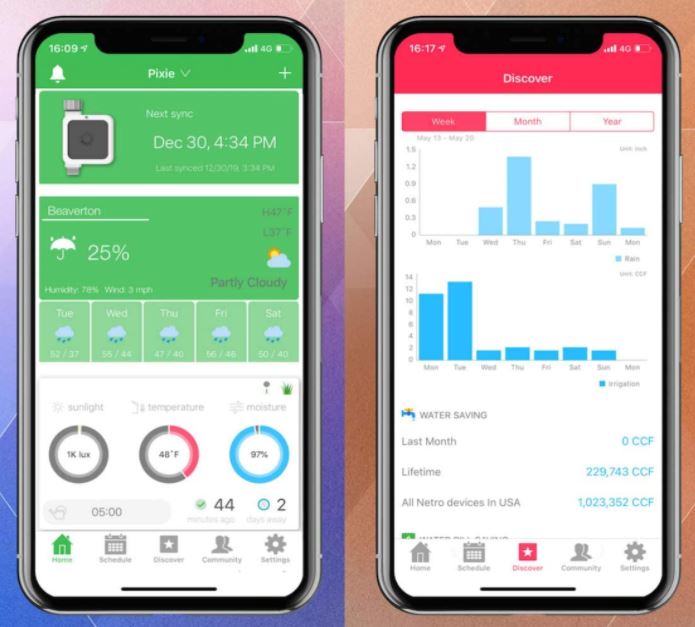 Like our previous options, the Pixie receives real-world weather updates to optimize your watering schedule. However, it gives you a couple of other ways to adjust your usage. First, you can set a manual delay of up to an hour. If you decide you want to use your lawn when it's normally watering, you can simply water later. Second, the Pixie will also receive alerts from local authorities on watering restrictions. That way, you won't have to worry about being out of compliance.
Final Verdict
So, where does this leave us? We started by looking at the LinkTap G2. This timer doesn't offer a ton of customization options. However, it does integrate with weather reporting and allow up to 100 watering cycles. It also has a long-range radio connection and fall alerts, which make it ideal for commercial applications.
The Rainpoint Smart Watering Timer has a shorter range, and fewer alert features. It also has a more limited number of watering cycles. That said, its support for misting as well as irrigation is very useful for greenhouses. Not only that, but because it's totally wireless, installation is easier.
The Netro Pixie is the most unique of our three choices. With solar power, you may never need to worry about battery life. You can also set unlimited watering cycles, create manual delays, or even create complicated IFTTT commands. If you want the most possible control over your timer, it's the best choice.