You can find about a dozen different applications for a good faucet timer. Though a lot of the time people use them for managing pools, they're just as common for automating the maintenance of gardens. Whatever the case may be, finding the right faucet timer is really about matching your unique needs with the timer most suitable to the tasks you have in mind.
Picking the Best Smart Outdoor Faucet Timers
Luckily, finding a good outdoor smart faucet timer doesn't have to be tough. If you focus on these three criteria, just about everything else should fall into place:
App Control
First and foremost, no smart faucet timer would be complete without app control. That's what makes it a smart timer, right? You might also look for smart-home integration, like voice assistant support, allowing you to use verbal commands to affect your faucet timers. You might also look for IFTTT support, for further programmability.
Connection Method
How will the faucet timer connect with other devices? If it's a Wi-Fi connection, you have to start thinking about the location of the faucets and whether they're going to be within the radius of your wireless network. A more popular alternative to traditional Wi-Fi signals are radio connections, which work alongside Wi-Fi receivers. That lets you get the best of both worlds, and keep transmission distances much higher. Radio connections also tend to use less power.
Power Capacity
Speaking of power, different timers will use different amounts of electrical energy. It largely depends on how often you end up using the timers. If you're only watering once per day, then you should be able to conserve power pretty effectively. If you've got the timer going off on some kind of semi-hourly basis, then estimates will drop.
In most cases, these timers are powered by alkaline AA batteries. You can find some cases of rechargeable batteries being used, but given nature of faucet timers, disposable batteries often make more sense.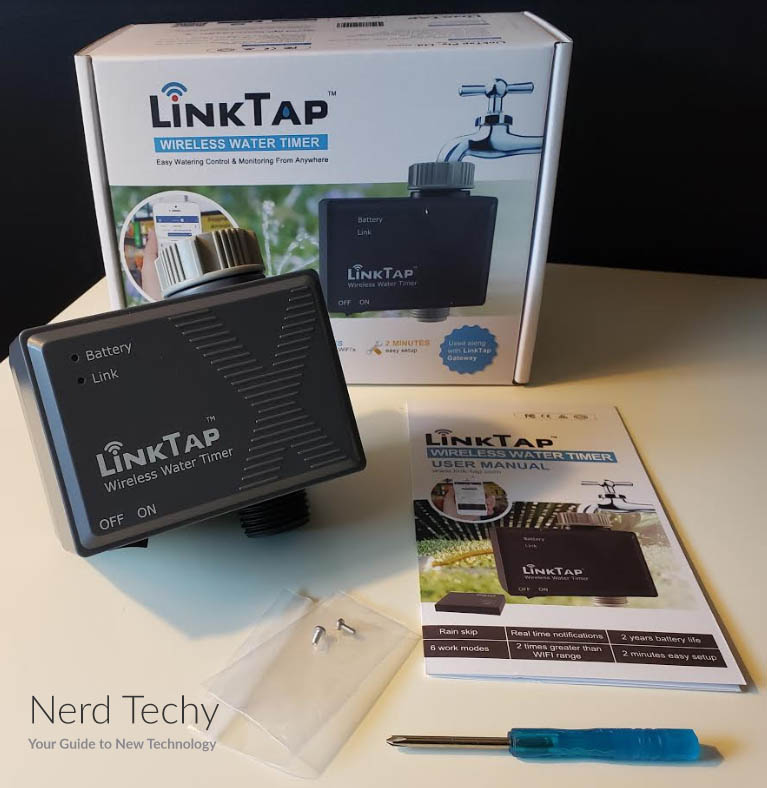 LinkTap
The LinkTap is supposed to provide a wide degree of wireless connectivity, such that you can use your faucets from any location. At least, provided that you've got access to the internet. Because using a PC, tablet, or smartphone, LinkTap's app control gives you instant control over your faucet timers.
You can actually use a variety of work modes as well. For instance, there's a calendar mode, month mode, interval mode, odd-even mode, and 7-day mode. You can program a total of 100 water cycles for each and every day. And those cycles can last anywhere between one minute and 24-hours.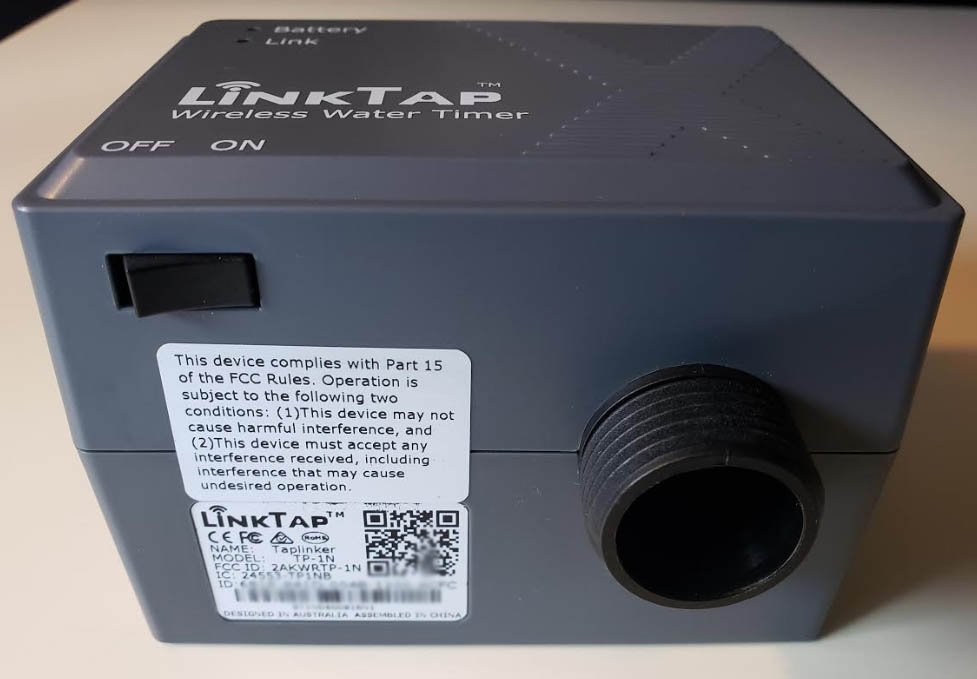 Design & Layout
The LinkTap measures 3.9 x 2.9 x 4.5 inches and weighs about 2lbs. It's a pretty sturdy outdoor design, with an IP66 waterproof protection that is expected to get battered by the elements. Installation is pretty quick and simple. It takes about two minutes to get started, though setting up the app can add a few more minutes after that.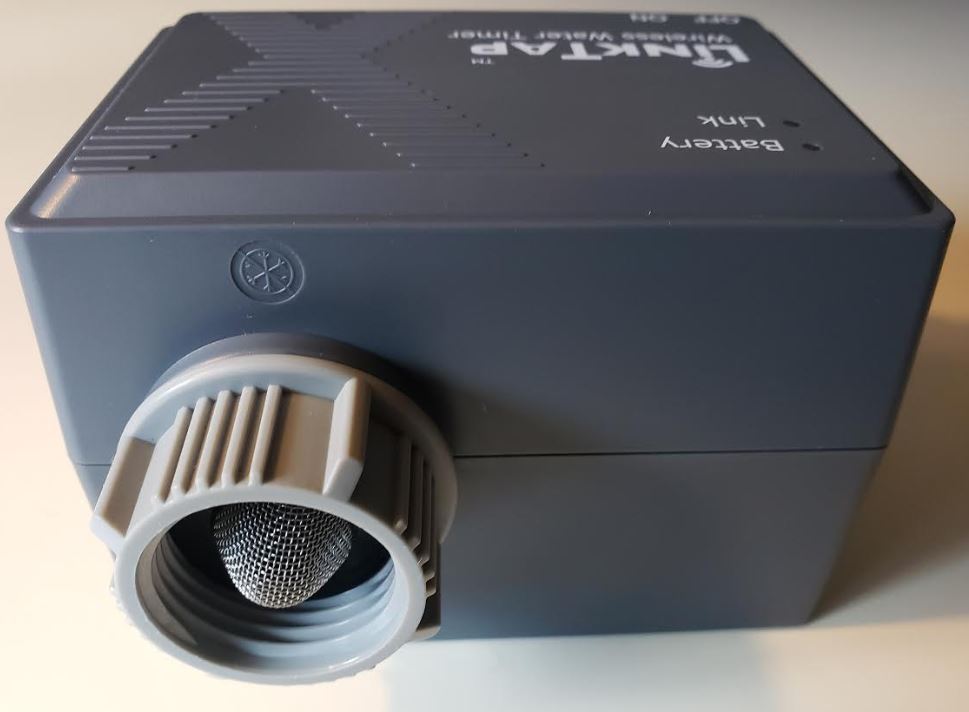 Notably, it takes four AA alkaline batteries to power this unit, after which time the battery can last for two entire years. That's actually more than twice the average lifespan of a faucet timer like this one. And that's just the beginning. Because a total of 15 LinkTap water timers can be used at the same time from one gateway device. And as many as three separate gateways can be placed on a single account. So all in all, you could manage as many as 45 timers this way.
Plus, LinkTap was designed to be eco-friendly. The Rain Skip feature allows you to conserve water skipping cycles on a rainy day. The instant mode lets you turn the water off as needed. And then there's the ECO mode, which will open and close the valve several times during the cycle. That allows the ground to soak the moisture more easily, resulting in less run-off of the water.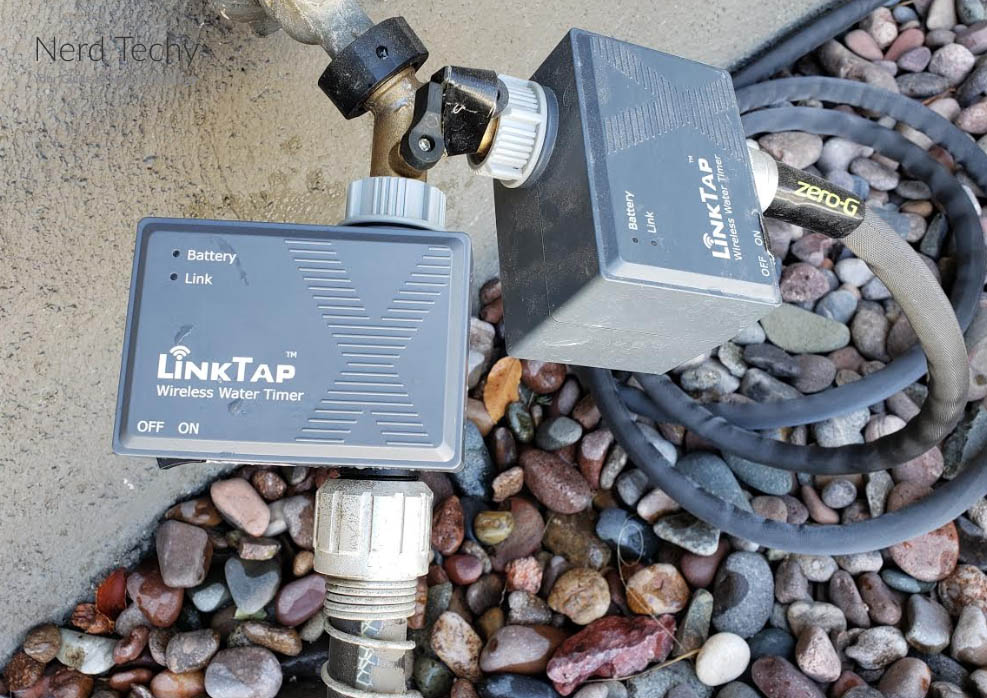 Other Considerations
Since there's so much Wi-Fi connectivity, it shouldn't be too surprising that this device also supports Alexa for voice control. The app works on both iOS and Android platforms. Inside the app, you can setup real time notifications, view events that took place while you were offline, set a rain-skip day, and so forth. While this kit doesn't include the batteries for operation, LinkTap does include a two-year warranty.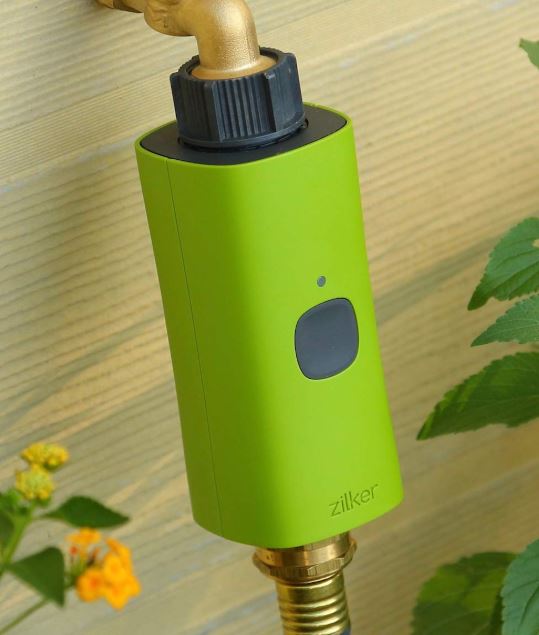 Zilker Water Hose Faucet Timer
The Zilker Water Hose Faucet Timer requires you to use an iPad or an iPhone in order to operate it. That's not a very high bar for entry, but it is a rather specific one. Because their app will only work on the iOS platform.
That might seem like an obscure requirement. But developing a high quality app is expensive. Developing an app that works on several platforms? Even more costly. So rather than creating a mediocre app for several platforms, they've made an excellent app that's only supported by one.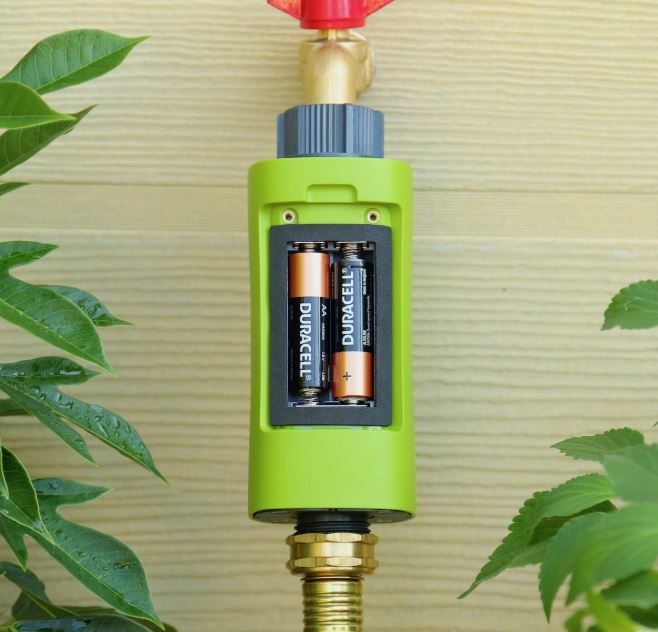 What makes it so excellent? Well, this device makes use of local weather data that tracks rainfall, soil moisture, evapotranspiration, and so forth. The general idea is to be able to determine when watering is needed, and how much. The integrated gallons and inches flow meter lets you quantify how much water that you are chewing through. And that can all be used to make for more efficient control over your faucets.
Design & Layout
The Zilker timer is pretty compact, measuring 8.7 x 8.2 x 2.6 inches, and weighing about one pound. It also has a battery based design, allowing it to run for 18 months if it's only watering about 10 minutes per day. And the two alkaline AA batteries required for this unit are supposed to last for one year on average.
Of course, those estimates can vary depending on environmental conditions. Batteries aren't going to operate well while frozen, neither do they do their best work when it gets extremely warm. But one year isn't bad for two batteries.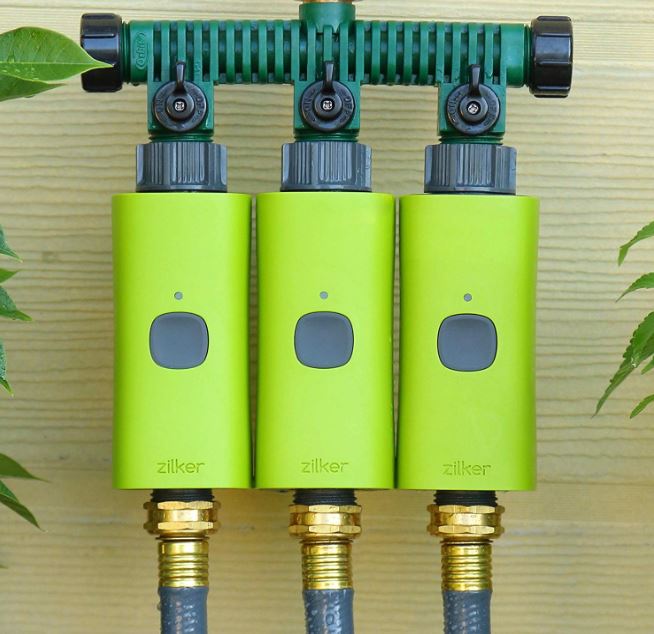 Notably, this unit makes use of a 900 MHz radio connection instead of a Wi-Fi connection. There are a couple of advantages to that. One is that it allows the unit to keep a very low degree of power consumption. Another is that it allows the unit to have more than double the connection distance of a typical wireless connection. You can reach out across 8,000 square feet or so.
Zilker monitors the weather so you don't have to.
But most of the control is actually done through an app. The app has four main functions. On the home screen, you can browse weather trends. The next tab over lets you establish separate watering zones, so you can handle those zones differently. For instance, you might want to water carrots differently than you water tomatoes. One tab over, you'll find a schedules window, that lets you preview and manage existing schedules.
Most modifications are actually done in the next tab, which is the calendar tab. From there, you can establish the various performance parameters you want to use. And the final tab is mostly just for fun. It provides you with charts, letting you know how much water you've used, how the weather has impacted your water use, and so forth.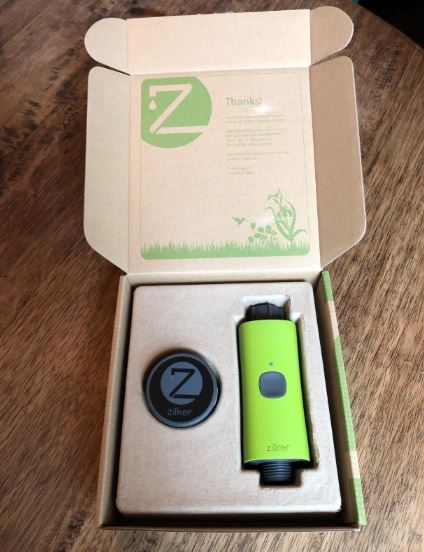 Other Considerations
Two more things are worth noting about this timer. The first one is that it includes some handy leak detection. That lets Zilker's app alert you if a leak develops. It works by having the system monitor to see if water has gone missing somewhere in the system. And if it is, Zilker will give you a heads up.
They've also got an app reminder for you to turn off faucets, and those reminders can be quite handy. But Zilker doesn't moderate water pressure. The connection will be entirely closed or entirely open at all times. That's not the eco-friendliest design you could possibly find.
On the other hand, Zilker's timer has a very simple and easy installation process. You install their app, you attach the Zilker along with whatever faucet or hose that you want to use, and you're good to go. Not having to deal with multiple-platform support actually makes this a tad easier, too.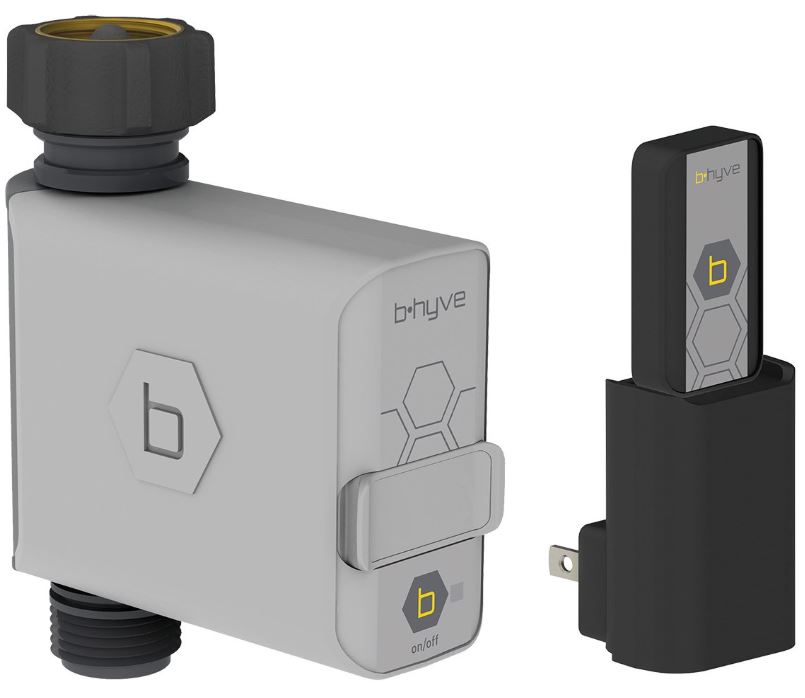 Orbit B-hyve Smart Hose Faucet Timer
The Orbit B-hyve Smart Hose Faucet Timer lets you get complete control over your watering. It's supposed to be useful for washing vehicles, gardening, plants, greenhouses, and so forth. Because the smart weathering design allows its weather detection technology to determine if watering is necessary in the first place.
That determination can accommodate considerations of the conditions of the site around you. For example, if there's shade or direct sunlight, if the soil has good drainage or poor drainage, and if the ground is sloped or level. And that allows the unit to adjust the amount of water to be perfect for your plants, and for saving water in the process. Though it does make placement a more involved process.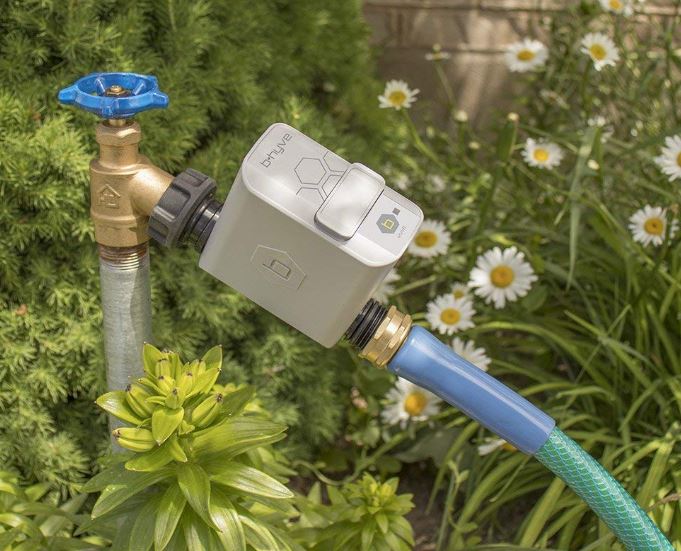 Design & Layout
The Orbit B-hyve measures 2.9 x 6.4 x 8.7 inches, and weighs half a pound. As is the case with the other timers on this list, this timer was made to last. With a waterproof and weatherproof design, along with protection against leaks, there's little room for scrutiny of the physical design.
Likewise, it's easy to install and use, as it should be. Because the setup process just involves screwing the device into place on a hose faucet, and then programming the timer from the app. For people who are trying to stay a little more hands-on with their timers, this unit also has support for Amazon Alexa, which can be initially accessed through their app.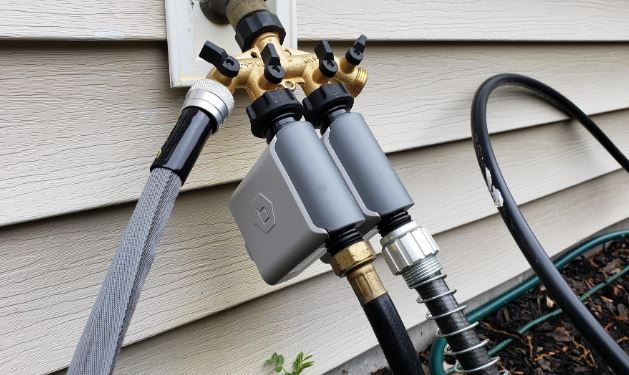 You need two AA batteries sin order to operate this device. Those batteries are not included. But once you've got them in, you can anticipate a battery lifespan that's pretty much identical to the Zilker Water Hose Faucet Timer.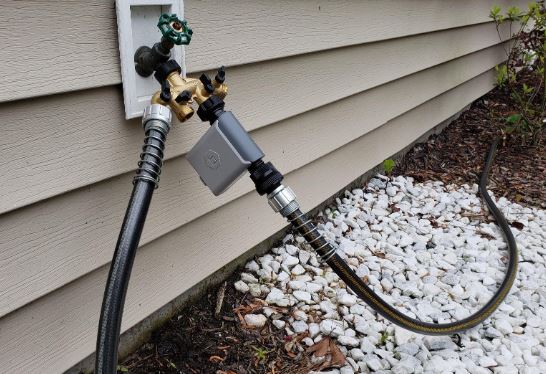 One thing that's a little unique is this system uses a built-in flow meter to let you monitor water use. And it lets you measure that use by volume or by time. When you're looking at volume, it gives you data in the form of gallons. Sadly, it's not possible to adjust that to liters or something else. But calculating gallons to liters or another metric isn't going to be that tough to do on your own, if the need comes along.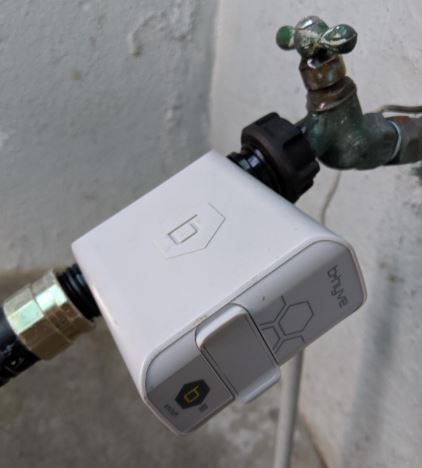 Other Considerations
Like the LinkTap, this unit is controlled with an app that has wide support on iOS and Android devices. That means as long as you've got an internet connection and some kind of mobile device, you're going to be able to change your timer settings.
Interestingly, only a single Wi-Fi hub is necessary to control several timers. So this is a system that can technically be expanded. For instance, this device also has totally seamless integration with the other members of the series. That includes their Smart Wi-Fi Sprinkler Timer. For people who are managing more than one timer, that's pretty handy.
Choosing Between the Best Smart Outdoor Faucet Timers
LinkTap is very similar to the Zilker Water Hose Faucet timer. Both are designed around an app interface, and both allow you to expand the kit to accommodate several timers working together. Plus, they both have weather integration and scheduling features. But there are some differences.
The Zilker has slightly inferior battery lifespan, and the LinkTap has a less-bulky design that's going to work well with several hoses running alongside each other. The most notable difference between them is that the Zilker is dedicated to iOS, while LinkTap's timers are not.
Where does that leave the third faucet timer? Well, the Orbit B-hyve Smart Hose Faucet Timer is going to make the most sense for someone who's got a multi-purpose setup. For instance, someone who's not simply watering plants, but may be using their timers for a dozen different purposes. It's got the widest network support of any timer on this list, making it a good choice for someone integrating more than one timer.