With our homes becoming smarter, it's high time our gardens did, too. That's where smart irrigation controllers come into play. These devices, designed with technology and sustainability in mind, ensure that your garden receives the optimal amount of water, all while conserving the precious resource. We've taken the liberty to test and review some of the best smart irrigation controllers available today to assist you in making a sound investment. Here's a quick look at what we chose:
Each of these controllers brings its own unique features and benefits for your consideration, combining innovative technology with smart environmental stewardship. Let's proceed to our detailed reviews to see what sets each controller apart.
1. ImoLaza Smart Sprinkler Controller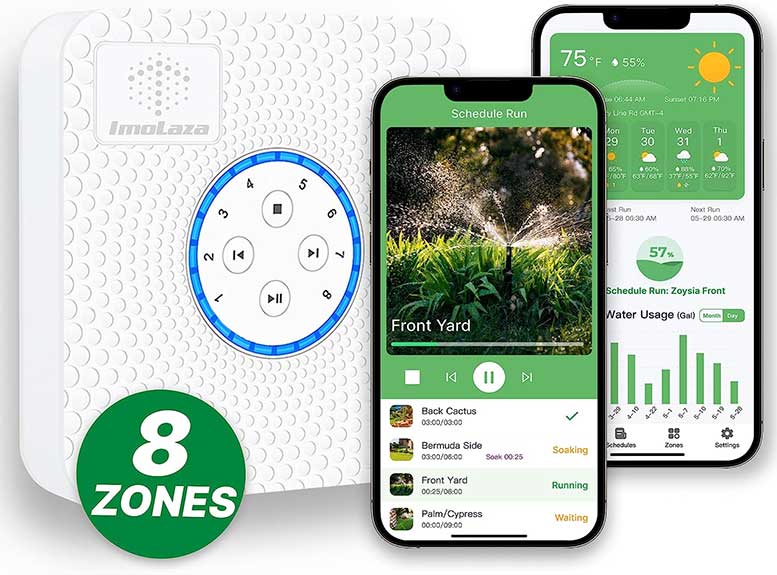 Key features:
Scientifically precise watering
Intelligent weather skip technology
Remote app control
Flexible scheduling options
Fastest and most stable connection
ImoLaza's Smart Sprinkler Controller combines technological innovation with environmental stewardship in a way that's revolutionizing lawn care. This 6.3 x 6.3 x 1.18 inches, 2.57-pound device strikes the perfect balance between efficient water usage and optimal plant health. Our hands-on testing revealed the effectiveness of this 8-zone WiFi irrigation controller in a real-world context. Built on a powerful 2.4GHz WiFi System-on-Chip (SoC), the unit boasts exceptional wall penetration, ensuring a stable and uninterrupted connection.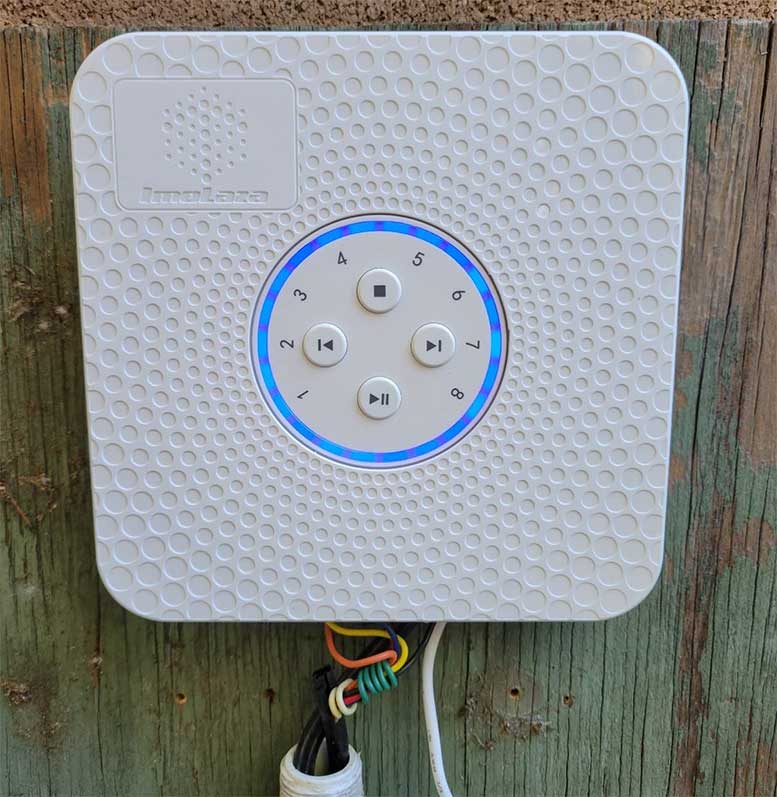 It powers ImoLaza's proprietary Intelligent Watering Decision Model, which uses real-time ET algorithms to calculate how much water plants actually need as they grow, and provides accurate scientific irrigation schedules based on rain, wind, and freeze events. Our testing demonstrated that this high-tech approach led to a significant 60% reduction in water usage compared to traditional irrigation schedules.
The app-based control allows for remote management of watering schedules and real-time monitoring from any location. The app-based control allows for remote management of watering schedules and real-time monitoring from any location, offering an unparalleled level of convenience.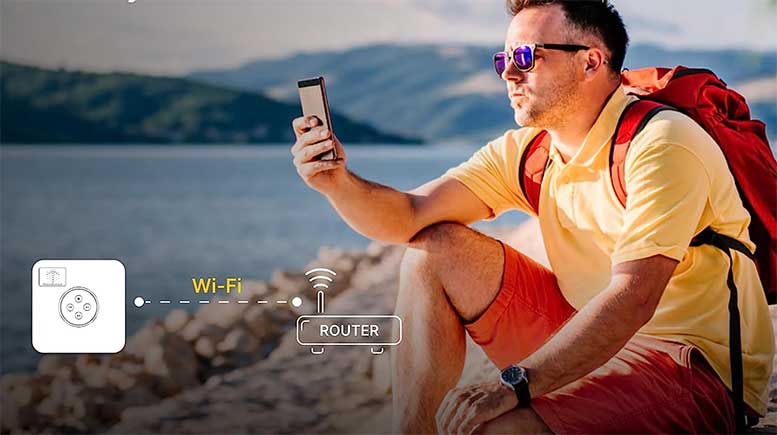 The controller's New Grass Schedule feature, allowing up to 24 start times, proved particularly useful for high-frequency watering needs. The controller uses an advanced evapotranspiration algorithm to calculate the optimal watering frequency and duration for different zones, preventing both underwatering and overwatering.
In our test, this meant that regardless of weather changes, the plants received exactly the right amount of water, promoting lush growth and vibrancy. Overall, ImoLaza's Smart Sprinkler Controller sets a new benchmark in smart irrigation, demonstrating a perfect fusion of advanced technology and sustainable practices.
Since we have been using the ImoLaza for about a month now, we've barely bothered with it. We checked the irrigation records for the past month and found that it surprisingly skipped every rainfall with total accuracy.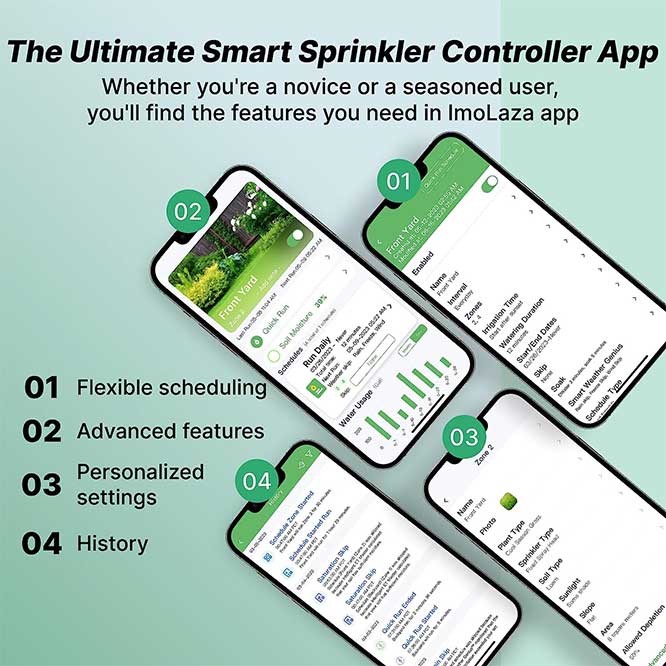 In contrast, Hunter, Rainbird, and Orbit irrigation controllers have a much-more complicated App, which can be a bit difficult to understand. ImoLaza, on the other hand, has a clean and simple interface that's very smooth to use and quick to get started without any difficulty.
ImoLaza is undoubtedly the best choice, both in terms of connection speed and stability, as well as in terms of the water-saving technology used and the accuracy of weather data.
What we liked:
Remarkable water-saving efficiency
Strong WiFi connection
User-friendly app interface
Fast and easy setup
What we didn't like:
No physical control panel
Requires modern smartphone for the best experience.
2. Rachio 3 Smart Bundle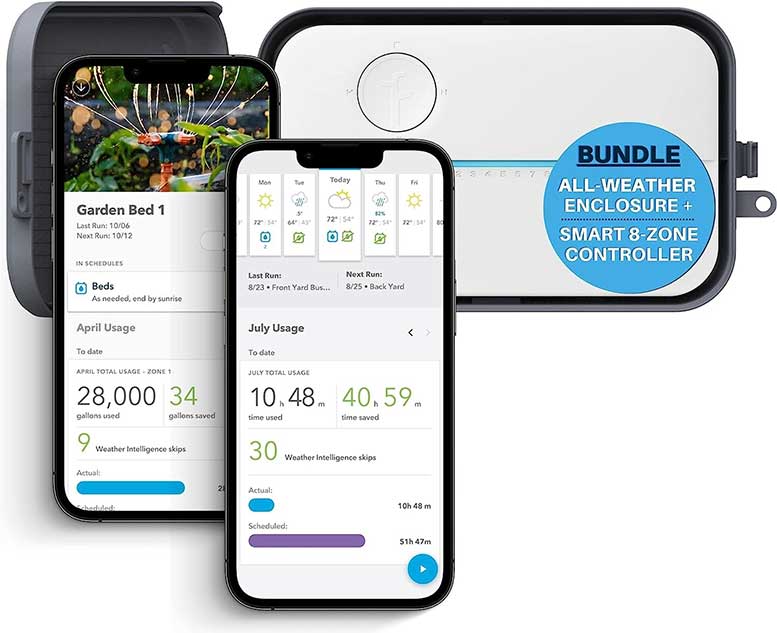 Key features:
Alexa and Apple HomeKit compatible
Hyperlocal Weather Intelligence Plus
DIY installation with intuitive app
Customized smart watering schedules
With the Rachio 3 Smart Bundle, taking control of your lawn's irrigation system becomes a veritable breeze. The integration of cutting-edge technology and a user-friendly design come together to revolutionize your gardening experience. Included in this bundle is the 3rd Generation-8 Zone Smart Sprinkler Controller and a weatherproof outdoor enclosure, offering safety and durability for outdoor use.
Setting up the device proved to be an effortless task, thanks to its DIY-oriented design. We were able to replace an old controller, wire up, and complete the setup through the Rachio app in about 30 minutes, even without any special tools. The app itself is intuitive and user-friendly for the most part, allowing control of the sprinklers and visibility of upcoming schedules and estimated water usage. We felt that some instances were clunky and difficult to navigate, but those were few and far between.
Additionally, Hyperlocal Weather Intelligence Plus is highly beneficial. This exclusive technology leverages data from over 300,000 weather stations, providing accurate forecasts that adapt your watering schedules and prevent unnecessary water waste. What's more, it intelligently skips watering during rain, wind, or freeze events. Tailored smart schedules were another game-changer. Rachio customizes schedules according to the specific needs of your lawn, including plant type, soil type, and sun exposure.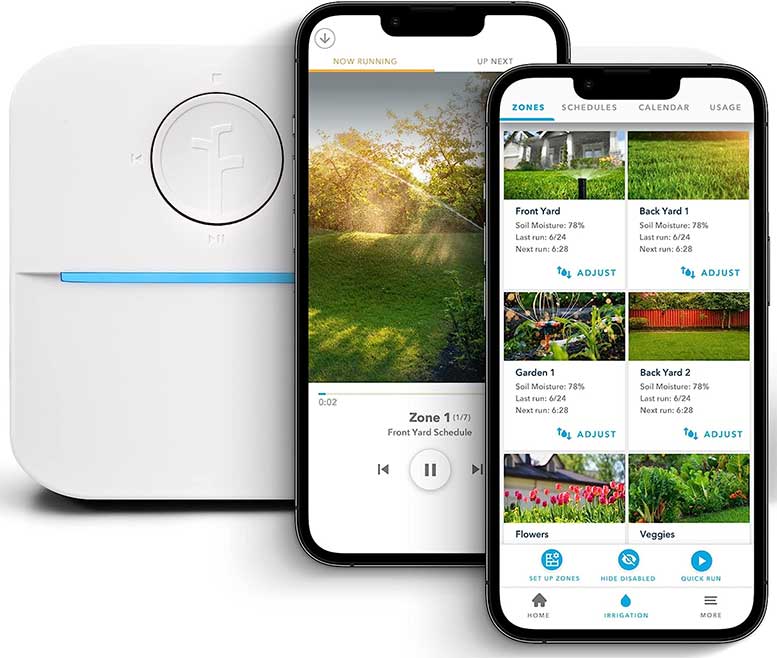 In our testing, the accuracy of this feature impressed us, ensuring each plant received exactly what it needed. The Rachio 3 Smart Bundle is a step forward in irrigation technology, merging intelligent automation with easy-to-use interfaces, all packaged in a compact design. We like that it's compatible with Alexa and Apple HomeKit. The added benefit of remote control is always nice to see. And the fact that it measures 9.1 x 5.5 x 1.6 inches and weighs a mere 2.5 pounds makes it a good fit for any garden shed or garage.
What we liked:
Easy to set up and use
Accurate weather adaptation
Effective water conservation
Compact and durable design
What we didn't like:
App isn't always straightforward and user-friendly
Requires modern smartphone for best experience
3. Orbit B-hyve XR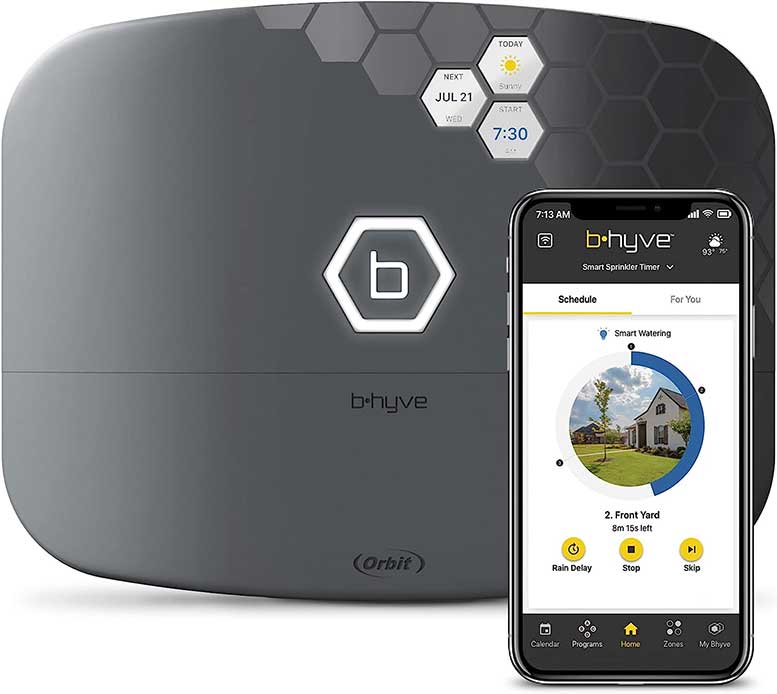 Key features:
Wireless control via smartphone app
Adaptive WeatherSense Technology
Long-range Bluetooth connectivity
Multicolor LED light ring and displays
The Orbit B-hyve XR showcases the future of garden irrigation. It brings a touch of innovation to the gardening scene with its wireless capabilities and adaptive water delivery systems. This unit, with dimensions of 4 x 9 x 11 inches, combines functionality and sophistication in a compact, charcoal gray design. Its easy programming, accessed via the free B-hyve App, allows for the creation of watering schedules and duration settings and enables alerts, all from your smartphone. It's hard to ignore the convenience of the long-range Bluetooth connectivity, which ensures swift device pairing.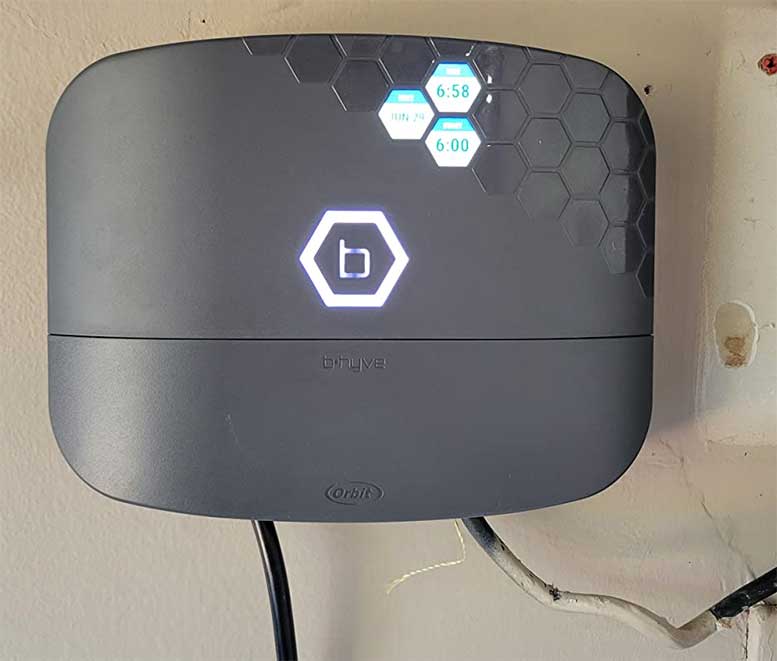 Perhaps the most impressive feature is its WeatherSense technology. With it, the unit adjusts water delivery based on real-time weather data, taking into account factors such as rain, wind, and freeze delays. It increases watering during dryer periods, saving both your plants and your time. It's also gratifying to see Orbit's commitment to conservation, as the B-hyve XR is EPA WaterSense-certified.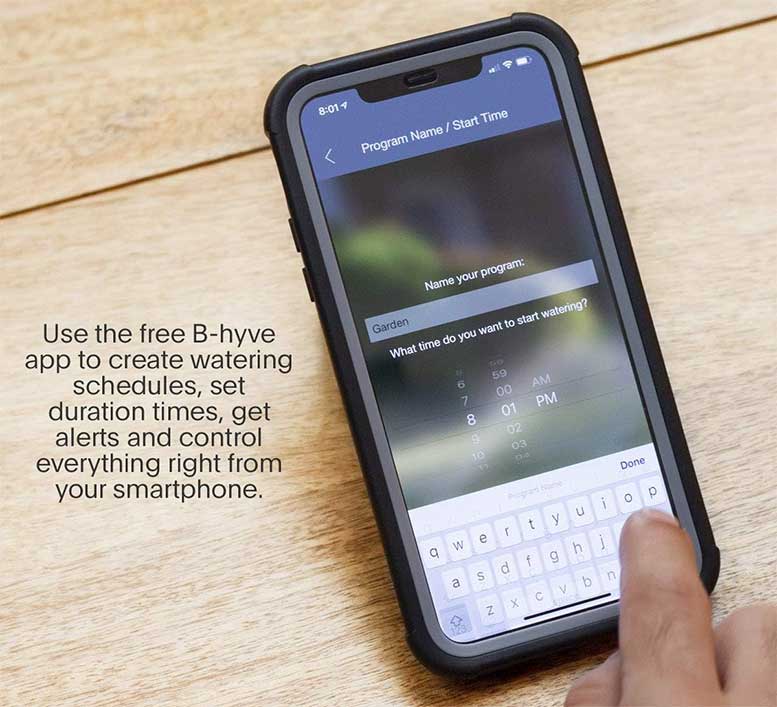 The controller further offers ultimate control, providing status updates via a multicolor LED light ring and three full-color digital displays. A built-in manual watering override button ensures you can control watering without relying on the app. However, during testing, we did notice some connectivity issues when attempting to connect to WiFi. This was eventually resolved, but it still stood out as a minor hiccup in an otherwise smooth experience.
What we liked:
Easy installation and programming
Automatic weather-adjusting watering
No subscription or hidden fees
Unique display interface
What we didn't like:
Occasional WiFi connectivity issues
Not entirely waterproof in heavy rain
4. Hunter PRO-HC PHC-1200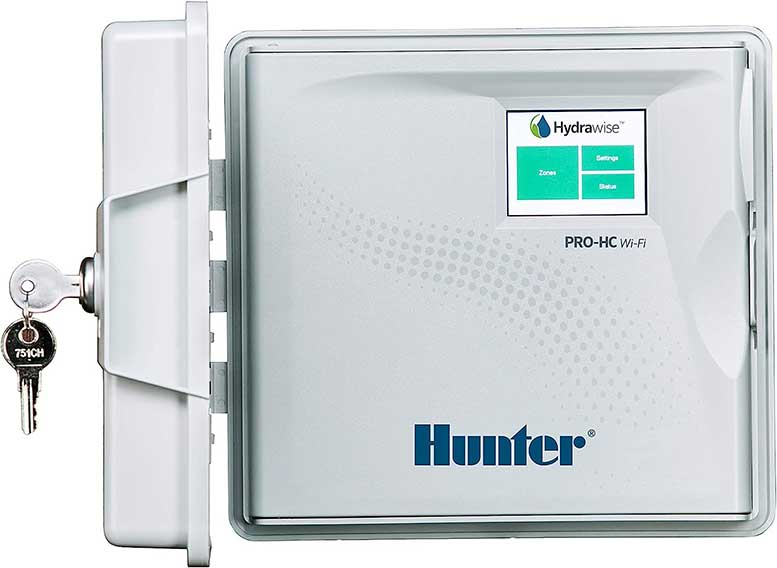 Key features:
WiFi enabled with touchscreen interface
Hydrawise web-based software integration
Predictive watering adjustments
Dedicated master valve/pump start
The Hunter PRO-HC PHC-1200 is a robust WiFi-enabled irrigation controller, bringing the perfect blend of high-quality hardware and intuitive software. With a hefty weight of 6.23 pounds and compact dimensions of 4 x 10 x 9 inches, the device is robust and perfect for outdoor use. Easy installation stands out as one of the defining features of this device. Users can quickly set up the controller, utilizing the wiring compartment and terminal strips.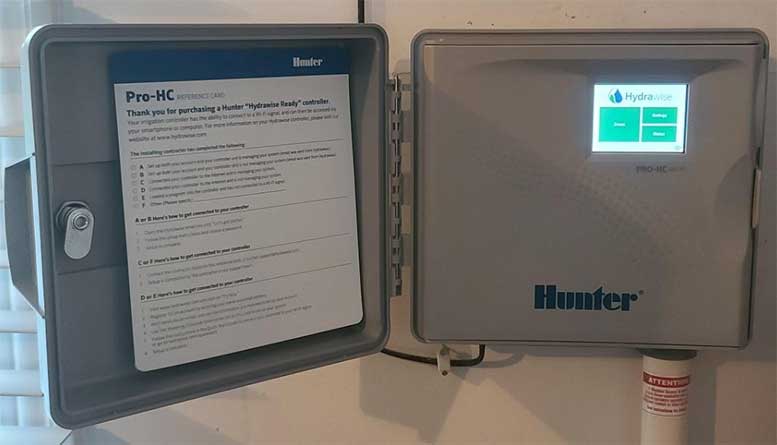 The wiring process is effortless due to the spacious and user-friendly design, ensuring an organized setup inside the box. The controller's operation is impressively smooth, as well. Utilizing the touchscreen, users can manage all features and also access the full functionality via an app. The interface offers complete control over zones, allowing for a pre-defined schedule based on run times per zone and configured start times.
The device's smart software, Hydrawise web-based software, maximizes efficiency by adjusting watering schedules according to the local weather data. By monitoring past, present, and forecasted temperatures, as well as wind speed, humidity, and rainfall, the Hunter's little box adapts to ensure optimal watering. One minor concern was the delay in schedule updates on the free plan, which occur only once a day.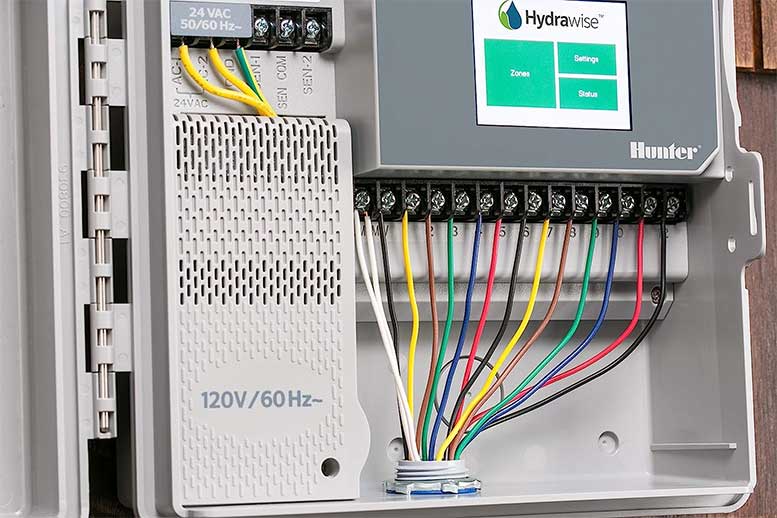 However, with the paid plan, updates are pushed hourly. The system also uses a polling approach when manually controlling a zone from your phone or PC, leading to slight delays. Despite these minor issues, the Hunter PRO-HC PHC-1200's predictive watering adjustments and smart device compatibility make it a top choice for intelligent irrigation control.
What we liked:
Easy installation and setup
Comprehensive app and on-screen control
Professional-grade hardware
Flow sensor compatibility
What we didn't like:
Delayed schedule updates on free plan
Slight delay in manual zone control
5. Rain Bird ARC8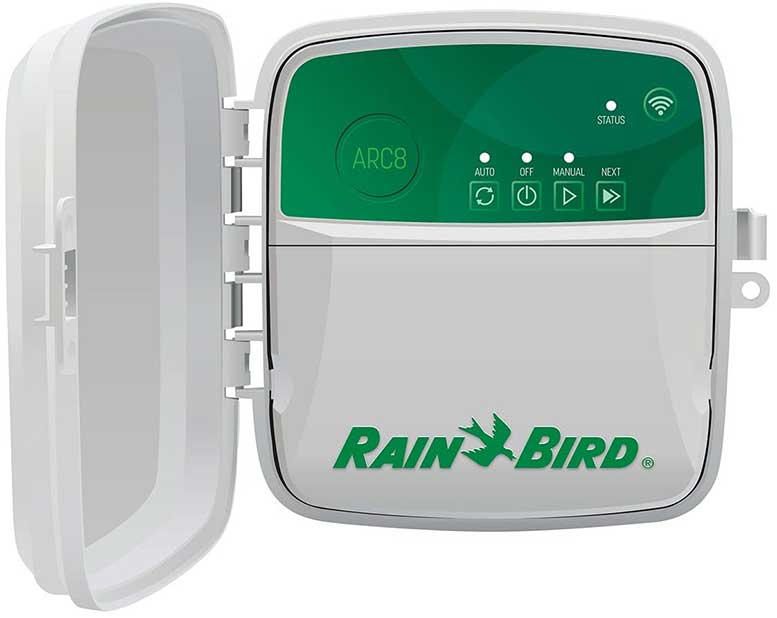 Key features:
App-based irrigation controller
Compatible with Amazon Alexa, Google Assistant
Water usage reduction up to 30%
8-zone control with individual programs
The Rain Bird ARC8 is an advanced irrigation solution that transforms how you manage your garden watering. Its primary advantage is that it allows the user to fully control an irrigation system using the Rain Bird mobile app. From adjusting watering schedules to monitoring system performance, it's the epitome of smart gardening. The only thing really lacking is the inclusion of a touchscreen display. While the images might make you think it has one, that's not the case. Instead, built-in buttons serve as the primary point of control from the unit.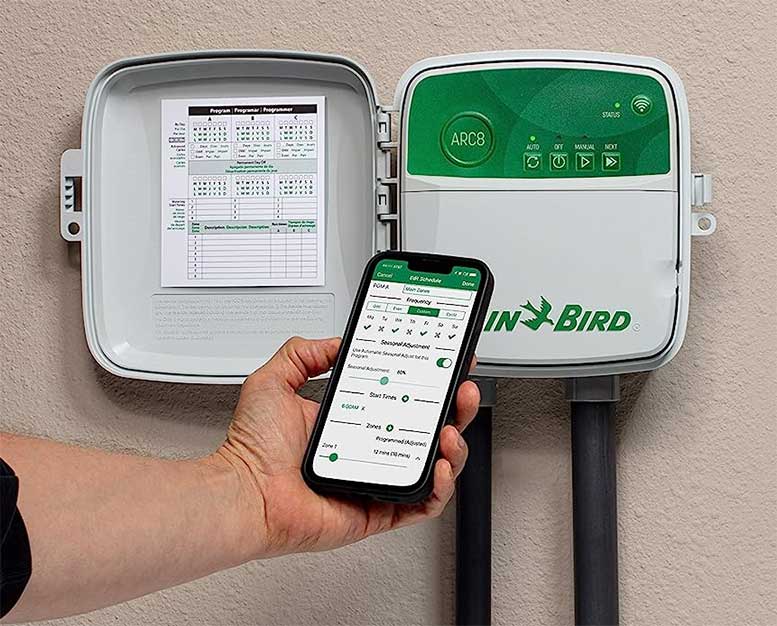 Thankfully, controlling is much more accessible and friendly via the aforementioned app. It's not the most advanced software (it appears to be built around Android 6.0 and iOS 8), but it really doesn't need to be from what we experienced. For starters, the ARC8 is adaptable to a wide variety of smart home ecosystems. Equipped to control up to 8 zones, it offers three individual programs per zone and up to 4 start times per zone – a truly flexible system for diverse gardening needs.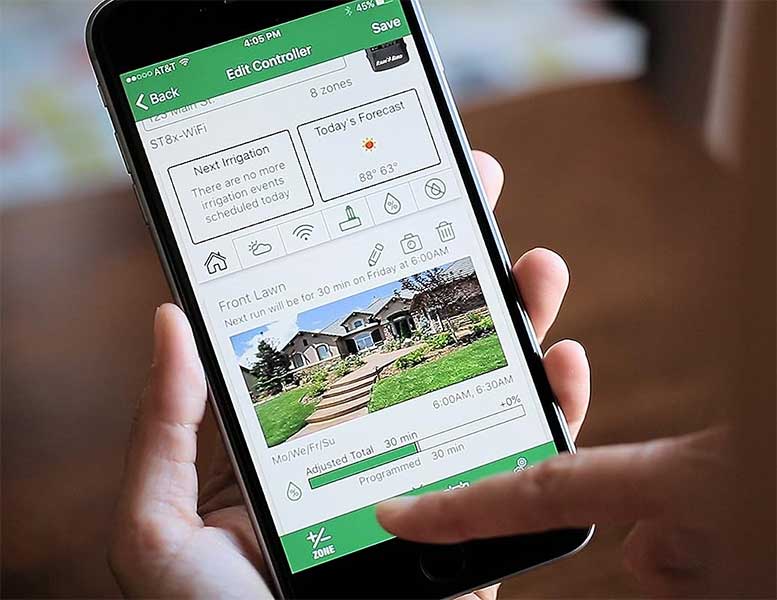 The device's clever features extend to efficient water usage, too. It can reduce water consumption by up to 30% by adjusting or skipping daily watering schedules based on local weather forecasts and historical data. This feature, combined with its notifications about malfunctions, WiFi disconnections, incorrect time/date, or potential freezing, empowers gardeners to care for their plants in a resource-conscious way. Rain Bird's ARC8 is impressively sized at 7.92 x 3.51 x 7.86 inches and weighs 3.66 pounds. Despite its weight, it's a good fit for both indoor and outdoor use, and its sleek gray and green design blends seamlessly into any setting.
What we liked:
Highly customizable watering schedules
Efficient water usage
Easy sharing control with others
Robust indoor/outdoor design
What we didn't like:
Intermittent WiFi connectivity
Requires dedicated 2.4Ghz network for stable operation
Smart Irrigation Controller FAQs
What is a smart irrigation controller?
A smart irrigation controller is a device that automates the watering process in your garden based on various factors, including weather data, soil conditions, and plant watering needs.
How do smart irrigation controllers help conserve water?
These controllers use real-time weather data and adjust watering schedules to prevent unnecessary watering during rain, wind, or freeze events. This helps reduce water waste and contributes to conservation efforts.
Do smart irrigation controllers require professional installation?
Many smart controllers offer DIY-friendly setup, with intuitive apps to guide you through the process. However, some more complex models might require professional installation.
Can I control a smart irrigation controller remotely?
Yes, as most smart irrigation controllers are WiFi or Bluetooth-enabled. This allows you to adjust settings, schedule watering times, and monitor the system from anywhere using a mobile app.
Final Verdict
After extensive testing, it's clear that each of the smart irrigation controllers we selected has its own merits worth considering.
For instance, ImoLaza's Smart Sprinkler Controller shone through with its intelligent watering decision model and scientific precision.
Or, for those seeking a device with minimal setup time and high ease of use, the Rachio 3 Smart Bundle is an excellent choice.
The Orbit B-hyve XR provides remarkable convenience with its long-range Bluetooth connectivity and automatic watering adjustments.
Meanwhile, the Hunter PRO-HC PHC-1200 blends professional-grade hardware and user-friendly software for maximum control.
Lastly, Rain Bird's ARC8 offers smart control with its mobile app while impressively reducing water usage.
Regardless of which model you ultimately decide on, you can trust that you'll be making a sound investment that potentially saves you time, money, and effort.