All the creators and digital artists out there know how important a good digital drawing tablet is. These devices help you take the artwork that you would normally create on paper and instead make it digitally.
Some are just a simple device you plug into the computer, while others are their own screen entirely. If you're interested in the latter, then you may want to check out the UGEE U1200 11.9-inch drawing tablet.
Big Functionality In A Compact Package
When using a drawing tablet, you don't want it to take up too much of your desk space. The UGEE U1200 takes that into account by being a great size for functionality as well as taking up as little space as necessary. It's 14.02 x 9.29 x 2.24 inches, weighs just over 3 pounds, and has a visual screen size of 11.9 inches.
Overall, it has a very solid build quality. Both the durable plastic body and the fully laminated screen help to protect it whether it just sits on your desk or you take it on the go with you.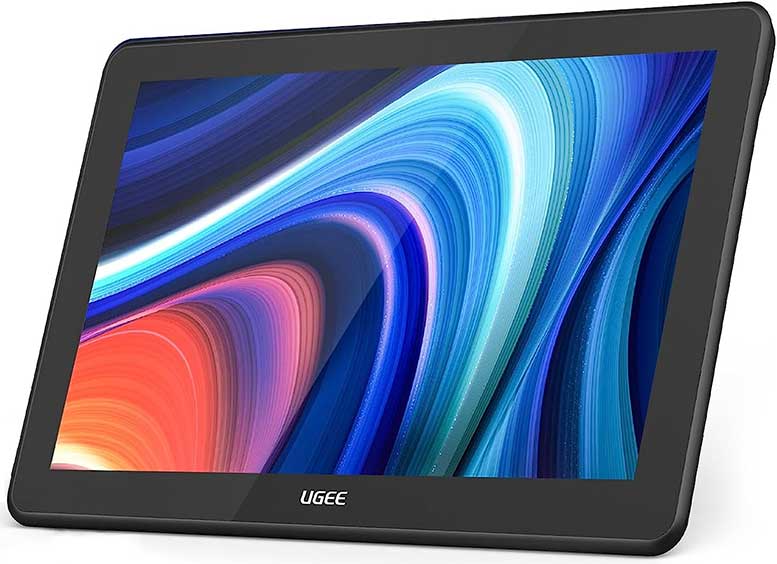 Widely Compatible with Devices and Operating Systems
The UGEE U1200 has a wide array of compatibility when it comes to devices and operating systems. The most common device to use a drawing tablet with is going to be a desktop or laptop computer. For these, you can use Windows, Mac, and Linux operating systems.
However, if you prefer to use it on a mobile device, you can do that as well (as long as it's an Android). Here are some compatible mobile devices to use with the U1200:
Samsung Galaxy A90
Samsung Galaxy S20 Series
Samsung Galaxy S10 Series
Samsung Galaxy S9 Series
Samsung Galaxy S8 Series
Samsung Galaxy Note 10 Series
Samsung Galaxy Note 9 Series
Samsung Galaxy Note 8 Series
Any other Android 6.0 device with USB 3.1 or DP1.2
When using the tablet on a mobile device, you'll need to connect an external power supply in order to power it on.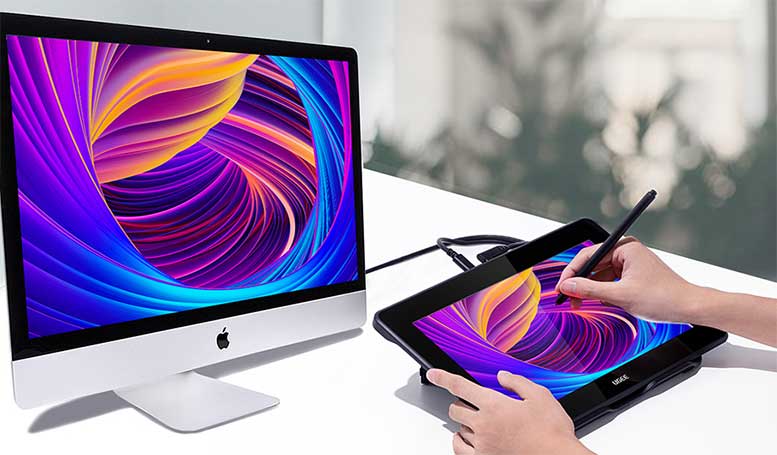 Vivid Visuals
One of the most important aspects of a drawing tablet with a screen like this is the visuals themselves. The U1200 has great options included for this. Using a BOE IPS screen, it can display 127% SRGB. It has a 1000: 1 high contrast ratio and can display 16.7 million different colors. The U1200 has an Adobe RGB rating of 94% and an NTSC rating of 90%. This all allows you to have a fully professional color gamut to choose from and improve accuracy. The display itself has a resolution of 1920 x 1080 FHD.
Using full lamination technology, the glass is seamlessly integrated into the screen. This helps to reduce parallax and increase pen tip accuracy. With reduced parallax, you can be sure that the device draws where you want it to. Additionally, the entire screen is laminated and has an anti-glare film. This helps to keep your eyes from becoming strained after a long day of drawing while also improving the clarity of the screen at a viewing angle of up to 178 degrees.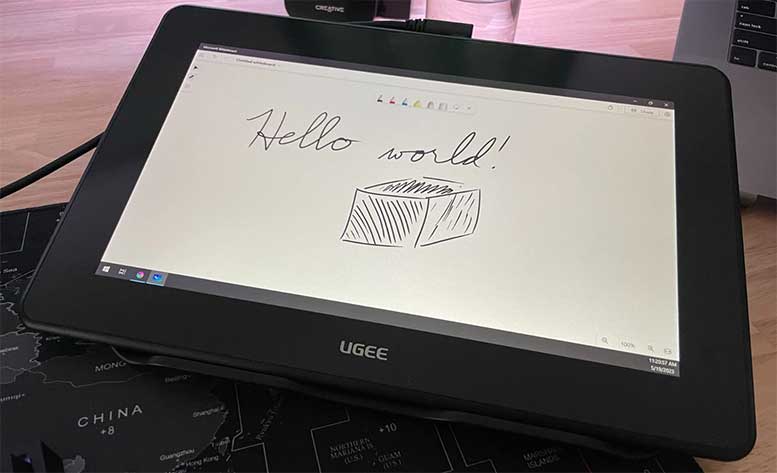 Multiple Use Cases
The most common use for a drawing tablet like this will be for creating digital drawings. However, that isn't the only reason you might want one. The most widely used alternative use case is as an additional monitor. Whether you want to display spreadsheets, internet browsing, or more, this is a solid option. Additionally, it can be used for light office work such as Microsoft Word or PowerPoint.
If you prefer to use it as a drawing tablet, there are a few main use cases. They include digital painting, digital drawing, photo editing, animation, graphic design, and 3D artwork. Whether you're a photographer, illustrator, animator, or office worker, the U1200 has a solid use case for you.
Here's a list of some of the most commonly used apps with the U1200:
Adobe Illustrator
Adobe Photoshop
Adobe Effects
InDesign
Microsoft PowerPoint
Microsoft Word
Sketchbook
Manga Studio
Clip Studio
Paint
Corel Draw
Corel Painter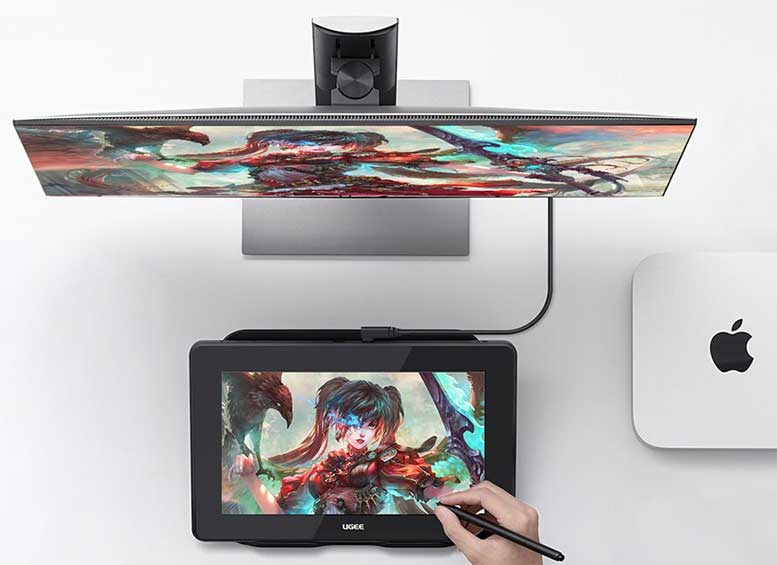 Everything Included To Get You Started
While using a drawing tablet is going to require a few more items than the traditional method of pencil and paper, UGEE has included everything you need to get started. The main component is the tablet itself. The next most important included item is the stylus.
The stylus is a battery-free device with a digital eraser function. There are 8192 levels of pen pressure sensitivity and +/- 60 degrees of tilt function. This makes it simple for you to change the thickness of your lines while drawing, painting, and more. The digital eraser is pressure sensitive and can create natural erasing and transitions. Additionally, there are dual shortcut key settings to help with quick clear and other functions. Best of all, there are 10 spare stylus nibs and a nib extractor included in case you break some while using the stylus.

For connectivity, you'll find a few cords in the box. They include a power cable, a USB-C to USB-C cable, and a 3-in-1 cable. These cables give you a wide variety of ways to connect to whichever device you plan to use the drawing tablet on.
The final two items included are a drawing glove and a cleaning cloth. The cloth helps to both clean and protect the screen while cleaning. The glove is used while drawing and helps with inaccuracies.
Final Thoughts
Animators, digital artists, illustrators, office workers, and more can all benefit from a great drawing tablet. This is especially true for drawing tablets with a built-in screen that can double as an additional monitor for computer work.
The UGEE U1200 shines among the competition with its wide array of visual features, its compatibility with multiple device and operating system types, and its great size. It even comes with everything you need to get started right in the box, so no additional hardware purchases are necessary right away. If you're in the market for a drawing tablet with a built-in screen, then you may want to check out the UGEE U1200.