Houseplants can be a great way to brighten up a space. Just seeing another living thing can be good for your mental health. This is particularly true in these days of social isolation. Houseplants also produce oxygen, which can be helpful if your house is frequently air conditioned or heated. Plants are nature's air fresheners! This is leaving aside any harvesting you do. For instance, an Aloe plant is always handy if you've burned yourself.
But watering your plants is also a responsibility. If you're not consistent, you can find yourself with a sick or dying plant. Even if you're the most responsible person in the world – which you are – you'll want to vacation now and then. This can leave you in a sticky situation if you want your plants to stay healthy.
Note: At no extra cost to you, we may earn a commission for purchases using our links. Learn more.
In the past, we've reviewed smart indoor faucet timers for watering your outdoor plants. Now, we're going to look at the best automatic watering systems for indoor plants. We'll start with the sPlant Automatic Drip Irrigation Kit. This is a simple, digital pump and timer that can feed up to 10 plants. Next, we'll look at the Instapark Automatic Watering System. This system offers similar capacity, but is suitable for outdoor as well as indoor use. Finally, we'll review the MoistenLand Micro Automatic Drip Irrigation Kit. This indoor watering kit is designed to handle as many as 20 plants. Which one is right for you? Let's take a closer look, and see what each of them has to offer!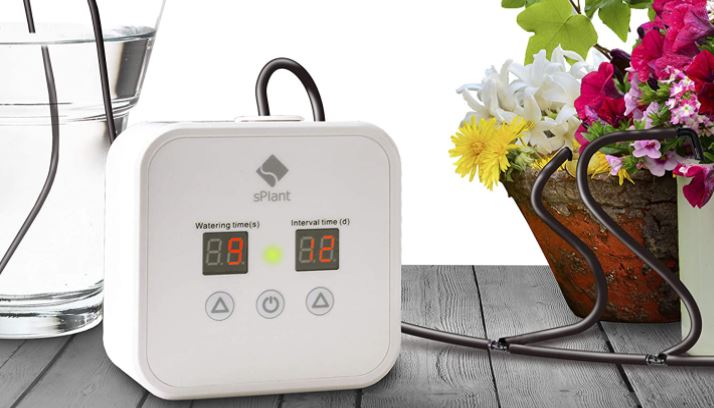 sPlant Automatic Drip Irrigation Kit
The first option on our list is the sPlant Automatic Drip Irrigation Kit. This is a simple white ABS plastic block, which houses everything you need. On the front, there's an LCD display that shows you both the length of watering time as well as the frequency. There are also a pair of buttons for adjusting both of those numbers. In the middle, there's a power button for turning the unit on and off.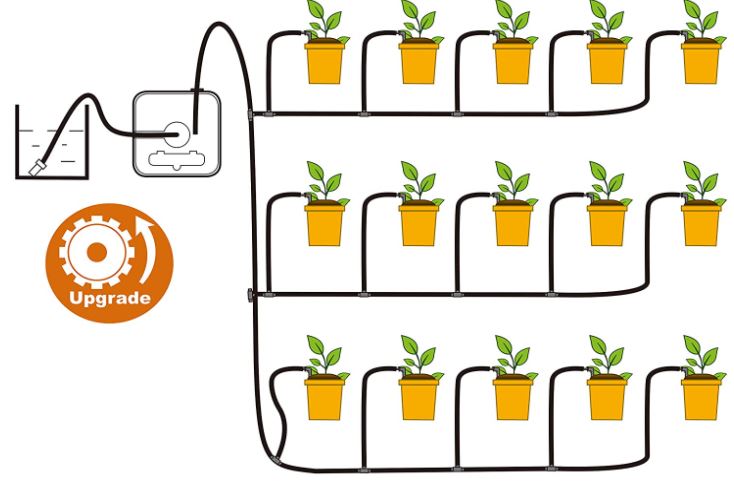 The kit includes everything else you need to get started. For starters, you get a 32-foot black plastic tube that can easily be bent or cut. Second, you get a set of 10 drop arrows. These are the points that stick into the soil and actually deliver the water. To compliment all this, there's a set of nine three-way joints. You can cut the pipe as needed to create your own custom watering system. There's really no "wrong" way to do it. There's also a small intake filter included in the kit. This goes on the end of your siphon tube, which sits in your water reservoir. The reservoir would typically be a bucket, but you can use anything that's handy.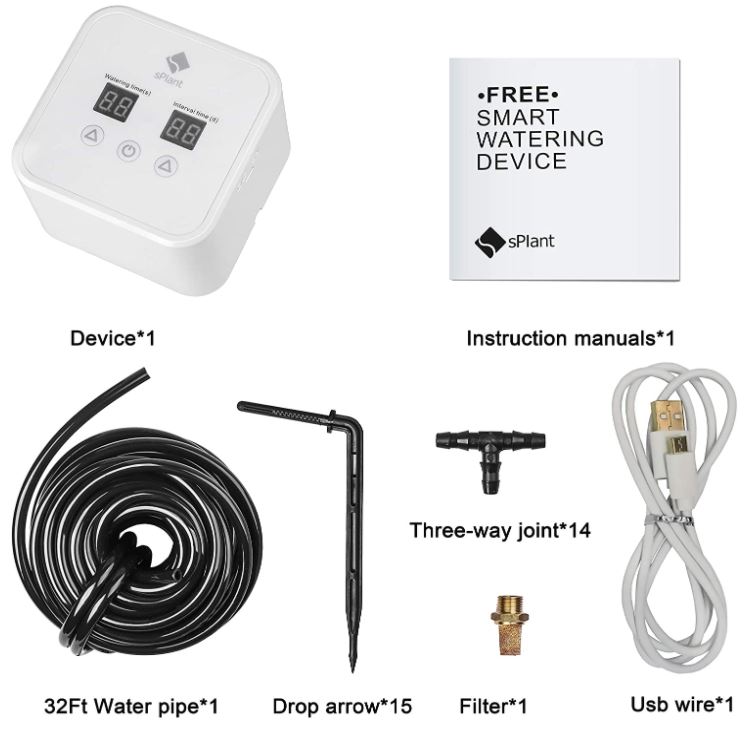 The sPlant pump can be powered in two different ways. The first is to use the included USB cable to connect it to a power supply. Another option is to use a set of four AA batteries, which are not included. You can also pair both methods. If a USB cable is connected and powered, the batteries will function as a backup. This way, your plants will still get watered even if the power is out.
How it Works
Setting the sPlant timer is easy. You choose how long you want to water your plants, then you choose how often you want to water them. The watering time is measured in minutes, while the frequency is measured in days. For example, suppose the first LCD window says "3" and the second window says "5." In that case, the sPlant will water your plants for three minutes every five days. Pretty simple!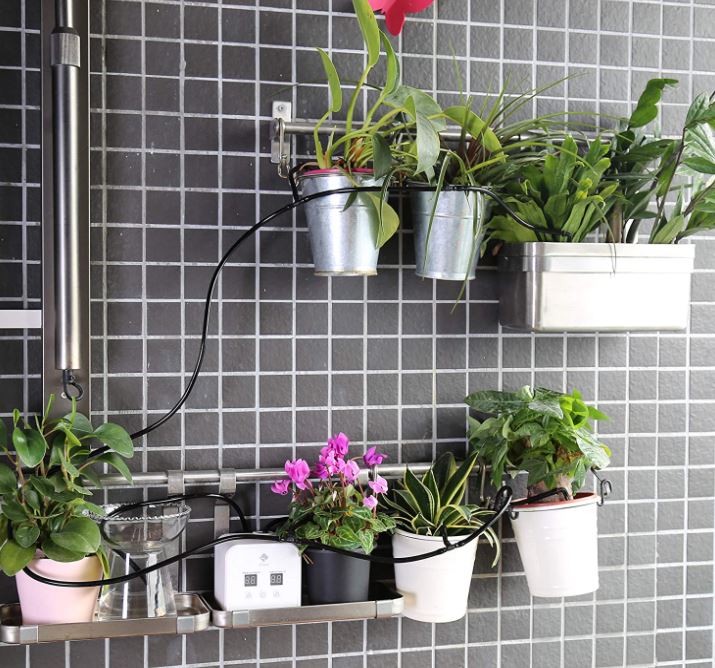 One nice feature of the sPlant pump is that it has an internal memory. Once you've set your settings, they remain set regardless of whether power is removed. You can go through a power outage, change your batteries, and retire the pump for a year. Even after all that, the watering settings will immediately be recalled.
Because of the volume of water it puts out, the sPlant pump is suitable for as many as 10 plants. Keep in mind that this depends on a number of variables. For example, smaller plants typically require less water than larger plants, so you can supply more of them. Likewise, different species of plants require wildly different amounts of water. Regardless, keep this in mind as a general guideline as we move forward.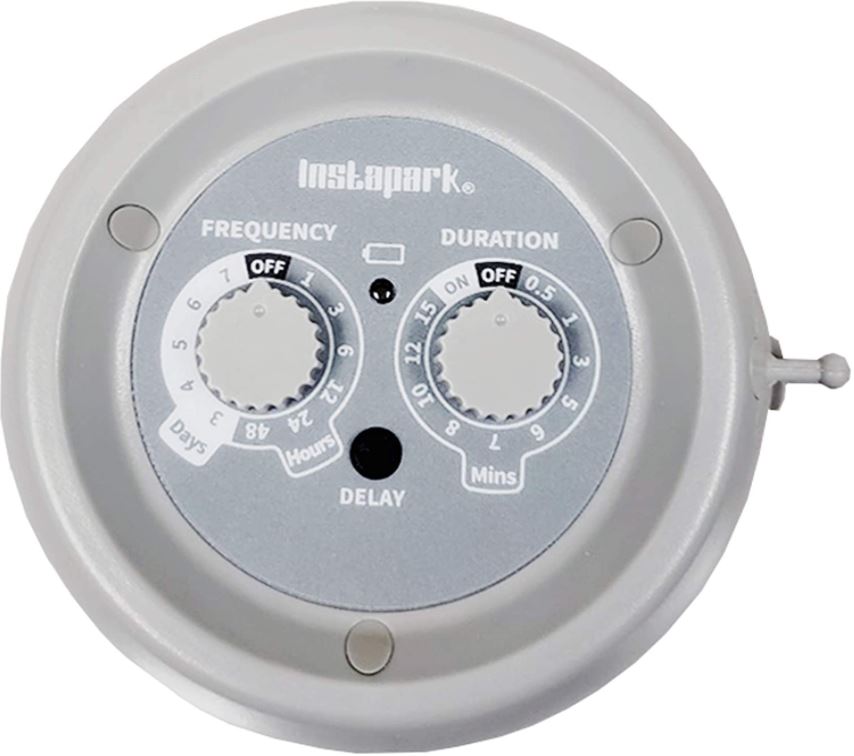 Instapark Automatic Watering System
Instapark is known for a variety of home goods, including tea light candles. Their automatic watering system has a surprisingly utilitarian appearance. It eschews a modern-looking LED screen, and instead relies on a pair of analog dials. This actually makes it very easy to understand what's going on. The numbers around both dials are high-contrast, so everything is easy to read as well.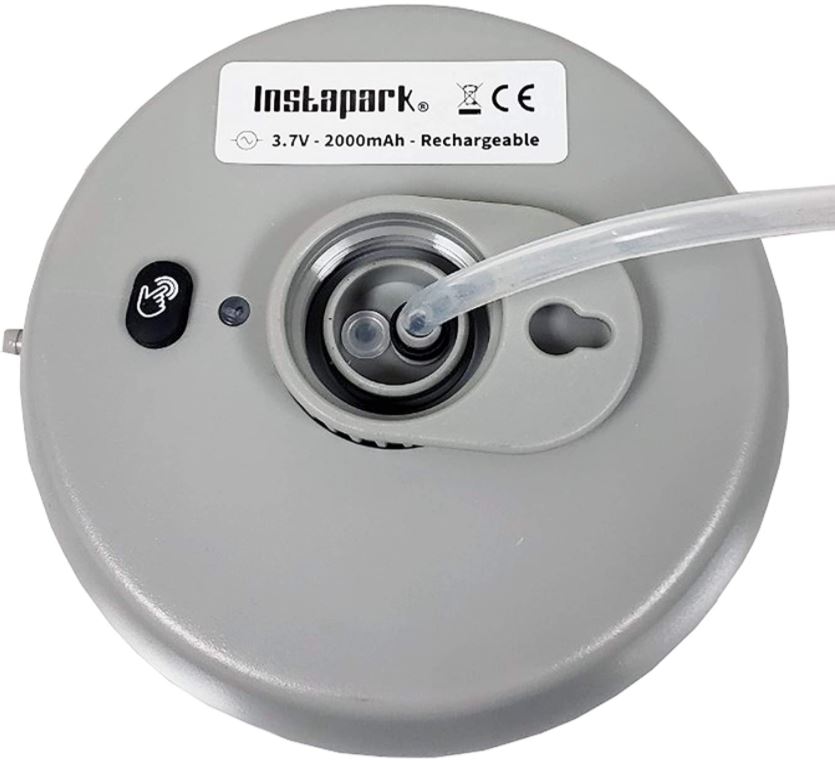 The housing is round, and is constructed from cream-colored ABS plastic. This gives it an understated look that's suitable for both indoors and outdoors. That's just as well, since the Instapark Automatic Watering System is weatherproof. It can be used either indoors or outdoors without any issues. If you have flowers on a porch or in a window box, this is a great way to keep them watered.
Along with the pump, the kit includes several other useful parts that make it fully functional. To begin with, you get a 10-meter (about 33-foot) clear plastic tube. As with the sPlant kit's tube, this is meant to be cut into pieces to build your own custom watering system. To facilitate this, the kit includes a set of 10 arrow drips, 10 three-way joints, 2 plugs, and a 1-way valve. It also includes 10 tube holder stakes for keeping your tubing well organized. Not only that, but there's even a reservoir hanger. This makes it easy to hang a reservoir bucket next to hanging plants, for example.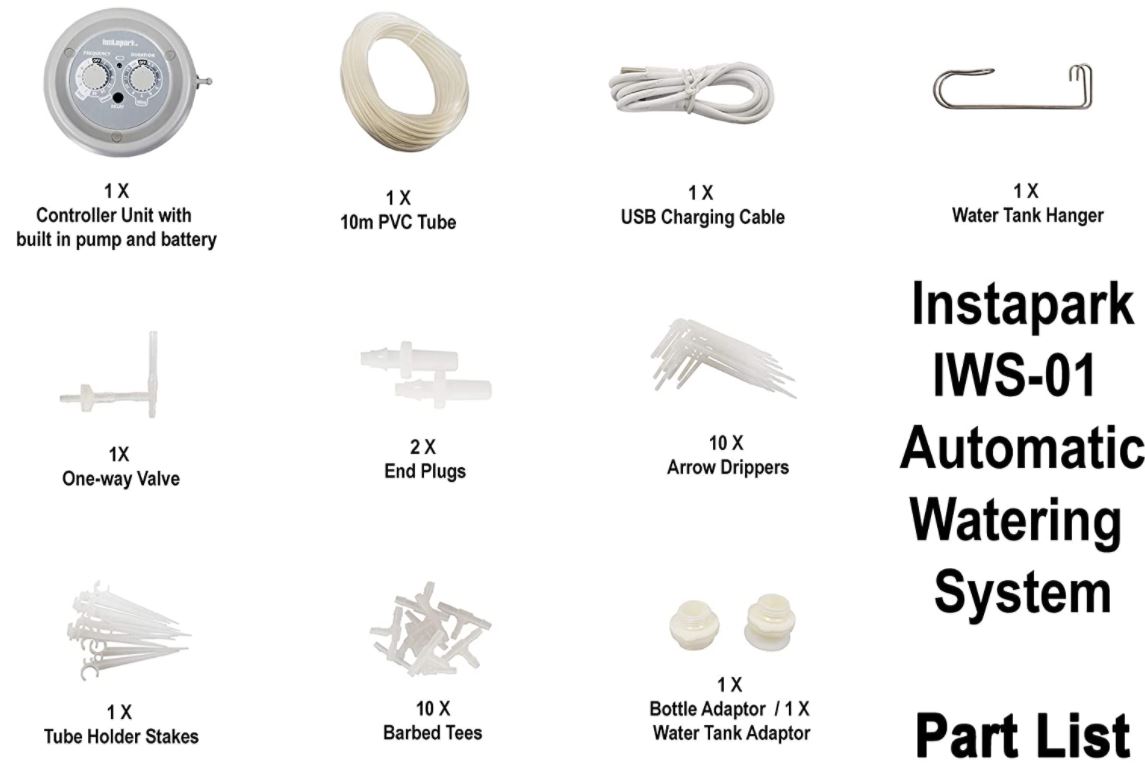 The Instapark system is entirely battery-operated. The pump unit contains an internal lithium-ion battery that charges via USB. It will operate for several weeks on a single charge. Obviously, exactly how long it will last will depend on your timing settings. But suffice it to say that longevity should not be a concern if you're on the road for a week or two.
How it Works
Setting the Instapark system is fast and intuitive. The left dial determines the frequency of watering. You can choose hourly frequencies for sprouts, ranging from one to 48 hours. Longer frequencies are also available. For adult plants, you can set the dial to 3, 4, 5, or 7 days. This makes the Instapark pump suitable for virtually any species of plant. To supplement this versatility, you can also set the watering duration. You can water for as short as 30 seconds, or as long as 15 minutes.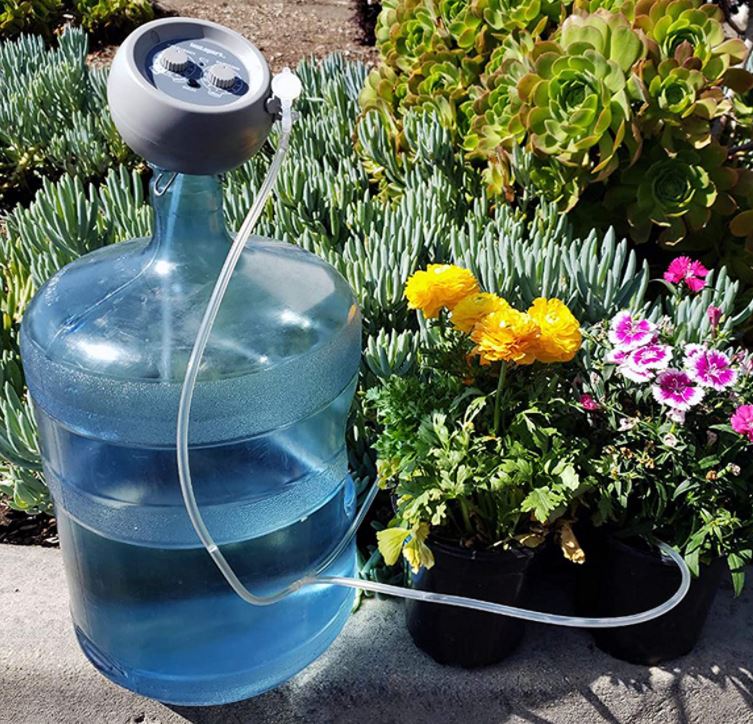 As you can see, the Instapark system can handle almost any plant. For instance, you can water your cactus for 30 seconds once a week. If you have tomatoes or other water-loving plants, you can hydrate them as much as needed. As a result, the Instapark system is suitable for just about any home gardener.
The Instapark Automatic Watering system is designed to support a maximum of 10 plants. Keep in mind, again, that this is a general guidelines. If your plants don't need a lot of water, you can support more of them. Conversely, if there extremely thirsty, it's best to stick to 10 plants.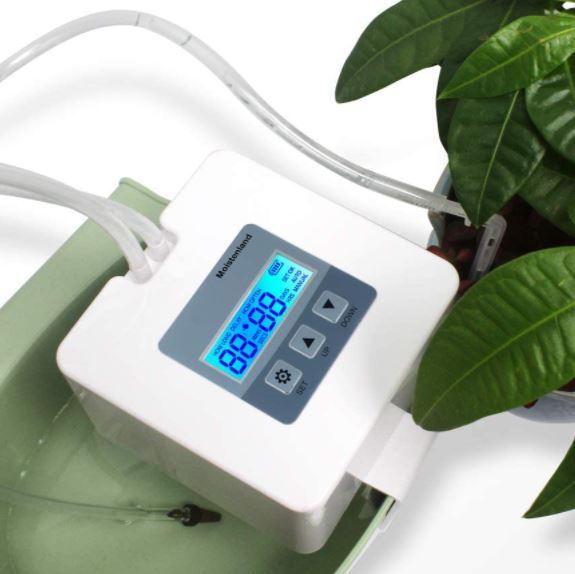 MoistenLand Micro Automatic Drip Irrigation Kit
The MoistenLand Micro Automatic Drip Irrigation Kit has a main unit that's rectangular in shape. It's constructed from glossy white ABS plastic, with a protruding clip that's meant to mount on a bucket lip. This means you position the pump directly over your reservoir, and the feeder tube dangles down into the water. On top of the unit, you'll see a backlit LCD screen, with high-contrast black numbers inside. Beneath the screen, a set of soft touch buttons allow you to easily operate the unit.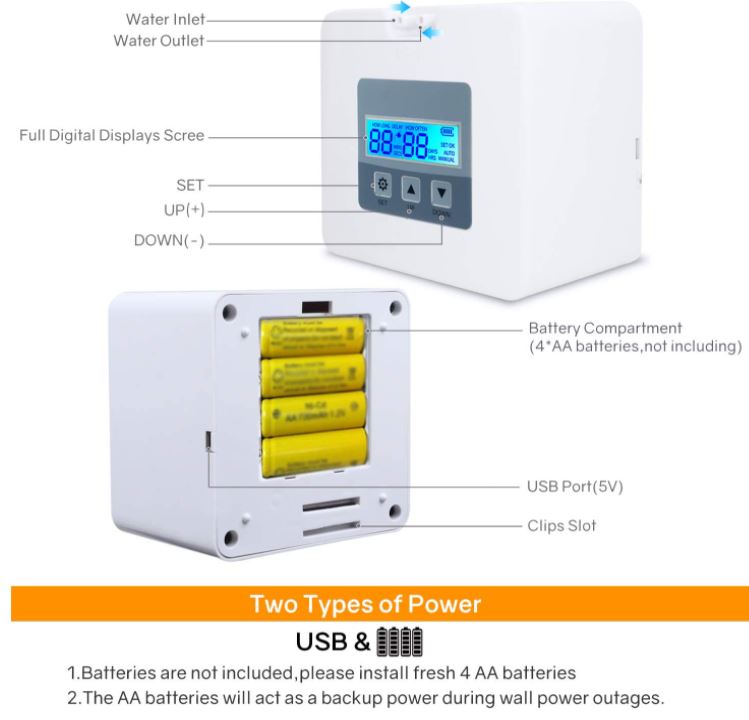 As with the last two pumps, the MoistenLand kit includes a set of tubes, tees, and arrow drips. The accessories and the power of the pump allow you to support as many as 15 to 20 plants. This makes the MoistenLand kit suitable for watering even relatively large indoor gardens.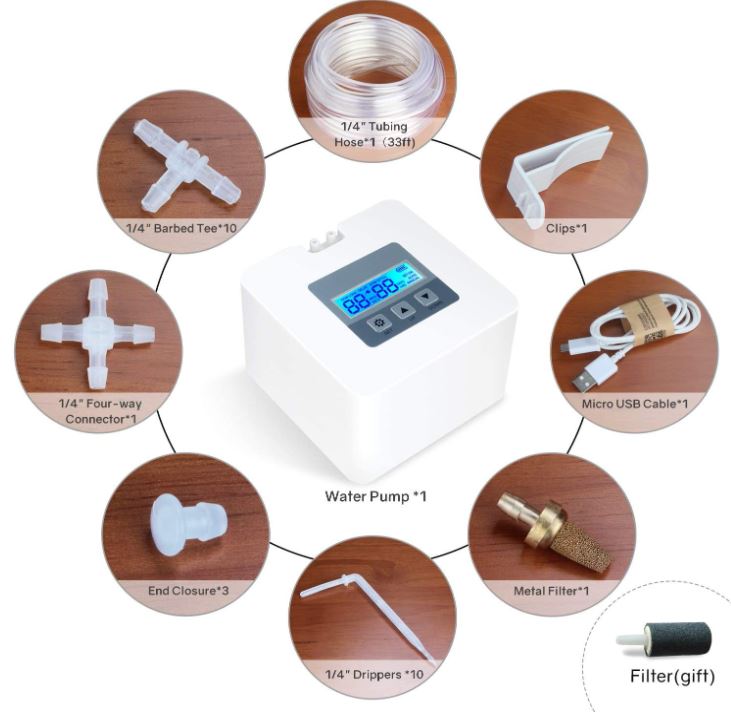 The MoistenLand Micro Automatic Drip pump is powered by a USB cable, which is included with the kit. Much like the sPlant pump, you can also install a set of four AA batteries. These can function either as the primary power supply or as a backup. When used as a backup, USB power will always be used unless the power goes out. Only then will the AA batteries be used.
MoistenLand provides a 12-month warranty that protects against any defects in materials or workmanship. If there are any problems within that time period, you'll receive either a replacement or a full refund.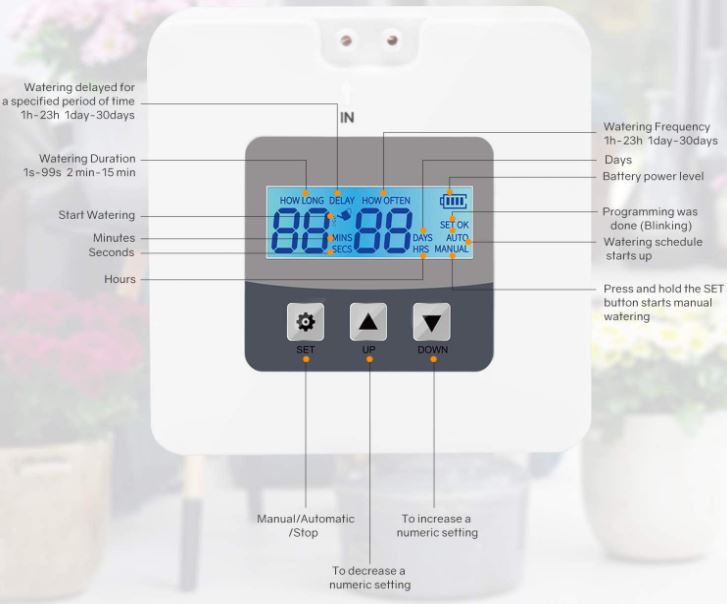 How it Works
The MoistenLand pump is the most versatile of all the options we've looked at. Time increments can be set in seconds or minutes, and frequency can be set in days or weeks. Moreover, both increments can be set from 1 to 99. As a result, you can set just about any watering schedule imaginable. Not only that, but the MoistenLand pump has an internal memory chip. If your power runs out, you won't lose all your settings.
Final Verdict
Which one of these irrigation kits is the "best" will ultimately depend on what you need. The sPlant Automatic Drip Irrigation Kit is the most basic option. It's suitable for most indoor setups with a small to medium number of plants. It's also easy to use, with an intuitive digital display. The Instapark Automatic Watering System is the best – and only – choice on our list for outdoor plants. Of course, it's also perfectly well suited for indoor plants. And for many users, the analog controls will be preferable to digital. Finally, we looked at the MoistenLand Micro Automatic Drip Irrigation Kit. This kit is ideal for large numbers of plants. It also provides the widest number of available settings, and comes protected by a 12-month warranty.
Please consider sharing:
Note: At no extra cost to you, we may earn a commission for purchases using our links. Learn more.