If you're an indoor plant enthusiast, chances are you know the struggle of keeping your plants watered. Whether it's forgetting to water them or not having enough time or resources to get it done, this essential task can be difficult and time-consuming. That's why investing in an automatic watering system for your indoor plants is a great idea.
Today, we're exploring the top automatic watering systems for indoor plants that cater to various needs and budgets. These systems provide a convenient and efficient way to keep your plants hydrated and healthy, even when you're busy or away. We have researched and tested several products to bring you the best options available, including:
Read on to learn more about these fantastic indoor plant watering systems and discover which one will best suit your plant care needs.
Best Overall: RAINTPOINT Automatic Watering System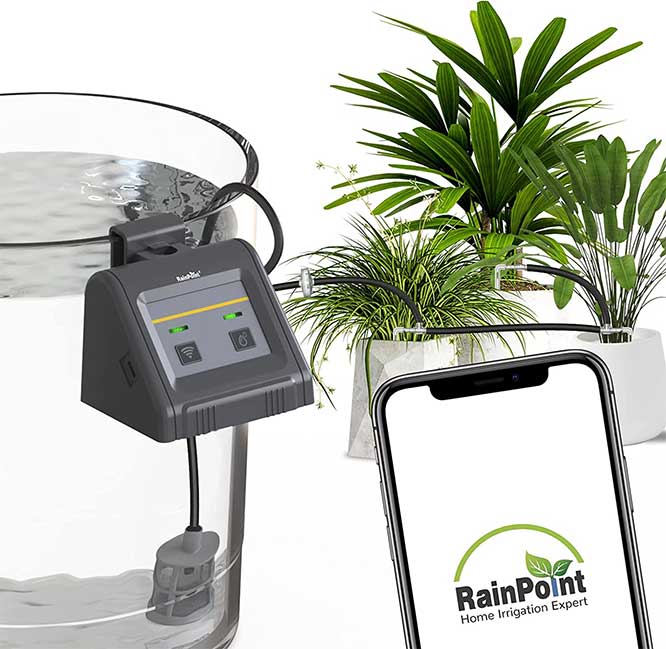 Key features:
APP remote control for multiple plans
Water-saving design, 10 pots simultaneously
Weather-based smart watering system
Dual power options, voice control support
In our quest to find the best indoor automatic watering system, we tested the RAINTPOINT Automatic Watering System. This smart drip irrigation kit is designed to save time and water while ensuring your potted plants stay hydrated. The compact unit measures 8.54 x 5.83 x 3.94 inches and weighs just 1.24 pounds. It offers multiple features that make it a top contender, so let's see what it can do.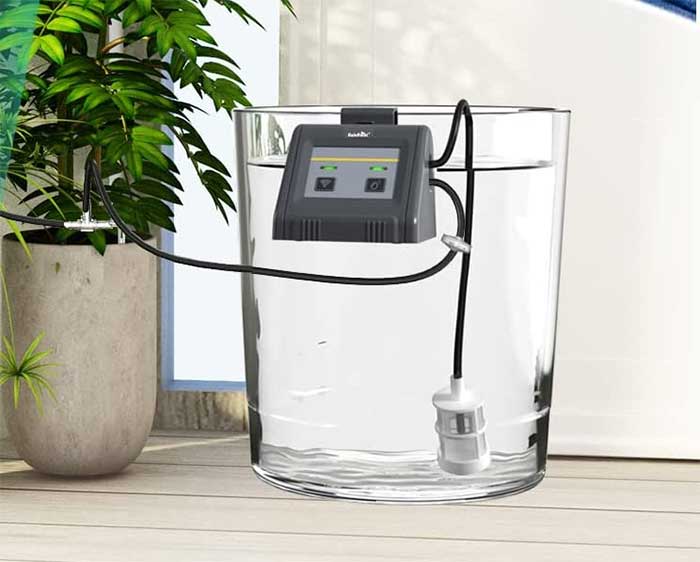 For starters, we were particularly impressed with the APP remote control. Using 2.4GHz Wi-Fi, it allows you to create various watering plans and provides timely notifications when the water tank is low or auto-watering. The system can water up to 10 pots simultaneously, directing water deep into the soil, resulting in 70% water savings compared to traditional methods. What's more, the scheduled watering feature lets you choose how often it waters your plants. By default, it provides 30 seconds of watering every hour.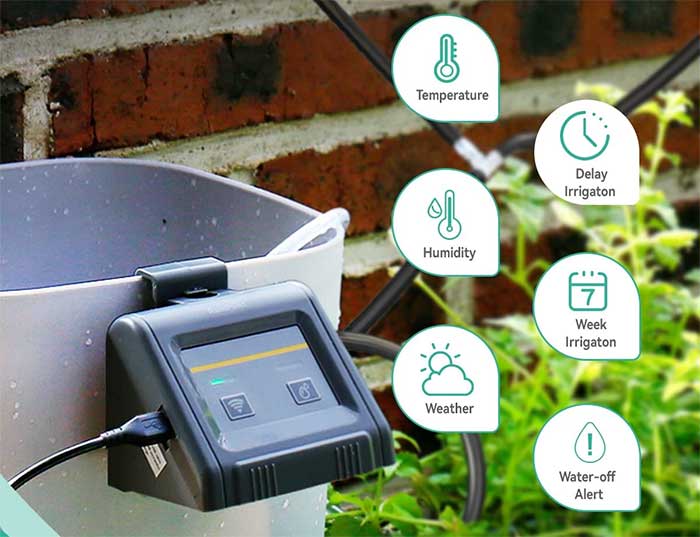 The weather-based smart watering is sure to appeal to homeowners. The unit takes into account local weather, temperature, and sunrise/sunset times, ensuring your plants don't suffer while you're away or forget to water. This updated version also supports voice control and device sharing, making it a family-friendly option that's easy to control and use. In fact, it's the only entry with voice control support.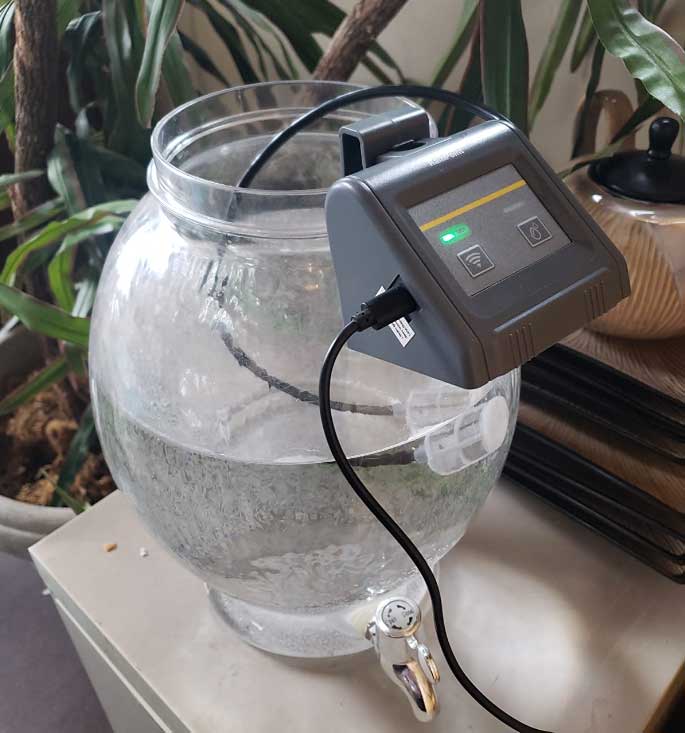 Regarding power options, the system operates on either 4 AA batteries or USB connection. No batteries are included, however, so you'll need to supply your own if you plan on battery-powered operation. We recommend using batteries regardless, as the dual-power design keeps it running in the event that there's a power outage. But if you rely solely on batteries, be prepared to have extras on hand. Depending on your watering schedule, batteries may last only a few days.
Bottom line, RAINTPOINT's Automatic Watering System delivers efficiency, convenience, and water conservation in one smart solution for indoor plant irrigation.
What we liked:
Compact size, easy placement
Timely low-water notifications
Device sharing among family members
Efficient water delivery system
What we didn't like:
AA batteries not included
2.4GHz Wi-Fi required for remote control
Best Runner-Up: Onsast Automatic Indoor Watering System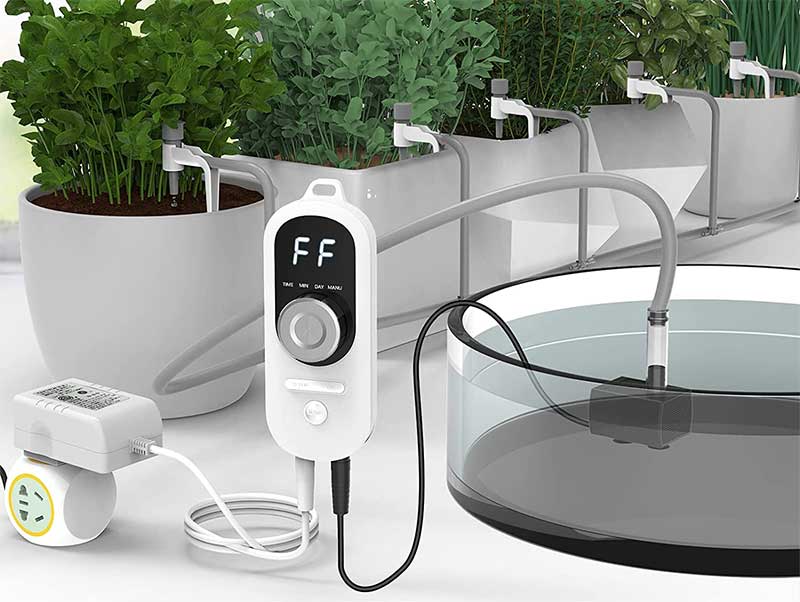 Key features:
German technology high-power pump
Adjustable water flow drip head
Easy setup and programmable timer
CE-certified power supply protection
The Onsast Automatic Indoor Watering System is an exceptional choice for those seeking an automated watering solution for their indoor plants. Its highly efficient submersible pump, designed with advanced German technology, delivers impressive power and can generate water pressure up to 1.5 meters. This feature allows it to supply approximately 800 mL of water per minute while supporting up to 12 drip heads at once, solving common water pressure issues.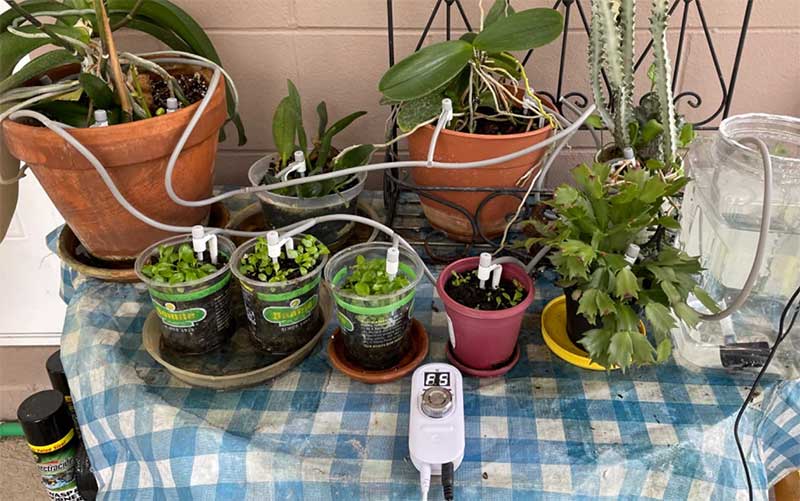 We like that this system has a customizable water flow drip head. The 12 included adjustable heads serve to control the water output to suit each plant's unique requirements. And the 24-foot, easy-to-connect silicone hose is made of food-grade material, so it's designed to last without bending or accumulating algae.
The irrigation system is user-friendly, with an ergonomic design that enables quick installation. Within just five minutes, you can set up a drip irrigation system for 12 potted or hanging plants. The included programmable timer is convenient and straightforward to use, allowing you to create a personalized watering schedule that is automatically stored in the device. The unit itself is compact, measuring 7 x 4.5 x 2.8 inches and weighing just 1.21 pounds. It consists of a handy dial and a bright LED display.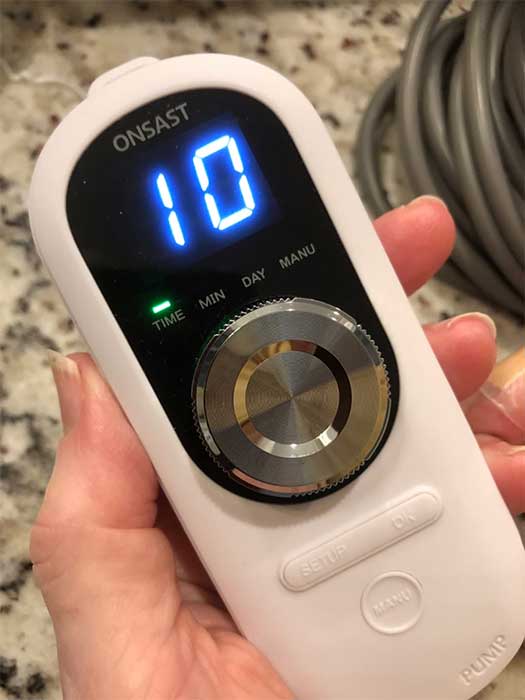 Safety is also a priority, as the kit comes with a CE-certified power supply that includes built-in protection against over-current, over-voltage, and short circuits. So you can rest easy knowing there's a stable voltage supply for your plants at all times.
Onsast's Automatic Indoor Watering System offers a practical and reliable automatic watering solution for plant enthusiasts. Its combination of a powerful pump, customizable drip heads, and user-friendly design make it an excellent investment for maintaining thriving potted plants, even during hectic periods or while away on vacation.
What we liked:
Supports 12 drip heads simultaneously
Customizable watering schedule
24-foot food-grade silicone hose
Ergonomic design for easy installation
What we didn't like:
Indoor use only
Requires suitable water reservoir
Best Budget: Tecnovo Automatic Watering System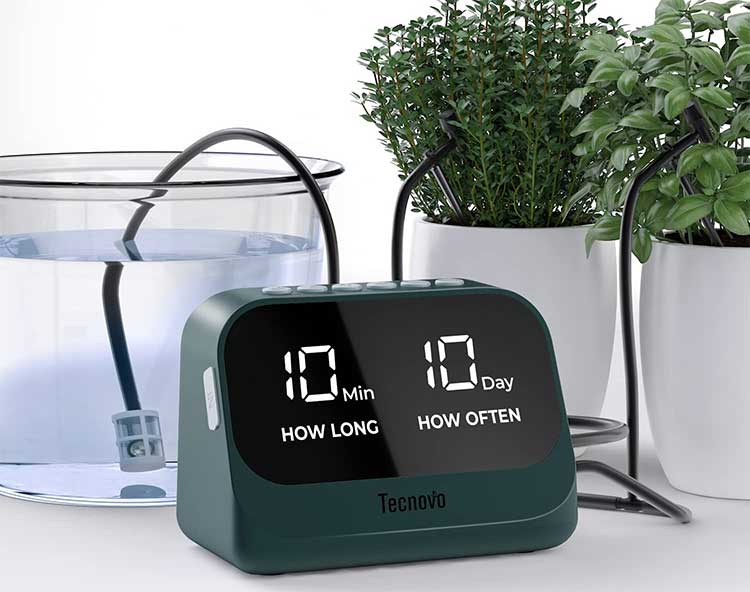 Key features:
Precise water distribution for healthy plants
Adjustable watering time and frequency
Powerful motor for consistent water supply
Large battery capacity for extended use
The Tecnovo Automatic Watering System is a great tool for plant lovers who want to keep their plants hydrated and healthy without the hassle of manual watering. The advanced system is programmed to provide precise distribution of water to your plants, and it does so quite well.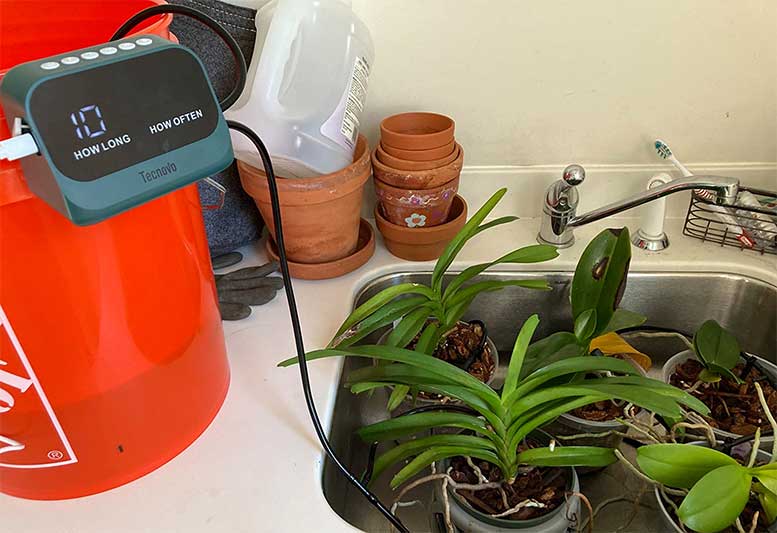 You can easily adjust the watering time and frequency of the system to meet the water needs of your plants. You can set the watering time anywhere between 0.2 and 15 minutes. As for watering frequency, you can select it to function every 12 hours to every 15 days. The system's terminal dropper can also be adjusted to assign different water output to each terminal, which is perfect for plants with varying water needs.
The unit is easy to use, with intuitive buttons and a large LED display, making it both simple and convenient to operate. The system's powerful motor prevents siphoning, so no matter what height you set it at, you never have to worry about water restriction. And thanks to a 2600 mAh battery capacity, you can trust that your plants will get the care they need for extended periods of time. You can expect to get around 6 weeks of battery life on a single charge.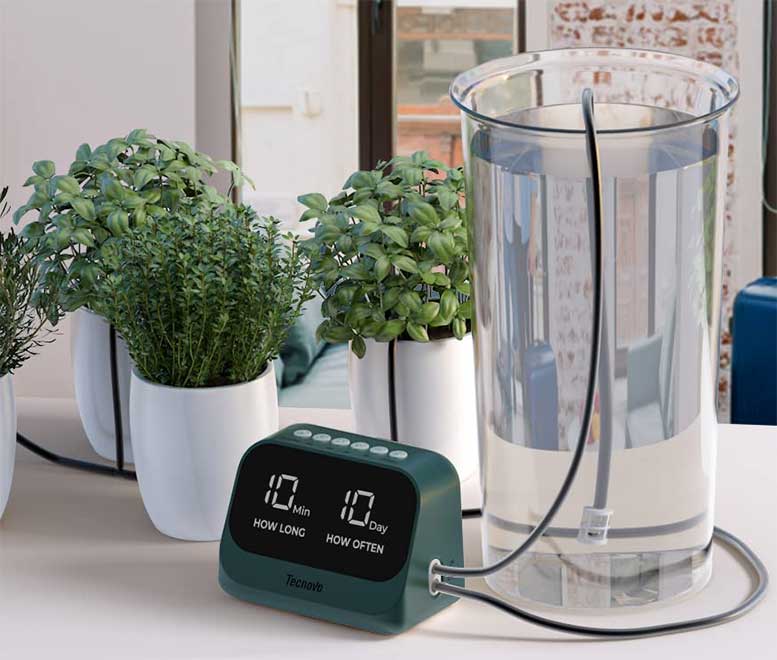 Additionally, the watering system boasts a waterproof rating of IP66, so it's suitable for indoor and outdoor use. Plus, the included tube effectively prevents the growth of algae, further eliminating blockage concerns.
Tecnovo's Automatic Watering System is an effective, easy-to-use, and reliable solution to keep your plants hydrated and healthy. It has dimensions of 9.84 x 5.91 x 3.15 inches and weighs a mere 1.57 pounds. While it's a bit larger than other models featured here, it's still fairly compact. As a budget-friendly option, this one's a winner.
What we liked:
Easy and intuitive to operate
Customizable water output for each terminal
Suitable for indoor use with waterproof rating
Tube prevents moss growth and blockages
What we didn't like:
Not designed for use in heavy rain
May not fit larger plant pots
Most Compact: Moistenland Upgraded DIY Automatic Drip Irrigation Kit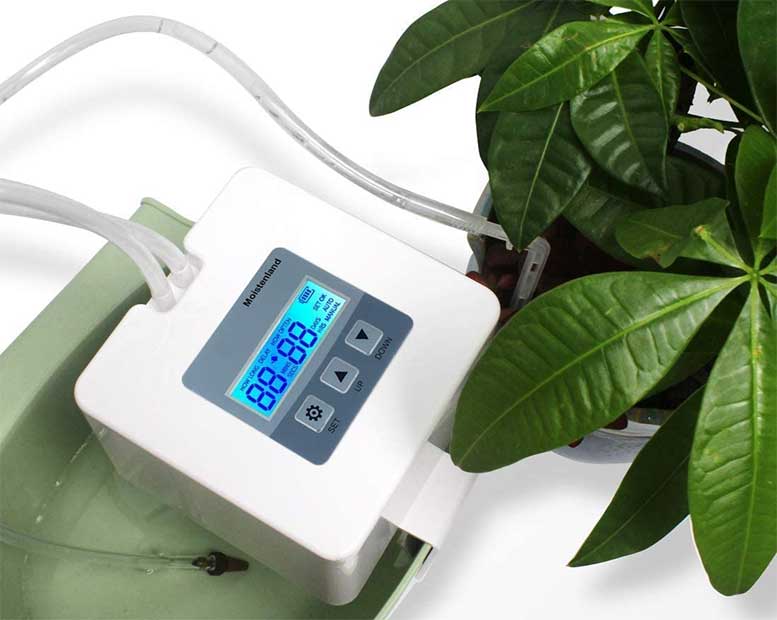 Key features:
Easy 10-minute installation
Water-saving design, 70% reduction
Large LCD programmable timer
Dual power options (batteries and USB)
The Moistenland Upgraded DIY Automatic Drip Irrigation Kit is designed to simplify the process of watering your indoor houseplants. This innovative system ensures that your plants receive the ideal amount of water, preventing under- and overwatering. Perfect for vacationers, busy homeowners, or those adapting to changing weather conditions, this incredibly compact kit offers a hands-free solution for plant care.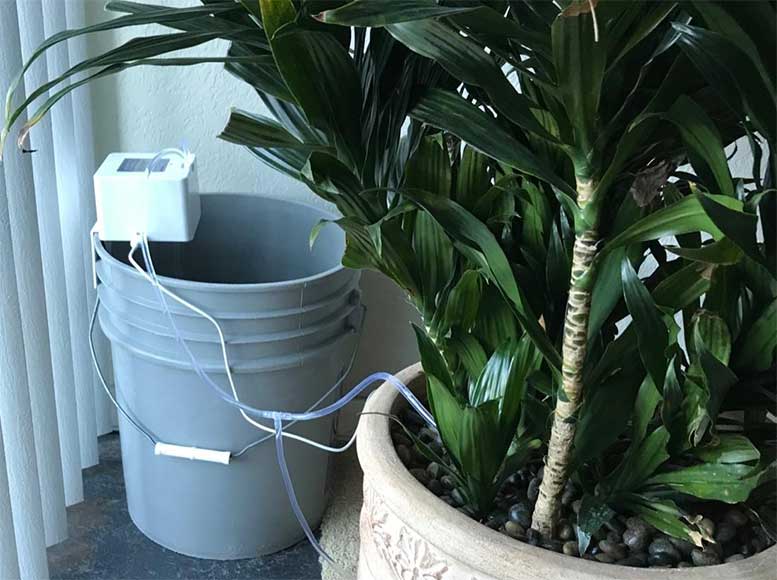 Installation is a breeze, taking just 10 minutes to set up. The kit comes complete with 33 feet of tubing, 10 watering stakes, and various joints, allowing you to customize your irrigation system. With its scientific water-saving design, the kit saves up to 70% more water compared to traditional methods, making it an eco-friendly choice.
The digital programmable water timer is a very welcome feature, as it boasts an extra-large LCD screen for easy reading and navigation. Once set, the timer stores your settings, eliminating the need for constant resets. The device has two power options: four AA batteries or Micro USB power, with the batteries providing backup in case of a power failure.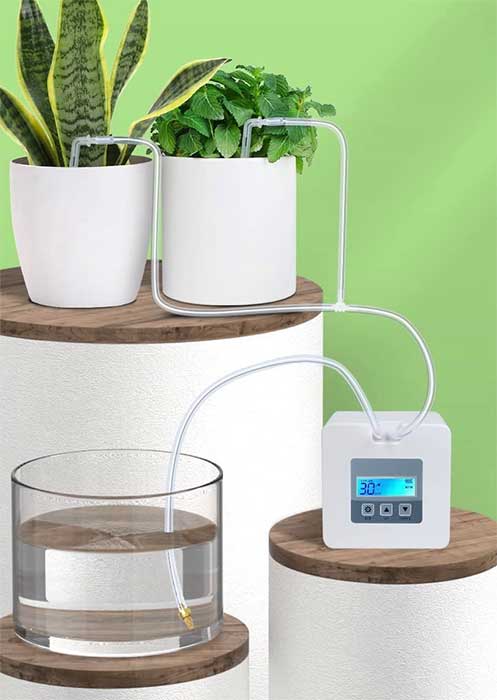 Measuring 3.94 x 3.94 x 2.76 inches and weighing 7.4 ounces, Moistenland's Irrigation Kit is the most compact option featured here. Small as it is, it's still highly effective. Its manual watering option and data storage capabilities add convenience to an already impressive product. In our tests, this kit proved to be a reliable and efficient solution for indoor plant watering, and we believe it will be a valuable addition to any home.
What we liked:
Ideal for vacations or busy schedules
Customizable irrigation system
Eco-friendly, conserves water
Backup battery power option
What we didn't like:
Limited to 15 potted houseplants
Indoor use only
Best Premium: ELECROW GrowCube Automatic Watering System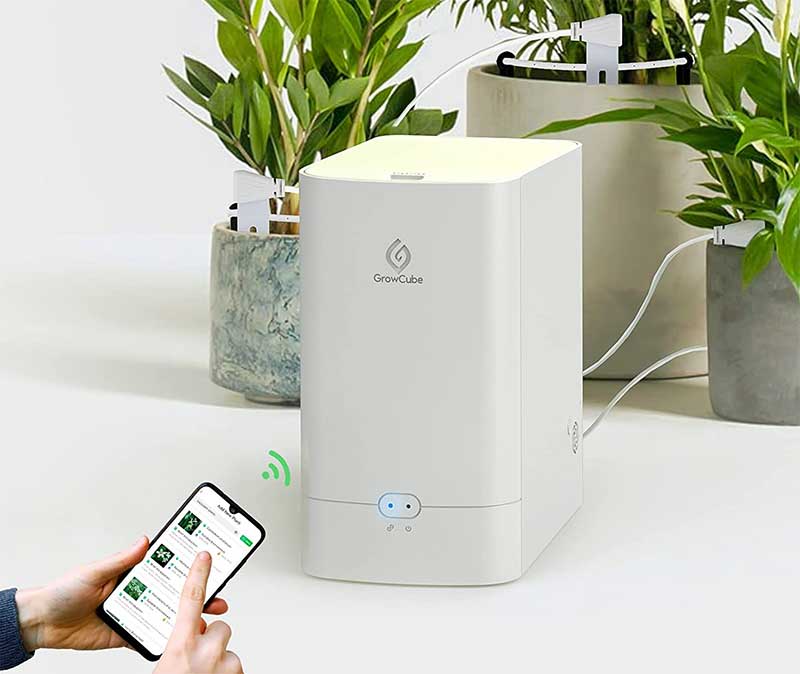 Key features:
Smart automatic plant watering
Four independent moisture sensors
Remote control via app
Water-saving, adjustable output
Last up is the ELECROW GrowCube. This automatic watering system is designed for potted plants, making it an ideal solution for those who have busy schedules or plan to go on vacation. Its compact design, measuring 6.7 x 3.9 x 7.1 inches, is perfect for indoor, outdoor, or garden use. The device uses four self-governing moisture sensors for the soil and has water outlets to ensure efficient and targeted watering.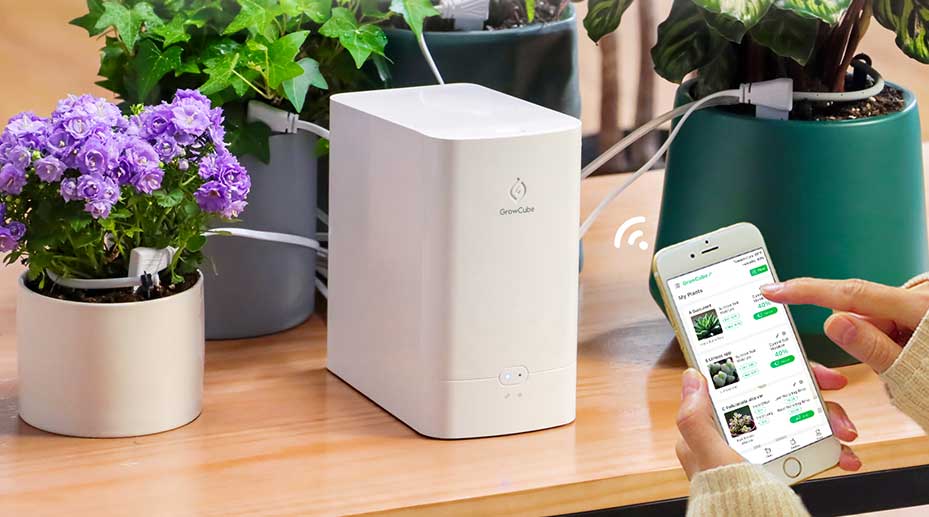 Moreover, it's easy to assemble and offers three watering modes to suit your specific plant needs. The accompanying app provides an extensive plant maintenance knowledge base and features an exclusive plant diary to track growth progress. It works with a variety of Android and Apple devices, so you can remotely manage multiple watering plans. And there are even notifications sent when automatic watering plans are active or if the pump runs out of water.
We like that this smart watering system is designed to conserve water, as it can independently monitor moisture levels in the soil – up to four different pots at the same time – and adjust water output accordingly. It comes with a 1.5-liter water tank that you can connect to external water sources for larger watering needs.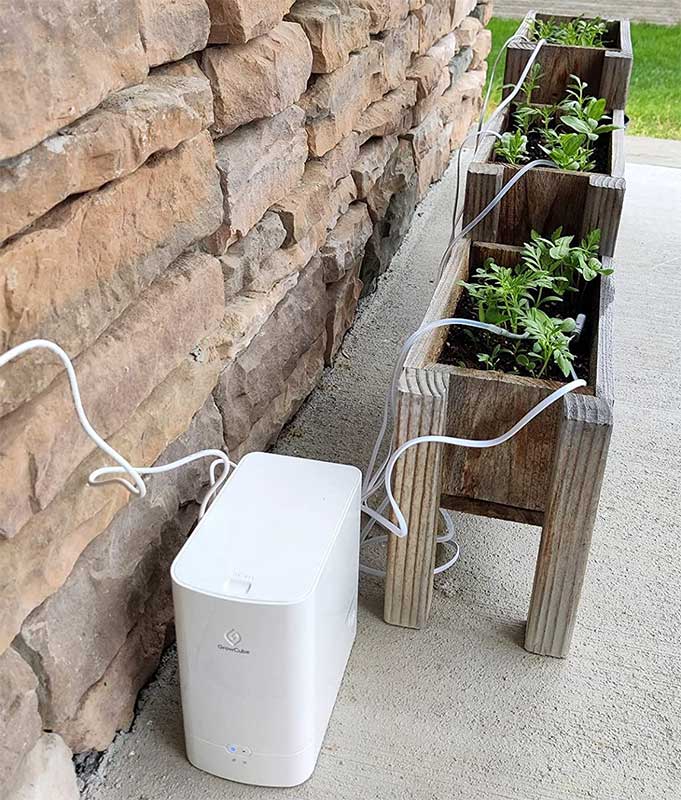 In our testing, the GrowCube accurately supplied water to every plant, avoiding over- or under-watering. As a result, you can trust that you'll get a professional, simple, and convenient way to manage your plant watering needs, saving you time and effort.
What we liked:
Easy DIY assembly
Supports 3600+ plant types
Exclusive plant diary
1.5L large capacity tank
What we didn't like:
Limited device compatibility
Potential app connection issues
Automatic Watering System for Indoor Plants FAQs
How do automatic watering systems for indoor plants work?
Automatic watering systems utilize a combination of timers, pumps, and tubing to deliver water to your indoor plants at scheduled intervals. These systems can be customized to meet the specific watering needs of your plants, ensuring they receive the right amount of water without manual intervention.
Are automatic watering systems for indoor plants easy to install?
Yes, and they typically include clear instructions and all necessary components, allowing you to set up the system quickly and efficiently – often within minutes.
Can automatic watering systems be used for different types of plants?
Absolutely! Many automatic watering systems are designed with adjustable water flow and customizable schedules, making them suitable for a wide range of plants with varying water needs.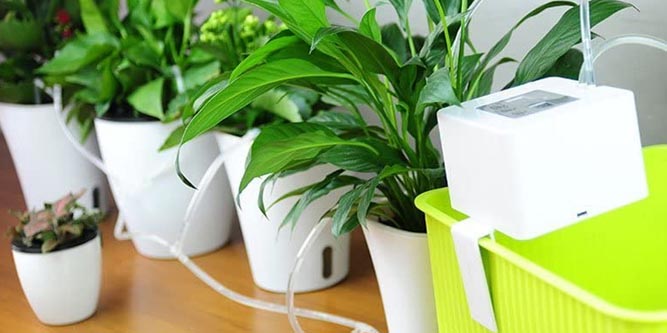 Final Verdict
After thorough research and testing, we've determined that these five automatic watering systems each stand out for their unique features and benefits.
The RAINTPOINT Automatic Watering System takes the top spot as the best overall choice due to its weather-based smart watering and voice control support. The Onsast Automatic Indoor Watering System, our runner-up, offers German technology and an adjustable water flow drip head, making it an excellent option for customizability.
For those on a budget, the Tecnovo Automatic Watering System is a great pick, providing precise water distribution and a large battery capacity without breaking the bank. If you're looking for a compact solution, the Moistenland Upgraded DIY Automatic Drip Irrigation Kit is the way to go, with its easy installation and water-saving design.
And for our premium choice, we chose the ELECROW GrowCube Automatic Watering System. It boasts smart automatic plant watering and four independent moisture sensors for optimal plant care. Each of these indoor plant watering systems has been chosen for its unique advantages and ability to keep your plants hydrated and healthy, making plant care easier and more efficient for you.
Meet Derek, "TechGuru," a 34-year-old technology enthusiast with a deep passion for tech innovations. With extensive experience, he specializes in gaming hardware and software, and has expertise in gadgets, custom PCs, and audio.
Besides writing about tech and reviewing new products, Derek enjoys traveling, hiking, and photography. Committed to keeping up with the latest industry trends, he aims to guide readers in making informed tech decisions.