Overall Design -

9/10

Versatility -

7.5/10

Build Quality -

9/10

Price-point -

6/10
Summary
FlexiSpot's Odin is a beautifully designed, fully adjustable standing desk that's built to last. With an incredible capacity, excellent built quality and smooth ergonomics, it's a top choice for anyone looking to improve their workspace (if you can afford it).
Pros
Highly customizable to suit individual needs and preferences
Exceptional stability with incredibly sturdy, well-built design
Impressive 440-pound load capacity
Quiet, efficient motor operation
Cons
Expensive for those on a tight budget
Assembly may prove challenging for some
When I was first given the opportunity to test and review the FlexiSpot Odin EQ7 standing desk, I was excited about the prospect of integrating a standing desk into my daily routine. As someone who is used to being active and constantly on the move, the idea of a desk that allows me to change positions and maintain my productivity was quite appealing.
Additionally, I wanted to explore the potential health benefits of using a standing desk to combat the issues associated with a sedentary lifestyle. So in this review, I will share my personal experience with the desk, discussing the assembly process, design, stability, adjustability, and the positive impact on my health and productivity.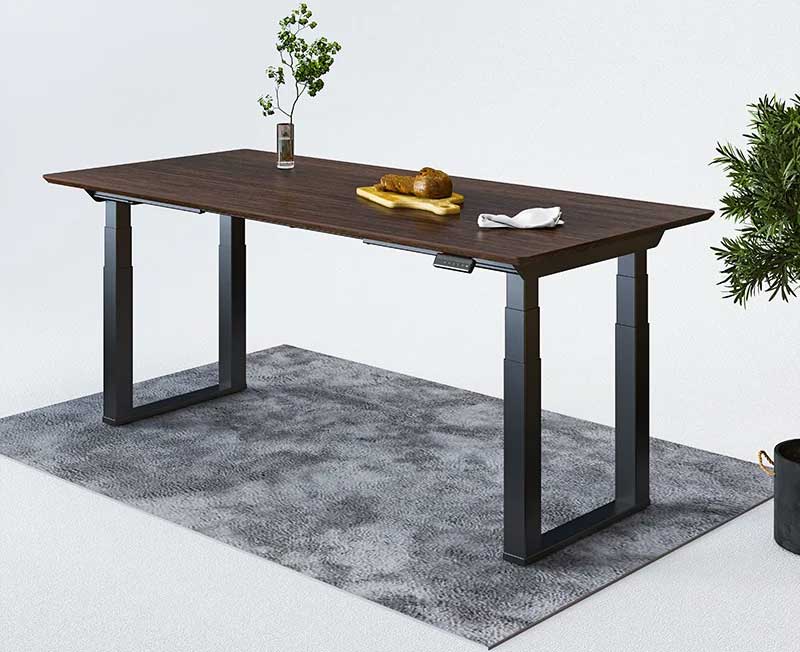 Unboxing and Assembly
It should be noted that FlexiSpot gives you the option (or rather, several options) to customize the EQ7 to your liking. So what arrives in your order might be much different from the next person. I will elaborate on these customizations later, but for now, I will be discussing what I would consider the base unit of the desk with a bamboo top (that's optional, too).
Assembling the standing desk was surprisingly straightforward, although it can take some time to complete. Thankfully, the directions include clear illustrations that helped guide me through the process step by step. Having a power drill and a second person to help stand the desk upright proved to be beneficial. FlexiSpot does give you some useful tools with which to assemble the desk. You might have better tools on hand, which is perfectly OK. But if you're going into it naked, what's included with the desk will prove to be essential.
Design: Robust and Stable
The desk boasts a four-column solid carbon steel frame and four support beams, contributing to its exceptional stability and impressive load capacity of 440 pounds. This robust design makes it ideal for accommodating heavy equipment and multiple projects without any compromise in performance.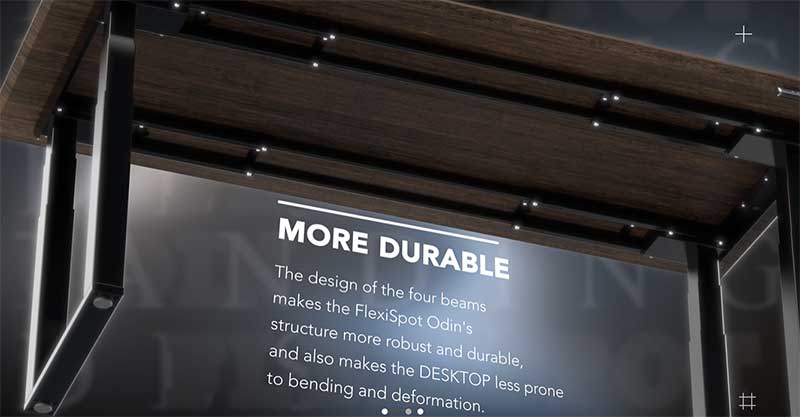 The adjustable height range of 23.6 to 49.2 inches and adjustable width of 43.4 to 74.8 inches, coupled with the desk's linear drive technology, allows for swift and smooth transitions between sitting and standing positions. This feature caters to various user heights and preferences, ensuring a comfortable and ergonomic workspace.
With a desktop length range of 47.2 to 94.5 inches and a choice between 30 or 35.4 inches for the depth, there's a variety of customizable options to suit individual needs and preferences. These options allow users to create a workspace tailored to their specific requirements, ensuring a personalized and efficient work environment.
During my time with the desk, I tested the customization features by adjusting the height according to my needs. I appreciated the effortless transformation of my workspace, and the unit's adaptability allowed me to arrange my office equipment in a way that best suited my workflow. Additionally, I noticed that the desk remained stable and wobble-free even when fully extended, a testament to its solid construction.
Overall, it's a well-built and reliable desk that offers plenty of customization options to suit individual needs. Its robust construction and adjustable features make it an ideal choice for those looking for a dependable standing desk. I will talk about its benefits in a moment, but for now, I can confidently say that the Odin EQ7 is a great investment if you're looking to boost your productivity and ergonomics.
Performance, Health Benefits, and Warranty: A Long-lasting Investment in Well-being
During my testing, I was particularly impressed by the quiet operation of the desk's four motors, which produced less than 50 decibels of noise. This allowed me to adjust the desk at any time without disturbing those around me. Furthermore, the desk's lift speed of 1.5 seconds made height adjustments quick and efficient, ensuring minimal interruptions to my workflow.
After using the desk for an extended period, I noticed significant improvements in both my physical well-being and productivity. The ability to easily switch between sitting and standing positions alleviated the neck, back, and hip pain I had previously experienced and allowed me to maintain focus and efficiency throughout the day.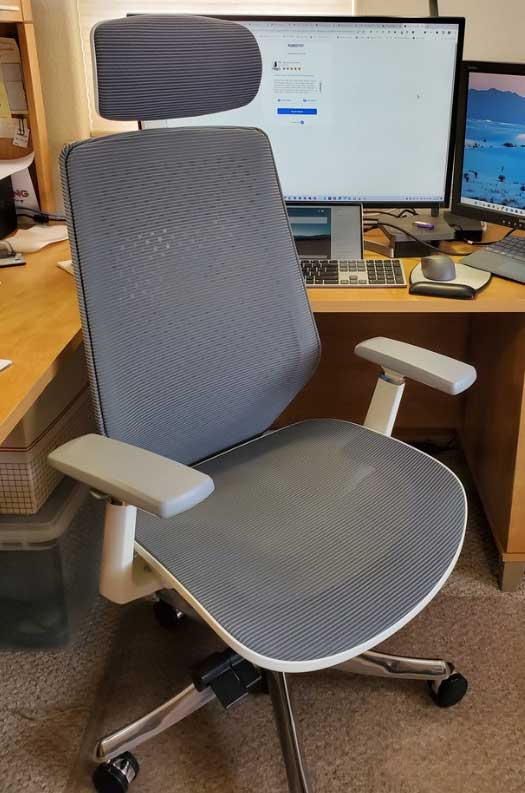 Incorporating the standing desk into my daily routine was a game-changer. I found that alternating between sitting in my OC14 ergonomic chair and standing every hour not only reduced my discomfort but also helped me stay more alert and engaged with my tasks. The desk's ease of use and seamless integration into my work habits made it an indispensable tool for my overall well-being and productivity.
The generous 15-year warranty on the frame, motor, and other mechanisms, as well as warranties on the various desktop materials, is a testament to the desk's durability and premium build quality. This warranty coverage provides peace of mind and ensures a long-lasting investment in a standing desk.
Advanced Features and User Experience: Enhancing Your Work Environment
The EQ7 is equipped with advanced features, such as an anti-collision function, to ensure a safe and user-friendly experience. This function prevents the desk from adjusting its height if an obstacle is detected, protecting both the user and their belongings from potential harm. During my testing, I purposefully placed objects under the desk to trigger the anti-collision function, and it consistently stopped the desk's movement to prevent any accidents.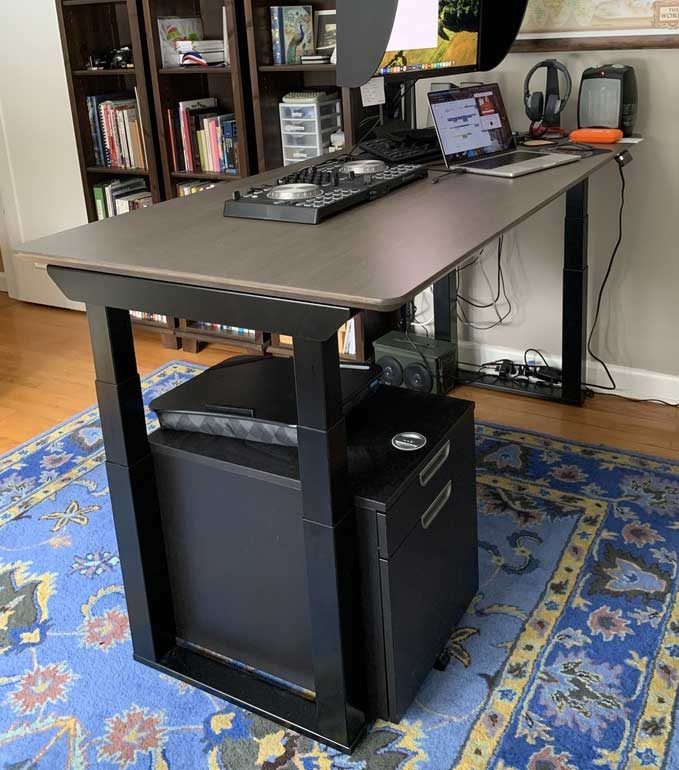 Another notable feature is the keypad with an LCD screen, which enables easy adjustments and customizable presets. The keypad can be mounted on either the right or left side of the desk, catering to different user preferences. I found this feature to be extremely convenient, as I could save up to three different heights in the keypad's memory bank, allowing me to quickly switch between my preferred sitting and standing positions.
The desk is not only practical and functional but also aesthetically pleasing. With various desktop materials to choose from, such as bamboo, chipboard, and solid wood, it'll seamlessly blend with any office décor. The bamboo desktop that I received added a touch of elegance and an eco-friendly aspect to my workspace.
One of the most significant advantages is its versatility. While I primarily used it as a workspace, I could envision it serving other purposes, such as a dining table or a crafting station. This flexibility makes the desk a valuable addition to any home or office setting.
Customization Options: Tailoring the Desk to Your Needs
FlexiSpot offers a variety of customization options to enhance the user experience and make the Odin EQ7 standing desk even more versatile and adaptable to individual preferences. These options allow users to create a tailored workspace that best suits their needs and work style. Here's an overview of the available customization options:
Monitor Arms
Proper posture is essential for maintaining good health and avoiding strain on the cervical spine. FlexiSpot offers monitor arm options that help achieve proper posture while freeing up valuable desktop space. You can choose from:
No monitor arms
Dual F8LD: A dual monitor arm setup that allows for precise monitor placement and adjustment
Premium Single D7L: A single monitor arm for users who only need support for one monitor
As you'll recall, I'm using the most basic version of the desk. But I can certainly see how adding monitor arms could elevate comfort and convenience. They are completely optional, however, and I was happy using the desk without them. That said, I would love to try these in the future to see how it feels having versatile monitor positions at my disposal.
Standing Desk Mats
Standing for extended periods can be tiring on joints and muscles. FlexiSpot provides a selection of standing desk mats to help reduce fatigue and make standing more comfortable:
No standing desk mat
39 "x 20" MT1B: A standard-sized anti-fatigue mat for added comfort
32.3 "x 20.5" DM1: A slightly smaller anti-fatigue mat for those with limited space
Admittedly, a standing desk mat is almost a must-have if you're going to be standing more than sitting. The difference one can make in your physical comfort and well-being cannot be denied. I would advise investing in a mat if you're committed to standing while you work.
Clamp Power Strips with USB
If you wish to keep your workspace organized and clutter-free, FlexiSpot's clamp power strips will definitely do the trick. And thanks to the added USB ports, you're afforded convenient charging and power access. Options include:
No clamp power strip
PS09B: A versatile power strip with multiple outlets and USB ports
PS016: Another option with multiple outlets and USB ports for charging devices
Under Desk Socket PS018: A power strip designed to be mounted under the desk for discreet power access
PS015W: A power strip with a sleek design and multiple outlets and USB ports
A good strip is the way to go if you're concerned about clutter and appearance. And let's not forget, an organized workspace can do wonders for your mental health and focus. Consider giving one of these a try if you want the complete package.
Portable Laptop Stand Docking
For those who need a versatile solution for their laptops, FlexiSpot offers a portable laptop stand docking station that combines multiple functions to fulfill all your needs. Options include:
No portable laptop stand docking
TD1 Silver: A multifunctional laptop stand and docking station that provides ergonomic support, additional USB ports, and an organized workspace
Options are limited here, and that might be a good thing. I'll concede that the one offered is high-quality and looks to be a long-lasting stand. But if you're trying to get the best deal possible, there are much more affordable options available. Do some research before adding this one to your order.
With these customization options, FlexiSpot enables users to create a workspace that not only addresses their ergonomic needs but also enhances productivity and efficiency. By tailoring the desk to your specific requirements, you can ensure that your Odin EQ7 provides the perfect foundation for a healthier and more productive work environment.
Final Verdict
The FlexiSpot Odin EQ7 standing desk has not only transformed my workspace into a more ergonomic and efficient environment but has also significantly improved my physical health and productivity. I highly recommend this standing desk to anyone seeking a versatile, durable, and customizable workspace solution that caters to a wide range of users and preferences.