Overall Design -

8/10

Image Quality -

9/10

Performance -

8.5/10

Connectivity -

7.5/10
Summary
INNOCN's 27-inch Gaming Monitor proved to be a well-built display with plenty of features to salivate over. With a budget-friendly price-tag and excellent performance, it's sure to become a popular choice for gamers and everyday PC users alike.
Pros
Lots of connectivity options.
Stellar image quality.
Perfect for work and play.
Sleek design.
Cons
Heavier than others in its class.
Could use more audio options.
As an avid gamer and someone who spends a significant amount of time working on a computer, I've been on the lookout for a monitor that provides both outstanding gaming performance and exceptional image quality for everyday tasks. I recently spent time with the INNOCN 27 Inch Gaming Monitor, and I'm excited to share my experiences with this impressive device.
It has lots of bells and whistles that are sure to appeal to the modern gamer, as well as those who want a quality screen for work-related purposes. There's a lot to unpack here, so let's begin with what most you want to know – how's the image quality, and how does it perform?
High-Speed Performance for Immersive Gaming
Right off the bat, you'll notice that this isn't your average monitor. For starters, it boasts a 240Hz refresh rate and G-Sync compatibility. That means it's ideal for FPS and RTS games. The 1ms response time and tear-free experience ensured that I enjoyed smooth gameplay without any annoying latency issues. If you're used to playing on 60Hz monitors, you're going to be in for a treat.
The monitor also supports 120Hz, 144Hz, and 165Hz, so it's incredibly versatile. This enables it to be compatible with a wide range of graphic cards and games. But what's more, it takes the guesswork out of hunting for a monitor that you know will work for you and meet your needs. Most of us have been burnt a time or two due to buying devices that miss the mark compatibility-wise. Well, you can put those fears to bed, as the flexibility here is most excellent.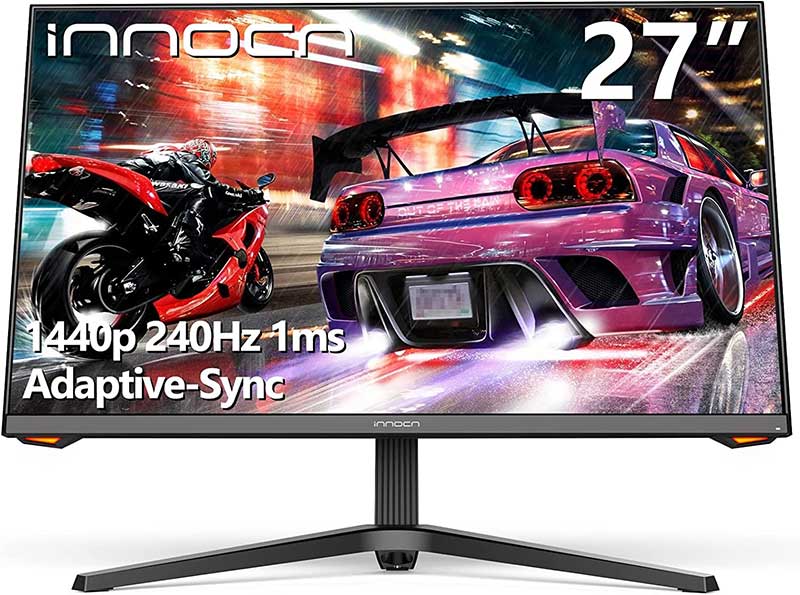 Stunning Image Quality with QHD 1440P Resolution
Of course, compatibility is one thing – graphical prowess is something else entirely. So I was pleased to discover that the image quality here is incredible. The 27-inch screen features a 2560 x 1440p QHD resolution and 99% sRGB color gamut, which results in deep, rich colors and well-defined features. This not only makes the gaming experience more vivid but also enhances productivity when working from home. The VA panel ensures wide viewing angles and excellent color reproduction.
HDMI + DisplayPort Connectivity
The INNOCN monitor comes equipped with both HDMI 2.1 and DisplayPort 1.4 interfaces, ensuring seamless connectivity with a diverse range of devices. This includes desktop computers, gaming laptops, and popular gaming consoles such as the Nintendo Switch, Xbox, and PlayStation. The availability of these modern interfaces makes it a breeze to establish connections with your preferred devices. The joystick selection button also provides a more user-friendly experience when navigating the monitor's settings.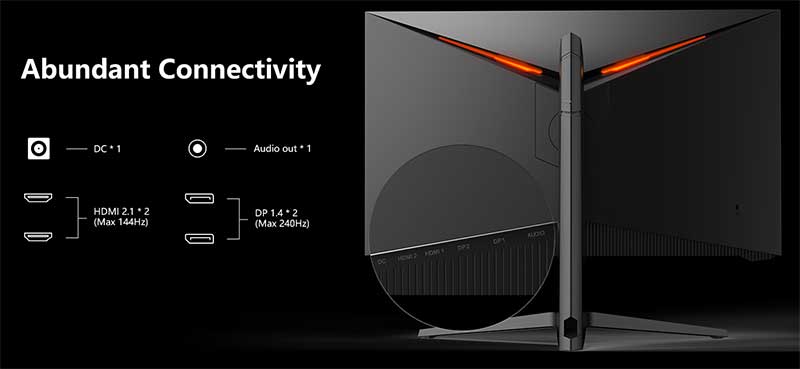 That means you can choose the best connection interface to suit your gaming needs without having to fumble around with extra cords or adapters. Also present is an audio out and port for the barrel-plug power cable. I would have liked more audio options, but what's here is certainly sufficient and should accommodate most gamers well.
Sleek Design and Easy Installation
I like that it features ultra-narrow 3-sided bezels and a slim, frameless design, giving it a modern and stylish appearance. The metal stand is sturdy and offers tilt adjustability, ensuring that you can find the perfect viewing angle for your needs. Additionally, the monitor is VESA wall-mountable (75 x 75 mm) and weighs just 9.3 pounds without the stand, so it's easy to mount on a wall or position on your desk.
Eye-Care Technology
Our digital lives have become increasingly screen-centric, making it crucial to invest in monitors that prioritize eye care and comfort. INNOCN's 27G1S monitor has been designed with this in mind, incorporating both blue light reduction and flicker-free technology to minimize eye strain and fatigue.
Blue Light Reduction
Blue light is a high-energy visible (HEV) light emitted by digital screens, and it can cause all kinds of problems for our eyes. INNOCN addresses this issue by utilizing blue light reduction technology. This feature filters out harmful blue light emissions, thereby reducing the risk of eye strain, dryness, and discomfort. It also contributes to better sleep quality, as excessive exposure to blue light before bedtime can disrupt our natural sleep patterns.
The blue light reduction feature can be particularly beneficial for individuals who spend long hours working or gaming in front of a screen, as it helps maintain eye comfort and overall visual health. Moreover, it may also be advantageous for people with pre-existing eye conditions or those prone to eye strain and fatigue.
Flicker-Free Technology
Many traditional monitors use Pulse Width Modulation (PWM) to control brightness levels, which can cause the screen to flicker at certain frequencies. Similar to some of the best PWM fan controllers, this flickering can be almost imperceptible to the naked eye but may still contribute to eye strain, headaches, and just an overall feeling of discomfort over time.
The monitor combats this issue with flicker-free technology, which eliminates screen flickering by using Direct Current (DC) to control brightness levels. This results in a more stable and comfortable viewing experience, reducing the likelihood of eye strain and fatigue. By incorporating both blue light reduction and flicker-free technology, the INNOCN 27G1S monitor demonstrates a strong commitment to users' eye health and comfort.
These features enable you to work on documents, play games, or watch movies for extended periods without compromising your eyesight and well-being. As a result, the 27G1S is an ideal choice for those who spend long hours in front of screens and prioritize eye care in their digital experiences.
My Gaming Experience with the INNOCN 27G1S
Upon unboxing the 27G1S, I immediately noticed its sleek design and slim profile. The monitor was easy to set up, with the metal stand providing a stable base on my desk. I appreciated the inclusion of both HDMI and DisplayPort cables, making it simple to connect to my gaming PC.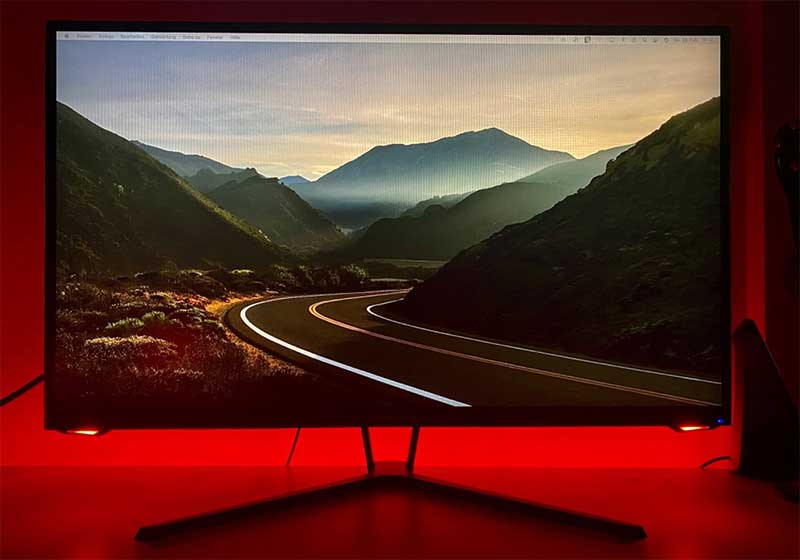 Performance and Image Quality
I put the 27G1S through its paces by playing a variety of games, including fast-paced shooters and visually demanding titles. I was impressed by the smoothness and responsiveness of the monitor, with the 240Hz refresh rate and 1ms response time providing a clear advantage in competitive gameplay.
The QHD resolution and 99% sRGB color gamut made for a stunning visual experience. The colors were vibrant and lifelike, and the sharpness of the image was a significant improvement over my previous 1080p monitor.
Adjusting Settings and Connectivity
Navigating the monitor's settings was a breeze. I was able to fine-tune the monitor's performance and image quality to suit my preferences, with options for adjusting brightness, contrast, and color temperature. I tested it with various devices, including my gaming laptop and console. The monitor performed admirably in all cases, providing a consistent and enjoyable experience regardless of the device it was connected to.
My Professional Experience with the INNOCN 27G1S
As someone who spends a considerable amount of time working on a computer, I found that the INNOCN 27G1S also excelled in a professional setting. The QHD resolution and 99% sRGB color gamut ensured that text was sharp and easy to read and images were accurately reproduced. This was particularly beneficial for tasks such as photo editing and graphic design, where color accuracy is crucial. Multitasking was also a breeze, thanks to the 27-inch screen size. I could comfortably have multiple windows open simultaneously, which significantly improved my productivity.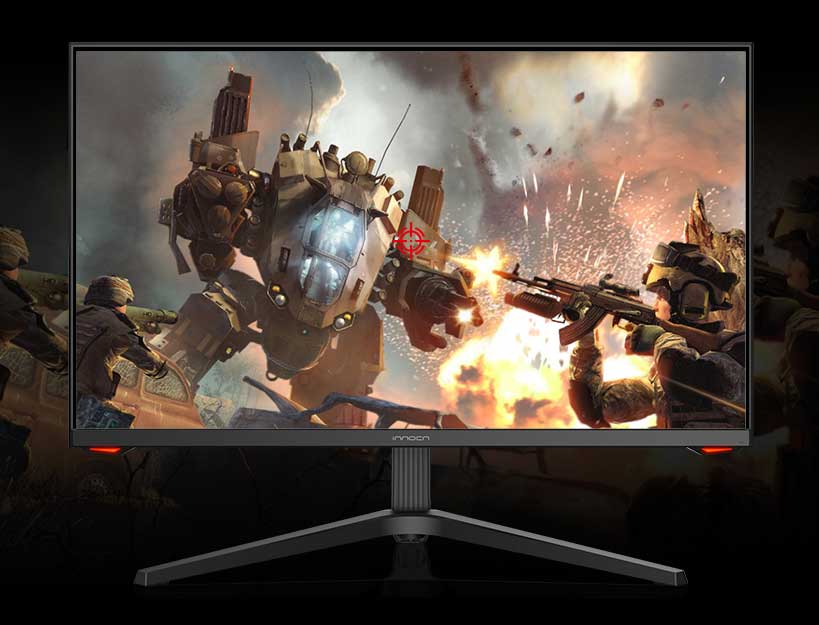 Eye-Care Technology
I covered this essential feature a moment ago, but how is it in action? Well, I can confidently say that after using it for extended periods – both for gaming and professional work – I noticed a considerable reduction in eye strain and fatigue. The blue light reduction and flicker-free technology truly made a difference, and I found that I could work or game for longer periods without discomfort.
This is a huge deal for anyone who's ever experienced eye fatigue or strain. Trust me, the last thing you want to be doing is rubbing your eyes while trying to catch up on your deadlines. Now, all of this can be avoided with the right technology. And thanks to it being present, you can continue to stay productive without worry.
VESA Mounting
When setting up the gaming monitor, I initially used the included metal stand, which provided a stable and sleek base. However, I later decided to switch to a VESA-compatible monitor arm to further optimize my workspace and enhance my viewing experience. The VESA mounting feature works with a 75 x 75 mm mount pattern, making it compatible with a wide range of monitor arms and wall mounts. This feature grants users the flexibility to customize their workstation and adapt it to their specific needs and preferences.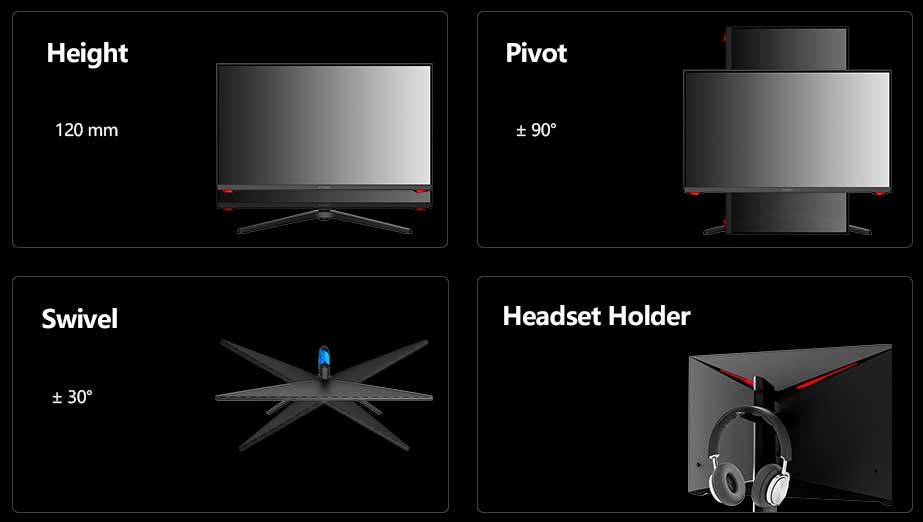 Mounting the INNOCN 27G1S on a VESA-compatible monitor arm was a simple and hassle-free process. The monitor's ultra-thin design and lightweight build made it easy to maneuver and position as needed. Once mounted, I was able to effortlessly adjust the monitor's height, angle, and orientation to achieve an ideal viewing experience tailored to my personal preferences.
The addition of VESA mounting capabilities not only allows for greater adaptability in various workspaces but also helps to reduce potential neck and back strain from improper monitor positioning. And the ability to fine-tune the monitor's placement ensures that users can maintain proper posture and avoid discomfort during long hours of screen time.
Final Thoughts and Verdict
After spending a significant amount of time with the INNOCN 27 Inch Gaming Monitor, I can confidently say that it has exceeded my expectations in terms of both gaming performance and image quality. The 240Hz refresh rate, G-Sync compatibility, and 1ms response time provided a distinct advantage in competitive gaming, while the QHD resolution and 99% sRGB color gamut resulted in stunning visuals for both gaming and professional use. The monitor's sleek design and easy installation process were added bonuses, and the eye-care technology made it a pleasure to use for extended periods.
As such, it's a fantastic investment for gamers and professionals alike. With its lightning-fast performance, stunning image quality, sleek design, and eye-care prioritization, it provides an exceptional user experience. It has a competitive price point, but don't hesitate to sign up for INNOCN's newsletter if you want to get updates on exclusive giveaways and discounts.
Whether you're a casual gamer or a competitive player, a graphic designer, or simply someone who values a high-quality monitor, INNOCN's 27G1S is an excellent choice.
Meet Derek, "TechGuru," a 34-year-old technology enthusiast with a deep passion for tech innovations. With extensive experience, he specializes in gaming hardware and software, and has expertise in gadgets, custom PCs, and audio.
Besides writing about tech and reviewing new products, Derek enjoys traveling, hiking, and photography. Committed to keeping up with the latest industry trends, he aims to guide readers in making informed tech decisions.