Picture this. You finally find that perfect house or apartment, and it has an awesome fireplace. You love it, but having it makes it difficult to mount a TV nearby. You don't want that to stop you from having the perfect place to live, so what should you do?
Why not mount the TV above your fireplace? With the right hardware, this is a perfectly safe way to mount your TV that also looks great.
Important Considerations
Size and Weight Compatibility: As we all know, TVs come in a ton of different weights and sizes. Different mounting options are going to have different limits on what they can support. Paying attention to that is important so you don't have your TV pull the mount off the wall and cause a ton of damage.
Range of motion/use: Not everyone can look at their TV directly while it's mounted on the wall. That's why the range of motion is important. Being able to pull it off the wall, tilt/pivot it, are great ways to make sure you can always see the screen. Once you're done, simply put it back into its normal position and it will blend right back into the room.
Ease of installation: Installation may be the hardest part about mounting TVs. Installing the mount can be a challenge, but it doesn't always have to be. Making sure to know what you're getting yourself into ahead of time is a great way to avoid any unnecessary headaches.
Best Overall: VIVO Steel Electric TV Wall Mount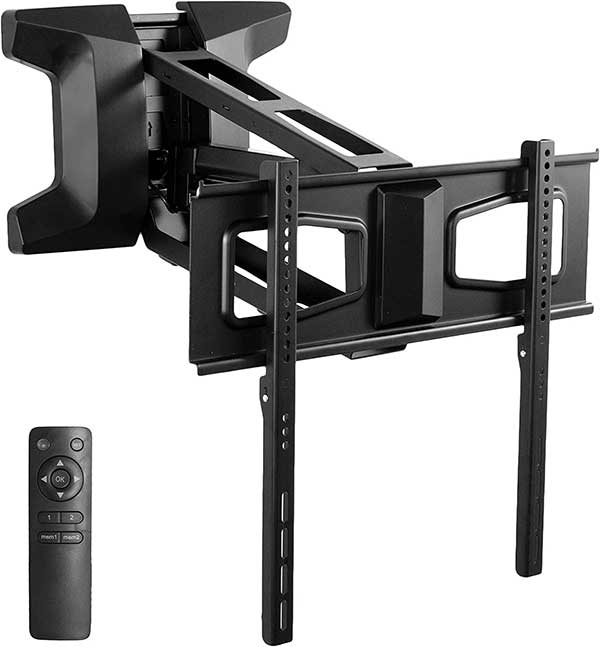 The VIVO Steel Electric TV Wall Mount is a beast that's completely motorized. It offers a wide range of screen size compatibility that can hold TVs between 37 and 70 inches. As for weight, its capacity maxes out at 77 pounds. It's a great option for mid to large-sized TVs, with slightly less size capacity than others.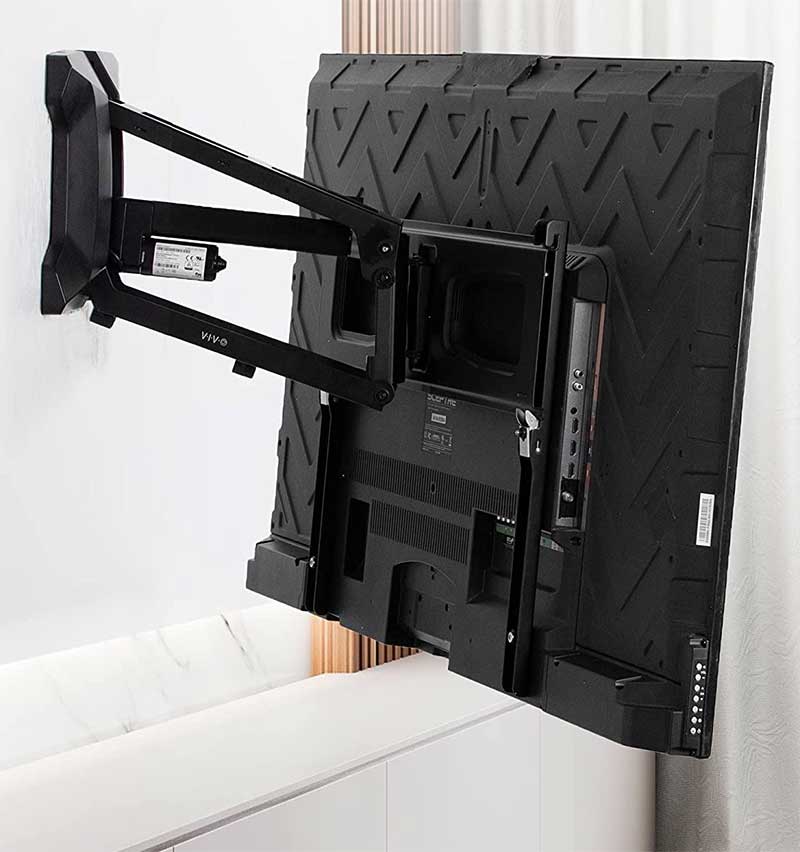 The VIVO offers a great range of motion. Its height can be adjusted up to 23 inches. Once the height is set, it can be swiveled left and right 25 degrees to find the perfect viewing angle. The unique part about this option is you don't have to manually move it. It comes with a built-in electric motor, controlled by a remote. This lets you change the height and angles with the push of a button.
The mount itself weighs 27.2 pounds. You'll need a minimum area of 18 x 10.5 inches on your wall to mount it. One thing that sets it apart is the color options. It's available in both black and white, so while in use it can blend in well, depending on your wall colors.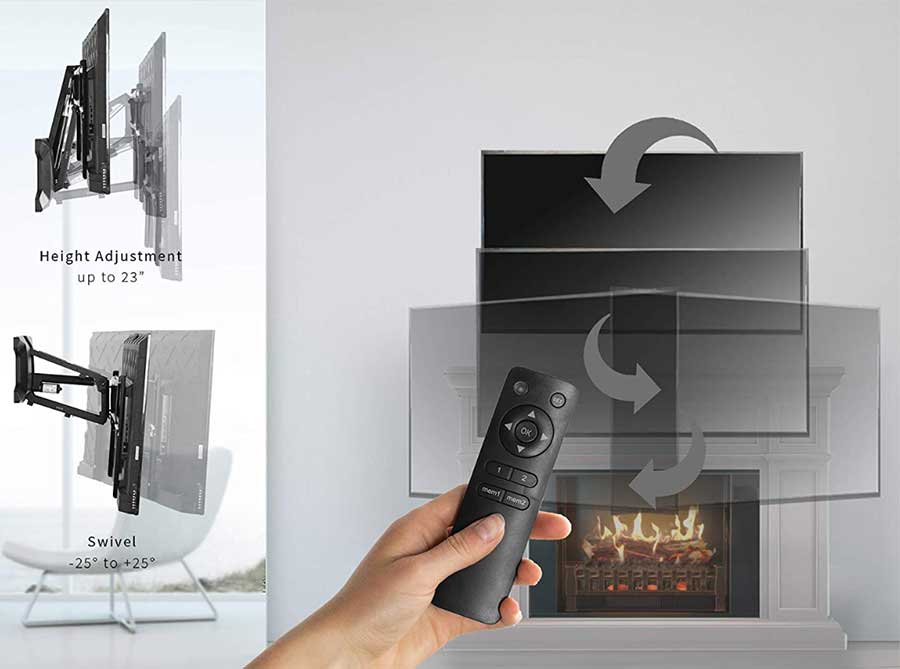 The VIVO mount is simple to install. It comes with a chart to help you make sure to drill your holes in the correct places. It's a VESA bracket mount, so attaching your TV to it is simple and compatible with wooden studs and concrete wall construction.
Pros:
3-year manufacturer warranty
Electric motor to adjust the height and viewing angles
Comes with a remote
Cons:
Best Alternative: Mount-It! Fireplace TV Mount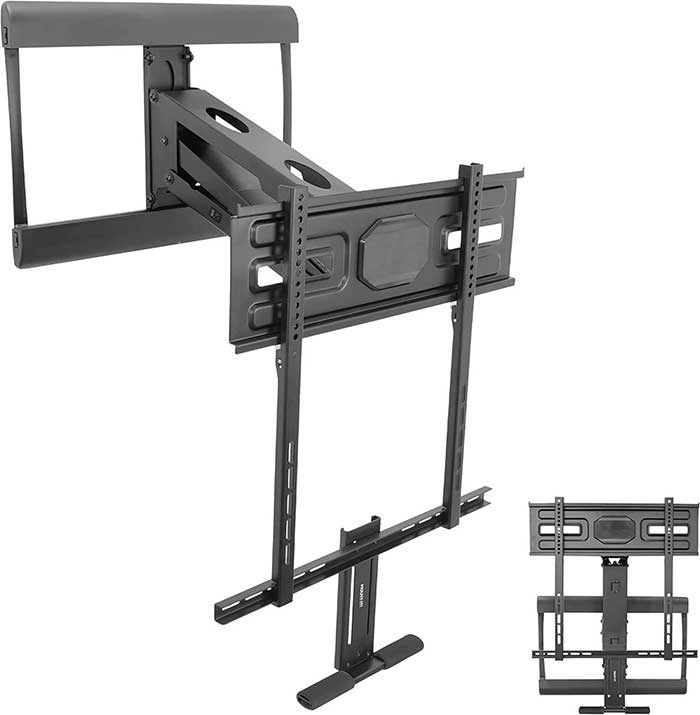 The Mount-It! Fireplace TV Mount is a very capable option. It can hold TVs anywhere from 43 to 70 inches. It has a weight limit of 72.6 pounds as well. This should be plenty of size and weight capabilities to handle most TVs, but make sure yours falls in that range before purchasing.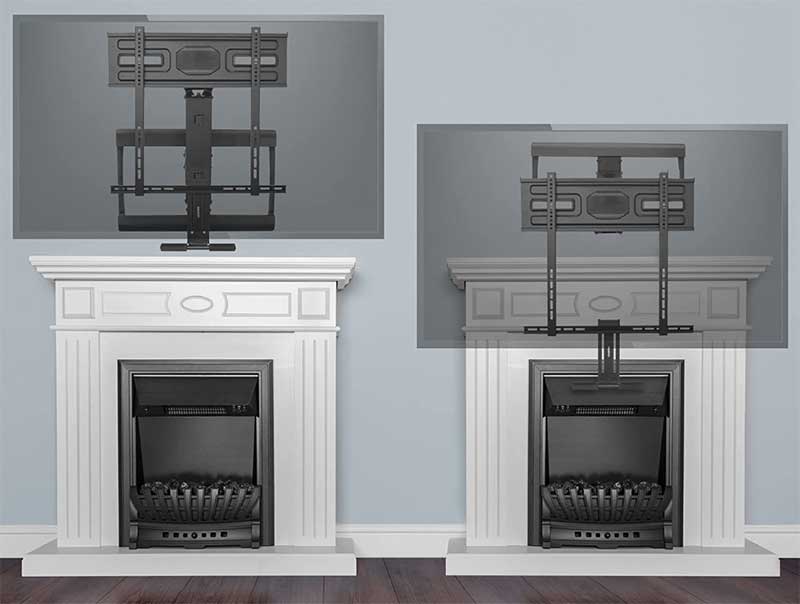 This mount can pull your TV away from the wall and swivel it left and right. When pulling away from the wall, it can achieve 24.8 inches of range to choose from. When at its highest, your TV will be 9.75 inches from the wall. At its lowest position, your TV will be 20.5 inches from the TV. When you have your desired height, it can swivel left and right 30 degrees each to offer a wide selection of viewing angles.
The mount itself is made out of heavy-duty material, being tested at up to four times the weight capacity of the maximum suggested weight capabilities. Its dimensions are 30 x 20 x 8 inches, and it weighs 39 pounds. This makes it one of the heavier options on the list, but its heavy-duty abilities make up for it.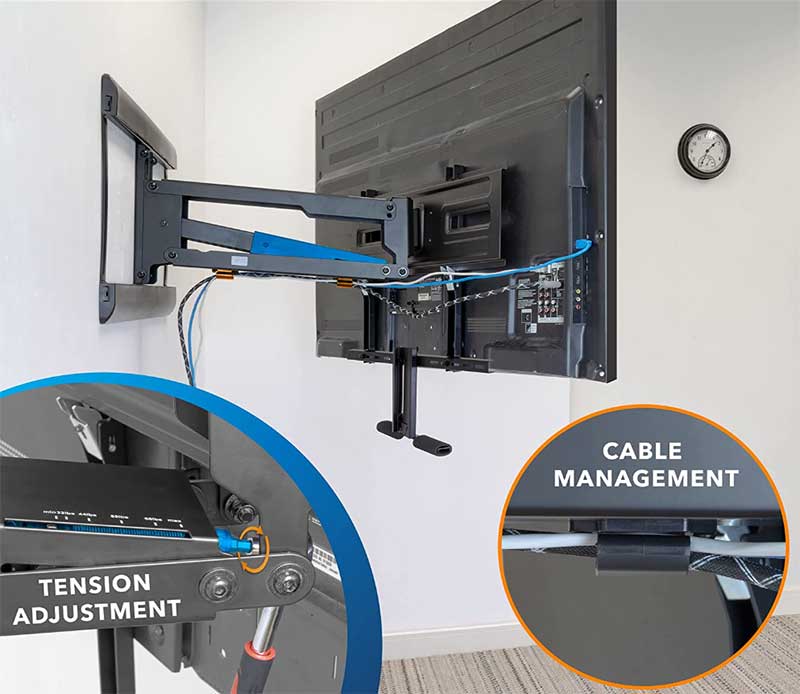 The installation of the Mount-It! is not a difficult process. It can be mounted into wood studs between 16 and 24 inches apart. It can also be mounted into cement or brick backing. It can attach to your TV via VESA mounting brackets, making that part easy. Included cable management systems ensure your cables can easily and safely be kept away from moving parts of the device.
Pros:
Heavy duty construction
High range of motion
Relatively easy installation
Cons:
Heaviest option on the list
Best Compatibility: MantelMount Above Fireplace Pull Down TV Mount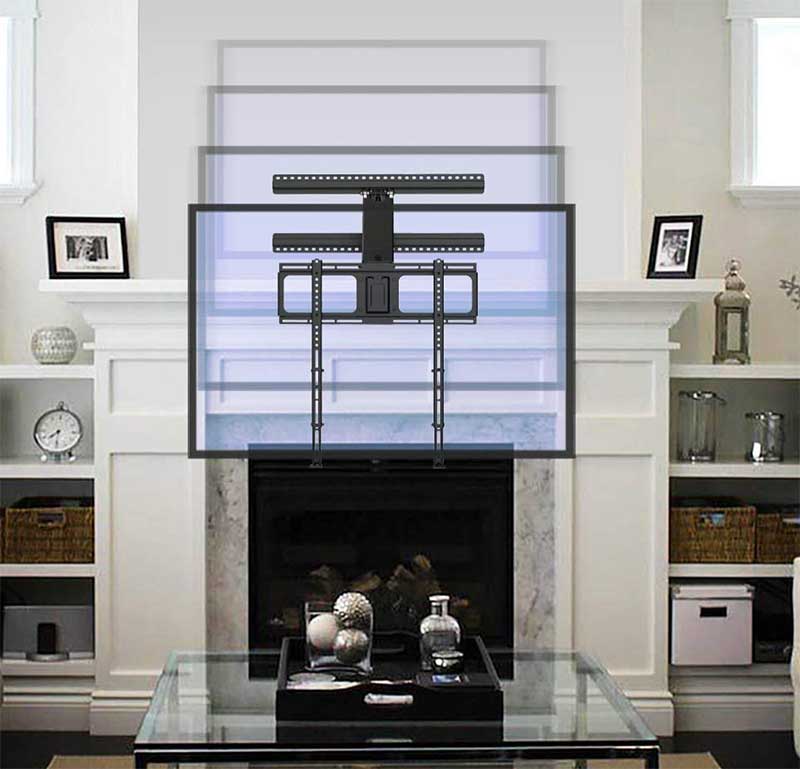 The MantelMount is a great option for your TV. It can hold TVs ranging in size from 44 inches to 80 inches. Additionally, it can hold between 20 and 90 pounds. This makes it a great choice for TVs that are mid to large size, which seems to be about average nowadays.
In terms of range of motion, it provides a lot. While it's flush with the wall, the TV is 5.5 inches away from the wall, at its closest point. It can extend away from the wall up to 19 inches. Vertically, it can lower to a maximum of 27 inches downward. It can also swivel horizontally left and right to a maximum of 30 degrees. Its range of motion allows you to view it virtually anywhere in the room and also helps to eliminate unwanted glare.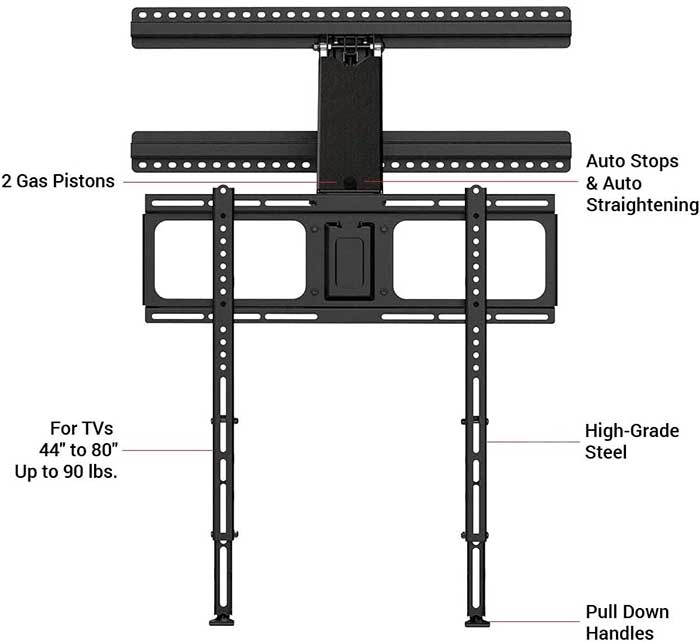 The mount itself weighs 25 pounds. It's 30 x 7.25 x 25 inches while in its standard mode, so make sure you have that much space to work with before purchasing. It also features easy cable management, pull-down handles, and dual gas pistons to make using it in your home simple.
The MantelMount is very simple to attach to your wall. It can drill into studs up to 24 inches apart, with easy to follow instructions. It also has a safety bolt and a sliding wall plate to help ensure your TV won't fall off unexpectedly.
Pros:
Wide range of motion
Solid steel construction
Easy installation
Cons:
Best for Small TVs: MORryde Drop Down TV Wall Mount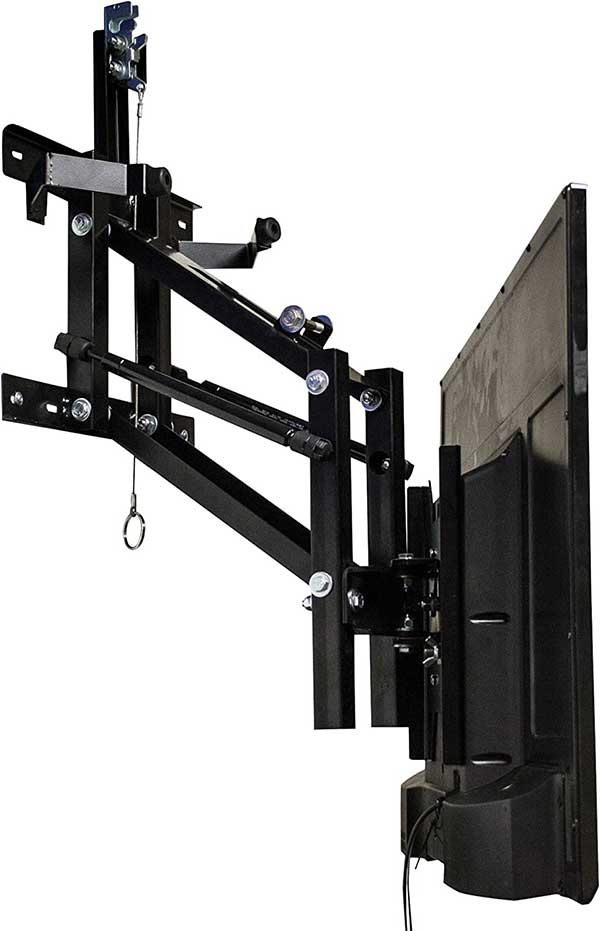 The MORyde Drop Down TV Wall Mount is designed with small TVs in mind. It can hold TVs up to 20 inches that weigh between 12-20 pounds. This sets it apart from any other option on this list, as it will not be able to handle the bigger-sized TVs that the others do. However, the other options on this list can't hold such a small TV. This makes it a great choice if you have limited space to work with.
The range of motion is fairly limited but still acceptable. It can be pulled down and raised by about 18 inches. Once in position, it can be swiveled left and right a total of 50 degrees. There's a metal wire that you pull to move the mounted TV up and down.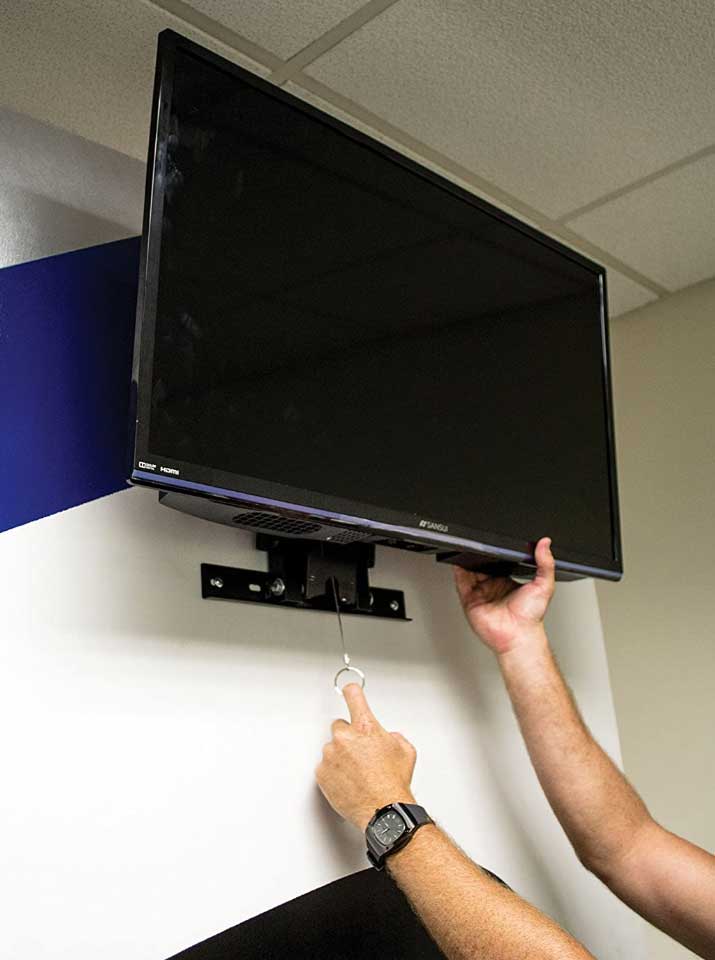 The mount itself only weighs 9.9 pounds. That makes it by far the lightest option on the list. Additionally, it only takes up 17.75 x 13.5 inches on your wall. And like others, it comes in black, so it won't stick out too much while in use behind the TV.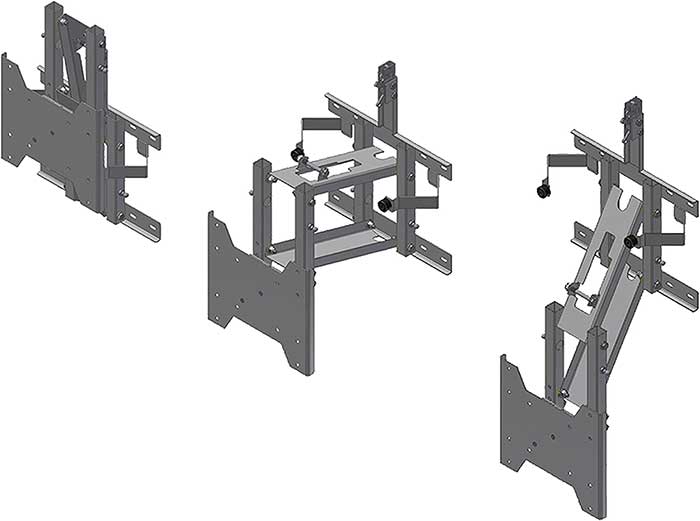 The back of the MORyde Drop Down TV Wall Mount has several holes to choose from so you have a lot of options when it comes to installation. This is mostly because the bracket itself is so small, with plenty of flexibility to hit studs in the wall. For TV compatibility, it can fit VESA mounting patterns of 75 x 75, 100 x 100, and 200 x 200. All necessary hardware and instructions are included in the packaging.
Pros:
Great for small TVs
Lightweight frame
Cons:
High cost for a small mount
Most Unique: StarTech Pull Down TV Mount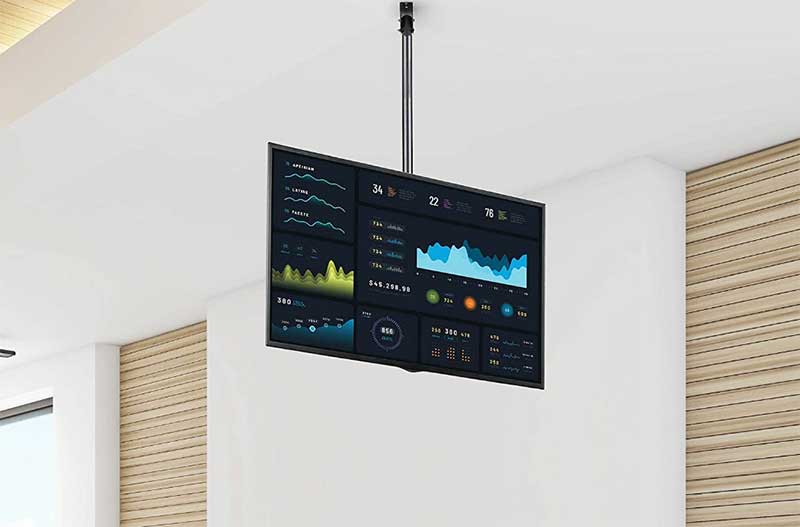 If you want one of the most unique ways to mount your TV, the StarTech Pull Down TV Mount is the perfect choice for you. It can hold TVs from 32 to 75 inches in screen size. It can also hold TVs up to 99 pounds, making it the highest weight capacity on the list. Best of all, it has full support for curved displays.

The mount size itself is going to be a little bit different than everything else on this list. Rather than a wall-mounted large bracket like the other options, this bracket is ceiling mounted. It only weighs 22 pounds. It has a top mountable bracket size of 26.8 x 17.1 inches that goes into your ceiling. It's also a black color, but due to the way it works, you may have a hard time hiding it still.
The height of the pole can be adjusted from 8.2 feet long to 9.84 feet long. It allows you to swivel your TV. This makes it so ceilings that are 0 to 60 degrees of a slope are compatible. Once you have it in place, you can tilt the TV down to a maximum of 25 degrees for a better viewing angle. It also offers the best left and right swivel to offer, achieving +/- 180 degrees of coverage.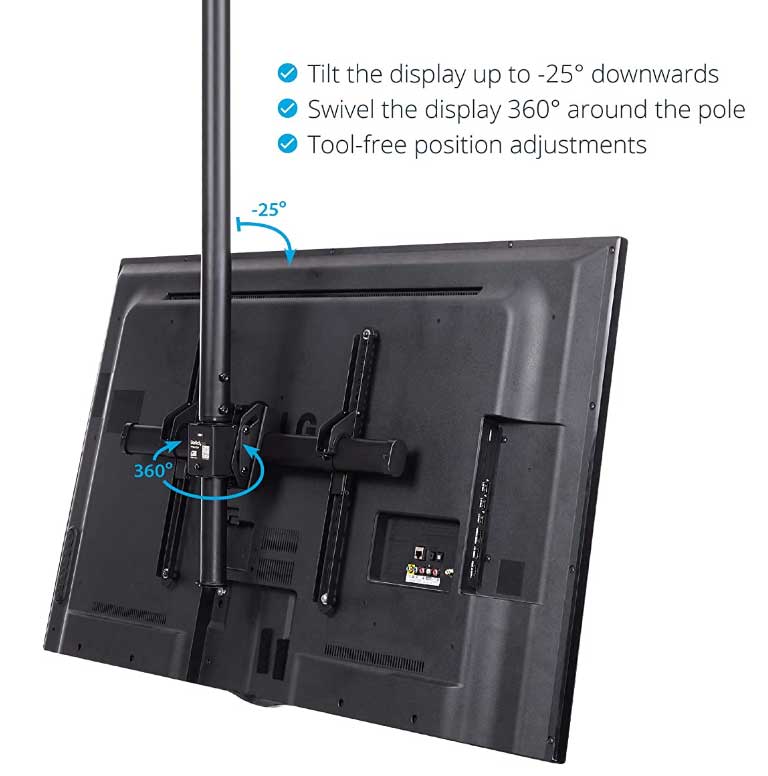 While installation isn't difficult, setting up the StarTech Pull Down TV Mount may not exactly be simple. You'll need to have a ladder tall enough to reach your ceiling and be comfortable drilling above you. You'll also might have to do quite a few measurements to make sure your TV will be positioned exactly where you want it. The TV can be attached with standard VESA mounting to make that part simple. All mounting instructions and hardware are included in the package.
Pros:
Extremely unique
Best swivel viewing angle
Highest weight capacity
Cons:
Least simple to install
Must be able to drill into ceiling
Meet Derek, "TechGuru," a 34-year-old technology enthusiast with a deep passion for tech innovations. With extensive experience, he specializes in gaming hardware and software, and has expertise in gadgets, custom PCs, and audio.
Besides writing about tech and reviewing new products, Derek enjoys traveling, hiking, and photography. Committed to keeping up with the latest industry trends, he aims to guide readers in making informed tech decisions.