If you want to have the ultimate PC gaming setup, you need a good gaming keyboard. Something that is high quality, with easy access to all your keys, and doesn't get in the way of your mouse movement. While you could use a standard full-sized keyboard that you'd see in an office setting, it's not ideal. A much better option is a 65% gaming keyboard.
Why use a 65% Gaming Keyboard?
They're smaller: A standard keyboard usually comes with a number pad, extra function buttons, and a much bigger body. This isn't great for gaming as a bulky keyboard with lots of buttons you'll never use just takes up valuable real estate on your desk. The smaller profile of a 65% keyboard allows you to have all the buttons you need with ample space to use your mouse.
They're durable: Gaming keyboards are typically built with high-quality materials in order to hold up to years of gaming use. They're usually made with high-quality plastic or even metal, with high-quality keycaps that won't wear down over time.
State-of-the-art technology: Since gaming is a cutting-edge activity, so are the keyboards made for it. They have the best switches, the fastest connection via wired USB-C or Bluetooth, and sometimes allow you to re-program to your specific needs. All of that wrapped in a 65% package makes them great for gamers.
They look awesome: Gamers take pride in their PC setups. Having a keyboard that will certainly be a focal point of their desk means that it's important that they're visually pleasing. Whether it's colored keycaps, colored board bodies, or RGB effects, a 65% keyboard will be likely available in any style you prefer.
Best Overall: DROP ALT Mechanical Keyboard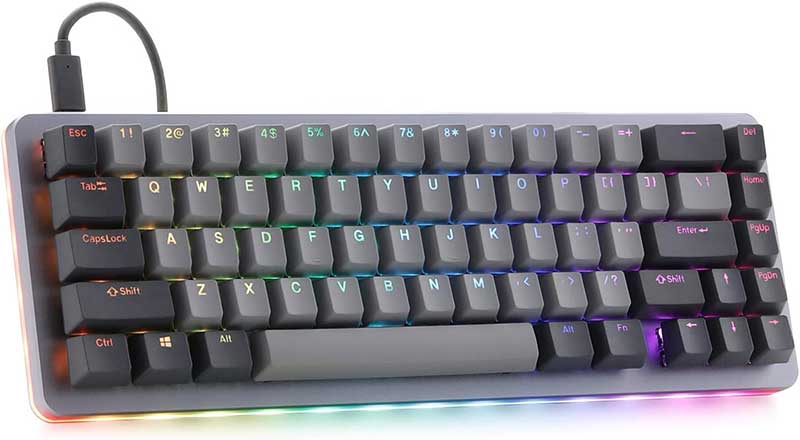 Key Features:
USB-C connection
Aluminum body
12.7 x 4.4 x 1.25 inches
1.53 pounds
The ALT from Drop is the most premium option on this list. It features doubleshot shine through PBT keycaps. This ensures maximum durability to last for years. Having the legends shine through means that they will never fade away. It's fully hot-swappable and comes with a variety of switches to choose from by default. This includes:
Halo True
Cherry MX Blue RGB
Cherry MX Brown RGB
Halo Clear
Kaihua Box White
Kaihua Speed Silver
It also has an option for barebones if you want to start from scratch and build your own.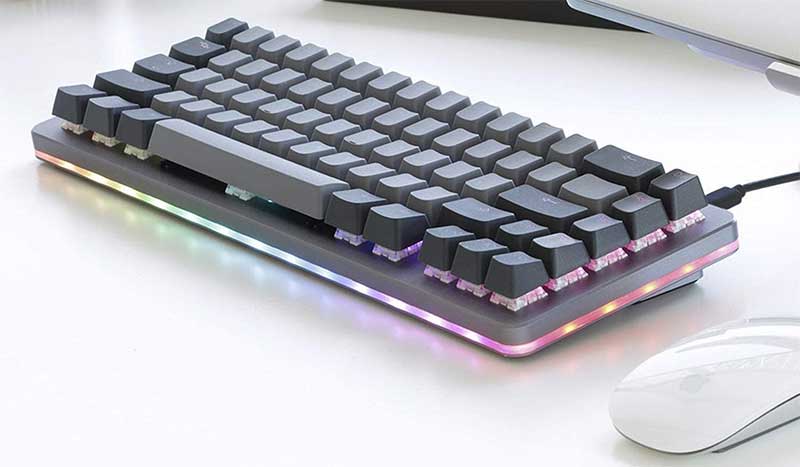 Being a premium option means it has a premium build quality. The body is made from aluminum, ensuring that it's extremely durable while also being lightweight. It also comes with magnetic feet that are removable. This lets you have it lie flat on your mousepad or sit up for more ergonomic typing. It also has USB-C ports on both sides to allow easy cable management no matter which side of the desk your PC is on.
Aesthetically, this is a beautiful option. It comes in either a gray or black aluminum body. It also has RGB effects along the side of the body to accent it well. Each key is individually lit by RGB with millions of colors to choose from. It comes pre-programmed with various lighting effects, but can also be custom programmed to match your style.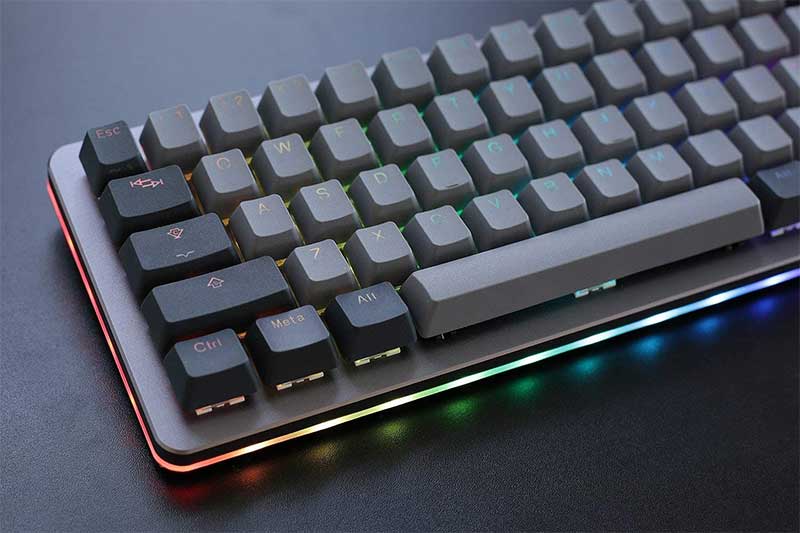 Best of all, it's compatible with both Windows and Linux operating systems. Something that it also features is custom programming. Using QMK firmware you can create custom macros, or remap the entire board. This online configurator makes it simple to make the Drop ALT function exactly how you want it to.
Pros:
Completely reprogrammable
Hot-swappable switches
Aluminum body
Cons:
The highest price on the list
Best Alternative: Keychron K6 Compact 65% Wireless Mechanical Keyboard

Key Features:
USB-C and Bluetooth connection
ABS plastic body
4.09 x 12.32 x 1.46 inches
1.17 pounds
The Keychron K6 is a fantastic entry-level 65% option. It features high-quality OEM profile curved keycaps. It also has multiple options for default keys including:
Gateron G Pro Blue
Gateron G Pro Brown
Gateron G Pro Red
Hot-Swap Gateron G Pro Blue
Hot-Swap Gateron G Pro Red
Hot-Swap Gateron G Pro Brown
Optical Red
Optical Brown
Depending on the option you choose, you can also hot-swap the keys. This will allow you to pick any other type of key that is compatible.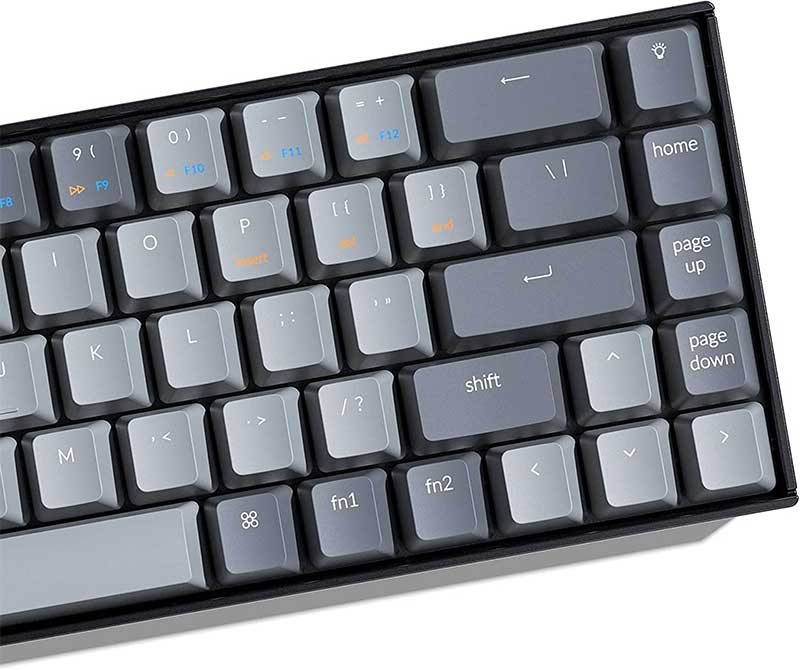 The body is constructed with ABS plastic to improve durability. Underneath it features two rubber feet that can be set to different heights. These feet allow you to put it at different levels to make it comfortable for you to use. Internally, it has a 4000mAh battery to provide up to 200 hours of use (without backlit usage).
As for looks, the K6 is a good-looking modern option. The included keycaps are a mix of light grey, dark grey, and a red escape button. Underneath the keycaps is RGB backlighting. It comes pre-programmed with 15+ different lighting modes so you will be sure to find an option to fit your setup.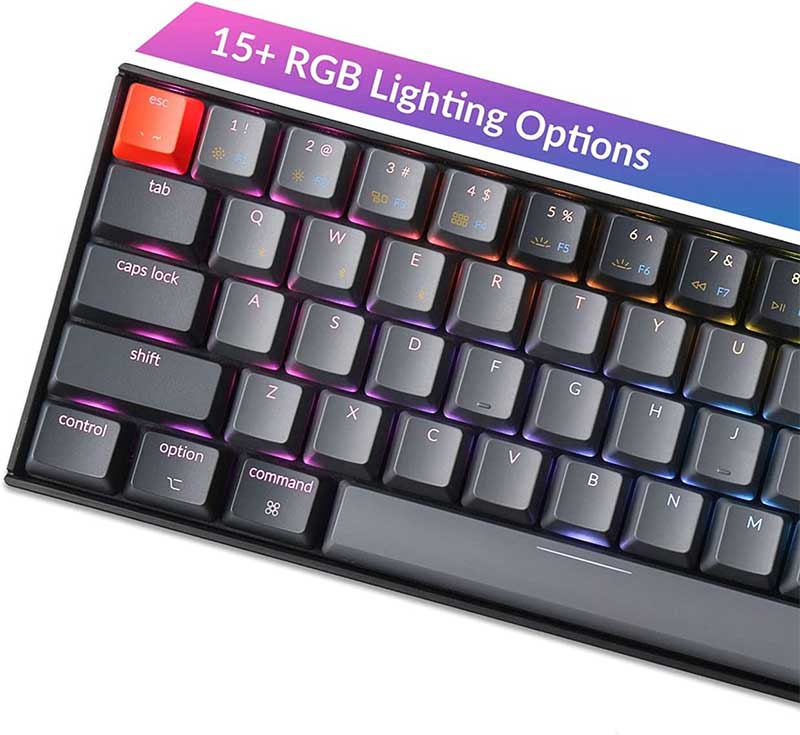 The Keychron K6 can connect to computers, tablets, smartphones, and more via either USB-C or Bluetooth. It uses Bluetooth 5.1 to connect to up to three different devices simultaneously. This option is unique in that it's designed with Mac in mind. Replacing the alt buttons with command buttons to help it better interface with Mac OS.
Pros:
Bluetooth connectivity
Designed with Mac and Windows in mind
Durable construction
Cons:
Not all models are hot-swappable, so you have to make sure to choose wisely
Best Wireless Speed Option: Razer BlackWidow V3 Mini HyperSpeed 65%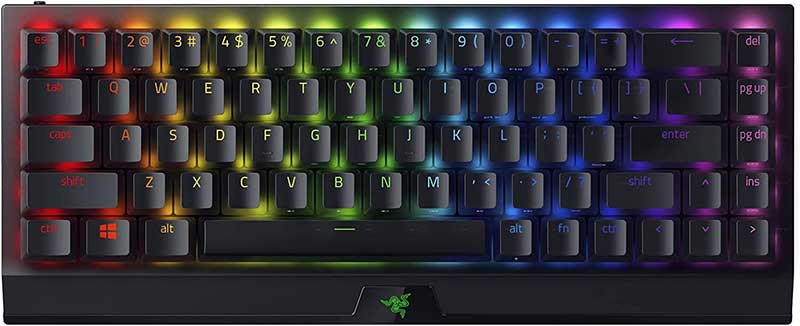 Key Features:
Bluetooth, USB-C, and HyperSpeed Wireless connectivity options
Aluminum
5.14 x 1.61 x 12.55 inches
1.76 pounds
Razer is well known for its gaming peripherals, and the BlackWidow V3 is a great offering from them. It comes standard with Doubleshot ABS keycaps. They have extra thick walls and are created to never have the labeling wear off. Their durability ensures you won't have any issues while gaming. Razer does things a little differently when it comes to their actual keys. It comes in two options. The first is Razer Green, which is tactile and clicky. The second is Razer Yellow, which is linear and silent. It wants you to stay in the Razer ecosystem, so hot-swapping isn't advertised as an option.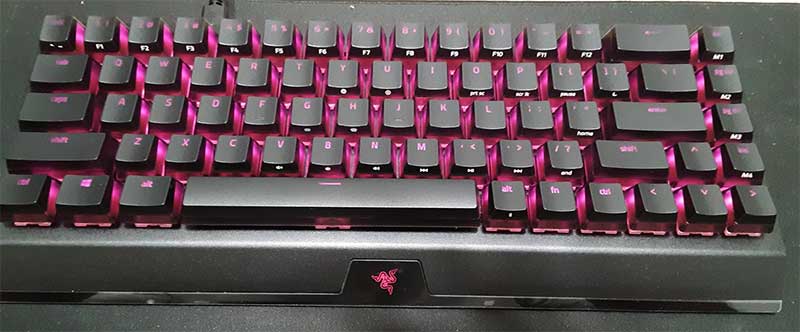 The build quality on the V3 is stellar. The body is made out of aluminum just like the ALT and provides durability while staying lightweight. It offers USB-C on the top of the body for direct connection and battery charging abilities. Internally, it has a battery with up to 200 hours of charge. When completely empty, it can charge fully in just under five hours.
It's a very sleek and stealthy-looking option. It's only offered in a black body and black keycaps by default. However, when powered on it has vibrant RGB. Powered by Razer Chroma, it's capable of 16.8 million different colors. It has programmable per-key lighting effects. It takes it a step further, with over 150 different video games that have different color programs. This means when certain things happen in the game, your keyboard will react accordingly with lighting effects. It also comes with onboard memory to save up to 5 different lighting profiles.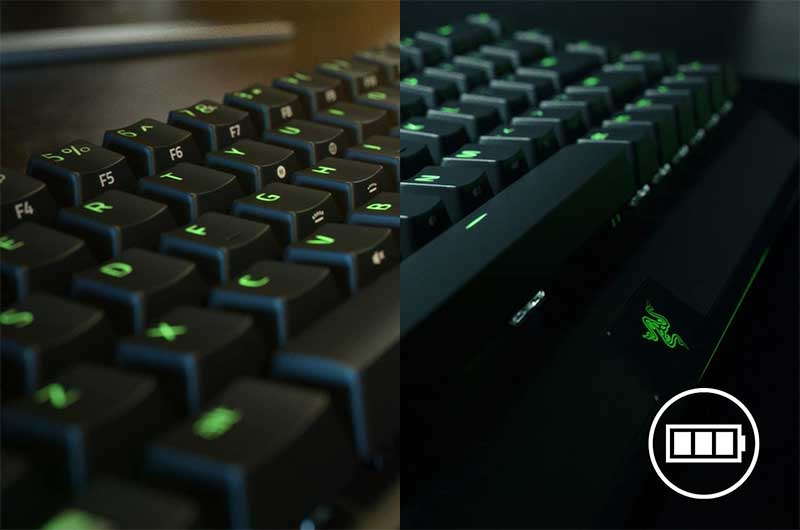 Perhaps the BlackWidow V3's most unique feature is its connectivity options. It can connect to your devices via USB-C, Bluetooth, or HyperSpeed Wireless. USB-C allows you to play and charge at the same time. Bluetooth allows for a low-power usage wireless option. HyperSpeed Wireless gives you wireless capabilities without input lag.
Pros:
Three connectivity modes
Razer Chroma RGB
Premium keycaps
Cons:
Best Travel Option: ASUS ROG Falchion Wireless 65% Mechanical Gaming Keyboard

Key Features:
USB and Bluetooth connectivity
Dual-purpose case cover
12 x 4 x 2 inches
2.07 pounds
The ROG Falchion from ASUS is a premium option with some unique features. Its keycaps are durable doubleshot PBT. They're mid-height with a shorter stem to reduce wobbling and make a better user experience. They have ROG script lettering with a shine-through design to make sure they never fade away. As for keys, this option is not hot-swappable and is offered in two variations. You can choose from Cherry MX Blues or Cherry MX Reds.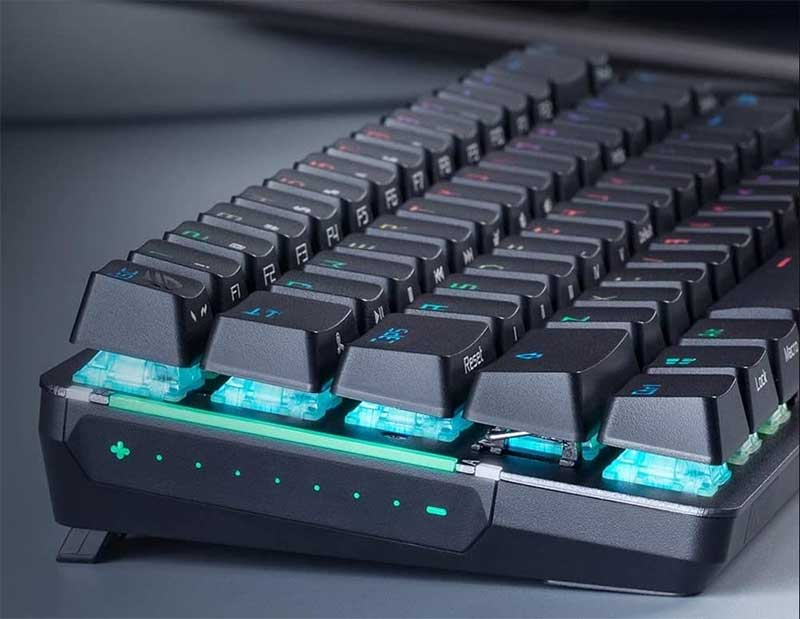 Along with the premium keycaps is a premium build quality. It has a durable body and adjustable rubber feet. This allows it to have a great feel while using it for gaming or typing. Additionally, it comes with a protective plastic cover. This cover keeps it safe while traveling, and can be put under the board while in use. Internally, it has a rechargeable battery that can power it for up to 450 hours on a single charge. It recharges quickly, with only 30 minutes of charge able to power it for 32 hours (with no RGB).
The Falchion is a really good-looking option. It has black keycaps, and a two-tone black and grey body. Under the keys is per-key RGB. The lighting effects are controllable using Asus Aura Sync and their Armoury Crate software. It also comes with multiple pre-programmed lighting modes and effects to choose from.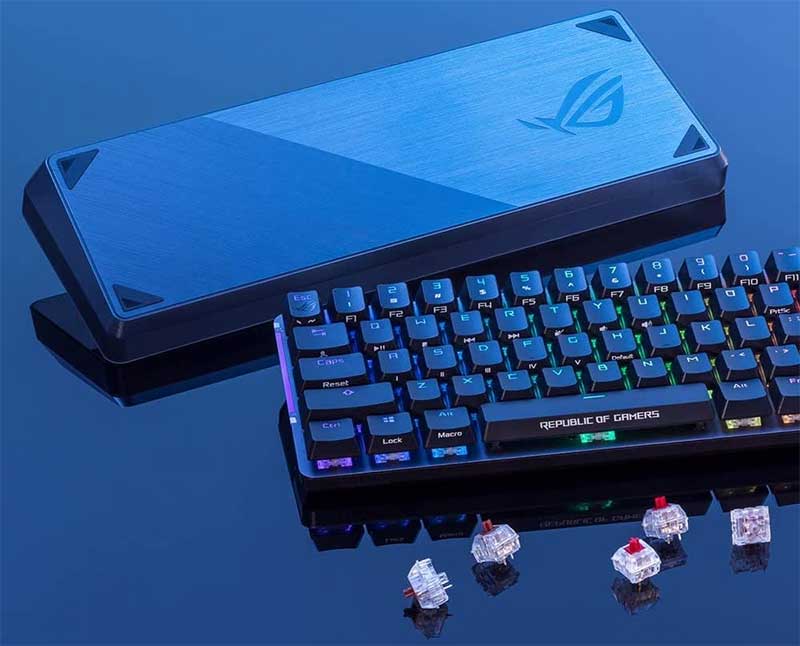 The most unique aspect of the ROG Falchion is the interactive touch panel. It's located on the left side of the body and comes pre-programmed to be used as a volume adjuster, shortcut app switcher, copying and pasting, and more. It's also completely customizable to be used in different macro settings to allow you to use it for various gaming applications.
Pros:
Custom touch panel
Travel cover included
450 hours of battery life
Cons:
Best Budget: RK ROYAL KLUDGE RK68 Wired 65% Mechanical Keyboard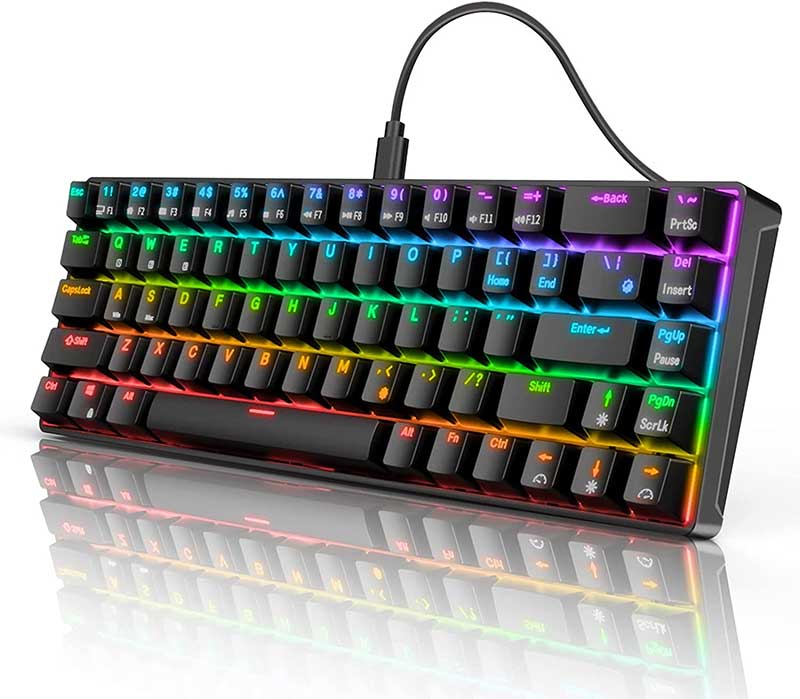 Key Features:
USB-C
12.95 x 6.02 x 1.77 inches
1.74 pounds
The RK Royal Kludge is a great entry-level 65% keyboard. Even at its lower price point, it can offer double-shot keycaps with translucent letters that won't fade. It's hot-swappable, allowing any three or five-pin key to fit in the body. It also comes in three default switch options. They are:
Red Linear
Blue Clicky
Brown Tactile
Don't let the budget pricing fool you, this is still a well-made option. With very few reviews giving negative feedback on its construction. It isn't Bluetooth compatible, so no batteries are required internally. It's powered and connected via a USB-C cable in the back middle of the body. It's compatible with a wide array of operating systems, including Windows, Mac, and Linux. There is also sound-reducing insulation inside the body.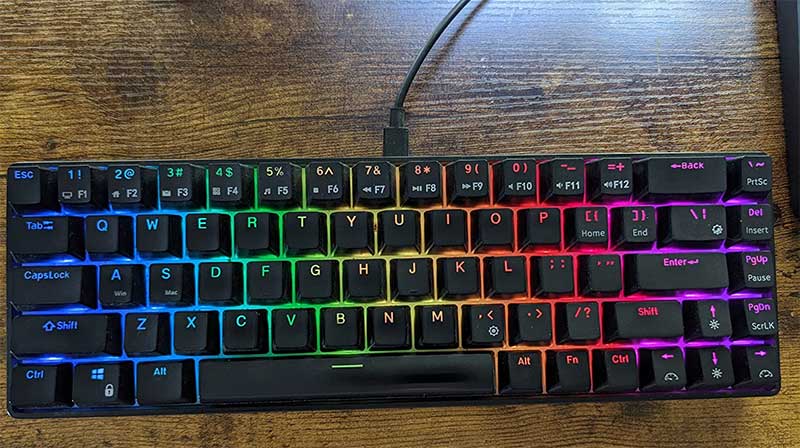 When it comes to looks, it offers one of the more diverse color options. The body is available in both black and white. You should be able to match it to your setup no matter your style. In addition, it features RGB lighting. Using RK software, you can program and change various lighting modes, brightness, and speeds. You're also able to completely customize new lighting effects.

While it doesn't come with a ton of premium bells and whistles, the RK Royal Kludge still does a lot given its price. Being able to use software to customize macros and lighting on a hot-swappable board for under $70 is an amazing offer. It also comes with a key puller and four additional switches in the box in case of any breaking during use.
Pros:
Lowest price on the list currently
Sound insulation to reduce unwanted noises
Cons:
No Bluetooth connectivity
Meet Derek, "TechGuru," a 34-year-old technology enthusiast with a deep passion for tech innovations. With extensive experience, he specializes in gaming hardware and software, and has expertise in gadgets, custom PCs, and audio.
Besides writing about tech and reviewing new products, Derek enjoys traveling, hiking, and photography. Committed to keeping up with the latest industry trends, he aims to guide readers in making informed tech decisions.