A wall sconce is a great way to add more light to a room. Ceiling lamps are great for general illumination, but tend to leave the edges of a room more dark. In these cases, wall sconces can add a nice accent to a particular area you want to emphasize. Floor lamps are also very bright, but you normally end up having to place them in a corner. Once again, wall sconces can come to the rescue. They're great for hallways, where a floor lamp wouldn't be practical. And they're great for drawing attention to accents like fireplaces and hung pictures. At first glance, you might wonder why more homes don't have them.
The main reason is that you might want to move your sconces. Sure, you might want some permanently installed near your fireplace. But other decorations come and go over time. A ceiling light is permanent, but it also won't need to be moved. A floor lamp might need to be moved, but it's easy to do. A wall sconce sits at an awkward point in the middle. It's a pain to permanently install one, so you wouldn't want to do that unless you're sure of your placement. That's where a battery-operated wall sconce comes in. Since you don't have to run wires, there's no need for permanent installation. Instead of running wires through your walls, all you have to do is drill a few holes.
We're about to review three of the best battery-operated (wireless) wall sconces for sale today. To start off, we'll examine the HONWELL Wireless LED Lamp Wall Sconce. This sconce is available in both AA-powered and rechargeable variants, and has multiple color settings. Next, we'll check out the Westek Battery Operated Wall Sconce. This light has two different brightness settings, along with a powerful, 24-hour rechargeable internal battery. We'll finish by looking at the Koopala LED Sconces. This is a canister-style wall sconce with three different brightness levels. Which one is right for you? Let's look closer at each of these lights, and see how they stack up.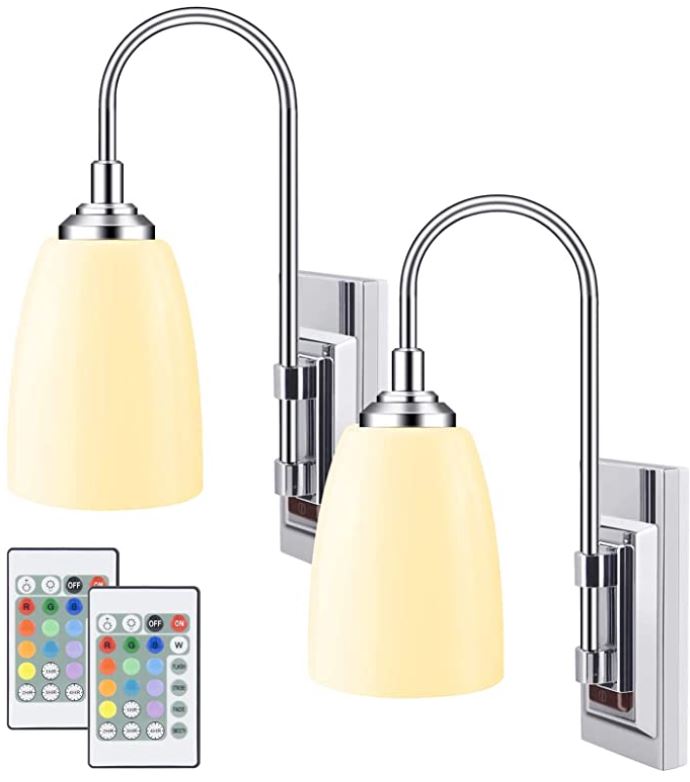 HONWELL Wireless LED Lamp Wall Sconce
The HONWELL Wireless LED Lamp Wall Sconce is a curved, gooseneck-style light that attaches to a wall plate. All the parts are constructed from a silver-tone aluminum with a clean, non-brushed finish. The optional, rechargeable model uses a rose gold finish instead of silver, which is simply gorgeous to look at. The gooseneck sits in a hinge in the wall mount, where it can be swiveled from side to side. In total, this hinge provides a full 180 degrees of rotation, so the light can be turned to either side. We're not sure why you'd want to do this on a permanent basis. However, it does make the light easy to move around for cleaning.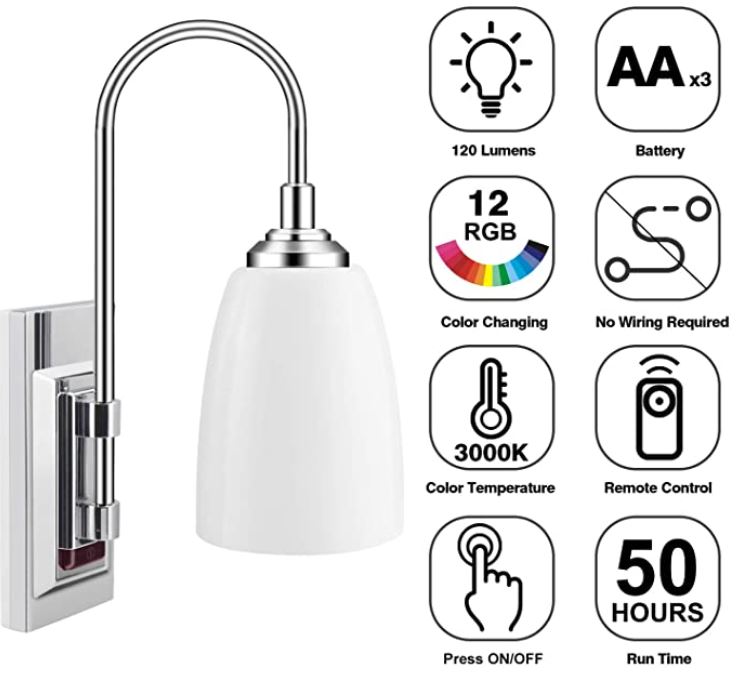 The short end of the gooseneck terminates at an opaque plastic shade, which has a parabolic shape. The light has a brightness of 120 lumens, which is sufficient for the majority of applications. The white is a soft white, which is very easy on the eyes. And in addition to being able to pivot, the gooseneck is also reversible. This means the light can be pointed towards the floor or the ceiling, depending on what you're trying to achieve. Not only that, but the HONWELL sconce comes in a two-pack. This makes it easy to put two of them on either side of something you want to highlight.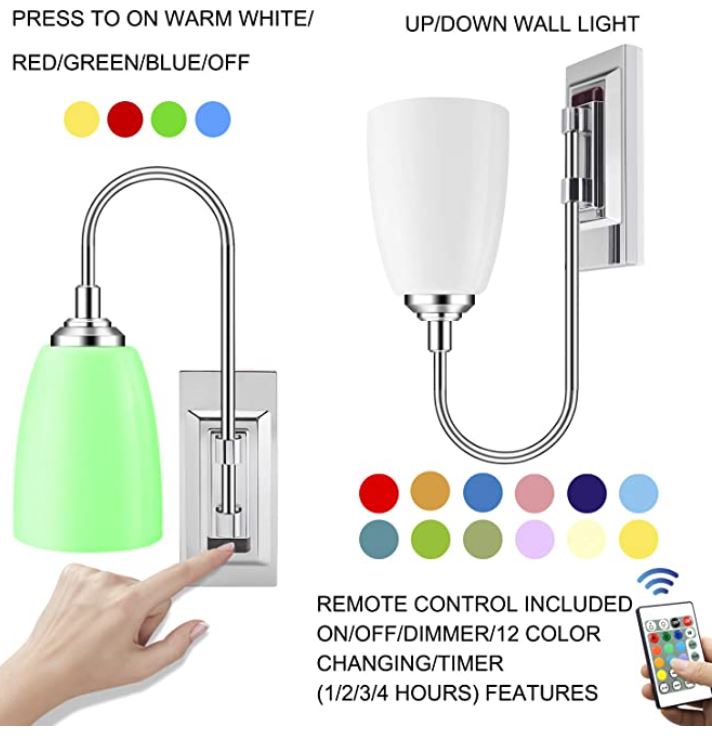 There are two different options for power. The standard, silver version of the sconce is powered by three AA batteries. These are rated for 50 hours, but that's just a rough estimate. If you're using the remote a lot, for example, your battery life will be shortened. Even so, you're talking about a very long-lasting light. And with fresh batteries, the LED diodes will last over 30,000 hours. The other alternative is to order the rose gold-colored rechargeable version. This light won't last quite as long – about 24 hours of use per charge. That said, you can recharge it at any time via Micro USB. This saves you money over the long run, since you won't have to keep buying batteries.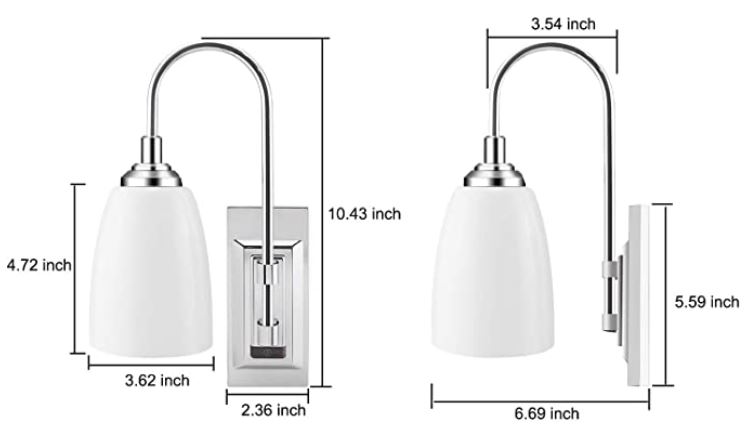 To control the HONWELL light, simply press the power button on the front, just below the hinge. Press it once, and it will turn on in soft white mode. Press the button again, and it will turn red. A third press will turn it green, and a fourth will turn it blue. A fifth press will turn the light back off altogether. That said, the main button is only one way to operate the light. The other way is to use the remote, which gives you several more options. You can change between 12 colors instead of three, and set a timer for one, two, three, or four hours. The remote is line-of-sight, and has a range of around 20 feet.
But what if you want something a bit more portable? In that case, check out our list of the best cordless desk lamps. They're easier to move from place to place, but they're not as suitable for accent lighting.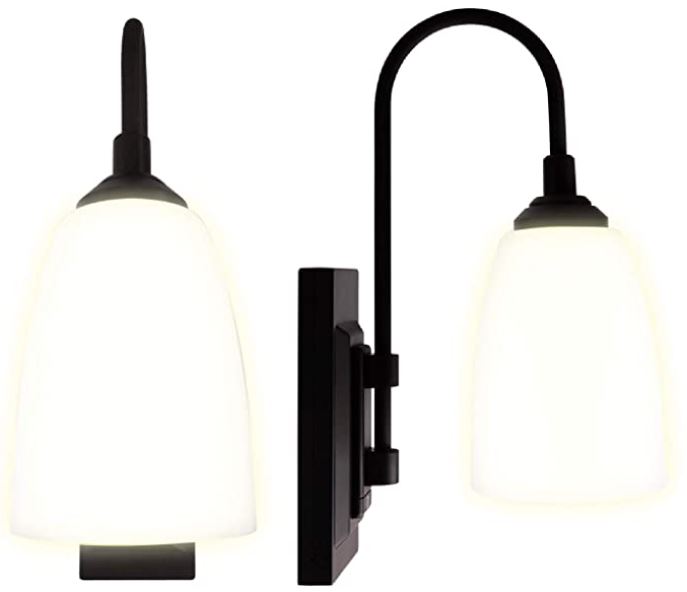 Westek Battery Operated Wall Sconce
Westek is a respected manufacturer of home electronics. Among their other offerings, we've reviewed their motion-activated power outlet, and we were impressed. So it made sense for us to examine the Westek Battery Operated Wall Sconce.
This sconce is similar to the HONWELL sconce in that it has a gooseneck-design. It has similar installation options, such as being able to mount it upside-down or right side-up. It can rotate left to right, for easy cleaning or simply better light direction. It even has near-identical opaque shades, and mounts with a bracket and screws. If that's not enough, it also comes as a two-pack, so you can cover a larger area.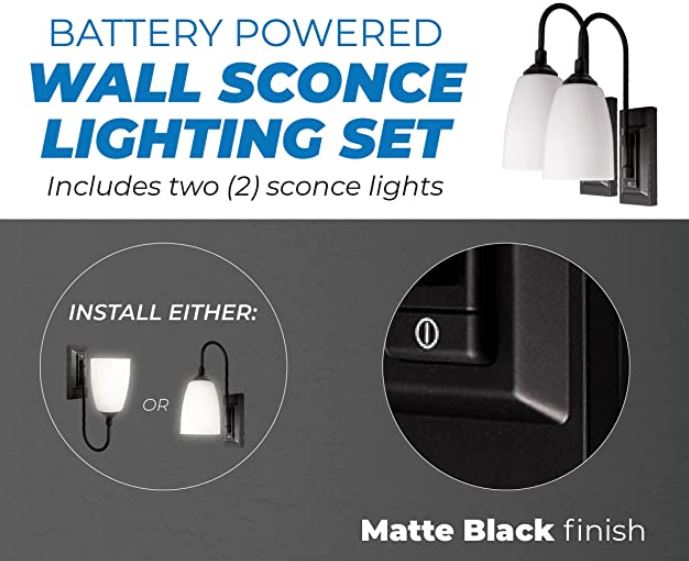 However, that's where the similarities to the HONWELL end. The Westek sconce is constructed from matte black aluminum, which is better for dark color schemes. The black material has a formal appearance, and is attractive to look at. Not only that, but because it has a matte finish, it won't collect fingerprints. Moreover, the 100-lumen light is a warm white, which has a more energetic feel while also being less harsh. This makes these sconces perfect for highlights, as opposed to being the primary light in the room.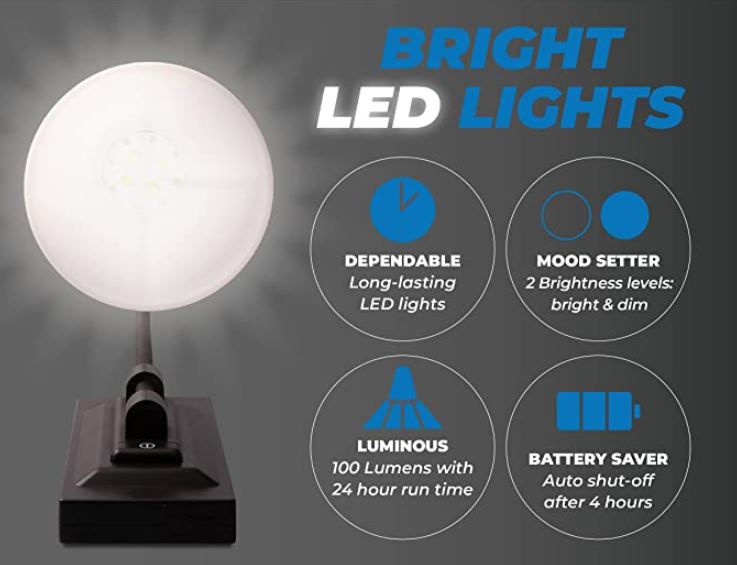 Each sconce is powered by three AA batteries, which you'll need to provide for yourself. These batteries will last for around 24 hours on the brightest setting, which is pretty good performance. You can get even better performance by running the light on a lower brightness. Then again, you won't be able to illuminate as much area. Either way, the light shuts off automatically after four hours. If you forget to turn it off, it won't drain the batteries totally dry.
There's no remote with the Westek kit. The only control is a single button on the front. Then again, the controls aren't very complex. The only settings are off, bright, and dim. For a scheme that simple, a remote would just be a silly gimmick.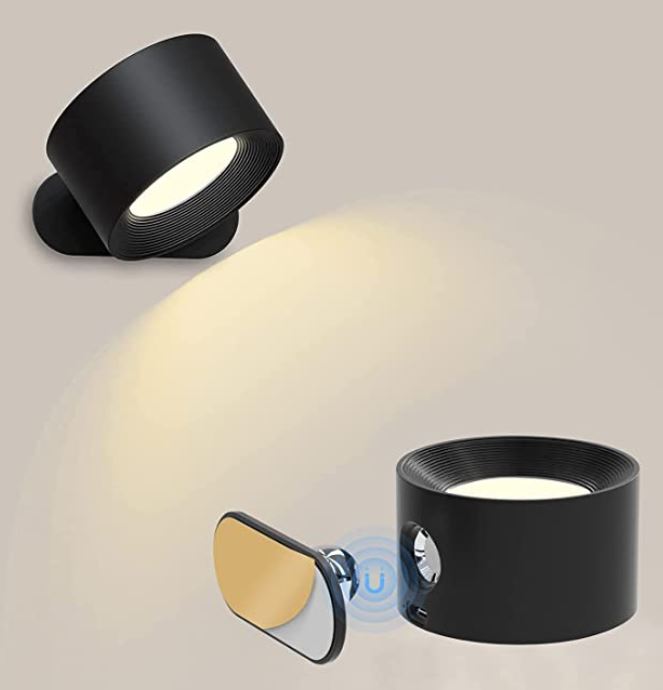 Koopala LED Sconce
The Koopala LED Sconce has a different design from the other two. Instead of a gooseneck style, it's a short cylindrical, canister-style light. This makes it less formal, but also better-suited for an office, or even a more casual environment. The black aluminum housing is reasonably durable, and you don't have to spend as much. That's because the Koopala sconce comes individually, so you're only paying for a single light.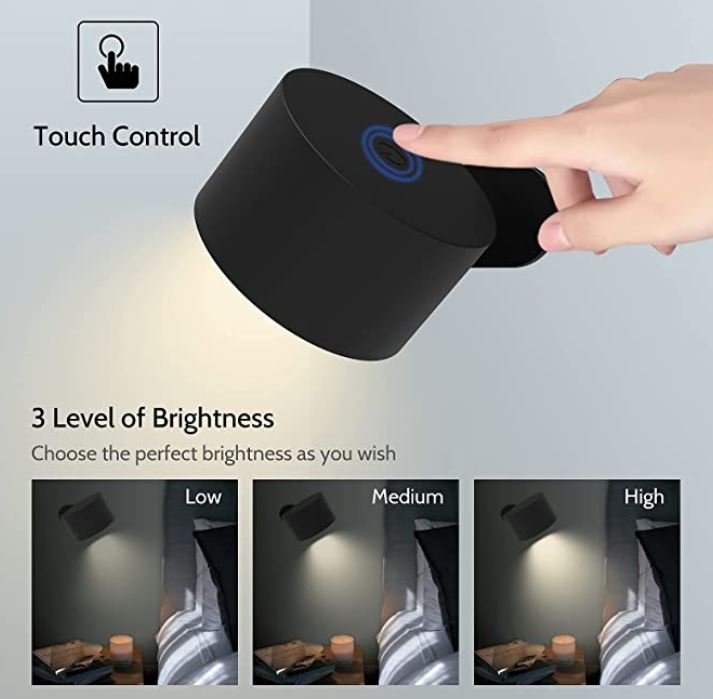 The canister light itself attaches to a socket mount that sticks to your wall. It's styled like a hip socket, and allows for 360 degrees of rotation. As a result, the light can be easily pointed in any direction. You can use it for reading in bed, then point it towards your nightstand when you set your book down. Not only that, but the mount utilizes a magnet and 3M adhesive. This allows you to attach it to practically any surface without drilling any holes.
The light is dimmable, with three different settings. Using the touch control on the back, tap the light once to turn it on in low mode. A second touch will put it into medium mode, and a third will put the brightness at its maximum. Touching the control a fourth time will cause the light to turn off. That's all there is to the control scheme. There's no remote, and there are no color options.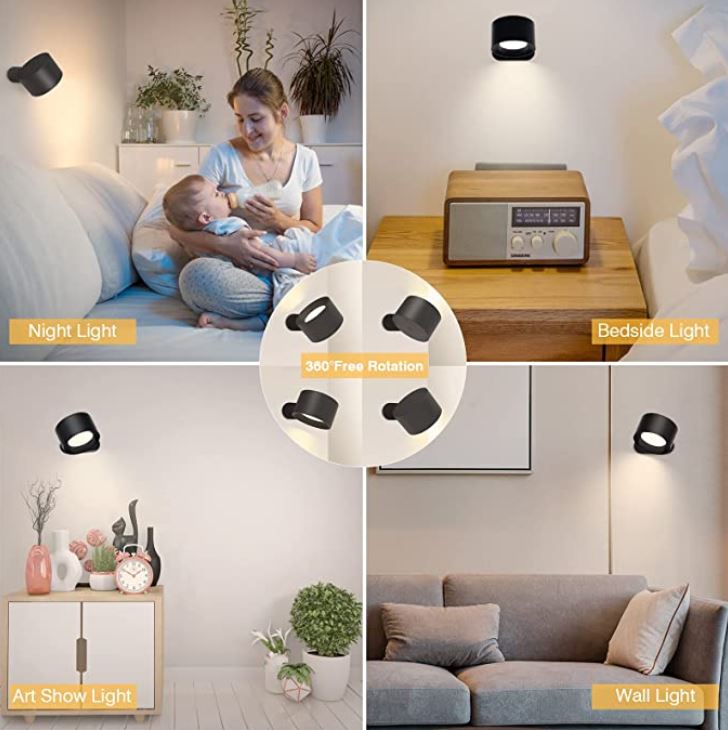 The Koopala sconce utilizes a 1,800mAh internal battery for power. It will work for about 15 hours in the lowest power mode, and about five hours at the highest. As a result, you'll need to charge this light more often than you'd have to charge the others. Then again, the charging process is relatively painless. Removing the light from your wall takes only seconds. And the battery fully charges in only three hours, so you'll never be in the dark for long.
Final Verdict
No matter how you cut it, these are all great wall sconces. However, there are important differences that set them all apart. Which one is the right choice for you?
It's tough to go wrong with the HONWELL Wireless LED Lamp Wall Sconce. With AA-powered and rechargeable variants, you can choose your own power supply. Then again, you may opt to choose based on color instead; that rose gold rechargeable version looks gorgeous. All in all, these are versatile, high-quality sconces.
The Westek Battery Operated Wall Sconce has a similar, gooseneck design. Then again, it's black instead of bright, and it doesn't come with a remote or any color options. It's just a simple, warm white set of accent lights. But if you like the formality of dark metal and the appeal of a warm light, it's a great sconce.
The Koopala LED Sconces are very different from the other two. For one thing, they come individually instead of in a two-pack. For another thing, they're canister-shaped instead of gooseneck-style. They also mount with an adhesive or magnet, so they can be easily moved around. A pivoting socket base ties the whole thing together.