For a long time, coolers were the only way to take perishable foods on a road trip. In its day, your trusty Coleman cooler was as good as it got. But they had their share of inconveniences.
Most importantly, they had to be periodically drained and refilled with ice. Water would pool up in the bottom, so you had to be careful about how you stored your food.
Nowadays, there's a better solution. A portable refrigerator runs off of your vehicle's power system, and keeps your food cold all day. Because the refrigerator has its own built-in compressor, there's no need to add ice periodically.
You can also have much better control over the temperature. This is a huge improvement over a cooler, which can range anywhere from "very cold" to "kind of cold."
SetPower RV45D
Today, we're going to review the SetPower RV45D Dual Zone Portable Refrigerator. This is a quiet, mobile refrigerator that costs less than many other similar offerings.
But what else does it bring to the table, and is it a good choice to meet your unique needs? To find out, we'll have to put it under a much more powerful microscope. After that, we'll be able to deliver a fair verdict. Let's get started!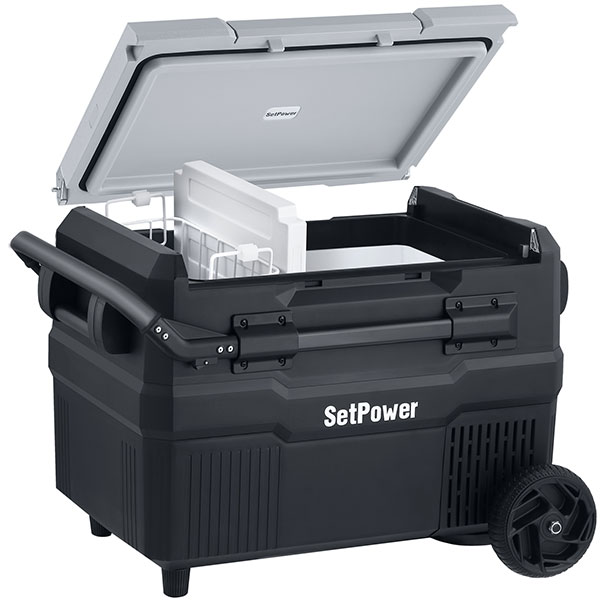 Overall Design
The SetPower RV45D has an angular, futuristic design. Its housing is manufactured primarily from black plastic, although the lid is white. The ABS material is smooth, with a matte finish that's easy to wipe down. It's not the toughest material, but it's rugged enough to stand up to some abuse.
The overall size of the housing is 25.4 inches wide, 16.7 inches deep, and 17.3 inches high. At 41 pounds, it's definitely on the heavy side. Thankfully, it's also easy to move around. On either side, there's a spring-loaded handle built into the housing. They're easy to grip, and it's simple enough for two people to share the load.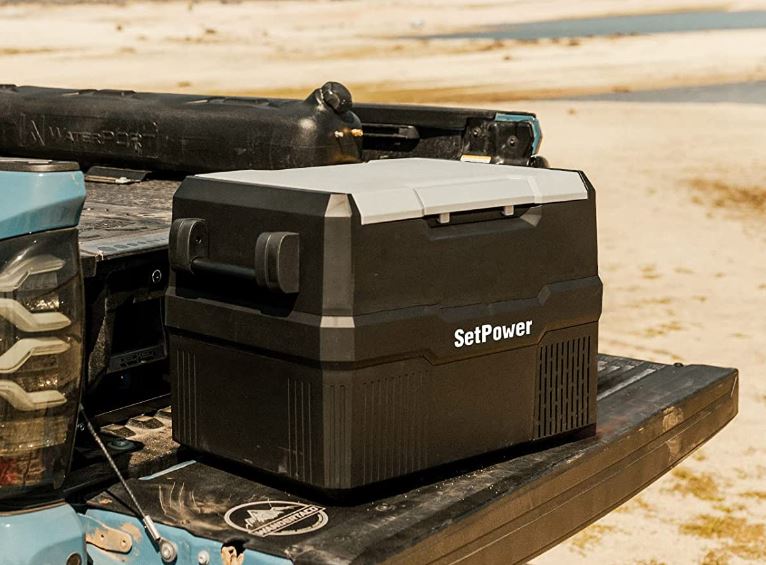 There's also a pair of large wheels on the base, along with a pair of feet. A large handle extends from the opposite side of the housing from the wheels, so you can roll the fridge around. This allows for plenty of mobility. You can keep your food in the fridge on your drive to the beach, then roll it the rest of the way.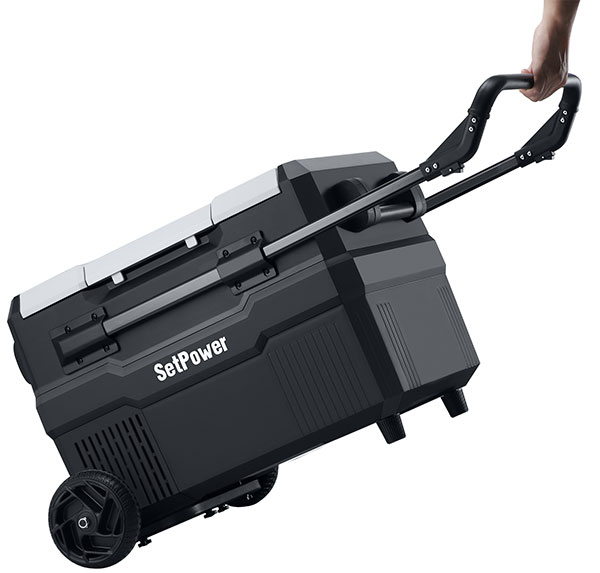 It's worth noting that there are two different versions of the RV45D. We tested the Pro version, but the base version is virtually identical. The only difference is the pair of wheels and the transport handle.
We particularly liked the design of the lid. It has dual latches, one on each side. This allows it to be opened from both the front and the back of the cooler. You won't have to walk around it to get inside.
SetPower warranties their refrigerator for 12 months, with a 3-year warranty on the compressor. This provides an admirable degree of protection, especially considering the low price.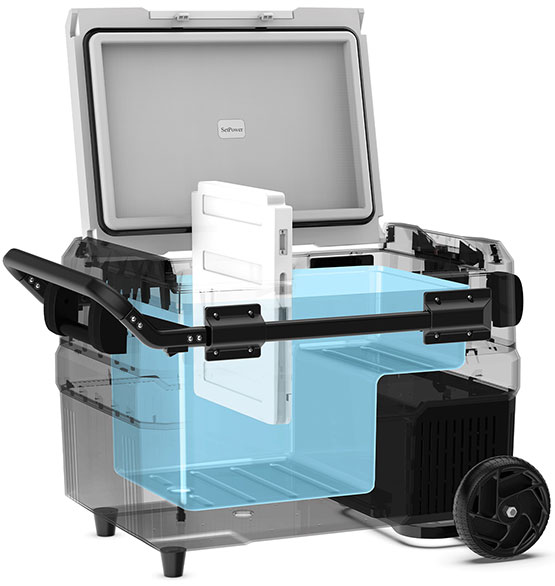 Storage and Organization
The RV45D has a capacity of 45 quarts. That's enough capacity to fit 52 standard-sized 12-ounce cans. Lunch meat, condiments, and other necessities will have plenty of space. If you need even more capacity, you can spring for the larger 60-quart version. Even if you're traveling with several people, there will be plenty of room for everybody.
The inside of the housing is smooth white plastic, much like on most home refrigerators. In the middle is a removable divider panel that separates the fridge into two sections. Or you can pull the divider out and use the entire fridge as a single compartment.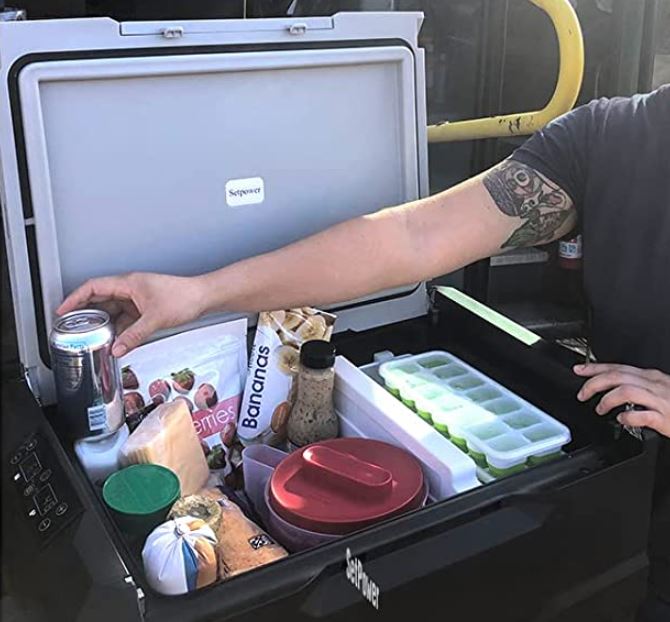 The right hand compartment measures 12.7 inches deep, 5.7 inches wide, and 6.7 inches tall. It's limited in size because it sits on top of the compressor, which occupies much of the housing.
The left hand compartment is larger, at 12.7 inches deep, 11.5 inches wide, and 13.7 inches tall. Not only does it occupy the full depth of the case, but it also comes with a deep basket. This is great for frozen veggies and other less rigid foods.
At the bottom of the housing, you'll notice a removable drain plug. This won't need to be emptied nearly as often as the drain on an old-school cooler. But when you defrost the fridge, it makes it much easier to drain any condensation or thawed ice.
There's even an LED light bar in the side of the storage area that illuminates when your lid is open. This makes it easy to see the contents, regardless of your lighting conditions.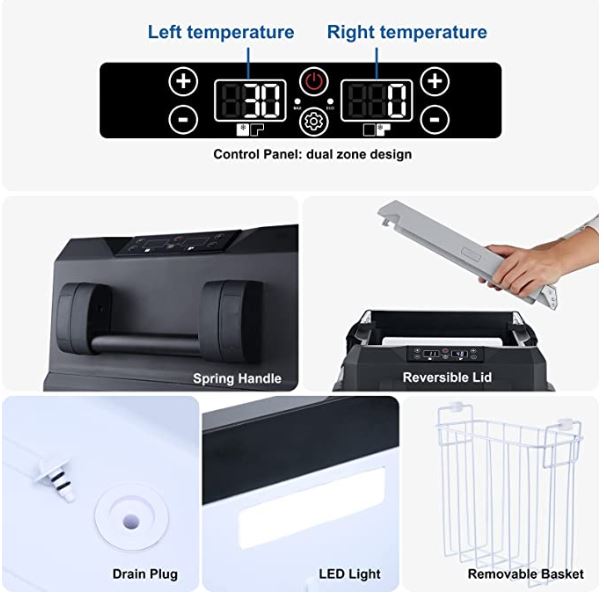 Controls
The controls are located on a touchpad at the top right of the housing. This is a wide, narrow control panel that sits at a 45-degree angle. The buttons have a soft touch design, which makes them easy to operate even with wet or slippery hands. And a pair of dual LED displays show your current temperature. The left display shows the temperature for the large compartment, and the right is for the smaller compartment.
To the left of the left display is a pair of temperature adjustment buttons. These adjust the temperature for the large compartment. A separate set of buttons to the far right adjust the temperature for the smaller compartment. You can adjust both compartments independently, and the temperature is adjustable from 0 to 50 degrees.
One neat feature is the partition itself. When it's removed, a set of sensors automatically detect the change. At that point, the left display will shut off entirely. The right display and right buttons, meanwhile, will now control the entire fridge.
This gives you the flexibility to use the RV45D as a single-zone or dual-zone device. Set the whole thing to 40 degrees for ice cold beer. Or turn one compartment into a freezer to keep your burger patties frozen.
In between the two LCD displays is a pair of additional buttons. The top center button has a red icon, and is used to power the fridge on and off. The lower button with the settings button changes between Eco and Max modes. A pair of small LEDs between these two buttons lets you know which mode you're in.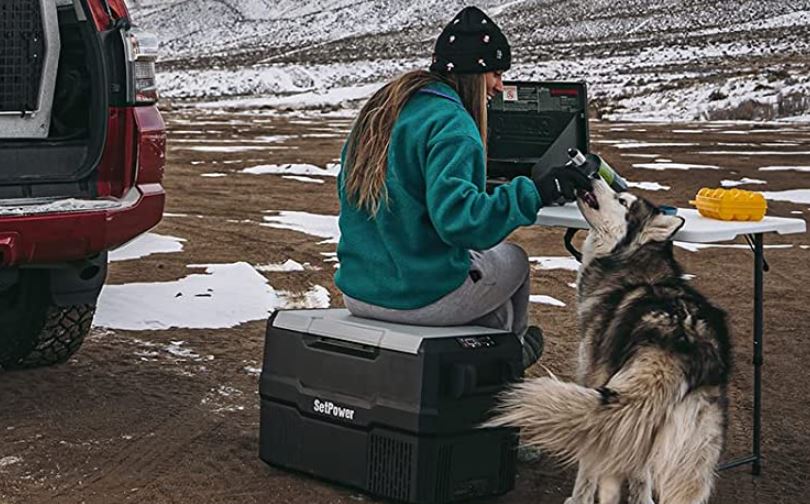 Cooling Performance
When we first set out to review the RV45D, we were somewhat skeptical of its performance. Given the low price point, we figured it would be lacking in the cooling department. To our surprise, the compressor does an impressive amount of work.
In 15 minutes, it can reduce the internal temperature to 0 degrees. This assumes you're running it at room temperature. Under a scorching August sun, it will take a little bit longer. But no matter how you cut it, you're talking about a powerful little travel fridge.
Using the Settings button on the control pad, you can switch between two modes. In Max mode, the compressor will run at full power. This is ideal when you first start up the refrigerator, since it will cool off quickly. Once you're down to temperature, it's wise to switch to Eco mode. This will limit the compressor power, but also reduce the amount of power draw.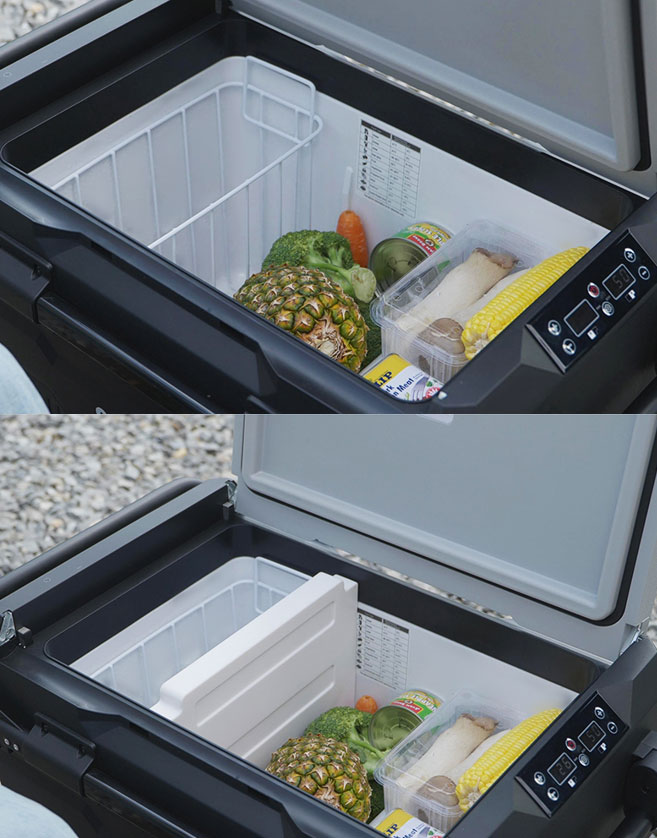 The RV45D is very efficient, in large part thanks to its thermal insulation. The 56mm of material sits between the outer and inner shells, and prevents heat transfer. Unless it's a very hot day, the compressor will remain off far more than it's turned on.
For all that power, the compressor is nearly silent. In Eco mode, it produces only 40dB of sound. If you're more than a few feet from the unit, you won't even hear that it's running. It's a few decibels louder in Max mode, but even then it's no louder than your fridge at home.
Power Supply
The RV45D is designed primarily for use on the road. To that end, it comes with an automotive cable that plugs into your 12-volt power outlet. This is perfect for a car, truck, SUV, RV, or ATV. However, the kit also includes an AC power adapter. This can be used to set up the fridge in your house or cabin. Or you can plug it into a portable power bank when you're camping.
One thing we should note about this travel fridge is the power protection feature. This feature is designed to prevent the fridge from burning out your battery. When the incoming voltage drops below a cutoff number, the compressor automatically shuts off. When the voltage returns to normal, the fridge will start running again.
The neat thing about this feature is that you can set your own cutoff level. It can be higher or lower depending on what your vehicle needs. Just be careful. Leave your engine off for too long and the fridge will eventually warm up.
Then again, it should take a long time to drain your battery excessively. The fridge only draws around 1kWh of power per day. So if you're spending an afternoon at the beach, you shouldn't have any issues keeping your refreshments cold.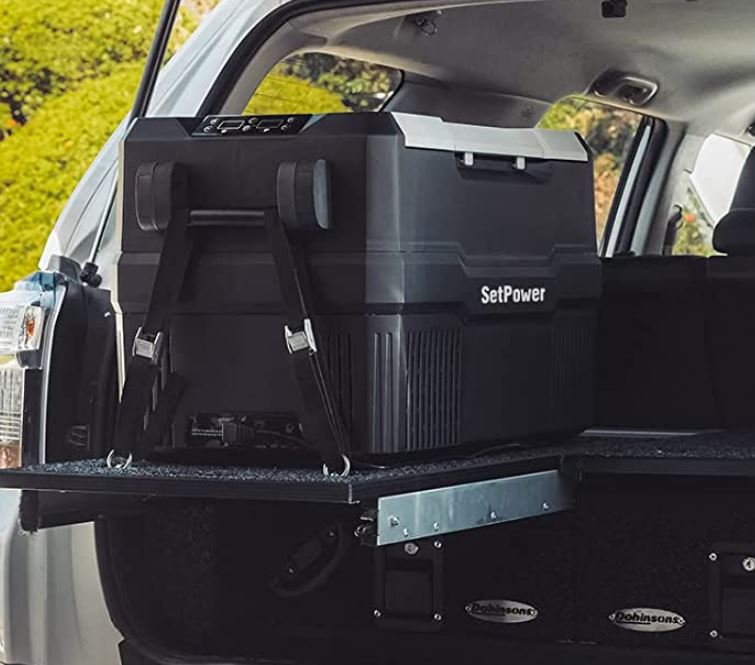 Final Verdict
The SetPower RV45D surprised us with its capabilities. Despite the low price point, it's surprisingly powerful. The compressor brings your food down to temperature in a hurry, and keeps it cool even in Eco mode. Even in hot weather, the fridge doesn't struggle to keep your food cold.
The RV45D is bulky and heavy. But if you spend a few extra bucks on the Pro version, the wheels will make it easy to move around. Besides which, it's bulky for a reason. There's 45 quarts' worth of space inside, enough to store several meals' worth of food. And if you're bringing liquid refreshments, you'll have room for plenty of cans.
The power requirements are limited, which is a good thing for any automotive appliance. Built-in battery protection keeps you from depleting your car battery. Even if you're hauling this fridge around on an ATV, you shouldn't run out of juice.