Tronsmart Bang Mini
Pros
Plenty of volume.
Multiple ways to connect.
Long-lasting battery.
Doubles as a power bank.
Durable design that can take a beating.
Cons
Audio quality at top volume is only so-so.
Not supported by the Tronsmart app.
A Bluetooth speaker can give you the freedom that traditional speakers won't. You can take one on the road and blast music from your smartphone. No need for a power supply or a bunch of cables. They're great for listening to music around the house, since they're easy to move from room to room.
But finding the right Bluetooth speaker can be a challenge. That's not because there's any kind of shortage. On the contrary, there are an absurd number of Bluetooth speakers on today's market. Walk into any drug store, and there will probably be one or two models behind the counter. This can make it tough to sort out which speakers are worth your money.
Note: At no extra cost to you, we may earn a commission for purchases using our links. Learn more.
Today, we'll be reviewing the Tronsmart Bang Mini. This is a compact, portable speaker that pumps out an impressive amount of volume. But those are just a few of the attributes that make up a good quality speaker. To find out if it's really worth its salt, we'll have to put it under the microscope and see how it stacks up. Let's begin!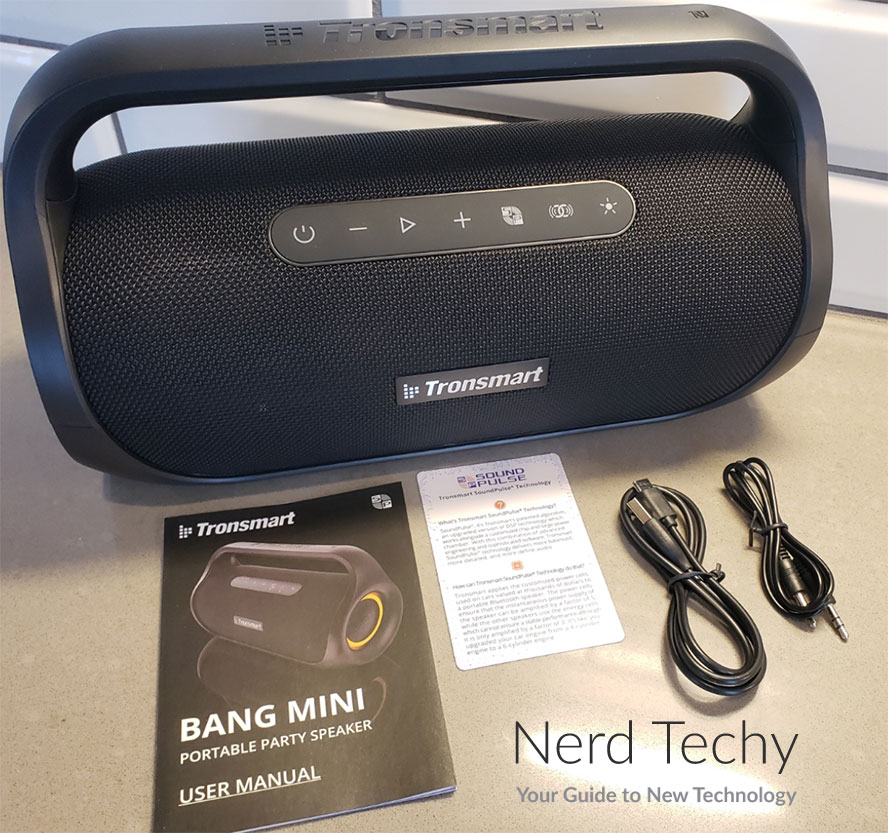 Overall Design
The Tronsmart Bang Mini is shaped like a horizontal cylinder, with a flat bottom to keep it stable. It's engineered from black ABS plastic, which is both affordable and reasonably tough. The finish is smooth and matte, which makes it easy to remove dust and fingerprints.
One of the main attractions of this speaker is the compact form factor. It measures only 11.9 inches wide, 6.8 inches tall, and 4.9 inches thick. And at 5.22 pounds, it's lightweight for the size. There's a molded plastic handle that arches over the top of the housing. This makes it easy to carry around in one hand, so you can take it wherever you want to go.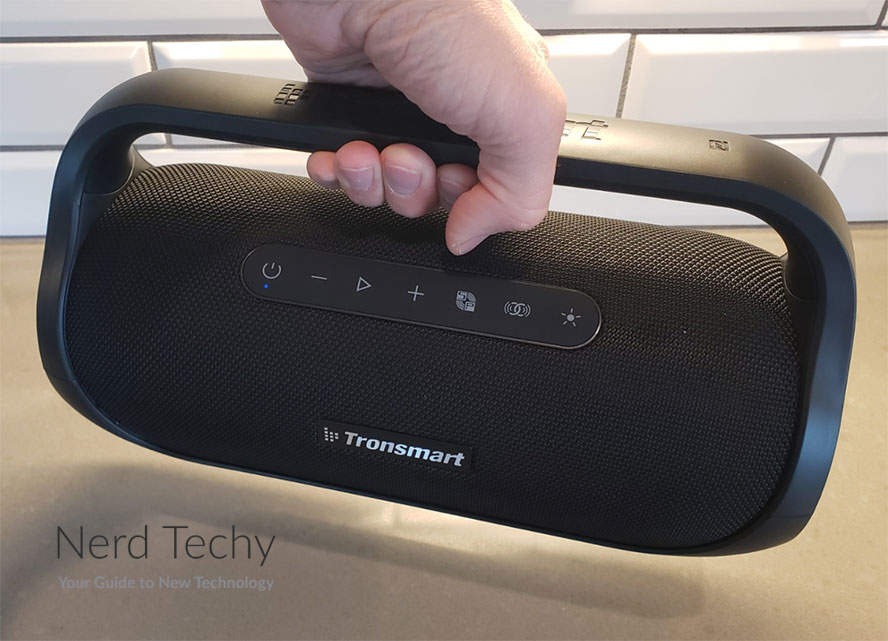 A mesh cover fits over the top of the housing, and wraps over the front and the back. It's a sturdy nylon mesh, and doesn't seem to tear very easily if ever bumped or scratched. Near the bottom of the front is a silver Tronsmart imprint. Above that, at the top, is a control panel. We'll talk about the control features more in a moment.
On the sides of the housing are a pair of recessed cavities. There are LED light rings embedded in these recesses, which change color as you go. They can pulse to the beat of your music, or they can rotate in a circular pattern. Alternatively, you can turn the lights off altogether to save batteries.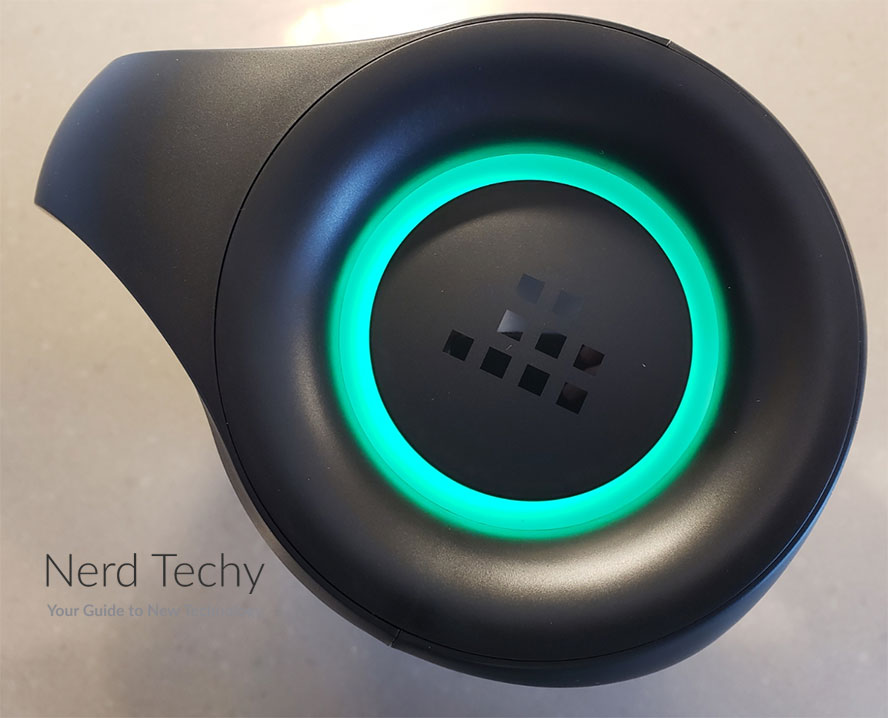 The Bang Mini has a weather-resistance rating of IPX6. This means it can withstand a stream of water from a hose. You can't submerge it, so you should still keep it clear of your swimming pool. But if it accidentally gets left out in a thunderstorm, it won't suffer any damage.
If you like the design but want a beefier speaker, check out the original Tronsmart Bang. It's bigger than the Bang Mini, and it has a shorter battery life. But it puts out significantly more volume, and offers mostly similar control features.
Controls
The control bar across the top sports a row of soft touch buttons that are easy to operate. The power button is located at the left, and has a little blue LED pip beneath it to show when it's active. Above the power button is a row of four additional blue pips, which indicate your current battery status.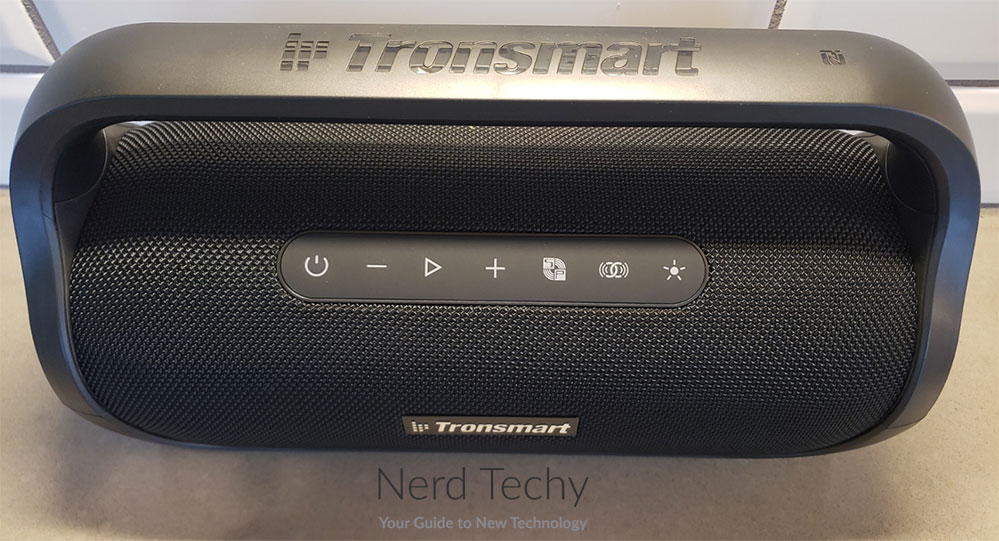 To the right of the power button are your three basic control buttons. The "+" and "-" buttons are used to adjust the volume, and the play button doubles as a pause button. Next in line is the Sound Pulse button and stereo pairing buttons, which we'll discuss more shortly. Both of these have blue indicator pips, similar to the power button. The last button controls the LED light ring. Press it, and you'll cycle through the three lighting modes.
The Bang Mini is also compatible with Siri, Amazon Alexa, and Google Assistant. You can use voice controls to operate all the functions, which is great news when your hands are busy. If you're in the pool or flipping burgers on the grill, you can still adjust your settings.
On the downside, this speaker is not supported by the Tronsmart app. This won't matter to most people either way. But it's a bit disappointing if you're an existing Tronsmart customer.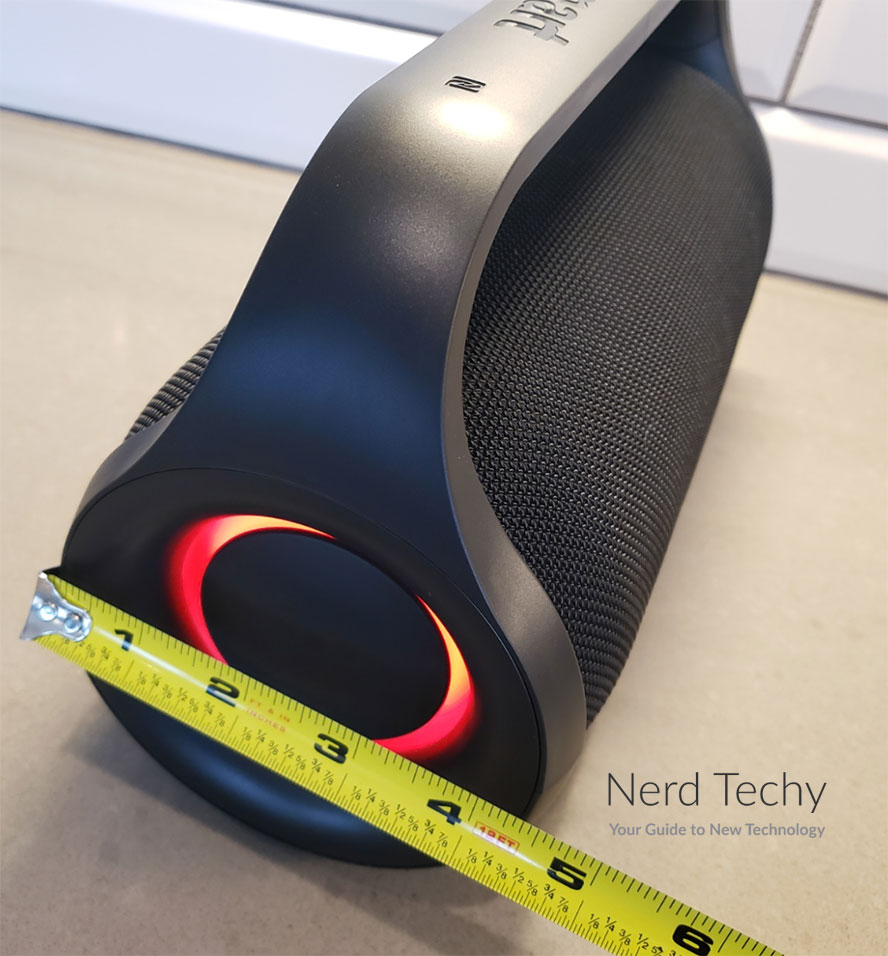 Connectivity
The Bang Mini utilizes the Bluetooth 5.3 audio protocol. This is the bleeding edge of Bluetooth technology, and comes with some impressive features. It offers near-zero latency, which is great when you're watching movies.
It's more stable than earlier Bluetooth versions, so you won't randomly lose your connection. it has a higher bandwidth, which allows you to listen to high-bitrate audio. You also get a whopping 49 feet of signal range. And if your phone doesn't support Bluetooth 5.3, no worries. The speaker is backwards-compatible with older Bluetooth versions.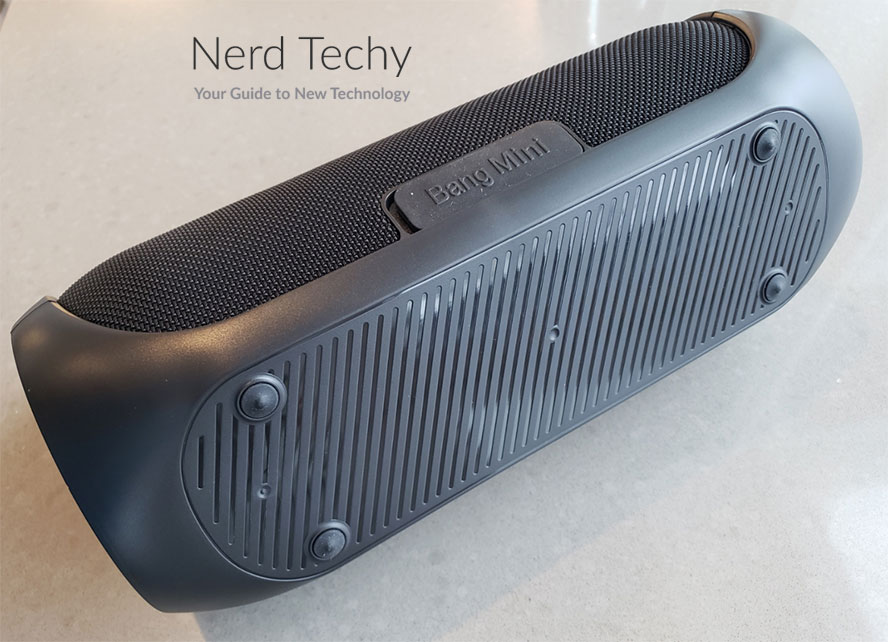 If you want an even stronger, faster connection, you can use the NFC feature on your Android phone. Audio will be exceptionally clear, but you'll only have a few feet of range. If you want to walk around with your phone while you're listening, this probably isn't the best option.
On the back of the housing, you'll find a row of ports for creating wired connections. The first is a USB Type-A port. You can plug in a thumb drive or external hard drive and play MP3 files. Next is a 3.5mm aux port. This port can be used to connect to any wired audio source like a phone, computer, or stereo system.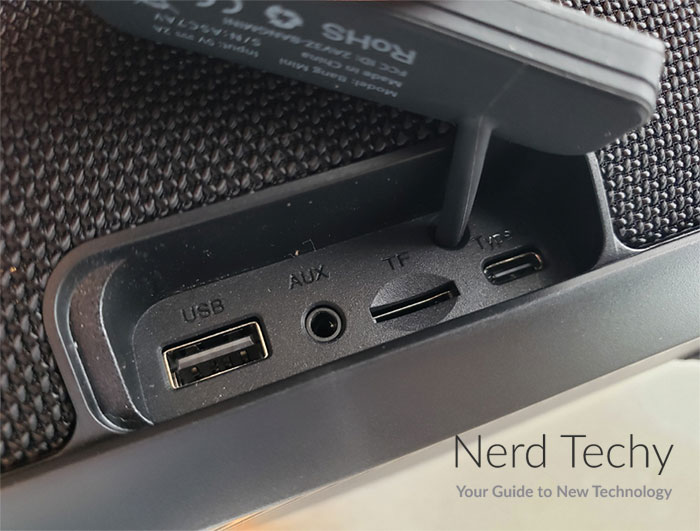 Following the aux port is a Micro SD card slot. Like the USB Type-A port, you can play MP3 files from here. Last in line is a USB Type-C port, which is used for charging the speaker.
The kit includes a 3.5mm aux cable, along with a USB Type-C charging cable. There's no charging block included, but that seems to be becoming the norm these days.
Battery and Charging
The Bang Mini's internal battery has a capacity of 8,000mAh. That's enough to provide about 15 hours of playtime, assuming you're at medium volume. Crank the volume up all the way, and 12 hours is more realistic.
Turn it down a touch, and you can go even longer. Either way, you're looking at an impressive amount of playtime. And if you run out of juice, you can just plug into it with the 3.5mm aux port. Just keep in mind that this will drain your phone battery faster.
One other thing we should note is that the LED rings drain your battery faster. When they're active, your average performance will drop to around 13 hours. It will drop even further when the lights are in pulse mode. But no matter how you cut it, you'll have enough juice to get through your party.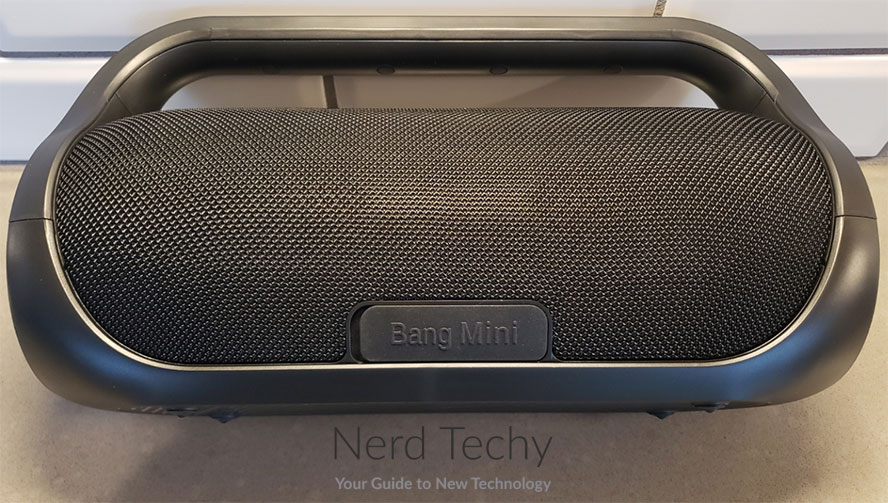 Charging the battery is easy. Plug it into a USB Type-C power supply, and it will fully charge in around four hours. And if you're using it in one place, you can just leave it plugged in. That way, you don't have to worry about battery life at all!
One thing we liked about this speaker is that it doubles as a power bank. You can plug your phone or other device into the USB Type-A port to charge it. With 8,000mAh of power, you can fully charge a typical smartphone twice, with a little bit left over. Of course, you'll correspondingly lower your speaker's battery life. But it's a handy feature to have available in a pinch.
If you like the Bang Mini's battery life but want a different design, consider the Tronsmart Force 2. It lasts just as long when you're playing music, and it's entirely submersion-proof. It also pairs with up to 100 other speakers, but there's no subwoofer.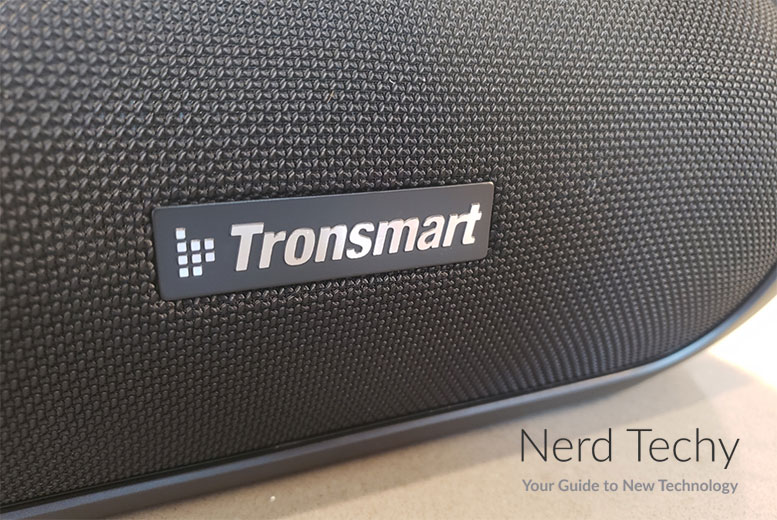 Audio Quality
The audio quality on the Bang Mini is reasonably good, particularly considering the price. With 50 watts of power, you can fill a large room with sound. You'll have no problem spreading tunes across your backyard during your next barbecue.
Sound is multi-directional, with two tweeters on the front and a pair of woofers on the back. The indents on the side house a set of passive radiators. The radiators don't produce any sound of their own, but they amplify the sound from the other speaker drivers.
The frequency response is well-balanced at low to medium volume levels. The highs, middle frequencies, and bass all come through clearly. There's also a good sense of space and separation between frequencies.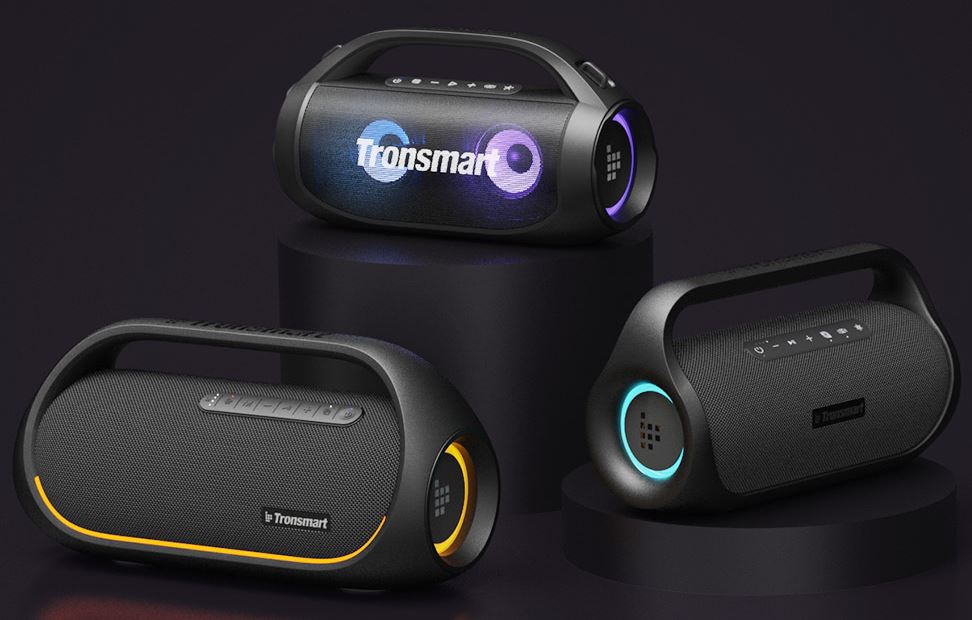 That said, the bass and treble frequencies tend to fall off when you crank up the volume. You can compensate for this to some extent by activating the Sound Pulse mode. This will provide a slight boost to the bass, but the high frequencies will still be a bit quiet.
If you want to cover a larger area, you can pair two Bang Mini speakers together. Not only will they produce double the sound, but they'll provide true stereo audio. Spread them out a bit, and it will sound like a traditional stereo set.
To cover even more area, you'll need more than two speakers. That's where the Tronsmart Studio comes in. This bass-heavy little speaker doesn't have a handle, and is nowhere near as portable. But you can link up to 100 of them together, which is great for large venues.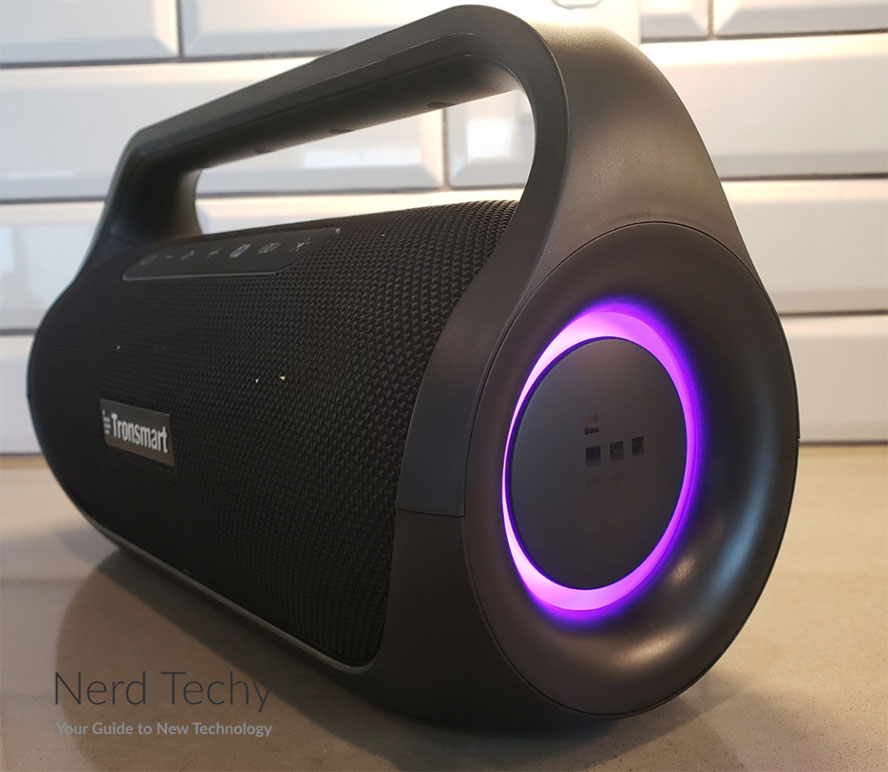 Final Verdict
The Tronsmart Bang Mini is a well-engineered little speaker. With its molded handle, it's lightweight and easy to carry. The controls are easy to operate, and it utilizes the Bluetooth 5.3 protocol.
The battery power is surprising, with up to 15 hours of playback time. And the ability to use the speaker as a power bank is a great added touch. The audio quality is great as long as you don't max out the volume. And even when you do, you can fill a large space with decent-quality sound.
Please consider sharing:
Note: At no extra cost to you, we may earn a commission for purchases using our links. Learn more.