When most people think of a desk lamp, the word "cordless" doesn't typically come to mind. After all, you're at your desk, where all your electronics live. Presumably, you've got a power strip or surge protector already in place. Why on earth would you deal with another battery-powered device, rather than just use a corded lamp? And for most people who always work from the same desk, you'd be right. In fact, we've reviewed the best LED desk lamps in the past, irrespective of power source. Lo and behold, all of them require an AC power supply.
But there are still reasons you might want to use a cordless, battery powered desk lamp. Primarily, you might need to work at a temporary workspace. Let's say you work from home, and your "desk" is actually your kitchen table. Unless you're taking the kitchen over 24/7, you're going to need a workspace that can be moved around. A battery powered desk lamp is enough to get a good source of light right where it's needed. And when you're done for the day, it's compact enough to sit on a shelf to charge overnight. None of this is possible with a big lamp that's tied to an AC outlet.
Today, we're going to start by reviewing the Gladle LED Desk Lamp. This is a USB-rechargeable lamp with adjustable color and brightness. Next, we'll examine the Lightaccents Cordless Lamp. This is a stiff and well-engineered lamp that's designed to take a beating. But but it only comes with one color and brightness. Finally, we'll look at the Sakringt Cordless LED Table Lamp. This is an adjustable lamp that comes in three metallic colors. To find out which one is the best, we'll look at all of their features and flaws. After that, we'll summarize what we've learned. Let's get going!
Features to Look For
So, what makes some cordless desk lamps more worth buying than others? There are a number of factors to consider. But the first thing you should think about is the quality of the light itself. These days, there's really no excuse for buying anything other than an LED lamp. Incandescent bulbs are nearly impossible to find, and they're inefficient. Halogen bulbs run hot, and CFLs have a tendency to flicker. LEDs are more affordable than ever, and they last practically forever. By the time an LED desk lamp starts to lose its shine, you'll be in the mood for an upgrade anyway.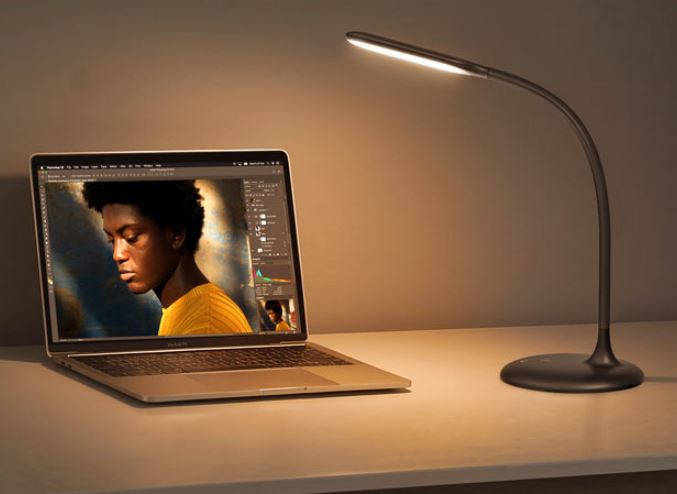 Even amongst LED lights, there are big differences in terms of color and brightness. Even for desk lamps, where white light is the norm, color temperature is a major consideration. A reddish white is less irritating, but can also make you feel sleepy. Conversely, blue light causes you to feel more alert, but causes some people to get headaches. There's no right or wrong answer here. It's all about what works right for you. The same is true for brightness. Do you want a dimmer light for working on your computer, or a bright light for doing paperwork? Keep in mind that many desk lamps are adjustable. With an adjustable lamp, you can take advantage of bright or dim, warm or cool light as appropriate.
Another important design consideration is size. Think about how much of your workspace you want to dedicate to a lamp. You'll also want to think about charging your lamp and moving it around. If the lamp is large, it's going to be a pain to carry from room to room. Thankfully, most battery powered lamps are on the small side by design. Regardless, don't forget to consider the height of the light as well as its footprint. The higher the LEDs sit above your desk, the wider the light will disperse.
One thing you're not likely to find on a battery powered desk lamp is any kind of charging capability. This only makes sense, since the lamp itself relies on its battery for life. But what if you want a lamp that also has some extras? In that case, check out our advanced desk lamp review. There, we look at lamps with built-in wireless chargers, clocks, and even speakers. But if you want those kinds of features, you'll need to use a wired lamp.
The final consideration is unique to cordless lamps: battery life. You want a lamp that will last for as long as you need it to. You also want one that's easy to charge when the time inevitably comes. One other alternative is to use replaceable batteries instead of rechargeables. This has the advantage of efficiency, since you can swap them out immediately on the spot. However, it can also cost money over time.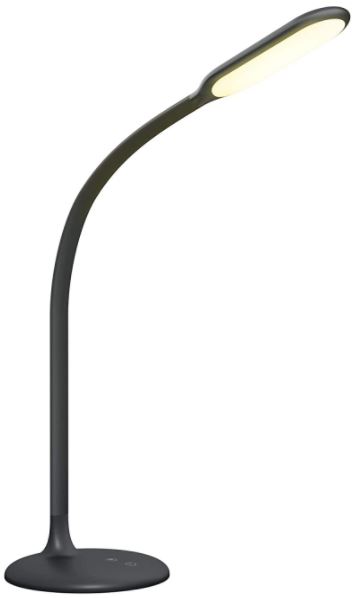 Gladle LED Desk Lamp
The Gladle LED Desk Lamp has a unique design, with a disc-shaped, wood grain base. The rest of the unit is glossy white, with an easy-to-clean finish. A rotating upright sticks up from the center of the base, where it can be swiveled 360 degrees. The main arm sticks up from there, and can itself be pivoted 80 degrees. The head of the light is attached to the top of the arm, and can be pivoted 180 degrees. This allows you to point the lamp in virtually any direction, no matter where on the desk it's positioned. The head is round in shape, with 42 LED bulbs inside. The entire housing and upright are the same white plastic, creating a unified appearance.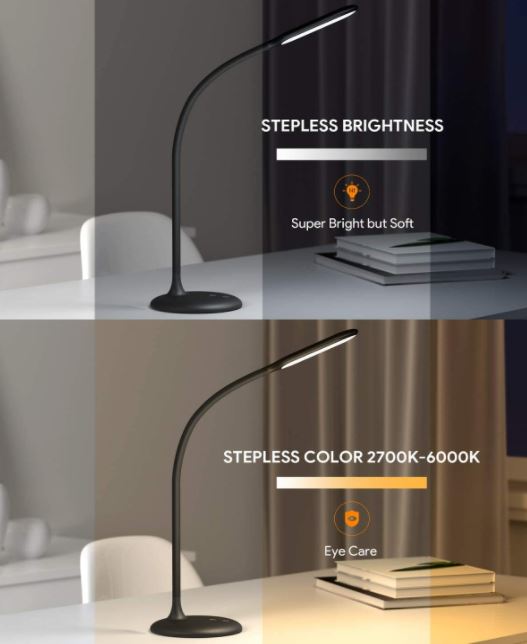 The base features a number of controls for easy operation. There's an on/off switch on the bottom, and touch controls on top of the base. These are enough to perform every function the Gladle light can perform. There's also a Micro USB port on the back of the base. This is used for charging, which takes about five hours. A fully charged battery will last for up to 100 hours, or a minimum of six hours on the brightest setting. Alternatively, the light can simply be left plugged in whenever it's in operation.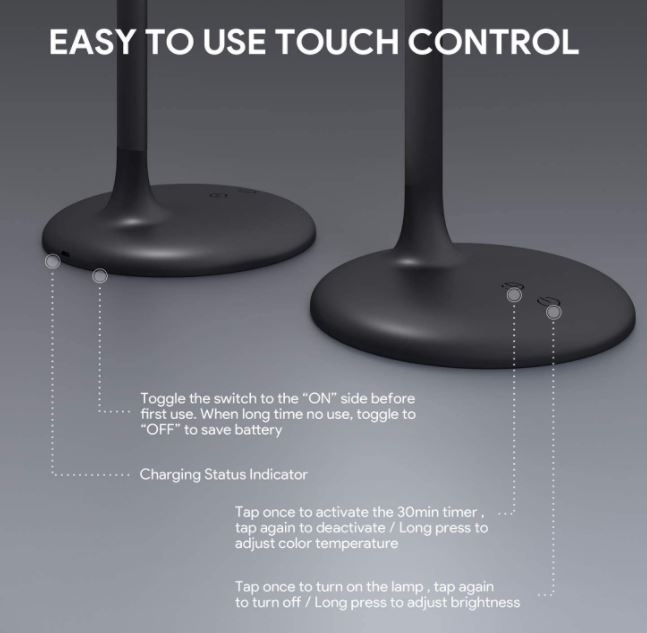 Lighting Modes and Features
There are two different types of adjustments that can be made with the touch buttons. The first is a stepless brightness adjustment. Gladle doesn't provide any official lumen rating, but we were able to get a rough approximation. At the brightest setting, you're looking at something roughly equivalent to a daylight bulb. At the dimmest setting, you can light up a computer keyboard, but it's not bright enough to read by. The other type of adjustment you can make is to the color temperature. This can be set anywhere from 2700K to 6000K. This falls between soft white and daylight, again providing a nice range of adjustments.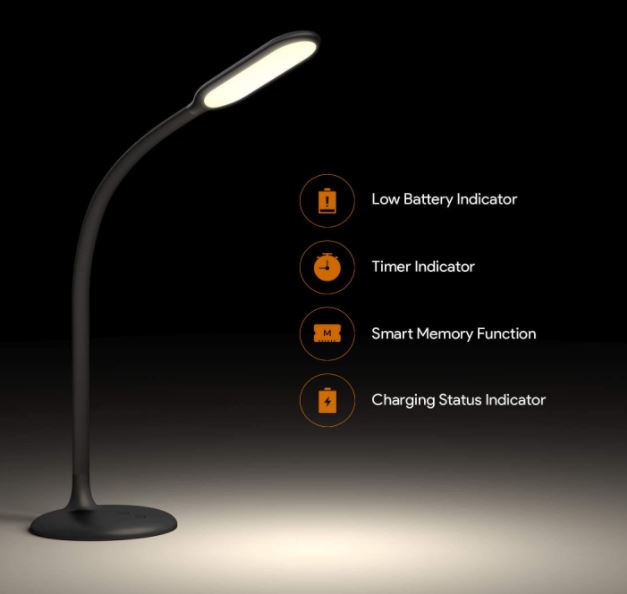 In addition to all this, you can activate a built-in timer with the push of a button. You simply tap the button, and a 30-minute countdown begins. At the end of that period, your light shuts off automatically. This is a useful feature if you plan on dozing off, or even if you frequently get interrupted. It ensures that you won't run out of juice when you're not actually using your light. Finally, the Gladle lamp's internal memory keeps track of your favorite settings. When the light is powered on, it doesn't start up in some default mode. Instead, it resumes with the settings you were using when you last powered it off.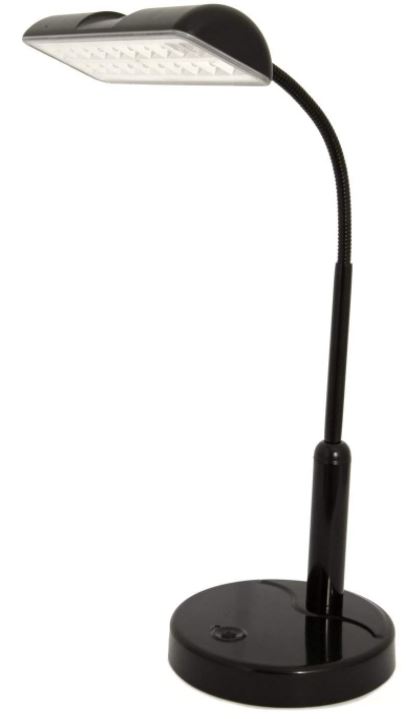 Lightaccents Cordless Lamp
The Lightaccents Cordless Lamp is a bit different from the Gladle. Instead of a friendly, pod-like, white appearance, it's a more restrained black with a glossy flexible gooseneck. This neck rises from a circular base to meet the back of the light housing. The housing is matte black plastic, a slight contrast to the metal neck. This housing has a rectangular form factor, producing a rectangular light pattern when it's illuminated.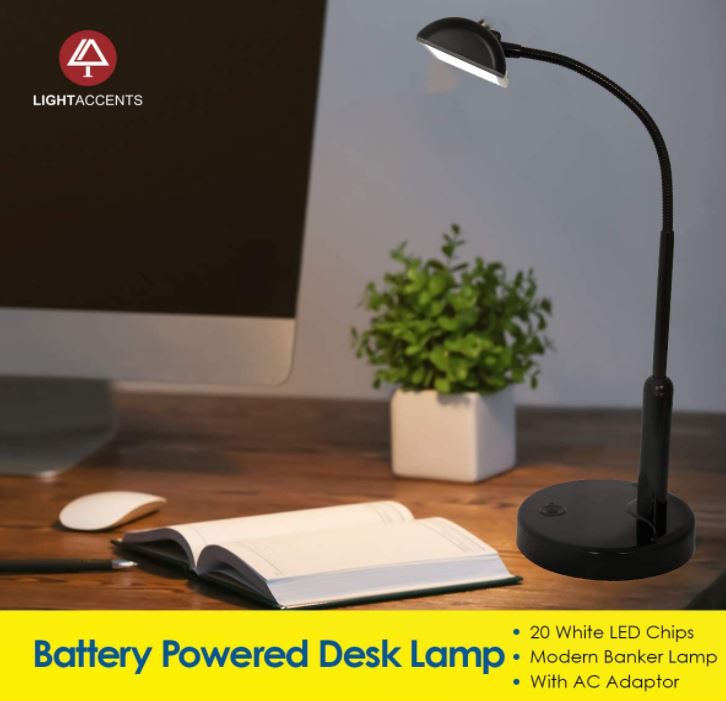 The gooseneck itself is very stiff, and is harder to adjust than you might expect. That said, precisely because it's so stiff, it stays in place when you've positioned it. The total height is 18 inches, but this can be shorter depending on how you've chosen to angle the light. The base is a bit smaller, at 5.9 inches in diameter. This makes it easy to transport, and ensures that it doesn't take up too much desk space.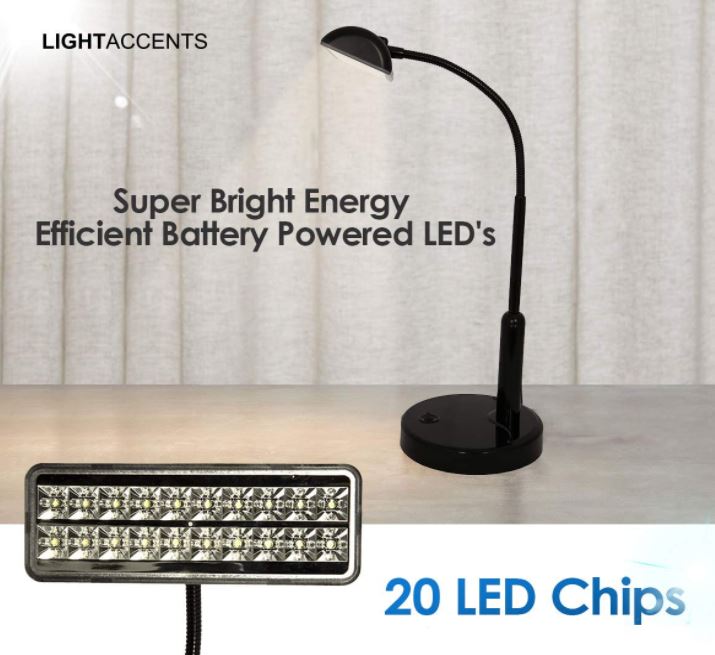 There are two ways of powering the Lightaccents lamp. The first is with a set of three AA batteries. These are inserted in the base, and will last about eight to 10 hours. Alternatively, you can use the AC adapter, which will work indefinitely. This will be the preferred choice for many people, although the power adapter is a bit blocky.
Lighting Modes and Features
The Lightaccents LEDs shine at 5000K, which is in the cool white part of the spectrum. They're bright enough to read by, and you wouldn't want to point them in your face. This makes them suitable for most of the jobs you'd want to use a desk lamp for. That said, they're not actually adjustable. The light quality is what it is.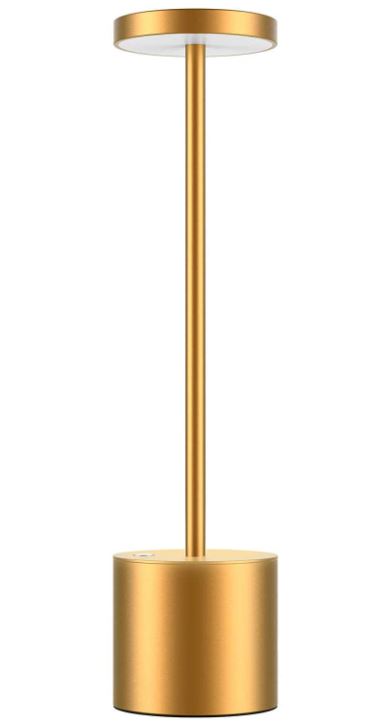 Sakringt Cordless LED Table Lamp
The Sakringt Cordless LED Table Lamp is the most stylish offering of the bunch. It had an art deco style, with a round, disc-shaped light supported on a vertical rod above a large, cylindrical base. The metallic housing can be gold, silver, or black, depending on your preference. The black variant is square instead of round, putting a different twist on the design. All three variants are 13.3 inches tall, and just over three inches in diameter.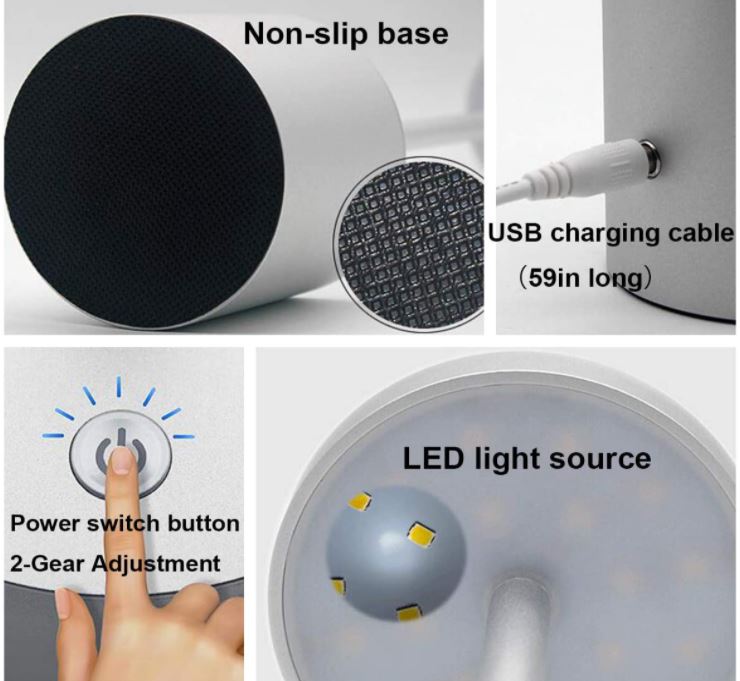 The base has a black power button, which is used to operate the light. The button has a blue charging light inside, which illuminates when the light is plugged in. The plug itself is USB powered, with a USB Type-A plug on one end. But the end that plugs into the light is a barrel-style, making this a proprietary cord. If something happens to it, you'll have to buy a replacement from Lightaccents. That said, it's well-designed, and the 59-inch length is a plus. With the battery charged, you can also run the light for eight to 12 hours without the need to plug in.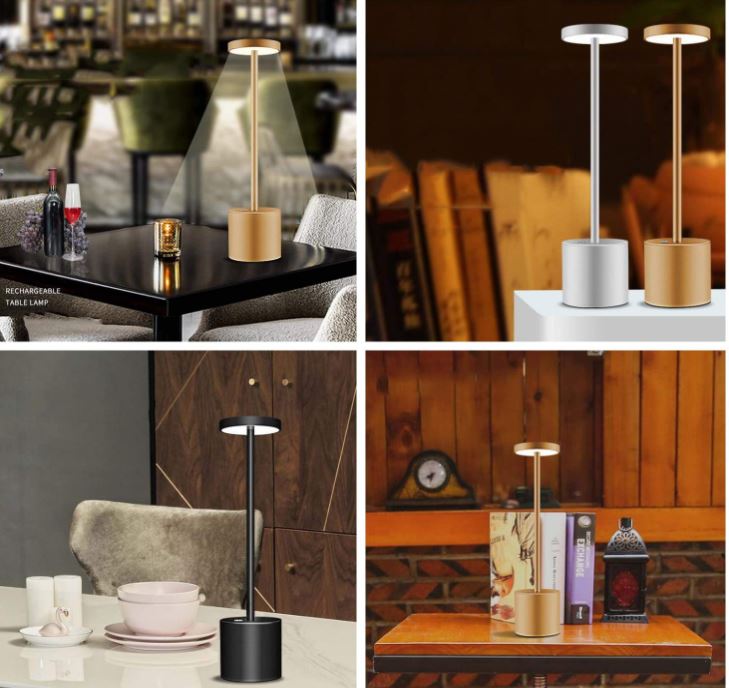 Lighting Modes and Features
By tapping the button, you can switch between two different brightness levels. The brightest is ideal for reading reports and other written documents. The dimmer is better for general lighting, and won't interfere with your laptop screen. You can also change between two temperature settings, at 3,000 and 4,500K. This gives you the option of a warmer or cooler tone to the light. The difference between the two isn't huge, but it's noticeable.
Final Verdict
As you can see, each of these battery powered desk lamps has its own upsides and downsides. Which one is right for you will depend on the balance of features you need. We started the day by looking at the Gladle LED Desk Lamp. This is a highly-adjustable lamp that can be used to produce a variety of temperatures and brightnesses. The bulb direction itself is also very easy to direct, thanks to an adjustable stand. Finally, you're looking at fairly reliable battery performance. As a generalist, this is one of the best lights out there.
The Lightaccents Cordless Lamp is a different type of animal. It's not adjustable in brightness or color, which is somewhat limiting. However, the neck is very stiff and highly adjustable. If you only need a simple white light, you're looking at a rugged and effective option.
The Sakringt Cordless LED Table Lamp is without a doubt the most stylish of the bunch. With its metallic, art deco look, it's both attractive and highly stable. It's rigid, so don't expect to be making any adjustments to the angle of the lights. But if you need an all-purpose reading lamp that's easy on the eyes, this lamp is a solid choice.