For most people, having a good area in their home or apartment to work or study in is important. Usually, these spaces consist of a good desk, a comfortable chair, and a computer system of some sort. One other item you'll definitely want is a quality desk lamp. There are tons of options, with many shapes, sizes, designs, and power types to choose from.
With the power option specifically, you usually can choose between either a corded lamp or a cordless lamp. Corded lamps are great since they just plug into the wall and can be turned on as long as you have power. However, they can also clutter up your desk with unwanted cables.
Cordless lamps, on the other hand, don't have this issue. They are designed to be powered by batteries (either single-use or rechargeable) and can produce the same great light without the hassle of loose cords. If you decide to go the cordless route, there are a few considerations you should think about while making your choice.
Here are the Top 6:
Size, design, and looks
The first variable to keep in mind is the overall size, design, and looks of the lamp. If you have a smaller space, you'll probably want a smaller lamp, and vice versa. You'll also want your lamp to fit in with the overall look and feel that the rest of your work area and home as a whole have.
Brightness
Brightness is important and will vary depending on the rest of the environment of the room. For large desk areas without great lighting surrounding them, a desk lamp with high brightness is important. If you just need a little extra light, then the brightness isn't something that needs to be super high. Many different lamps out there have varying degrees of brightness in the bulbs they use.
Lighting modes
Lighting modes are one of the cooler features that many cordless desk lamps have. These modes can change how bright the lamp is, as well as what color the lamp creates. Since everyone is different, having the right temperature light is also important. Some prefer bright white lights, while others prefer warmer colors closer to traditional lightbulbs. Check to see what modes each lamp has and also how easy it is to control those different modes.
Battery
Since you won't be able to plug these lamps into the wall (in most cases), battery life is crucial. Some are able to be used with single-use batteries, so powering them is as simple as changing batteries. Others come with pre-installed rechargeable batteries inside. With both options, see if you can find out how long the lamp can remain on until the power dies. Additionally, some lamps will feature power-saving modes that can shut them off after a certain amount of time.
Extras
As with many pieces of technology, desk lamps each may have their own unique set of extra features that can set them apart from the rest. Whether it's multiple color options, USB ports, or more, pay attention to any extra features to help influence your decision.
Best Overall: AKSDA Cordless LED Desk Lamp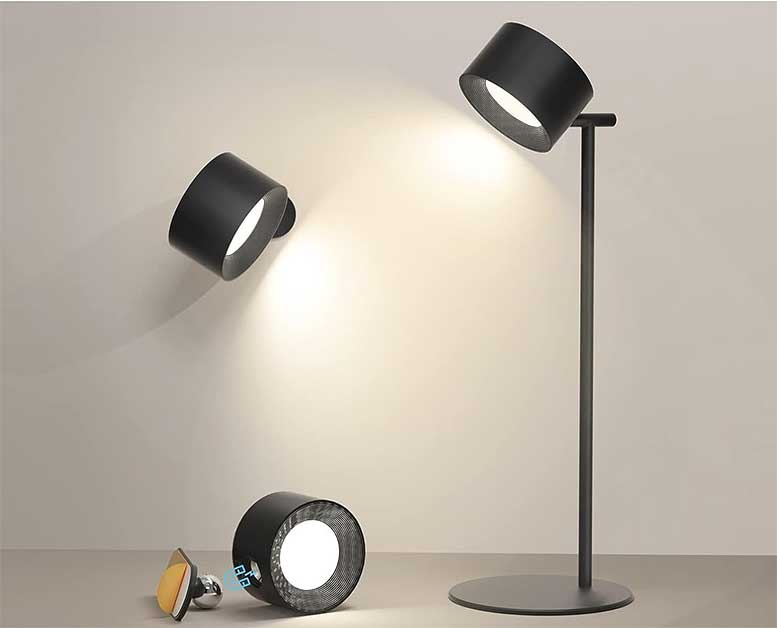 Key Features:
Multiple mounting options
Three brightness levels
Three lighting modes
The best overall choice for a cordless desk lamp is the option from AKSDA. This lamp is extremely unique looking and can be mounted in a couple of different ways. There is a magnetic hole on the main lighting component, which can be attached to a bracket and stuck to your wall or attached to the desk stand base. It's also available in either black or white.
As for brightness, you can set it to one of three different levels. This is easily done with touch controls to set the lamp to either low, medium, or high light. This offers plenty of flexibility for your lighting needs. It uses dimmable LEDs to provide light, but you'll need to buy them separately.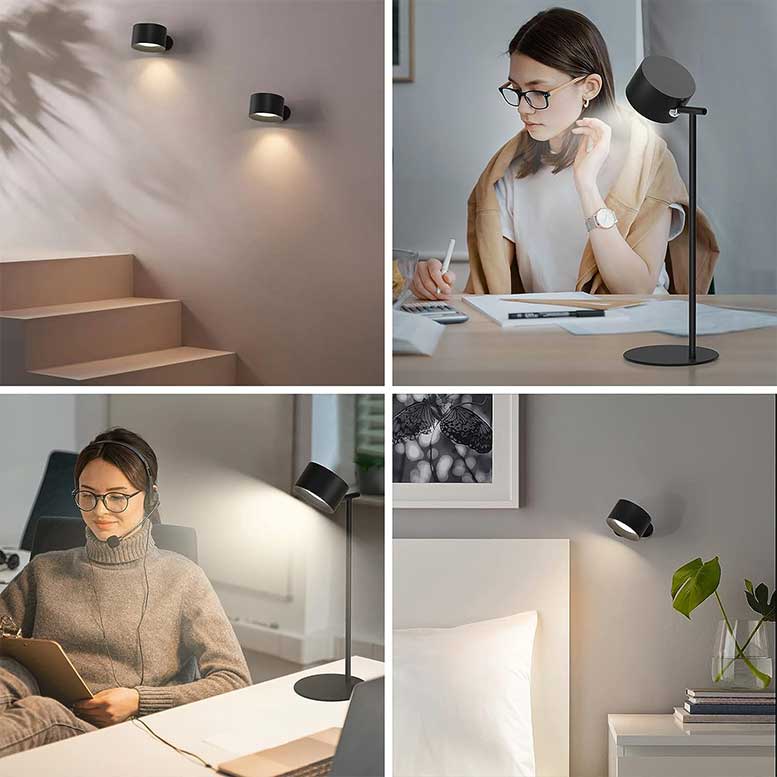 There are also three different options when it comes to lighting modes. You can set it to white light, natural light, or warm light. This lets you have plenty of color choices depending on the room you're using it in, as well as what works best with your eyes.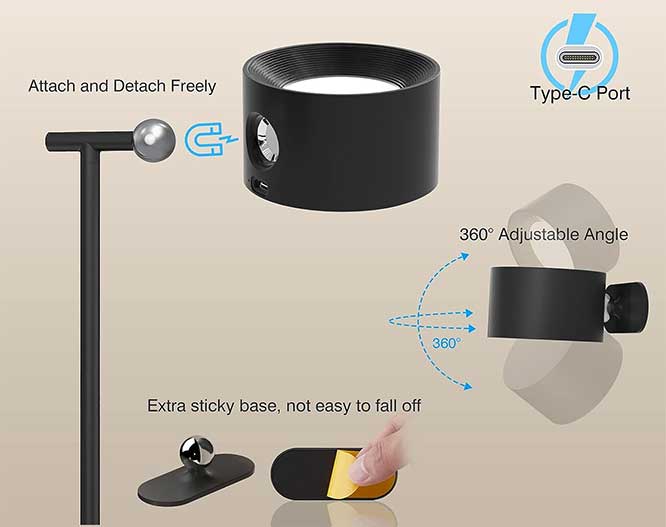 The AKSDA is powered by a large internal rechargeable battery. This battery can power the lamp for up to 20 hours on the lowest brightness settings or six hours on the highest brightness settings. With plenty of light color options, brightness levels, and ease of putting it wherever you need it, this is a great cordless desk lamp.
Pros:
Wall mount or stand on your desk
Easy touch controls for brightness and lighting modes
Up to 20 hours of battery life
Cons:
There isn't a bulb included in the lamp
Best Runner-Up: Ambertronix Rechargeable Cordless LED Desk Lamp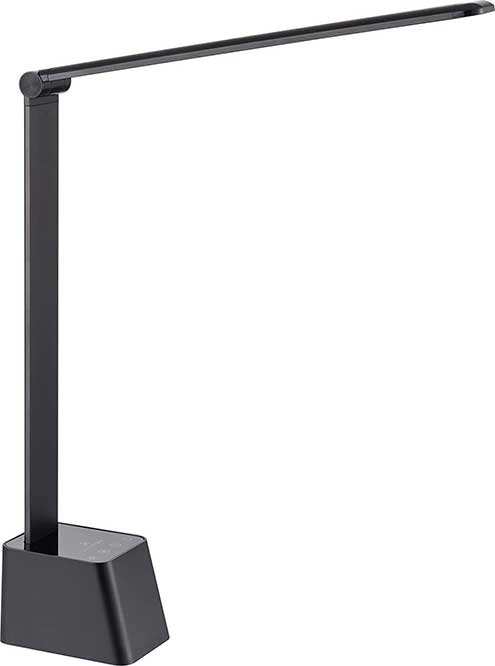 Key Features:
Tall and skinny design
Five brightness modes
Five lighting modes
A great runner-up choice is the Ambertronix Rechargeable Cordless LED Desk Lamp. This desk lamp has a solid base and a tall and slender hinged body with lights built into it. This gives you a wide area of light production. It's also available in either black or white to help blend in further with your aesthetic.
As for brightness settings, there are five different choices. These settings are controlled by a touch slider on the base and can be set from 20% to 100% brightness. This is done on the 52 individual built-in LED bulbs.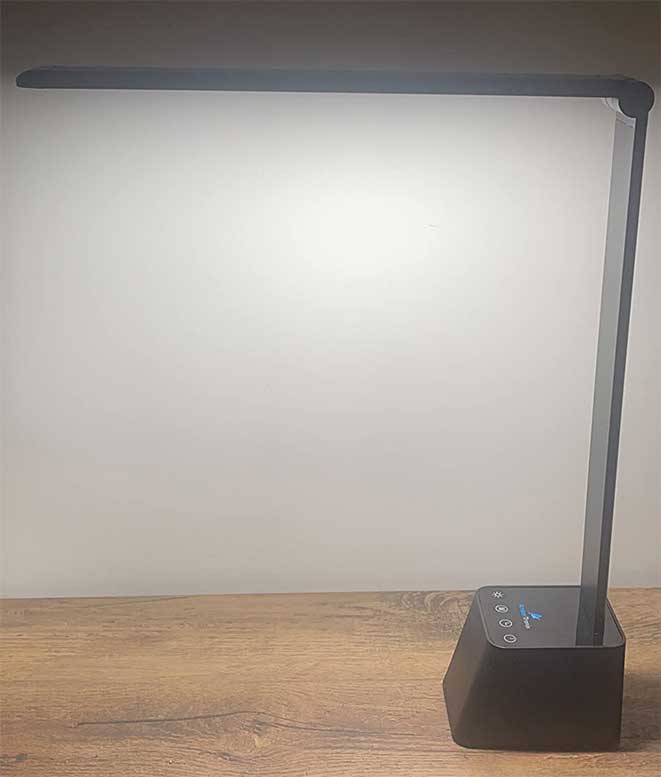 There are also five different lighting modes for this lamp. They are controlled on the base with touch settings, just like the brightness. These modes can hit temperatures ranging from 3000 Kelvin to 6000 Kelvin. This is slightly more customization than you can achieve with the AKSDA lamp.
Internally, this lamp has a 2200mAh rechargeable battery. This keeps the lamp powered for 3.5 to 14 hours of continuous use, depending on the brightness mode you set it to. There is also a setting for turning itself off after 30 or 60 minutes of use to help extend the battery life while in use. In addition, two USB-A ports offer charging for your smartphone or other device.
Pros:
Timer mode to help preserve battery
Five different color temperature modes
52 individual LED bulbs pre-built in
USB charger built into base
Cons:
No indicator of how much battery charge it has left
Best Alternative: LIGHTACCENTS Battery Operated LED Cordless Lamp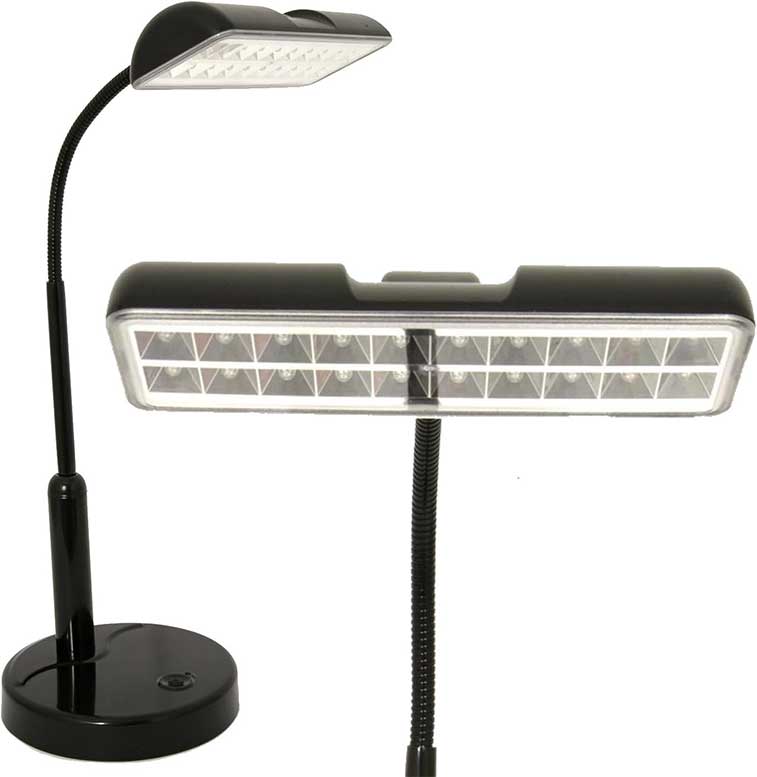 Key Features:
Large light area
One brightness mode
One lighting mode
A solid alternative option for those who want a basic lamp is the option from LIGHTACCENTS. This lamp is only available in a black color. It also has a circular base with a skinny neck and a rectangular lighting area. There really isn't much that stands out about it from an aesthetic standpoint.
This lamp maintains its simplicity when it comes to brightness. There is only one setting for this, which is whatever the LED bulbs create when powered on. The light is created by 20 individual LED chips that never need to be replaced and come pre-installed.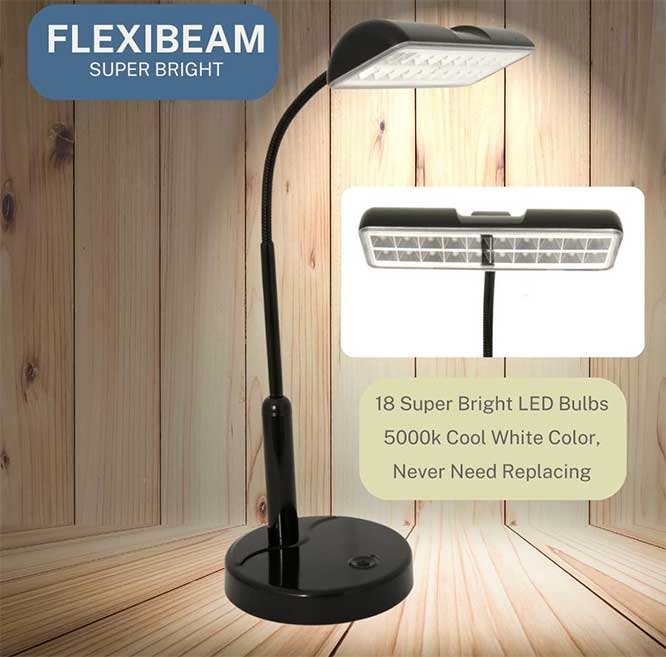 As for the lighting modes, there is also only one of these. The lamp operates at a consistent level of 5000 Kelvin, which is described as a sun-white light. This is a common lighting level and shouldn't be too harsh on your eyes while in use.
To power this lamp, you have two options. The first is using batteries. While other options use a rechargeable battery, this lamp opts for the use of 3 AA batteries. However, these batteries aren't included in the package. Additionally, if you decide to use it instead as a corded lamp, there's an included AC adaptor to power it continuously.
Pros:
20 pre-installed LED bulbs
Two power options
Basic minimalist design
Cons:
Only one brightness and temperature setting
Best Budget: BritMo LED Cordless Desk Lamp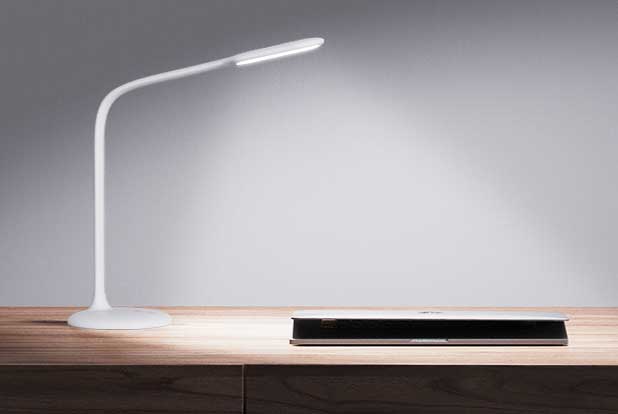 Key Features:
Two color choices
Dimming brightness settings
Stepless lighting modes
A great cordless desk lamp for those on a budget is the one from BritMo. This lamp is pretty basic, with a round base and a narrow lighting area at the top. It's also designed with a modern yet minimal design in a white or black colorway.
When it comes to brightness settings, this is extremely customizable. It uses a stepless dimming level setting system to give you complete control. With this system, you can set the brightness between 10% and 100%, so it will likely be exactly as bright as you need it to be. This is done with 42 individual pre-installed LED bulbs.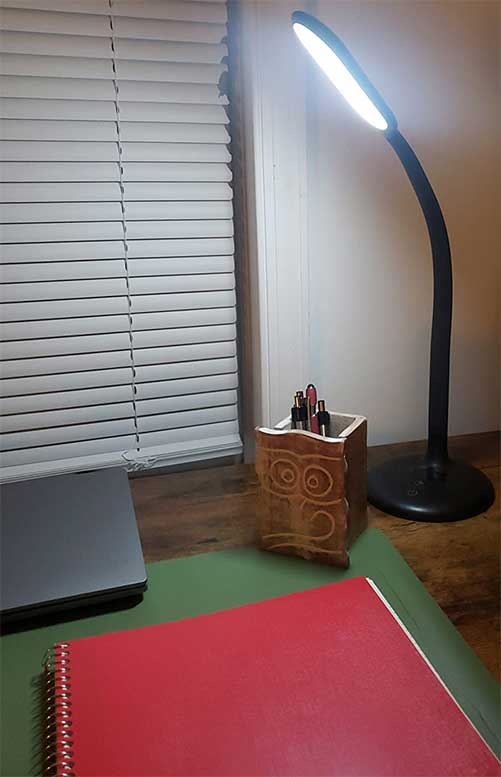 Similarly, the color settings utilize the same stepless control settings. With this, the bulbs can be set anywhere between 2700 Kelvin and 6000 Kelvin. This is done while also eliminating flickering, shadows, and helping to combat eye fatigue.
Internally, this lamp uses a 3500mAh rechargeable battery. This can power the lamp between 6 and 100 hours, depending on the brightness setting you utilize. When it's out of power, you can plug it in, and within 5 hours, it will be fully charged again.
Pros:
Stepless temperature and brightness settings
The lowest cost on the list
Up to 100 hours of battery life
Cons:
Some reviewers note the stepless settings aren't super easy to set properly
Best Design: CHLORANTHUS Cordless Table Lamp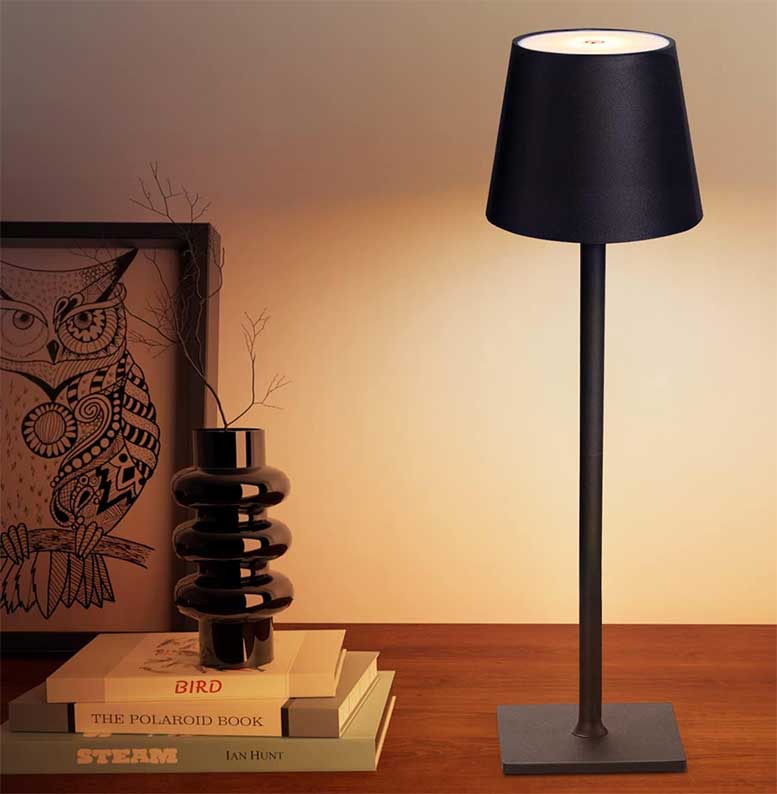 Key Features:
Multiple color options
Stepless brightness settings
Three lighting settings
For those who care about interior design, the best choice is the desk lamp from CHLORANTHUS. This lamp is extremely stylish, as it looks like a miniature version of a typical lamp with a lampshade you'd find on side tables or standing in rooms. There are also three different color options for it, including black, white, and antique copper (note: to get white or antique copper, you have to buy a two-pack).
Similar to some other lamps on this list, the brightness is designed to have stepless settings. With a long press of the controls on top, you can adjust the brightness between 10% and 100%. This brightness will be remembered even after you turn the lamp off, as the next time you turn it on, it automatically returns to that brightness.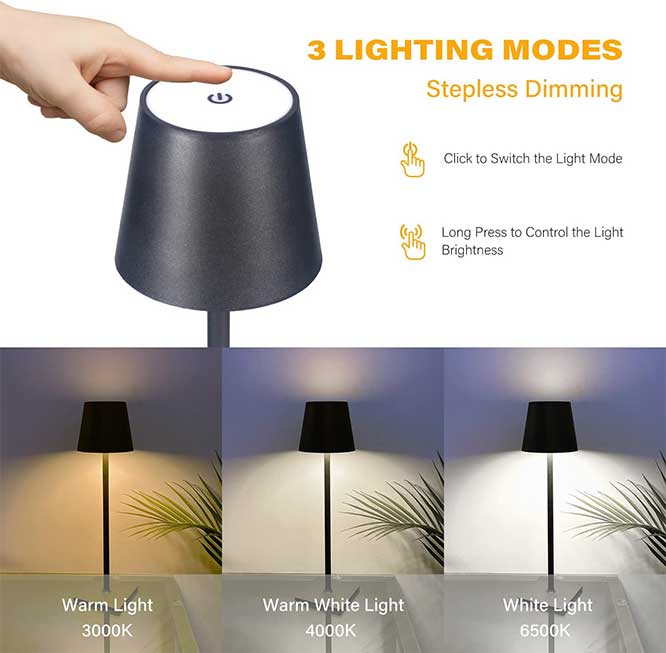 There are three different lighting modes that you can set the CHLORANTHUS to. It can go to 3000 Kelvin, 4000 Kelvin, or 6500 Kelvin. This gives you a good range of warm and cold lighting options for your desk.
As for power, internally, this lamp has a high-capacity 4000mAh rechargeable battery. This battery is able to power the lamp for 15 to 20 hours, depending on your brightness settings. Overall, this desk lamp functions just as well as it looks, making it a great statement piece for your work area.
Pros:
Looks great in three different color options
Easy touch controls for brightness and lighting settings
High-capacity 4000mAh battery
Cons:
Two of the colors are only available in two-packs
Best Design Runner-Up: QiMH Battery Operated LED Table Lamp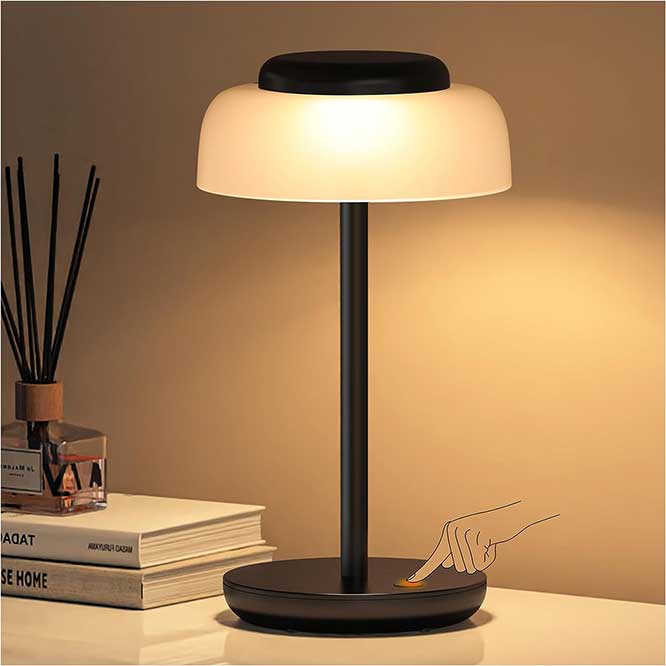 Key Features:
Unique shade design
Three brightness levels
One lighting mode
If you care about interior design and the CHLORANTHUS wasn't quite right for your overall style, then the desk lamp from QiMH may be the way to go. This lamp has a round base and a translucent rounded shade that light shines through easily. This gives the lamp a really unique look.
As for brightness, there are three different levels you can choose between. They are 10%, 50%, and 100%. Each is easily customized with a single switch button on the base of the lamp. While it isn't a stepless option like some other lamps have been, this still gives you lots of versatility for whatever you want the light to be used for.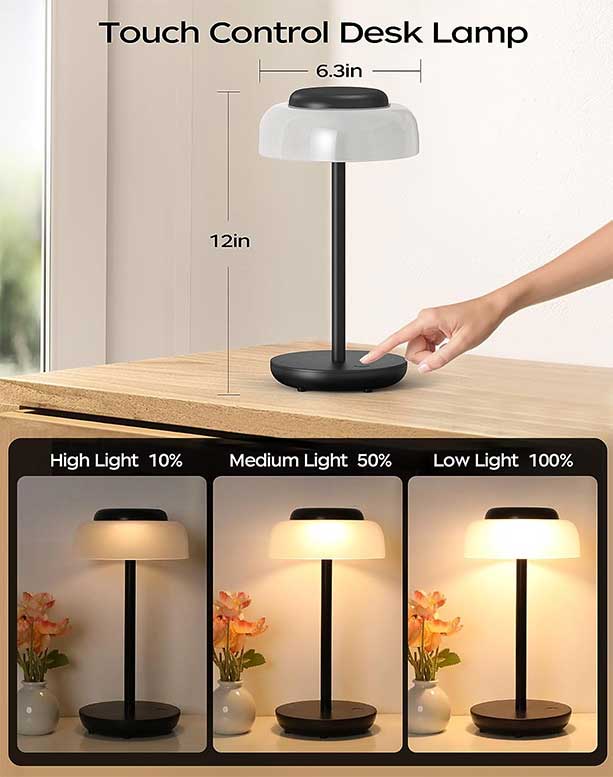 Continuing the trend of simplicity, there is only one lighting mode on this lamp. When you turn it on, it will automatically use a color temperature of 3000 Kelvin. This is a warmer-looking light that mimics traditional bulbs more than the cold-white look of some modern LED lights.
This lamp utilizes one of the biggest rechargeable batteries on the list, coming in at 5000mAh. When fully charged, this lets the lamp stay powered on for 10 to 40 hours, depending on how bright you have it set to. This lamp has a good mix of unique style and simplistic customization, making it a good option for those who want something different.
Pros:
Unique overall look
Three levels of brightness with easy controls
Long battery life
Cons:
Only one color temperature option
Meet Derek, "TechGuru," a 34-year-old technology enthusiast with a deep passion for tech innovations. With extensive experience, he specializes in gaming hardware and software, and has expertise in gadgets, custom PCs, and audio.
Besides writing about tech and reviewing new products, Derek enjoys traveling, hiking, and photography. Committed to keeping up with the latest industry trends, he aims to guide readers in making informed tech decisions.