A good computer setup needs a few things. You definitely want a computer that is powerful enough to handle whatever you need it to, whether that be just office work or high-end gaming. You'll also want a mouse that feels good to use and a few monitors to improve your efficiency. In addition to those, one of the most important peripherals to pay attention to is your keyboard.
The keyboard you choose will depend on many different variables. Some people prefer large keyboards with lots of keys for functionality, while others want it as minimal as possible. Regardless, the right keyboard also needs to have the right switches inside of it. There are dozens of options on the market to choose from for those who want to use a mechanical keyboard. One of the most popular choices is linear switches.
Quick-view of the Top 6 Linear Switches:
What are linear switches?
Linear switches are one of the main types of mechanical switches on the market, along with tactile and clicky switches. They differ from the other two, as they don't have any audible click or bump feel while typing. This makes them the fastest actuation force switches of the three.
What are linear switches good for?
Since they are the fastest type of mechanical switch, they are best for people who need every millisecond to count while typing or using your keyboard. The most common activity where this really matters is in gaming. While playing games, especially competitively, gamers need things to happen the instant they press the switch. Linear switches offer the best chance at this being almost instantaneous, letting gamers have the best experience possible.
Can I put linear switches in any mechanical keyboard?
It depends on which keyboard you have and which switches you decide to go with. Keyboard switches are commonly connected to your keyboard using pin connectors. Both 3-pin and 5-pin options are common among switches and keyboards, but you'll need to make sure the two you go with are compatible with each other. If you don't, then the chances are that the switches won't work with your keyboard.
Will linear switches work with the RGB on my keyboard?
Some of them will. If your keyboard is built with RGB underneath each key, then you'll want to pick a switch that has some transparency in its body. They are commonly found in either clear translucent or tinted translucent, both of which will let light through. However, if you decide to go with a solid-colored plastic body, the RGB effects will only shine through around each key, minimizing the lighting effects from the board.
How do I install linear switches into my keyboard?
The first step is making sure that the keys you want are going to work with the keyboard you have. Next, figure out if your keyboard is hot-swappable. Being hot-swappable means that your keyboard has the ability to change switches out. If it is, you'll need a switch puller tool. Then, all you do is pull out each switch that is currently on the board with the tool and press each new switch into place.
Best Overall: Glorious Lynx Linear Switches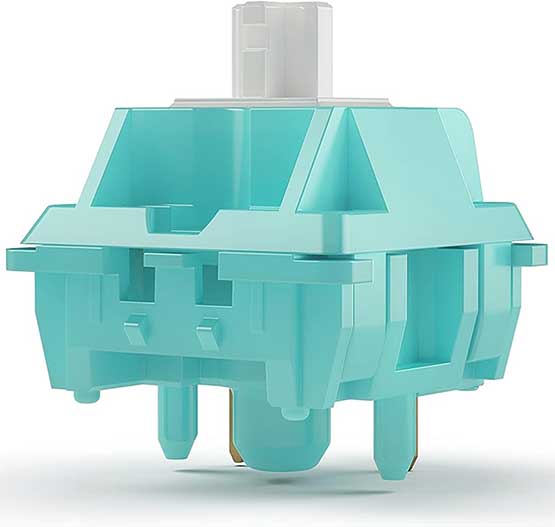 Key Features:
36 switches
5-pin connector
Pre lubed
The best overall choice for linear switches are the Glorious Lynx switches. They look great and function even better. You can find them in packs of 36, which means you'll likely have to order a few, depending on how big your keyboard is.

The Lynx switches are designed to be mounted directly to your keyboard PCB using a 5-pin connector. This does limit your keyboard compatibility to those that support a 5-pin connection. The top of the switches are designed with a "plus" shape, which lets them work with most keycaps you'll find on the market.
As for the overall feel, these are extremely smooth switches. They require 60g of force in order to completely bottom out while gaming or typing. While they aren't translucent, they do have the capability for RGB passthrough in order to keep light from being blocked.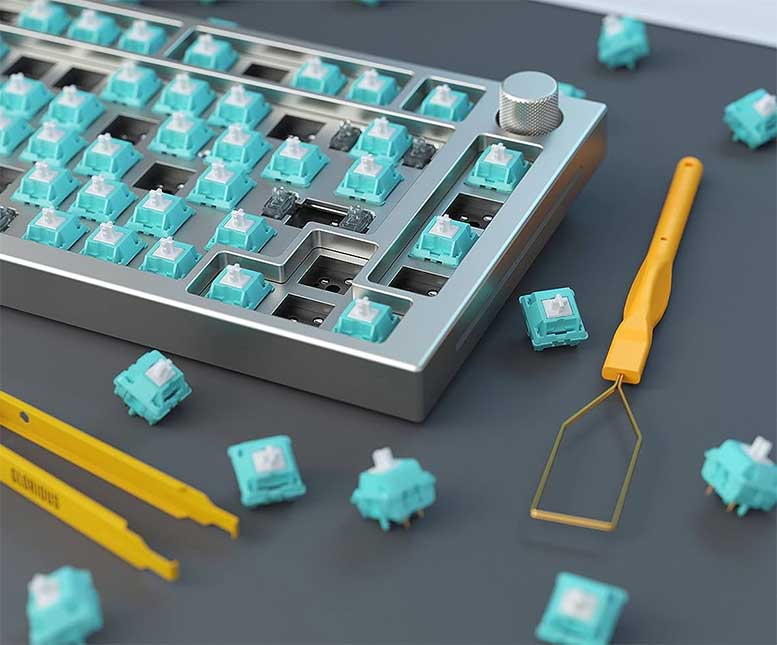 One great feature of them is that they come pre-lubed from the factory. This reduces the amount of work you'll need to do before using them, ensuring they will be great for gaming as soon as you get them installed. Overall, you should have a great experience using the Glorious Lynx Linear Switches.
Pros:
They come pre-lubed
RBG passthrough capable
Compatible with most keycap options out there
Cons:
They will only work on 5-pin connection keyboards
Best Runner-Up: Gateron Yellow Linear Switches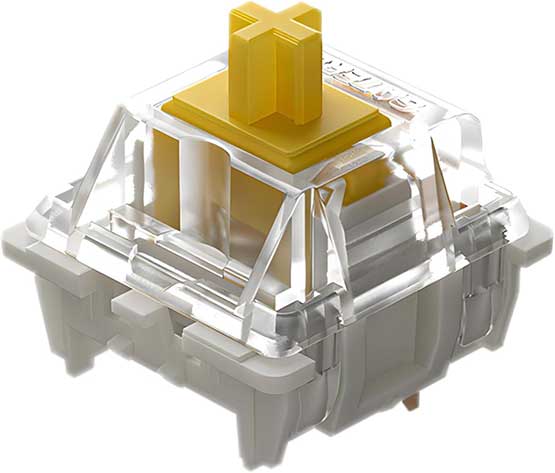 Key Features:
Three different pack sizes
3-pin connection
Rated for 60 million presses
A great runner-up for linear switches is the Gateron Yellows. These switches are available in three different pack sizes, including 35, 70, and 105. This gives you plenty of flexibility for getting the right amount for whatever keyboard you plan to install them on.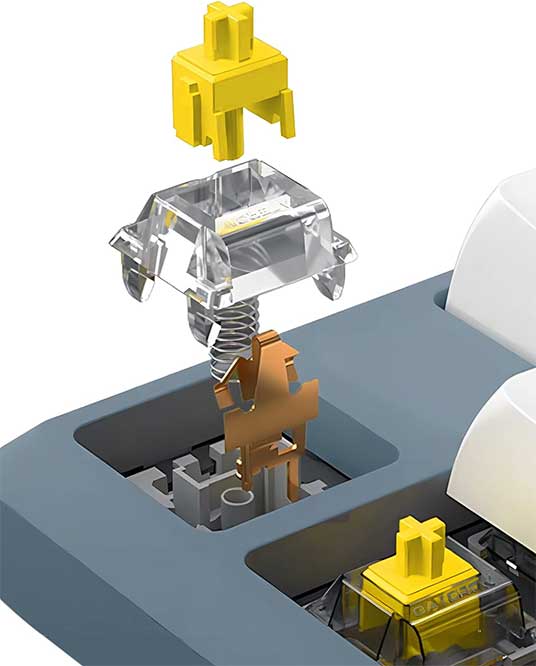 Speaking of connecting to a keyboard, the Gateron Yellows are more compatible than the option from Glorious. They use a 3-pin connector in their construction. This allows them to connect to any keyboard that supports either 3-pin or 5-pin switches.
These switches have a fast yet silent feel to them. They will operate at an actuation force of 50g, which helps improve your speed while using them. As for lighting compatibility, the body of each switch is made from a translucent material to help let the light shine through.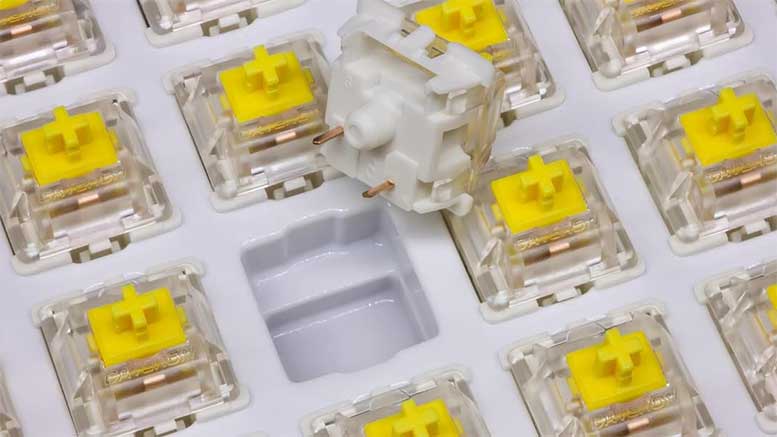 Similar to the Lynx switches, these Gateron Yellows come pre-lubed to ensure smooth operation. They also are rated for a lifetime of up to 60 million keystrokes per switch. With their variety of pack sizes, great functionality, and durable lifespan, the Gateron Yellows are a good option for gamers everywhere.
Pros:
Durable construction to ensure a long lifespan
RGB lighting can shine through easily
Plenty of pack sizes to make it easy to use on your keyboard
Cons:
Some reviewers note that they may need more lubrication for ultimate smoothness
Best Alternative: DUROCK Silent Linear Switches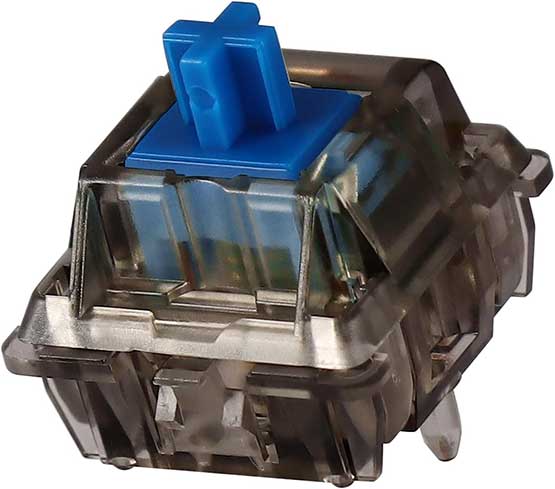 Key Features:
Two pack sizes
5-pin connector
Black translucent plastic body
A great alternative linear switch pack is the DUROCK Silent Linear switches. These are available in two different pack sizes. You can choose either 70 or 90 packs. This is great for gamers with mid-sized boards. However, if you have a smaller board, you'll have leftover switches, and if you have a larger board, you'll need to order multiple packs.

To connect to your keyboard PCB, the DUROCK switches use a 5-pin connector. Similar to the Lynx, this means they'll only work on keyboards with a 5-pin connection type. They also have a keycap connector on top, which makes them compatible with many different keycaps on the market.
As for the overall feel, these are some good switches. Internally, they use a spring that has a bottom-out force of 67g. They also have a 3.8mm travel distance with an operating distance of only 2mm.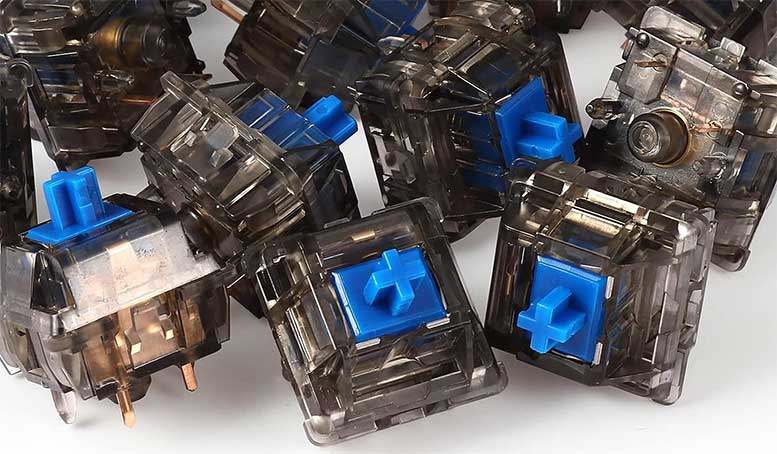 The body of each switch is made from a polymer, nylon, and PC blend of materials to create extremely durable switches. This material is also made to be a black-tinted translucent color. This lets some lighting shine through but may distort the actual colors produced.
Pros:
Durable switch body
Short operating travel distance for maximum speed
Silent operation
Cons:
The 5-pin connection type limits how many boards they're compatible with
Best Bulk: Gateron Oil King Linear Switches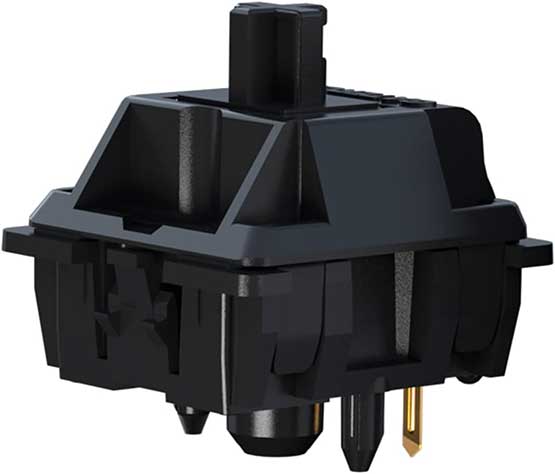 Key Features:
Three pack sizes
5-pin connector
Pre-lubed switches
If you're looking for the biggest bulk pack of linear switches out there, then you'll want the Gateron Oil Kings. These switches come in three different pack sizes. The first is 36, followed by 72 and 108 switches. This lets you easily find options for your keyboard, even if you use a full-sized version.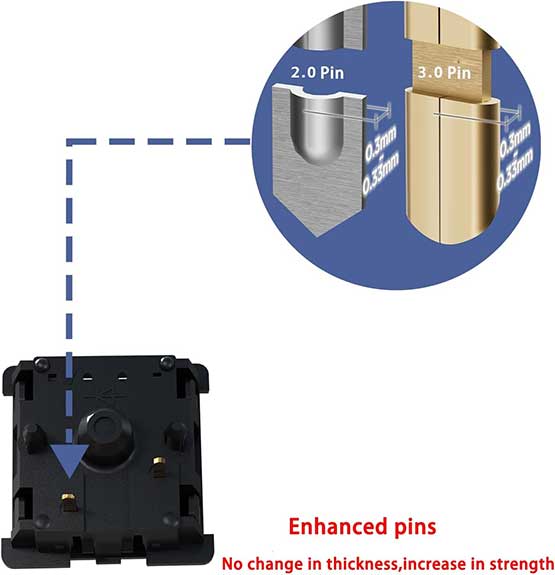 To connect to your keyboard, you'll use the 5-pin connector on each switch. Similar to some of the other switches on this list, this limited keyboard compatibility to some extent. However, each switch has a "plus" shape to accommodate many different keycaps.
Each switch comes pre-lubed to ensure a great typing and gaming experience. To use these switches, you'll need to apply a minimum actuation force of 50g. To completely bottom each switch out, you'll need to apply 60g of force. While in use, each switch can travel between 2mm and 4mm, giving you a faster response for gaming.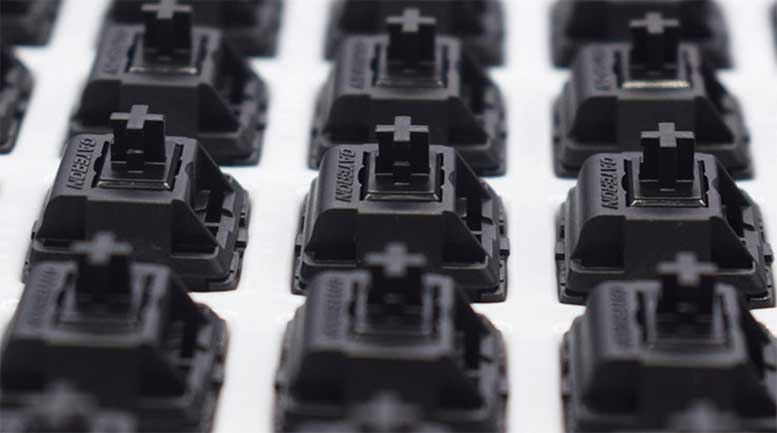 One issue with these switches for some gamers is that the bodies are made of a solid black plastic material. While this helps with durability, it's going to have a potential impact on how much RGB lighting can shine through if that's something your board does. Besides that, however, these switches are great for anyone looking to buy their linear switches in bulk at an affordable cost.
Pros:
Up to 108 switches per pack
Low actuation force needed
Short travel distance for increased speed of operation
Cons:
RGB lighting won't shine through easily
Best Translucent Casing: Everglide EG Aqua King Water King Linear Switch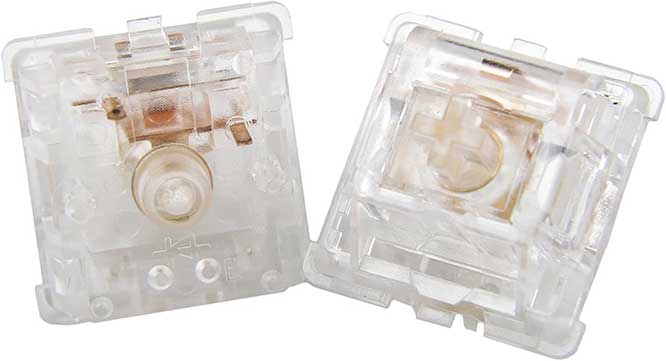 Key Features:
Four pack sizes
5-pin connector
Three actuation force options
For gamers who don't want anything stopping their RGB lighting from being as bright as possible, the Everglide EG Aqua King Water King switches are the way to go. They have four different pack sizes to choose from. You can go with 10, 70, 90, or 110 switches per pack. This is the best customizability on the list to get as many switches as you need for your board without wasting many.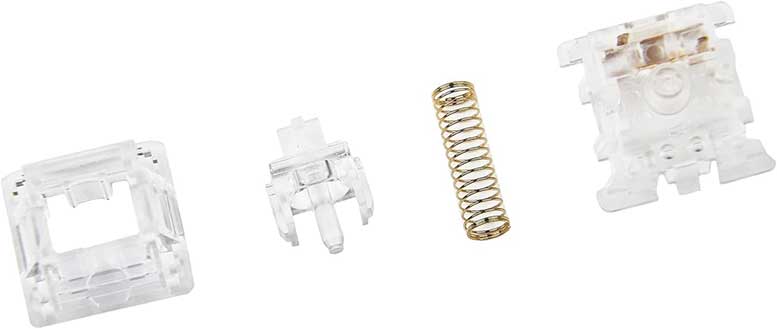 Similar to a few other options we've covered, these switches use a 5-pin connector. They also have a top stem that will allow for many different keycaps to be utilized.
One cool feature of these switches is that there are options for different actuation forces. You have your choice of either 55g, 62g, or 67g of force needed to operate each switch. For ultimate speed and sensitivity, go with the lightest option. If you want to avoid accidental key presses no matter what, then you may want to go with the heavier options.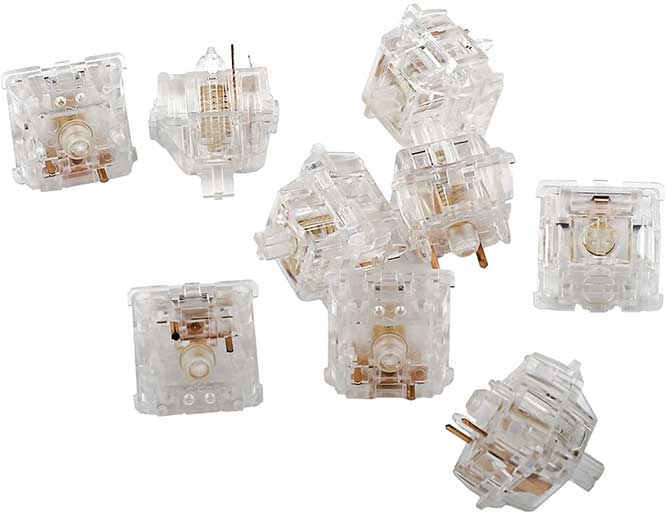 With their bodies being made from a durable, fully translucent material, you can be sure RGB won't have any issues shining through. They're also rated for 50 million keystrokes, so they won't easily break on you. If you're a gamer who cares a ton about quality switches and RGB, these are the way to go.
Pros:
Fully translucent body
Available in packs of up to 110 switches
Three options for actuation force
Cons:
5-pin connector limits keyboard compatibility
Best Budget: EPOMAKER Linear Mechanical Keyboard Switches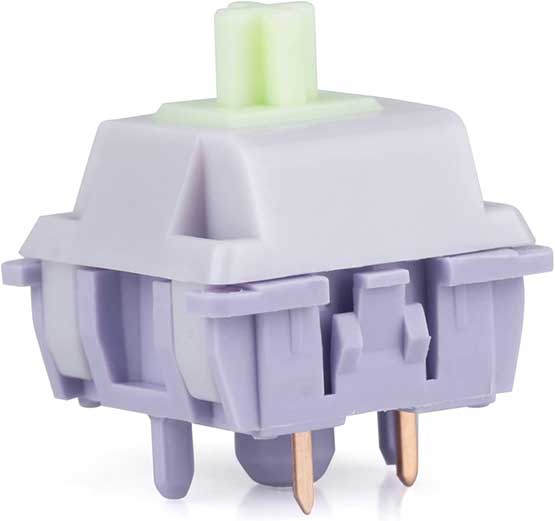 Key Features:
Two pack sizes
5-pin connector
Multiple switch color options
Gamers who want to get linear switches on a budget should check out the switches from EPOMAKER. These switches are available in two different pack sizes, including 30 and 35 switches per pack. This means that no matter what keyboard you have, you'll likely need at least two packs to fill a whole keyboard.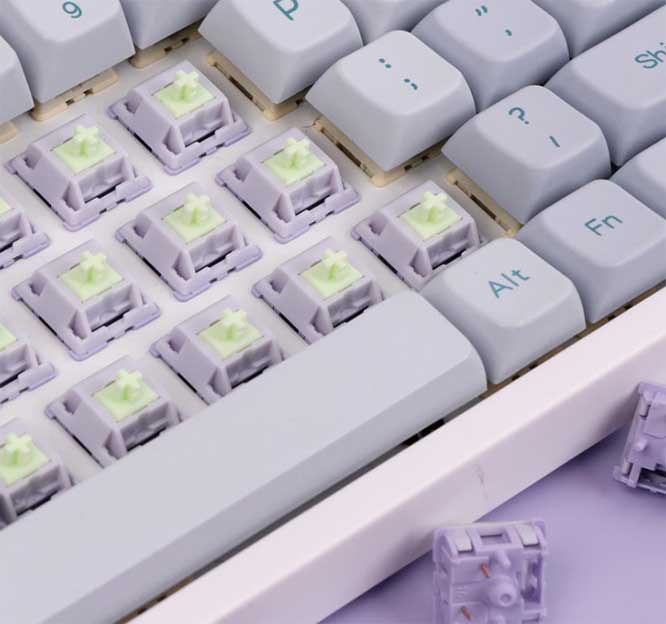 To connect to the PCB on your keyboard, each switch uses a 5-pin connector. Even though this is a very common switch connection type, it won't work with every keyboard, so make sure yours is compatible first. The top uses the standard "plus" shaped connector for your keycaps to help with versatility.
Speaking of versatility, there are lots of different actuation forces for these switches. You can find them with forces of 35g, 38g, 39g, 43g, 47g, 53g. This, combined with low travel distances for operation, means you get plenty of speed for your gaming needs.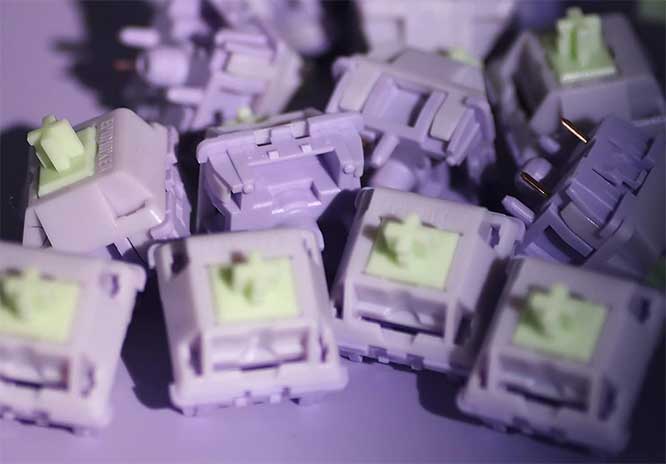 The most unique feature of these switches is the variety of switch body colors you can choose from. There are five different options, including solid light blue, translucent pink, solid white and blue, translucent black, and purple. Each switch has a varying amount of RGB it will let through, so it's up to your preferences to pick the right one for you.
Pros:
Five body color options
Six actuation force options
The most budget-friendly option on the list
Cons:
Some reviewers note the pin design isn't great
Meet Derek, "TechGuru," a 34-year-old technology enthusiast with a deep passion for tech innovations. With extensive experience, he specializes in gaming hardware and software, and has expertise in gadgets, custom PCs, and audio.
Besides writing about tech and reviewing new products, Derek enjoys traveling, hiking, and photography. Committed to keeping up with the latest industry trends, he aims to guide readers in making informed tech decisions.