Creality Falcon2 22W
Pros
Incredibly fast speed.
Air assist feature keeps working area clean.
Highly precise laser with a 0.1mm spot size.
Multiple safety features in place.
Cuts 15mm wood with one pass.
Cons
Relatively expensive.
Limited onboard controls.
Whether you're a business owner or a crafty enthusiast, having a laser engraver can be a lot of fun. However, dipping into the laser engraver industry can be a bit overwhelming. Simply put, there's hundreds of engravers to choose from, all with specifications that can confuse the average layman. It's for this main reason that we recommend selecting a name-brand model that's not too cheap but also not incredibly expensive.
One such example is the brand, Creality. For quite a while, they've been making a name for themselves as a leader in laser engraver technology. With a wide variety of product releases over the past few years, we're excited to announce their latest – the Falcon2 22W Laser Engraver & Cutter.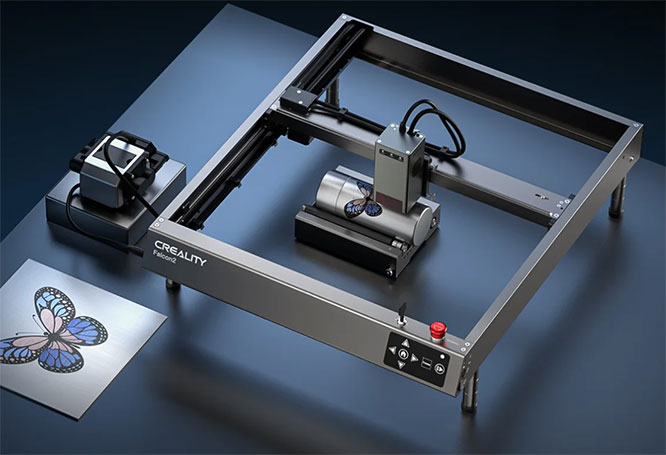 As the name implies, this is a high-powered laser engraver that offers an incredible amount of power. Capable of thick-cutting and super-quick efficiency, it's made for professional level performance at an acceptable price-point.
Today we're going to take a deep dive into its features and find out what kind of capabilities it has. We'll go over features and aspects that set it apart from the competition, and ultimately come to a conclusion on whether it's a worthy investment. Let's get right into it.
First Look
The Creality Falcon2 22W comes with a pre-assembled frame for a relatively easy setup. Within just 5 or 10 minutes, it's easy to have it setup and ready to go for first time use. All you need to do is remove the frame, laser and air assist module from the box and attach it together.
The frame and gantry is comprised of a high-quality aluminum material that's smooth to the touch but heavy duty in all regards. With a working area of 400mm (15.75″) by 415mm (16.34″), it provides a wide and deep working area for a variety of materials. And with a spot size of just 0.1mm, it's vastly superior to other engravers in its class.
22W Power
The heart of the Falcon2 is in the powerful 22W laser module. It does this by including FAC spot compression technology. By combining four individual 6W lasers, the diodes are joined and compressed to provide a total output of 22W. What this means for the end-user is the ability to cut through a wide range of materials of various thicknesses.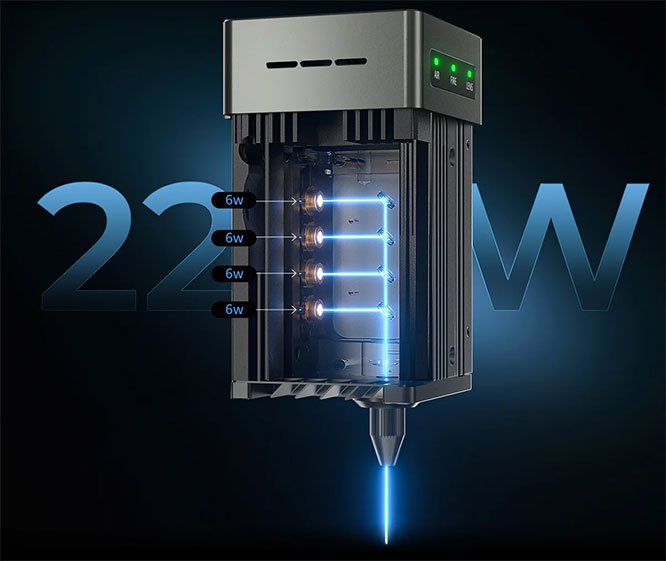 Materials that it can handle include cardboard, wood, bamboo, rubber, leather, fabric, acrylic, plastic and metal. But what's most impressive is its ability to cut through thick material with ease. In fact, it with one pass it can cut through 15mm (0.6″) of wood, 10mm (0.39″) of black acrylic and 0.05mm (0.002″) of stainless steel. Best of all, the cutting results are phenomenally smooth, free from splinters, shards or other defects.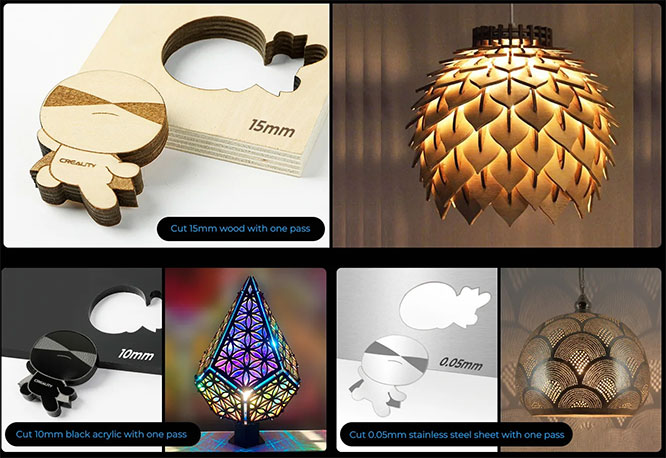 The 22W power doesn't just mean it can cut through thick objects. In addition, the Falcon2 has the ability to operate as fast as 25,000mm (82′) per minute. While most users probably won't need that kind of speed, this is very impressive. With speeds like this, production times for medium to large-sized businesses can shrink substantially. In fact, the average engraver is two or three times as slow as this.
Best of all, the Falcon2 22W has the ability to add color with certain mediums. When working with stainless steel, the material is super-heated which will bring physical reaction to the metal. As a result, it has the ability to produce hundreds of colors, giving a whole new perspective to your art.
Air Assist
As a module that rests on the side and connects via tube to the machine, the air assist function is a nice feature to have. It's specially designed to direct a burst of air directly to the laser to effectively remove smoke, debris and protect the laser lens, ultimately meaning cleaner results, each and every time. Think of it as an air compressor that shoots air at the working area to keep it perfectly clean.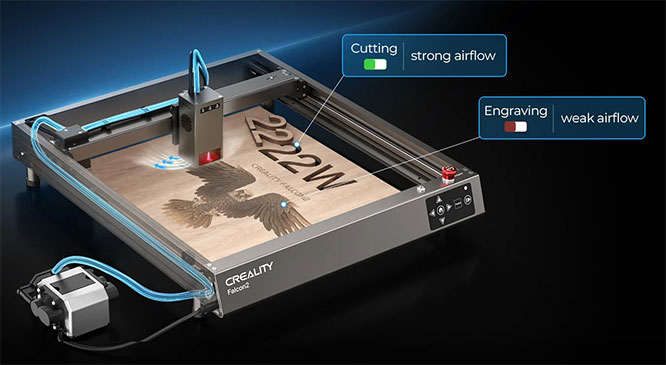 Users can opt to adjust the air assist manually. However, most users will likely opt for the automatic adjustment that keeps the ideal amount of air directed on its own. This is a feature that you simply won't find on engravers that are lower-end. Simply put, air assist is one of the main benefits that the Falcon2 provides, with its unique ability to provide ideal results if working with very fine materials.
Safety Protections
It's always nice when manufacturers consider safety as a priority. With the Falcon2 22W, there are three LEDs known as the "Triple Monitoring System" located on the front of the laser module. These emit a series of colors to indicate current statuses that show if there are issues with air, fire or the lens.
It actively monitors for potential issues in an intelligent manner with clear indication. For example, if there's a flame detected, the machine will shut down and the indicator will flash red while emitting an audible alarm. This gives added peace of mind since there's quite a bit of power being focused.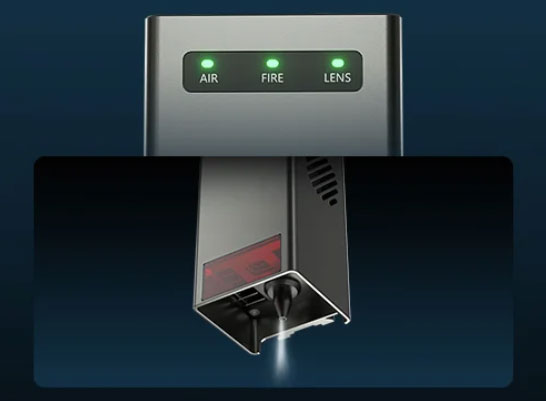 In addition to the Triple Monitoring System, there's five safety protections that are always in place. There's a bidirectional limit switch that lets you specify directional limitations that must be taken while operating. It'll hone-down the working area into a manner that's appropriate for the task at hand.
There's also a bright red emergency stop-button on the frame that can be pressed at any time. Pressing it will immediately stop any function that's currently performing. Best of all, it even has an active stop function that will shut it down if it detects the unit falling off your workspace.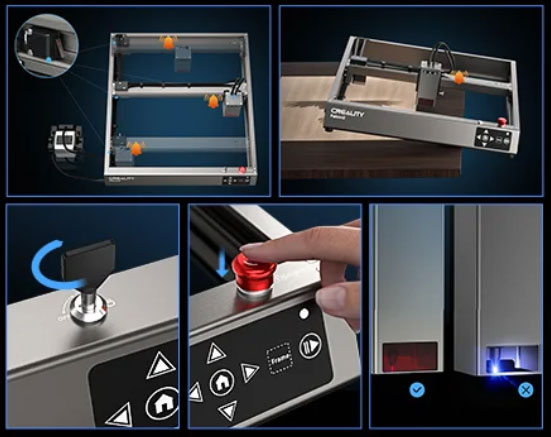 Creality also made sure to include a protective cover over the laser module that keeps any harmful laser consolidated. Lastly, there's even a security lock with a key that's built into the frame. Simply insert and turn the key if you'd like to keep user access for only those with a key.
Compatibility
The Creality Falcon2 22W works with a wide range of systems and software. Users can use it with Windows or MacOS and popular software such as LaserGRBL and LightBurn. Designing in the software of your choice is a bit of a learning curve, but transferring your designs to be used by the machine is quite simple.
Although an online connection is typically preferred, users have the ability to work completely offline. Near the power switch at the front of the frame, there's a USB-C and TF card slot for inserting your saved designs in a matter of seconds.
Simply load on the appropriate file and insert the memory card. Best of all, it supports an offline dynamic preview for manually adjusting the laser without being connected to a computer. There's a small directional keypad on the front of the frame that allows you to make fine-tune adjustments by 1mm or 10mm adjustment increments.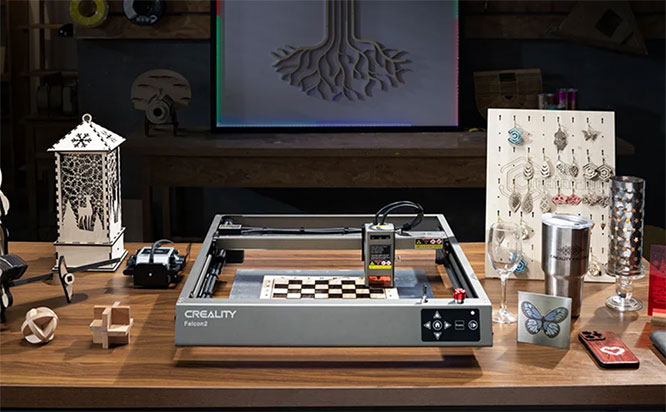 Final Thoughts
As you can see, the Creality Falcon2 22W Laser Engraver is packed full of enticing features. With its ability to cut through many thick materials with ease at speeds of up to 25,000mm per minute, it can save time while providing amazing results. Whether your working medium is wood, metal, plastic, tile or something else, it's a great investment for any business or hobbyist.
We're big fans of the included air assist technology. It works well to keep the area free from debris while assuring the laser is never interfered by dust or fine debris. This is the kind of feature that truly sets it apart from the competition. Keeping the working area clean and ready while operating is crucial, especially if you expect fantastic results.
It's nice to see that assembly is minimal. Since it comes shipped with the frame already assembled, setup can be achieved in just a matter of minutes. While it may take a bit longer to design and get familiar with, with some practice, there's no reason the Falcon2 shouldn't become the favorite engraver in your arsenal.
All in all, you're looking at a well-made, high-end laser engraver that packs a punch. Right now, Creality is getting ready for its official launch. With a discounted price of $999, buyers can also save additional $50 by entering code "Falcon2" at checkout.