A scrolling LED sign is a great idea if you're a business with a store-front. Whether you operate a restaurant, convenience store or other attraction, investing in a programmable LED sign is a smart choice. Letting you add your own custom messages via WiFi, these "smart" displays aren't just for businesses. In fact, they're even a fun addition at your home or office.
Regardless of your reasoning, purchasing one of these scrolling LED signs can be somewhat complicated. There are so many different options to choose from. In addition, not all are created equal. Truth is, there's options from a wide range of manufacturers, available in an assortment of sizes and varieties.
Here at NerdTechy, we've showcased similar products in the past. For example, not long ago, we reviewed the best hologram projector display fans. They have a similar purpose to a programmable LED sign. However, they're a bit more complex and expensive. Needless to say, they serve a distinct purpose.
Today we're going to take a deep-dive and examine the best scrolling LED signs. All of the options we'll go over connect wirelessly through WiFi or a series of "smart" software through your computer. With this kind of connectivity, you're able to add whatever message, colors and/or designs that you please. In the end, you'll have a much better understanding of what's available and certainly what's worthwhile when choosing the best one for the purpose you have. Let's get right into it.

POLAR LED Programmable WiFi RGB Color Sign
The POLAR LED Programmable WiFi RGB Color Sign is a great all-around choice for indoor use. Measuring 40″ wide, 8″ tall and 2″ deep, it's comprised mostly of an aluminum housing for a high-quality finish. The display is comprised of over 1500 individual LED chips that are arranged in a 96 x 16 dot pattern. Each one is spaced out 10mm apart. The result is a large display that can easily be read from a far distance.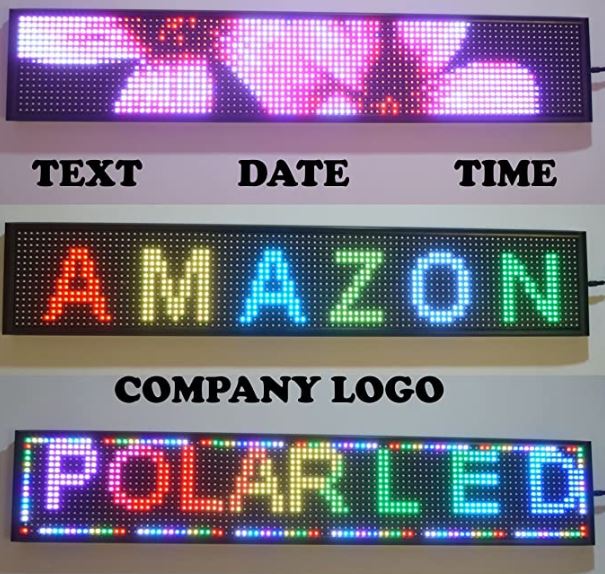 The POLAR LED is fully programmable, so you're able to display any text, logo or simple graphic that you'd like. It's compatible with any Windows PC, Android or iPhone device. However, Mac computers are not supported. Regardless, they supply you with a USB flash drive that can be inserted into your PC and then into the side of the sign. With it, you can utilize the software to provide whatever custom message you'd like. In fact, there are 98 different scrolling options to choose from! Best of all, you can even connect to the sign via WiFi for full wireless connectivity.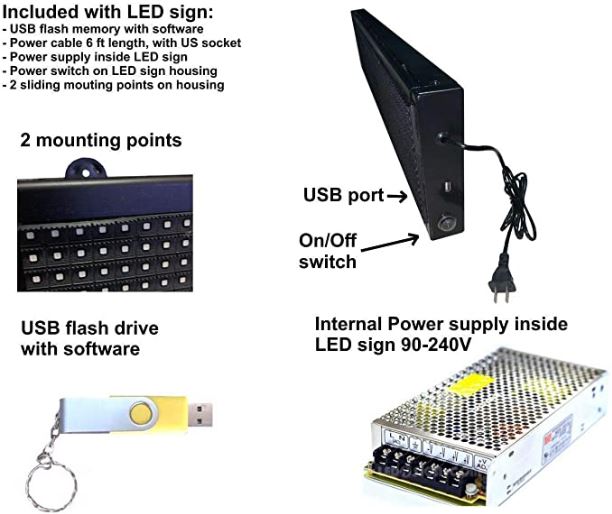 Best of all, the POLAR LED sign is comprised of SMD (surface mounted diode) LED chips. These are a much preferred alternative to any standard LED chip. Ultimately, they provide better brightness with lower heat and power consumption. Working in conjunction with the built-in 90-240V power supply, simply plug-in the sign to any standard power outlet and use the smartphone app or PC software to fully customize the sign to your liking.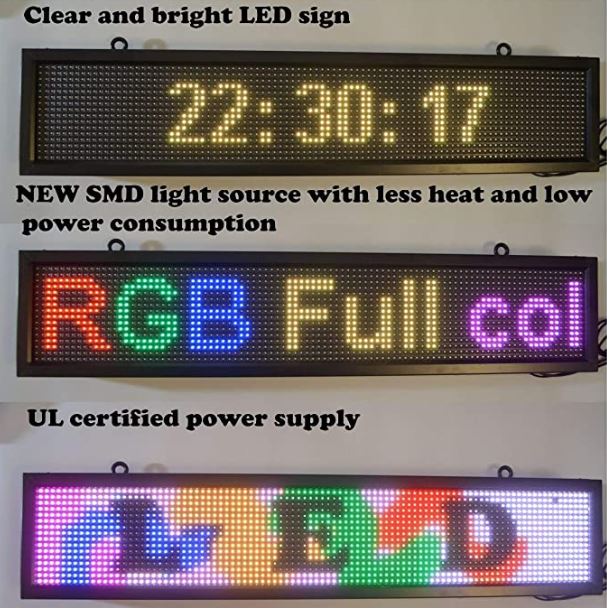 Hanging up the sign is fairly simple. On the top perimeter are two eyelets (holes) that make hanging or mounting easy. While there isn't any chain or twine included for hanging, the mounting possibilities are far and wide thanks to the built-in eyelets.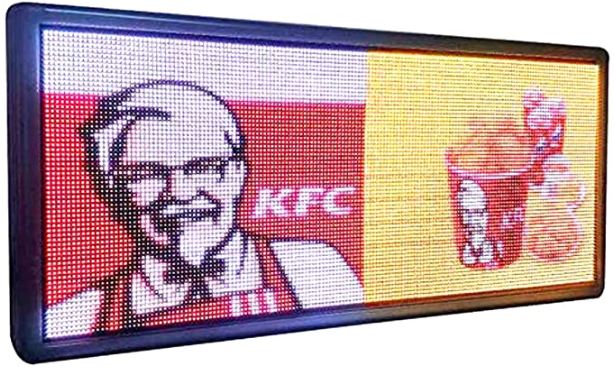 CX-LED Programmable LED Display Sign
For those looking for a scrolling LED sign that's suitable for outdoor locations, look no further than the CX-LED Programmable LED Display Sign. Measuring 40″ wide, 18″ tall and just under 2″ thick, its large size is an excellent choice for many applications. The sign is comprised of over 10,000 individual diodes, each spaced 6 millimeters apart. The result is 160 LEDs across and 64 LEDs high for an even denser assortment than the POLAR LED sign we examined first.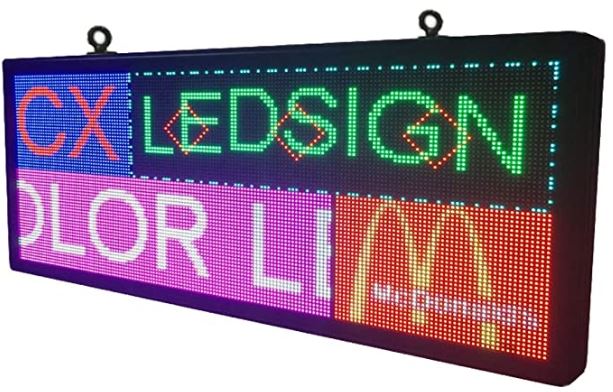 The message and/or image is fully programmable from USB via PC or the Android/iPhone smartphone app. Simply use the provided USB thumb drive and manually plug it into the side of the sign. Alternatively, using your smartphone via a WiFi connection is even easier. The application lets you customize the text and graphics and choose between an assortment of scrolling options. While it doesn't work with Mac computers, it's easy to navigate and understand, even for novices.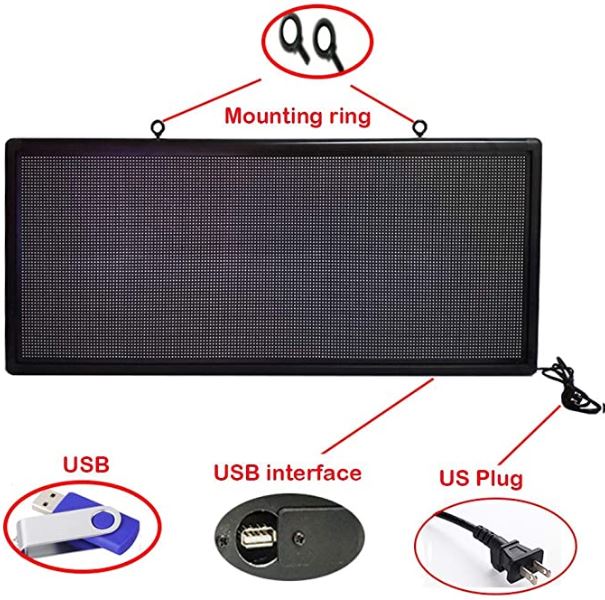 Since there are more LED chips than most other signs, the CX-LED display uses up to 300w of power. While this isn't truly all that much, it's a bit more than the POLAR LED sign. Regardless, it shouldn't really be a deal-breaker. With the CX-LED sign, the image quality is better thanks to the densely placed chips.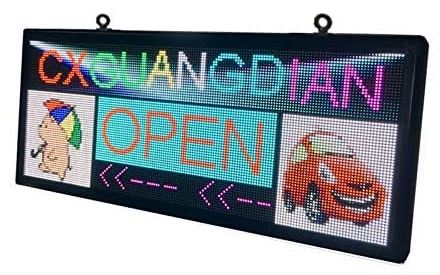 Setting up the sign for the first time is fairly simple. The inclusion of two eyelets on the top are nice to have for hanging. Like the last option, there isn't much in the way of mounting accessories included. However, a simple chain or tether is a great way to hang it up. In addition, this sign supports multiple languages with a simple flip of the switch. In fact, English, French, Portuguese, Spanish, Arabic, Russian, Chinese are all supported.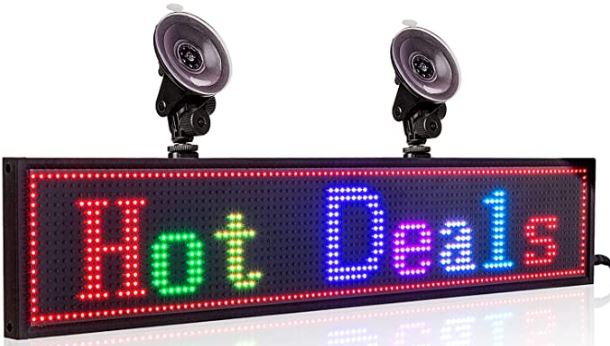 Leadleds LED Scrolling Message Board
Available in lengths of 14″, 20″ and 20.5″, the Leadleds LED Scrolling Message Board is a smaller option that's also much more affordable. Rather than being as large and as vibrant as possible, it's much more compact, making it ideal for cars, taxis or small storefronts. In fact, there are two strong suction cups placed on the top of the sign, for easy-mounting in any window.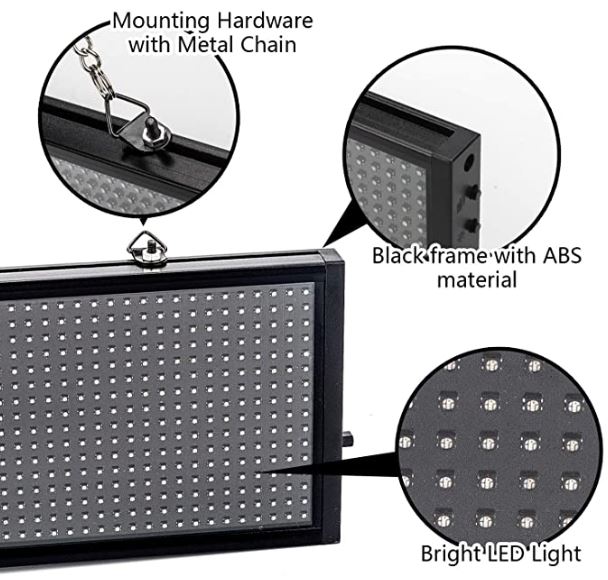 The LEDs are arranged in a 16 x 96 wide pattern, similarly to the POLAR LED sign that we examined first. With just over 1500 individual diodes, you can display virtually anything you'd like. Customization is easy via the Android or iPhone smartphone app. Alternatively, you can use the provided USB drive to program the display on your PC. While Mac computers aren't supported, the software is easy to use and let's you quickly alter the display in a matter of minutes.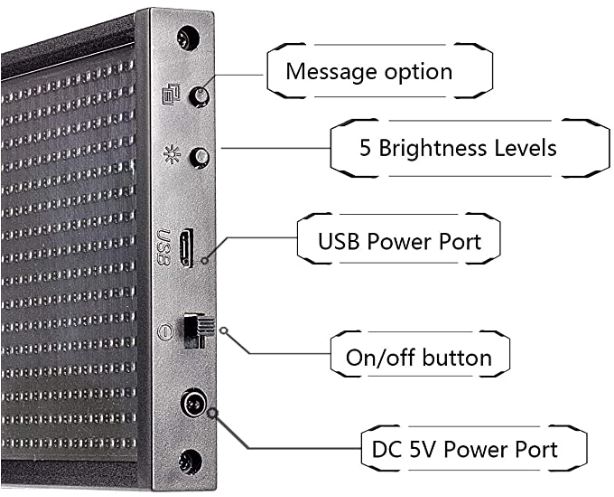 In addition, with the onboard memory, you can store up to 200 programs and choose from 47 different kinds of display actions. Needless to say, programming the sign lets you customize it however you'd like. And with full WiFi connectivity, you can access the sign without needing to physically remove it or access it.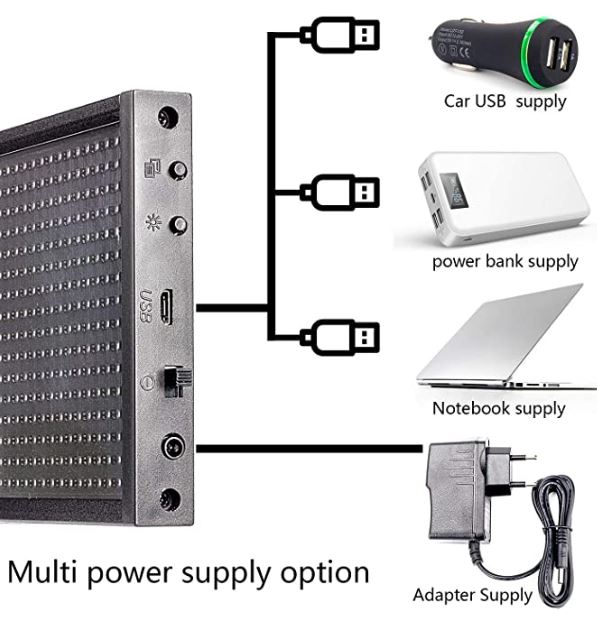 Our favorite feature of the Leadleds LED sign is the low wattage and power options. The side is equipped with a wide array of buttons and inputs. That said, you can adjust the message options, brightness levels or manually turn it on/off, all from the side of the sign. In addition, there's a USB power port along with a traditional 5V DC power port. Ultimately, you can power it via the provided AC adapter or utilize an existing USB port from your car, laptop or power bank.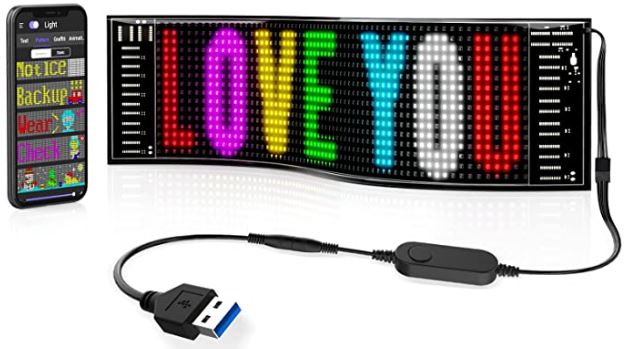 Rayhome LED Matrix Panel
Although it's much smaller than anything else we've introduced, the Rayhome LED Matrix Panel is a fantastic choice. Ideal for car windows, decoration, businesses, bars or other establishments, it's powered by a simple USB connection.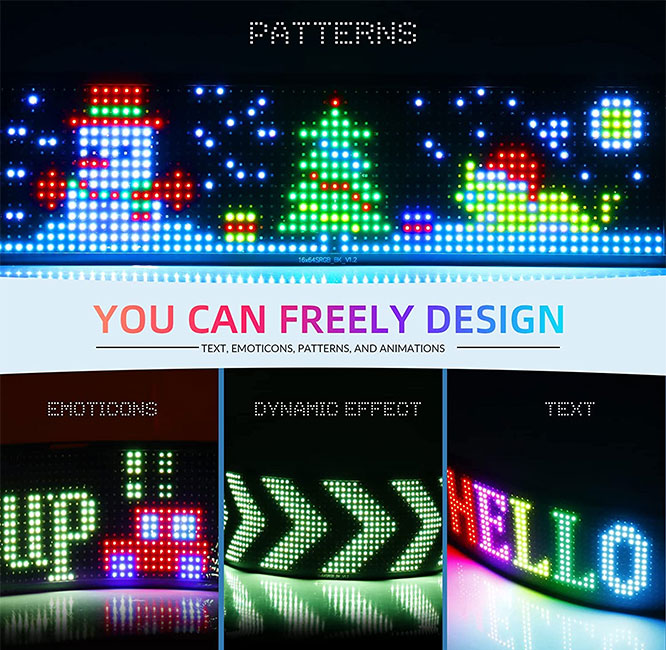 Measuring just 14.6″ wide and 3.6″ tall, it's actually completely flat, like a piece of paper. In fact, it's even bendable with the ability to adhere to any rounded or beveled surface. The backside is equipped with pre-placed 3M stickers that can adhere to any window, smooth surface or area that you'd like.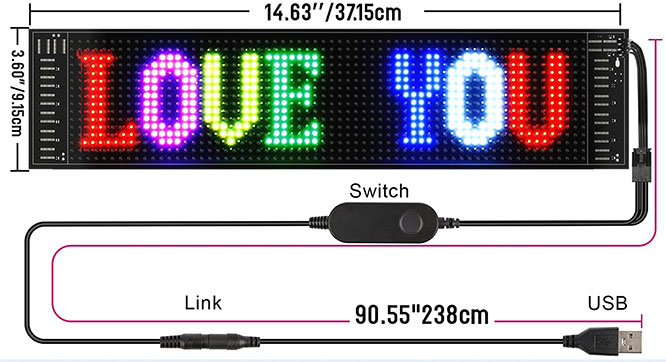 The panel is made up of an assortment of 2121 full color RGB LEDs. They're bright, spaced tightly together and are capable of emitting virtually any message you'd like. Using a smartphone app, users can fully customize the sign to their specific liking. Scrolling text and simple patterns and animations are easily customizable from your Android or iPhone. While it doesn't have the ability to hook up to your PC, the smartphone app offers an excellent interface that lets you DIY.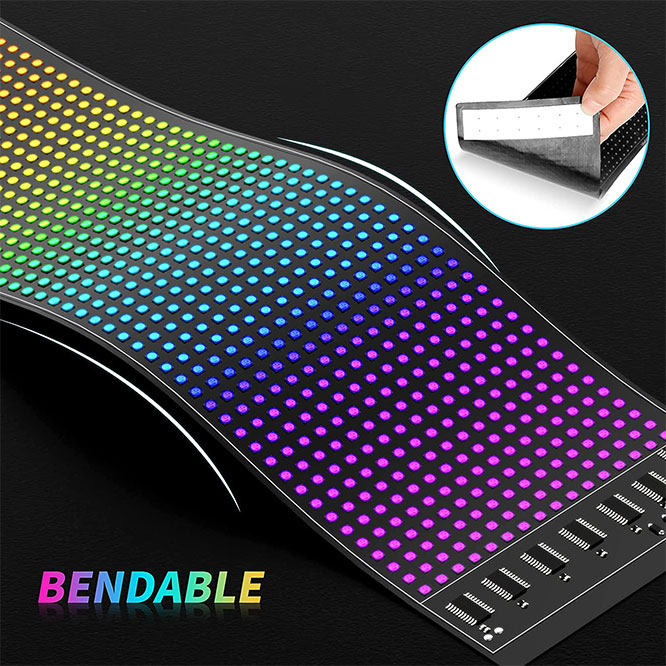 Best of all, the Rayhome LED Matrix Panel is rated IP66. This is a fully waterproof rating that is able to withstand pressurized water. Simply put, you can keep it outside in the rain or snow, and it'll hold up well over time. The low energy use along with the portability it offers makes it an excellent choice for those who want a simple LED sign without much extra bloat.
Final Thoughts – Which Scrolling LED Sign is Best?
As you can see, there are a few decent options when it comes to the best programmable scrolling LED display signs. Let's quickly re-cap to see what we learned.
The POLAR LED Programmable WiFi RGB Color Sign is an excellent all-around choice that works well and is very easy to configure. Comprised of SMD chips, it has the best efficiency among all of the options we've covered. The aluminum housing is high-grade, with easy customization from your smartphone or PC. While it's only ideal for indoor use or areas that stay dry, it's perfectly suitable for virtually any business or public space.
The CX-LED Programmable LED Display Sign is similiar to the POLAR LED sign, but provides a better density of diodes. The result is a clearer picture where details are easier to see. It's customizable via smartphone or PC and fully waterproof. As a result, it's ideal for outdoor locations or areas that may be exposed to consistent moisture.
Next, we introduced the Leadleds LED Scrolling Message Board. It's much smaller than the last two, but more-ideal for small spaces. Being that it's available in 14″ and 20″ lengths, it's about half the size of the POLAR an CX-LED options. Rather than being powered via AC, it utilizes a USB connection for installation in virtually any location. And with two built-in suction cups, it can stick right inside a car window without any added guesswork.
Last but not least, the Rayhome LED Matrix Panel is another compact choice. Fully waterproof and even smaller than the Leadleds sign, it's fully bendable with 3M stick-back adhesion. In addition, it can be powered via USB in addition to standard AC power. While it may be ideal for cars, it can be used in virtually any scenario where a window is involved.