The first time you've seen holograms was most likely in a dark theatre on a silver screen. Movies like Blade Runner, Back to the Future 2, and more-recent films like Iron Man, all utilized that idea of 3D images built from light, projected for a variety of purposes.
There was something undeniably cool about them… something futuristic. Well, the future is now. We don't have to wait for flying cars or hoverboards to get our hands on this wondrous technology.
Before we can go into some of the best hologram projectors currently available, it's important to establish the foundation of what holograms are and how these devices work.
A hologram, put into the simplest terms possible, is just a three-dimensional construct made from bouncing light off of objects. When that light hits something, it makes an impression and captures the image, like pressing play dough against a key. After it takes that shape, it bounces off onto photographic film.
Hologram projectors, take that reflected image (the hologram), and create illusions in the form of 3D images that magically appear to float in the air.
Two Main Types of Hologram Projectors
Hologram Fan – The cheapest and most widely available option, hologram fans are versatile and easy to use. They're LED-based devices that consist of either two or four rotors. Those rotors spin really fast, creating a 3D holographic images that are suspended in the air. Changing what's displayed is typically easy. And they're generally setup for plug-and-play usage. The great part about the holograms projected by fans is the fact that they're scalable. You can set up a group of these devices to create larger holographic images.
Hologram Prism – One key difference between a prism and a fan, is that the images from holo prisms are contained within the structure of the projector. This is ideal in several situations. They're very good for advertising products.
Things to Consider
Affordability – What kind of budget are you working with? Hologram projectors come at a myriad of price points. There are some priced to be the perfect stocking stuffers, while others cater to professional usage at professional costs. How much do you want to invest in your device?
Space – The environment in which you're going to use your hologram projector is a big determining factor in what kind to buy. This includes the lighting, the size, and from what distance people are going to view your holograms. All of these affect the effectiveness of the image and what device you'll need to create the best possible results.
Usage – What are you using the hologram for? Displaying a hologram of a product in a store or during a promotional event might require a different device than if you're using it in a classroom, or simply for entertainment.
Technical Specifications – Like any piece of technology, it's important to research the technical specifications of different hologram projectors. Elements like luminosity, power requirements, customization, size, number of rotors, brightness, inputs, and signal processing are all important to review before deciding.
Missyou 3D Hologram Fan WiFi Projector
Features:
Free video library
1080p resolution
Remote control
Easy-to-use mobile app
Bluetooth support
TF card support
Missyou's 22-inch 3D hologram Fan Projector features four rotors with built-in LED light bars. These can project images at a pleasant 1080p resolution. With support for most common media file formats (mp4, avi, rmvb, gif, jpg, png), you can play virtually any kind of content through it. In addition, it features a screw-less dock mounting system that's both secure and an added safety feature.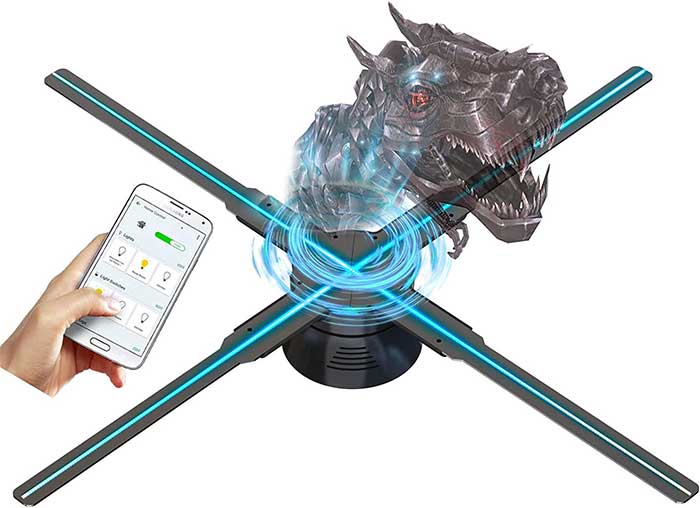 One of Missyou's more modest options, the 20.5 inch version, is a fantastic choice for anyone just starting out. From its library of 700 pre-installed videos, Bluetooth functionality, and included apps, it's clearly designed to be simple to use. But with that wide appeal comes a couple of drawbacks.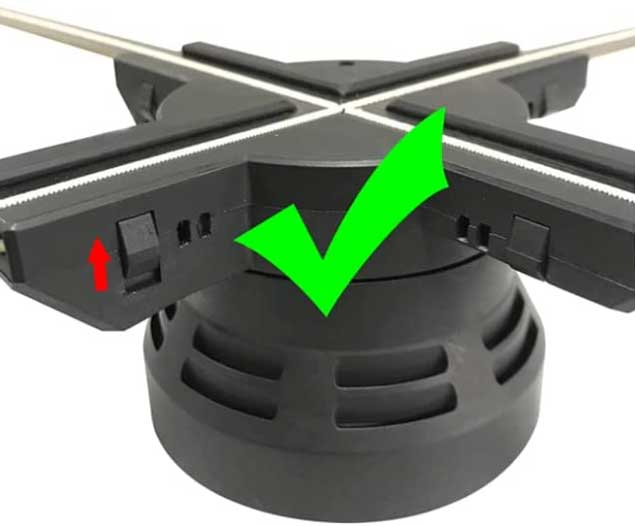 Truthfully, it is on cheaper end for a fan projector. Build quality concerns should be taken into consideration. Customer feedback on their customer support is mixed. While the included app works great on iOS and Android; Google phone users have reported issues. Another thing to consider is the sound it produces. There's a constant 'whirl' sound when in use, but it's not squeaky or abnormal.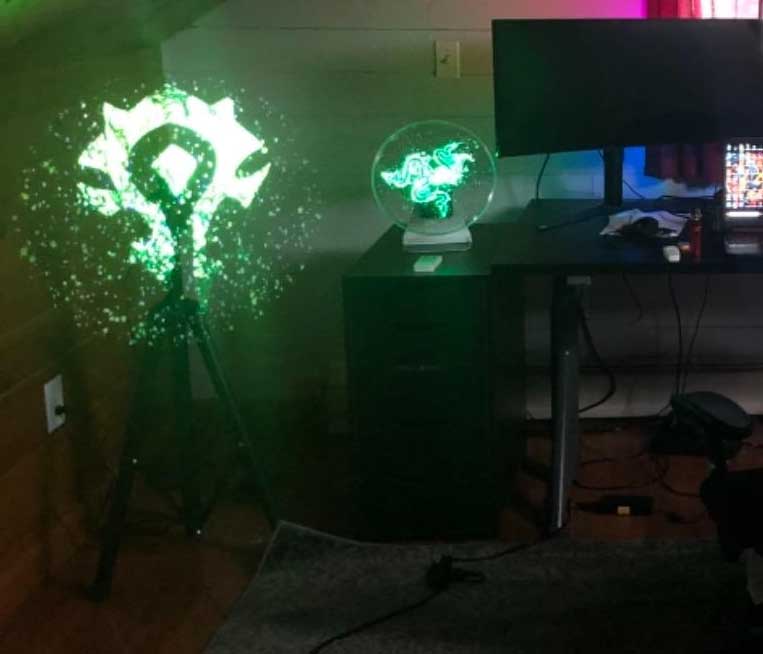 The Missyou Hologram Fan Projector is a great option for business owners or individuals who want high-quality images on a limited budget. It's also ideal for those looking for a relatively smaller size hologram that functions well in most lighting scenarios. Best of all, the pre-installed video library is great for those who don't have experience creating digital media on their own.
Pros:
Affordable
Highly customizable
Integrated app
Large video library included
Great resolution
Cons:
Sometimes spotty customer service
Android App can be hard to use
Lower-end Build Quality
Loud
Giwox 25.6-Inch 3D Fan Hologram Projector
Features:
1080p resolution
Bluetooth connection
Detachable fan blades
Four-axil design
50,000-hour LED bulb life
720 LED lights
HDMI port
720/min rotating speed
The Giwox 25.6-inch 3D Fan Hologram Projector has a four-axis blade system that's fully detachable. It provides 720 LEDs that display large holographic images at 1080p resolution, making them clearer than most other projectors at this price point. An intuitive app is included along with an 800 video library, rounding out a nice mid-range package.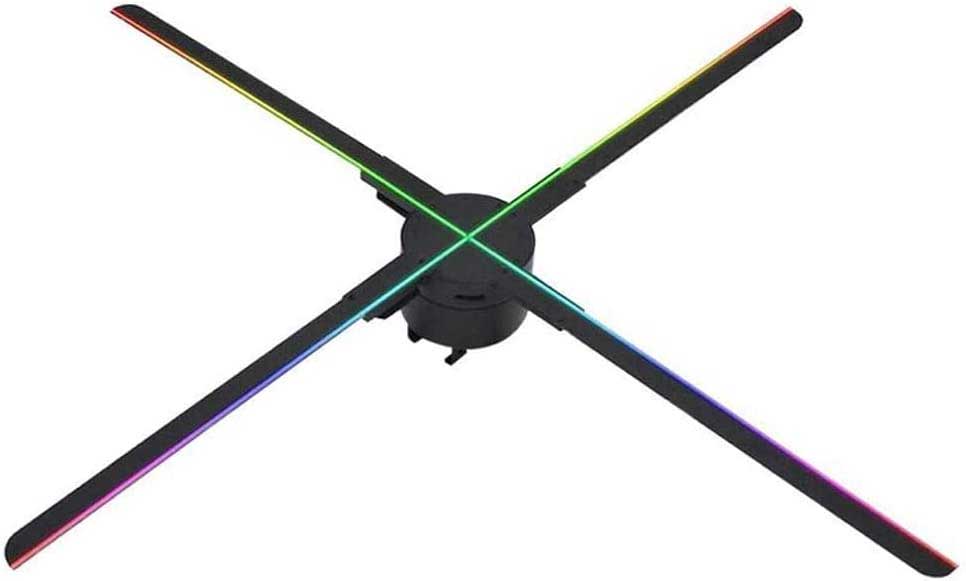 Clearly designed with advertising in mind, the Giwox comes with a slew of customization options. Its displays are impossible to ignore. That's not only due to their size but because of how clear they are. Best of all, the app is simple and intuitive to use on Android, PC, or iOS.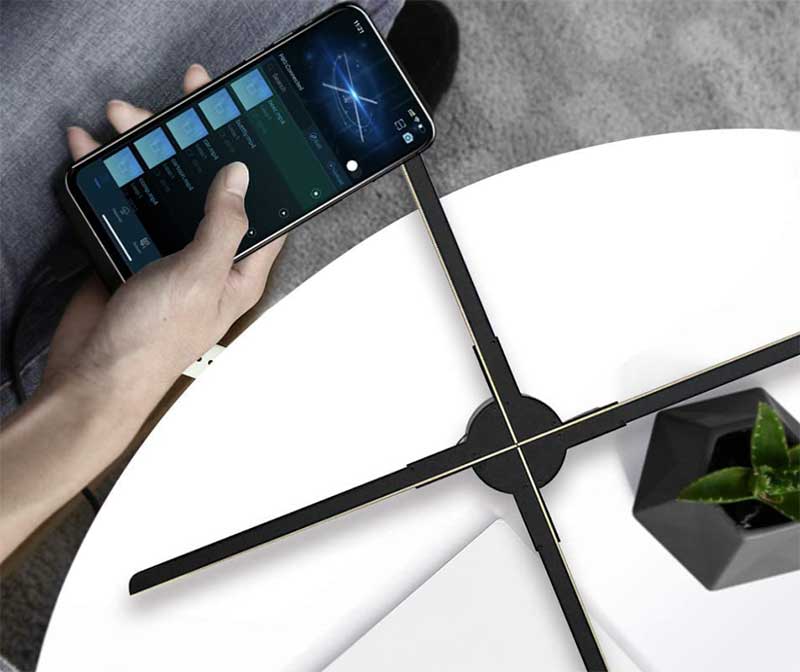 This is a professional-quality projector. Perfect for storefronts, exhibitions, and conventions. But it might be too big and expensive for convenient personal use. Like most of these devices, the build quality, ie, the use of plastics, makes them somewhat fragile. Considering the size and speed of the fan, with no included cover or safety features, it can potentially be mildly dangerous. So be aware.
Pros:
Image size
App support
High-transfer Speeds
Scalability
Detachable blades
Cons:
Build quality
Safety issues?
Customer support
Limited Instructions
Cost
WISVANAI 39.4-Inch 3D Fan Hologram Projector
Features:
Huge image -100cm maximum
10 watts
1024 LED beads
Adjustable brightness
Bluetooth audio supported
700/min rotating speed
TF Card/Wi-fi/ Cloud upload support
The biggest and most expensive of the offerings on this list, the Wisvanai 39.4-inch Fan 3D Hologram Projector is a serious piece of hardware. At 39.37 x 39.37 x 3.15 inches, it's a large device. Its four fans have 1024 LED beads capable of projecting a 100cm image at 1024×1024 dpi. Both the resolution and the brightness are adjustable.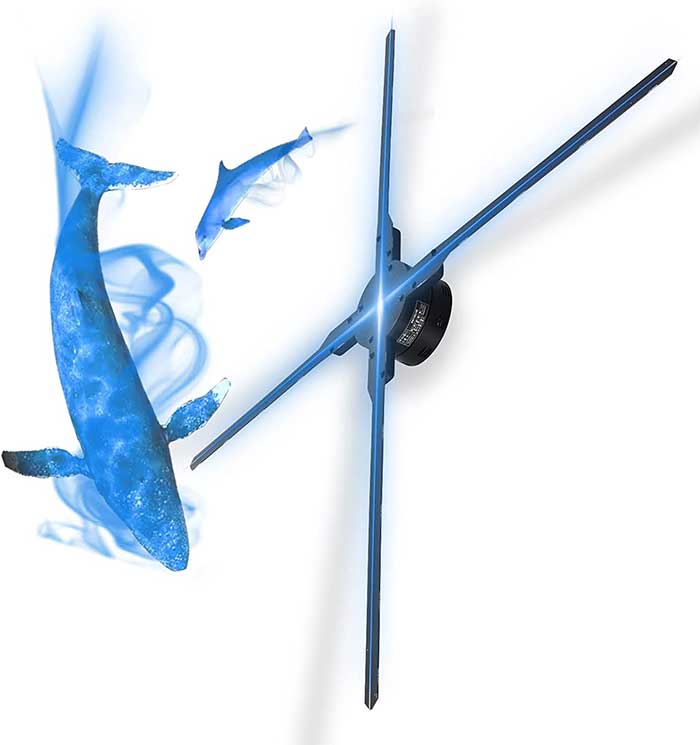 It seems to be distinctively made for those who are serious about using holograms to advertise their businesses. Despite its size, it has several features meant to make it as easy to use as possible. Through a Bluetooth or WiFi connection, there's a well-designed app to get the most out of it.
Wireless control is handy as it lets you control the volume, content loop, play/pause and even change what's being displayed. In many ways, it functions like a television; making it accessible to even the most technologically impaired. It even allows you to adjust the angle of the hologram which can be crucial when projecting images of this size.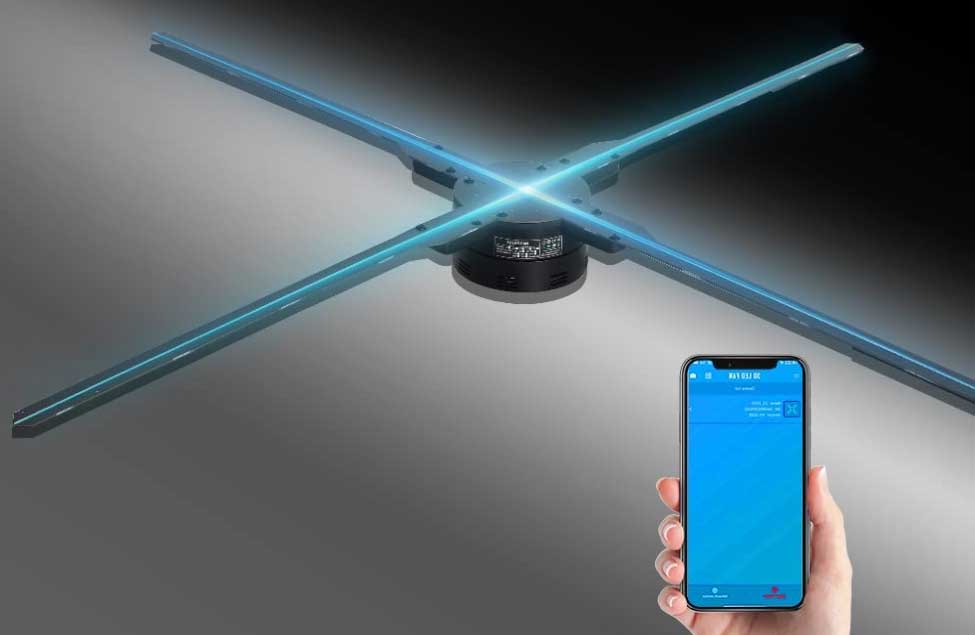 For all its upsides, this large 3D fan hologram projector won't be for everyone. As previously stated, it's big, and it's expensive. There could be the debate that something of this size is wholly unnecessary. But if you're determined to stand out from the crowd, it will definitely catch the attention of any potential customer who lays eyes on it.
Pros:
Adjustable Angle
39.4 inch display
App control
Bluetooth audio supported
Cons:
Spectre Smartphone Hologram Projector
Features:
2.36 x 2.36 x 1.38 inches
Easy mount on phones and tablets
The Spectre Smartphone Hologram Projector is a cool attachment for your smartphone that's great for grabbing people's attention. Simply set your phone on it, turn down the lights, turn up your brightness and watch 3D images float above the screen.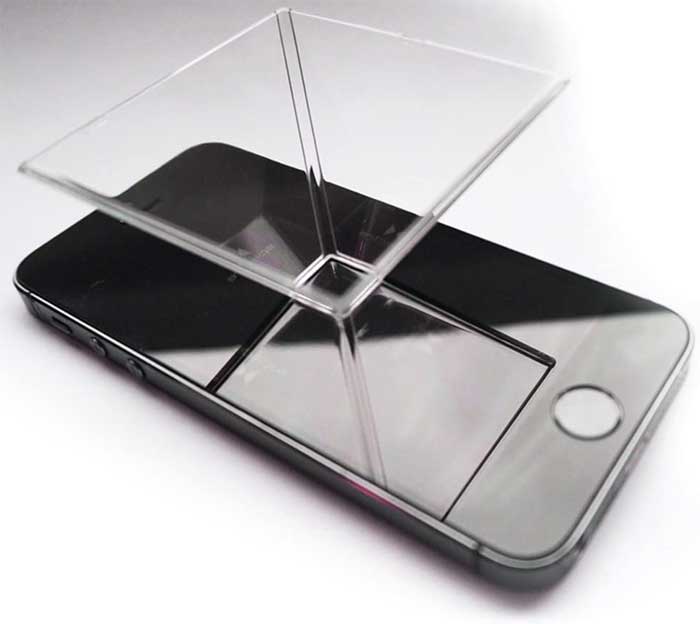 It's a cheap option for Holo Prism projection and fairly unique, at that. Though it's a cool stocking stuffer, it's not really good for anything other a gag. While not a particularly great entry into prism projectors, it's a small investment and a low-cost way to see the idea in action, practically anywhere.
Pros:
Cons:
Poor image quality
Inconsistent
Build quality
Wrapping Up
The number one thing to take into consideration when embarking down the road of hologram projectors is what you're planning to use them for.
We've broken down some of the more popular fan-based projectors on the market, from the entry-level cheaper options to larger expensive options ideal for commercial use.
As always, do yourself a favor and do the research. All electronics come with their ups and downs. Hologram projectors are no different.