If you're trying to attract customers, the first step is getting their attention. And a picture, as they say, is worth a thousand words. A visual display can get people's attention in the way a simple worded sign could never do. But why settle for an ordinary flat image whey you can catch people's eye with something extraordinary? A 3D hologram is so eye-catching that people can't help but look. Add some motion or a short video, and you're bound to get people's attention.
A traditional projector uses an internal light bulb to project colored light onto a flat surface. As the light changes and moves around, the image changes. A hologram fan projector, on the other hand, works in the opposite way. It mounts on a wall or other surface. As the fan rotates, the LEDs move around and change color, generating an image that appears to float in midair. This effect is so novel that it's quickly become popular with brick-and-mortar advertisers.
Note: At no extra cost to you, we may earn a commission for purchases using our links. Learn more.
Today, we'll be reviewing three of the best hologram projector display fans on the market. We'll begin by examining the GIWOX 3D Hologram Fan with WiFi. This is a mid-sized, four-blade projector fan that mounts on a wall or in a window. Next, we'll look at the Wangliwer 3D Hologram Fan Projector. This is a compact, battery powered display fan that's suitable for tabletop use, or even for wearing. Finally, we'll review the GIWOX (Upgraded) Holo65SD+ 3D Hologram Advertising Display. This is a true HD hologram that really pops, although it costs more than the other two. Which one is the right choice for you? Let's take a closer look, and find out!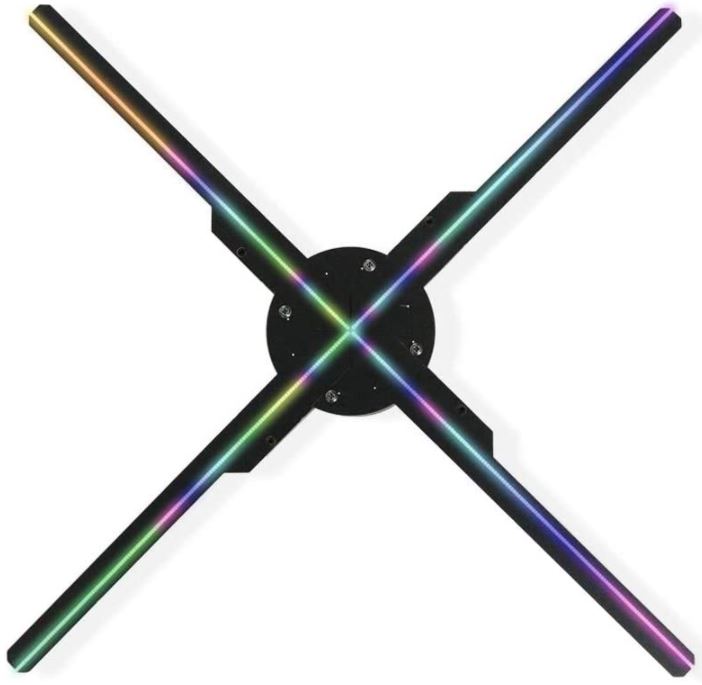 GIWOX 3D Hologram Fan with WiFi
The GIWOX 3D Hologram Fan consists of four LED blades attached to a central hub with a built-in LED controller. Each blade has a built-in LED strip, housed in a black plastic shell with a dull finish. This dull finish is essential, since it keeps any reflection or glare to a minimum. The fan is also fairly wide, measuring 19.6 inches in diameter. This makes it suitable for larger displays, where a smaller image could get lost in the shuffle.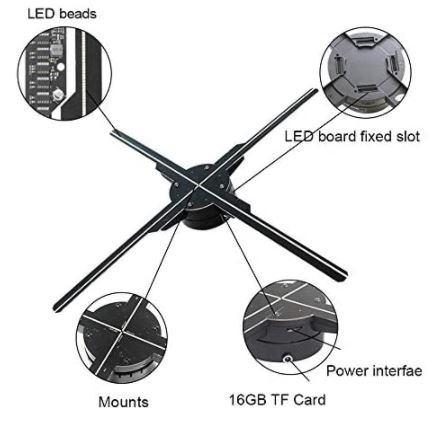 The motor housing is significantly smaller, and has threaded holes on the back for mounting. Mounting hardware is included in the kit. There are heavy-duty bolts for mounting in masonry, along with a bracket that's designed specifically for the unit. There's also a hanging bracket, although you'd need to provide your own line or chain. GIWOX recommends installing their hologram fan at a height of 2.5 meters (about 7 feet, 9 inches). However, this has no bearing on the function of the fan; it's for safety. The blades spin fast enough to break fingers, so you want it to be out of reach. Provided the fan is inaccessible, it will function at any height.
The GIWOX 3D Hologram Fan with WiFi is protected by a 12-month manufacturer's warranty. This warranty covers any defects in material or workmanship, so it's fairly comprehensive. You also get access to 7-day customer support in case there are any issues.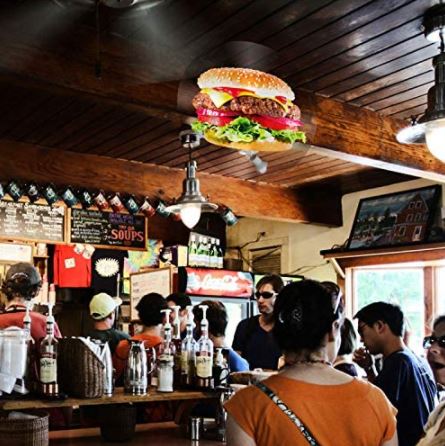 Display Options and Connectivity
One nice feature of the GIWOX 3D Hologram Fan with Wifi is the WiFi function. Once it's connected to your network, you never have to touch it again. This makes it very effective for semi-permanent installations, where access can be difficult. You can simply connect the fan to your WiFi and control it remotely. When it comes to those remote controls, you've got a couple of options.
First, you can use the Holo50 app for iOS or Android. This app is available for free in the Apple Store and on Google Play, and it's easy to install. Pair your phone with your fan, and you can upload files or adjust settings from anywhere in the world. The other option is to use the cloud uploading feature in your web browser. This allows you to upload files and adjust settings from any device. If you prefer to work from your PC or Mac, there's no need to ever touch the smartphone app.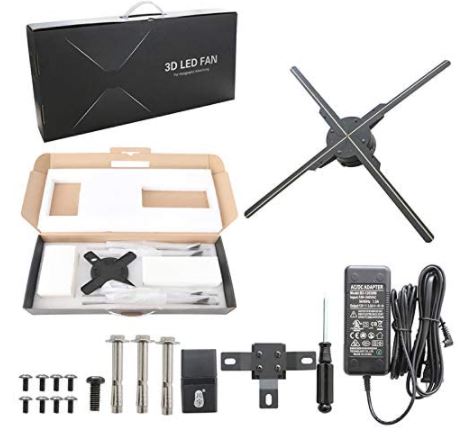 Whether you use the app or the cloud, you get access to free stock 3D images. These might not be as personal as something you've created yourself, but can be useful for many applications. For instance, if you're running a small coffee shop, a 3D holographic coffee cup is all you really need.
The overall resolution of the GIWOX hologram is 640p. This is less than HD, but at any distance beyond a few feet, it might as well be HD. When it comes to file format, you get a variety of options. The GIWOX hologram supports JPG, GIF, MP4, AVI, MOV, MKV, and RMVB formats. You don't have to convert your video to a bin file in order to use it, as you would with some fans. Just open the app, upload the appropriate file, and set it to display. As soon as the file is transferred — which takes only seconds — your display will be updated.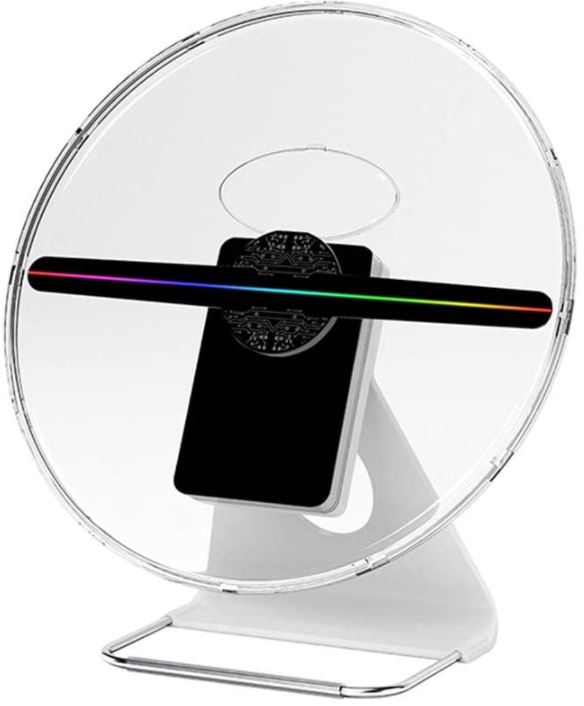 Wangliwer 3D Hologram Fan Projector
Where the GIWOX fan is big and beefy, the Wangliwer 3D Hologram Fan Projector is petite. At only 11.8 inches in diameter, it's not going to take up as much space on a wall or in a window. This makes it harder to see from long distances. However, it also means that the Wangliwer fan is suitable for installation in smaller areas. Mounting hardware is included in the kit to make this as easy as possible.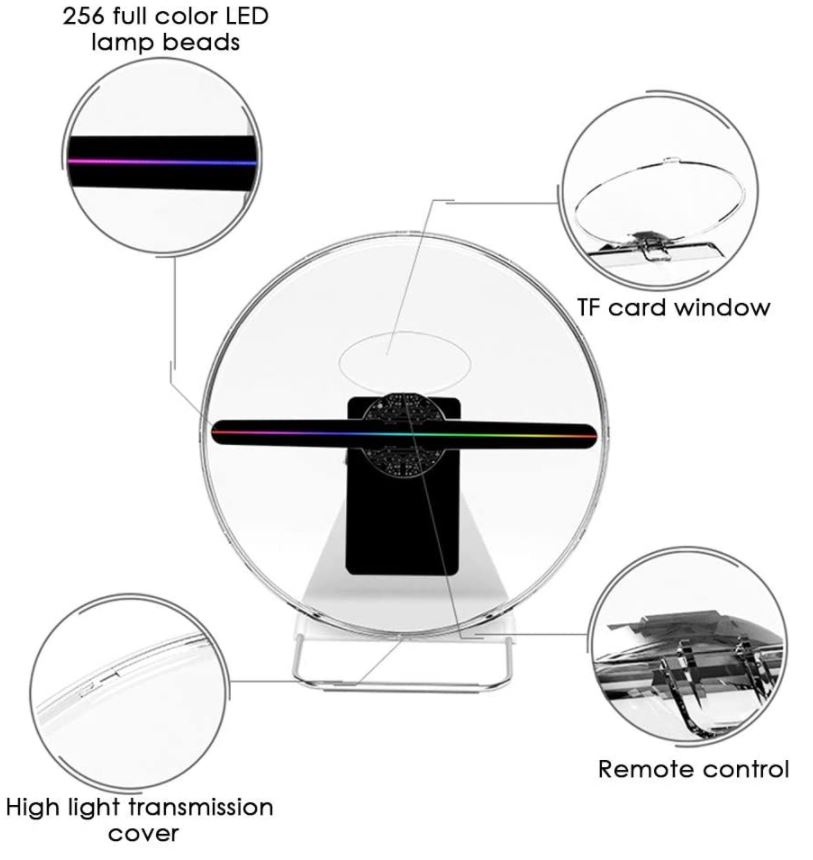 The Wangliwer 3D Hologram Fan utilizes blades instead of four, but that's just fine. At this size, two blades are all that's needed. The blades are housed in a clear polymer case that's totally transparent. This makes it safe to position where someone might touch it, since the blades are enclosed. Keep in mind, though, that the polymer can collect fingerprints. If people are going to be touching your hologram fan, expect to clean it regularly.
It's designed to be as portable as possible. The back of the casing is slim, and has a simple on/off switch for easy operation. It also has an alarm that beeps when the battery is getting low. The Wangliwer fan's internal 2,200mAh battery lasts for about five hours.
Alternatively, you can simply put the fan in its tabletop mount and plug it in via USB. This is great for trade shows, craft fairs, and other temporary, small-scale setups. In battery-powered mode, you can mount it in a car window, or even wear it on your back. Pretty much anywhere you could carry a frisbee, you can now carry a hologram.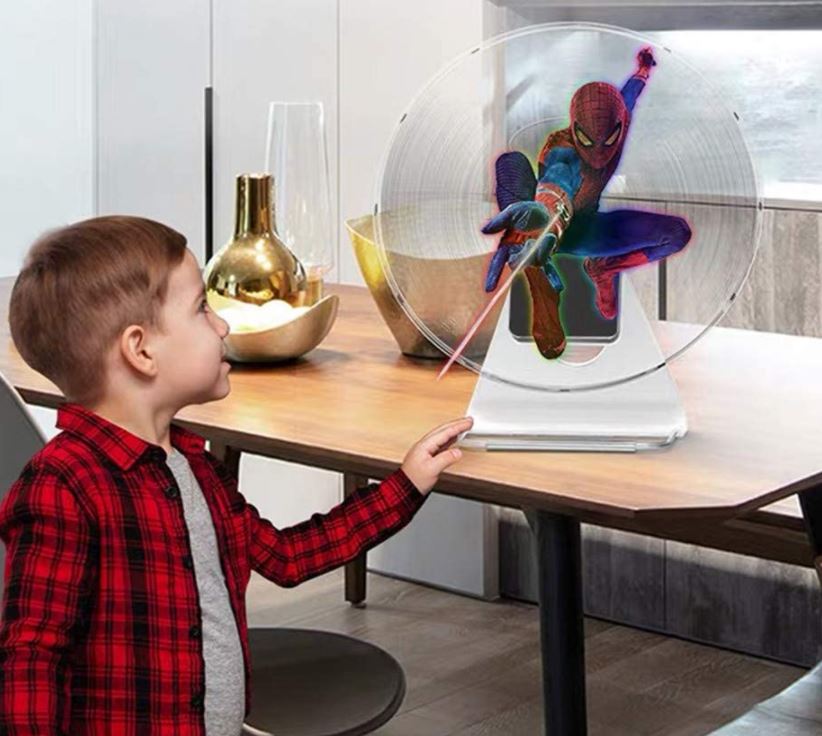 Display Options and Connectivity
The Wangliwer 3D Hologram Fan Projector has a resolution of 512 x 512 pixels, which doesn't sound like much. However, think about how small the display is. At that size, the pixel density is actually better than the GIWOX hologram despite the lower resolution. You can rest assured that your images and videos will look crisp, clear, and bright.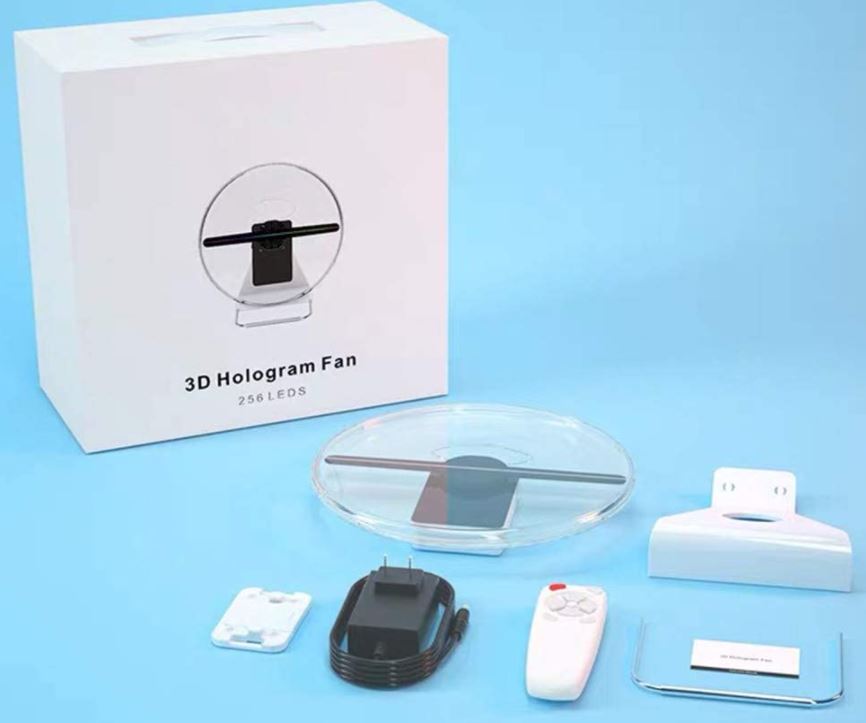 It supports all the file formats you'd expect from a professional advertising tool. It supports JPG, GIF and PNG images, as well as MP4, AVI, RMVB, and MKV videos. The only significant omission is the MOV format, which might be problematic for some Mac users. Still, for almost any application, the compatibility is very good.
Videos are stored locally on a 16GB SD card, which is included in the package. However, there's no WiFi or Bluetooth connectivity. In order to transfer files, you have to remove the SD card and insert it in your phone or computer. Then you copy the files manually. For one-time setup, this isn't a big deal. But it's not as convenient as it could be if you're constantly updating your display.
That said, you do get a handheld remote control. This allows you to perform basic functions like cycling through images. The control is very small, and snaps into the top of the tabletop stand when not in use. It's useful for adding a bit of flair to slide shows and other presentations.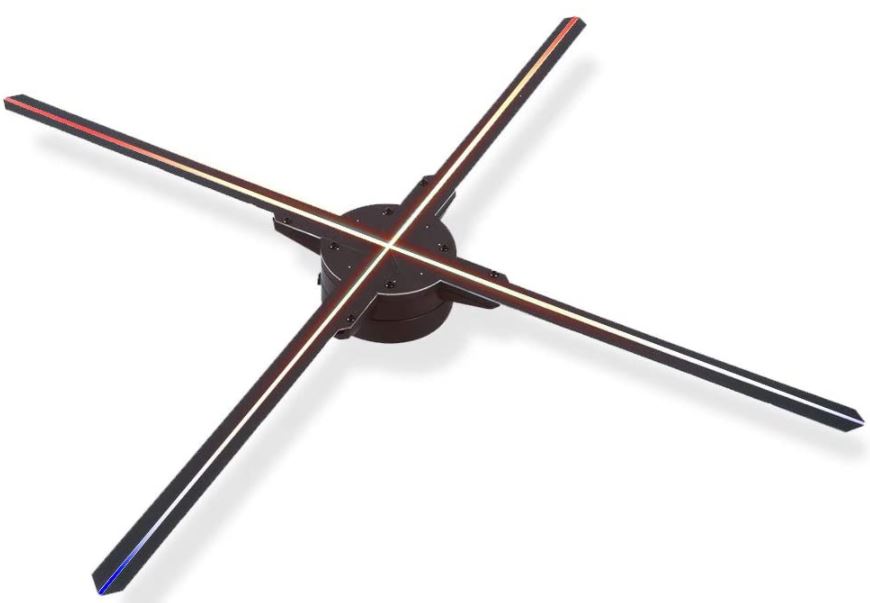 GIWOX (Upgraded) Holo65SD+ 3D Hologram Advertising Display
The GIWOX (Upgraded) Holo65SD+ is a very large display for oversized applications. At 25.6 inches in diameter, it's somewhat large for many spaces. But if you want people to see your hologram from long distances, it's an excellent choice. It has a four-blade design, with an anodized aluminum housing that's tough enough to handle abuse. To back this up, GIWOX covers their hologram with a one-year manufacturer's warranty. You also get access to 7-day-a-week customer support in case of any issues.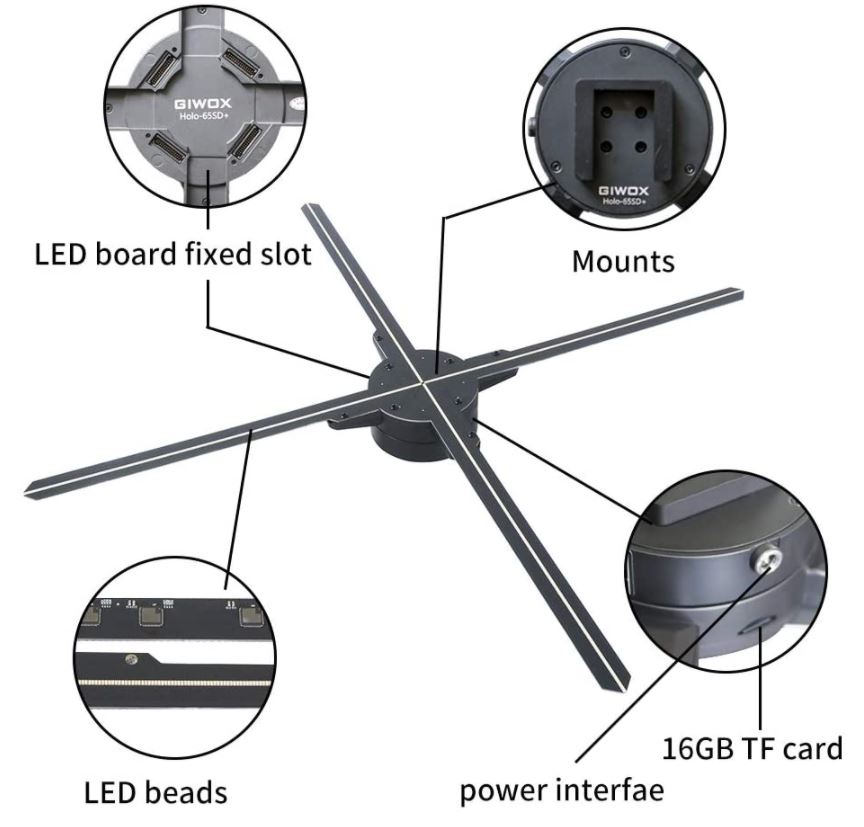 A mounting bracket is included, as is all the hardware you need for installation. Assembly is also required, but all you have to do is screw the four blades into place. The mounting hardware is designed for wall mounting only, not for window displays. If you want to do that, you'll have to have something fabricated. Whatever you do, don't block the air vents on the motor. These are large blades and they spin very fast. If the vents are blocked, the motor can quickly overheat, ruining your hologram.
Display Options and Connectivity
Like the GIWOX hologram we started our list with, the Holo65SD+ allows for multiple controls. First, you can operate it via the app. Install the Mini Software (Fan Display) app on iOS or Android, and you're ready to go. Once your fan is connected to the web, you can easily upload files and change your settings. You can also perform changes via PC or Mac by using the browser app. Because everything works wirelessly, you don't have to worry about your Holo65SD+ hologram being accessible. As a matter of fact, it should be kept out of reach entirely for safety purposes.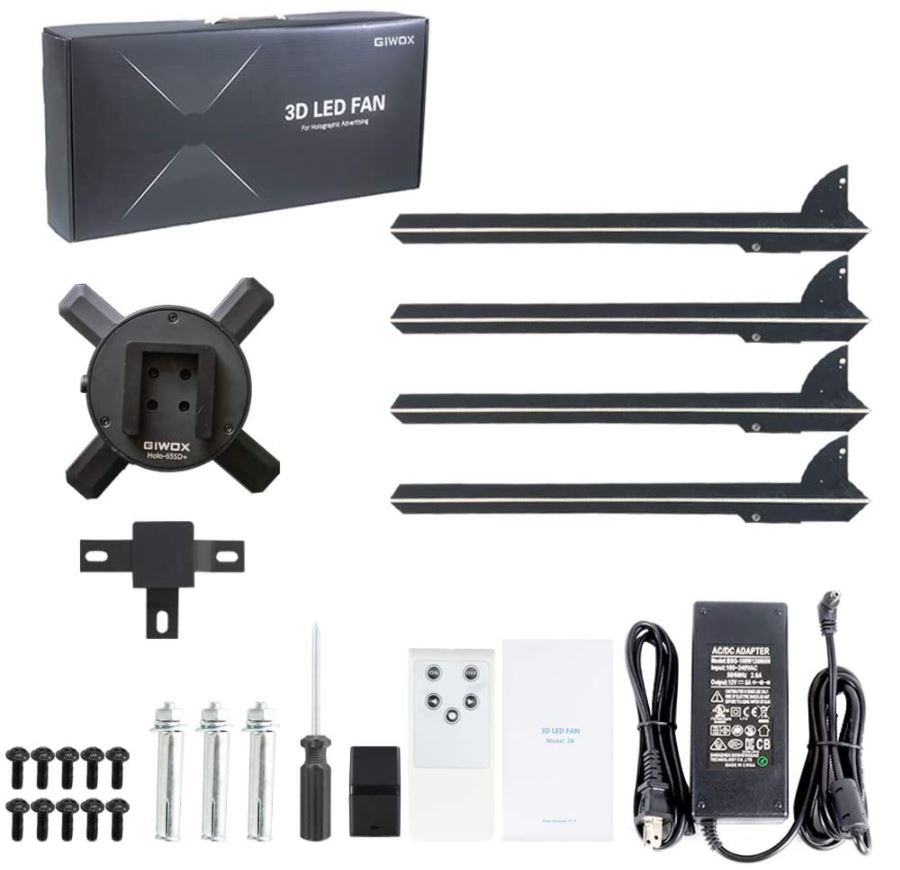 The GIWOX Holo65SD+ supports most file formats. JPG, GIF, PNG, AVI, MP4, MPEG, MKV, and RMVB files are all supported without any conversion. There's on-board storage for 8GB of files, so you should have more than enough space. The overall resolution is 1024 x 1024, or just under 1080p. At any distance beyond about three feet, it looks like full HD.
Final Verdict
Which hologram projector display fan is the best of the bunch? Let's go over what we've learned, and see how they compare. To begin with, we reviewed the GIWOX 3D Hologram Fan with WiFi. This 19.6-inch fan is perfect for store windows, tavern walls, and anywhere else you might find potential customers. The 640p resolution isn't the best, but it's more than good enough for the size. Not only that, but the durable design and heavy-duty mounting hardware make installation a breeze. For most retail applications, the GIWOX fan is going to be your best choice.
The Wangliwer 3D Hologram Fan Projector is designed primarily for portable use. Because it's so compact, it can be worn or displayed on a tabletop. Moreover, the twin blades are fully enclosed, so it's safe even in locations where people are liable to touch it. Finally, it's battery-operated, which makes it as mobile as you are. The only disappointment is the lack of wireless connectivity, but the other features more than make up for it.
Rounding out our list, we looked at the GIWOX (Upgraded) Holo65SD+ 3D Hologram Advertising Display. This is a very large, oversized display for larger applications. This makes it suitable for long-distance viewing, which gives it maximum impact. On the other hand, given its large size, it's also the least portable hologram we looked at today. The online features are convenient and easy to use, so uploading files is no big deal. Not only that, but a sturdy aluminum case ensures maximum durability. If you want the biggest hologram fan your business can handle, you're looking right at it.
Please consider sharing:
Note: At no extra cost to you, we may earn a commission for purchases using our links. Learn more.