When manufacturers create a laptop, they design it to appeal to as broad an audience as possible. This only makes sense. They want to maximize their sales, without creating hundreds of niche laptop models. And generally speaking, they do a good job. There are big laptops, beloved by content creators the world over. There are compact business laptops, designed for people who don't want to check any luggage. There are gaming laptops of all shapes and sizes, with 4K displays and LED lighting. But all laptops have a similar limitation: size. There's only so big a laptop can be.
If you look at even the biggest full keyboard, it measures more than 14 ½ inches wide. That's wider than a MacBook Pro 16," as well as all but the largest laptops on the market. This means you're never getting a complete keyboard. At best, you'll get something like the HP Pavillion, with a tenkey, but with home, end, and other buttons rearranged. In most cases, the tenkey is spread across some letter keys, and accessed with the function button. This is awkward at best, especially if you're doing a high-speed task like data entry. A wireless numeric keypad is a great way to augment your laptop, or an existing tenkeyless keyboard.
Note: At no extra cost to you, we may earn a commission for purchases using our links. Learn more.
We're about to review three of the best wireless numeric keypads we could find. We'll begin by looking at the Targus Wireless Numeric Keypad. This is a simple plastic tenkey pad that connects wirelessly, and works with any operating system. Next, we'll examine the Lekvey Aluminum Bluetooth Number Pad. This is a durable aluminum rechargeable Bluetooth keypad with arrow keys and a screenshot button. After that, we'll look into Levkey's 28-key keypad. It boasts a similar design but is comprised mostly of plastic. Last, we'll check out the Foloda Wireless Number Pad. This is a smaller wireless tenkey board with a num lock button to access other functions, like arrow keys. Once we've looked at all three models, we'll compare them, and see how they come out.
Finding the Best Wireless Numeric Keypad
So, you need a new numeric keypad. How do you find the one that's the best for your needs? Some features are subjective. For example, you might want a smaller, tenkey-only pad, or a larger pad with arrow and function keys. That said, there are some basic things you need to think about before you make a decision.
Durability and Battery Life
One important factor to consider is how tough the keypad is. Can it handle the abuse you're going to dish out in daily life? This depends on how – and how often – you're going to do it. Maybe you're only going to use it occasionally, or it's going to sit at a desk. In that case, durability is less of a concern. On the other hand, maybe it's your daily driver, and you spend a lot of time on the road. In that case, you'd want to look for a keypad that's more durable.
Another thing to think about is battery life, and the type of battery you'll use. Do you prefer replaceable AAA batteries, or an internal rechargeable battery? And how long do you need it to last? You can normally expect about six weeks of heavy use, but a lot of that comes down to the engineering. Some keypads simply draw less power than others.
Basic Design
Any numeric keypad will give you a basic tenkey pad. This will consist of a standard set of 0-9 keys, as well as a decimal, return, and arithmetic sign keys. Basically, you'll have an input for numbers and math. However, some keypads offer more. The most common extra button is a tab key, for quickly navigating spreadsheets. Arrow keys, are often included as well, as are delete, insert, home, end, and paging keys. Be aware that there are often differences from one platform to another. Some functions may work on Windows, for example, but not on Mac. Make sure to check for compatibility before you buy.
Keep in mind that there's a tradeoff between size and function. Simply put, more functions means more keys, which in turn means a larger keypad. If you want the smallest possible pad, you're going to have to give up some features. Larger size contributes to weight, as well, which is another important concern.
2.4GHz or Bluetooth?
The last thing you need to think about is whether the keyboard uses a 2.4GHz wireless or a Bluetooth connection. There are different advantages and disadvantages to both. 2.4GHz has a longer range, and it's generally more reliable. On the other hand, it means you have to plug a USB fob into your computer. And if you somehow lose this little adapter, the keypad won't work. Bluetooth has a shorter range, but you don't need to use any adapters. Then again, it requires a computer with a Bluetooth card, which is far from universal.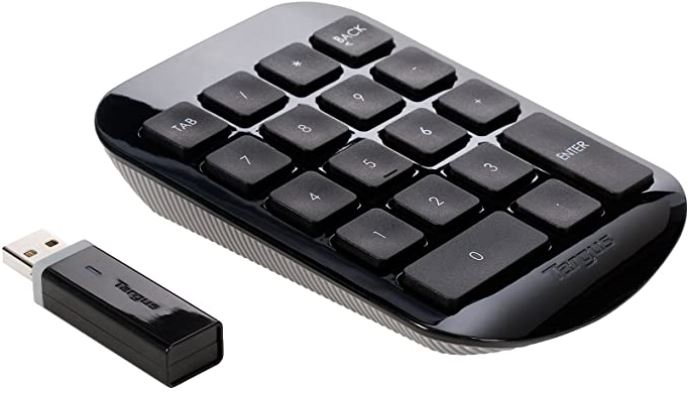 Targus Wireless Numeric Keypad
Targus is a well-known manufacturer of computer peripherals. Not long ago, we reviewed their USB-C docking station so it only made sense to check out the Targus Wireless Numeric Keypad.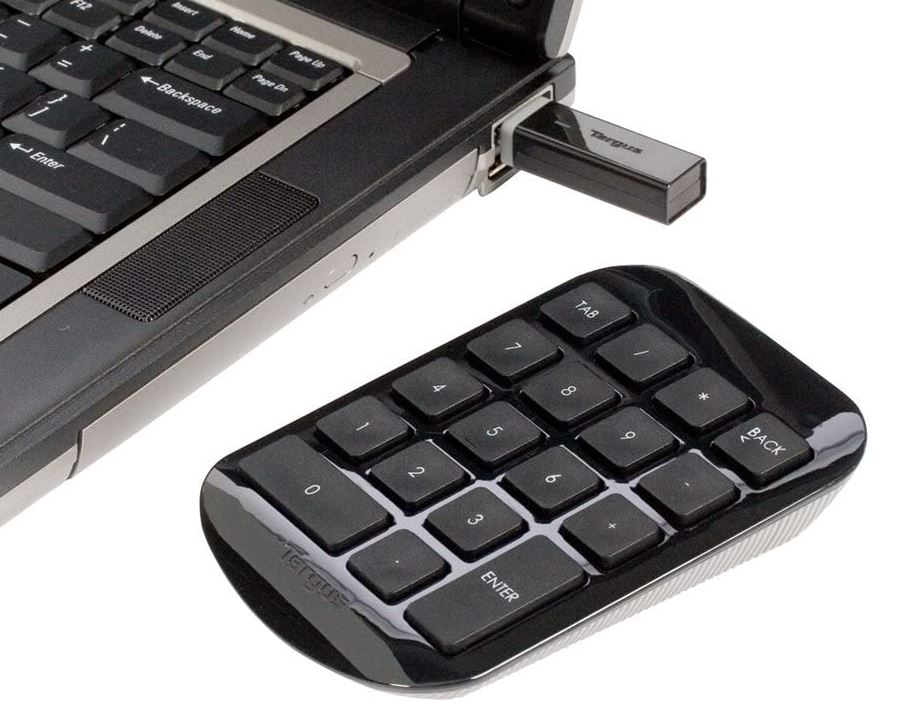 This is a tenkey pad only, with two important changes from the standard layout. First, instead of a Num Lock key, there's a tab key for skipping forward in spreadsheets. Next, the plus key has been shrunk to normal size. The minus key has been moved down to make room for a Back key, which is like a reverse tab key. This makes it a bit easier to quickly fix any mistakes. The keys themselves have a lightly-textured finish, and feel good to the touch. They're just chiclet keys, nothing fancy, but they work as well as many high-quality laptop keys.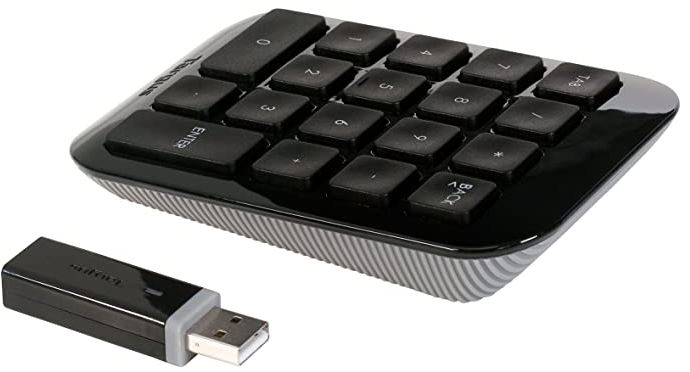 The main housing is plastic, with a black glossy top half and a matte grey bottom half. It's constructed with a roughly wedge-shaped profile, so there's a pleasing tilt to the keyboard. It's also rounded and curved at the corners and edges, which makes it reasonably attractive. On the bottom of the housing, you'll see a cavity, where the USB receiver fits. It's just a little black rectangular fob, with a USB plug on the tip. To use it, just snap it out of the cavity and plug it into your computer. There's also a power switch on the back, for turning the keyboard on and off.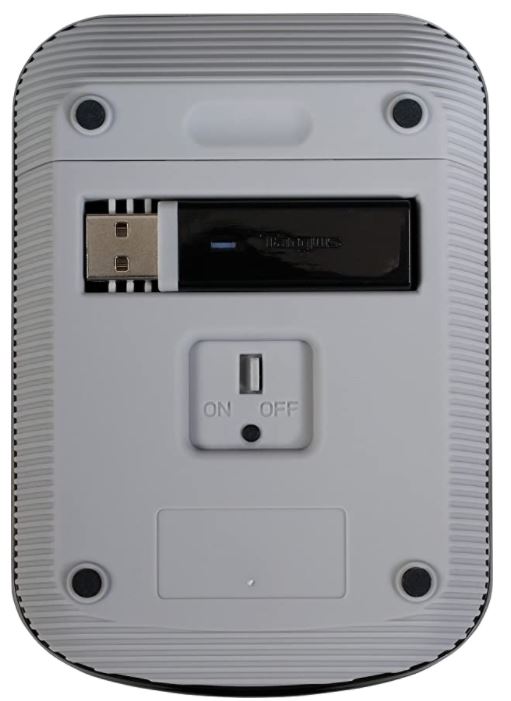 It's not strictly necessary to use the power switch. The Targus keypad will go into sleep mode after 10 minutes of disuse. When you press a key, it will wake back up. That said, sleep mode will still use some residual battery life. If you leave the keypad in this mode all the time, the batteries will only last about 10 days. When you use the off switch, you can expect a month of frequent, everyday use. With sporadic use, you can get more life still. It takes a pair of AAA batteries, which are easy to change.
This keypad connects via a 2.4GHz wireless signal, with a range of approximately 33 feet. If for some reason you wanted to use it from across the room, you can. We were also pleased with its wide compatibility. The Targus keypad works with Windows or Mac systems, as well as with Chromebooks. That said, it will not work with Excel on Mac. That's a significant drawback if you do a lot of spreadsheet work.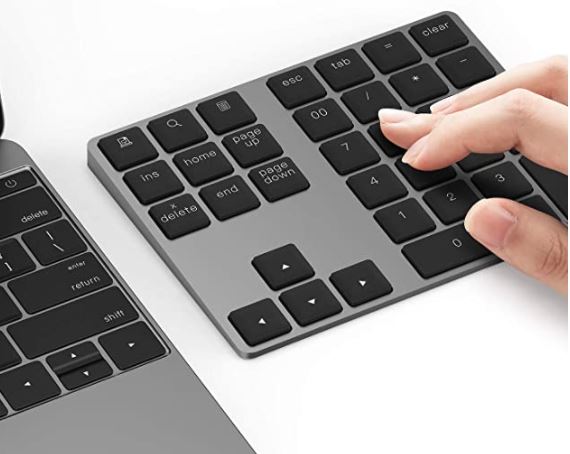 Lekvey Aluminum Bluetooth Number Pad
As its name implies, the Lekvey Aluminum Bluetooth Number Pad is constructed from aluminum. This housing is exceptionally durable, far more so than plastic. It's also very attractive, with two different color options to choose from. There's a soft grey with black keys, and a silver finish with white keys. The keys have a good feel to them. Like the Targus' keys, they have a chiclet style, with minimal noise or travel, but some tactile response.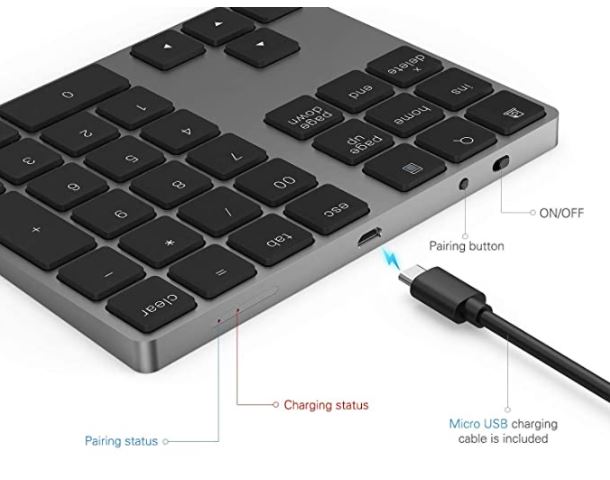 This is an exceptionally slim keypad, with a maximum thickness of less than half an inch. And even with its wedge-like profile, there's only so thin it can get at the bottom end. This means you get slightly less rise than you do with a fatter keypad. On the other hand, the Levkey pad's slim profile makes it perfect for travel, befitting the rugged design. The front of the housing has a small reset button, along with an on/off switch, and a Micro USB charging slot.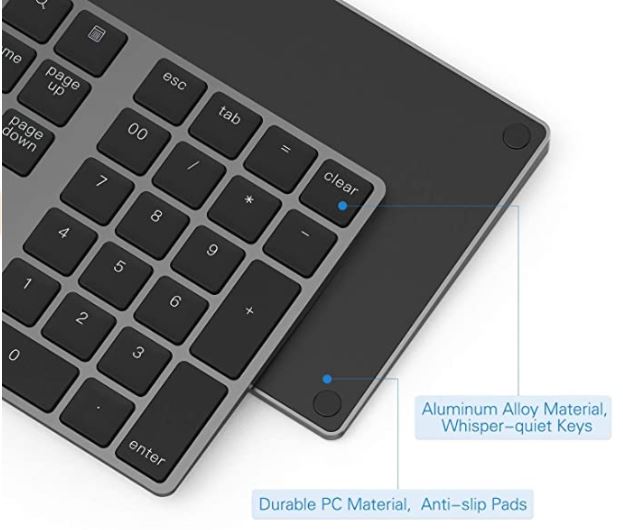 In addition to the tenkey pad, this pad also includes the buttons to the left of the number pad. You've got arrow keys at the bottom left, with home, end, insert, delete, and paging keys above them. There's also a search key, screenshot key, tab key, and a "00" key for entering financial data. This makes an impressive 34 keys in total, roughly a third of a full-sized keyboard.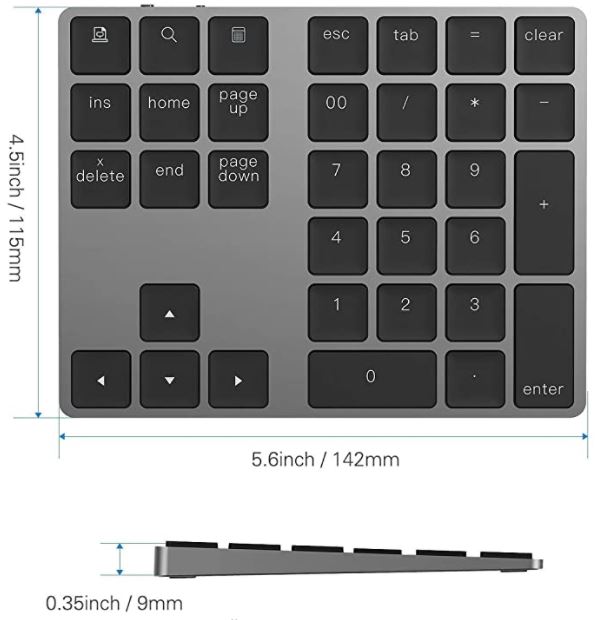 The Levkey number pad connects to your computer via Bluetooth 3.0. This is an older Bluetooth standard, so it should work with even older computers. As long as you have a Bluetooth card, it's going to connect. As far as system compatibility goes, it will work with Windows or Mac, but not with Chromebooks. That said, the search, screenshot, insert, and paging buttons won't function with Mac OS. Other keys will work fine, though, including the all-important tab key.
The internal battery will last for about two weeks on a charge, depending on how often you use the keyboard. That said, it recharges in only two hours. If you'd rather not wait, you can plug it into your computer's USB port, and use it while it's charging. You also get a two-year warranty, which is not half bad for something as simple as a number pad.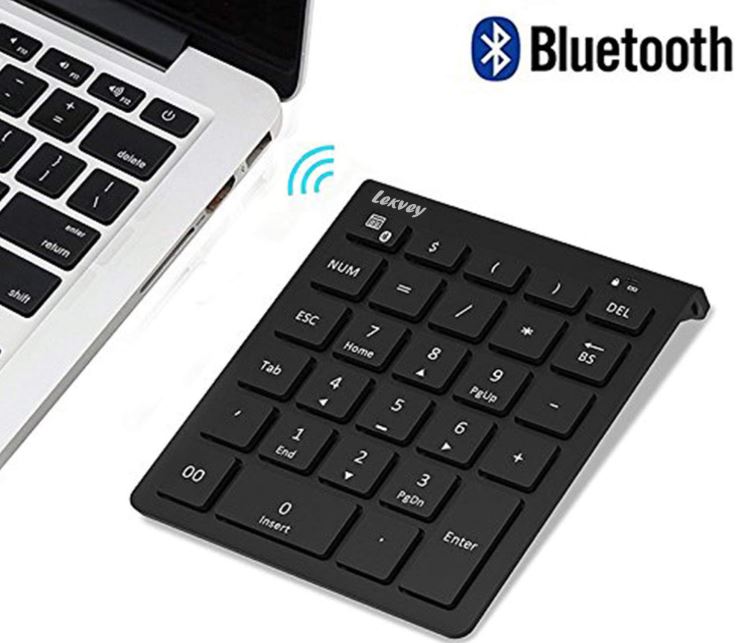 Lekvey Portable 28-Key Numeric Keypad
The Lekvey Portable 28-Key Numeric Keypad is actually a bit larger than a full sized keypad. For starters, this pad includes a 0-9 number grid, plus all the ordinary keyboard symbols which are typically cluttered around a numeric keypad. But then it goes on to include some of its own special keys, to help you get even more done from the keypad.
This keypad measures about 5.0 x 4.0 x 0.4 inches. In terms of size, it's pretty much like someone took a hacksaw to a full-sized keyboard, and sawed off the keypad section of the board. As you might expect, it's pretty lightweight, weighing only four ounces. Feels a bit like a calculator in your hands, and that isn't bad for portability.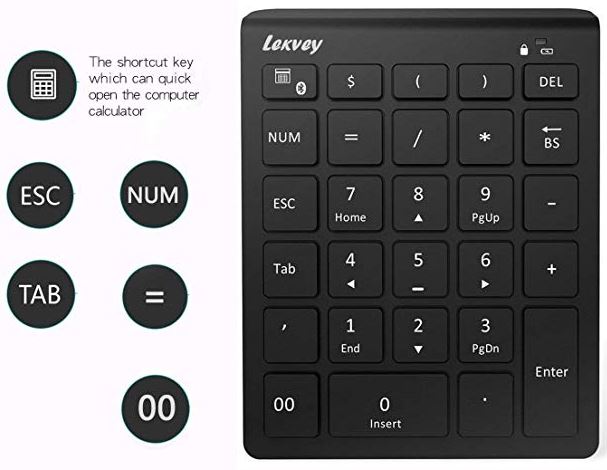 The pad can be angled at a slight tilt to better accommodate the wrist. The relatively small size of the pad makes it fairly easy to store away, and ensures it doesn't take up much space on a desk. Additionally, there's actually an additional row of buttons which are entirely unique to this keypad.
Where a keyboard keypad typically uses five rows of keys, this one uses six rows. The additional row provides an excel function button, a dollar symbol, parenthetical keys, and a delete button. Pretty good for punching in calculations, or using a calculator.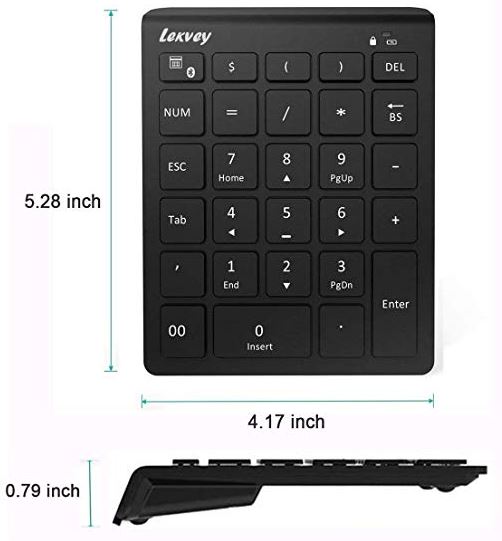 As its name suggests, the Lekvey Keypad makes a wireless connection using Bluetooth 3, which supports a maximum operating distance of about ten meters. The keypad itself has a pretty soft touch. Typing on it feels like you have precise control over data entry. And the pad doesn't give off much sound when you hit the keys.
It's compatible with basically every Windows or Android system you might imagine. As long as it has Bluetooth, you can probably get the Lekvey 28-key Keypad to play along. However, it's not compatible with Mac OS or iOS. You can't get Apple stuff to work with this keypad, primarily because of the special keys involved in the pad.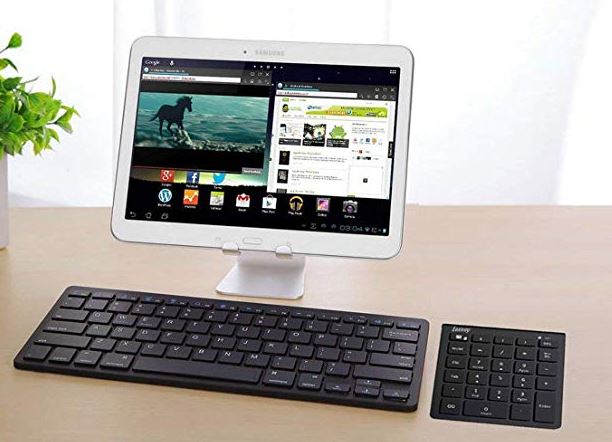 This Lekvey Keypad is powered with two AA batteries. Those batteries are not included. But once you've got some inside, you'll find this keypad provides a comparable battery lifespan to a battery powered mouse. You can use it for close to a year before you've got to think about changing the batteries.
Even if you're making very frequent use of it, those battery expectations only slide closer to 6-months. And the Lekvey 28-key keypad uses an auto-off feature. If you don't use the pad for more than 15 minutes, it will go to sleep. Waking up the pad takes about three seconds. A minor inconvenience, but one that's worth it for conserving battery life.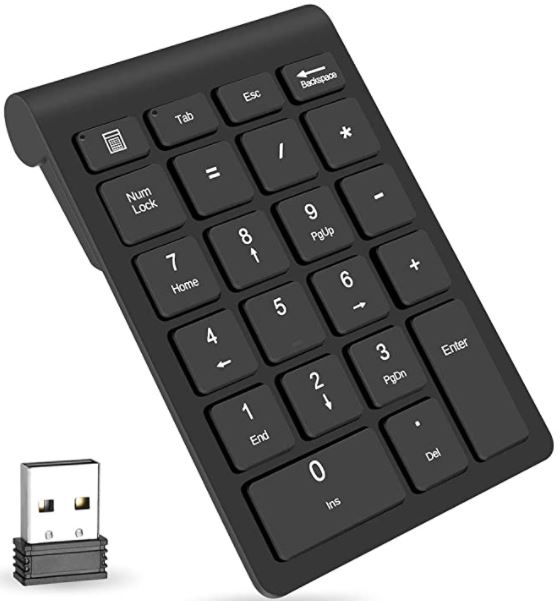 Foloda Wireless Number Pad
The Foloda Wireless Number Pad has a black plastic housing with a wedge-shaped design. This gives it 15 degrees of tilt, about the same as a regular full-sized keyboard. On the back of the housing, there's an on/off switch, along with a battery compartment. The battery compartment also has space for storing the USB receiver.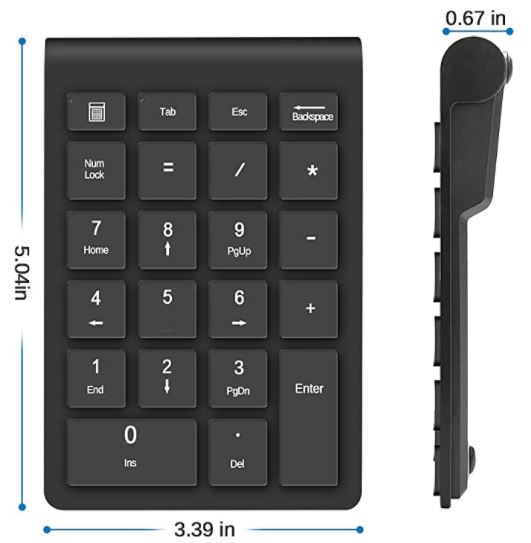 The keys are black like the housing but they have a scissors-style design, which provides better tactile feedback than chiclets. You have all the basic tenkey keys, but there's also a tab, escape, and backspace key. In addition, there's also a Num Lock key. This key changes to an alternate mode, where the numbers work as arrows and navigation keys. It's a nice touch, and an interesting way to get more functions.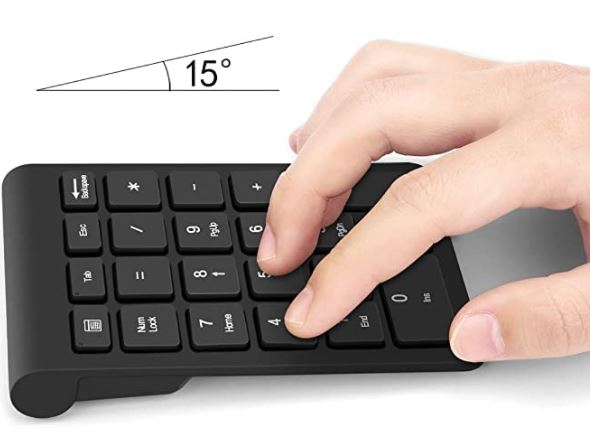 The 2.4GHz wireless signal has a range of around 33 feet, the same as the Targus keypad. With frequent, daily use, the two AAA batteries will last between a month and six weeks. There's even an indicator light on the Tab key to warn you when they're getting low.
The Foloda keypad is compatible with any Windows computer, as well as Macs and Chromebooks. That said, the Num Lock key doesn't work on Mac OS. So unfortunately, Mac users can't use the arrow or navigation functions.
Final Verdict
So, which one of these wireless numeric keypads is the right one for you? Let's review what we've learned. The Targus Wireless Numeric Keypad is by far the smallest of the bunch, so it's a solid choice for travel. The plastic housing isn't the most durable possible, but it's tough enough to hand everyday bumps. It's Chromebook compatible, and the 2.4GHz signal is powerful and stable. The only major drawback is that you're not getting a ton of extra functions.
The Lekvey Aluminum Bluetooth Number Pad has a slimmer design and an aluminum housing. This makes it great for travel, since you can slip it into a laptop bag and it won't get damaged. You also get a wide array of keys, far more than most other number pads. On the downside, it won't work with Chromebooks, and it only connects via Bluetooth.
The Levkey 28-Key Numeric Keypad is similar to their aluminum model, however it's less expensive. The main reason is simply because of the build quality; it's not quite as "sexy" as their aluminum pad, but still carries a wide range of favorable features.
The Foloda Wireless Number Pad is similar to the Targus bag in many respects. It's plastic, it's ergonomic, and it runs on AAA batteries. It also has a Num Lock key to access arrow, home, and paging keys. Then again, that function won't work on Mac, but all normal keystrokes will, even in Excel.
Please consider sharing:
Note: At no extra cost to you, we may earn a commission for purchases using our links. Learn more.