If you spend any amount of time working with numbers on the computer, you're likely a fan of the numeric keypad. Having the ability to access all ten digits plus a set of mathematical operators is handy. You can hold a document in the left, do your calculations with the right, and plow through the pile of work much faster than with a compact keyboard.
Unfortunately, numeric keypads are becoming increasingly rare. On laptops, they're only found on the largest 17 inch models. Even desktop computers are trading their clunky old keyboards for thin and light models, leaving the numeric keypad in the dust.
Fortunately, there are plenty of external options that can bring the keypad back into an increasingly padless world. The question is, which one do you get? This might seem simple, but there are huge differences in keyboards. From size to layout, small variances can create huge usability issues.
To help you make the decision, we've tested a number of different numeric keypads. In this guide, we'll be taking a look at our three favorite options. First, we'll go in-depth with each model and show you what is has to offer. After, we'll help you decide which one is right for your needs.
Satechi Aluminum Bluetooth Wireless Keypad
Focusing mostly on the Mac platform, Satechi is a major player in the peripheral industry. While it's true that most of their hardware works with both PC and Mac platforms, their main selling point is design. Apple makes beautiful computers, and there is no doubt that the design stands out. Satechi's products are designed cohesively with the latest Apple computers, ensuring that your purchase doesn't look out of place.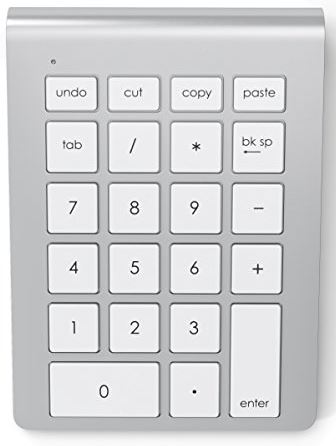 Button Layout & Ergonomics
The Satechi Aluminum Bluetooth Wireless Keypad has 22 keys and all the basics, but there are a few extra buttons that can come in handy. The top row has Undo, Cut, Copy, and Paste – something that we don't often come across. These handy shortcuts save you from having to use a control or option based key combination, making common tasks much simpler.
The number pad itself has also been slightly modified. The numbers are all in the usual spots, as are the operator keys. But the number lock has been replaced with tab – a key that is much more commonly used. This does mean that you can't use the numerical keypad as arrow keys, but this shouldn't be a problem for most users.

To make it more comfortable to use, the keypad is on a bit of an angle. The back is tilted upright, so it feels natural to press the buttons, or rest your fingers on it when not in use. There is a large grippy pad on the back, which prevents it from sliding around your desk when in use.
We're not usually fans of custom button layouts or permanently tilted peripherals, but in this case Satechi did a great job.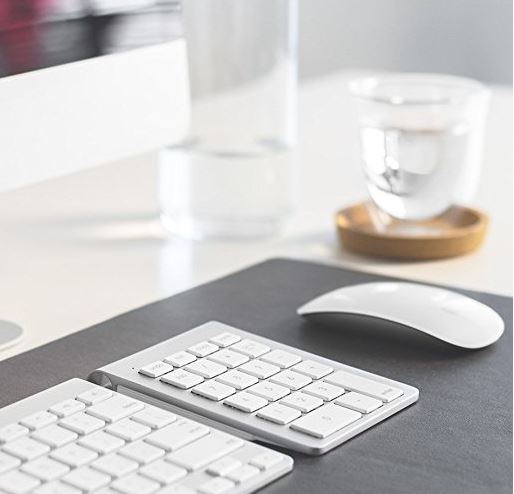 Appearance
Mac owners will instantly recognize the aluminum look. This isn't the fake design either, the enclosure really is made from a solid block of aluminum, just like your computer. The angle, shape, and size mean that it will fit perfectly next to Apples Desktop Keyboard, as well as their track pad.
Visually, it still looks great next to one of their laptops. However, the keys on this pad are white, whereas laptops use black keys. We also noticed a very minor difference in the font use, although this is only noticeable when you're inspecting it very closely.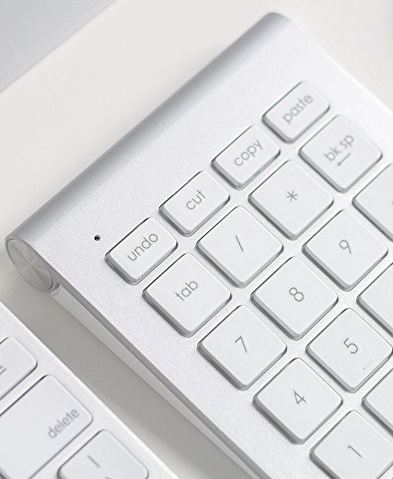 Functionality
In order to use this keypad, the only thing that you need is two AAA batteries. You can go six months on a single set, so you're not going to have to worry about them dying anytime soon.
The numerical keypad connects to your computer via Bluetooth 3.0. It uses a standard driver, so it will work with both Windows an OSX operating systems. There is limited Linux support, although this depends heavily on the distribution.
Keys
Just like the official apple keyboard, this numerical keypad uses chicklet style keys. These keys are very shallow, and do not require much force to actuate. If you're used to this style, you'll be able to pick it up right away. But if you're use to the larger style keys, or a mechanical keyboard, you will notice that there is a small adjustment period.
G-Cord 18 Keys 2.4 GHz Wireless USB Numeric Keypad
As a budget conscious brand, G-Cord sells affordable alternatives to pricey accessories. From headphones to cables to mice, they've got a huge array of items available. This keypad does seem a little out of character for them, as they do not have many keyboards available. But it's well reviewed, so we thought we'd give it a shot.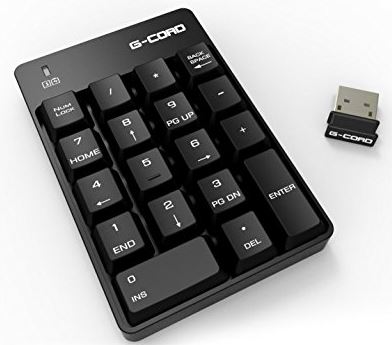 Button Layout & Ergonomics
G-Cord adopted the standard 18 key layout, with very few changes with their Numeric Keypad. All of the buttons are in the spots they're supposed to be, although the shape has been modified a little to give this pad a more squared-off appearance.
You'll notice that the Num Lock button is include with this model, which makes the layout ideal for gamers. If you are looking for a numeric keypad that will let you use the arrows for navigation, then this keypad will allow you to do so without remapping any of your buttons.
From an ergonomics perspective, this keypad has acceptable performance. It lays flat on your desk, but is thick enough that you have some space for your fingers to move. Four rubber feet hold it in place, so it won't slide around.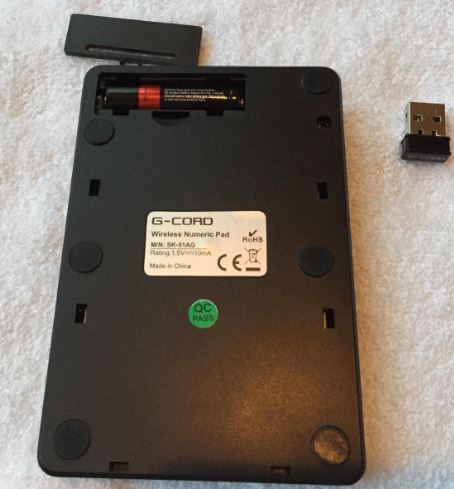 Appearance
Although the design is very simple, G-Cord has tastefully updated it for the modern marketplace. The keys themselves are standard matte-black caps with slightly rounded faces. This makes it easy for your hand to find its place, and doesn't let them show any finger prints. The bezel, however, is finished with a sleek shine that gives it a very modern and appealing look.
Other than the one green LED in the top corner to show you when they pad is turned on, there is very little to see. It will look fine next to just about any keyboard, and won't stick out unnecessarily.
Functionality
Instead of Bluetooth, this keypad uses a 2.4 GHz receiver. The receiver is extremely compact, and occupies very little space. It looks like nothing more than a tiny nub sticking out of your computer, and is even more compact than the smallest flash drives.

This receiver is fully compatible with Windows, Linux, and OSX. You get a range of 32 feet, and the keys respond with no delay. You do need an AAA battery to run it, but this should last you for several months. These 2.4 GHz receivers use little to no power, so a single battery should be plenty.
Keys
If you're entering large amounts of data, you'll be grateful for the rubber dome keys. This type of actuator is similar to what you'll find on a standard keyboard. There is a lot of movement, and a physical sensation you can feel as the key is depressed. In our experience, you can enter data faster and with higher accuracy than on a chicklet keyboard. If you're using a rubber dome keyboard now, we'd recommend that you go with something like this to keep the sensation consistent.
iClever 18-Key Bluetooth Wireless Numeric Keypad
iClever is an importer that focuses on simple devices where performance is a concern. Items like chargers, keyboards, and speakers are all very simple to design, but consumers expect quality. If any of these items are poorly made, your experience can be heavily impacted. But this particular brand has been known for quality, so we were excited to see what they came up with.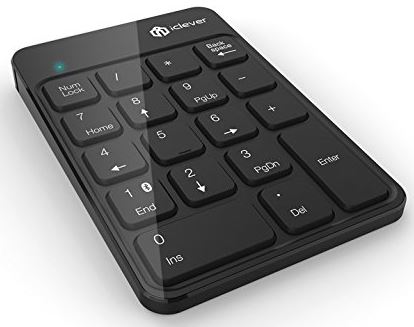 Button Layout & Ergonomics
On the iClever 18-Key Bluetooth Wireless Numeric Keypad, the button arrangement is completely standard, with only one small exception. Holding the 1/END key will enable or disable Bluetooth, effectively turning the keypad off.
The keypad does sit completely flat, which is ideal if you're entering data on a laptop. Desktop keyboards tend to be curved, so this keypad would feel a little odd next to it. But in a mobile environment, we found this design much more ergonomic.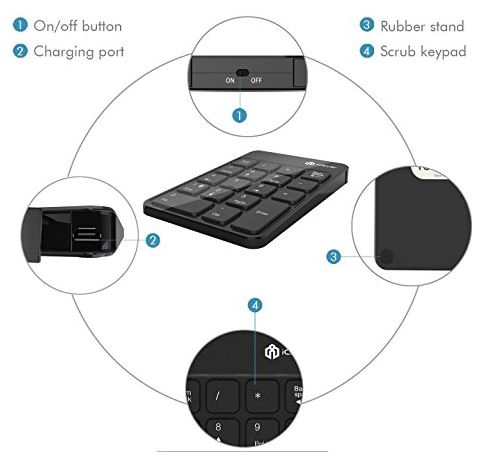 Appearance
We were impressed with how easily iClever took a pretty standard product and gave it a modern twist. The combination of solid, straight lines and gentle curves are very pleasing to the eye. It's hard to put your finger on what, exactly, makes it look so nice. But you'll soon realize that it's the consistency. All of the corners are rounded at the same angle, and the proportion of the keypad bezel and identical to that of the individual keys. Despite being simplistic, this is certainly an attractive keypad.
Functionality
Using Bluetooth 3.0, this keypad is compatible with virtually any computer on the market. When it's not paired, it will be discoverable. So the first time you take it out of the box, you'll be able to scan and pair within seconds.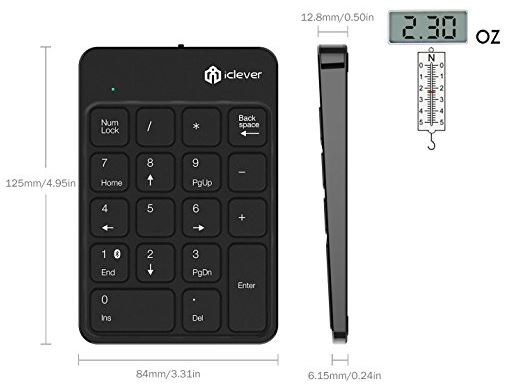 Once it's set up, the keypad will wake from sleep anytime you press a key, and go to sleep after 30 minutes of inactivity. Instead of requiring a AAA battery, there is a rechargeable battery built right in. It lasts for about 3 weeks with regular use, and can be charged with a standard micro-USB cable.
Keys
Like the Satechi keypad, this model uses chicklet style keys. They're very similar in design to the ones used on most modern PC laptops. They have a little more travel than Apple keyboards, but are still very light and easy to actuate.
Which Wireless Numeric Keypad is Right for Me?
In our tests, we found that there wasn't a single feature that made one keypad significantly better than the other. But what does make a huge difference is the environment you're using it in.
Typing is very much an exercise in muscle memory. Ever bought a new laptop, and found that a slight change in key spacing caused you to hit wrong numbers all the time? This is a very real problem. If you want a numeric keypad that works for you, you should get the one that most closely resembles your existing keyboard. You'll be able to swap between the two devices without even having to think about it, reducing any frustration.
Before you buy, the first thing you should do is look at your keyboard. Are you using an Apple computer, or have one of those ultra-low profile chicklet keyboards? If so, you'll be happy with the Satechi Aluminum Bluetooth Wireless Keypad. Between the low profile keys and the stylish design, this is the kind of hardware that you'd expect to see an Apple logo on.
Using a desktop computer, or a laptop with large keys? The G-Cord 18 Keys 2.4 GHz Wireless USB Numeric Keypad is a good choice. It's got the most travel out of any keypad on our list, making it our number one choice for large amounts of data entry.
Using a PC laptop? The iClever 18-Key Bluetooth Wireless Numeric Keypad is an appropriate choice. While it's still technically a chicklet keyboard, the keys have more travel than Apple style models. This was the closest in feel to our Surface Pro, and the same should be true for most PC laptops.