Are you tired of annoying and disruptive calls from telemarketers and scammers interrupting your daily routine? Call blockers are an effective solution to this problem.
In this article, we'll review four of the best call blockers for landline phones currently available in the market. Our selection includes options for various budgets and preferences, with each offering unique features that can help block unwanted calls. Here's what we'll cover:
Each device has its unique features, advantages, and limitations. Keep reading to find out which one is the best for your needs.
Best Overall: Panasonic Call Blocker for Landline Phones
Key features:
Blocks up to 16,000 telemarketer numbers
Build your own database with up to 100 numbers
Bilingual talking caller ID announcements
Minimal footprint design with easy-to-use buttons
The Panasonic Call Blocker is the ultimate solution for anyone who desires to rid their home of pesky and disruptive robocalls, telemarketers, or unknown international callers. Rather than relying on a cordless phone that has limited built-in blocking capabilities or registration options, this device enables you to easily block those unwanted calls.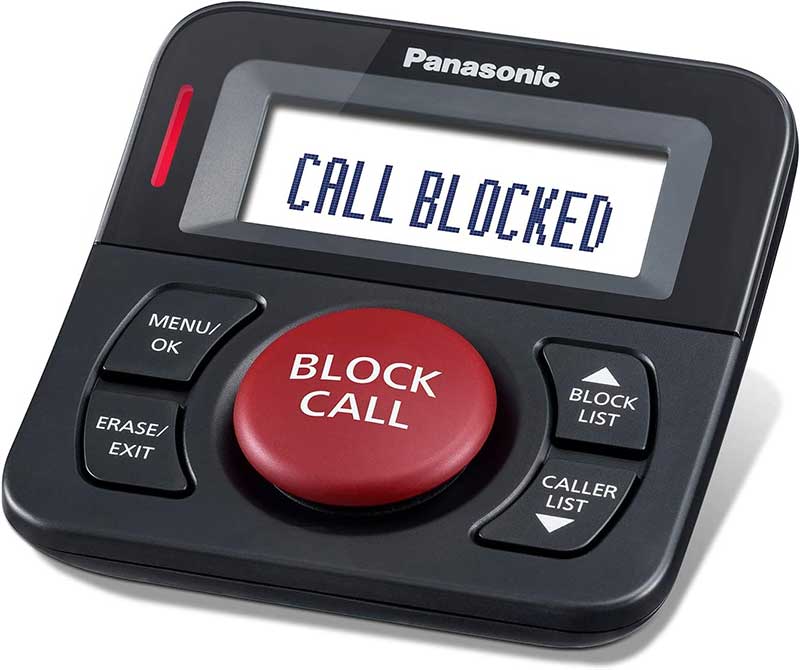 With the Panasonic Call Blocker, you can effectively block up to 16,000 unwanted telemarketer numbers from disrupting your day. It' i's preprogrammed with a database of 14,000 robocallers and telemarketers – but that's not all! You're also able to manually add another 2,000 known nuisances. Should an unknown caller arrive on the line later down the road, pressing one simple red button blocks them immediately. It'll register their number for future prevention, too.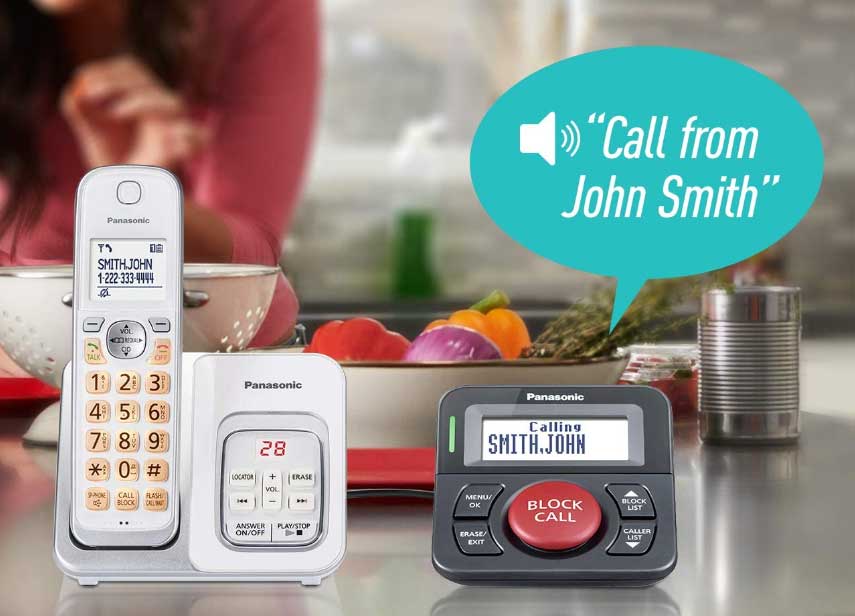 This device not only allows you to store up to 100 contacts from friends, family, or other trusted callers in a personal database for your convenience – but it also provides peace of mind when answering the phone. When a caller from one of these saved numbers calls you, the LED on this device blinks green. However, if an unknown number is calling, then the red light will be blinking instead.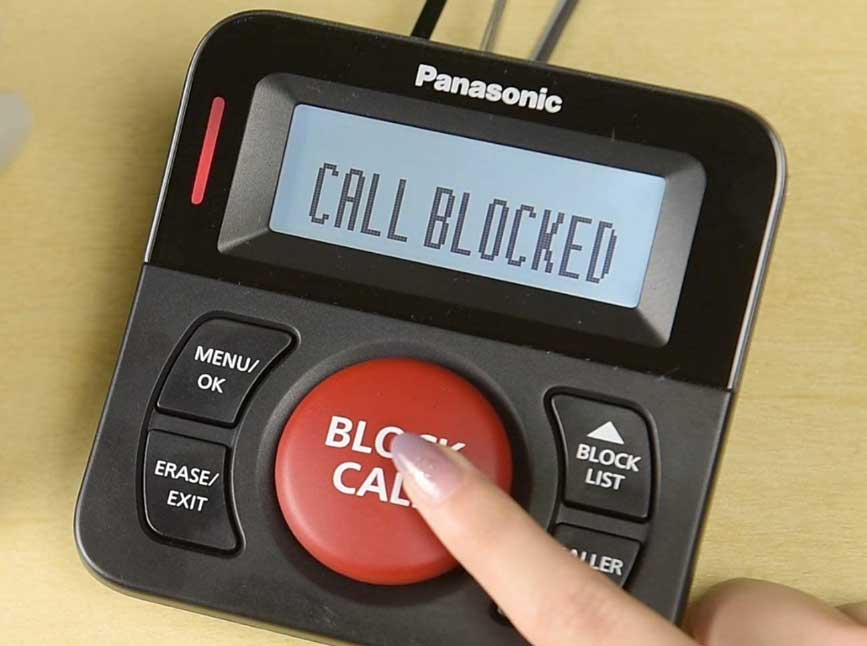 With its slim footprint, the Panasonic Call Blocker fits conveniently alongside your cordless phone. The large and easily-accessible red call block button ensures that unwanted calls are blocked quickly and effortlessly, while the bright white LCD with backlighting displays a clear caller name or number for you to see. Plus, it even speaks English or Spanish, so you know exactly who is calling!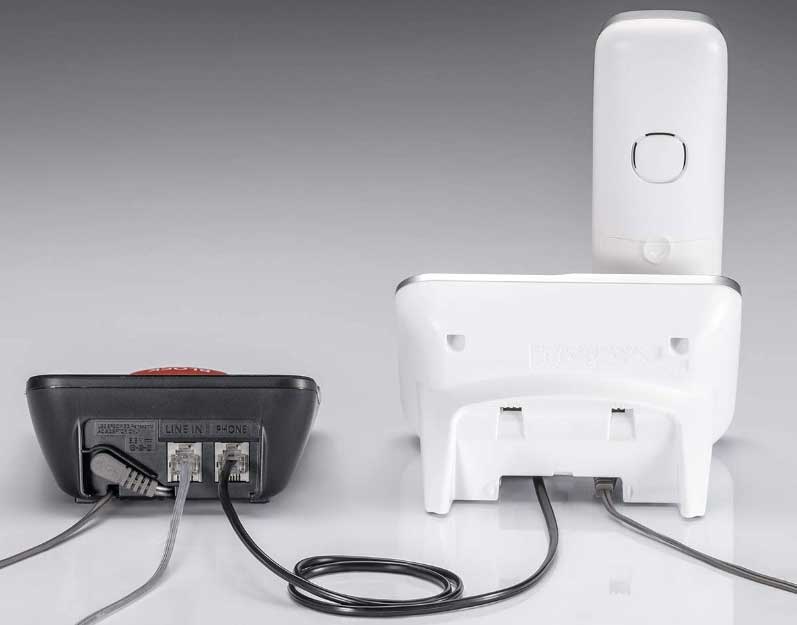 After testing, it's no wonder the Panasonic Call Blocker is so highly sought after – its setup and use could not be easier. We also appreciate that you can store trusted numbers in its database, as well, a feature that we found especially useful. Moreover, having bilingual talking caller ID announcements were an incredible plus for those who prefer to hear names or numbers of callers instead of reading them off a LCD screen.
What we liked:
Highly effective in blocking unwanted calls
Easy to set up and use
Provides peace of mind with trusted caller notifications
Bright and easy-to-read LCD screen
What we didn't like:
Pricey compared to other call blockers
Limited to cordless phones only
Best Runner-Up: CPR V5000 Call Blocker for Landline Phones
Key features:
Instantly block unwanted calls
Easy-to-use big red button
Advanced call screening technology
Requires caller ID service from provider
If you are looking for an efficient way to put a stop to relentless telemarketers and scammers, the CPR V5000 call blocker is the answer. This device has been successfully utilized by over 1 million customers who have experienced firsthand just how invaluable it can be. With sales like that, we knew we had to see for ourselves what made this call blocker so effective.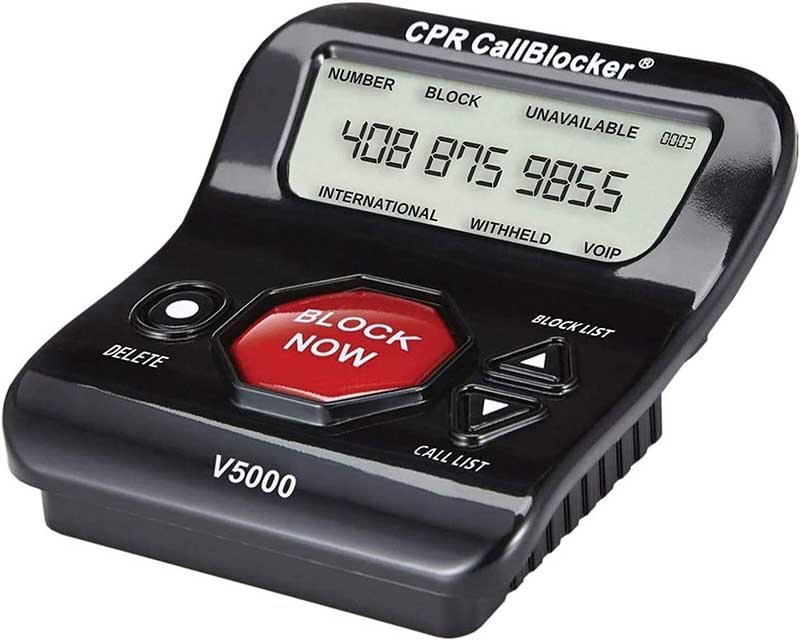 It's an innovative piece of technology that can identify and block incoming unwanted calls with just one touch of the big red button. With this, you are in complete control over who has access to your phone line, which is a big plus in the 21st century.
We had the pleasure of testing out this call blocker and found it to be incredibly efficient. With a single pressing of a button, we could quickly block any unwanted calls. Not only is this device highly effective, but also remarkably user-friendly – its setup process is effortless.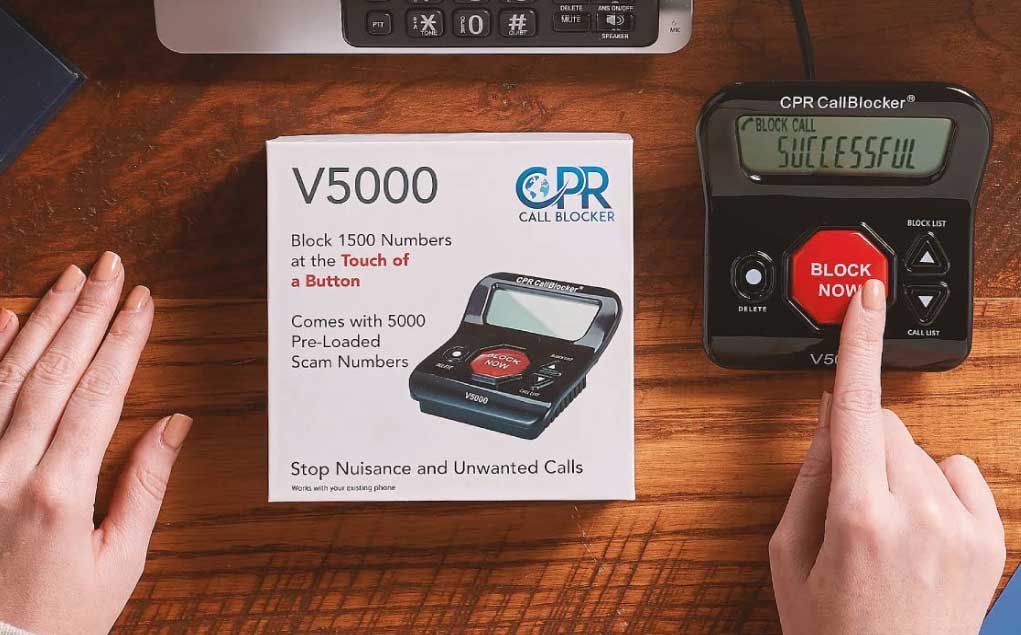 With your network provider's caller ID service, the V5000 call blocker can give you assurance and the liberty to disconnect from those annoying unwanted calls. The added benefit of this product is that it requires no extra installation or setup. You just plug it in and begin blocking. And you don't need to know any technical jargon to operate the device.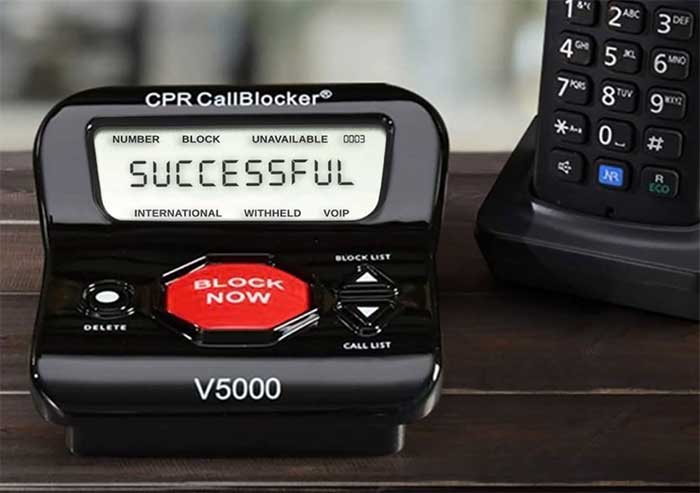 If you're one of the millions of people who are fed up with the constant stream of annoying calls, the CPR V5000 is likely to become your new best friend. It's an effective and easy-to-use solution that can finally give you back your peace of mind.
What we liked:
Provides peace of mind
Saves time and frustration
Straightforward setup process
User-friendly investment
What we didn't like:
Requires caller ID service from provider
May not block all unwanted calls
Best Budget: Sentry 2.0 Phone Call Blocker
Key features:
Automatic call blocking
Preload white list
Blocks all spam calls
Straightforward design
The Sentry 2.0 Phone Call Blocker is a useful device for anyone who wants to eliminate unwanted calls from telemarketers, scammers, or other nuisances. It works by automatically blocking calls from numbers that are not on its white list, or blacklist. It's easy to set up and comes with a clear user guide that's helpful for those who may be less tech-savvy.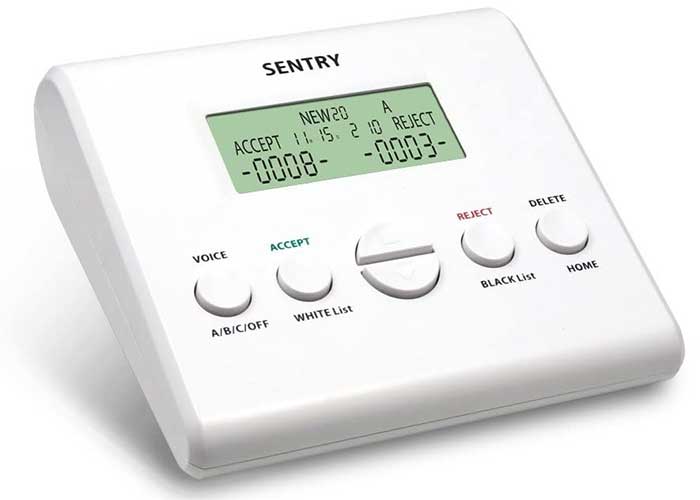 We tested the unit by preloading a white list of trusted numbers and were pleased with how the device worked. It automatically blocked all calls from numbers that were not on the list, and we didn't have to push the reject button anymore. It's a fully automatic process once the setup is complete.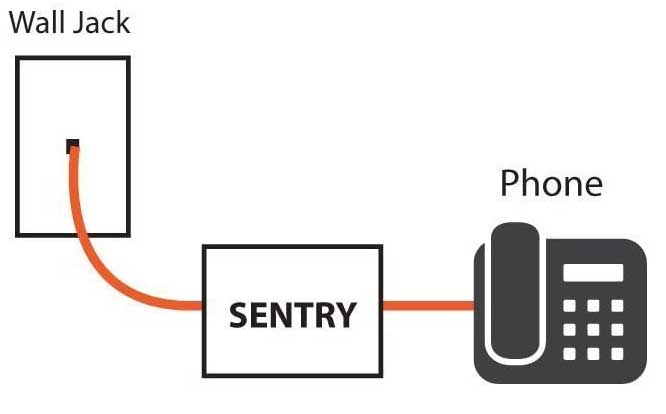 One of the best features of this device is its ability to block all spam calls, including those not on the black list. This makes it ideal for people who receive a lot of unwanted calls, as it's not necessary to constantly update the blacklist. The device also requires Caller ID service, which can be a bit of a drawback for those who don't have it.
It's also a great fit for seniors, as it has an easy setup process and requires no ongoing maintenance. It's also small and lightweight, weighing only 7 ounces, and takes up little space with its dimensions of 5.7 x 5.7 x 2.2 inches.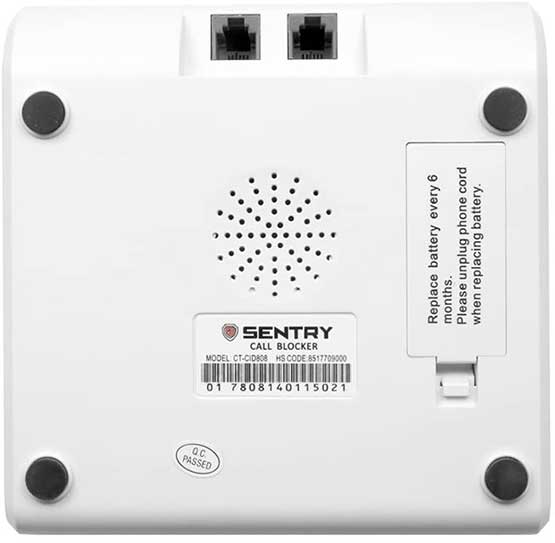 Bottom line; the Sentry 2.0 is a reliable and effective device that can save you time and hassle from dealing with unwanted calls. Its automatic blocking feature and easy setup make it a great choice for anyone looking to eliminate unwanted calls.
What we liked:
Easy setup for seniors
Fully automatic blocking
Lightweight and compact
No need to push reject button
What we didn't like:
Caller ID service required
Limited control over blocking customization
Best Alternative: CPR V10000 Landline Phone Call Blocker
Key features:
Dual mode protection for robocalls and telemarketing
10,000 preloaded scam numbers
Personalized whitelist of approved phone numbers
Call ID display and screening for incoming calls
The CPR V10000 is a smart buy for anyone seeking protection from unwanted calls. It comes with a preloaded database of over 10,000 known scam and nuisance callers that are easily identified and blocked to provide you with undisturbed time with loved ones.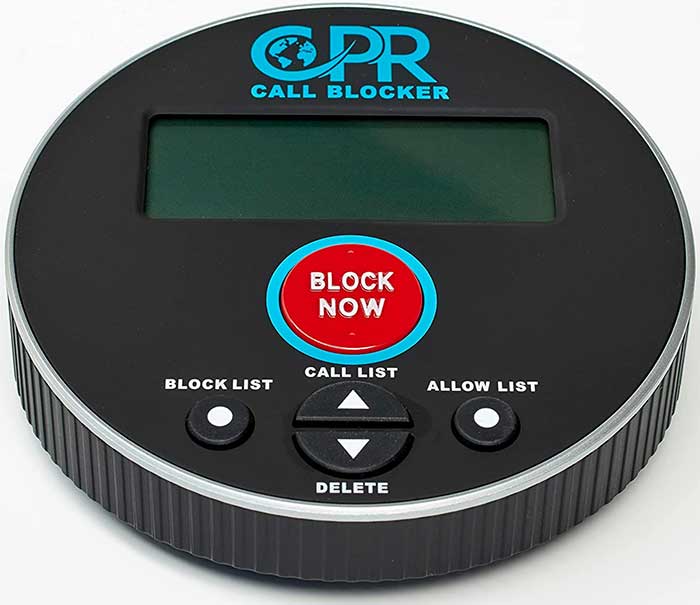 We were very impressed by its performance during our initial tests: it provided us with an enjoyable atmosphere free of interruptions. However, that feeling waned after we spent more time with the device. Whereas the vast majority of scam calls were blocked at the outset, it soon became apparent that calls started to break through and make their way past the device's defenses. Thankfully, resetting it seemed to remedy those issues for a while.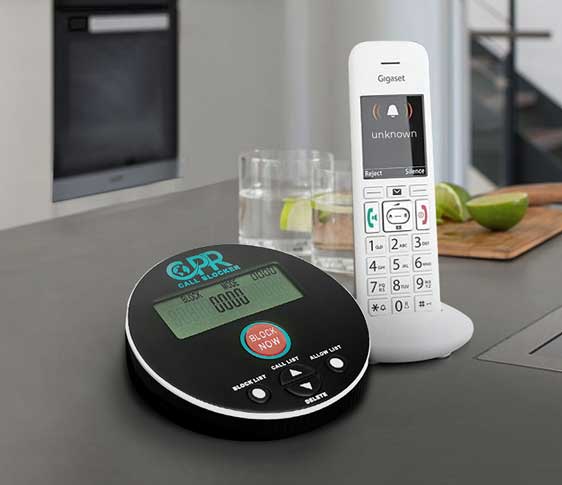 A dual-mode protection system lets you block both telemarketers and robocalls. In a few simple clicks, you can block up to 2,000 numbers from calling or texting your phone. This gives you the power and ability to manage who contacts you with ease. It's nice to be able to take control of your calls. The convenient Call ID Display allows you to screen and decide which calls are worth answering or sending straight to voicemail. Its sleek design fits perfectly into any home or office setting, plus it is compatible with all major US landline providers, making this device an easy way to upgrade your existing phone service.
The recording capacity of up to 22 minutes is more than sufficient for the average user, and its personalized whitelist feature ensures that you will always be able to receive calls from the contacts you deem important. That way, even without an answering machine, you'll never miss a call again.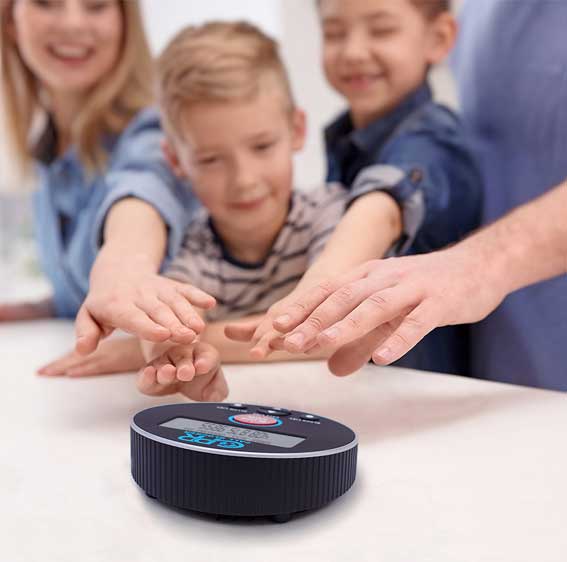 CPR's V10000 is a powerful and effective call blocker that is perfect for anyone who is tired of being interrupted by unwanted calls. With its easy-to-use design and dual mode protection, this device is a must-have for anyone looking to reclaim their phone line.
What we liked:
Easy to use and set up
Blocks up to 12,000 numbers
Compatible with all major US landline providers
Comes with a 22-minute recording capacity
What we didn't like:
Call Blocker for Landline Phones FAQs
Can a call blocker completely eliminate all unwanted calls?
While a call blocker can be highly effective in blocking unwanted calls, it's not foolproof. Some telemarketers and scammers use sophisticated techniques to bypass call blockers. However, a good call blocker can significantly reduce the number of unwanted calls you receive.
Do call blockers work with all landline phone providers?
Most call blockers are compatible with all major US landline phone providers, including AT&T, Verizon, and Comcast, among others. However, it's always a good idea to double-check with the manufacturer to ensure compatibility with your specific provider.
Do I need any special equipment to use a call blocker?
Most call blockers simply plug into your existing phone line and don't require any special equipment or installation. However, some call blockers may require a caller ID service from your phone provider, so be sure to check the product details before purchasing.
Are call blockers easy to set up and use?
In most cases, yes. Call blockers are generally designed to be user-friendly and easy to set up. However, some may require a bit of technical know-how or a phone call to customer support. Be sure to read the product details and reviews to determine if a particular call blocker is right for you and your skill level.
Final Verdict
Each call blocker we reviewed has its unique advantages and limitations. The Panasonic Call Blocker is our top pick due to its highly effective and customizable blocking capabilities, bilingual talking caller ID announcements, and easy-to-use buttons.
For those on a budget, the Sentry 2.0 is a great option with its automatic call blocking, preload white list, and ability to block all spam calls.
The CPR V5000 Call Blocker is an excellent runner-up with its advanced call screening technology and easy-to-use big red button. However, it requires caller ID service from the provider and may not block all unwanted calls.
Lastly, the CPR V10000 is a solid alternative with its dual mode protection, preloaded database of known scam numbers, and personalized whitelist. However, it lacks battery backup in case of power outages and does not work with business VOIP.
Ultimately, each call blocker is a worthwhile investment for anyone looking to reduce unwanted calls and reclaim their phone line.
Meet Derek, "TechGuru," a 34-year-old technology enthusiast with a deep passion for tech innovations. With extensive experience, he specializes in gaming hardware and software, and has expertise in gadgets, custom PCs, and audio.
Besides writing about tech and reviewing new products, Derek enjoys traveling, hiking, and photography. Committed to keeping up with the latest industry trends, he aims to guide readers in making informed tech decisions.