As we age, our bodies don't always work as well as they used to. It's harder to move around, and tasks that used to be routine are a lot harder to do. One of the most frustrating aspects of aging is our deteriorating vision. To be fair, a lot of issues can be fixed with a good set of glasses, or even with reading glasses. But sometimes, there's simply no way to see a totally sharp image. This might be due to a medical condition, or it might be because you forgot to put on your reading glasses. It's not always a big deal, depending on what you're doing. But if you need to make a phone call, it's essential to be able to read the buttons.
Thankfully, there are solutions to a lot of these kinds of problems. For example, we can install illuminated light switches to improve overall visibility. The same goes for a large-print keyboard. And with a big button phone, you can easily read the buttons even if you've got vision issues.
That said, you don't want to buy any old phone just because it has big buttons. You want one that has all the other features you want. For example, you might want higher volume to make it easier to hear the person on the other end. You may want a cordless phone, or prefer a corded model because it's harder to lose. And you're probably going to want a speed dial function. In other words, you want a phone that performs well overall, not just from a visibility perspective.
Today, we'll be reviewing three of the best big button phones for the elderly and visually impaired. We'll start out with the Home Intuition Big Button Corded Phone. This is a big, beefy phone with huge numeric buttons and a volume adjuster on the handset. Next, we'll evaluate the Clarity Amplified Low Vision Cordless Phone. This is a wireless phone with large, backlit buttons and a "find my phone" button on the base. Finally, we'll discuss the Packard Bell PB300WH. This is a straightforward phone with large buttons and an ultra-loud ringer. But which one is going to be the right choice for your needs? To find out, we'll have to take a much closer look at all three options. Once we've gone over all of their features, we'll recap what we've talked about, and hand over our verdict. Let's dig in, and see what we uncover!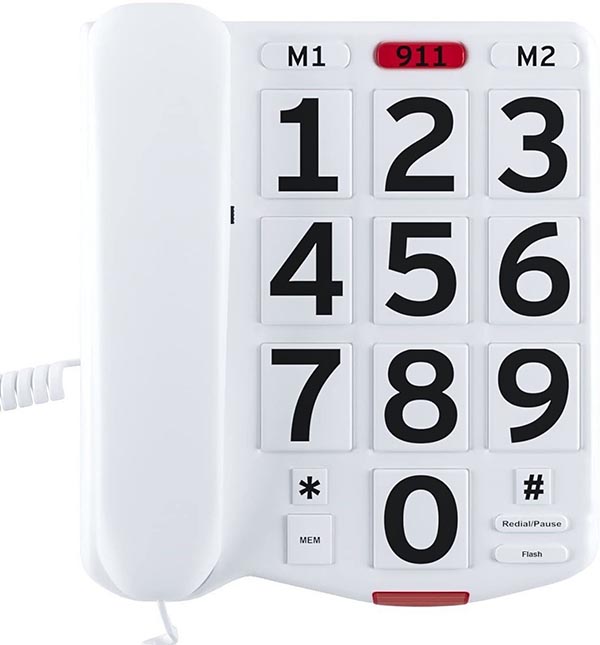 Home Intuition Big Button Corded Phone
The Home Intuition Big Button Corded Phone is a simple corded phone with a white plastic housing. This housing does a good job of resisting fingerprints and dust, so it's easy to keep clean. The overall size is 8.11 inches long, 7.56 inches wide, and 3.5 inches thick. And at only 1.21 pounds, it's very lightweight. On the back side, there's a large speaker for the speakerphone. There's also a pair of wall mounting slots, so it's easy to hang the phone wherever you like.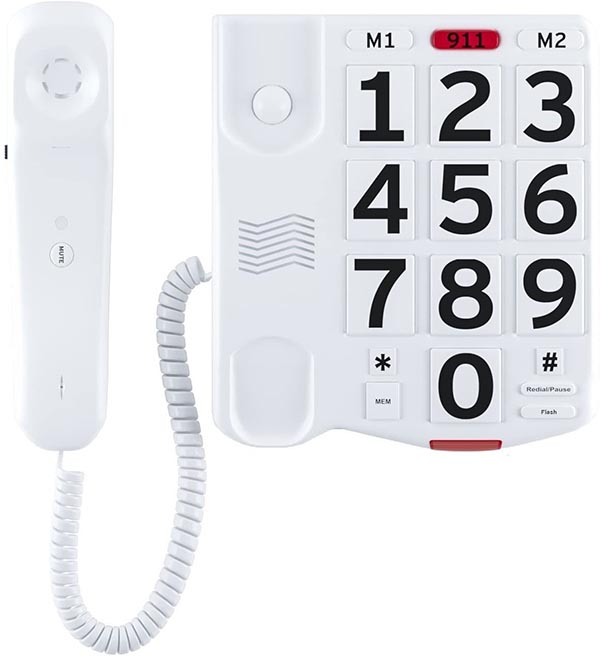 The handset itself sits on the left side, or hangs there if the phone is wall-mounted. It has a tapered shape, which is comfortable to grip and doesn't easily get dropped. Not only that, but the coiled cord can be extended out to nine feet. That's longer than your typical phone cord, and it gives you a little bit of freedom to move around.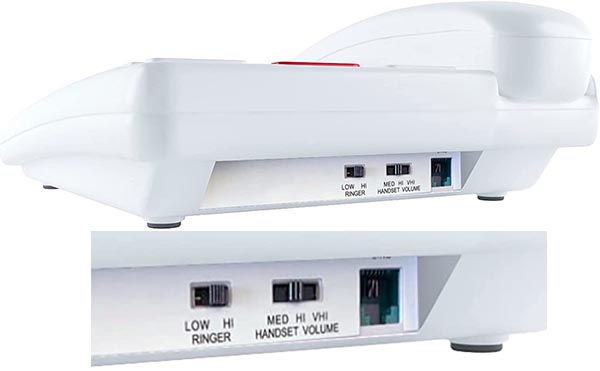 When it comes to the buttons, this phone lives up to its name. These buttons are enormous! And not only are they big, but the numbers are incredibly bold. This makes them easy to read under a variety of lighting conditions. In addition to the number buttons, there's a row of three other buttons at the top. The white buttons on the left and right are for your top two speed dial options. The red one in the middle will immediately dial 911 – a useful function in an emergency. Underneath the main buttons, there are additional function buttons, including one to program the speed dial.
The entire Home Intuition phone is covered by an impressive five-year warranty. This is one of the most impressive in the business, and it ensures that your phone will last for some time.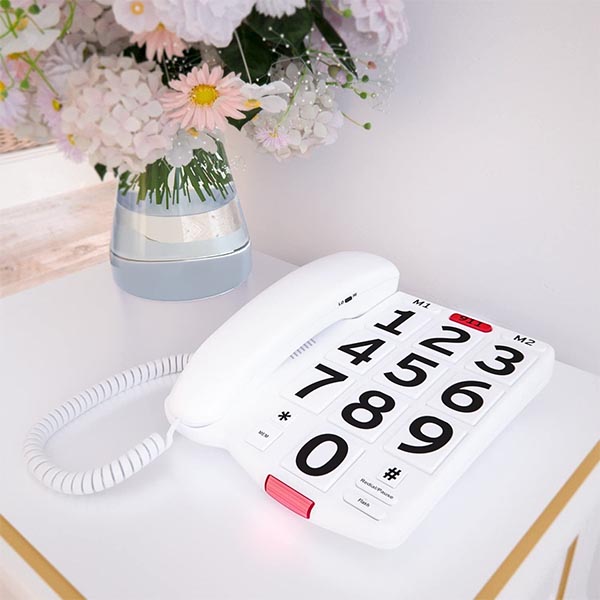 Audio and Accessibility
Your control options are located on the back of the housing, in a little cutout. Incidentally, this is where you'll also find the port for connecting the phone to the wall jack. The controls are two separate black switches. The first is a ringer switch, which has two settings: low and high. Be aware that when Home Intuition says "high," they're not kidding. This is a very loud ringer, but that's not necessarily a bad thing if you're hard of hearing.
Along the same lines, there are three different settings for the handset. Tellingly, the lowest setting is "medium," and it only goes up from there. Once again, the higher settings are going to be a bit much for anyone with normal hearing. But if your hearing has suffered as much as your vision, you'll be able to hear the other person clearly.
If that's not enough, there's a separate volume switch on the handset. In "Low" mode, the handset volume will be at its lowest. When it's set to "High," it will be the same volume as whatever the main switch is set to. This is an excellent feature, since it keeps people with normal hearing from inadvertently answering at the maximum volume. There's also a mute button on the front of the handset, so you can quickly silence your audio as needed.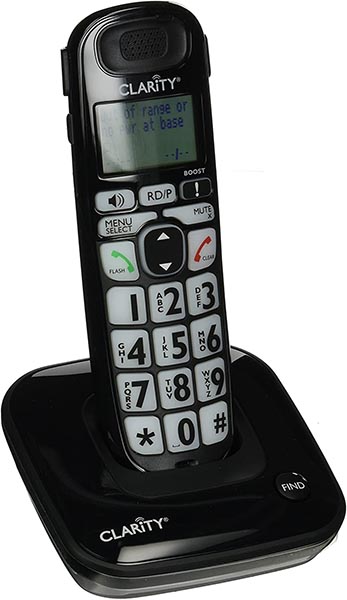 Clarity Amplified Low Vision Cordless Phone
The Clarity Amplified Low Vision Cordless Phone, as its name implies, is cordless. It consists of a small handset, which stands vertically in a small base when it's charging. The total size, docked, is 4.7 x 4 inches at the base, and 7.8 inches high. The housing is a glossy black plastic, which is both attractive and easy to keep clean. And at a total weight of just one pound, it's easy to move around. That said, because of the way it's designed, it cannot be wall-mounted.
The base is minimalistic, without any phone controls, lights, or displays. That said, there's one feature that's worth noting. At the front right corner, there's a "Find" button, which will cause the handset to ring when you press it. If you've ever lost your phone handset in the sofa, you're going to appreciate this function.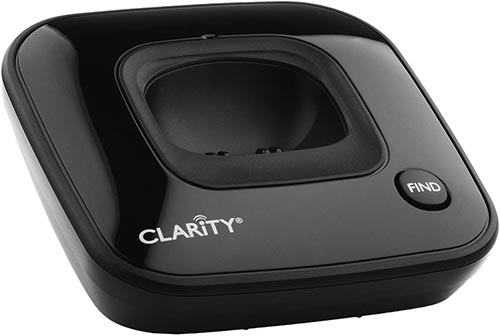 The handset itself is ergonomic and well designed. There's a little belt clip on the back for transport, which is also useful in speakerphone mode. You can carry on a hands-free conversation as you go around the house, doing your daily chores. The keys themselves are soft to the touch, and contoured for comfortable operation. And while the numbers aren't enormous, they're fairly bold – and they're backlit, for excellent visibility. Because it's a handheld phone, there are also answer and end call numbers. Mute and speakerphone buttons, meanwhile, allow you to control the audio.
Above the keypad, there's a bright, high-visibility display. It serves as a caller ID when you're receiving a call, as well as a battery meter. You can also use the screen to help make calls. Using the speed dial function, you can store up to 10 names and numbers, and select them from a list. This makes it quick and easy to call your closest friends and family members.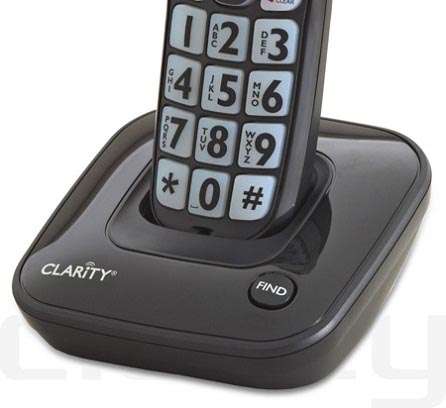 Audio and Accessibility
The audio quality on the Clarity phone is loud and clear, both on the handset and on speakerphone. In fact, it's particularly well designed for hands-free calling. When you're using the speakerphone, the other person can hear you as if you're in the room. The volume is actually adjustable, so you can choose your own comfort level. Crank it all the way up if you're hard of hearing. Or if you have normal hearing, you can turn it back down. There are six different volume levels altogether, so you've got plenty of flexibility. Not only that, but you can choose between 10 different loud ringer options. If one doesn't get your attention, you can play around and find one that does.
As an added benefit, there's a hearing loop installed inside the ear piece. This is designed to connect with a telecoil, or T-coil, for short. T-coils are a type of circuit found in many hearing aids, that allow for short-distance audio transmission. For most people, this isn't going to make any difference whatsoever. But if your hearing aid has a T-coil, it makes an immense difference. Instead of your audio coming from the phone only, it will actually play directly through your hearing aid.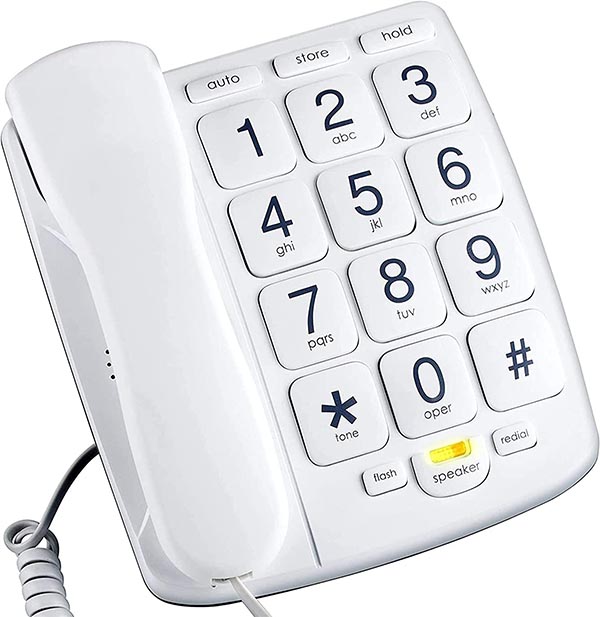 Packard Bell PB300WH
The Packard Bell PB300WH is another corded phone with a smooth white housing. The plastic material is reasonably durable, and it's not terribly heavy, weighing only 1.2 pounds. It's also not horrendously large. With a footprint of 8 inches long and 4 inches wide, it won't occupy a ton of space on your bedstand. Not only that, but it's wall-mountable. This makes it just as suitable for your kitchen as it is for a bedroom or office.
The handset sits in the left side of the base, and it has an ergonomic shape. It's slightly narrowed in the middle, which makes it very easy to grip. The coiled cord only extends to six feet, which isn't terribly far. Then again, if you're just sitting next to the phone, that's more than enough length.
The number keys are very large, with oversized numerals printed in black type. Underneath, there's a speakerphone button, with a light that illuminates when the speakerphone is active. At the top, there's a set of three buttons that control the speed dial. The memory can store up to 10 numbers, which you can program and reprogram at will. This makes it easy to stay in touch with your most frequent contacts.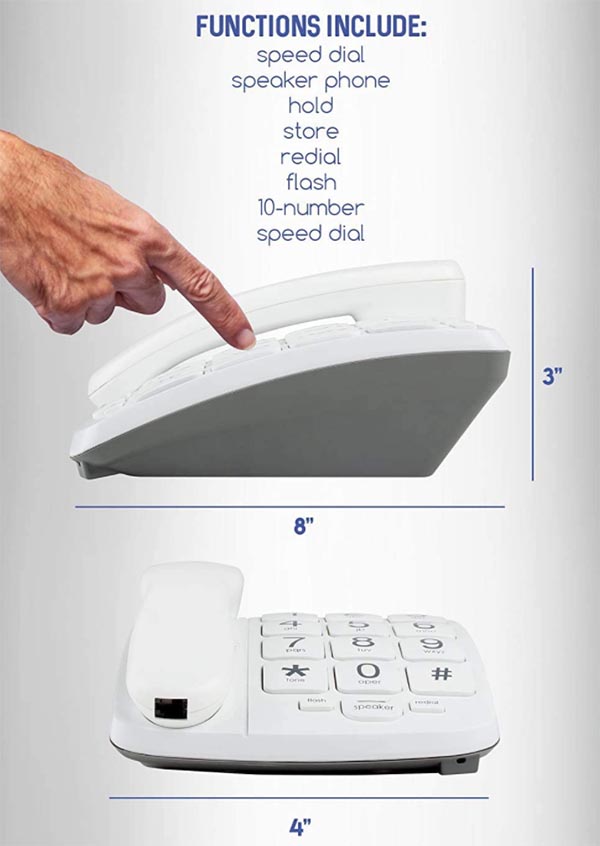 Audio and Accessibility
The Packard Bell phone has fewer audio features than the other two phones. That said, it does have an adjustable ringer volume, which can be useful in many situations. The handset volume itself is very loud, so you won't have any trouble hearing the person on the other end. Our only real complaint here was the speakerphone volume, which was quieter than we would have liked.
If you're primarily looking for a speakerphone, though, why not just use a speakerphone? The eMeet Bluetooth Speakerphone is an excellent example of a good quality phone. The only downside is that it's battery-powered, so you'll need to make sure to keep it charged.
Final Verdict
As you can see, all of these big button phones have something worthwhile to bring to the table. But which one is the optimal choice for you? Let's examine what we've learned about each one. We started out by looking at the Home Intuition Big Button Corded Phone. This phone has the biggest buttons of the bunch, as well as the boldest print. It also has an emergency 911 button, which is a solid safety feature. And with the 9-foot cord, you have the freedom to roam about the room. Finally, the loud volume is an excellent choice for anyone who's hard of hearing.
The Clarity Amplified Low Vision Cordless Phone is a different animal altogether. Because it's cordless, you can freely move around the house while you're on the phone. It's also a little bit "smarter," with a backlit LCD screen and the ability to store 10 speed dial options. And with a "find my phone" feature, it's easy to track down a misplaced handset.
The Packard Bell PB300WH is the most straightforward of the three. The buttons are reasonably large, with fairly big text that's easy to read. The handset has an ergonomic shape that's comfortable to hold. And while the speaker function leaves a bit to be desired, the handset itself works very well.