Ever since cell phones became widely available, the humble landline has been in gradual decline. But there are still many people who like to have a landline. For one thing, it's nice to have a number that you only give out to friends and family. That way, if you're watching football on a Sunday and the phone rings, you know it's not work calling. Even so, our smartphones have become intimately tied to our lives. If you're at home and you get a call on your landline, you still have to carry your smartphone around. Or do you?
A Bluetooth-enabled cordless phone is designed to work with your smartphone. In many respects, they're a lot like any modern wireless earbuds, minus the audio quality. Meanwhile, they also connect to your landline. This means that when you're home, you can use a single handset to manage both lines. This means you can leave your smartphone laying around, and your home phone will still ring. Many Bluetooth cordless phones even come in sets, and communicate with each other. As a result, you can get full coverage, even in a very large house. This is convenient even if you don't have a landline; you can leave your phone to charge without missing calls.
Today, we're going to review three of the best Bluetooth-enabled cordless phones that money can buy. We'll start out by examining the Panasonic Cordless Expandable Bluetooth Phone System. This is a multi-phone set with noise filtration and a built-in answering machine. Next, we'll review the Panasonic Rugged Bluetooth Cordless Phone. This is another multi-phone set, but one of the phones is waterproof and shock-proof. Finally, we'll look at the Motorola AXH02 DECT 6.0 Smart Cordless Phone. This is a more modest kit, but it's fully integrated with Amazon Alexa. Which one is right for you? Let's look closer, and find out.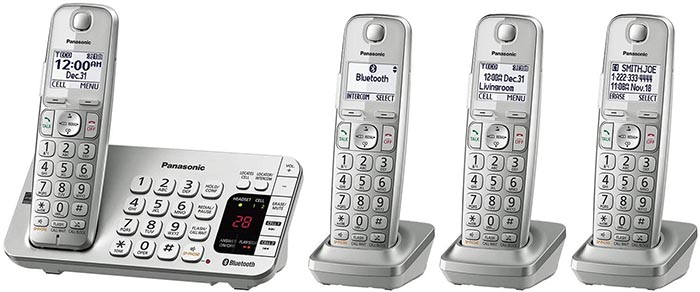 Panasonic Cordless Expandable Bluetooth Phone System
Panasonic is one of those brands that needs no introduction. Whether you see their name on a stereo system or a pair of Bluetooth headphones, you can expect good quality. Their Cordless Expandable Bluetooth Phone System comes with four or five handsets, depending on which option you choose. There's a single large base station, which is DC-powered, and includes a built-in voicemail. The other handsets mount in small docks, which are just large enough to hold them vertically. This design saves space on your desk, countertop, or wherever else your phones need to live.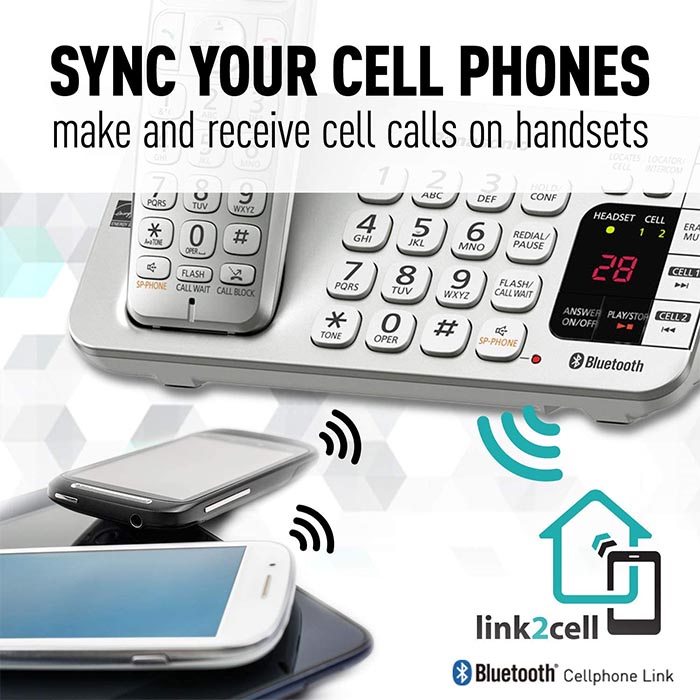 The base station allows you to control a variety of settings. You can also take advantage of all the Bluetooth features we'll cover in the next section. From the base station, you can also program the smart function buttons on your phones. These buttons are located on the sides of the phones, like a walkie talkie. You can use them to check voicemails, or to perform any other function you want them to perform. If there's a button for it on the base station, it can be done with the smart button. All four phones are powered by AAA batteries, which are included in the kit. The batteries are rechargeable, and should last for years of normal use.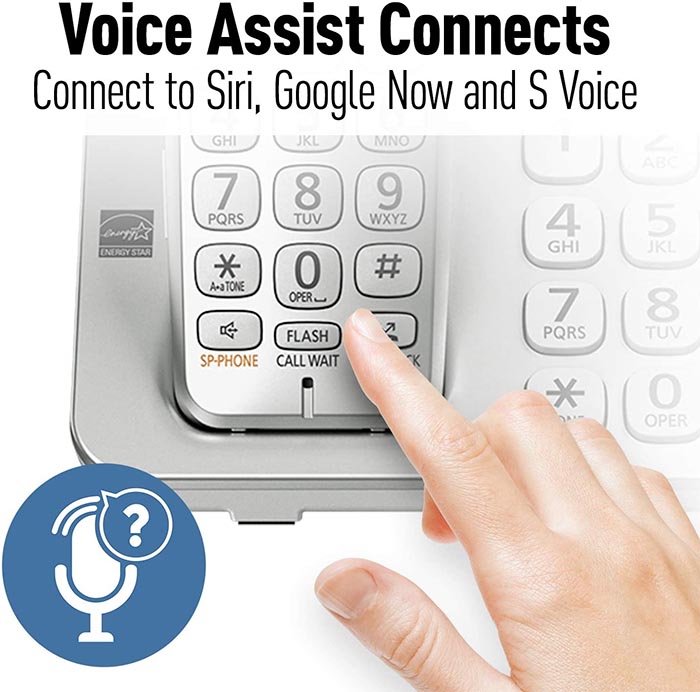 Bluetooth Features
The Panasonic Cordless Expandable Bluetooth Phone System is compatible with almost any smartphone. Provided your phone supports Bluetooth 4.2 or newer, it will work. You'll get a more stable signal with Bluetooth 5.0, but the point is that older phones will still function.
If you have an active landline connection, Panasonic's Link2Cell technology will go one step further. It can send voicemail alerts to your smartphone wherever you are in the world. That way, you won't have to worry about missing landline messages while you're away. It can even be programmed to call another landline, such as an office phone, with a brief message.
In addition to all that, the Panasonic Bluetooth Phone System can be paired with a Bluetooth key detector. A dedicated button on the base station will trigger the key detector alarm at up to 200 yards. If you're tired of losing your keys in the sofa, you'll have a handy solution.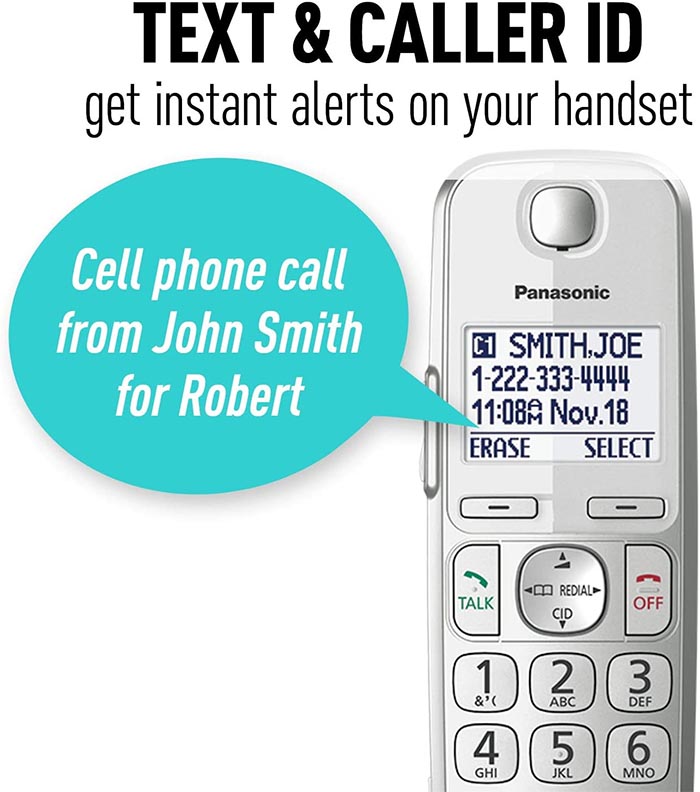 Calling Features
The main attraction of the Panasonic Bluetooth phone system is the way it integrates fully with your smartphone. To begin with, you can import up to 3,000 contacts directly from your smartphone contact list. You can sync the directories whenever you like, or build your own custom home directory. If nothing else, this is useful for attaching caller ID names to numbers that would otherwise show as private.
Another benefit of the Panasonic phone set is that it automatically reads out the caller ID name. For instance, if you're getting a call from Emily, the handsets will distinctly say "Emily." This way, you'll be able to take advantage of caller II without having to rush to the phone. The result is easier call screening than in the past.
Finally, the Panasonic Cordless Expandable Bluetooth Phone System comes with noise reduction technology. This isn't designed to make it easier for you to hear the other person. It's designed to help them hear you better by isolating your voice from background noise and static.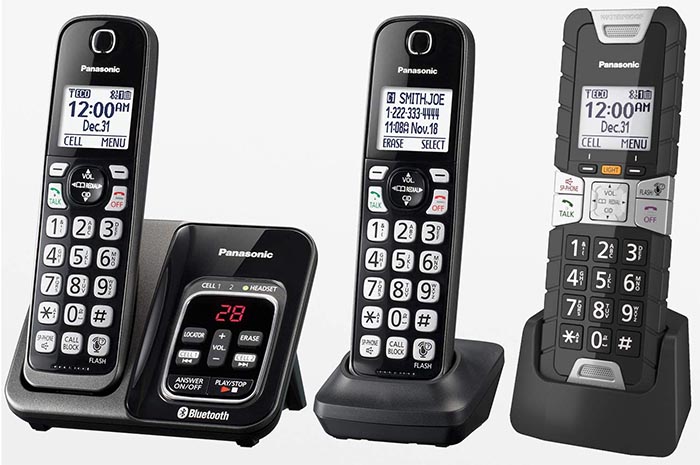 Panasonic Rugged Bluetooth Cordless Phone
In many respects, the Panasonic Rugged Bluetooth Cordless Phone is very similar to the last Panasonic phone set. In fact, the standard handsets are virtually identical. The only real difference is that they're black in color, instead of silver. Other than that, you get the same easy-to-read LCD display, and the same high-visibility buttons. There's also a silver variant that looks just like the original.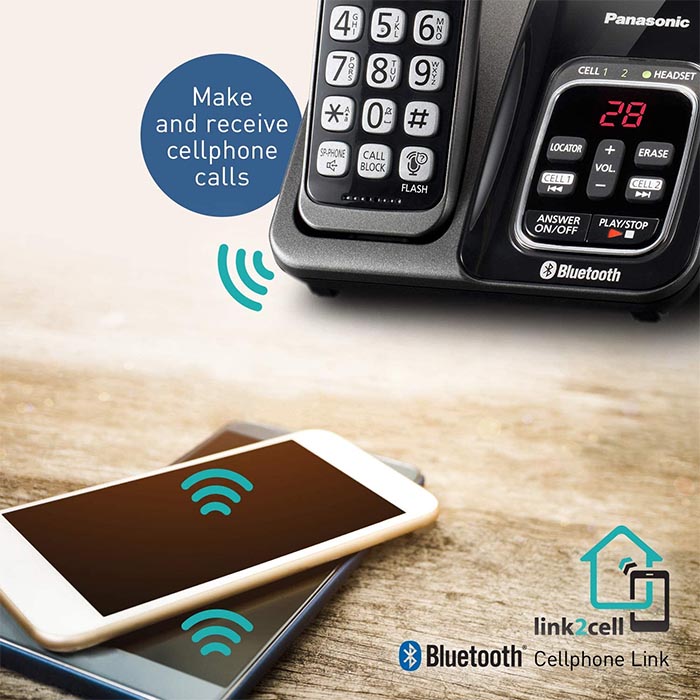 The main difference is that the Panasonic Rugged Bluetooth Cordless Phone comes with an additional, "rugged" handset that's designed for heavy-duty use. The rugged phone is IP67-rated for water-resistance, so it can survive full submersion. It's also dustproof, shock-resistant, and will float in water. In addition, it sports a built-in flashlight, and a utility belt clip for easy carrying. In the frame, you'll find a 3.5mm jack if you want to use a wired headset. This rugged handset comes paired with two, three, or four ordinary handsets. All of them take rechargeable AAA batteries, which are included in the package.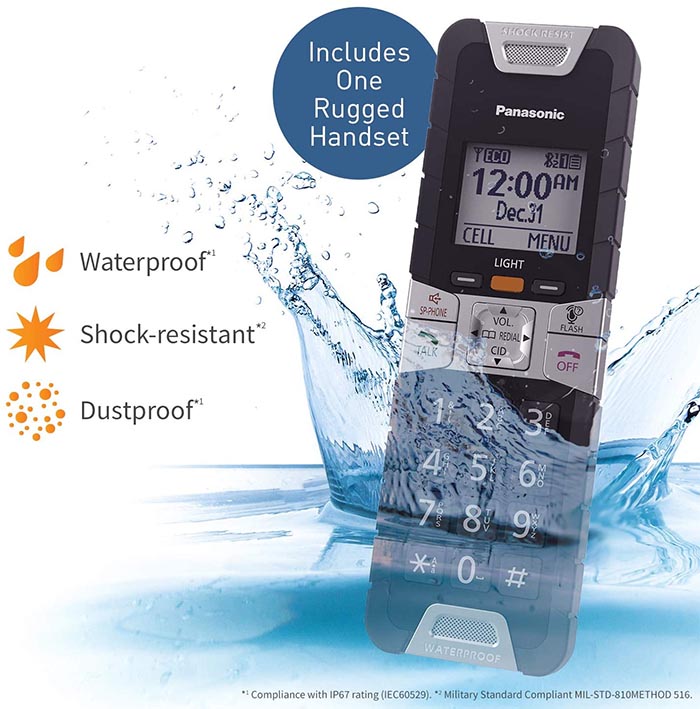 Bluetooth Features
Like the other Panasonic set, the Panasonic Rugged Bluetooth Cordless Phone supports almost any smartphone. Not only that, but you can link two different smartphones simultaneously. You and your partner can share the same home handset kit, without needing to buy two sets. There's also a built-in answering machine in the docking station. The voicemail has an 18-minute recording capacity, better than most on the market.
The Panasonic Rugged Bluetooth Cordless Phone supports Siri, S Voice, and Google Now voice commands. If you're elbow deep in food in the kitchen, you can answer and end calls hands-free. This works both for your smartphone and for your landline. It also supports Panasonic's Link2Cell technology, so you can receive remote voicemail alerts if you have a working landline.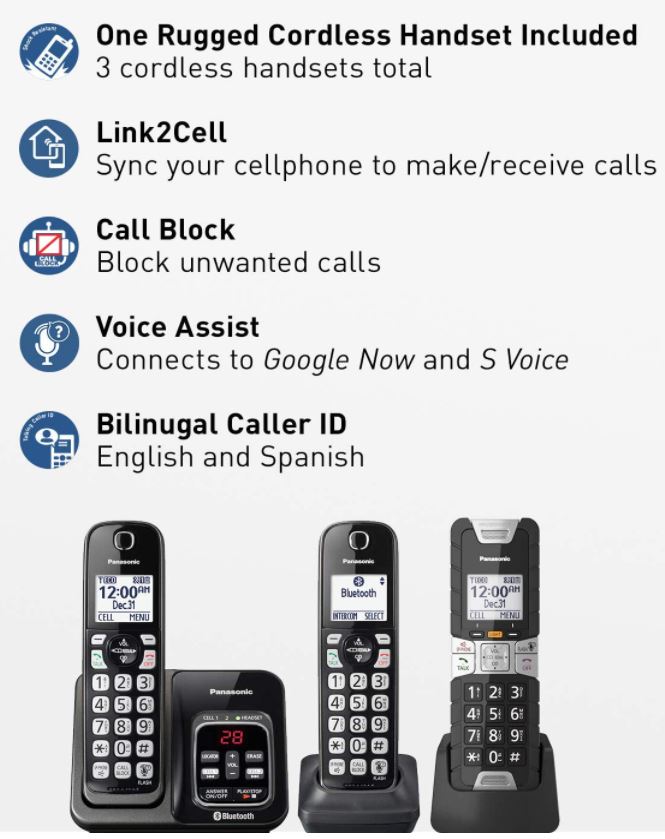 Calling Features
The Panasonic Rugged Bluetooth Cordless Phone has a similar voice caller ID to the previous Panasonic phone set. However, in addition to English, it also supports Spanish-language use. In addition to caller ID, you can program specific ringtones for individual callers. So if you find the audible voice ID annoying, you can use a familiar tune instead.
Of course, some callers are just plain annoying. For robocallers, scammers, and other unwanted calls, there's a one-touch blocking button. The phone system will remember up to 150 blocked numbers, which should be more than enough. If you accidentally block a friend, no worries. You can unblock them from the docking station.
The Panasonic Rugged phone set is also compatible with hearing aid T-coils. If you or a family member uses a hearing aid, you'll get better quality in-ear audio. That means more time enjoying conversations, and less time repeating yourself.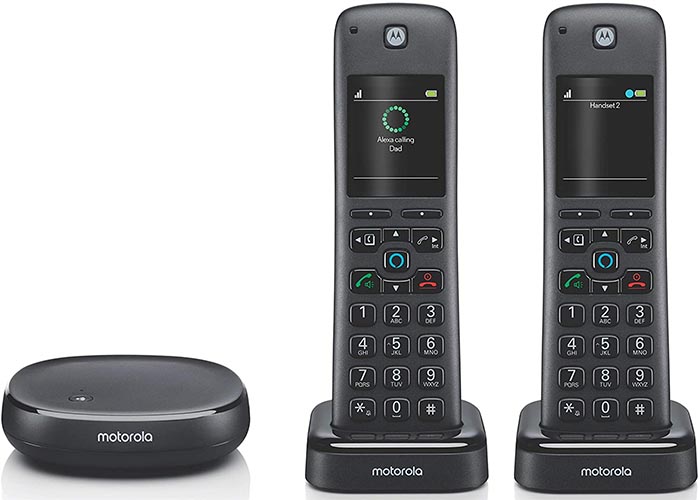 Motorola AXH02 DECT 6.0 Smart Cordless Phone
Motorola is known for a variety of consumer products, from smartphones to baby monitor cameras. Their AXH02 DECT 6.0 phone comes in three sizes: a single handset, a two-pack, a three-pack, or a four-pack. Each pack includes the appropriate number of phones, plus a base station that's separate from any handset. You can also buy additional handsets individually, so you can add on to any kit. This makes the AXH02 kit suitable for any sized house, regardless of how much area you need to cover.
Both the handsets and the base are constructed from black ABS plastic, with an easy-to-clean finish. The handsets sport large, 2-inch full-color displays, as well as large buttons for easy operation. Like the Panasonic phone kits, they take AAA rechargeable batteries that are included in the box.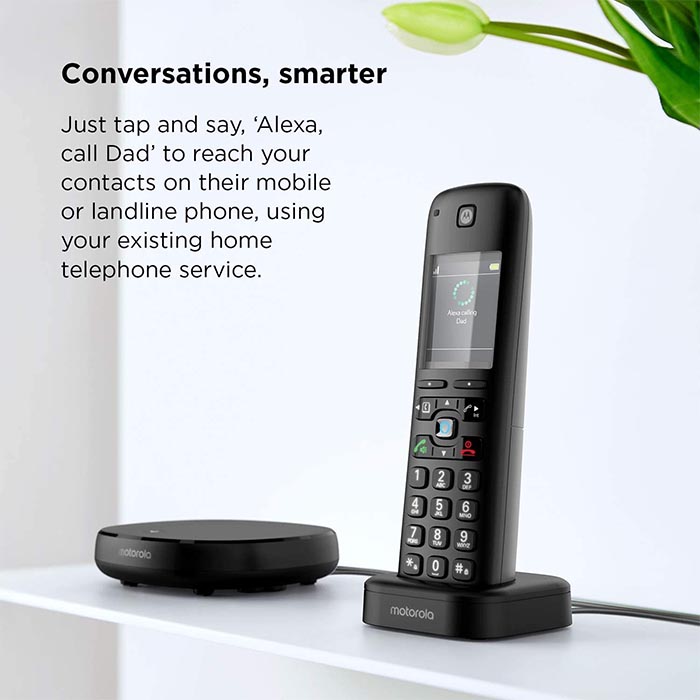 Bluetooth Features
The AXH02 is designed to work with both iOS and Android phones. It comes with a companion app, which walks you through the installation process. You can connect it to the internet via your landline to enable you to check missed calls and voicemail. All of this can be done through the app, which makes the whole process clean and seamless. Just as with both Panasonic phones, you can import your address book, so it's easy to reach all your contacts.
The Motorola AXH02 DECT 6.0 is designed with Alexa already built into the architecture. The base station and handsets support voice commands right out of the box. You can control Bluetooth speakers and other smart home devices. You can also use your phone system as an intercom to call everyone for dinner.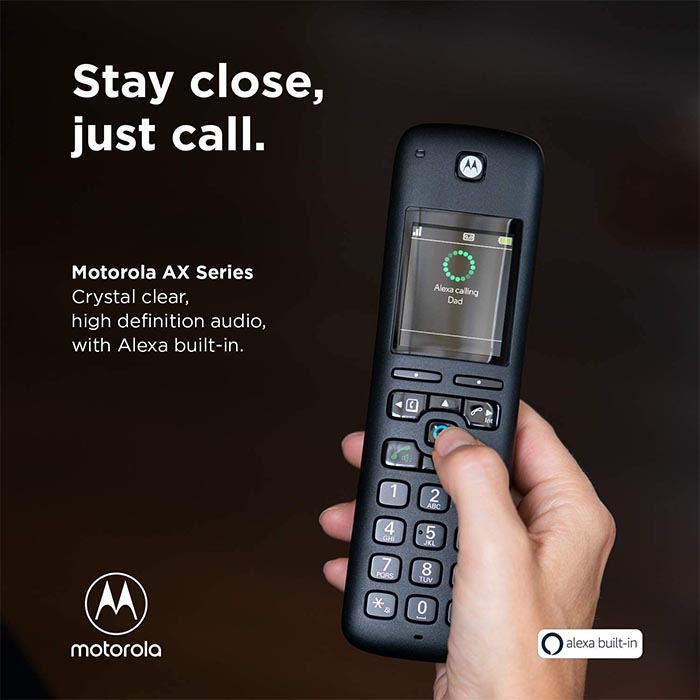 Calling Features
Because the AXH02 DECT 6.0 has Alexa integrated, you can make calls with simple voice commands. If a number is in your smartphone address book, you can call them up by name and make the call. You can also use the same function to make Skype calls, which is a significant added benefit.
Final Verdict
Clearly, each of these Bluetooth phone systems has a lot to offer. But which one is the best is going to depend on what you need from a Bluetooth landline setup. The Panasonic Cordless Expandable Bluetooth Phone System offers the best performance in terms of general calling. The ability to import your address book is an excellent feature, as is the audible caller ID. The voice isolation is also a great touch, since other people will be able to hear you just fine. You can even receive remote voicemail alerts, so missing landline calls is not a major concern. All in all, it's a great choice if your main concern is making and receiving phone calls.
The Panasonic Rugged Bluetooth Cordless Phone is a unique creature, but it has major benefits. To begin with, you get the rugged handset, which is great for heavy-duty use. If you need to talk on the phone while working in the pool or weed whacking, it's an excellent choice. The built-in flashlight is surprisingly useful, especially if you're carrying the handset on your belt anyway. You can order a three to five-phone kit, and it includes a base station with a Link2Cell-compatible voicemail. Not only that, but all the handsets are compatible with T-coils. This makes them an obvious choice for anyone with hearing aids.
The Motorola AXH02 DECT 6.0 Smart Cordless Phone offers its own set of advantages. Right out of the box, you get full support for all Alexa features. This means you can control smart home devices with voice commands. It also means you can make and receive hands-free calls the same way, without interrupting your household chores. The phones are attractive to look at, with bright, full-color LCD displays. One thing it doesn't do is call your office if you have a voicemail at home. That said, the app is ebay to use, and the push alerts should be more than enough for most people. Tie that all together with a discreet base station, and you've got yourself a solid choice.