When you're thinking about ways to renovate your home, it can be easy to overlook the little things. Yes, you can make a major change, and improve your home's value by switching from carpet to hardwood. And if you're looking for the cheapest way to overhaul a room, a new coat of paint is a great way to go. But your fixtures and switches are just as important as either of these things. Your light switches in particular are something you touch every day, many times a day. If they're not up to standard, it makes sense to replace them. Not only will you immediately experience an improvement, but switches are relatively cheap. For less than the cost of a single hardwood floor, you can replace every light switch in your entire house.
But what is it that makes one light switch better than another? There are any number of features you should be looking for. That said, illuminated switches make a lot of sense for a number of reasons. For one thing, they're high-visibility. If you're in a dimly-lit or dark room, you'll be able to find the switch more easily. Some illuminated switches will even shine a light down on your floor. This can make it easier to safely navigate a dark hallway. You can even use a switch as night light. If you have to get up in the middle of the night, you won't have to turn your lights on and wake yourself up.
Today, we're going to review three of the best illuminated light switches that money can buy. We'll begin by taking a look at the SOZULAMP Illuminated Light Switch. This is an attractive light-up rocker switch with warm white and bright white variants. Next, we'll examine the SnapPower SwitchLight. This is a light-up switch plate for existing single-pole toggle or rocker switches. Finally, we'll check out the ENERLITES Illuminated Paddle Light Switch. This is an illuminated rocker switch that's available in several colors, and in single and three-pole variants. Which one is going to be the best choice for you? To find out, we'll have to dig down and uncover their features, benefits, and drawbacks. At that point, we'll have a clear picture of what we're dealing with. Let's get started!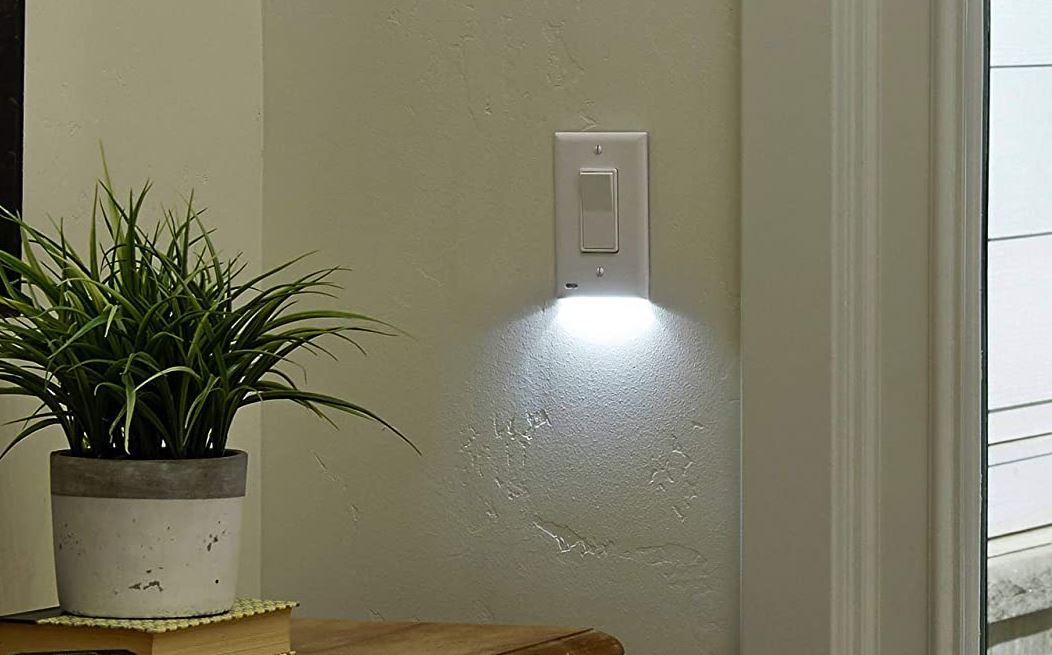 Single-Pole vs. Three-Pole Switches
Before we talk about any specific light switches, let's cover the basics. Different switches are suitable for different situations. Even the best-engineered switch will be a total dud if it's not the right type for your application. Perhaps the most important difference is between single-pole and three-pole switches. So, how do you know which one you need? One shortcut is to look at your switch. If it has "on" and "off" markings, it's a single-pole switch. If it doesn't, it's probably a three-pole switch. Another option is to look at how the light fixture works. If it's only controlled by a single switch, it's a single-pole. If two or more switches control the same light, it's a three-pole.
This has implications for how the switch is wired, too. Because a single-pole switch is the only one on the circuit, it has two distinct positions: on and off. As a result, the inner workings of the switch are simple, like the switch in an elementary school electric kit. There are two wires that run into the back. One connects the power supply to the switch, while the other connects the switch to the light. Both wires are typically black, although they can be red as well. The two terminal screws will both be brass. There's also a third ground terminal. There's no neutral terminal, since the neutral wires bypass the switch. When the switch is "on," a set of contacts connect the two hot terminals, completing the circuit. When the switch is "off," the contacts will be out of position, and the circuit will be open.
Three-pole switches, sometimes called "three-way" switches, are a little more complicated. Since there are two switches on the circuit, the internal workings are more complex. Either switch can be "on" or "off" in either position, depending on the position of the other switch. These switches will have the same two brass terminals as a single-pole switch. However, there's also an additional black terminal. This is used to run a "traveler wire," which has three cables inside instead of the usual two. This third hot cable is connected to the two black screws on the switches.
Installing a three-pole switch can be challenging if you've never done it before. Anyone with a little bit of electrical experience can manage a single-pole switch just fine. But unless you're an experienced electrician, it's best to hire someone to do your three-pole switch. If you do it yourself, you could end up with a safety issue – or with a switch that doesn't work.
Which type of switch is best for you depends on the room. If the only switch is at the entrance, a single-pole switch is going to be perfect. That said, you might have switches on both ends of a hallway, or at the top and bottom of your stairs. In that case, you'll need to use three-pole switches.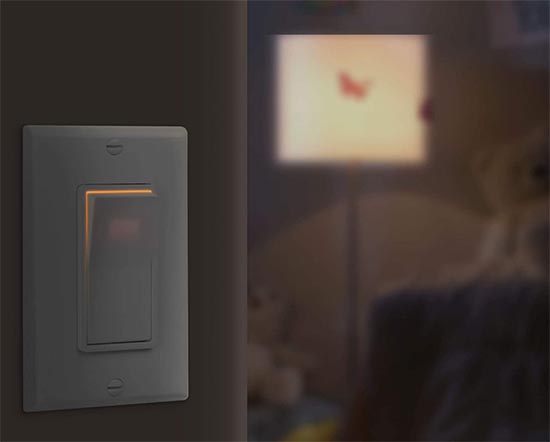 Toggle Switches vs. Rocker Switches
Choosing between single-pole and three-pole is a matter of practicality. Depending on your configuration, you don't really have a choice. Choosing between toggle switches and rocker switches, on the other hand, is a matter of preference. In fact, the wiring requirements for the two styles are identical. You can wire both types into the same basic circuitry. And both types are designed to fit inside the same standard-sized electrical boxes.
The main difference between these switches is cosmetic. Toggle switches are what you'll typically find in most older homes and pre-existing construction. These are little nubs that stick out of the middle of your switch plate, and flip up and down. A rocker switch, on the other hand, is a wide, slightly angled bar that occupies most of the switch plate. Both work in much the same way. They flip one direction to turn off, and the other to turn on. Or, in the case of a three-pole switch, they can go either direction. The only major difference here is that toggle switches tend to be a little bit louder than rocker switches.
In terms of cost, toggle switches tend to run a bit higher, but only a bit. Considering how affordable switches are, the price difference isn't that big of a deal. And since you're dealing with the same internal circuitry, there's no difference on your electrical bill. On the other hand, rocker switches can be a better choice if you're looking for high-amperage switches. Options for 20- and 45-amp switches are fairly limited in toggle switches. So if you're installing switches for a large, commercial operation, rocker switches will tend to be the better choice.
For ordinary residential applications, you're really looking at a matter of preference. Rocker switches are a bit more versatile. Because they don't draw as much attention, they can blend into more décor schemes. On the other hand, toggle switches allow for a more visible switch plate. If you want your switch plates to act as accents, a toggle switch can be a better choice. Another benefit of toggle switches is if you're going for a retro look. Some brands offer metallic options that really pop. Now, let's take a look at each of these light-up switches!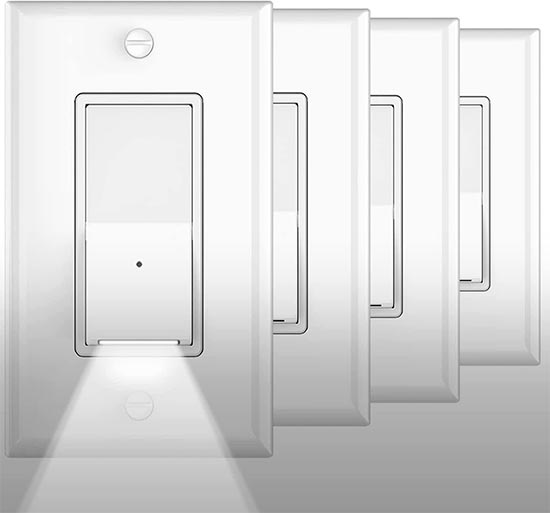 SOZULAMP Illuminated Light Switch
The SOZULAMP Illuminated Light Switch is a plain white rocker switch with a glossy finish. This finish is easy to keep clean, which is important for any high-contact surface. It also does a reasonably good job at resisting fingerprints. It also comes in a four-pack, so you can wire a few different rooms with one package. Keep in mind that while the marketing material shows a switch and plate, there are no switch plates included. Then again, you can use any standard rocker-style switch plate.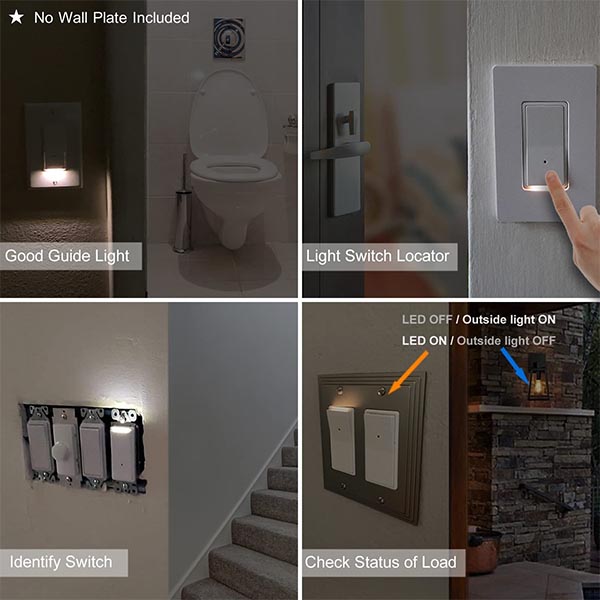 On the bottom edge of the switch, there's an LED light bar. This bar shines down and illuminates your floor when the switch is off. However, this only draws power when the room is dark. There's a little light sensor on the front of the switch that shuts the light off when it's light in the room. In fact, the LED's brightness will actually adjust depending on the room brightness. You can order the switch with a daylight white or warm white light, whichever suits your fancy. As an alternative, it can even be installed with the light facing upwards, which creates an attractive highlight.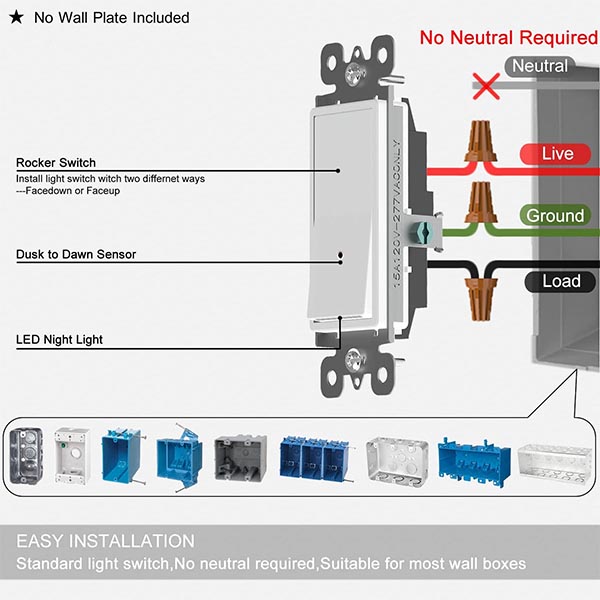 This is a single-pole switch, with a standard rating of 15 amps. This makes it suitable for most ordinary residential circuits. One thing we really liked was the self-grounding feature. When installing into a metal junction box, the clip will automatically ground the switch, with no wire required. If your junction box is plastic, you can still use the green grounding screw, instead.
This is a great switch if your primary need is illumination. But what if you want your lights to turn on and off automatically? In that case, you've got options. An automated light switch timer will get you sorted out in no time.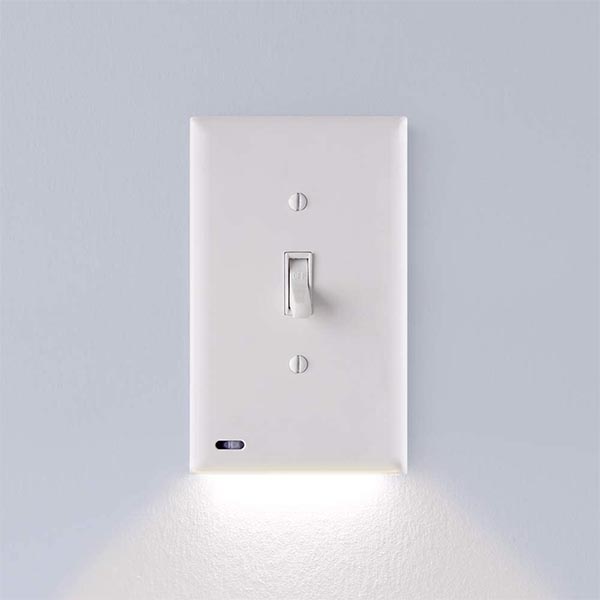 SnapPower SwitchLight
The SnapPower SwitchLight is a bit different from our other options. Instead of a light switch, it's a simple illuminated switch plate. It has a smooth, easy to clean finish, and is available in three colors: white, light almond, or ivory. That way, you can match just about any pre-existing light switch. You can also scale easily to multiple rooms, since it comes in a single, 3-, 5-, or 10-pack. It's also available in both toggle and rocker variants, for near-universal compatibility.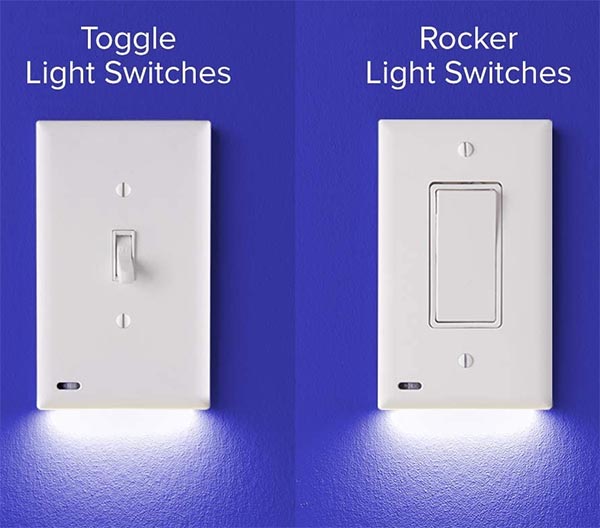 Operation is simple and straightforward. There's a light sensor on the front of the panel, which turns the LED light on whenever it gets dark. The LED light bar itself is located on the bottom of the plate, so it lights up your floor when it's shining.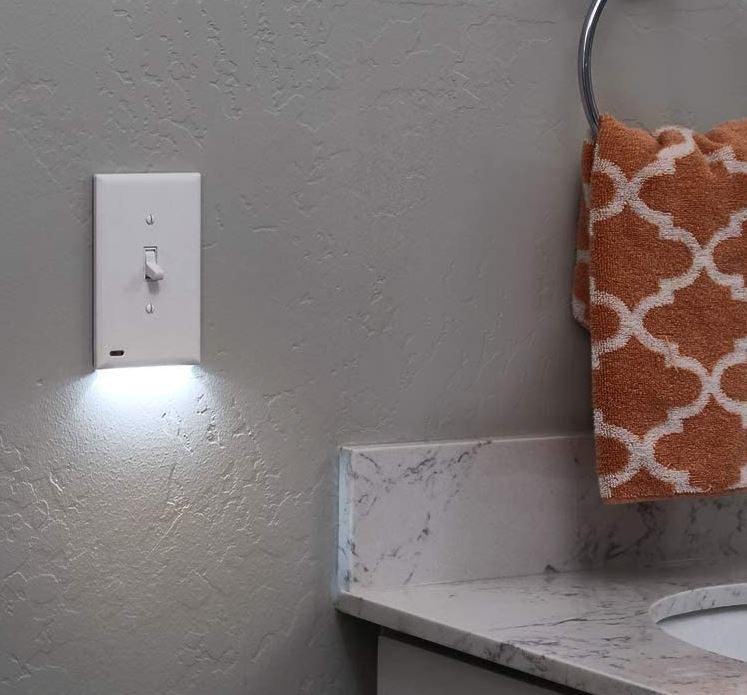 The thing we liked most about the SwitchLight is how easy it is to install. Instead of having to wire it in, it simply snaps on to the contacts on your existing switch. All you have to do is remove your own switch plate, and screw this one in. Unless you have an unusual switch, you won't need any electrical expertise whatsoever.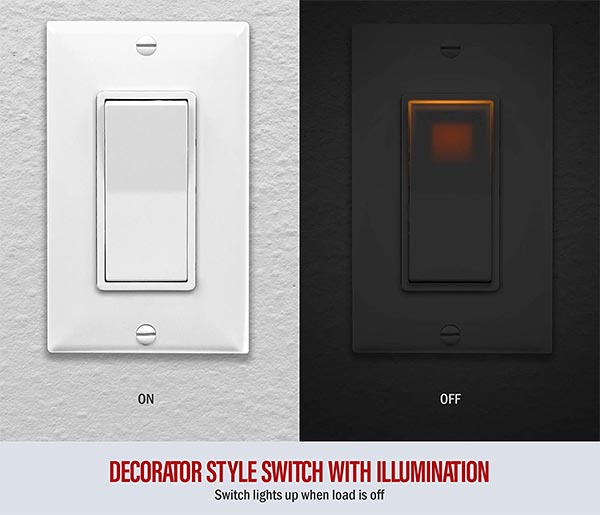 ENERLITES Illuminated Paddle Light Switch
ENERLITES is an electrical equipment manufacturer that produces a variety of high-quality fixtures. In the past, we reviewed their motion sensor light switch, and we were generally impressed.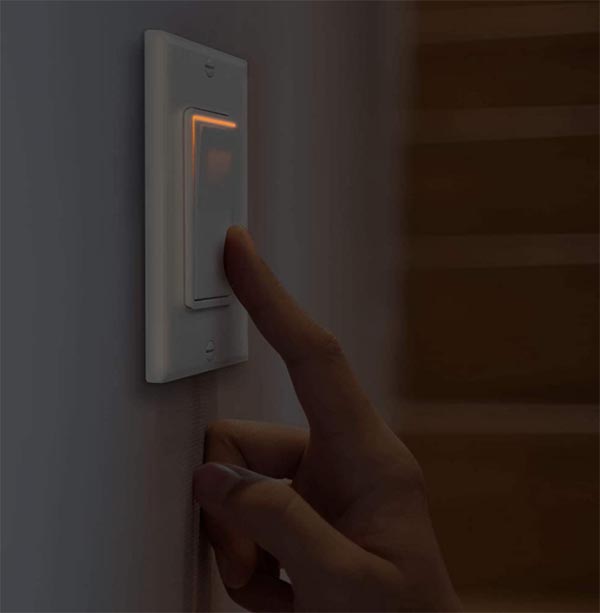 The ENERLITES Illuminated Paddle Light Switch is a single-pack rocker switch, available in five colors. These include white, ivory, almond, grey, and black, so you can match any décor scheme. In addition, you can choose between a single-pole and three-pole version, for installation under different circumstances. Not only that, but the mounting yoke is well-designed and easy to attach. The switch is even covered by a 12-month warranty, to protect you from premature failure.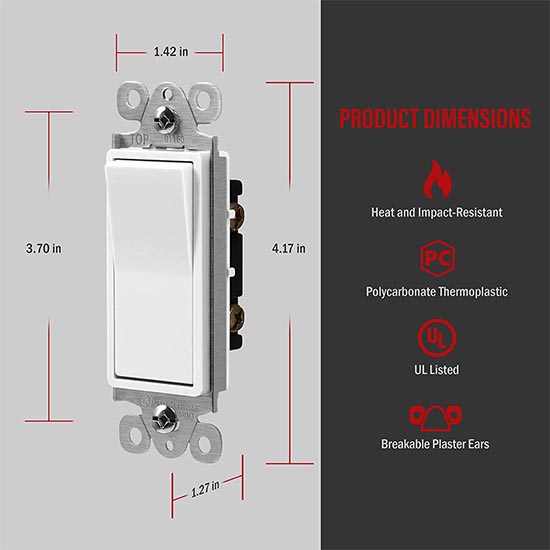 This switch is not designed to light up the surrounding area. Instead, the LED light is behind the semi-transparent switch material. When the switch is off, the light will be active, so it's easy to find in the dark. When the switch is on, the light will turn off to save power.
Final Verdict
So, which one of these illuminated light switches is right for you? The SOZULAMP Illuminated Light Switch is great if you're installing new switches. Provided you don't need a triple-pole switch, you'll be able to wire it in with ease. And thanks to the light sensor on the front, the LED won't waste power when it's light out.
The SnapPower SwitchLight, on the other hand, is the easiest to install. Since you don't need to wire anything in, even a total novice can install it in a few minutes. And since it works with toggle or rocker switches equally well, you'll be well set up for any situation.
The ENERLITES Illuminated Paddle Light Switch is a little bit different. It's not much use if you need a switch that lights up your room. On the other hand, it's very easy to find in the dark, and it has multiple colors to fit any color scheme.