Bob and Brad D6 Pro
Pros
Seven ergonomic massage tips.
Powerful motor with high stall force.
16mm range of travel.
Very quiet operation.
Adjustable angle for an easy reach.
Cons
Relatively weak battery life.
Attachments smell when they're first opened.
Glossy area near tip tends to attract fingerprints.
Everyone loves a good massage. If you can visit a masseuse on a daily or weekly basis, it can significantly reduce your stress levels. Even an automatic massager can provide similar relief and relaxation. We have it on good authority that many people take out gym memberships just for the massage beds. And it's tough to criticize that investment. There's nothing quite like enjoying the relaxation that comes from a deep massage.
But going to a masseuse or a gym isn't always practical. Maybe your local gym is out of your way and always crowded. Maybe you have more pressing things to spend your money on than a visit to a masseuse. Whatever your reasons, having a massage gun at home can be an easy solution. You can give yourself a massage at any time, and you can target that massage to the areas that need it most.
We're about to review the Bob and Brad D6 Pro. This is a handheld percussion massager with a powerful motor that can apply a lot of intensity. Despite this, it's very quiet, and the seven massage tips provide plenty of versatility. But there are many things that go into making a good massage gun. Does this one check off the right boxes, or does it leave something to be desired? Let's take a closer look, and see what we find!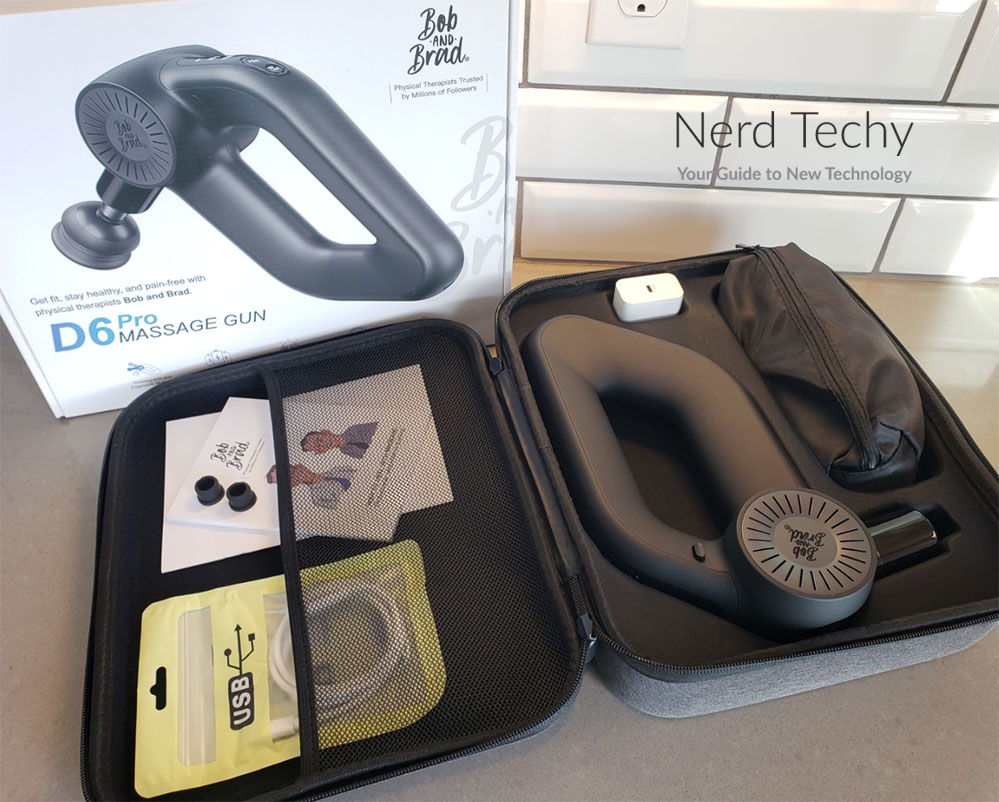 Overall Design
The Bob and Brad D6 Pro has an unusual shape. Most massage guns are T-shaped, with a long grip and a right-angle extension for the massage head. This massager, on the other hand, has a rhombus-shaped frame. This provides a versatile grip that you can hold at many angles. Furthermore, the massage head at one corner is adjustable. You can tilt it 90 degrees, which makes it even easier to get the exact angle you need.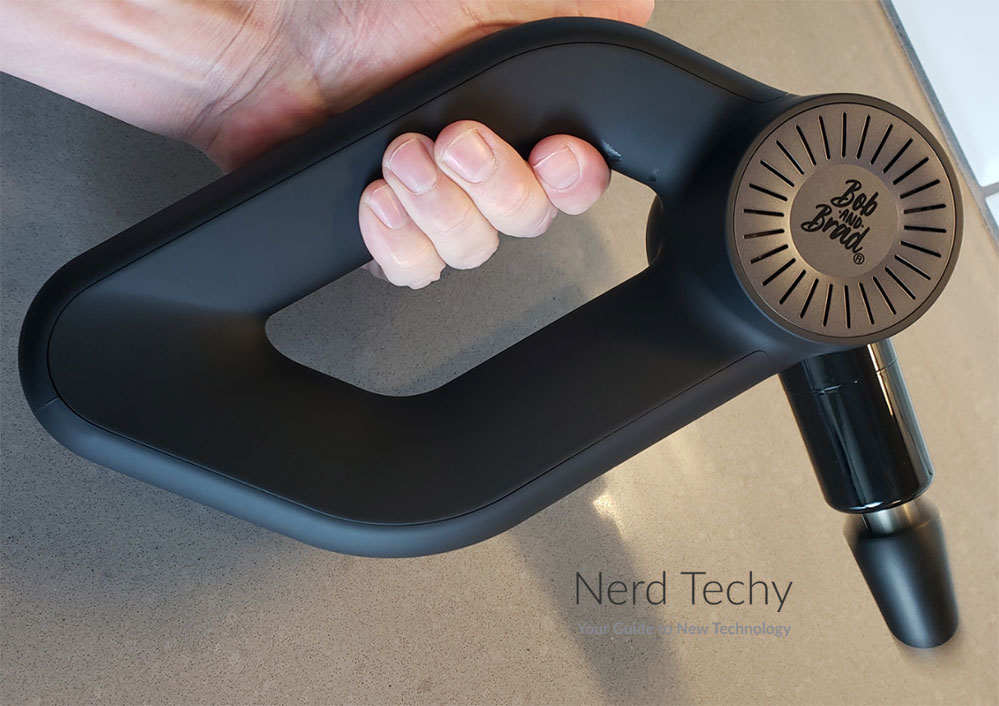 The matte finish is easy to grip as well as easy to keep clean. It doesn't attract dust, and it won't collect fingerprints the same way the glossy finish will that's near the hole to insert each attachment. The frame measures 10.5 inches on the longest side and 7.5 inches on the shortest side. It's only 3.1 inches wide including the motor, which is a good size for wrapping your hand around. And at a mere 2.8 pounds, it's light enough to manipulate easily and hold in any position.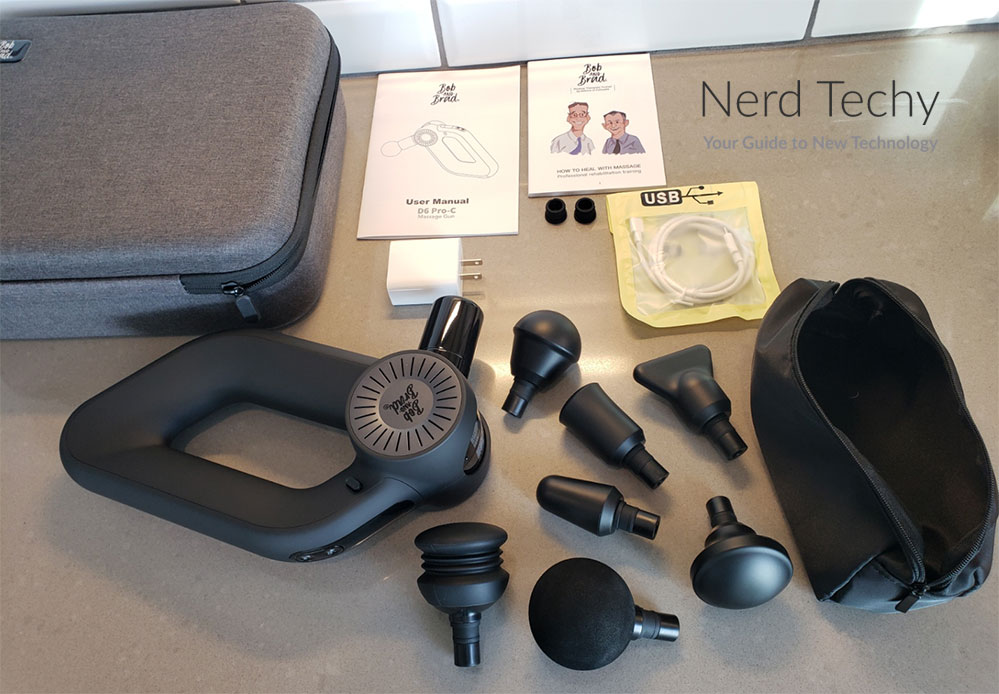 Along with the massager and the heads, the kit includes a carrying case. It's made out of grey nylon, with a soft but durable shell. It has a zipper closure, which keeps the entire kit secure when it's not in use. The inside is padded with thick foam, with cutouts for the massager and attachments.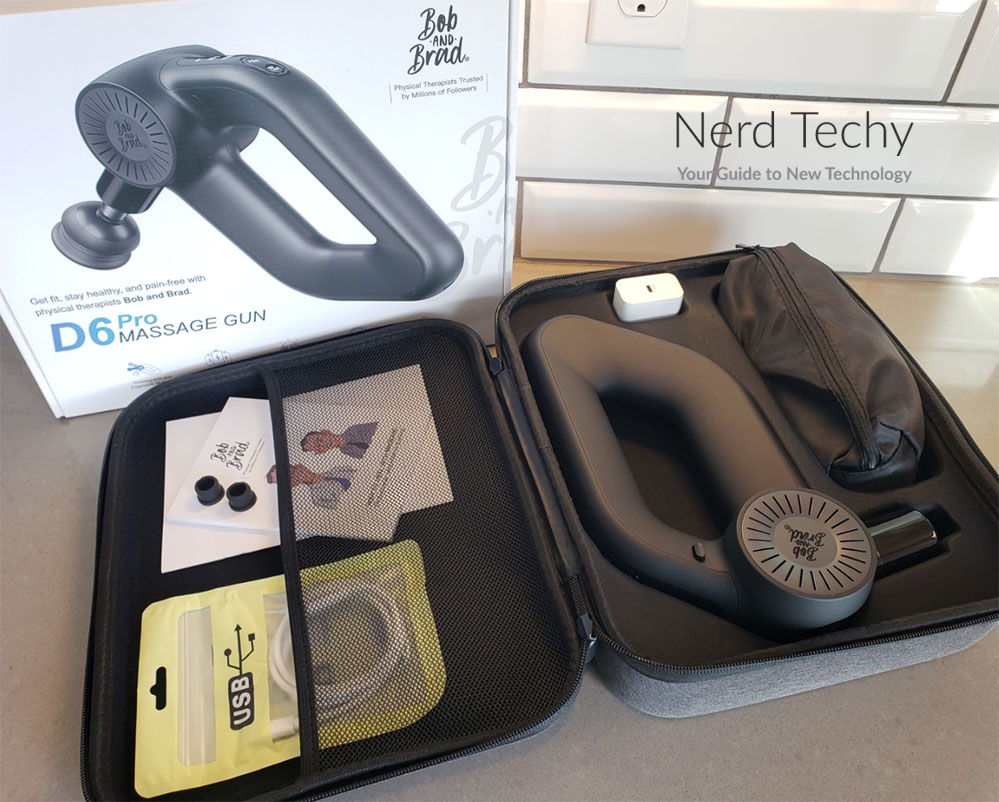 This makes it ideal for travel and transport, since even a drop won't cause any damage. And if anything does go wrong, the massager is backed by a 12-month manufacturer's warranty. If it fails prematurely due to a defect in parts or labor, you'll receive a refund or a free replacement.
If you want something a little bit smaller, consider the Bob and Brad X6 Pro. It's ultra-compact and quiet, but still provides a powerful massage with a high stall force. On the downside, it has a relatively short stroke length, and the proprietary charging cable can be hard to replace.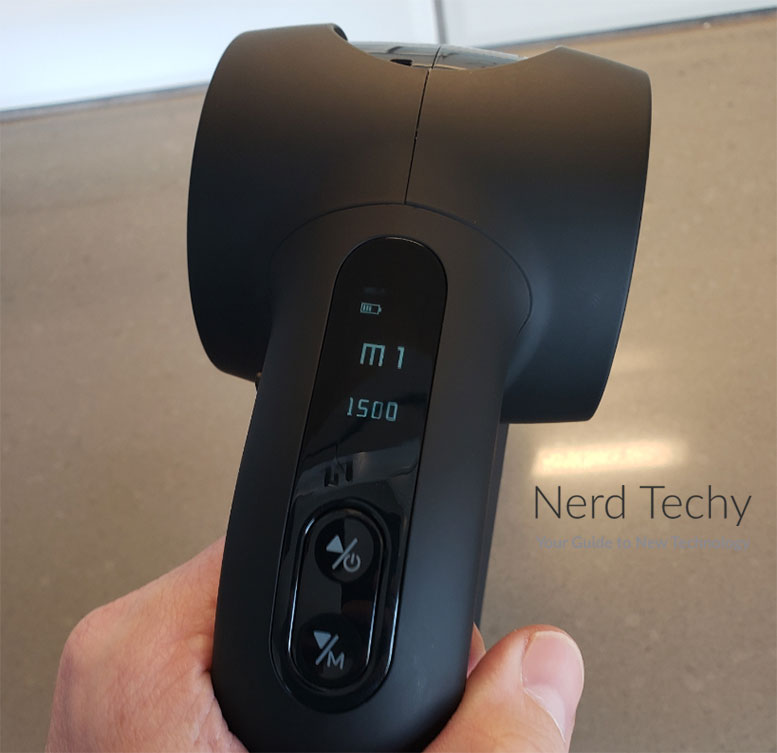 Controls and Operation
Controlling the D6 massage gun is straightforward. There's a pair of buttons on the back of the grip, behind where the massage head attaches. The top button turns the power on and off, while the bottom one can be used to select different massage modes. By default, the massager will begin operating in a pulsing pattern, but you can change this with the button. The top and bottom buttons also double as speed controllers to adjust the intensity up and down.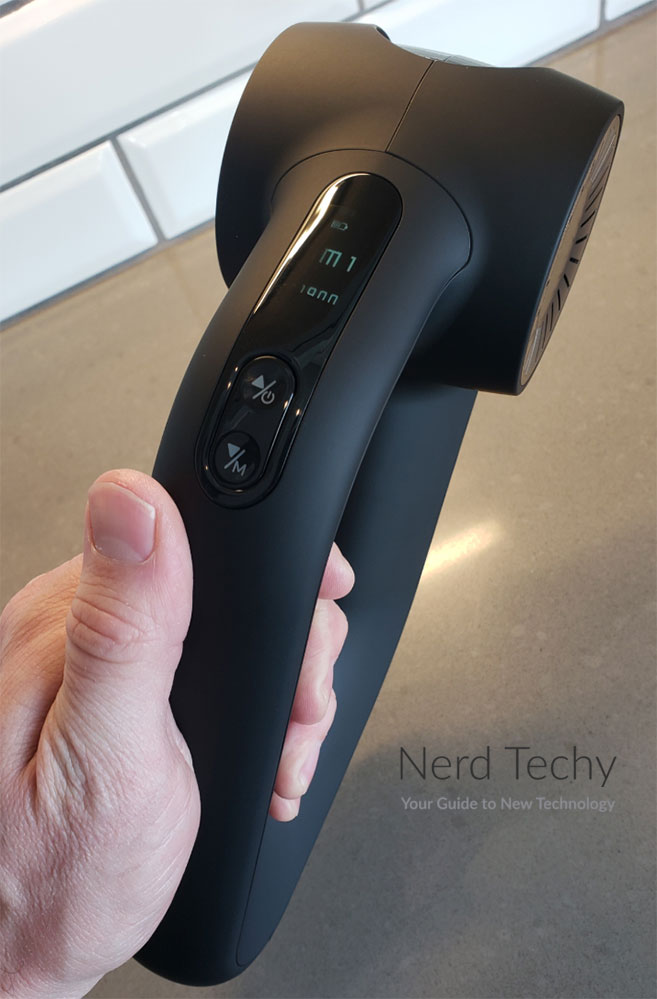 In front of the buttons is a blue on white OLED display. This display shows a variety of important data, including a battery meter at the top. You'll also see your current speed setting and force level. And if you're running one of the four built-in massage routines, you'll see which one you're using. As a result, it's easy to know what's going on with your massage gun and make changes on the fly as necessary.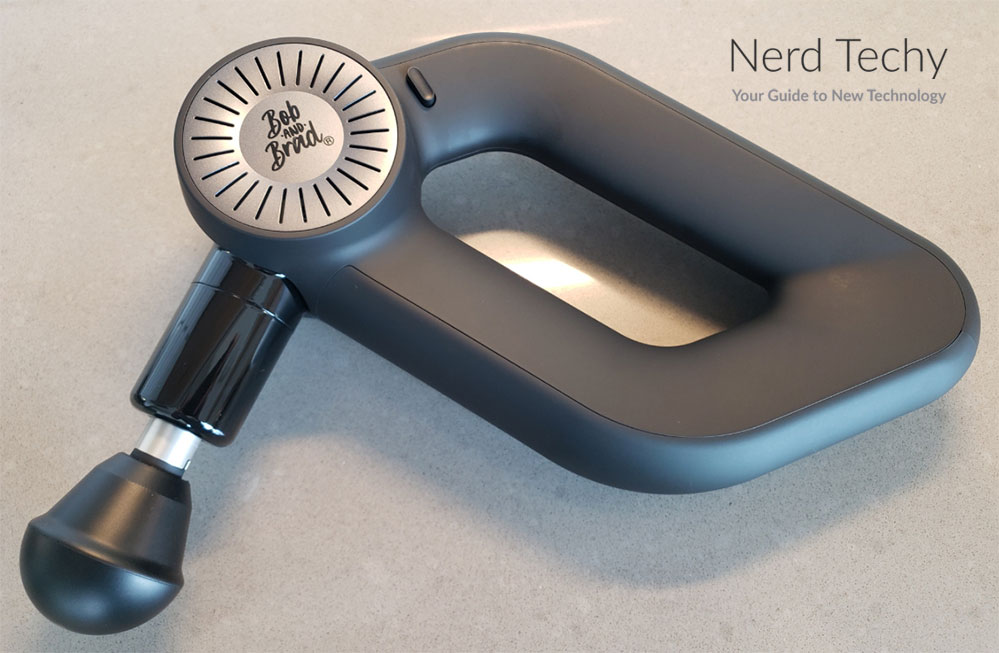 On one side, there's a small button that can be pressed inward. It'll let you adjust the angle of the massager and pivot it into a position that makes certain areas easier to reach. The way it adjusts is very smooth and easy to access without accidently activating it.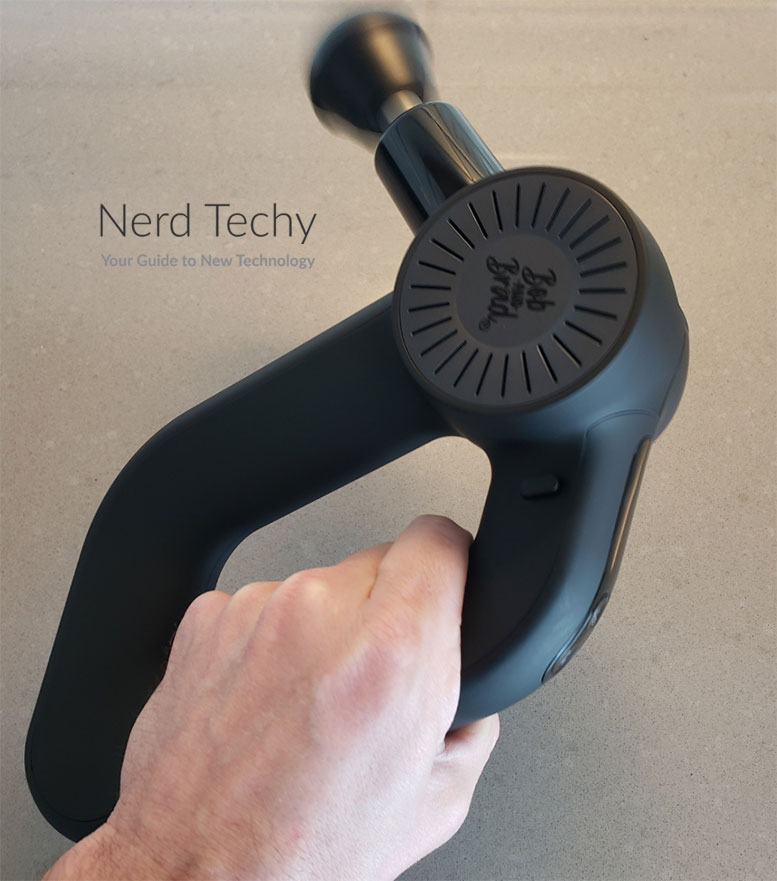 The motor can be adjusted to six speeds: 1,500, 1,700, 1,900, 2,100, 2,300, and 2,500 RPM. This is actually a fairly narrow range compared to many massagers. On the other hand, you get to fine-tune your impact rate more closely within this narrow range. With a wider range and the same number of settings, you'd get less ability to pinpoint your massage speed.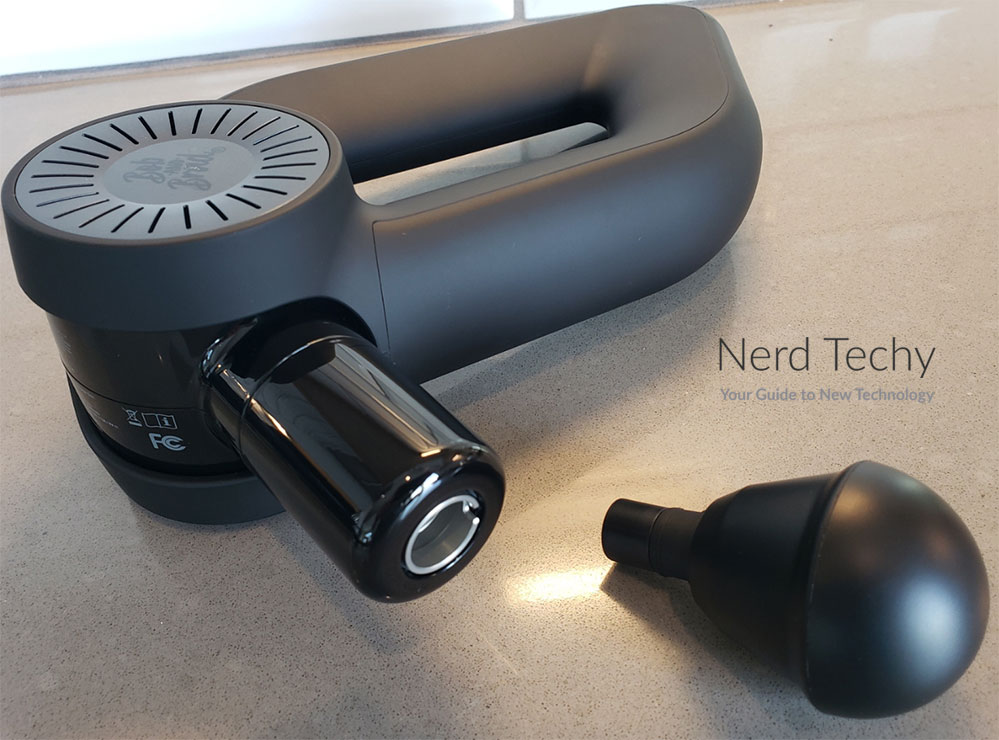 At the same time, the motor has a stall force of 85 pounds. This means you can apply up to 85 pounds of pressure on the massage head before the motor stalls out. As a result, you can press down hard on knotted muscles and other soft tissues. You can isolate specific problem areas and apply a lot of pressure to relieve your problems.
Even with this high stall force, the massage head has an impressive 16mm range of travel. This means it oscillates across a 16mm distance, so it can penetrate deep into tight muscles and other tissues. And despite all this, the motor is very quiet. It's 20% less noisy than comparable competing massagers, so you can get relief without waking up the whole house.
Massage Attachments
The D6 massage gun ships with seven different massaging heads. These heads are composites, made from a combination of ABS plastic, polyurethane, and silicone. They're not all solid like the heads you'll get with a lot of massagers. Unfortunately, the heads are smelly when you first open the package. But the smell disperses relatively quickly if you let them air out for a few days.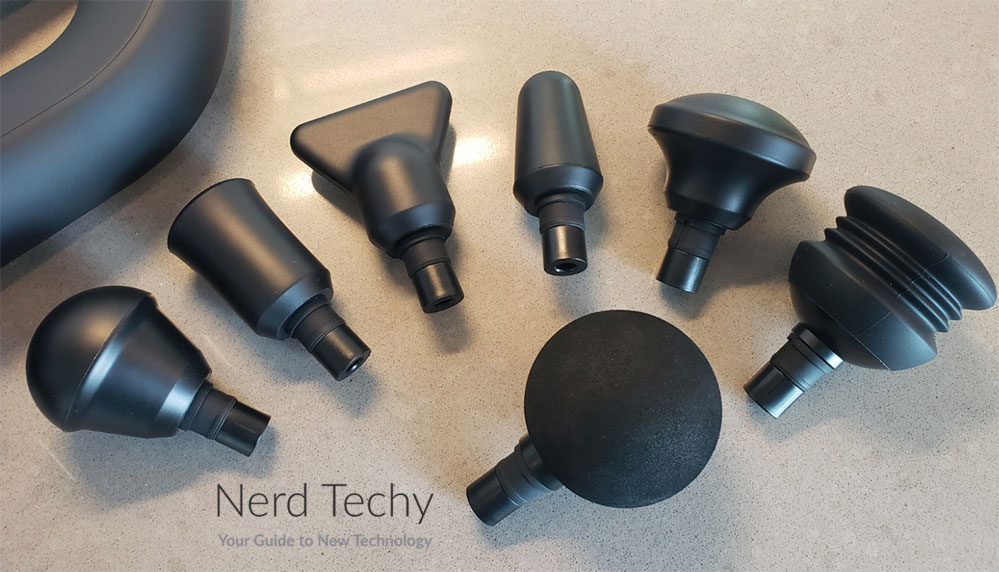 All seven heads have their own unique design and applications. Here's a quick overview:
The first head has a mostly-flat tip with a broad profile and a thick body. The body is made of compressible silicone, so it provides a more gentle massage across a wider area.
The next is a flared head with a blunt, rounded end. It has a similar diameter to the first head, but the blunted design puts more pressure on the center. There's also less cushion, so you get a firmer massage.
The third attachment is a long cylinder with a flared end. This provides a more targeted massage while still blunting the impact to some extent.
Next is a long, tapered tip with a much smaller rounded end. This tip is highly targeted, and you can put the triangular tip exactly where you need it.
The fifth attachment is a broad, curved tip with a smooth rounded end. It covers a larger area, although it's not quite as gentle as the padded silicone tip.
After that, you'll find a wedge-shaped attachment with the broad part of the wedge at the front. This is better for covering longer areas, but is narrow enough to bite into the backs of knees and elbows.
The last attachment is a soft spherical tip. This is a generic tip that's suitable for most purposes but ideal for few. Even so, it's the one you'll probably use most often.
Looking for something a little bit smaller and more portable? In that case, check out the Merach M1S. It's ultra-compact and portable, with silicone heads that are both gentle and effective. It also has an aluminum housing that can take a serious beating. On the down side, it has no carrying case, and the stall force is relatively low.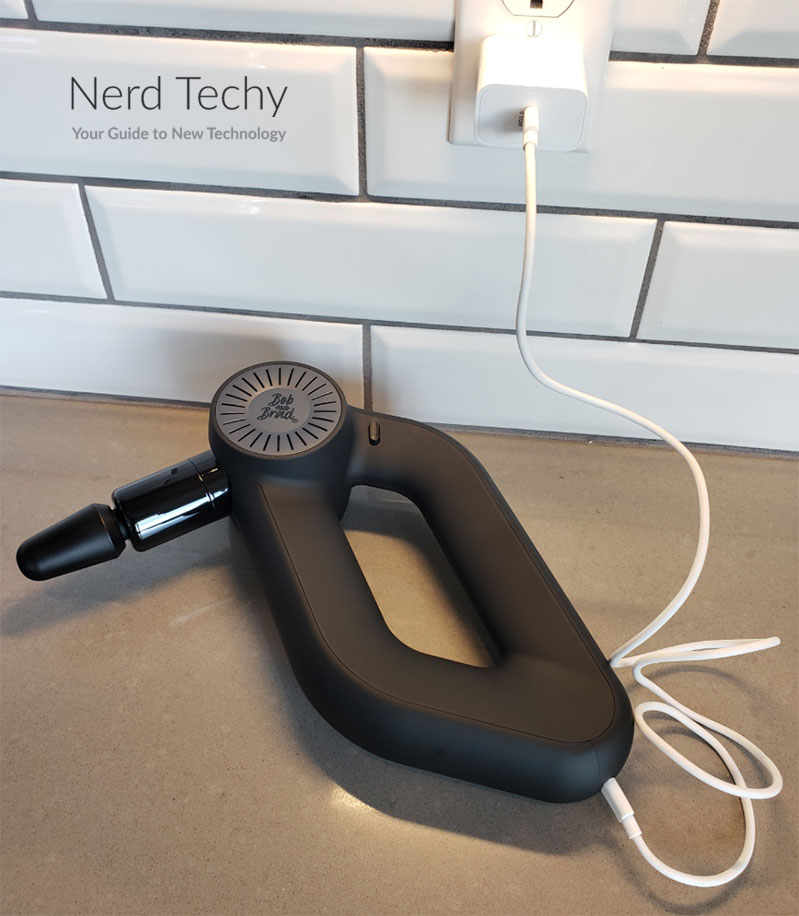 Battery and Charging
The Bob and Brad has an internal rechargeable battery that's rated for three hours of use. This is technically accurate, but only if you're running on the lowest setting. In practice, for most applications, you can expect about an hour of use per charge. This is problematic if you're a professional masseuse, since you're going to run out of juice. But if you're just using the massage gun for personal purposes, it will have more than enough battery life. Recharging is easy, with an included fast USB-C charger that quickly tops off the battery.
If you need a longer-lasting battery, take a look at the Bob and Brad T2. It lasts for up to five hours on the lowest setting, and will run for two hours at maximum speed. It's also more compact and easier to manage. Then again, its 10mm stroke length is pretty short, and all the attachments are hard plastic.
What's the Deal With Percussion Massage?
Before we finish, let's talk about the benefits of a percussion massager. Why might you choose to use one rather than an ordinary vibrating massager?
A vibrating massager moves from side to side. It oscillates your skin and muscles and relieves tension near the surface. A percussion massager, on the other hand, moves up and down. While it doesn't cover as wide an area, it can reach deeper tissues that a vibrating massager can't access.
A vibrating massager is similar to a Swedish massage. It can cover a large area fairly quickly and relax your most frequently-used muscles. A percussion massager, on the other hand, is more similar to a Shiatsu massage. It can dig down deep into your tissues and work out knots and tightness. It can even be used to break up scar tissue, which a vibrating massager can't.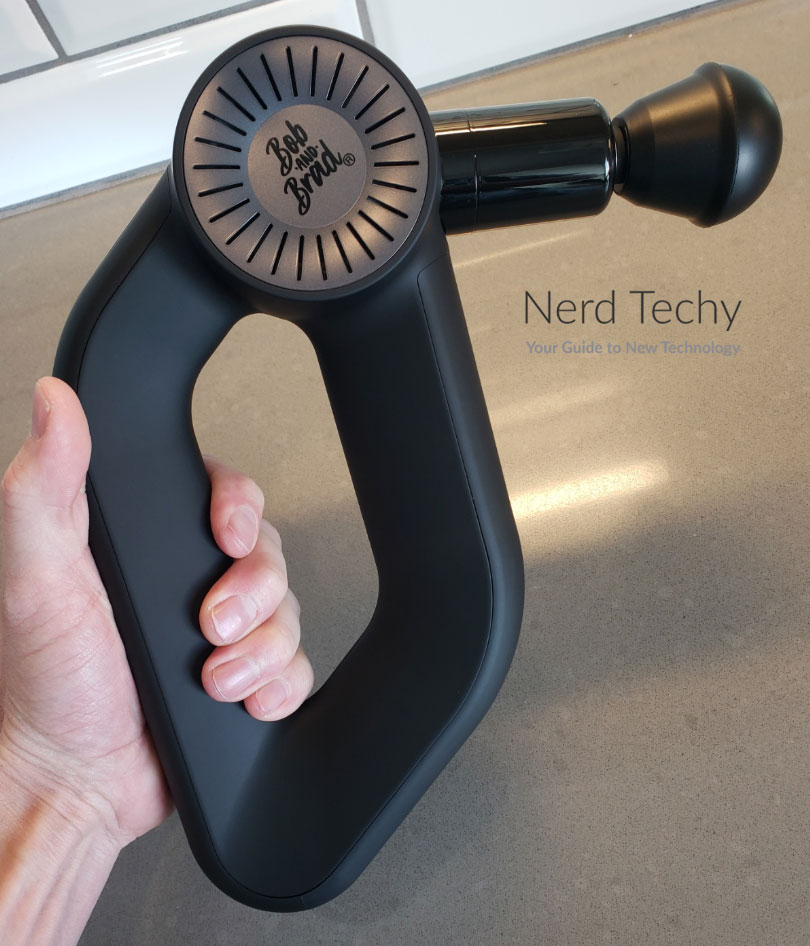 Overall Experience Using the D6 Pro
The Bob and Brad D6 Pro is one of the most robust percussion massagers we've looked at. The 85-pound stall force is particularly impressive, as is the 16mm stroke length. While the RPM options have a narrow window, there are several speed settings. And the attachments are top-tier, with seven high-quality options to choose from.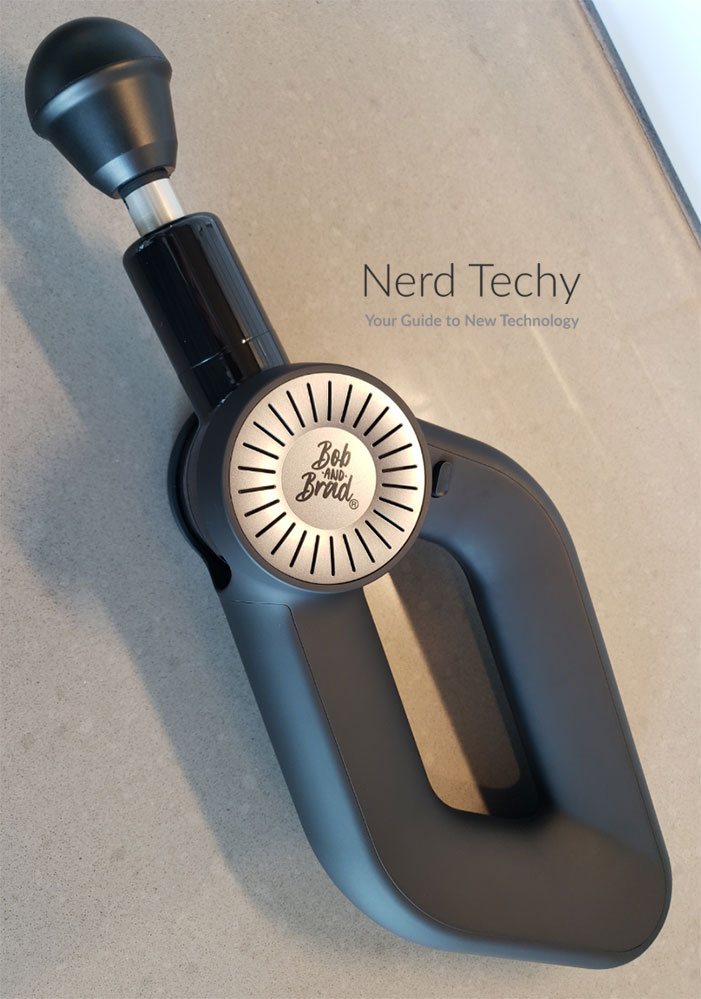 All in all, the D6 Pro is a high-end massage gun. The amount of power it provides is excellent. Having the ability to pivot the angle is the real game changer and the amount of attachments they give you is wonderful. There seems to be a proper attachment for virtually any scenario.
We really liked the adjustable head and the rhombus-shaped frame. These features make it easy to handle the massager and use it where it's needed. And with straightforward, simple controls, operation is as easy as it gets. And while most of the unit is covered in a matte material, there's only a small area that can attract fingerprints.
Overall, you're looking at a high-quality option that can easily provide relief and comfort to the sorest of muscles. To say we were impressed is accurate; this is the kind of percussion massage gun that we would easily recommend to anyone who has the budget.