Bob and Brad X6 Pro
Pros
Rugged titanium drive shaft.
Quiet brushless motor.
Comfortable, ergonomic design.
Comes with 5 massage tips.
Relatively quick charge-times.
Cons
Relatively short 10.5mm stroke.
No auto-shutoff feature.
Uses a proprietary DC charging cable. rather than USB-C.
If you lead a physical lifestyle, you probably have sore muscles by the end of the day. Maybe it's because you spend a lot of time at the gym. Maybe your job itself puts a lot of stress on your body. Or maybe you love to go rock climbing or mountain biking.
Regardless of the exact reason, knots and pain in your muscles can make it harder to get moving. Without some kind of relief, your body will eventually force you to take a break. Thankfully, there's a way to work those kinks out. A good massage will give you just the relief you need, so you can get back in the saddle.
But not everyone can go to a professional masseuse every day. It sounds like a great idea, but it's not cheap, and you may have to drive out of your way. Along the same lines, a lot of gyms have massage tables and other similar services.
But what do you do when you're on the road, or if work prevents you from getting to the gym every day? In that case, an at-home massage device can be the best solution. You can get a massage first thing in the morning, right before bed, or whenever else it's convenient. You can also take one with you on vacation, or if you're traveling for business.
Today, we're going to review the Bob and Brad X6 Pro Massage Gun. This is a percussion massager, which works up and down on your muscles. It also comes with five different massage heads, so you can do multiple massages.
Of course, these are only the broad outlines of a much more complicated machine. To get a full understanding of it, we're going to have to look at several aspects of its design. We'll start by going over the physical build, grip, and other visible features. Next, we'll talk about the controls, and how you use the different massage heads. Finally, we'll talk about the battery capacity, and other power-related features. After that, we'll have a thorough understanding of what we're dealing with. Let's get started!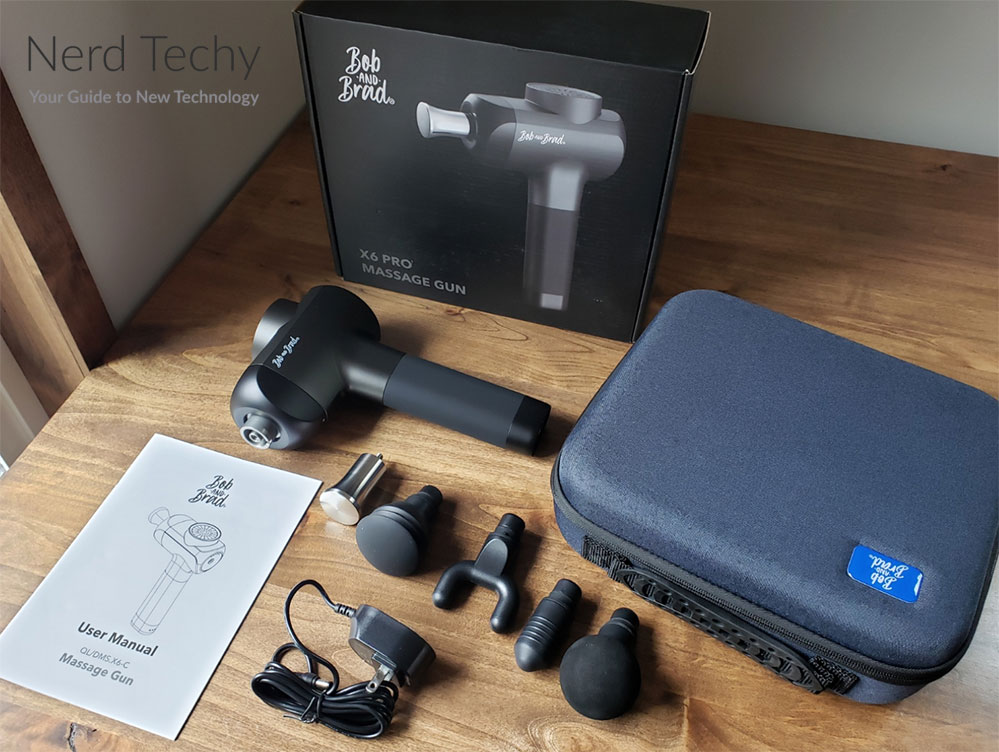 Overall Design
The Bob and Brad X6 Pro Massage Gun has a T-shaped housing with a matte black finish. It's roughly T-shaped, with the vertical portion acting as the handle. The massage head mounts at one end of the T, while the other end serves as a control interface. The total dimensions are 9.61 inches tall, 5.79 inches long, and 2.87 inches thick. At 1.9 pounds, it's lightweight for the size, and it's light enough for easy transport.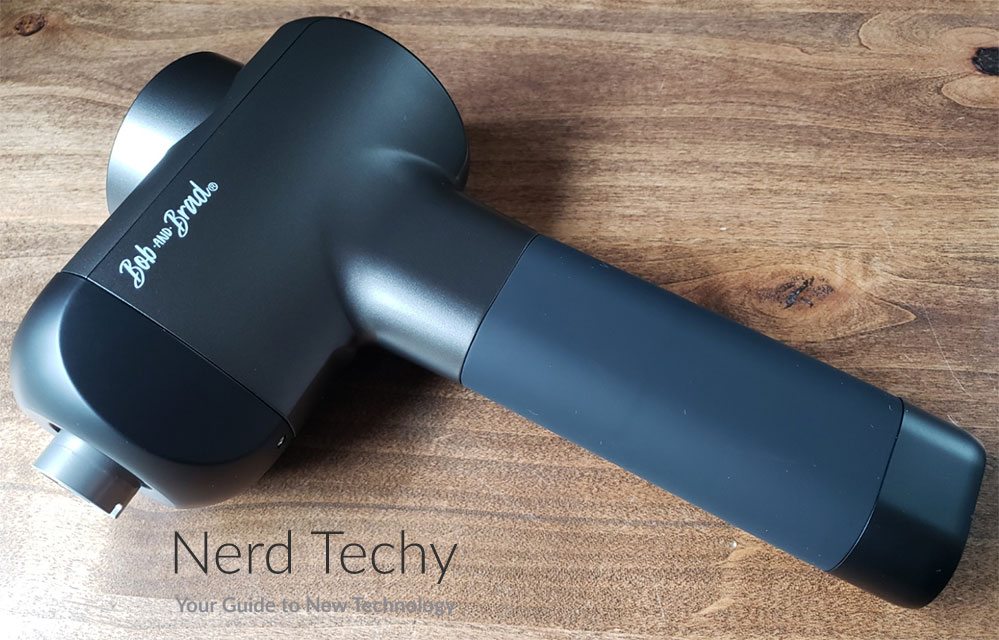 Of course, if you're looking for a dedicated travel massager, there are even more compact options. The Bob and Brad Q2 Mini and C2 are both excellent examples. They're very small, compact enough for almost any journey. On the other hand, they don't have nearly as many features as the X6 Pro.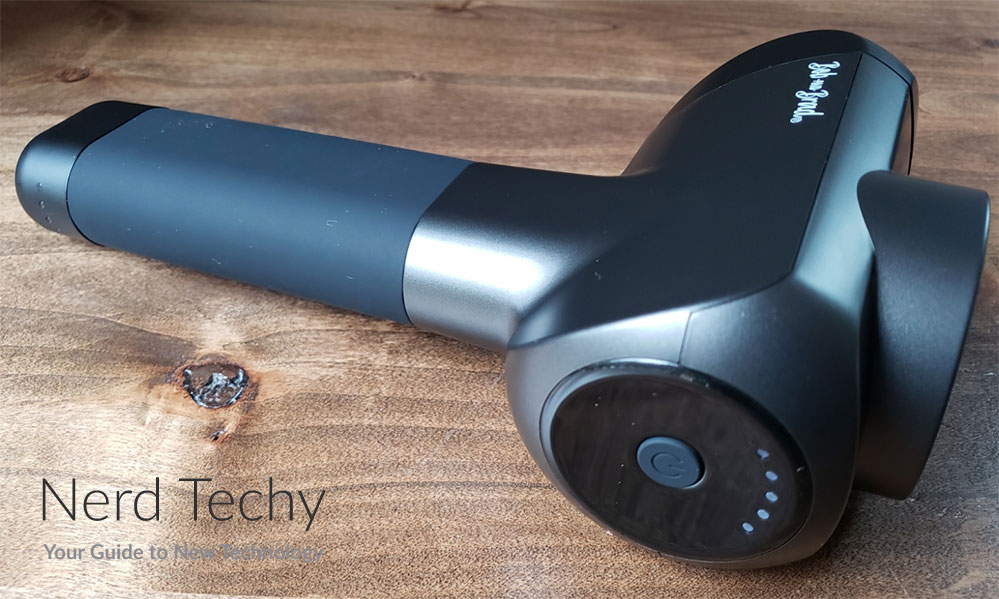 The upper portion of this massager's housing is constructed from a sturdy polymer that's fairly durable. This is an easy-to-clean surface, so you don't need worry about getting sweat or grime on it. The vertical, handle portion is built from a rugged fiberglass that can take a beating. This material is coated with a layer of liquid silicone, which has a smooth, buff finish. It's soft to the touch, providing some cushion as well as a much-improved grip.
One noteworthy feature is the titanium alloy drive shaft. This is the part of the machine that runs from the motor to the massage head, and it takes a lot of abuse. Titanium alloy is just the right material for the job. It's far stronger than steel, so it can take more of a pounding than an ordinary drive shaft. At the same time, titanium is also lighter than steel, so you're getting some weight reduction as well.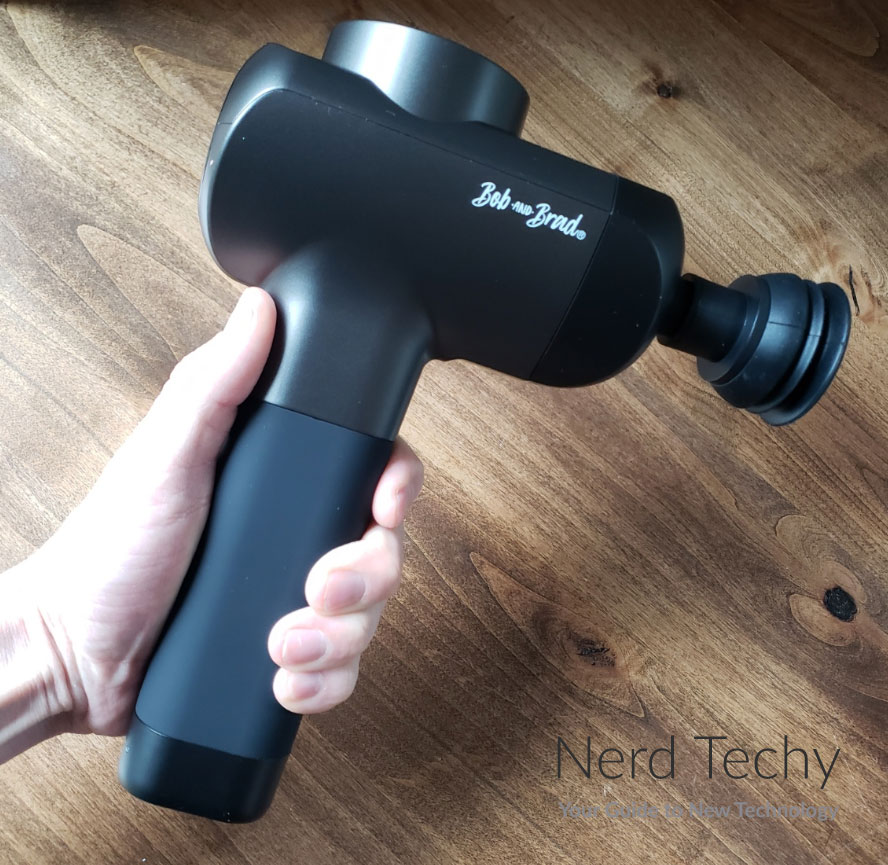 At the back end of the drive shaft is a brushless motor. The brushless design means you don't have to worry about any brushes getting worn out over time. It's surprisingly quiet, and produces only 55dB of noise. This is quieter than ordinary conversation, so you can use it at any time of day.
Along with the massager and the various massage heads, the package includes a carrying case. This semi-rigid case has an attractive blue shell, with a zipper around the outside. There's also a USB cable included, so you can charge the internal battery. Everything is covered by a 12-month manufacturer's warranty. If you have any failures due to a manufacturer's defect, you'll be covered.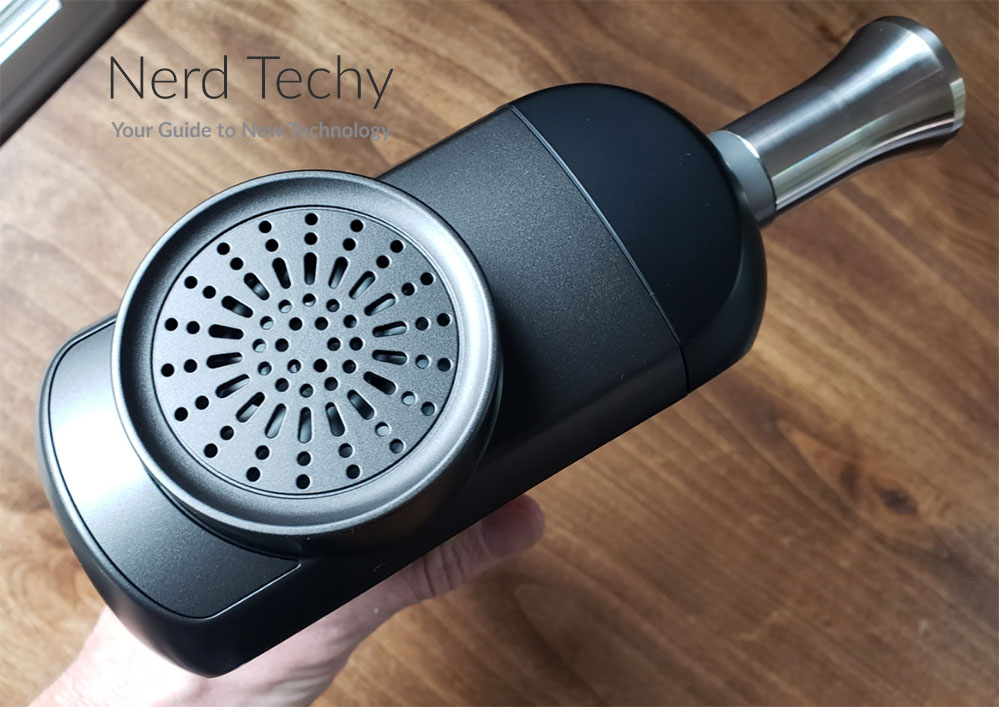 Controls and Operation
The X6 Pro is controlled by a single button on the back end of the housing. This button is located right in the center, and you press and hold it to turn the power on or off. Tapping the button will cycle through five different speed modes. The slowest is 2,000 RPM, and that each level increases in increments of 300 RPM, up to 3,200 RPM. Above the power button, there's an arch of five indicator lights. These lights illuminate one by one as the power level increases.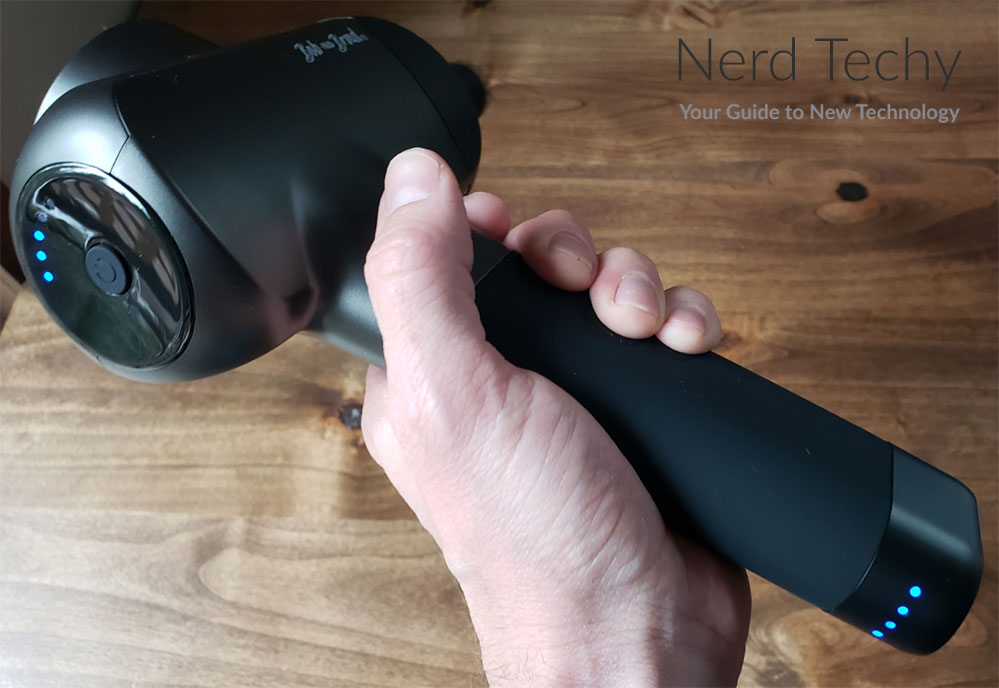 Percussion massager strength is measured in "stall force." Stall force is a measure of how hard you can press down on the gun before the tip stops moving. The X6 Pro has a stall force of 44 pounds, which is relatively strong. You can get a firm, powerful massage, with as much pressure as you desire. Combined with the maximum RPM rating, you can massage tissue as deep as 10.5mm.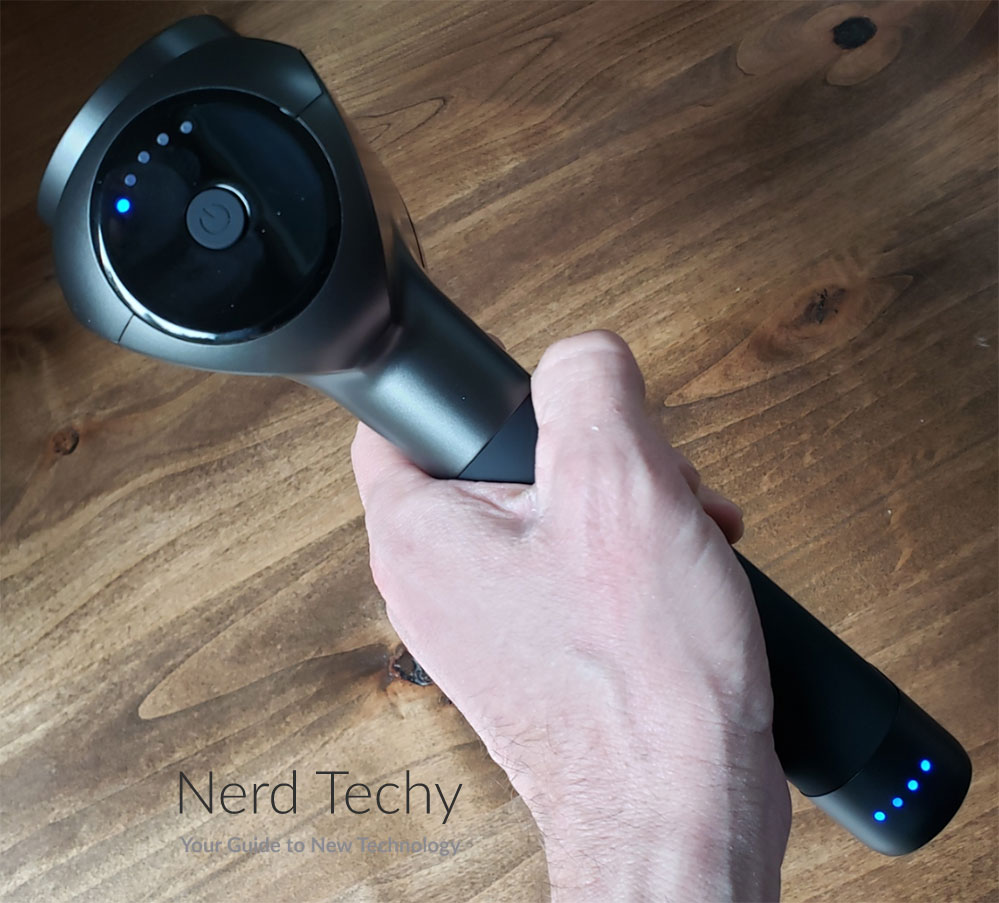 If you want to go deeper, you'll need a faster, more powerful massage gun. In that case, consider the Urikar AT1. With a maximum motor speed of 3,800 RPM, it cap penetrate up to 16mm of tissue. Then again, you'll pay significantly more for that kind of power.
Most massage guns come with four different heads. The X6 Pro comes with five of them. The first is a standard, sphere-shaped head, which is made from a rugged black polymer. It's designed to provide plenty of impact to your tissue, without pressing too hard on any one point. It's great for massaging your quads, calves, and other similar muscles.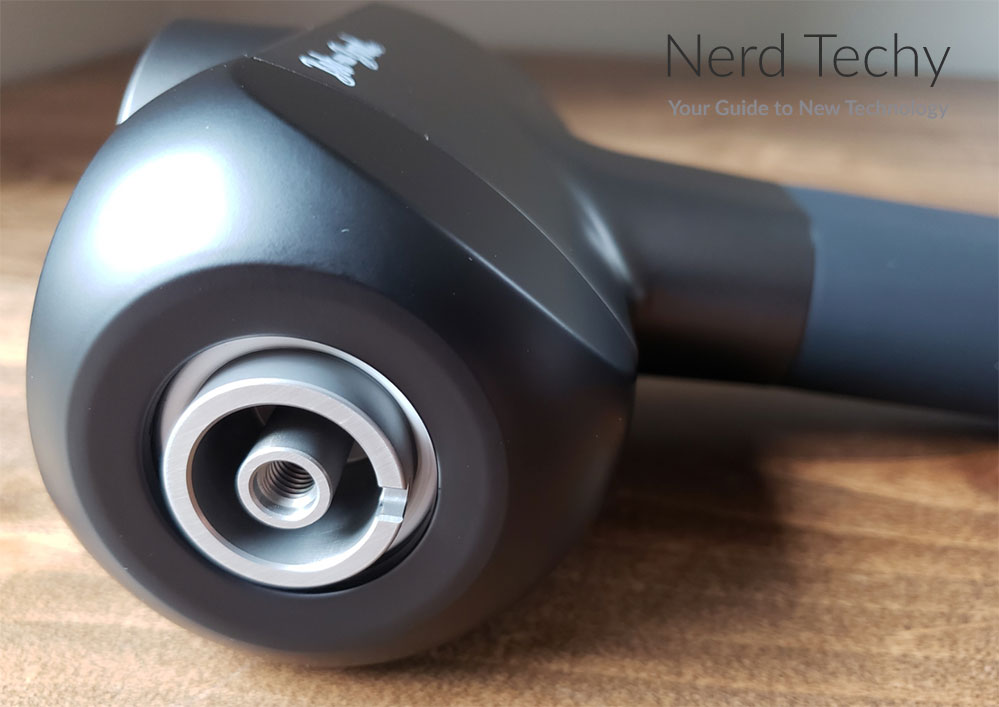 The second tip is a bullet-shaped head, made from a similar black polymer. This is a more targeted tip, designed for joints. If you want to massage your knees, ankles, or elbows, this is the tip you want to use.
The third tip is also made from polymer, with a broad, flared shape and a slightly concave front end. It spreads the impact out wider than the spherical head, and it's great for situations where you want less penetration. This is the tip that gets you closest to an "all-purpose" massage.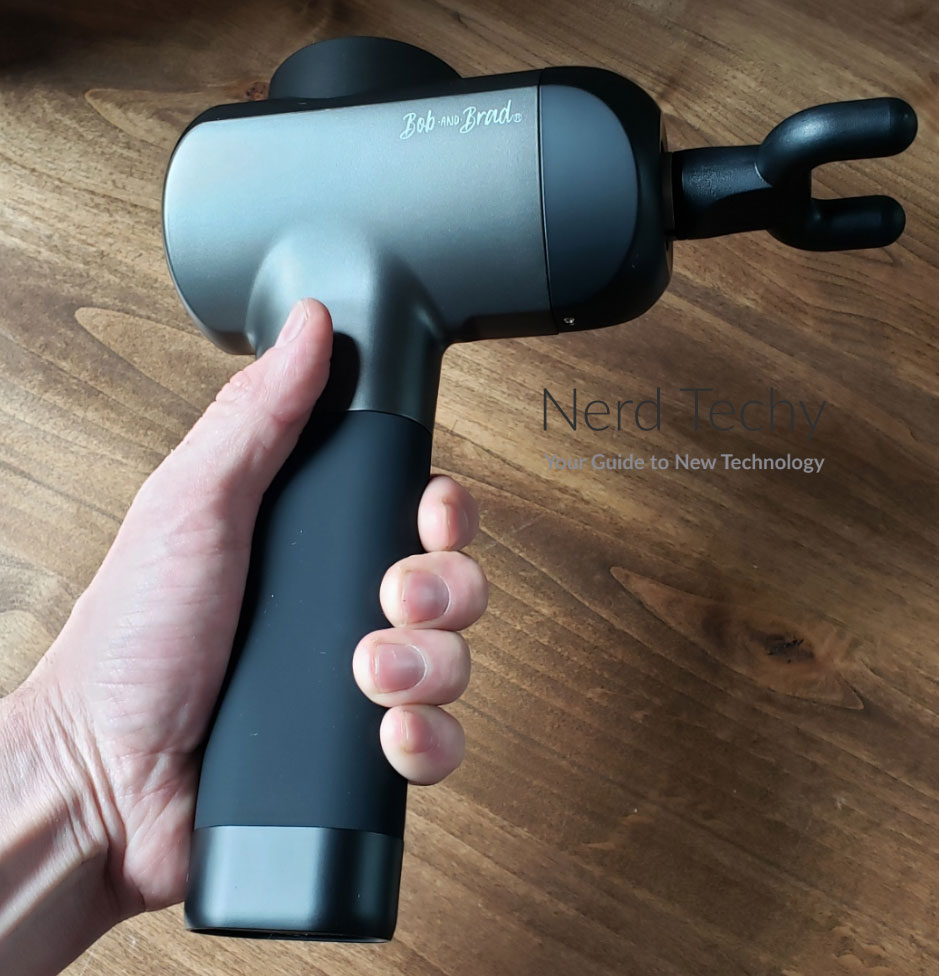 On a more specialized note, you get the fork-shaped polymer head. This tip is specifically designed for massaging the area around your spine. You can have one fork on either side, so it doesn't smack right into your vertebrae. This same tip is also useful on the front of your shins, so you can get the muscles around your shinbone.
The fifth, "bonus" head has a completely flat surface. It's also made from titanium alloy, the same rugged material as the drive shaft. This has a lot in common with the other broader head, but the metal construction has some advantages. Because it's cold to the touch, it can provide its own unique type of soothing relief.
Battery and Charging
The Bob and Brad X6 Pro Massage Gun's internal battery has enough power to run for about four hours. That's almost a month's worth of regular, everyday massages. As with any battery ratings, it's wise to take this with a grain of salt. The actual battery life will depend on how hard you're working the motor. But assuming you're running the motor at medium speed, four hours is pretty accurate. Charging takes only around three hours, by plugging into the DC port at the bottom.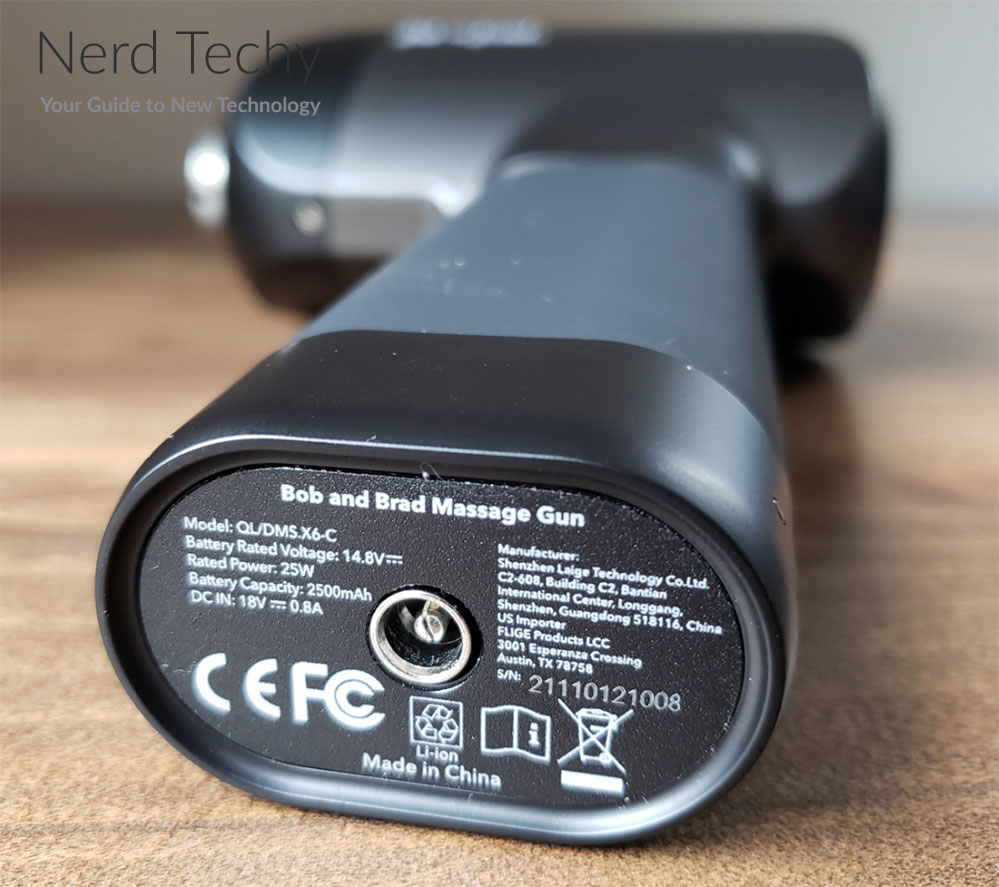 The battery is protected by a battery management system (BMS), that protects you from various faults. There's over-voltage and over-current protection, which keep you safe from excessive input power. There's short-circuit protection that will prevent damage in the event of a faulty circuit. And over-temperature protection shuts down the charging circuitry if the battery gets too hot.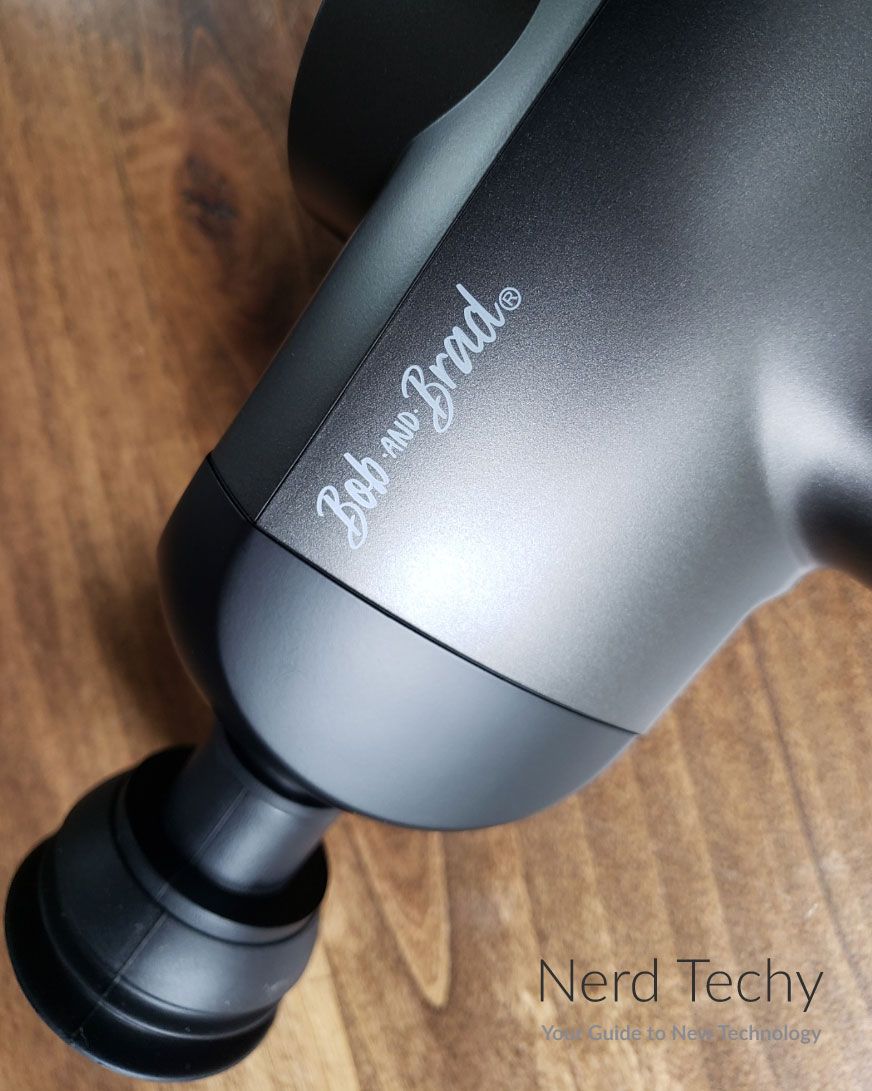 One thing the X6 Pro doesn't feature is an auto-shutoff function. If you accidentally leave it on, it will keep running until the battery dies. If that's an important feature for you, check out the Saluko Percussion Massage Gun. It automatically shuts off after 10 minutes of use, protecting the battery. On the downside, the design is a little clunky.
Why Use a Percussion Massager?
A percussion massager is not the traditional, vibrating type of massager you're probably used to. Vibrating massagers are designed primarily for shallow tissues. They're great for relaxation and stress relief, but that's not always enough. Sometimes, you need to massage deeper muscles, which is where a percussion massager comes into play.
Percussion massagers also have the advantage of precision. Because they move from side to side, vibrating massagers are inherently prone to being less precise. With a percussion massager, you can target joint injuries and break down scar tissue. As a result, percussion massagers are particularly popular for rehabilitation and post-workout recovery.
Percussion massagers can even be used by professional masseuses. The manual equivalent is digging your knuckles into the muscle and applying a ton of pressure. It's a lot of work, and it's tough to keep up through session after session. A percussion massager makes the same technique simple and straightforward.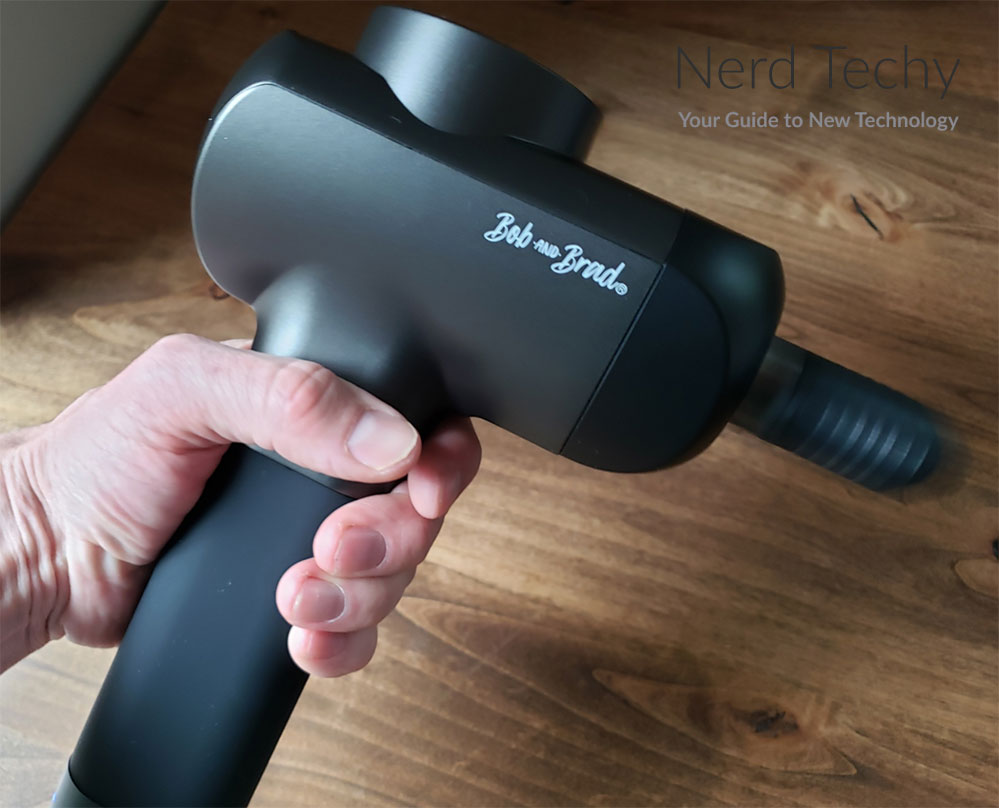 Final Verdict
The Bob and Brad X6 Pro Massage Gun is a mid-sized massage gun with a lot going for it. The design is rugged and the grip is soft and comfortable. It's easy to operate, and it comes with a whopping five massage heads. The titanium drive shaft is tough and durable, and we had no complaints about battery life.