Bob and Brad Eye Massager
Pros
Exceptionally comfortable fit.
Combines heat, vibration, and audio.
Lightweight, portable design.
Plenty of battery life with USB-C charging.
Reasonably affordable and well-priced.
Cons
Relatively loud.
Somewhat steep learning curve.
No carrying case included.
No matter who you are, life can get stressful. And if recent headlines are any guide, people have only been getting more stressed lately. Since the start of the pandemic, the number of Americans seeking treatment for mental health has nearly tripled. And the vast majority of those new patients are seeking treatment for the same reason: anxiety.
But even if everything has been going well for you, de-stressing is still important. For example, many people enjoy a glass of wine or a cup of tea when they go to bed. And if you're looking to de-stress, it's tough to do better than a nice, relaxing massage.
When most people think of massage, they think about your larger muscle groups. For example, a back massage is a popular therapeutic technique. People will also use devices like percussion massagers for their legs, arms, and other major muscles.
This is all well and good, especially if you're trying to loosen up after a workout. But everyday stress also works its way into your smaller muscle groups. The muscles around your eyes are a great example. These muscles can get tight from everyday stress, or even from focusing too hard on a monitor all day. Relaxing these muscles can help make your entire body feel more calm and mellow.
We're about to review the Bob and Brad Eye Massager. This is a unique device that you wear over your face. It massages the area around your eyes, as well as providing heat and vibration therapy.
But those are just the most basic things you need to know. To truly understand this eye massager, we'll need to look at each of its features individually. We'll have to look at the different massage modes, and how you switch between them. We'll have to talk about the battery performance and how it's charged. Additionally, we'll need to discuss the music feature, as well as any other notable bonus features. And of course, a massager like this is only as good as its fit and comfort. Once we've gone over all of these things, we'll have enough information to deliver a fair verdict. Let's get started!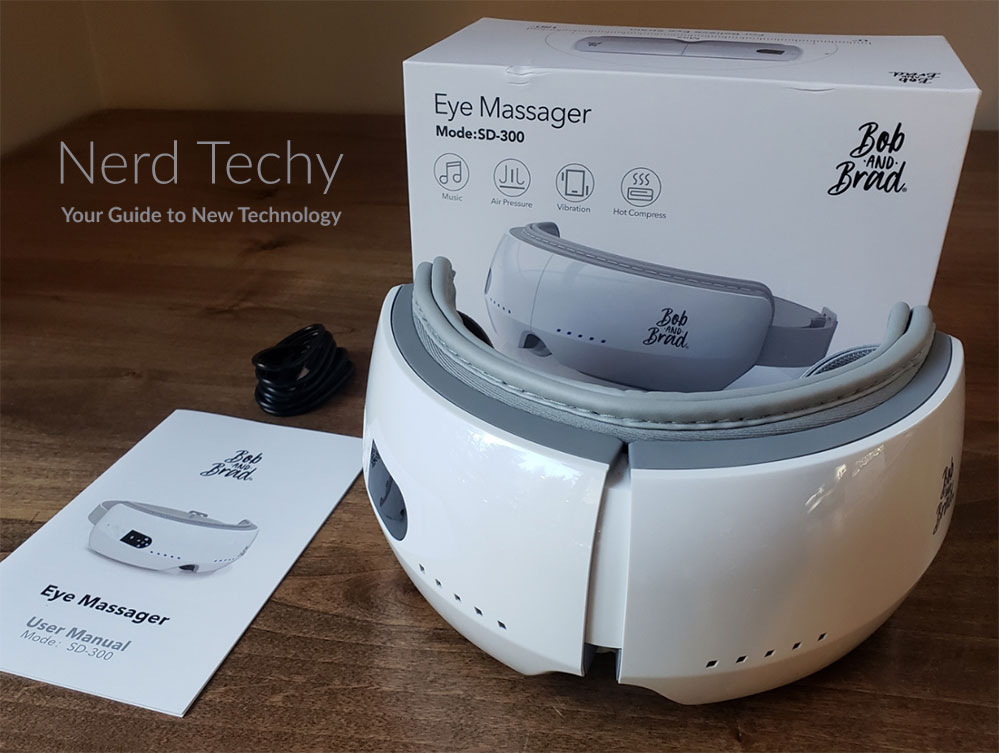 Overall Design
The Bob and Brad Eye Massager consists primarily of a white shell that's shaped like an oversized pair of sunglasses. The shell is made from a glossy plastic, which is easy to keep clean, and also reasonably durable. The inside of this shell is padded with not one, but two layers of protein leather.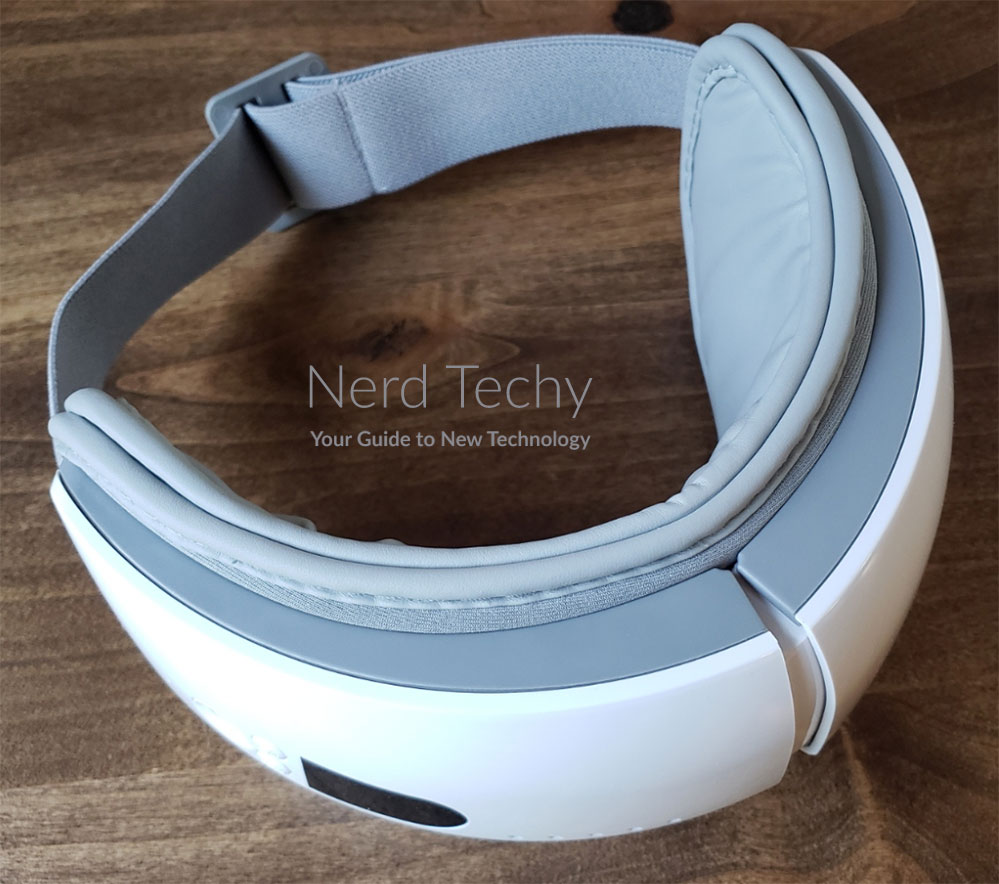 This material is breathable and comfortable, and both layers are extra-wide. The added width ensures that the edges of the massager will rest on your forehead, temples, and cheek bones. That way, it's not putting any pressure on your orbital bones, or directly on your eyes. And at 1.5 pounds, it's also very lightweight, which makes it comfortable to wear.
The controls and interface are located on the front of the shell, mostly over your right eye. The primary control is a wide, circular button. This multi-function button controls most of the massager's functions, and we'll get into the specifics shortly. There are two additional, smaller buttons located just to the side of the main button. These are used to control the Bluetooth pairing and the music mode.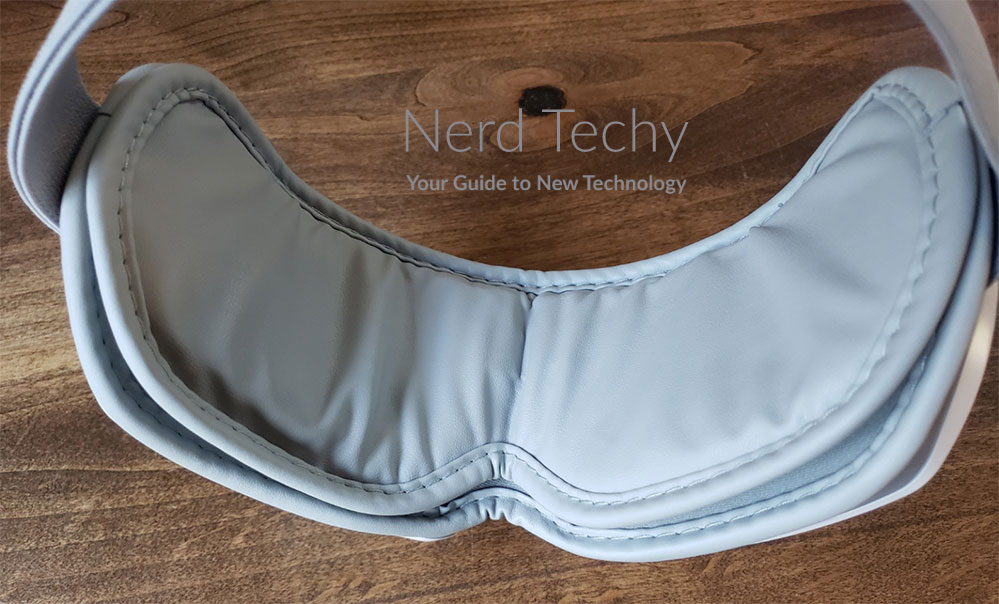 Next to the buttons, there's a half-pill-shaped LCD display. When the massager is powered on, you'll see a variety of information here, including the current battery level. You'll also see your Bluetooth connection status, and information on the massager's current mode. If that's not enough, there's a row of five square LEDs along the bottoms of both sides. These sill give you a much larger indicator of the battery status.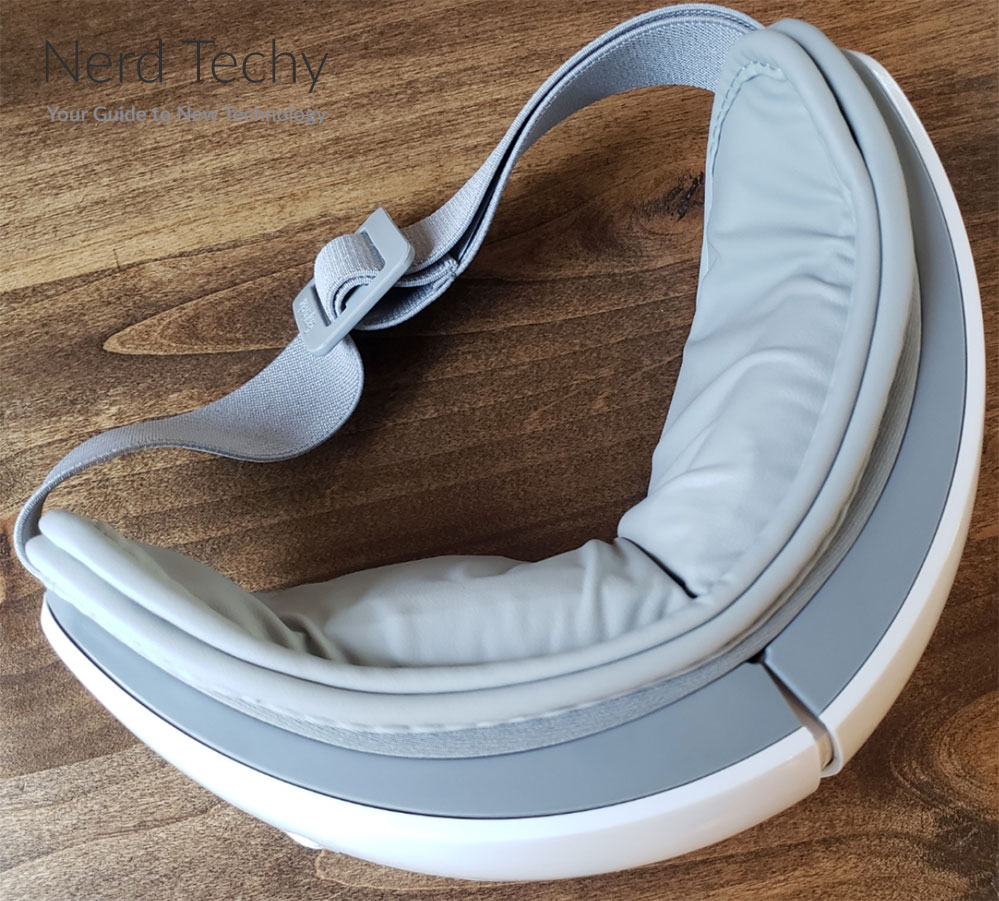 The Bob and Brad massager is designed with a hinge at the center, so it can flex to conform to your face. This hinge also serves a practical purpose when the massager is not in use. It can be folded a full 180 degrees, which makes the massager as a whole collapsible for travel. When the massager is partially or fully folded, there's a USB Type-C port visible in one end of the hinge. This allows for easy access when you need to charge the internal battery.
This massager is secured to your head by an elastic strap that's a little over an inch wide. This is large enough to spread out the weight across a wide area, and not dig into your head. At the same time, it's narrow enough that it won't get in the way of your ears. There's a soft plastic slide in the back, which can be used to adjust the overall length of the strap. This design allows you to adjust it to almost any length, for a one-size-fits-all design.
Control and Use
So, how does this massager work, and what is it good for? The massage function is designed with multiple motors that vibrate in the area around your eyes. This is not a roller massager, nor is it a percussion massager. Instead, it relies on vibration to do its work. This results in a gentle massage that's not too aggressive for the delicate muscles in your face.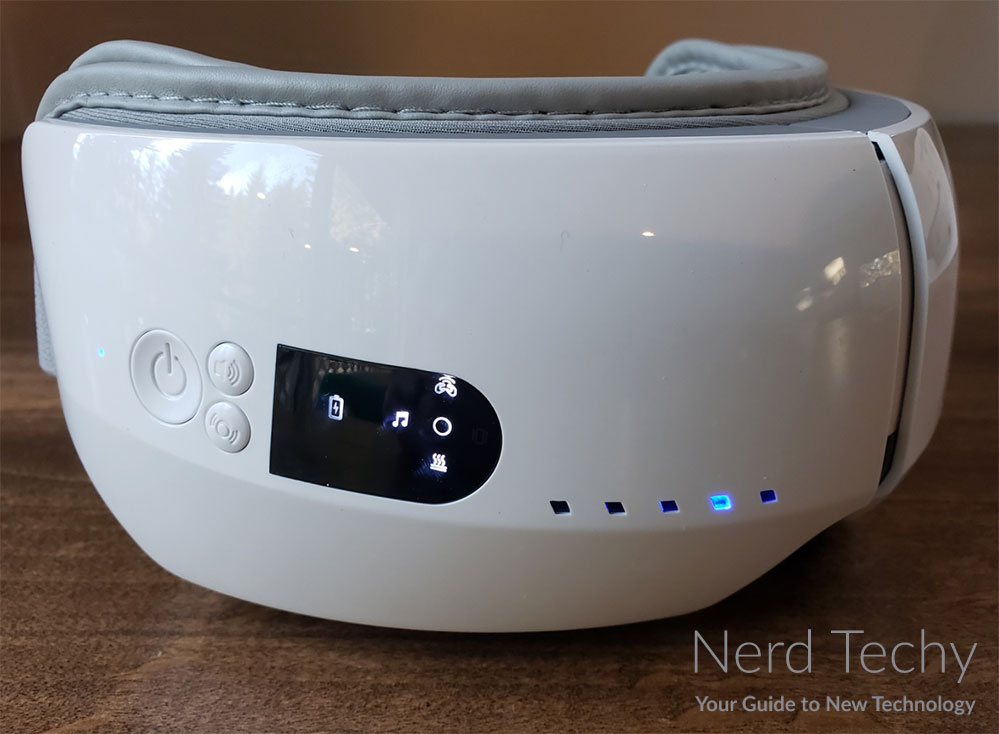 It's designed to relieve tension on your forehead, in your cheeks, and around your temples and eye sockets. It even relaxes the little muscles around your eyelids. This is particularly helpful for people who spend a lot of time in front of a screen. Staring at a display all day can put a lot of strain on your eye muscles.
That said, there are a couple of things to be aware of. To begin with, Bob and Brad has a prominent warning for this product. It says not to use the massager if you've had eye surgery, or if you have certain medical conditions. Basically, read the warning first before you buy.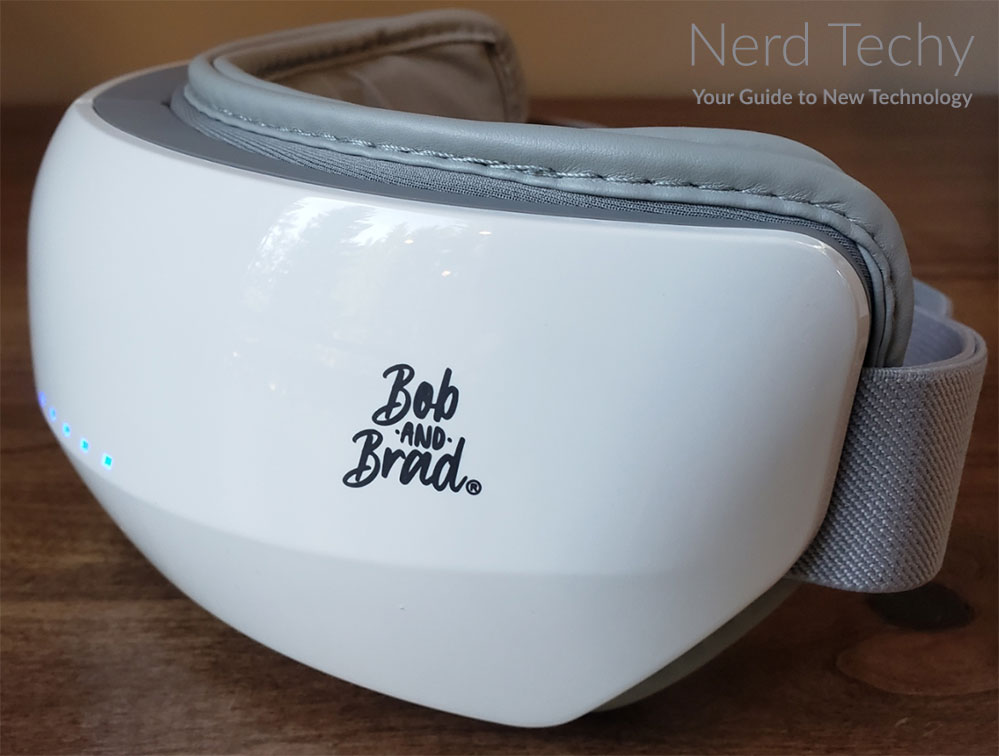 The other thing to be aware of is that the motors are fairly loud. They're not loud in an objective sense. At a maximum of 50dB, they're quieter than normal speech. But they're resting right on your face, which makes them sound significantly louder than they are. It's not deafening, but it's louder than we would have liked.
In addition to the massage function, this massager also sports a built-in heater. The thermostat will maintain a temperature ranging from 104 to 107 degrees. You can't set the exact temperature, but it will remain somewhere within that range. The heating element uses warm air, which can warm up your entire face. This heating method also allows it to heat up very quickly. It goes from room temperature to maximum heat in only five to ten seconds.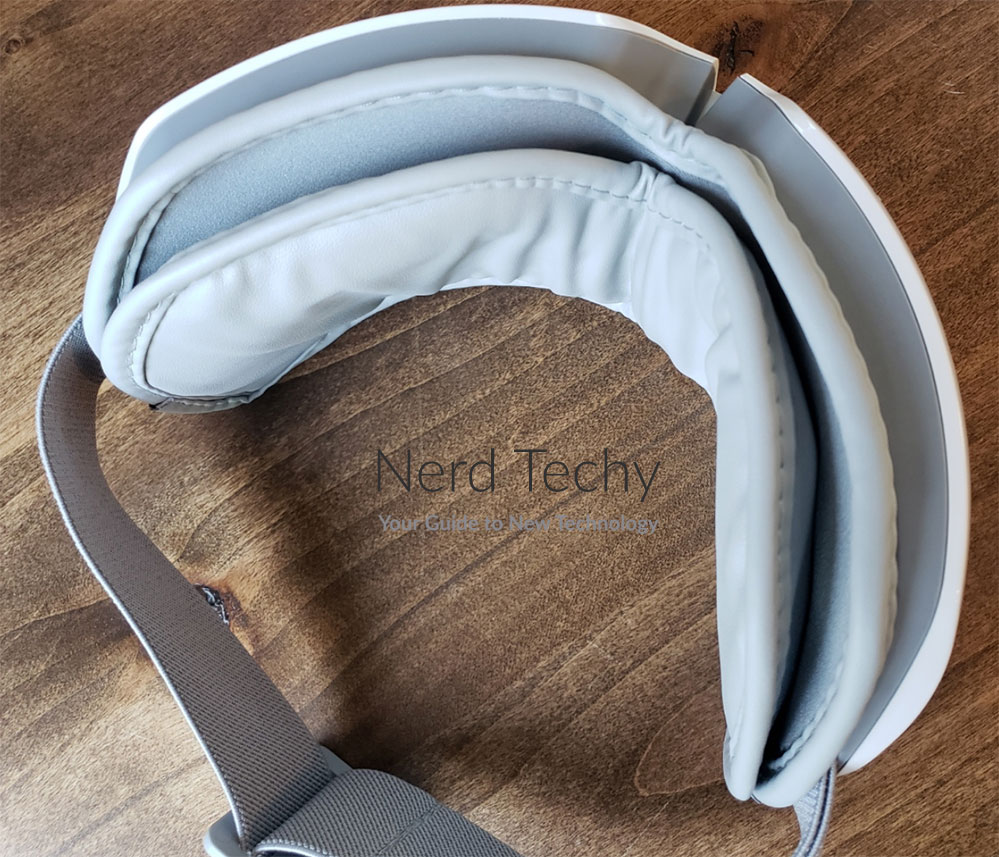 The control scheme only has a few buttons, but it's actually more complicated than you might think. That's because all but a few of the functions are controlled by the same primary button. To turn the power on, you press and hold the button until the screen lights up. To turn it off, you press and hold the button again. Tapping the button will cycle through the various operating modes.
That said, the different functions are all controlled by that same button. See, there are two different massage settings, as well as the heat setting. Instead of a button for the massage level and another for the heat, they're rolled into one. There are five possible combinations of settings.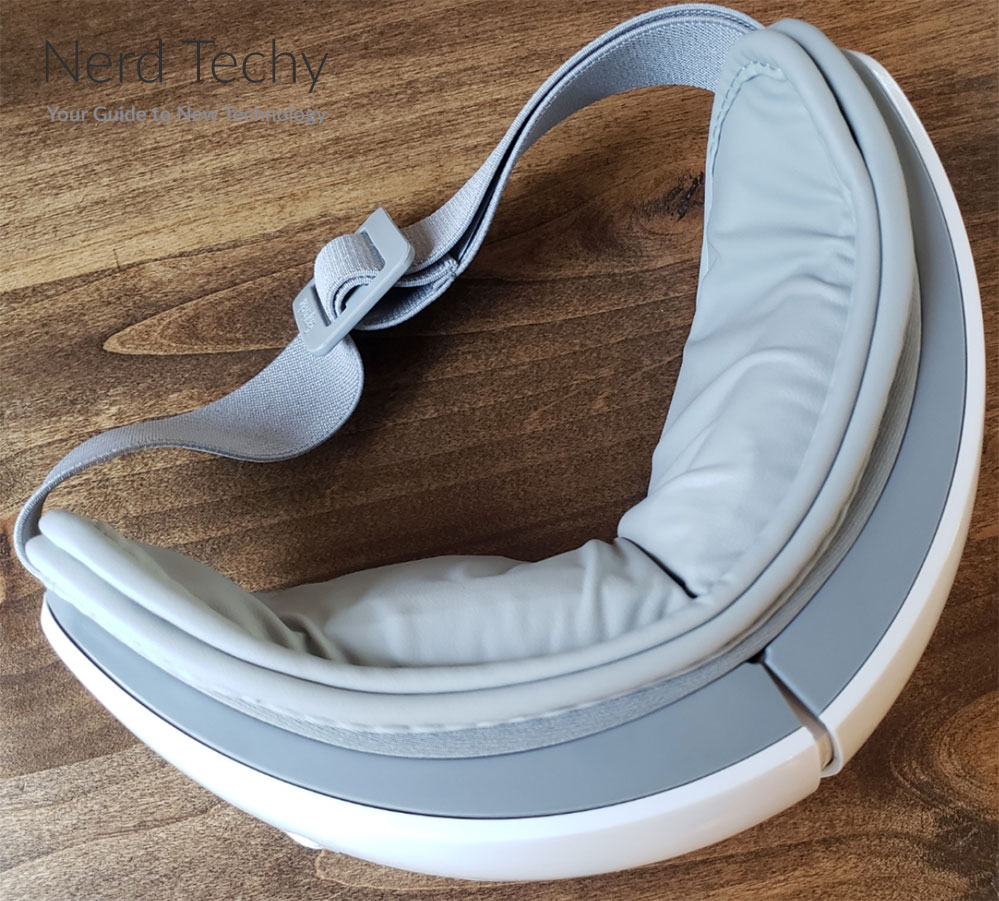 First, the massager can be off, and the heater can be on. Second and thirdly, the massager can be on high or low with the heat active. The fourth and fifth settings are for the massager with no heat. By tapping the button multiple times, you cycle through the various settings. Once you get the hang of it, it's pretty straightforward. There's also a voice assistant that tells you each setting as you switch to it.
If you want a more generalized low-impact massager, consider the IASO Red Light Therapy Massager. It's a wristwatch-sized device that can be worn, or placed anywhere on your body. That said, it's meant more for healing damaged tissue than it is for ordinary relaxation.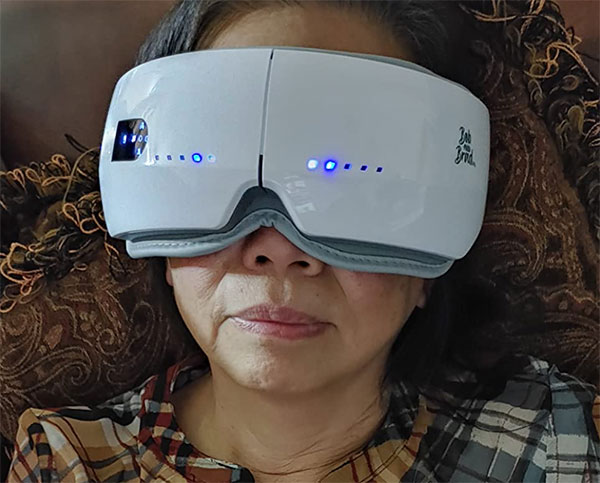 Battery and Extras
The Bob and Brad Eye Massager has enough battery capacity for around 90 minutes of total use. The exact length of time will depend on the massage intensity, and on whether you're using the heating function. Charging a dead battery takes only three hours, using the USB Type-C cable included in the package. To ensure that you won't waste your batteries, there's a 15-minute auto-shutoff feature. As a result, you don't have to worry about falling asleep with the massager running.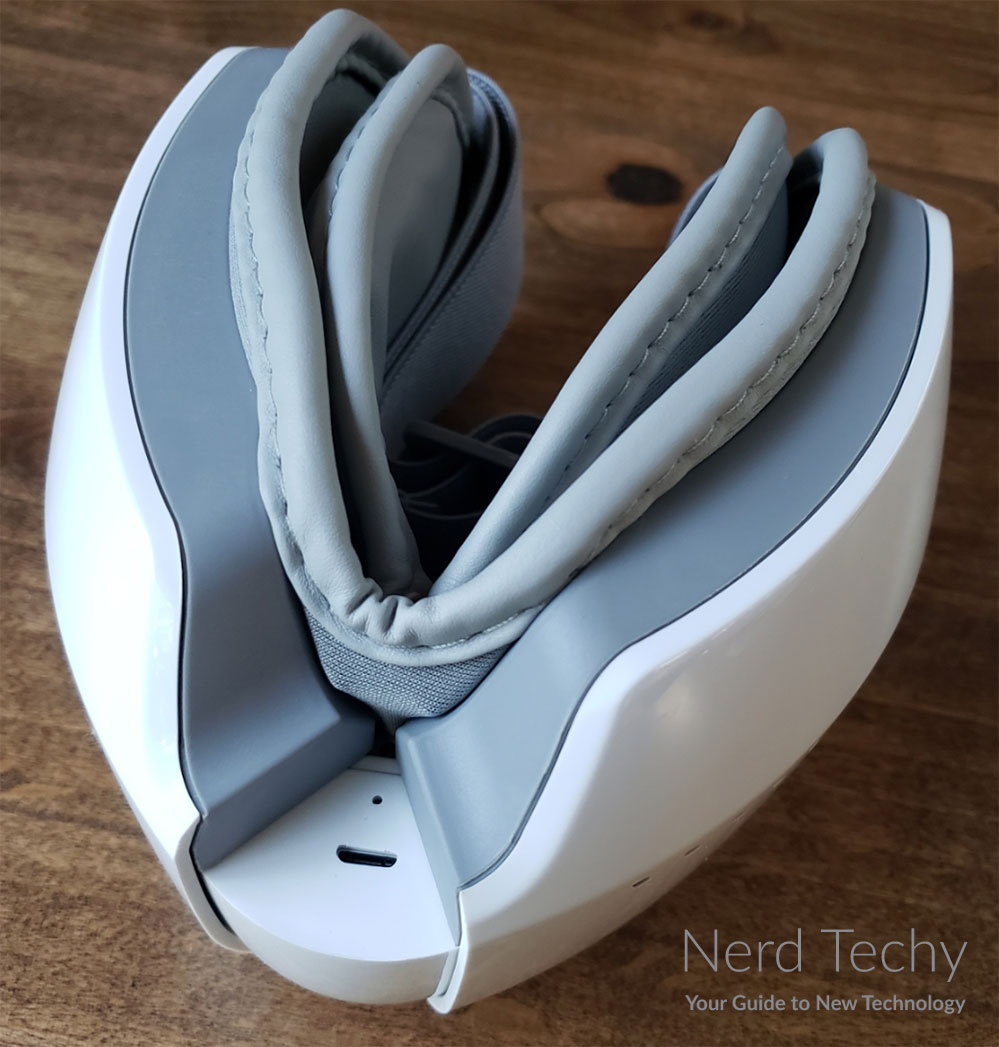 The one feature we haven't talked about is the audio feature. There's a set of stereo speakers built into the sides of the housing, so you can listen to music while you relax. The audio quality is reasonably good, although it's not like a purpose-built set of headphones. It's also not quite loud enough to drown out the motors. Even so, it's a nice added touch, and it does add to the relaxation. If you don't want to listen to music, you can listen to white noise instead. This can be better for going to sleep, and the sound effects mesh better with the sound of the motor.
If you want even more relaxation, why not add a foot massage to your eye massage? The Etekcity Smart Foot Massager is a plastic housing with a soft, lined interior. You put your feet inside, and let the motors rub out all the stress and tension.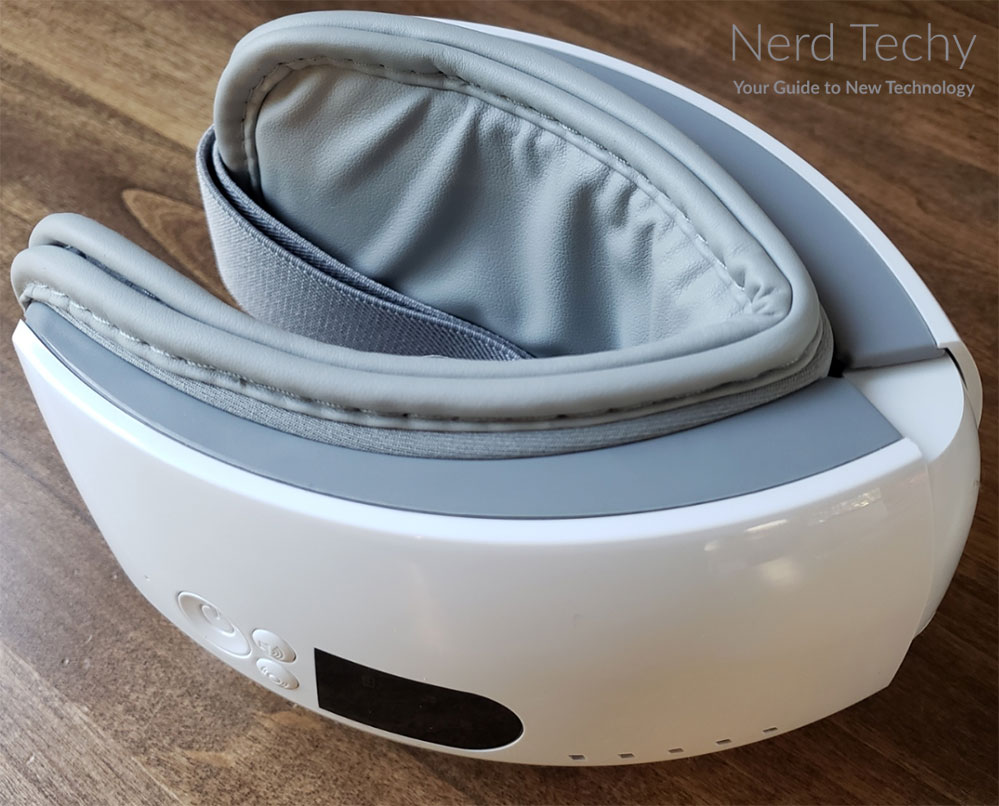 Final Verdict
The Bob and Brad Eye Massager is an innovative product that works as well as advertised. With multiple massage and heat therapy modes, there's a setting for every taste. The design is well put-together, with a sturdy housing and a one-size-fits-all strap. The padding is thick and comfortable, with two breathable layers that conform to any face. We would have liked a simpler control scheme, but that's a minor complaint. In terms of comfort and effectiveness, this is a top-notch massaging device.
Meet Derek, "TechGuru," a 34-year-old technology enthusiast with a deep passion for tech innovations. With extensive experience, he specializes in gaming hardware and software, and has expertise in gadgets, custom PCs, and audio.
Besides writing about tech and reviewing new products, Derek enjoys traveling, hiking, and photography. Committed to keeping up with the latest industry trends, he aims to guide readers in making informed tech decisions.