BigBlue Cellpowa 2500
Pros
Very large capacity with reliable LiFePO4 internal battery.
Can simultaneously charge up to 15 devices.
Incredibly quick re-charge times via AC.
Color touchscreen interface is responsive and easy to use.
Rated for around 3500 charge/discharge cycles.
Cons
Quite heavy; weights 55 lbs.
Currently only available for pre-order.
Cannot be charged in freezing conditions.
Questionable app-connectivity.
Somewhat expensive.
Emergency backup power has come a long way over the past few years. Portable power stations are now widely available in a multitude of varieties. In general, they keep getting smaller while simultaneously improving their features and benefits.
Today, the gold-standard is to use a power station that's equipped with a LiFePO4 battery. Also known as Lithium-iron Phosphate, this relatively new kind of technology is the best when it comes to reliability and longevity. Contrary to standard lithium-ion varieties, LifePO4 can support thousands of charge cycles rather than hundreds. In addition, they're typically able to charge faster, thus providing added convenience. Overall, they're better in almost every way. However, they're typically much more expensive.
Luckily, LiFePO4 and portable power station technology keeps improving while simultaneously getting less expensive. That said, there are now quite a few brands, makes and models to choose from. If you've done some research, you may already know this.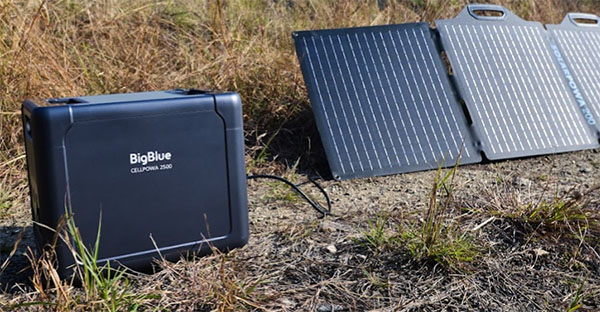 Big Blue Cellpowa 2500
One such manufacturer that's beginning to make a name for themselves is Big Blue. They're a relatively new company that initially started off by creating the Cellpowa 500. This is a compact, well-built LiFePO4 power station that pairs high-quality engineering with high-end features, all in a portable form-factor. However, it only provides up to 500Wh of internal capacity. That said, it's great for overnight camping and light emergency back-up power but may not be the best choice for those with large power needs.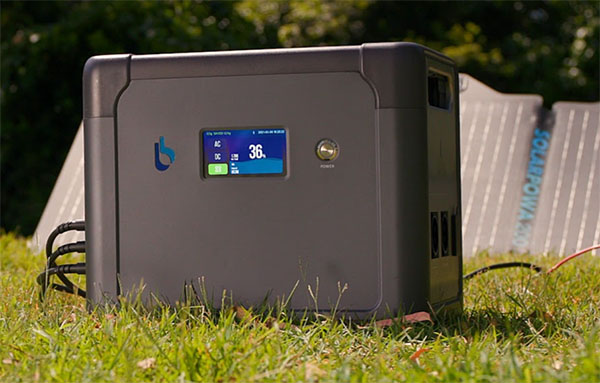 Recently, Big Blue set off to improve upon their original model. The result, a portable power station with a massive 1843Wh capacity; more than 3-times the capacity of its predecessor. Known as the Cellpowa 2500, this high-capacity LifePO4 power station seems to have a lot going for it. Currently available for pre-order on Kickstarter, we set-out to closely examine it. Today, we're here to provide an in-depth, first-look review on it. We'll take a closer look and check out all of the features and benefits. In addition, we'll uncover any potential drawbacks or potential downsides along the way. Let's get right into it!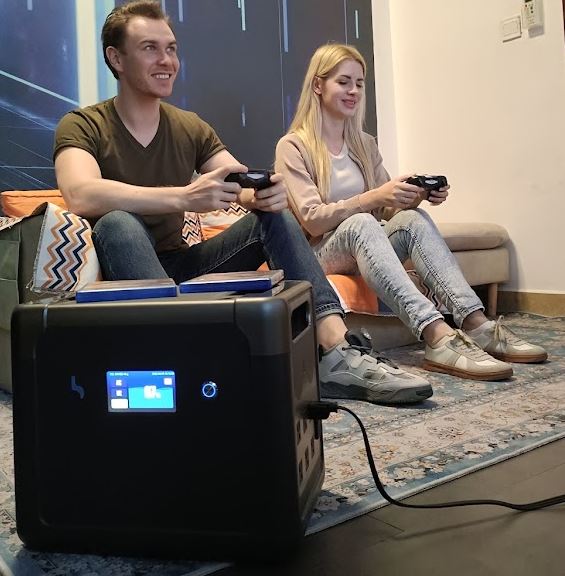 Size & Shape
At first glance, you'll immediately notice that the Big Blue Cellpowa 2500 is much larger than you might be used to. Measuring 15.1″ wide, 12.8″ tall and 10.8″ deep, it's actually smaller than any other power station in its class. That said, it's still relatively heavy, tipping the scale at a whopping 55 lbs. While the form-factor is downsized when compared to any other 1800Wh LiFePo4, it's still a bit bulkier than you might be used to.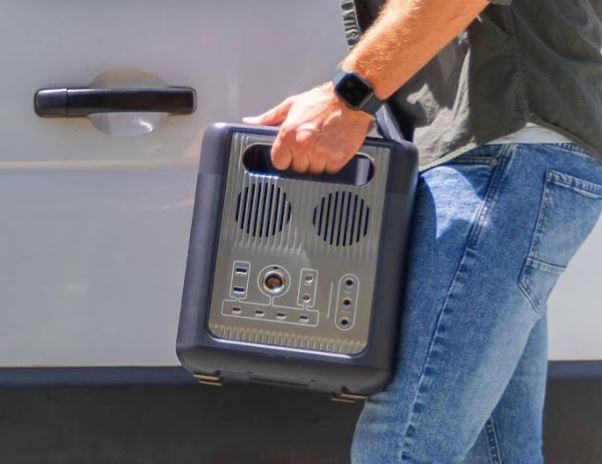 Layout
Luckily, there are two built-in handles on each side. That's good, because depending on your abilities, you might need two people to move it. Regardless, the physical appearance is pleasing, as well. With the use of a matte black shell and light silver accents, it has a sleek and somewhat modern style.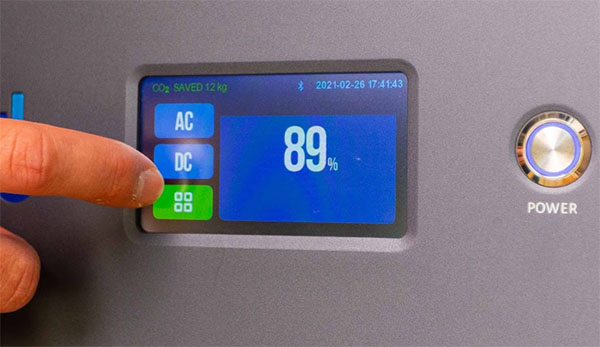 The front-facing panel is simple, clean and more elegant than most power stations. The large silver power button for turning on/off the entire unit is here. Directly to the left of this button is a 4-inch color touchscreen positioned in the front-center. It gives you clear indication of all the important things to know. Current usage, remaining capacity, active inputs, etc. are all easily determined from here. With a few quick touches, you're able to activate or disable the wide array of charging ports. The screen is responsive, clean and organized nicely.
The sides of the Cellpowa 2500 is where all the outputs/plugs are located. In total, there are a 15 outputs, split between both sides.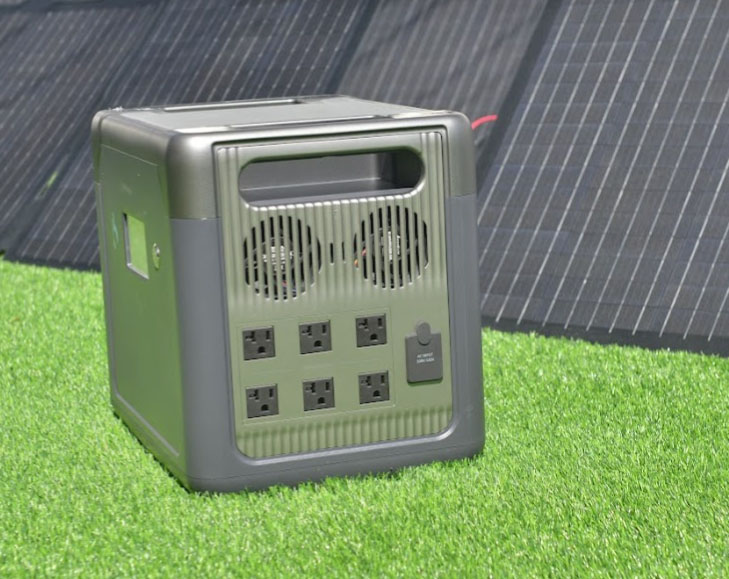 The right side houses six 120V AC ports for plugging in all of your standard appliances. These support a total of 2500W with a surge peak of 5000W. Above these six power outlets, there's two built-in fans that only turn off under heavy loads or when it detects high internal temperatures. In addition to this, there's a rubber flap that hides the 1200W AC input, used for re-charging the power station from any standard outlet. More on this later.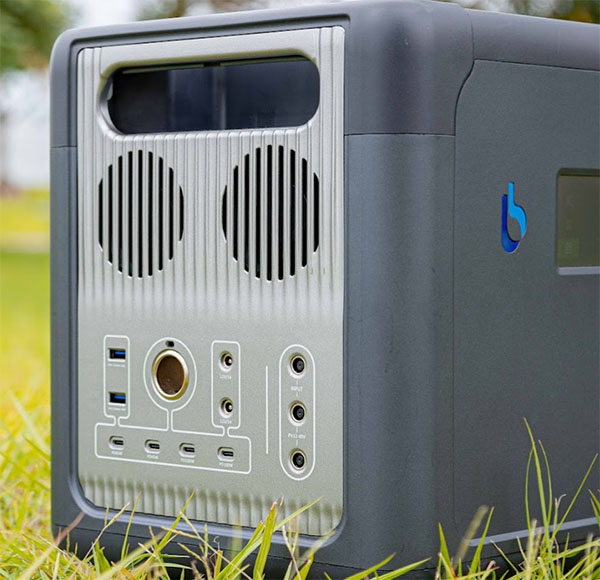 The left side has even more inputs/outputs. First, you have 4 USB-C inputs. Two of them are rated for up to 45W while the other two are rated for 100W. Next, there's two USB-A fast charge inputs. Additionally, you have two DC 5.5mm inputs for charging-up the power station via your vehicle's 12V output. Directly in the center of it all is a 12V barrel-style output auxiliary power outlet (cigarette lighter). To the right, there's three PV inputs for attaching BigBlue's solar panels. Lastly, there's two more fans here that push airflow through the unit and out the other side when necessary.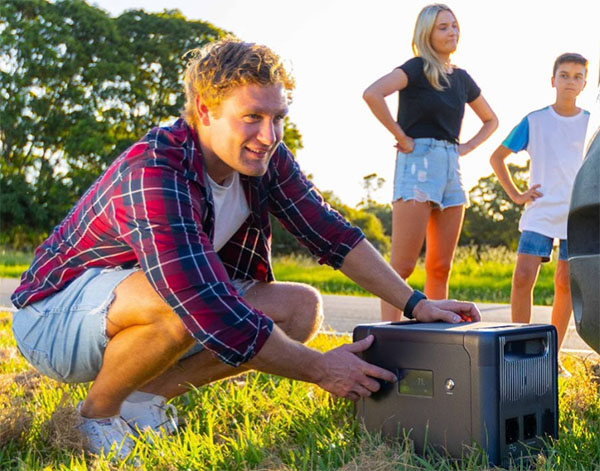 Battery & Charging
The heart of the Cellpowa2500 is a massive 1843Wh capacity LiFePO4 battery. Internally housed, this offers a safe and reliable power source, rated for up to 3500 charge cycles. What this means is that you can fully deplete and charge the unit 3500 times before the capacity degrades. After roughly 3500 cycles, the unit will still function properly, it just may have a slightly less amount of power capacity. Contrary to traditional lithium-ion or lead-acid technology, those varieties typically last for under 1,000 charge cycles. Needless to say, LiFePO4 technology is far superior.
However, there's one caveat to choosing a power station that utilizes a LiFePO4 internal battery. Including the Cellpowa 2500, they cannot be charged below 0° Celsius or 32° Fahrenheit. That said, you're still able to use it down to -10° Celsius or 14° Fahrenheit. In regards to high temps, it can be charged or discharged in environments up to 45° Celsius or 113° Fahrenheit.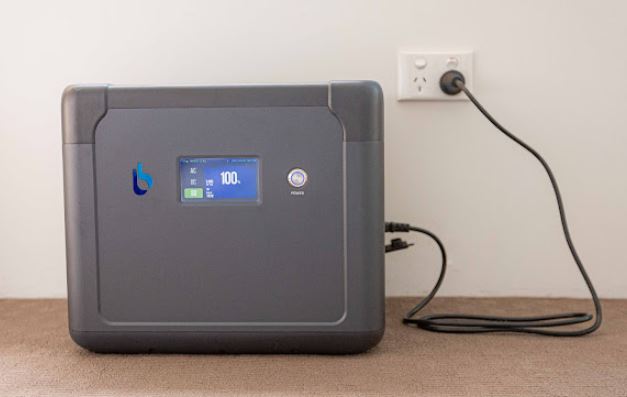 Re-Charging
The BigBlue Cellpowa 2500 supports wide range of methods to re-charge the unit back to full capacity. By far, the best and fastest way is to use the included AC power cord. By plugging it directly into the AC input on the right side, it pulls up to 1200W of power to quickly re-charge. In fact, in just 1.5 hours, you can re-charge the battery back up to 80% of its full capacity. Ultimately, this means it'll only take 2 hours to fully charge the unit from a wall-outlet. Pretty impressive!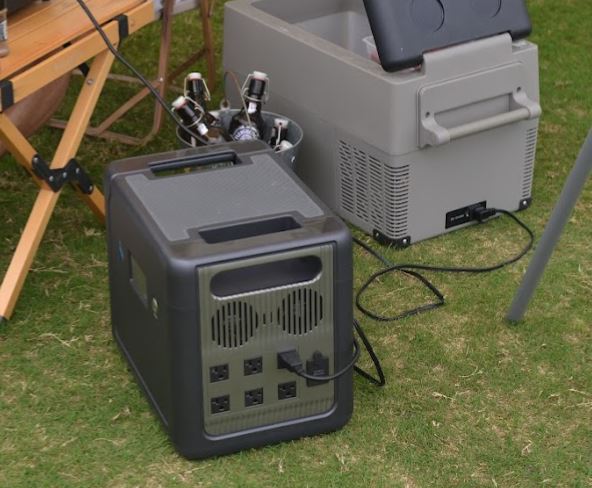 But what happens if you're off-grid and you don't have access to power? You'll want to utilize the solar inputs. As we discussed earlier, there's three individual PV (photovoltaic) DC solar inputs on the left side. Here, you can connect up to six panels for a massive solar array of up to 1200W. Each panel can be daisy-chained to another, making for a relatively neat and tidy way to use the power of the sun to top-off the internal LiFePO4 battery.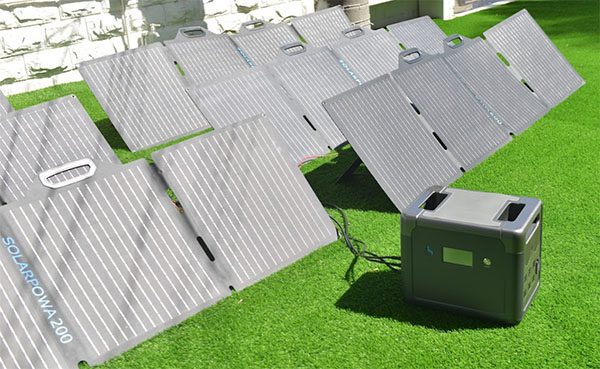 The last method of re-charging is to use the supplied 12V car charger. This plugs directly either one of the two 5A barrel-style 12V inputs on the left-side. Simply plug the cord into your vehicle's 12V 'cigarette lighter' output and it'll trickle-charge as you drive. While this is the slowest method of re-charging, it's quite convenient. While it likely won't be your sole-method of keeping the unit topped-off, it's nice to have this third option for charging.
App Connectivity
To offer a bit more insight, BigBlue created an app for your smartphone or tablet that pairs with the Cellpowa 2500. While we couldn't find any real information in regards to the app's name, the screenshots of it on the crowdfunding campaign look promising. As far as we can tell, the app gives you clear indication into the status and current health of the unit. It shows the remaining capacity, temperature, estimated time until empty, current input/output wattage and a few other insights.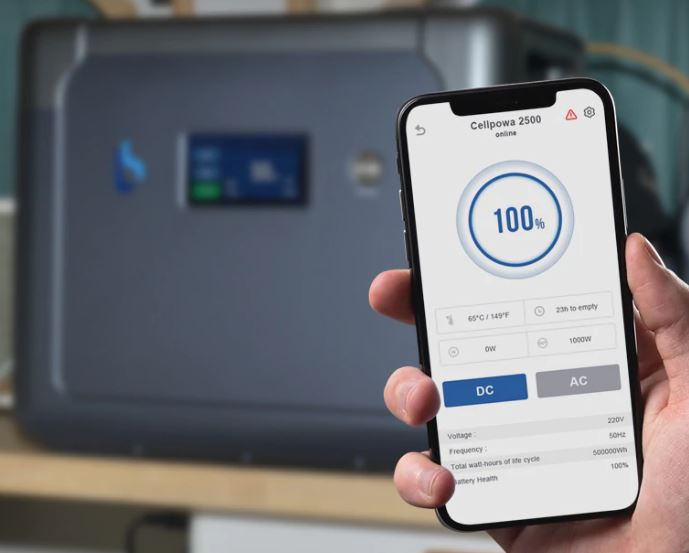 It would be nice if BigBlue shared a bit more knowledge in regards to the app. But realistically, this is a pre-order crowdfunding campaign, so it's somewhat understandable. Simply put, all of the features may not be completely set in stone, since mass production of the Cellpowa 2500 is still underway.
Potential Drawbacks
Clearly, the most obvious drawback of the Cellpowa 2500 is the size and price. Simply put, it's big and expensive. While it may be dimensionally smaller than anything in its class, it weighs 55 lbs. That said, it may be a two-man job to move it around your campsite or off-grid location. The built-in handles are helpful for this, but it doesn't negate the fact that it's quite heavy.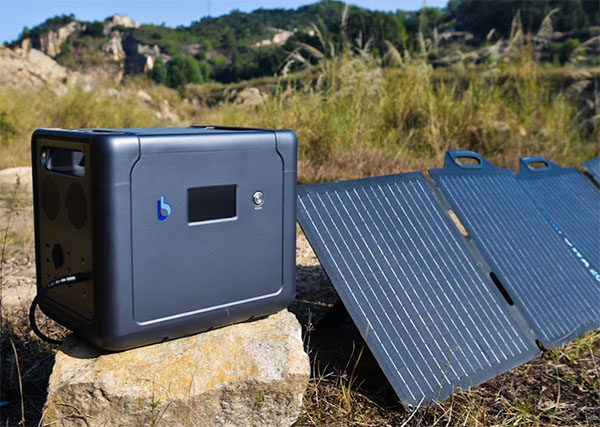 Since the Cellpowa2500 is in pre-order stage, it's not like you can buy it today and receive it next week. There's a little bit of patience involved with waiting for any crowdfunding campaign. However, now is also the best time to reserve one. While the super early bird price of $999 may still be considered relatively high, it's much lower than any 1800Wh LiFePO4 power station currently on the market. Even with the first-week price of $1199, it's still less expensive than the competition.
As we stated earlier, the Cellpowa 2500 is of the LiFePO4 variety. These kinds of batteries have the main drawback of not being able to be charged in freezing temperatures. If you find yourself in winter conditions on a regular basis, you may want to opt for a traditional lead acid rechargeable power station.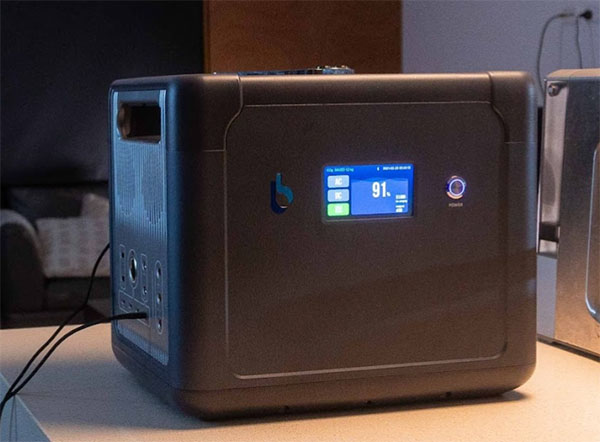 Final Thoughts
As you can see, the new BigBlue Cellpowa2500 has a lot going for it. The massive power capacity and wide range of power inputs/outputs offers a lot to love. With it, you can power and/or charge virtually any device or appliance up to 2500W. The inclusion of four PD outputs and two standard USB-A quick charge ports means even small electronics will charge as efficiently as possible.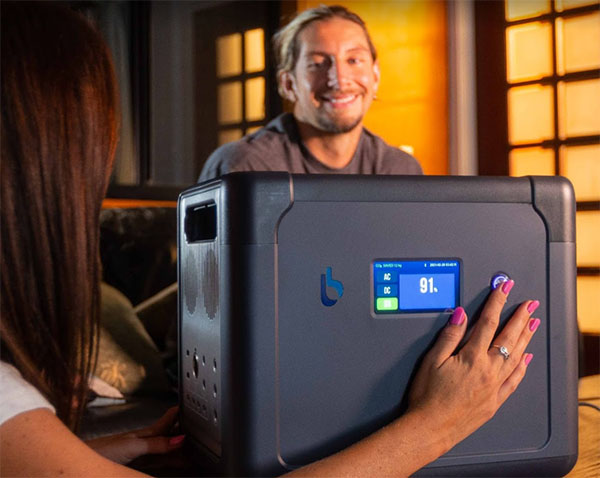 Our favorite feature is re-charging via AC. By plugging in the unit into a standard wall-outlet, you can replenish the 1843Wh capacity in less than two hours. This is incredibly fast, especially when compared to other top of the line portable power stations from brands like Jackery or Bluetti. In fact, the only thing that comes close to competing with the Cellpowa2500 is the EcoFlow Delta Max. That being said, it's much more expensive but roughly the same size and weight.
We admit, it would be nice to know a bit more in regards to the app-connectivity. It looks quite promising, as it offers a wireless way to communicate with the unit through your smartphone or tablet. Full features of the app are still to come, so we'll update this article accordingly if we hear any good news.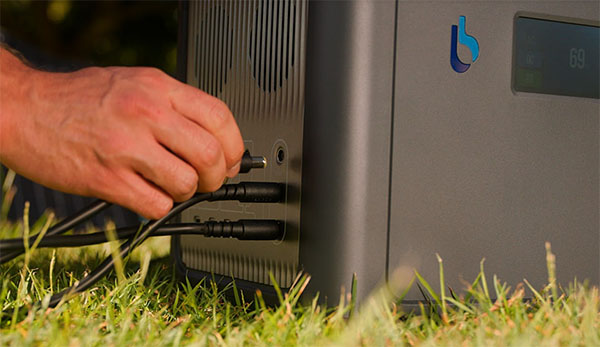 All in all, the Cellpowa2500 is likely to be a sure winner. Although it's larger than you might be used to, it's probably also the most powerful portable power station you'll ever own. With 3500 charge/discharge cycles, it'll provide off-grid power for several years, regardless of how often you put it to use.
The best time is now to reserve the Cellpowa 2500 by pre-ordering via Kickstarter. The earlier you do, the better price you'll be able to lock-in and sooner you'll have it in your possession for all of your power needs.