The PS5 is clearly one of 2022's best game consoles. Whether you own the disc or digital version, it's able to be positioned horizontally or vertically. With the included OEM stand, it works in both orientations.
However, placing the PS5 horizontally with the original stand may leave it a bit "tippy" since it's placed directly in the center. In addition, it positions the console somewhat close to the flat surface you've set it on.
Therefore, it can potentially reduce airflow and invite heat-related issues in the long term. Because of this, many PS5 owners are opting for aftermarket horizontal PS5 stands. These options offer a safe and secure way to prop-up the PS5 in a stable manner that promotes both proper air circulation and stability.
What's the Best Horizontal PS5 Stand?
There are a few great options to choose from, but which horizontal PS5 stand is best? Today, we're here to showcase the options we've found that are currently available.
Each one is remarkably similar yet slightly different, but they all offer a suitable way to place your PS5 horizontally rather than vertical in a way that's both stable and reliable.
We'll go over the features of each and determine any potential drawbacks or other important things to know. In the end, we'll go over what we found so you can ultimately determine which is best for your PS5.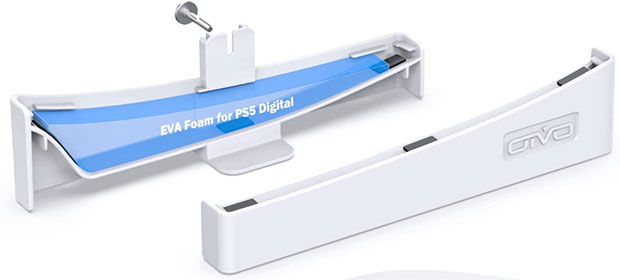 Best Overall: OIVO PS5 Horizontal Stand
The OIVO PS5 Horizontal Stand is another great option that offers a sturdy and durable method to place your console horizontally. It lifts the PS5 a bit higher than the NexiGo stand, which is much appreciated. Although it places the console a bit higher, it may minimize the available clearance for tight cabinets and entertainment centers, but it clearly promotes better ventilation than you'd otherwise have.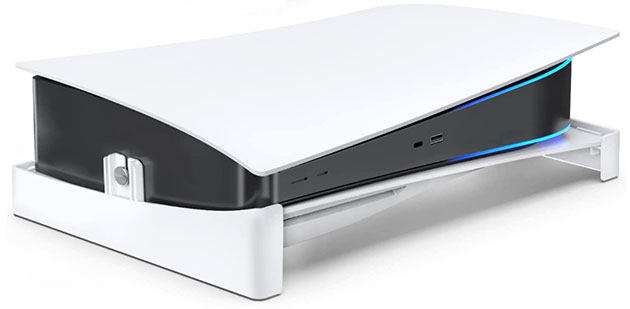 Since it's fully compatible with both the disc and digital version of the PS5, it's a quick and simple upgrade for any gamer. It's a two-piece device that works very similarly to the NexiGo. However, the OIVO utilizes the screw hole on the base of the PS5 to attach the left piece. It comes with the lengthier-sized screw that keeps the stand/bracket attached in a semi-permanent method. There's even a small compartment to place the original-sized base screw in a safe place when the stand is in use.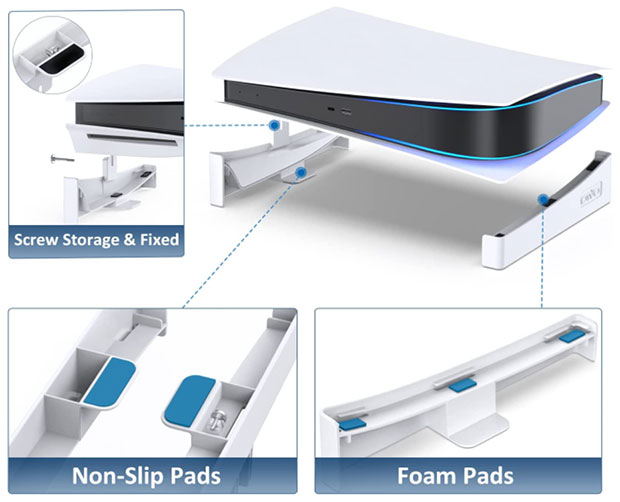 Each piece of the stand is equipped with EVA foam so any surface that meets the console is protected from future abrasion. In fact, the PS5 digital version utilizes a large piece of foam (that's included) to fill-up any open space to create a firm position between the left side of the stand and the side panel. This foam is soft, supple and relatively grippy. In addition, the stand has silicone feet that prevent slippage when placed in a cabinet, on a table and/or underneath your TV. While the OIVO PS5 horizontal stand is only available in white, it's relatively affordable and an easy upgrade that works exactly as intended.
Pros
Securely fastens with a longer base screw that's included.
Equipped with foam pads and non-slip pads in every place that contacts the table-top or console exterior.
Relatively affordable; an easy upgrade to make.
Lifts the console over an inch above the surface; promoting proper airflow and more stability.
Works with both disc and digital versions.
Cons
Only available in white.
Right piece does not secure as well as the left piece with screw.
Higher position means it may reduce clearance in tight cabinets.

Best Runner-Up: NexiGo PS5 Horizontal Stand
Available in either black or white, the NexiGo PS5 Horizontal Stand is a great option. It allows you to place your PS5 in a horizontal position that's completely elevated from the surface. Although it only props your console up by about 1-inch, it's designed to make your PS5 both stable and flat. That said, it's the lowest profile of today's offerings.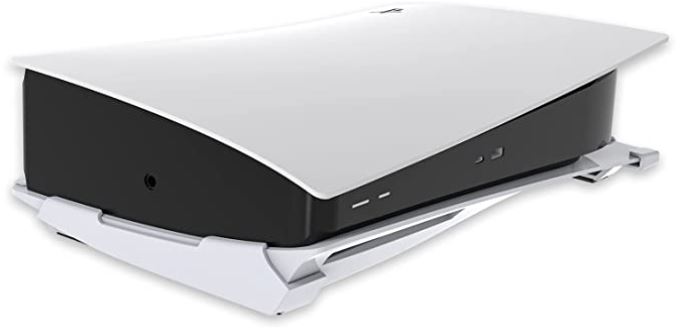 Fully compatible with both the Playstation 5 disc and digital versions, it's a two-part device that snaps onto each end. The left side slides firmly in place while the right side rests onto the bottom panel. When both are attached, the left side stays on well but the right side may move a little. Overall, they stay firmly in position after only requiring less than a minute for installation.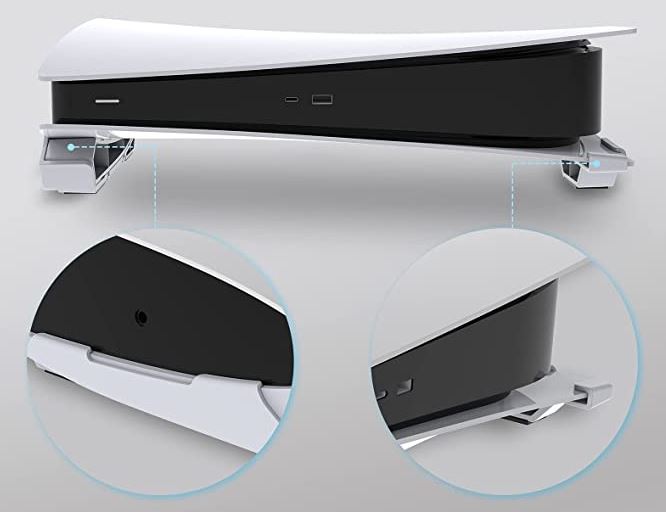 Each piece is equipped with anti-slip silicone pads on the base. This keeps the console incredibly sturdy while assuring it has a bit with any flat surface you rest the PS5 on. Best of all, it doesn't block any of the ports, disc drive or other important inputs located around the PS5. After it's installed, it's the kind of accessory that you'll find yourself leaving on for the long-term.
Pros
Offers the lowest profile; perfect for tight spaces.
Available in either black or white.
Does not slip or move around when installed.
Helps increase airflow while adding stability.
Works with both disc and digital versions.
Cons
Relatively over-priced for what it is.
Right piece doesn't snap on as well as the left piece.

Best Affordable: Auarte Horizontal PS5 Stand
As the most affordable option, the Auarte Horizontal PS5 Stand is a great solution that works well with both disc and digital versions of the PS5. Rather than using a piece of foam to fill in the void that the digital version creates, it uses a sliding mechanism on the left (base) piece. There are two small plastic blocks that can either be pushed in or pulled out. When they're pushed in, it creates the perfect resting spot for the digital version. Pull the blocks outward and now the stand is compatible with the disc version.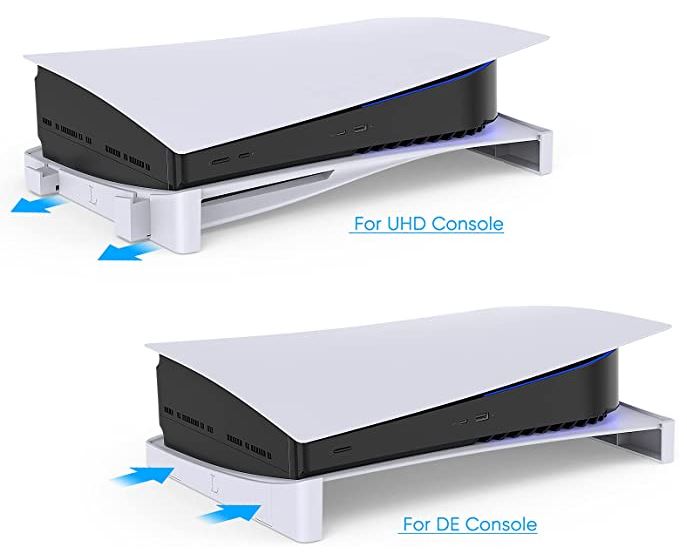 Using it with either version of the PS5 will give you the same results. Once the left piece is snapped on, the right piece offers a resting spot for the top of the console. While there isn't any added material where it meets the PS5 exterior, the base is equipped with silicone feet for anti-slipping. When installed, it props up the console by just under an inch. While this isn't as tall as the OIVO, it's similarly sized to the NexiGo.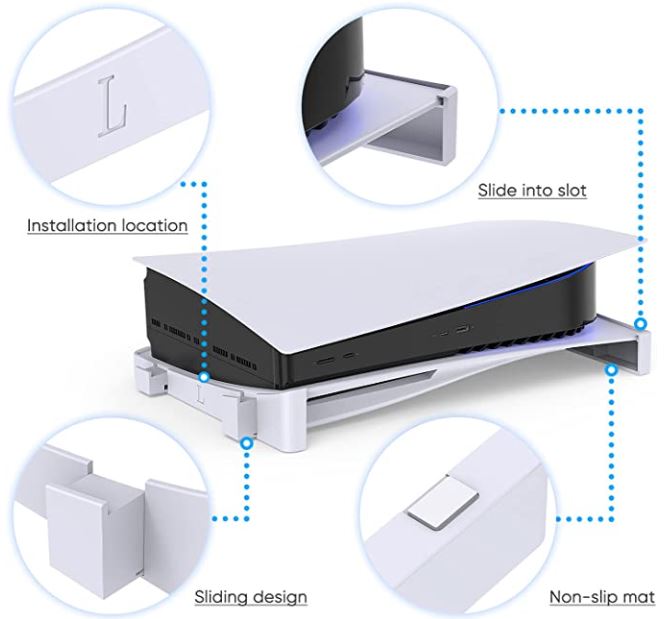 Since it's only available in white, you aren't given a choice on appearance. However, the material seems sturdy and well made. It would have been nice to see a bit of padding between the stand and the console, but this can easily be added if desired. While the left piece snaps on, the right piece more-so rests on it. Overall it does the job by promoting better airflow and propping up the console in a sturdy manner, much better than using the OEM PS5 stand.
Pros
Sliding design mechanism works well for both disc and digital versions.
Equipped with non-slip silicone pads on the base.
Each piece is clearly labelled left or right for easy and quick installation.
Creates a stable method for positioning your PS5 sideways.
Offers the most affordable option of them all.
Cons
Only available in white.
No padding or material between the console and the stand.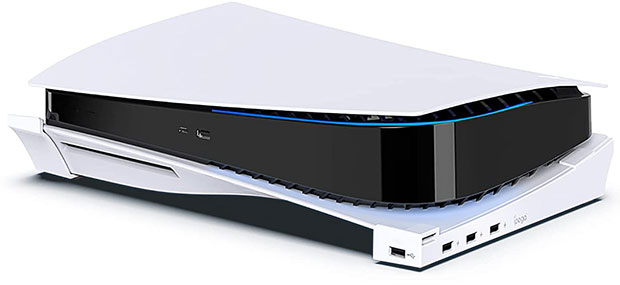 Best Alternative: YUANHOT Horizontal PS5 Stand with USB Ports
For those looking for something a bit more, the YUANHOT Horizontal PS5 Stand is a great choice. Rather than being a simple piece of plastic to position your PS5 horizontally, it also adds four extra USB ports. There's one USB port that allows for data transfer (located on the back) and three USB ports that allow charging (located on the side). Like the others, it's a two-piece system with one slid onto the base and snapped into position. The other piece slides onto the opposite side and then plugs directly into an open USB port on the back of your PS5.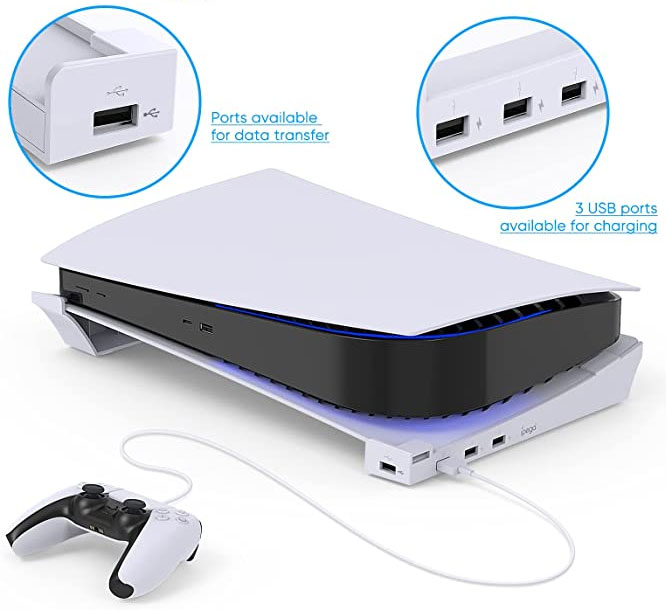 While it doesn't seem to prop up the console quite as high as the OIVO, it still promotes a healthy amount of airflow in all directions. Compatible with both disc and digital versions, the left piece is designed for both. Here, you'll see two separate flat surfaces; one that's higher for the digital version and one that's lower for the disc version. The right piece is the one with the USB ports; it slides on and has a built-in short USB cable that's designed to be plugged into the back of the console to "pass-through" the four additional USB ports it's equipped with.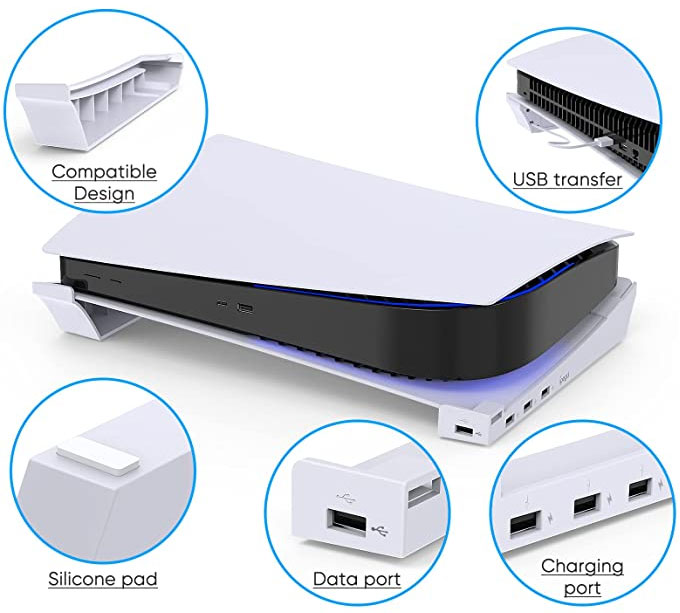 Like the rest, the YUANHOT horizontal PS5 stand has anti-slip silicone feet on the underside. This keeps it sturdy, stable and avoids the risk of slippage when accidently bumped or moved. While it's only available in white, we think it's perfect for those who want improved airflow and stability while adding additional USB ports for all of your accessories. Surprisingly, it's more affordable than even the most basic options available.
Pros
Adds four USB ports to the top and front exterior of the stand.
Both pieces slide-on and snap with ease.
Does not slip or move around when installed.
Simultaneously increases airflow and stability.
Fully compatible with both disc and digital versions.
Cons
Only available in white.
Only one USB port allows data transfer.
Lack of soft material between console and stand.
Choosing the Best Horizontal PS5 Stand
As you can see, there are quite a few choices available for PS5 horizontal stands. All of the options we've presented work universally well on both disc and digital version. Additionally, each one successfully improves airflow and adds a hefty amount of stability for those who want to place their PS5 console sideways. But which stand is the best choice for you? It depends on what exactly you're looking for.
Overall, we really liked the OIVO PS5 Horizontal Stand the most. The inclusion of a lengthier base screw provides the most secure and sturdy method to attaching a horizontal stand to your console. In addition, the OIVO seems to offer the highest stance out of all the options available. While this definitely promotes the most amount of airflow, it also makes it taller than other options. That said, if you need as much vertical space as possible for a tight cabinet, it may be worth considering one of the other stands.
Next, we examined the NexiGo PS5 Horizontal Stand. While it doesn't raise your console quite as high as the others, its low-profile design is perfect for those who need as much vertical clearance as possible. Simply put, it's the shortest of today's offerings. While this may slightly minimize airflow, it still seems to provide plenty of ventilation to keep your PS5 running as cool as possible. Although it's the most expensive, it's also available in either black or white.
For those who want a nice stand but don't want to spend much, look no further than the Auarte Horizontal PS5 Stand. It doesn't seem to work much better or worse than the other picks, but it's priced much more reasonably. We really liked the sliding mechanism, keeping a clean, low-profile design that securely snaps into position.
Last but certainly not least, the YUANHOT Horizontal PS5 Stand is another great pick. Rather than being just a two-piece plastic accessory, it also adds four USB ports to the front and side/top of your PS5 console. While it may be overkill for some, we think it's nice to make the USB ports more-accessible. Although only one offers data transfer, the other three are for charging. Regardless, it's a well-built, stable stand that attaches securely. Best of all, it's surprisingly affordable for all that it offers.