BigBlue CellPowa500
Pros
Charges up to 9 devices simultaneously.
Large battery capacity.
Can charge virtually any device
Multiple ways to re-charge internal battery.
Cons
No pass-through charging for AC devices.
Not weather-resistant.
Electrical power is one of the foundational building blocks of modern life. For one thing, it allows us to use basic appliances like refrigerators. But over the last few decades in particular, electrical devices have become more and more prevalent. Smartphones are so ubiquitous that if you don't have one, people will look at you funny. People rely on them not just for communication, but for banking, ordering food, and streaming media. So when your power goes out, you can end up in a bind. The clock is ticking on your phone battery, as well as all your other devices. If you don't have a supply of backup power, your battery might run out.
Of course, there are other reasons you might want a portable power station. The most common reason is for camping. There aren't any power outlets in the woods, and you want to keep your phone and other devices charged. For example, you might be using a laptop to watch movies at night. If you're out for more than a single night, you'll need some way to charge your battery. You might even rely on a CPAP machine to help you breathe at night. In that case, a reliable source of power isn't just a matter of convenience. It's a medical necessity you can't afford to overlook.
Today, we're going to review the BigBlue CellPowa500 LiFePO4 Power Station. This is a mid-sized, medium-powered device designed to strike a balance between power and portability. It can charge up to nine devices simultaneously, and has a respectable battery capacity of 168,000mAh. That's a significant amount of juice, but it takes more than just raw power to make a good power station. It also needs to be able to work with your devices. It has to have the right safety features, and it needs to be easily portable. It's also nice if you have multiple ways of charging the power station itself. We're about to take a deep dive into all these design aspects and more. At that point, we'll know everything we need to know to deliver our final verdict. Let's see how this power station stacks up!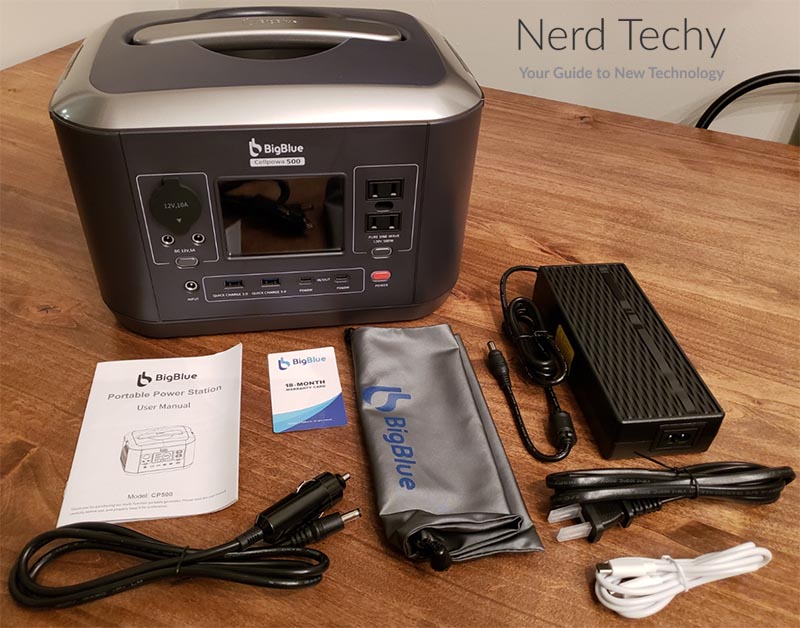 Overall Design
The BigBlue CellPowa500 LiFePO4 Power Station has a sturdy grey housing with lighter grey highlights. It's made from a durable plastic, with a matte finish on most of the housing, but a gloss on the highlights. The overall width is 11.3 inches, with a height and depth of 8.2 inches. Despite the overall rectangular shape, the corners are rounded off, so there are no hard edges. At 17.2 pounds, it's surprisingly heavy for the size. Even so, it's not back-breakingly heavy and there's a retractable handle on the top. It's slightly curved, with an ergonomic profile that fits comfortably in your hand.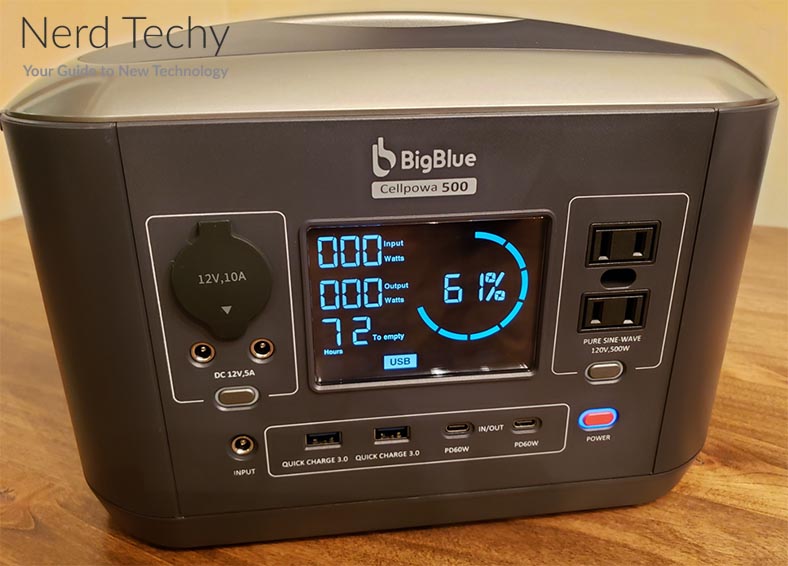 On the underside of the housing, there are rubberized pads at the corners. These keep the power bank from sliding around, or damaging delicate surfaces. Both of the sides feature long, vertical vents, which curve into the side of the housing towards the top. These events allow the cooling system to blow air through the inside of the power station. The fan isn't very loud, but you'll hear a hum that's slightly louder than a PC fan. It kicks in under two circumstances: when the charger is delivering 180 watts, or when the temperature hits 113 degrees.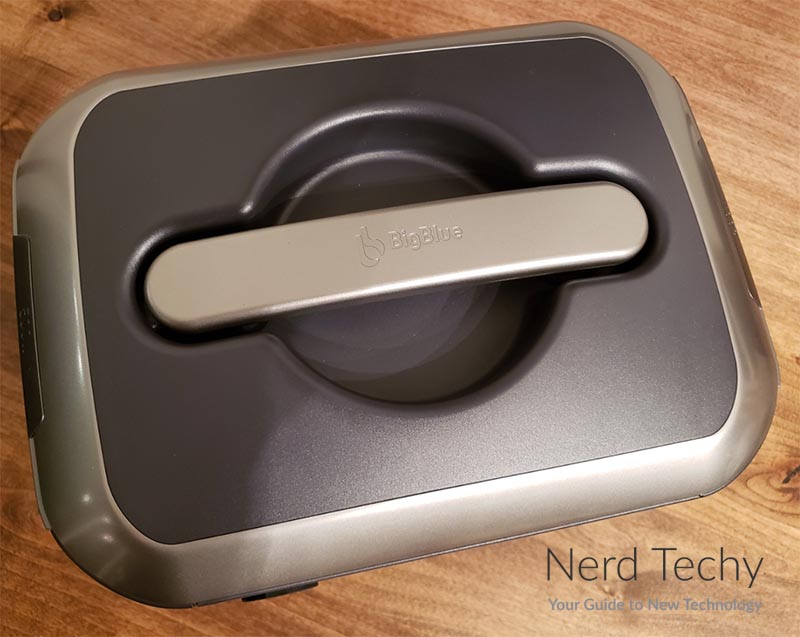 On the back of the housing, you'll find a large LED light. This light is exceptionally bright, and can easily illuminate a whole campsite. There's a button underneath that's used to toggle it, and to cycle between modes. The first mode is the high-powered mode we already mentioned. Pressing the button again will lower the light level for reading. A third press will activate a high-powered SOS flashing mode. Hitting the button yet again will shut the light off. This is a nice added feature, but keep in mind that using the light will slowly drain the battery.
Everything else on the CellPowa 500 is located on the front panel. Right in the middle, there's a bright LCD display that shows you all your vital statistics. The battery charge percentage is listed to the right, with a round graphical indicator around the numbers. To the left, you'll see how much your devices are drawing, as well as how fast the internal battery is charging. You'll also see the estimated remaining charge time. Last, the display will light up with any warnings, like temperature warnings, that cause an automatic shutoff.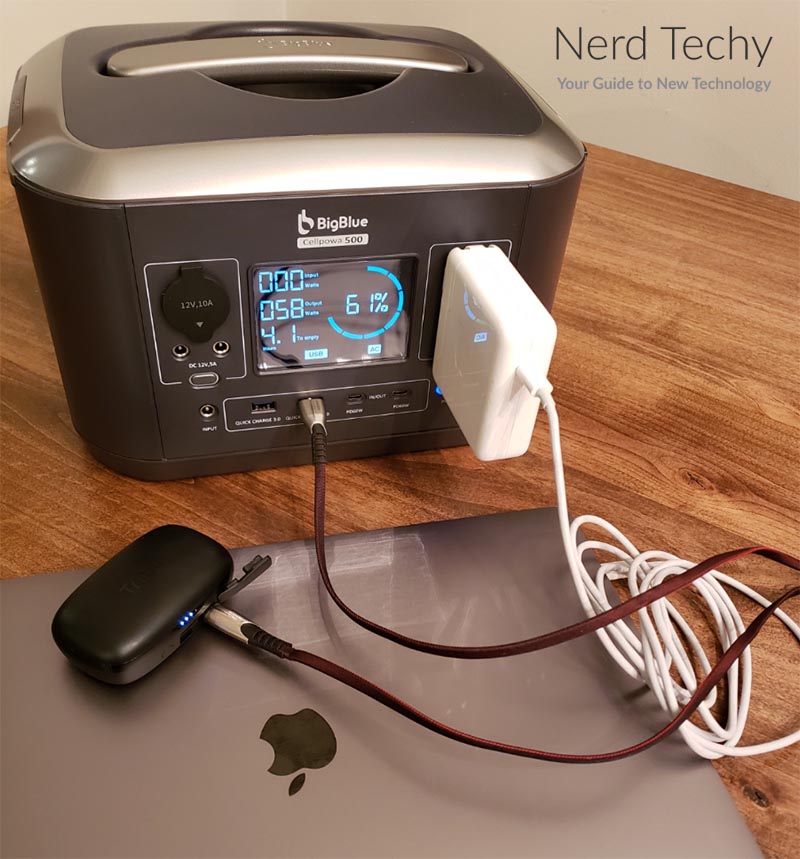 The power outlets are also located on the front. To the right, you'll see dual AC outlets, stacked one over the other. To the left, there's a 12-volt automotive power port, with two barrel-shaped DC plugs beneath it. There's also a barrel-shaped input port for the charging adapter. Underneath the display, the USB drives are arrayed in a row. The first two are USB Type-A ports, with bright blue tabs that are easy to see and orient to. The next two are USB Type-C PD ports, which are plain. There are separate control buttons by both the AC and DC outlets. These can be used to shut certain outlets off altogether, in order to save power.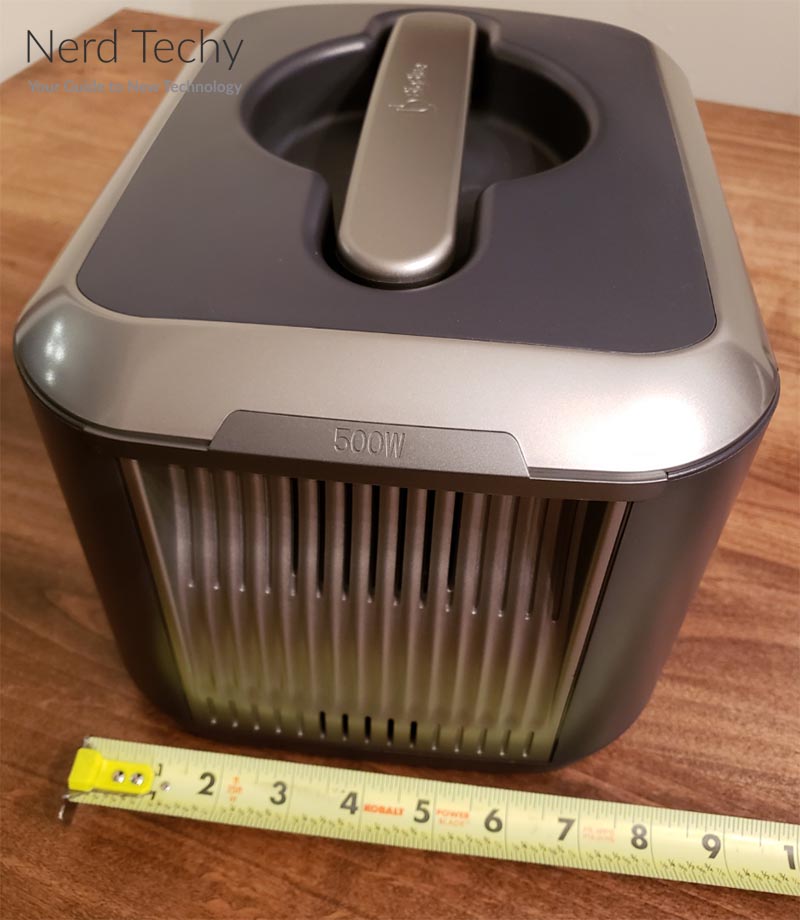 Along with the power bank, the CellPowa500 kit includes some extras to help you get started. To begin with, you get a charging adapter for plugging into your wall outlet. There's also a car charging cable, as well as a USB Type-C to Type-C charging cable. So regardless of how you want to fill up your battery, you'll be well-outfitted.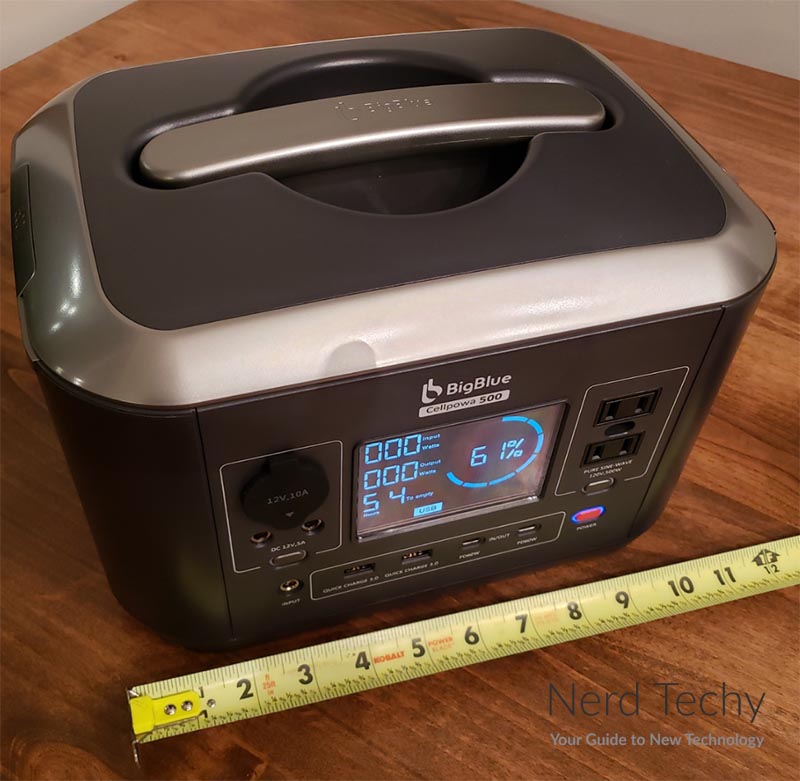 As we mentioned at the outset, this is a mid-sized power bank. But what if you want one that's a little more compact? In that case, take a look at the Jackery Explorer 300. It's lightweight enough for a child to carry, but it also has a smaller battery and fewer power ports.
Battery Performance and Capacity
Now that we know how the CellPowa500 is built, let's talk about what it's capable of. The internal battery has a capacity of 537.6 Watt-hours (Wh), or 168,000mAh. That's a huge jump up from the type of power bank you might carry in your pocket. By way of comparison, an iPhone 13 has a capacity of 3,227mAh. Allowing for 10% loss due to inefficiency, you're still looking at more than 45 charges from the power bank's battery. But what about larger devices? The MacBook Pro 16" is a beefy laptop, and has a correspondingly powerful 8,000mAh battery. Accounting again for some inefficiency, you're still looking at 19 full recharges. You can even run most CPAP machines all night without draining the battery.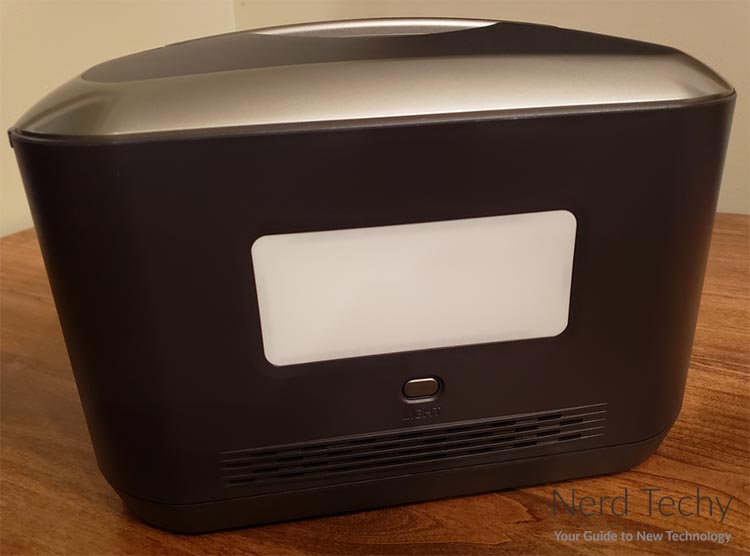 The battery cells use Lithium-iron phosphate (LiFePO4) cells, which are safer than older battery types. There's no lead, so they're also much better for the environment. And if that's not enough, they're more durable than other Lithium batteries. This one in particular is rated for 2,000 cycles. That means that after 2,000 full charges and discharges, you'll still have 90 percent of your capacity.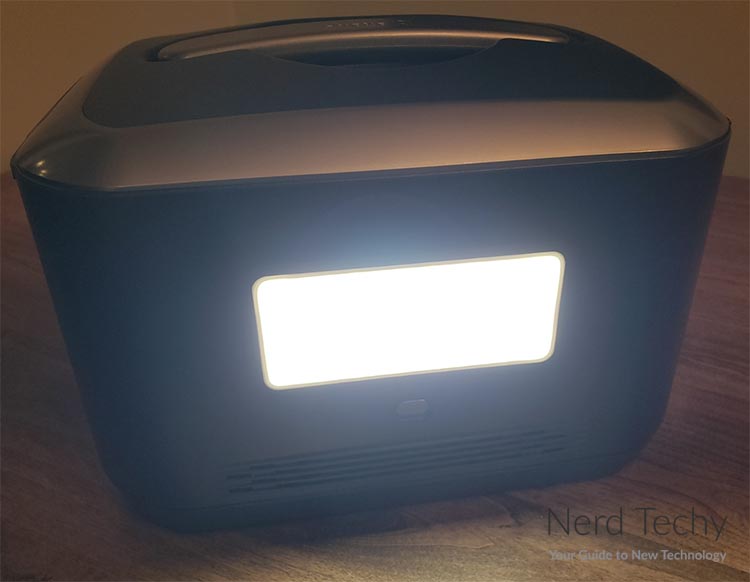 As you can see, this is a pretty powerful battery. But what if you need more? For almost double the capacity, consider the Oupes 1100w Power Station. Its battery holds an impressive 310,000mAh, and is rated for 3,600 cycles. It also has more power ports, but the design is bigger, with a correspondingly bigger price tag.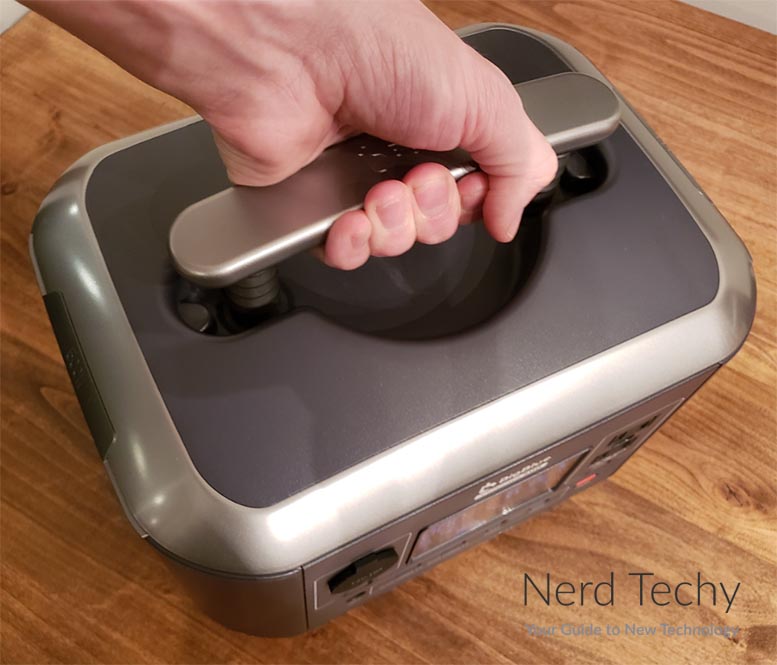 When it's time to charge the CellPowa500, you'll have plenty of options. The fast is to combine the wall outlet adapter with a pair of PD-capable USB Type-C cables. In total, you can deliver 60 watts through each Type-C port, in addition to 96 from the primary charger. That's a total of 216 watts, enough to charge the battery to 80 percent in only two hours. Charging all the way will take around three hours. Using only a single Type-C cable along with the main charger – the one from the kit – will take a bit longer. In that case, you're looking at more like four hours for a full charge. Using the wall outlet alone will take nearly seven hours. Using two Type-C cables together will take around six. You can also charge with a single Type-C cable, but that can take as long as 12 hours.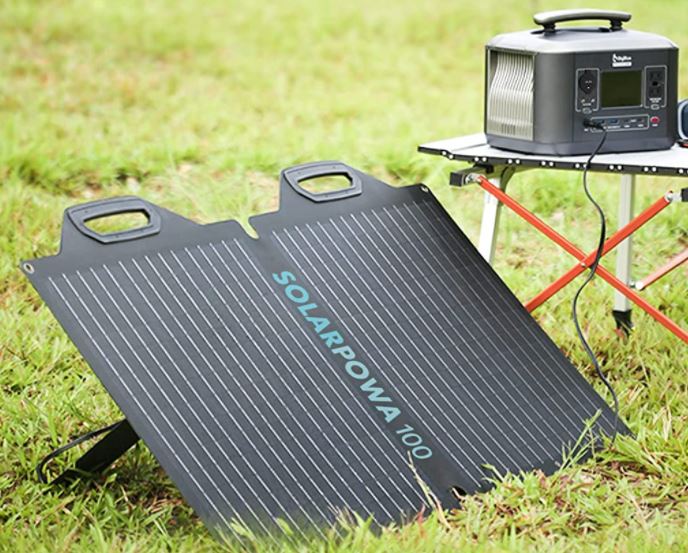 The car charger is similarly sluggish, getting you topped off in around 12 to 14 hours. Solar charging performance is more variable. If you use BigBlue's SolarPowa100 Solar Panel, you can fully charge in as little as six hours. Keep in mind, though, that this requires ideal conditions. Under ordinary conditions, 12 to 16 hours is more realistic.
There's one downside we should note before we continue. You can't use the AC outlets while the CellPowa500 is being charged. The USB and DC charging ports support pass-through charging, though. So you can still charge your cell phone at the same time as you charge the power bank.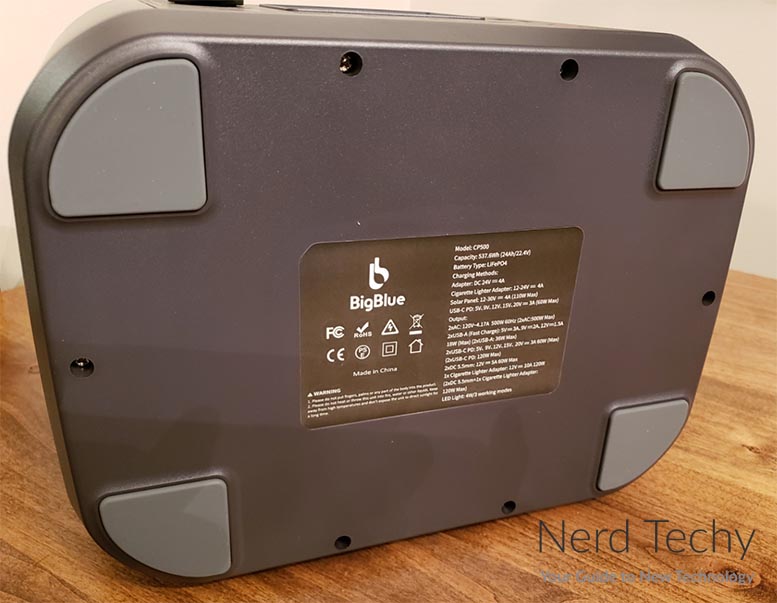 Device Compatibility
In terms of compatibility, the CellPowa500 works quite well. The USB Type-C ports supply up to 60 watts, enough to play and charge all but the biggest laptops. The Type-A ports, meanwhile, support up to 18 watts, the maximum charging rate for iPhones. All four ports will deliver the maximum power, even when they're all occupied.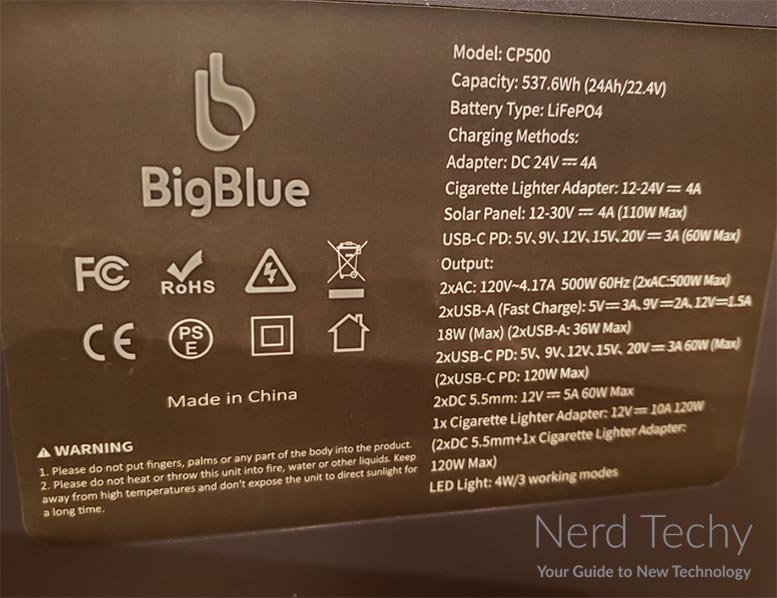 The AC outlets supply 500 watts apiece, which is enough for most medium-draw devices. You can't run a space heater, most microwaves, or a full-sized fridge. But you can run pretty much anything else, and a 1,000-watt peak power limit gives you some flexibility. You can plug in a mini fridge, and it won't overdraw when the compressor kicks in.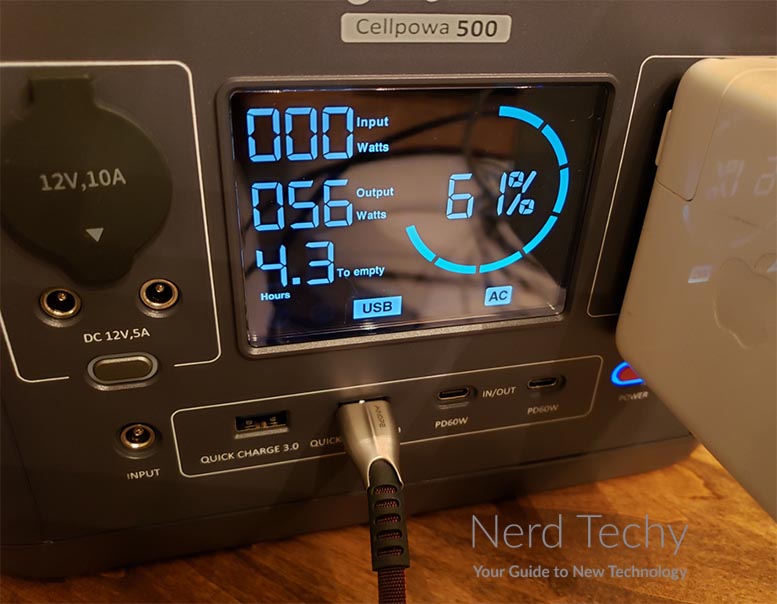 Final Verdict
The BigBlue CellPowa500 LiFePO4 Power Station is a surprisingly powerful charger for its size. It's easily portable, and it will charge pretty much any device. It delivers a lot of current, up to 500 watts from each AC outlet. And with four high-powered USB ports, you can charge several devices at once. There's a lot to like here, and only some minor complaints.