Getting and staying in shape can be an ongoing struggle. This is especially true when space is an issue. Workout machines can take up a lot of space, and you don't always have the luxury of hitting the gym. The same is true if you're frequently traveling, or if you like to work out in the park. In all of those scenarios, you need a portable piece of workout equipment. A set of resistance bands can be an ideal solution. They're lightweight and easy to carry, you can throw them in a carry-on bag, or just hold them in your hand. But there's a big difference between different types of resistance band.
When you first think of a resistance band, what comes to mind? If you've ever been through physical therapy, you might picture something thin and rubbery. But those types of bands don't offer very much resistance. They also aren't as durable, since they're only made for short-term use. A bigger, beefier workout resistance band should be fat and chunky, to give it more strength. It should be durable, and it should have plenty of ways to attach. You want comfortable handles you can easily grip, and an easily adjustable length. And nowadays, you might even be looking for a resistance band with its own companion app.
That's exactly what the WeGym Rally X Smart Resistance Bands bring to the table. These bands fuse old-school resistance with modern app integration. They also come with a number of attachments that make your workout easier. They're versatile, and they can be adjusted more or less any way you want. But how exactly do they work? We're about to take a close look at all aspects of these resistance bands, starting with the physical design. We'll talk about the battery life, and how you connect with the app. We'll also take a deep dive into the app functions, so you know what smart features to expect. Let's dig in, and see what we come up with!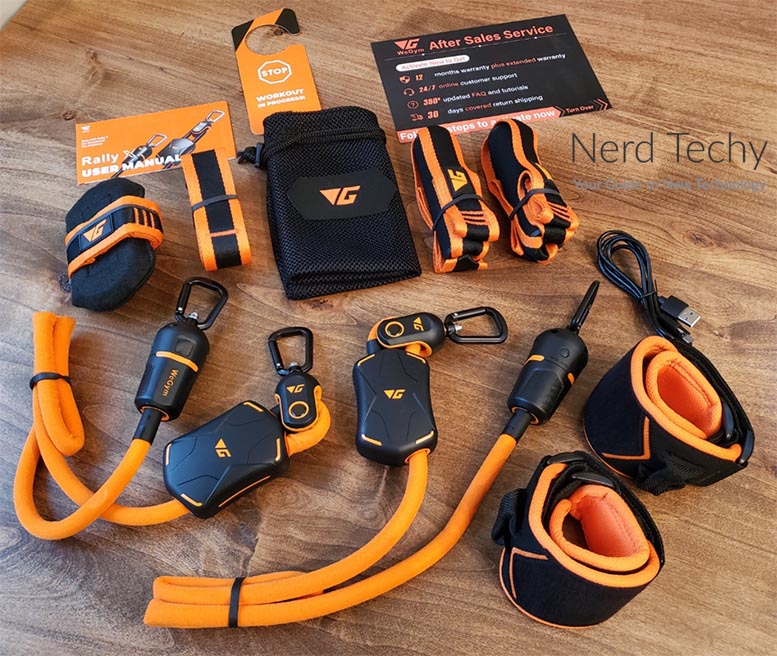 Overall Design
The WeGym Rally X Smart Resistance Bands come in a two-pack, as you might expect. The bands themselves are about as thick as your thumbs, and made primarily of stretchy rubber. That said, they're covered with a cloth sleeve, which is flexible in its own right. This sleeve does a great job of keeping the rubber safe from the elements. It's also attractive to look at, with its orange and black pattern. That said, we're not quite sure how you're supposed to keep it clean. One end of each band has a tip with a carabineer clip. The other end fits in an adjustable clamp that sits over the side of the cable. This forms a loop at the top, where a second carabineer is attached on its own pulley. When the clamp is adjusted and the line length changes, the pulley will remain at the end.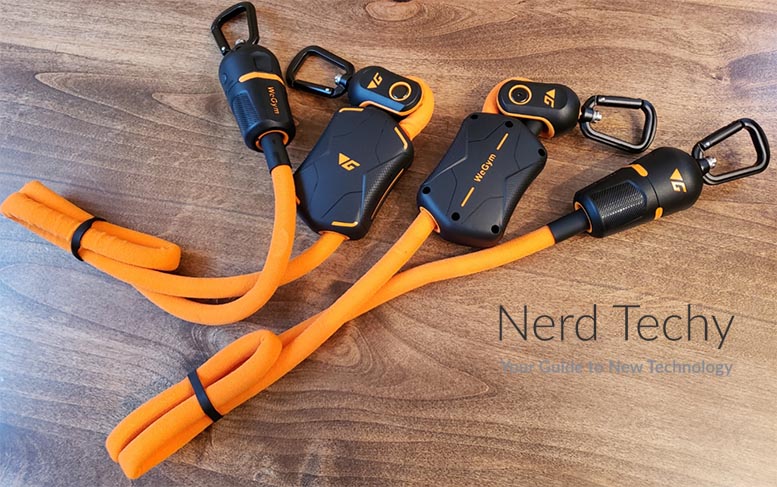 The two carabineers can be attached via a handful of different methods. To begin with, there are a pair of handles for you to grab on to. The straps are made of a tough nylon weave, with a plastic handle in the middle. One loop of the strap connects to your carabineer, while the other remains free. You can let it hang loose, or use it to brace your wrist for certain exercises. Alternatively, you use the wrist or ankle straps to pull the bands. These are comfortable, padded straps that velcro around your ankles and wrists. On the sides, they have little loops where you can clip the carabineer into. These wrist straps could also be used to secure the band to a pole or other thin object. You could even secure your ankles and wrists together and provide your own resistance.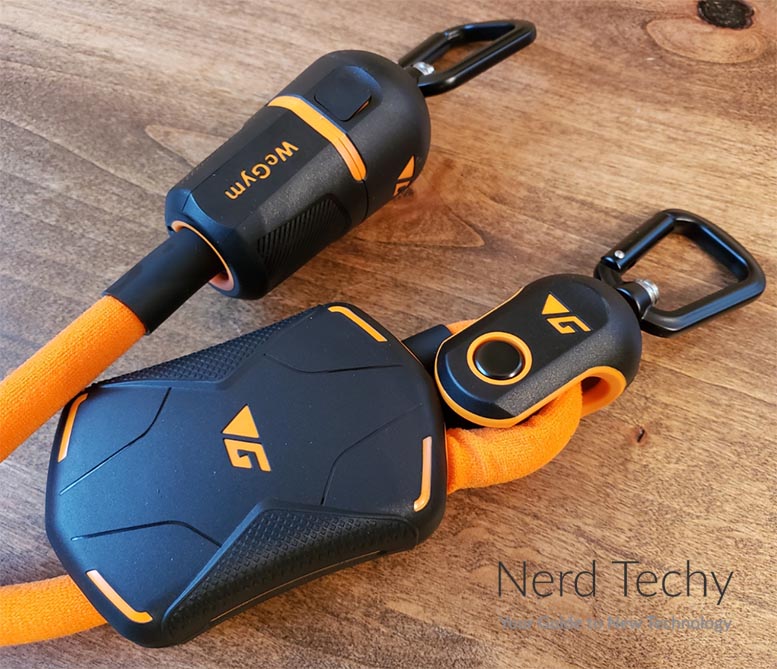 For securing the other end of your bands, WeGym includes a pair of door anchors in the package. The first is a large, padded anchor that goes over the top of your door. We particularly appreciated the fact that there was plenty of padding. Most companies just give you a metal bracket, which could potentially scratch up your door. The second anchor is really more of a general-purpose nylon strap. You could wrap it around a door if you wanted to. However, you could also secure it to a tree, park bench, or any number of other anchor points. Point being, you'll always have some way to anchor the other ends of your bands.
Use code "5M7VARJC" for a huge discount when you purchase the WeGym Rally X on Amazon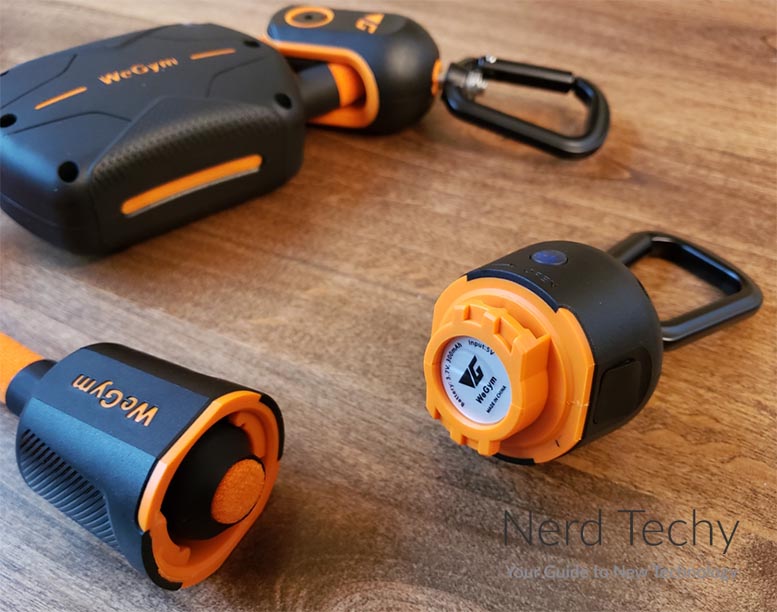 Along with all of this, the kit includes a mesh carrying bag. It's just a simple drawstring bag, but it's all you need for carrying the resistance bands and accessories. This is very easy, since the entire kit weighs only 2.4 pounds. It's so light, you'll barely notice you're carrying it. There's also a USB charging cable in the package for keeping the batteries topped off.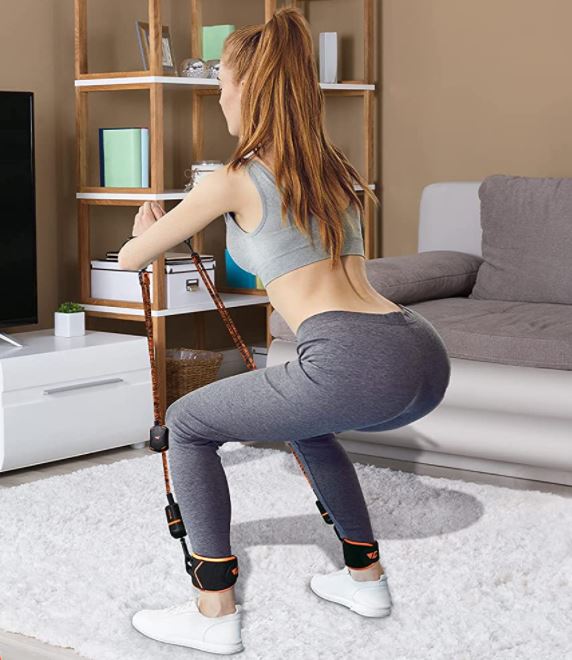 As with any smart devices, these resistance bands are electronic devices. The clamps themselves house all the circuitry and sensors, and they need to be safe for exposure. They're rated IP54, which tells us they have actually been lab-tested. The 5 indicates a high level of dust resistance, just shy of being totally impervious. The 4 indicates that they're splash-proof. So you don't want to immerse them in water, but working out in the rain isn't a big deal.
For a different workout experience altogether, check out the Mobifitness Smart Exercise Bike. It's easy to store, it's highly adjustable, and it comes with a slew of advanced app features. Then again, it's not convenient at all if you're traveling.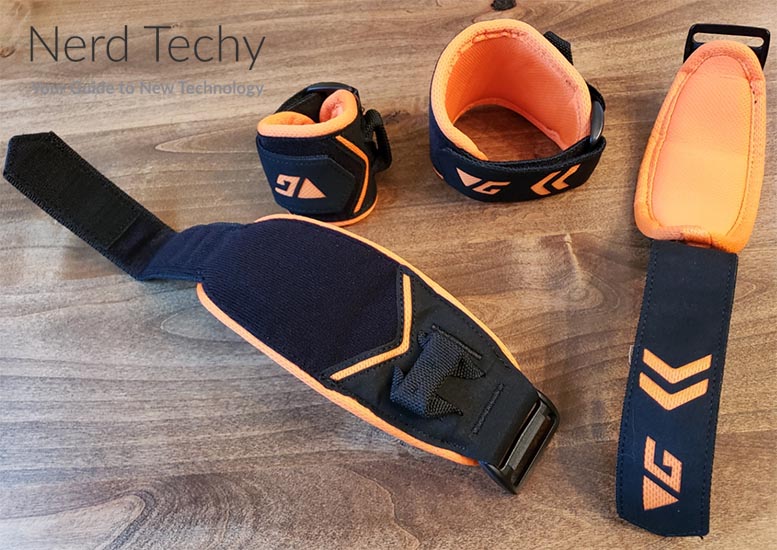 Performance and Battery
So, what are the WeGym resistance bands actually capable of? To begin with, let's look at the resistance level. These bands actually come in three different varieties, with different resistance levels. We specifically reviewed their orange and black "hybrid" bands. The hybrid bands have an adjustable resistance, between 7.7 and 55 pounds. However, you can also order the lighter orange bands, or heavier-duty black bands. The orange bands can go from 6.6 to 40 pounds of resistance, and the black from 8.8 to 61 pounds. No matter what resistance you're looking for, you'll be able to find it. And you'll only have to carry one set of bands, instead of multiple bands with different strengths.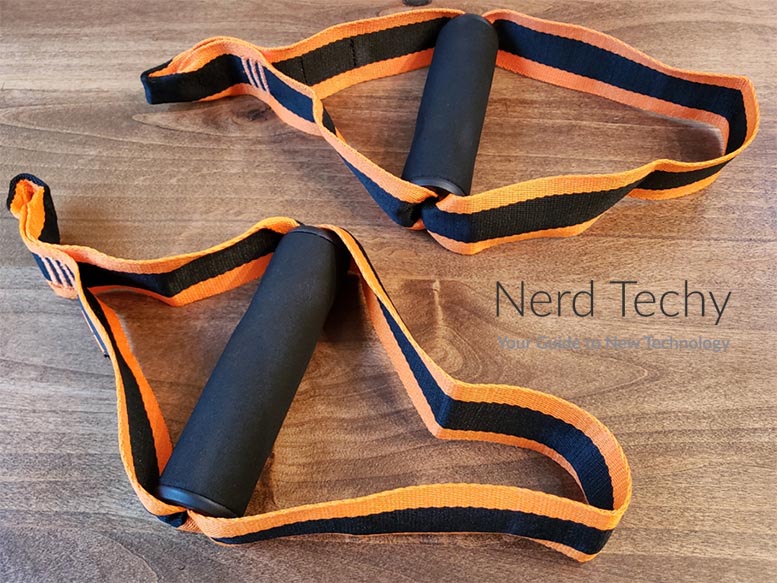 To change the resistance level, you move the clamps up or down. As the band is lengthened, the resistance level will go down. As the band is shortened, you'll get more and more resistance. The nice thing about this adjustment system is how easy it is. The clamps slide easily up and down the bands, without any effort. At the same time, they remain firmly in place during your workouts. We're not quite sure how WeGym managed to accomplish this, but it works very well.
As we mentioned, the clamps also house all the electrical components, including the batteries. On a single charge, they'll work for 42 hours. That's an insane amount of workout time, so you shouldn't ever have to worry about them running dry. They're also easy to charge. Plug them in for two hours via USB, and they'll be fully charged up. Keep in mind, though, that they need to be plugged in separately. So you'll actually need four hours to charge them both all the way. Even so, that's not bad for 42 hours of total performance. Not only that, but the electronics will automatically go to sleep after 15 minutes of disuse. This ensures that your batteries won't run dead because you forgot to turn them off.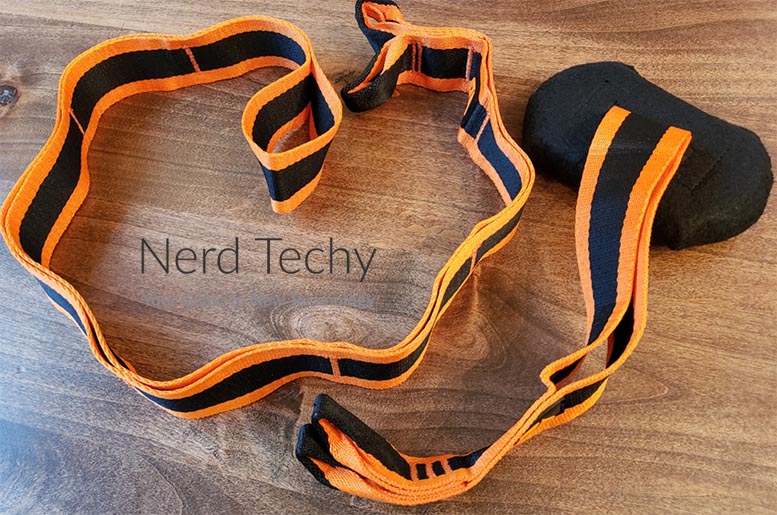 App Features
So far, we've been talking about the design and engineering aspects of the WeGym resistance bands. But what about all the smart features? To get started, you first need to download the app, which is free on Android and iOS. Next, you need to turn on your phone's Bluetooth and connect to the resistance bands. From there, you'll be able to access all the smart features. Keep in mind that you won't be able to connect via WiFi; Bluetooth is the only option.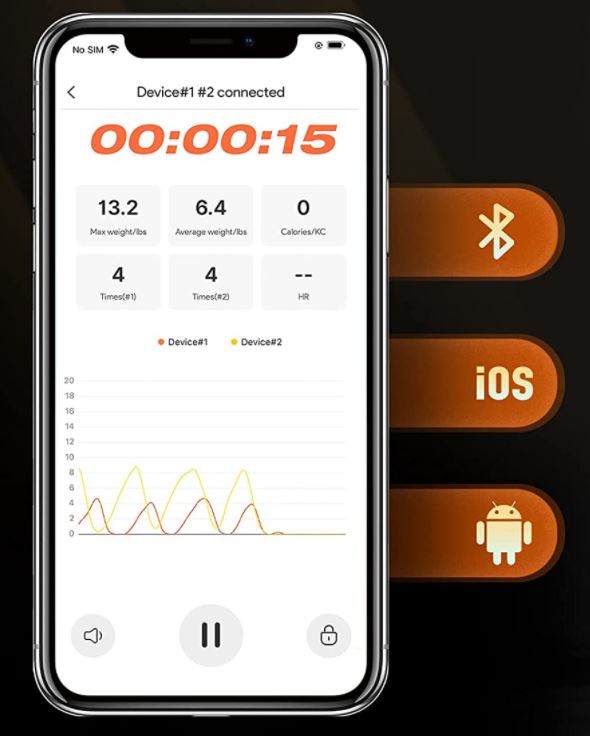 Once you're connected, the app will automatically start tracking your workout. You'll see your current resistance level, your total number of stretches, and your calories burned. The app will track this data over time, so you can monitor your progress as you continue to train. In fact, you can use the app to set your own fitness goals. Decide on your goal weight and number of reps, and you can work towards those milestones. This is similar to many other smart fitness devices, which often integrate planning and goal-setting into their design.
Use code "5M7VARJC" for a huge discount when you purchase the WeGym Rally X on Amazon
The app also provides a number of workout programs and routines. You can choose them before your workout, and work on more advanced routines over time. Not only that, but the WeGym app will actually make recommendations based on your goals and performance. So if you're struggling with particular exercises, you can get help working on those things.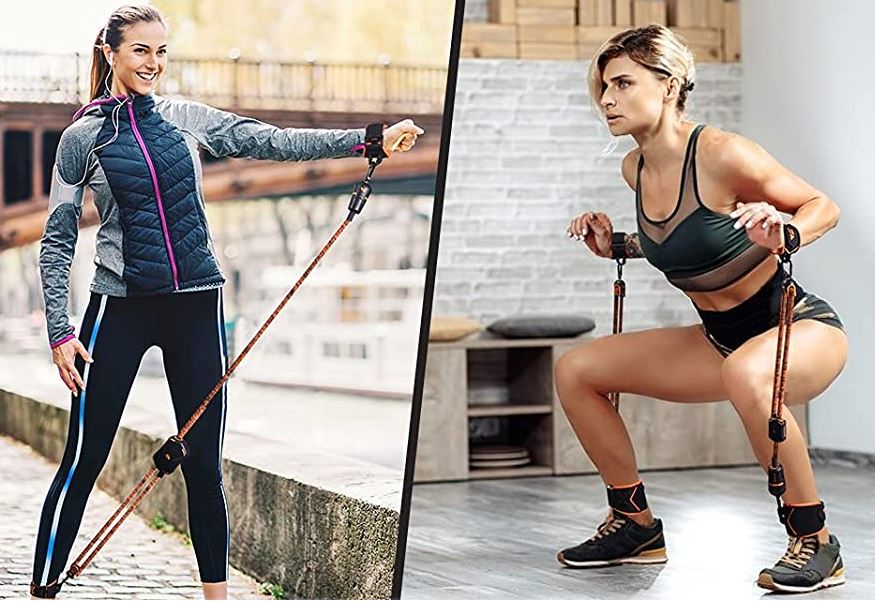 But what if you want to burn calories while you're watching TV, or working at a standing desk? In that case, a standing desk treadmill is a great idea. You can take a brisk walk, all while you're doing things you already do. Then again, you can't take a treadmill on vacation, or even use one outdoors.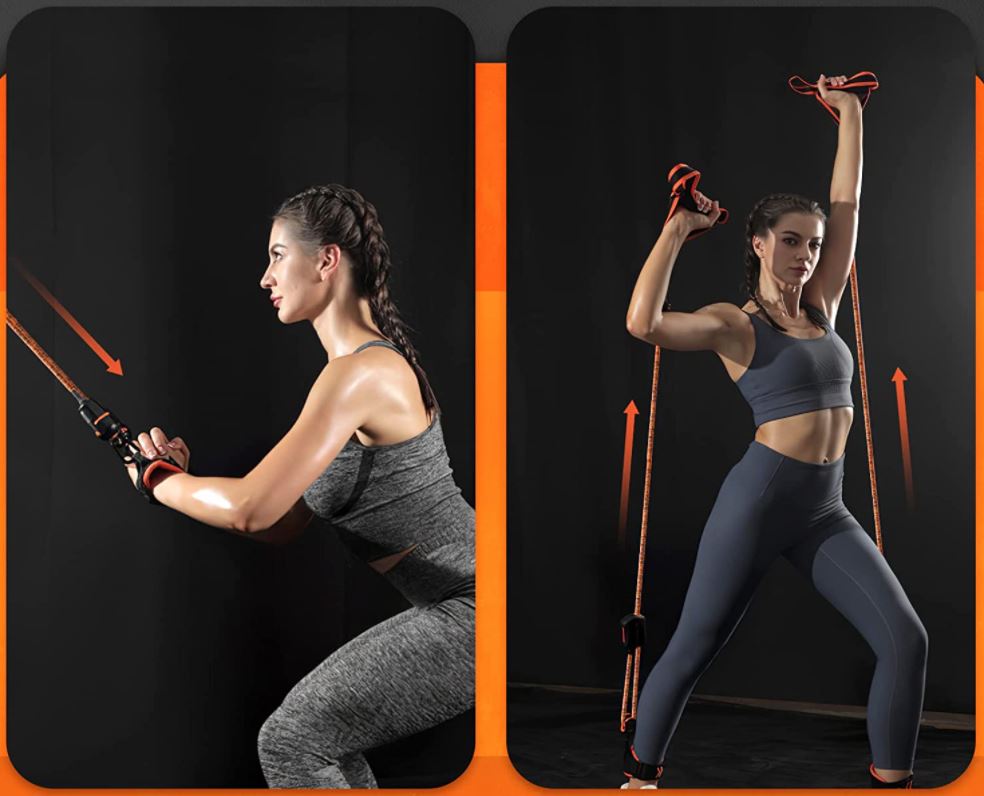 Final Verdict
So, are the WeGym Rally X Smart Resistance Bands worth the investment? If you're looking for a set of powerful resistance bands, absolutely. They're extremely versatile, with all the parts and accessories for dozens of types of workouts. Of course, they're not perfect. We still have some concerns about the cloth outer layer. But that being said, you're looking at some very reliable equipment. The app works seamlessly once you're connected, and the workout routines are helpful. If that's not enough, you also get superior battery life and a wide range of resistances. There's a lot to like here, if a good set of resistance bands is what you need.
Meet Derek, "TechGuru," a 34-year-old technology enthusiast with a deep passion for tech innovations. With extensive experience, he specializes in gaming hardware and software, and has expertise in gadgets, custom PCs, and audio.
Besides writing about tech and reviewing new products, Derek enjoys traveling, hiking, and photography. Committed to keeping up with the latest industry trends, he aims to guide readers in making informed tech decisions.